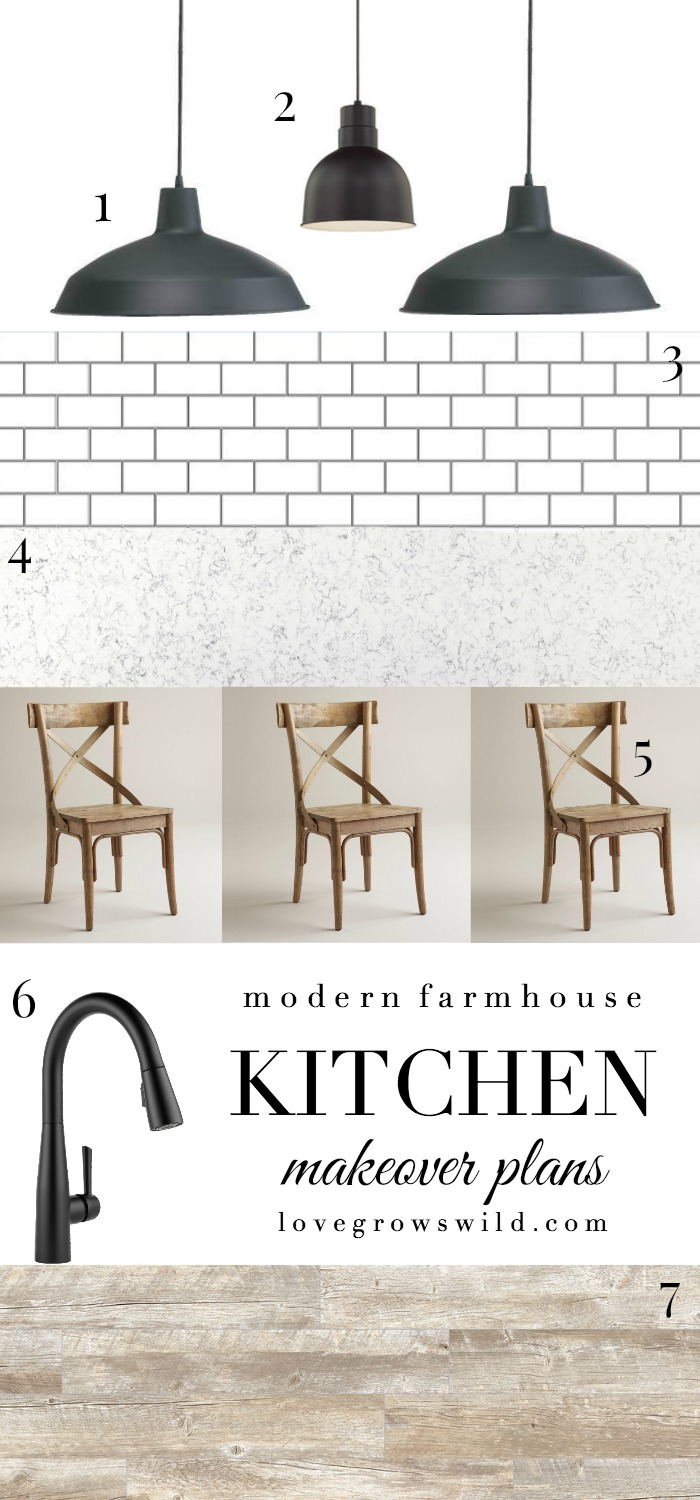 Our little farmhouse kitchen got a BIG makeover! This week I'm sharing "before" photos of the space and our plans for completely renovating the kitchen … you can catch up on the rest of the kitchen makeover series here!
---
The day is finally here, my friends… I'm kicking off our big, huge, super exciting, highly-anticipated Kitchen Makeover Series!!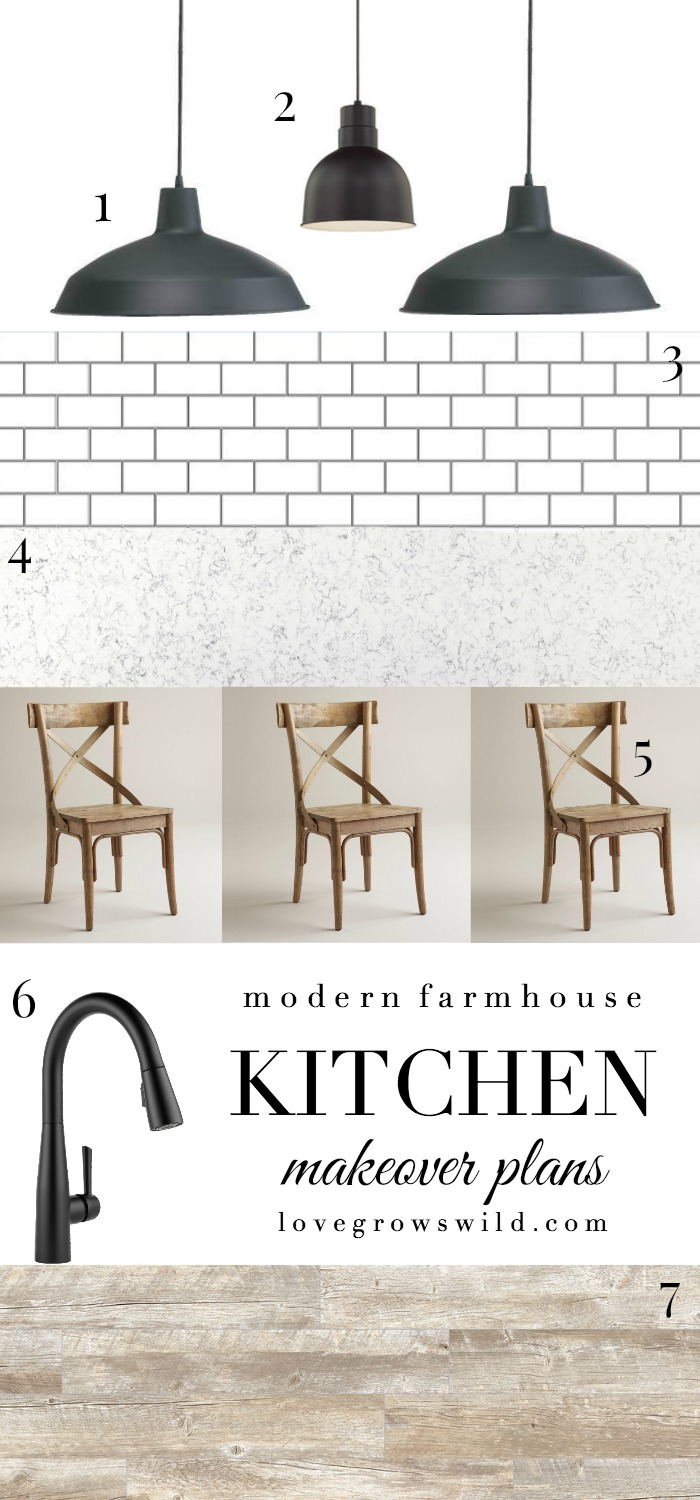 1 // 2 // 3 // 4 // 5 // 6 // 7
We started planning this makeover last summer when I first found out about the book deal. We had always kicked around the idea of remodeling our kitchen at some point, but after we accepted an offer to write a book all about decorating our farmhouse, we decided it was time to kick our plans into high gear and get the job done. Jeremy and I are used to tackling most projects ourselves, but we knew the kitchen would be a massive undertaking, and with the book deadline just a few short months away, we knew we had to bring in some help.
We went through Lowe's for part of our bathroom remodel, and I was super pleased with their customer service, so we decided to go with them again for the kitchen. They have a project specialist who worked one-on-one with us to plan the design, help us pick out products, order everything we needed, and organize the entire project through to the end. She set us up with a PHENOMENAL contractor, and they got started just after Christmas.
But before we get to all the fun makeover stuff, I suppose we better start with "the before", huh? Brace yourselves, guys. This little farmhouse kitchen was in desperate need of a makeover! And I apologize in advance for the quick, poorly-lit photos I had about 5 minutes to snap before the sun set on the night before kitchen demolition started. If you haven't read the post I wrote about prepping for our kitchen reno yet, I recommend you stop there next!
So let me take you on a little tour of the farmhouse…When you walk into our front door, this is your view. The dining room/entryway is on the left, and the kitchen is straight ahead.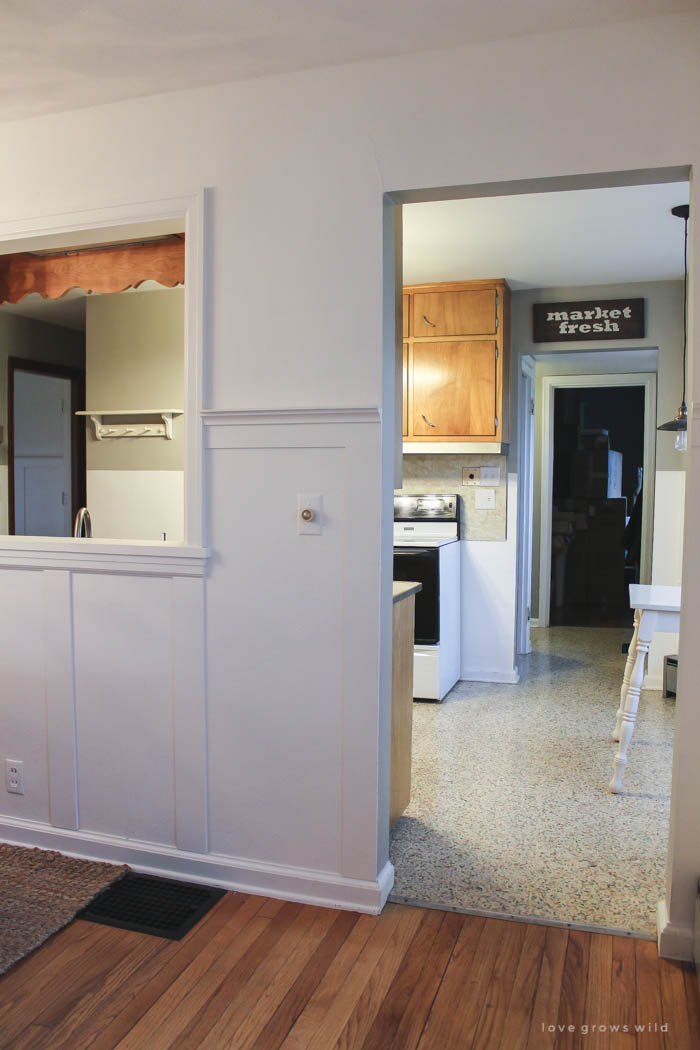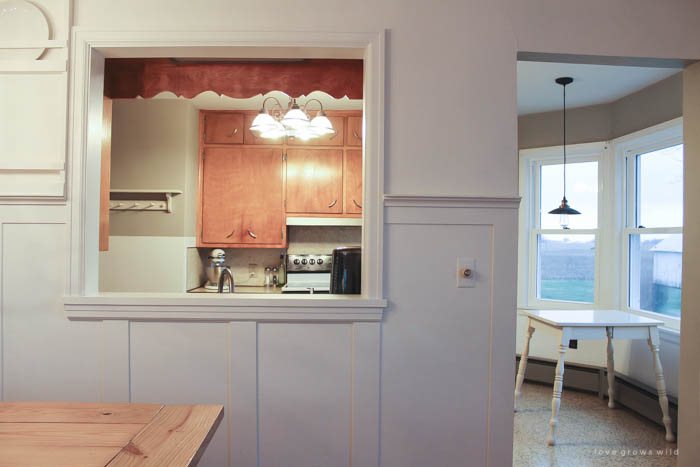 We have orangy wood cabinets and the ugliest matching countertop/backsplash you've ever seen. Don't even get me started on the multi-color speckled floor. There used to be an extra-wide vintage oven in here, and our current hand-me-down oven obviously does not fit the space.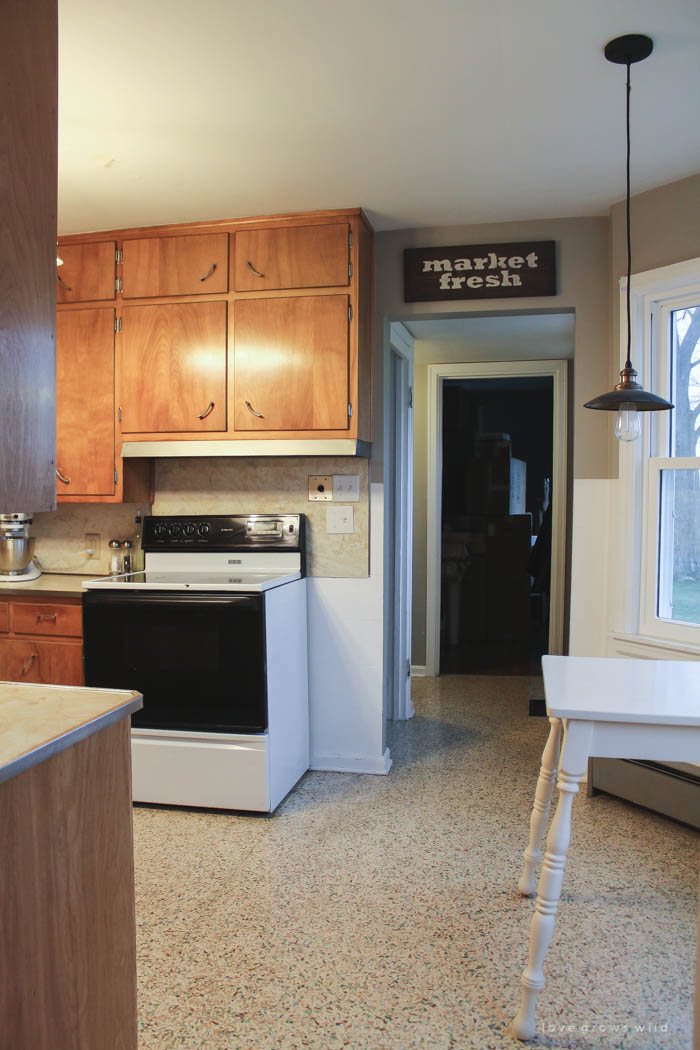 This little table used to have two chairs sitting with it until I stole them for the boys' playroom, so now this lonely table sits all by itself. One thing that I do really love about our kitchen is the three big windows that let in a ton of natural light. Unfortunately, below the windows sits three annoying baseboard heaters, which really limits what I'm able to do with this space. I want to streamline or hopefully eliminate some of the heaters here so we have more options for furniture placement.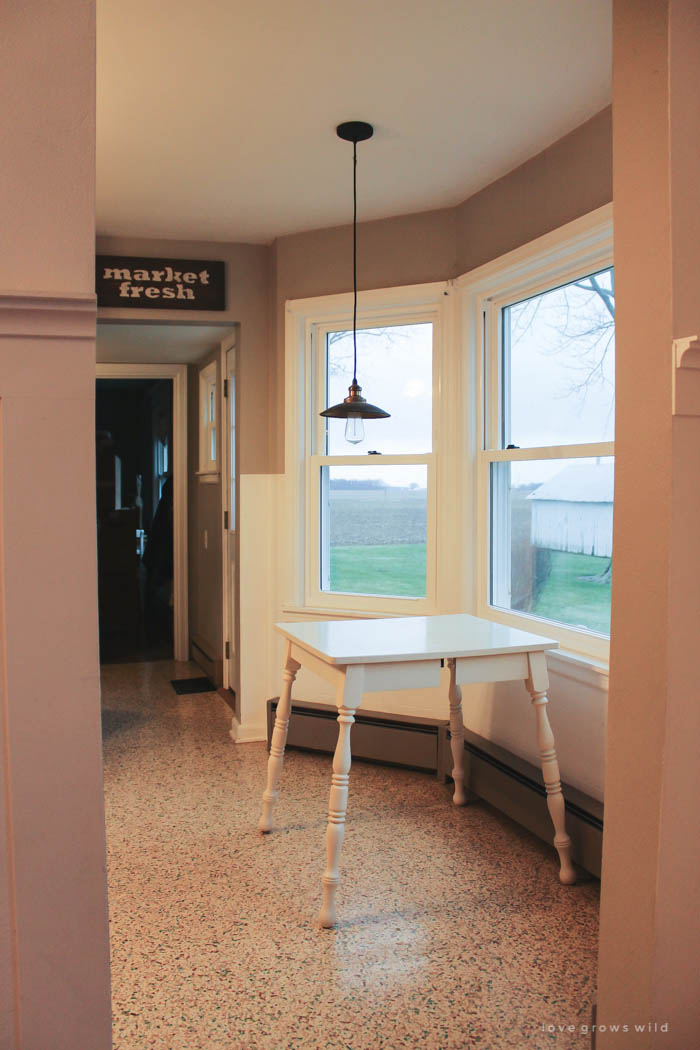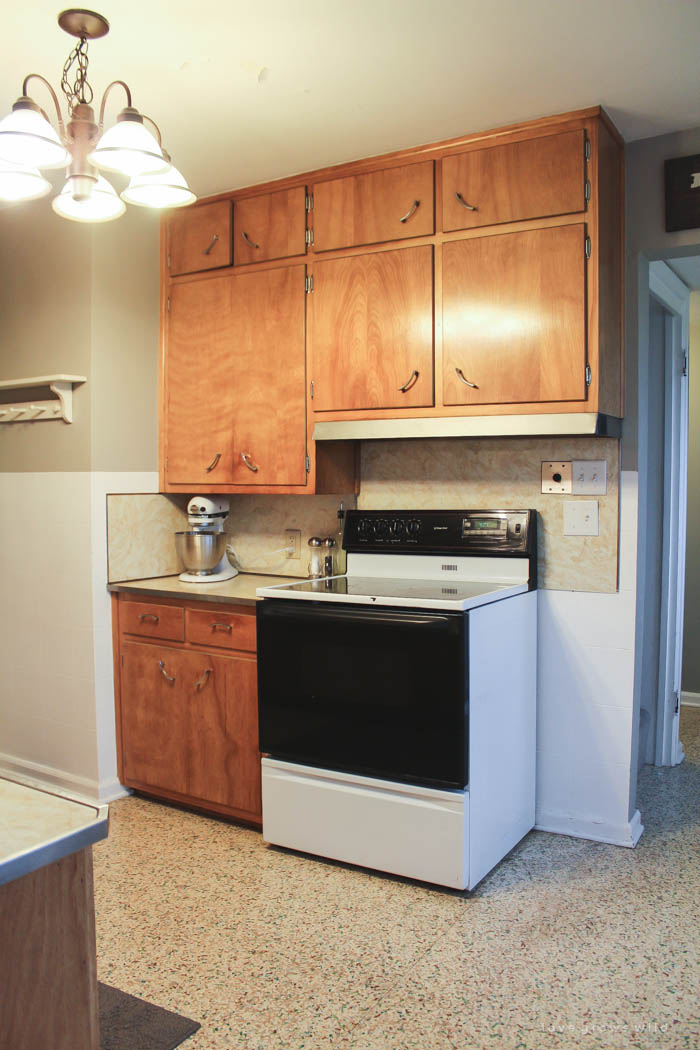 To the left of the stove area, you'll notice a big chimney that the previous owners built a wall around. The chimney isn't used anymore, and Jeremy already tore out the top part of it upstairs when we finished the attic, so that will all be coming down. I very seriously considered tearing back the wall and exposing the brick chimney underneath as a focal point for the kitchen, but we could really use the extra cabinet space in here. You'll have to wait and see what we do!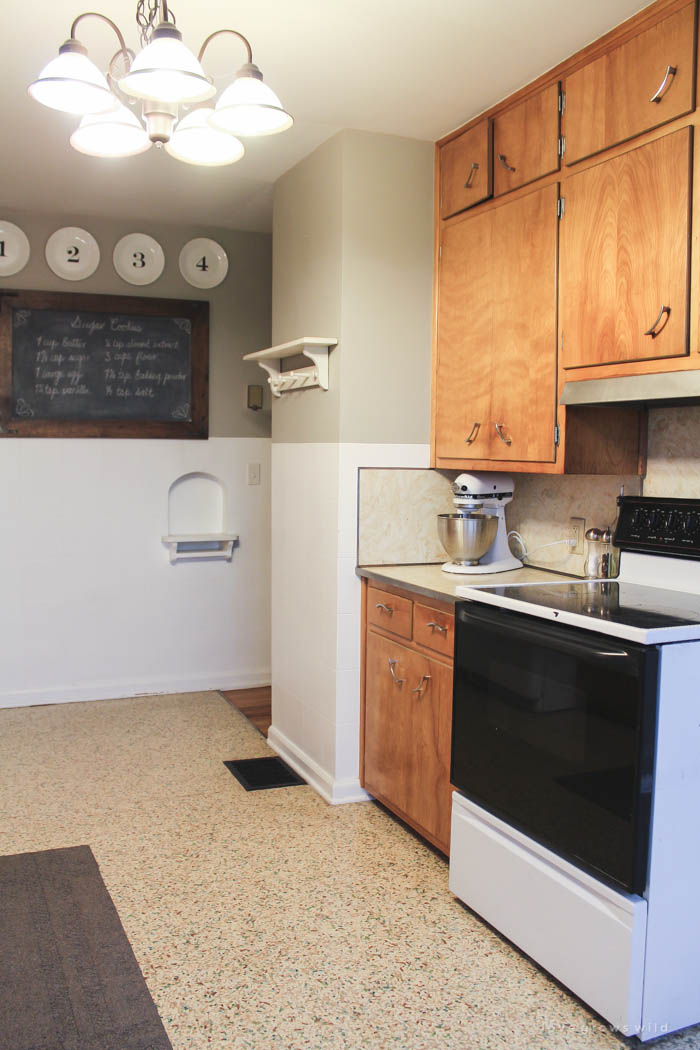 One of my top priorities for the kitchen reno was to open up this back wall of the kitchen. Across from the refrigerator is a hallway that leads to the living room, bathroom, office, and playroom, so this back wall is pretty much just dead space. Between the chimney sticking out into the kitchen and that back wall, the kitchen feels totally closed off from the rest of the house. And when I'm in here cooking dinner or doing dishes, I would love to be able to interact with the boys more and entertain company more easily. See that little nook on the wall? That's where your rotary telephone would go, and your telephone book would sit underneath. Very retro… kind of cute… but not something I need in 2016!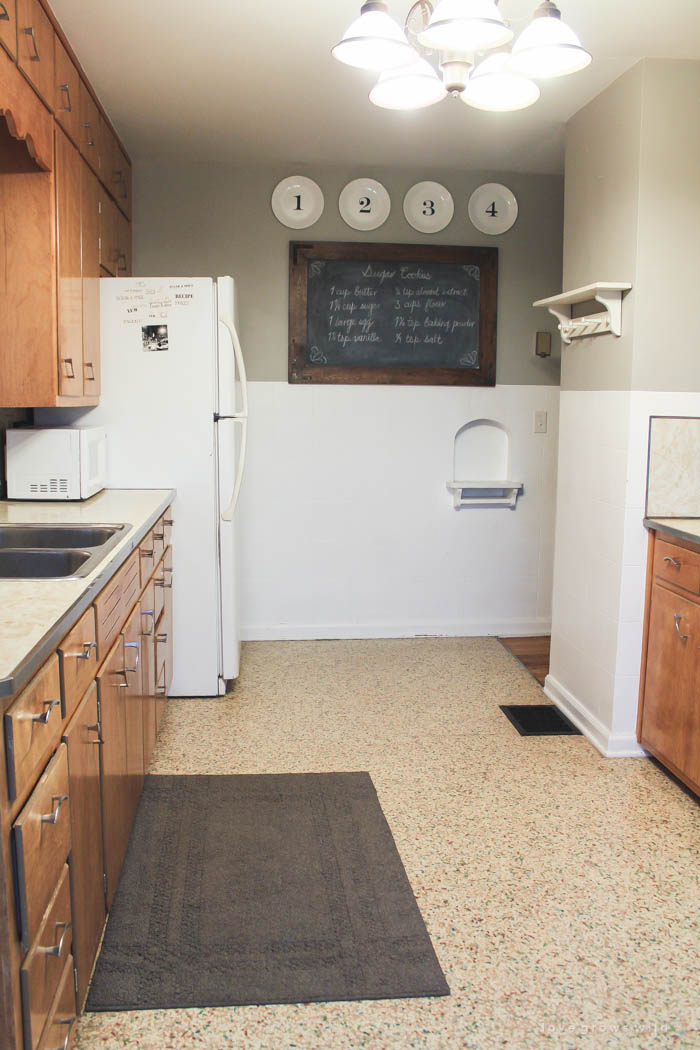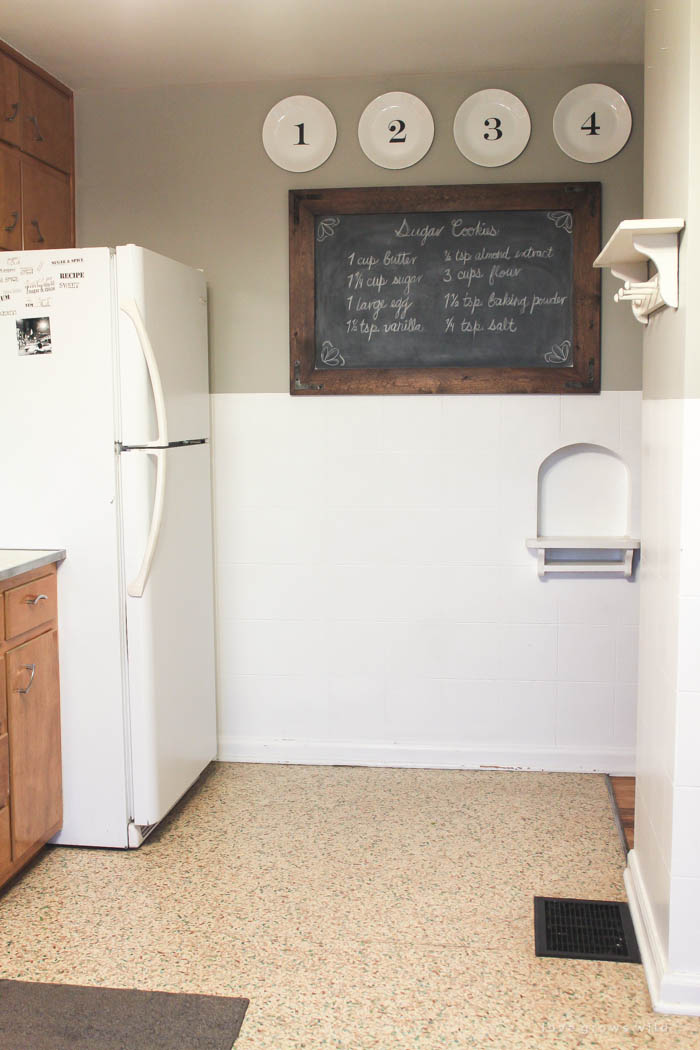 Our microwave has to sit on the counter right now, which eats up a lot counter space. And the upper cabinets are set so low that I can't even fit my coffee pot underneath.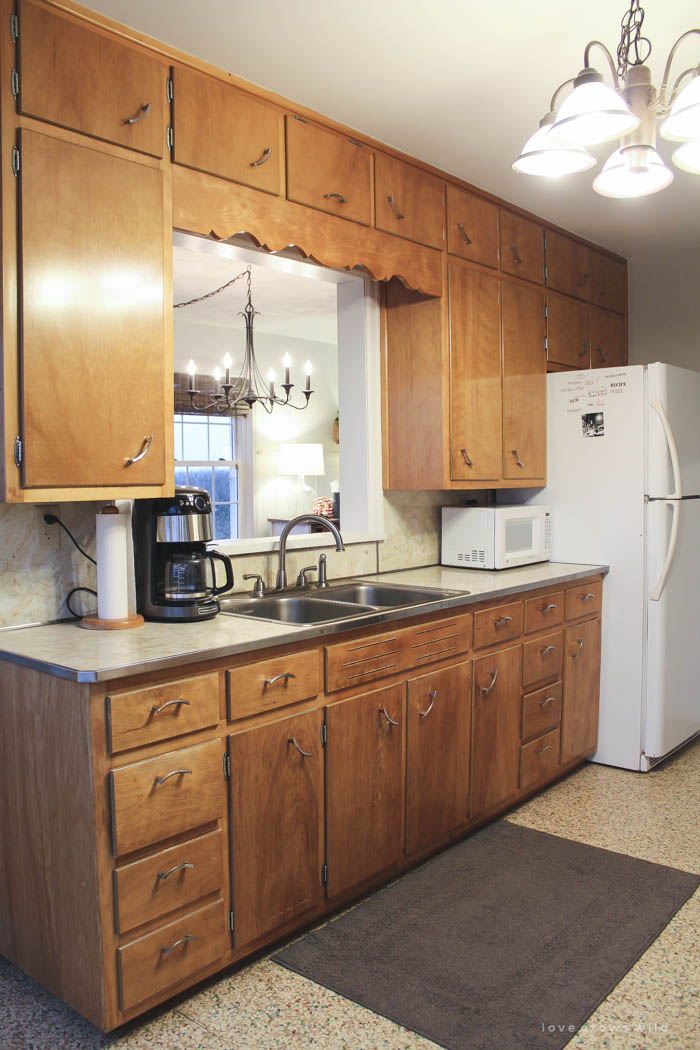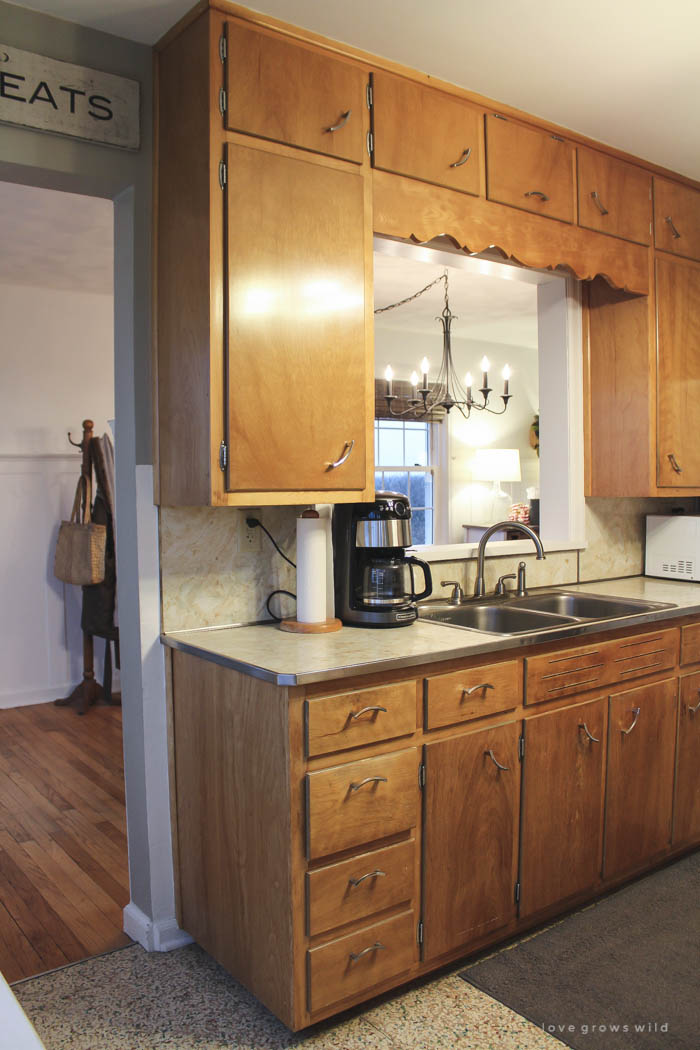 To give you a different perspective, this is that hallway I was just telling you about. One of the LAST spaces in this house that still needs the trim painted white. The doorway to the living room is on the right, and the basement door is across from it on the left. See that gap on the right side of the refrigerator? Drives me crazy!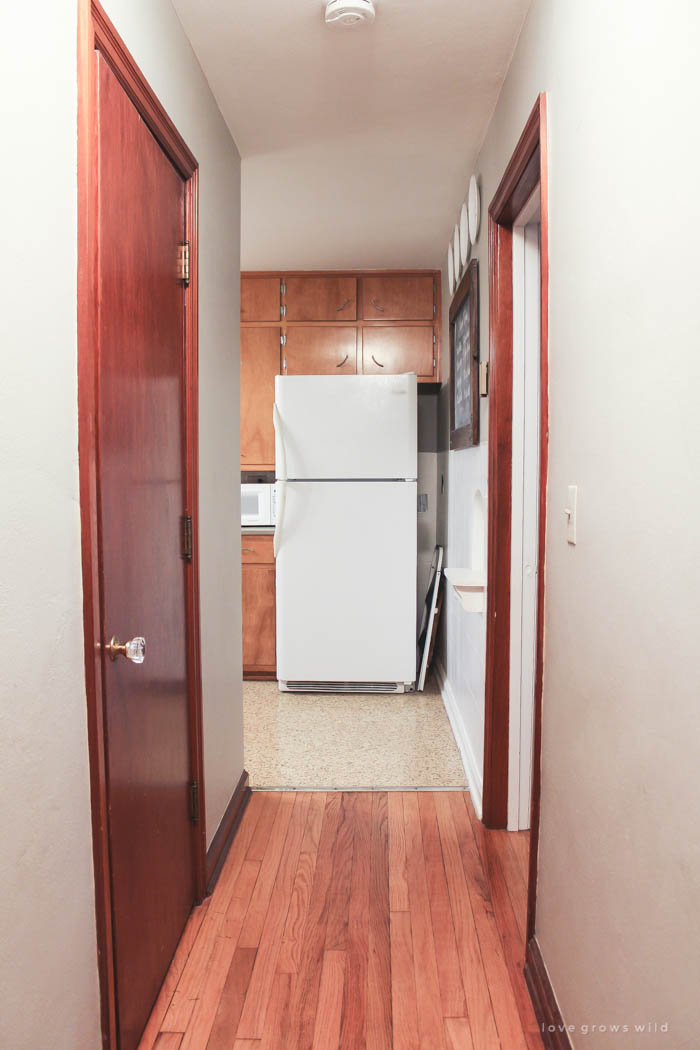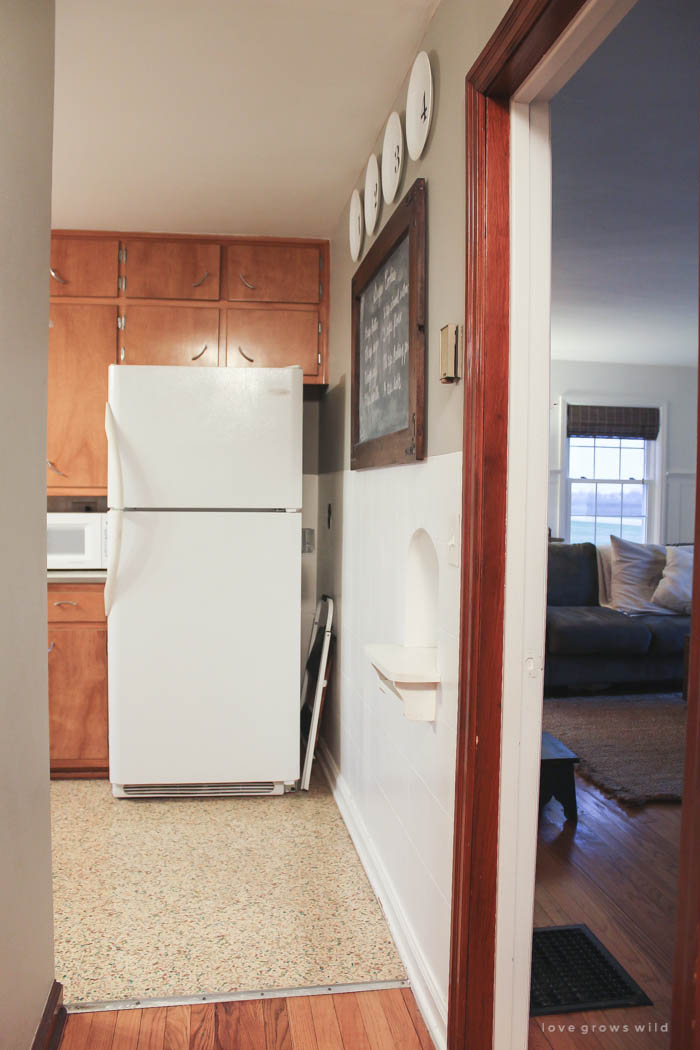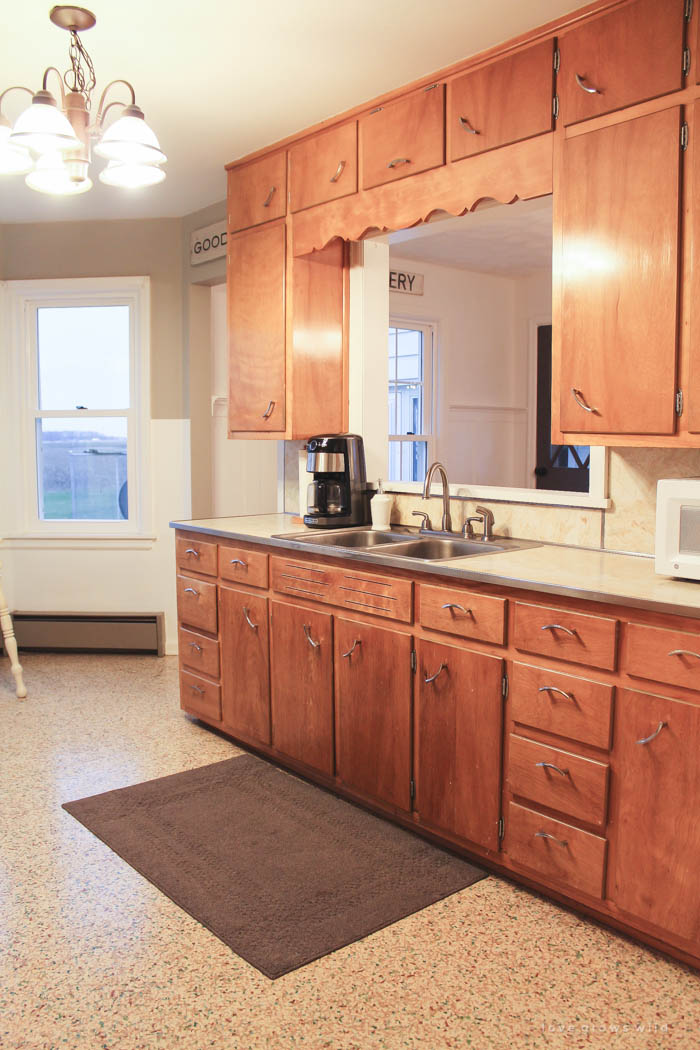 The lighting in here currently is a hodge podge of different fixtures, and I am really looking forward to streamlining everything. Lighting is one of those things that can really make or break a space!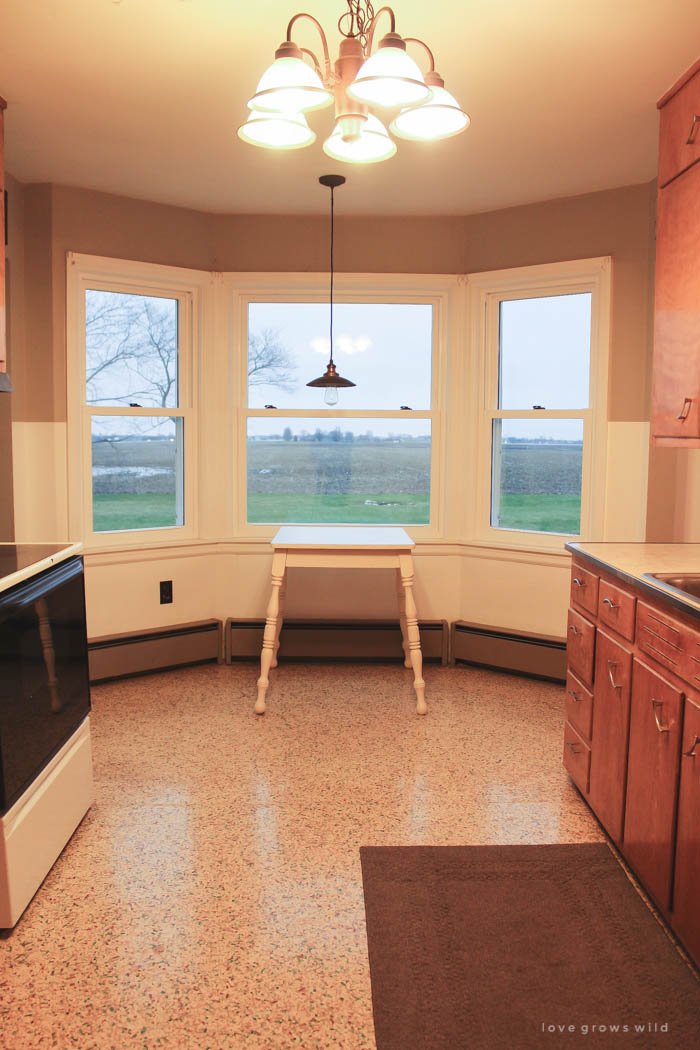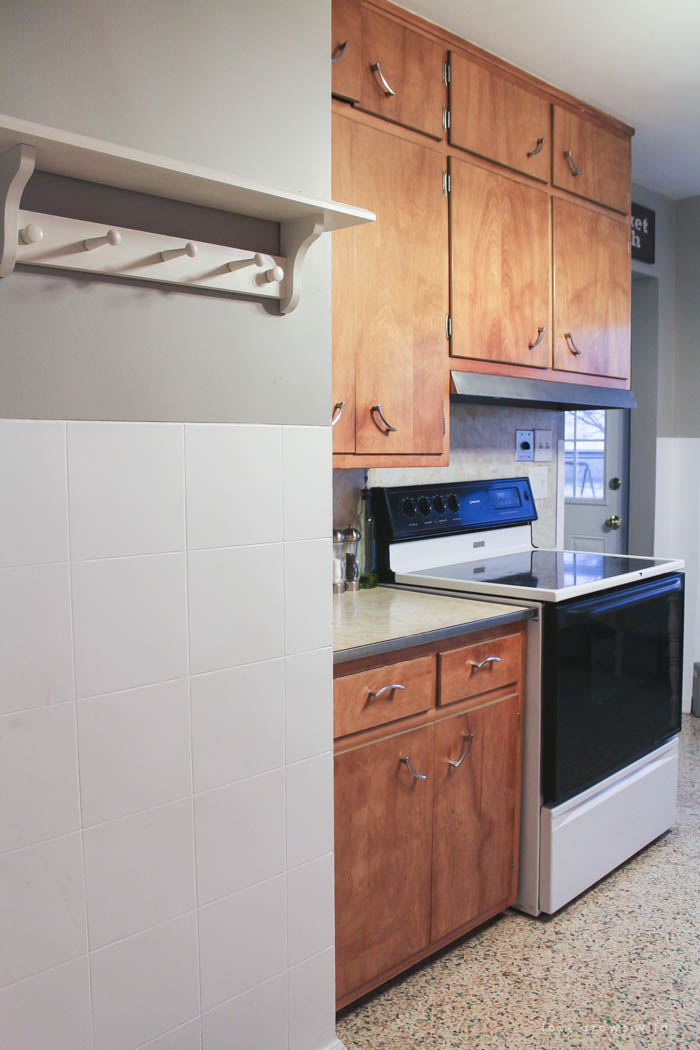 Around the corner from the stove, you'll see our stairs going up to the bedrooms, our backdoor, and what I call our "pantry" on the other side of the stairs.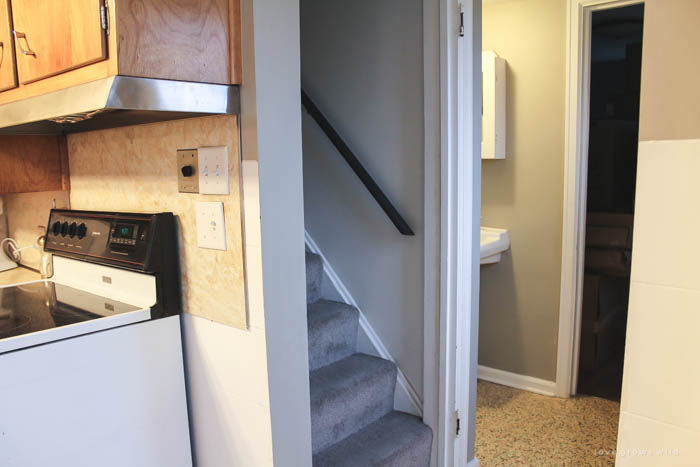 Basically, this space is just big enough for a little wash sink and a small closet that I've crammed all our food in for the past 4 years. It's common to see a little sink area right off the back door in old farmhouses, because the farmers can come in from the field, take off their dirty boots and clothes, and wash up at the sink without tracking dirt all throughout the house. Although this little sink isn't much to look at right now, it reminds me of a simpler time and what our farm might have looked like 100 years ago. I can't wait to spruce this space up and bring back some of that farmhouse charm.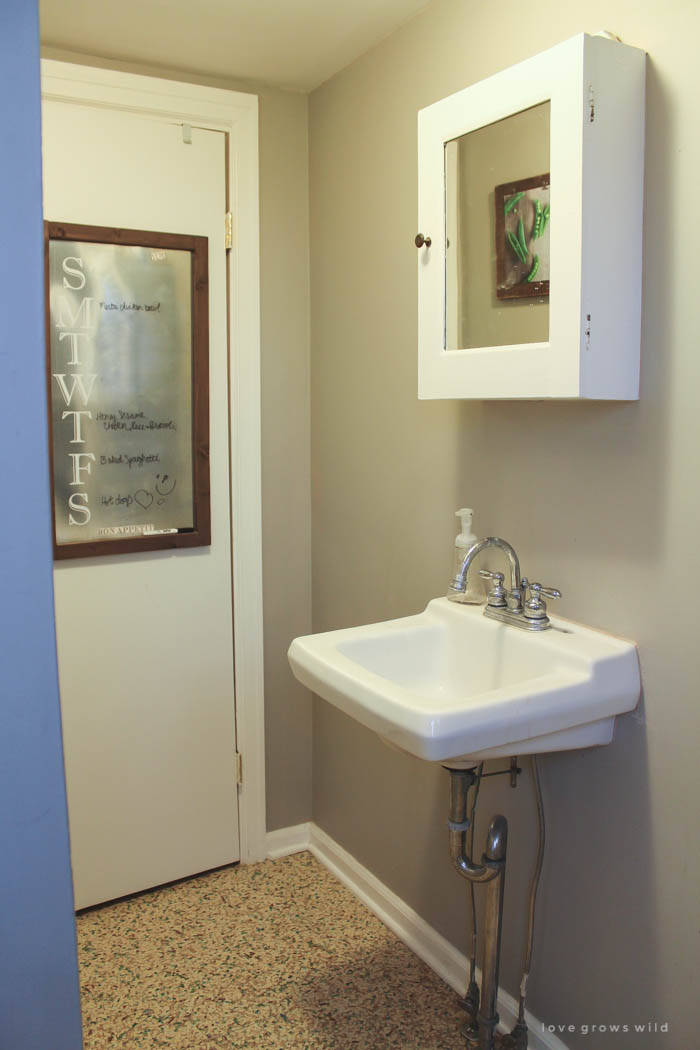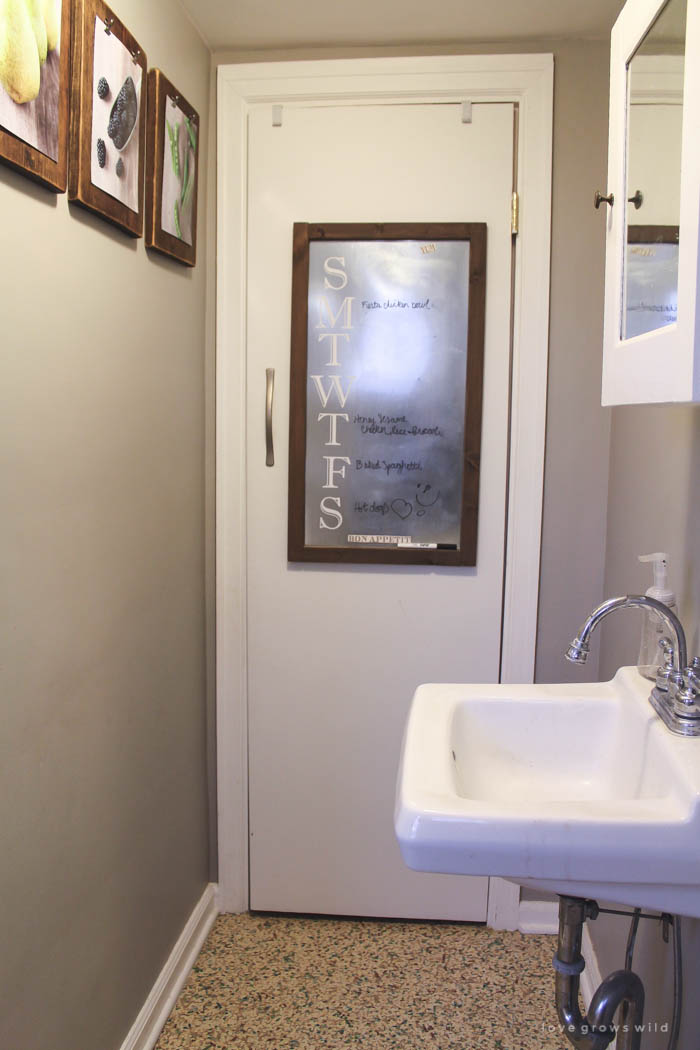 I am REALLY hoping we have enough cabinet space in the new kitchen that I can clean out this disaster of a pantry and get everything back in the kitchen where it belongs. I'm only slightly mortified showing you the state of my pantry right now, but I guess it will make the "after" photos that much better, right?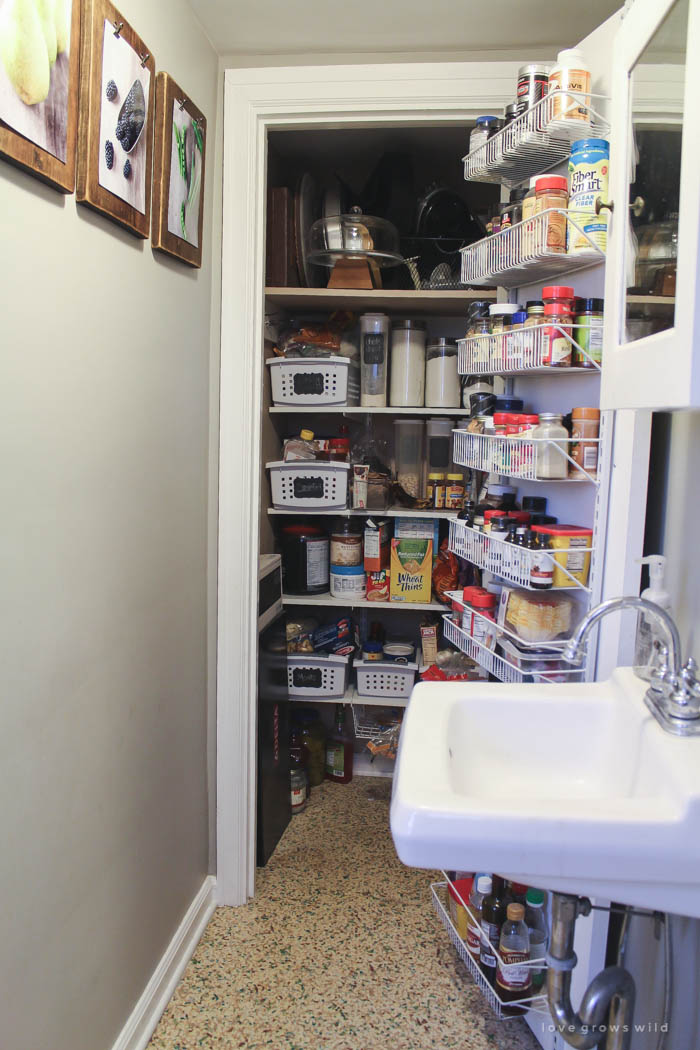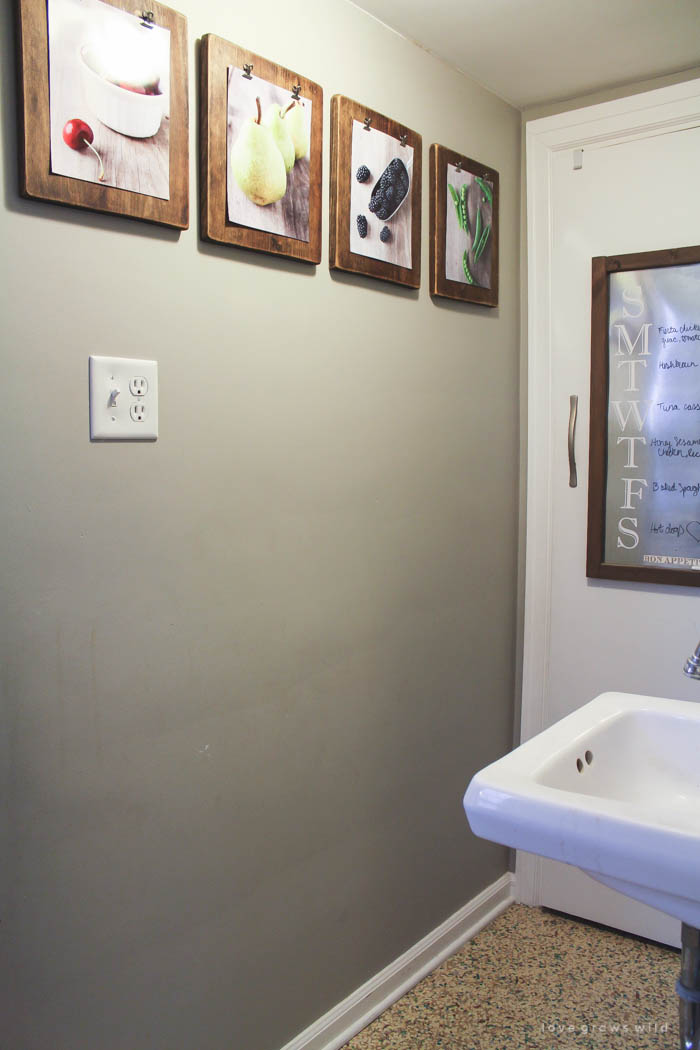 And here we are looking from the pantry back into the kitchen and to the front door.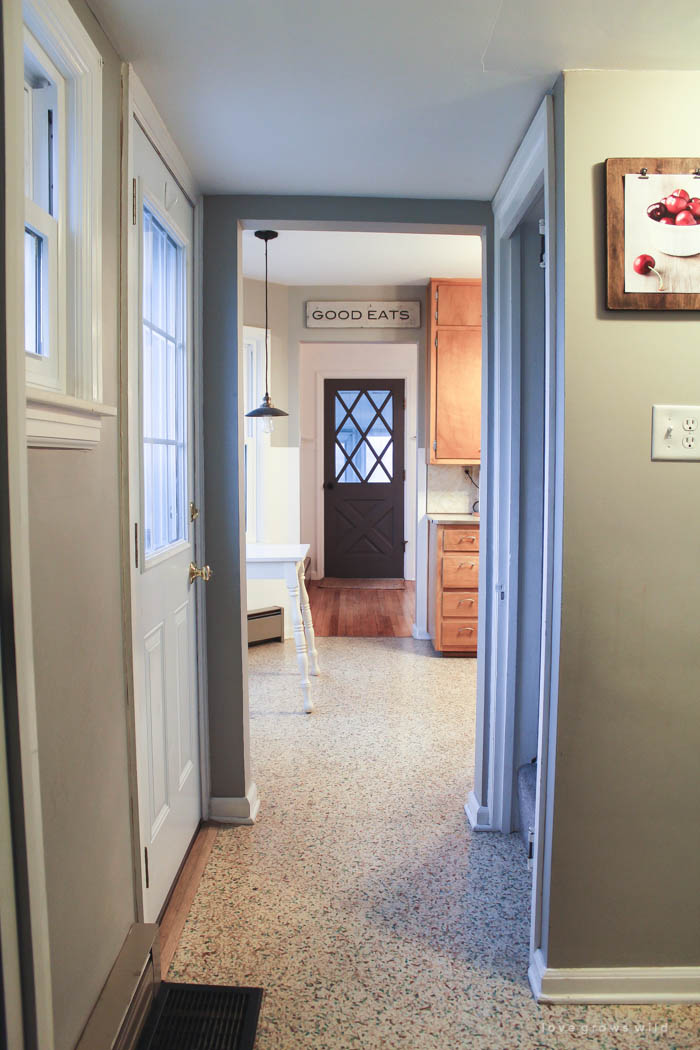 That's the grand tour, guys!
Honestly, this kitchen has served us well over the last 4 years, and I've baked birthday cakes for my babies and slow danced with my husband and had long conversations over coffee in here. But I'm so excited for this next chapter in renovating our farmhouse, and I hope you come along for the ride with me!
So I have a little surprise for you all. 🙂
Normally when we do makeovers like this, I share week-by-week updates on the blog leading up to the final big reveal at the end. But there has been so much excitement around our kitchen renovation, and I know many of you have been waiting so patiently for months now, so I'm going to do my best to start with the big reveal FIRST next week, followed by the more detailed posts afterwards. What do you think??
I'm going to try my hardest to have everything ready to go by then, so stay tuned!

---
LET'S KEEP IN TOUCH!
---
Subscribe to Blog | Browse my Shop | Follow on Facebook | Follow on Twitter
Follow on Google+ | Follow on Pinterest | Follow on Instagram