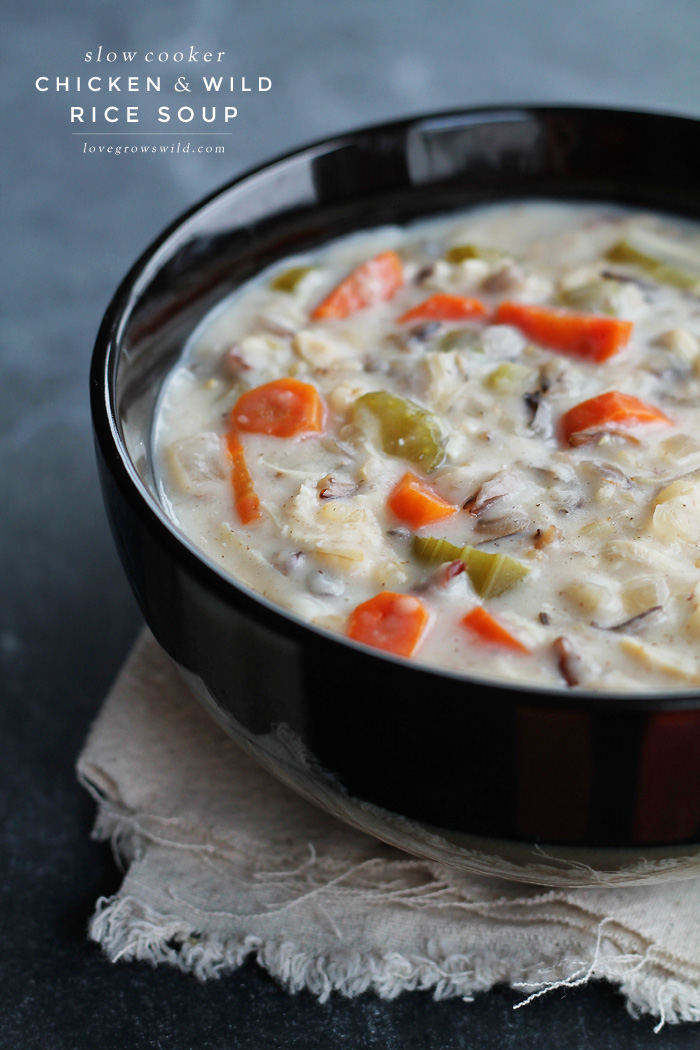 Grab yourself a big bowl of Chicken Wild Rice Soup made in the slow cooker! This creamy, comforting soup is full of tender chicken, flavorful rice, healthy veggies, and the perfect blend of seasonings.
On a freezing cold, gloomy winter day, there is nothing that can warm me up like a big bowl of soup. Two years ago, I was obsessed with this Creamy Cheesy Cauliflower Soup. Last year, it was my Ham and Potato Chowder. This year though, it's all about Chicken and Wild Rice. When you have that earthy, nutty wild rice mixed with tender chunks of chicken and veggies all cooked into a thick, creamy, steaming-hot soup… it's positively magical.
I've been working on perfecting this recipe for a few weeks now, and I think I have it juuuuust right. Ya'll know I'm a big fan of slow cooker recipes, right? Well this soup happens to fit perfectly into the slow cooker category. Just toss the chicken, rice, veggies, broth, and seasonings into the cooker approximately 4 hours before you're ready to eat. You're going to want to cook this soup on HIGH for FOUR hours. Yes, I'm being all caps lock and specific for a reason. 🙂
If you cook this soup for 8 hours on low (like many slow cooker recipes suggest), the rice over-cooks and basically dissolves into the soup. You lose that rice texture, and it's basically a bowl of mush. A very delicious bowl of mush, mind you, but not how a good chicken wild rice soup should be. So 4 hours on high, and then it's time to add the finishing touches.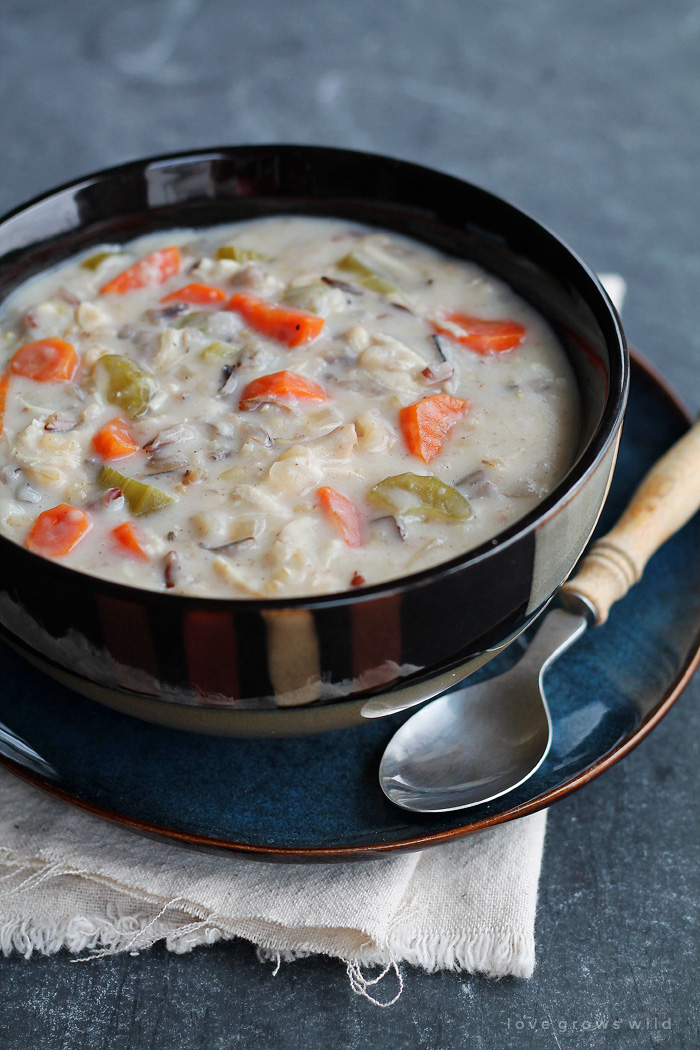 First, you need to chop up the whole chicken breasts that are now perfectly cooked and tender. I prefer to chop mine into small pieces vs. shredding it (again, a texture thing), but you can do whichever you prefer. Then you add the chicken back into the soup and whip up a mixture of butter, flour, and milk to add that creaminess factor to the soup. Now grab a big bowl and a spoon and dig in, my friends. You just made the perfect Chicken Wild Rice Soup!
Oh! I almost forgot to share this tip with you: I like to buy big packages of chicken breasts and freeze them to save a little bit of money. This recipe calls for thawed, raw chicken breasts, but if you forgot to take your chicken out of the freezer the night before… no worries! Just toss them into the slow cooker still frozen, and they will cook beautifully in those 4 hours.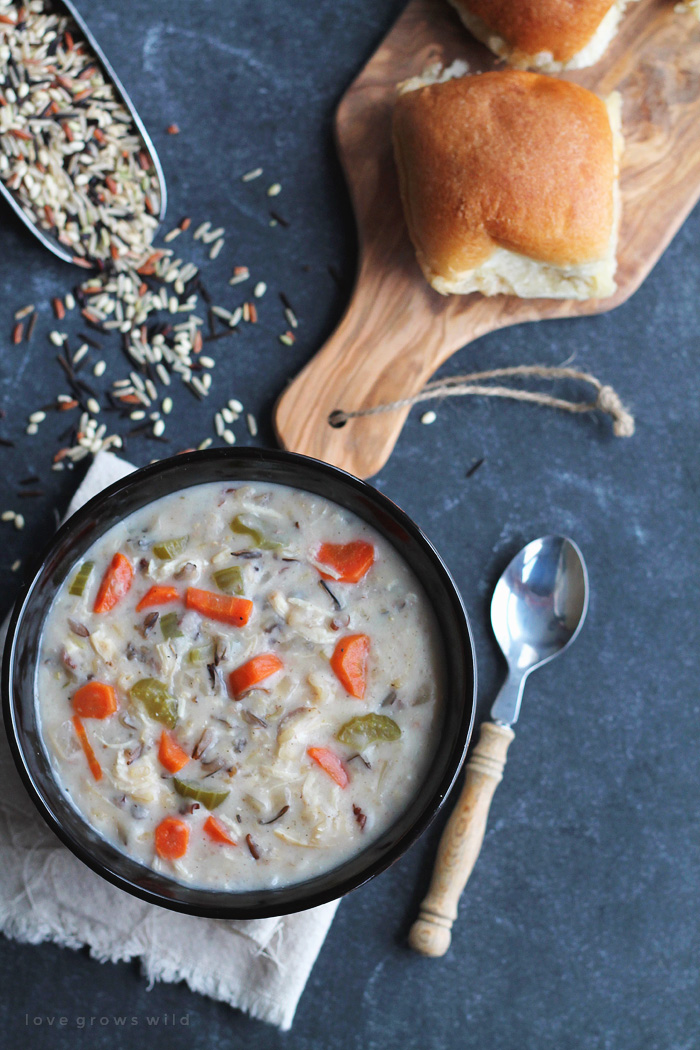 Like what you see? Subscribe to Love Grows Wild so you'll never miss a post!
Follow along on Pinterest, Google+, Instagram, and Facebook for more fun!
Slow Cooker Chicken Wild Rice Soup
Chicken Wild Rice Soup made in the slow cooker! Creamy, flavorful, and so simple!
INGREDIENTS
1 cup uncooked wild rice
2 chicken breasts
½ cup onion, diced
1 cup celery, sliced
1 cup carrots, sliced
6 cups chicken broth
½ teaspoon salt
¼ teaspoon black pepper
¼ teaspoon garlic powder
¼ teaspoon ground marjoram
¼ teaspoon ground thyme
¼ teaspoon rubbed sage
½ cup unsalted butter
¾ cup all-purpose flour
2 cups 2% milk
INSTRUCTIONS
Rinse the uncooked wild rice under running water and place in a slow cooker. Add the raw chicken, onion, celery, carrots, chicken broth, and all the seasonings. Put a lid on the slow cooker and cook on high for 4 hours. The chicken should be cooked through and tender, and the rice should be soft.
Remove the chicken breasts from the slow cooker and chop into small, bite-size pieces or shred with two forks. Return the chopped chicken back to the slow cooker.
Melt the butter in a saucepan over medium heat. Once melted, add the flour and stir to combine for 1 minute. Slowly pour in the milk and continue to cook, whisking constantly, until it becomes thick and creamy. Pour the thickened mixture into the slow cooker and stir to combine. Season with additional salt and pepper to taste, if necessary. If the soup gets too thick, stir in additional milk.
NOTES
- I highly recommend using a good quality rice, such as Lundberg brand. You can usually find it next to the other rice and grains at your grocery store.

- You can also stretch the cook time by setting the slow cooker on low for 7-8 hours, if necessary, but I much prefer the shorter 4 hour cook time on high so that the rice and chicken don't over-soften and disappear into the soup. You want to keep all that delicious texture in there!
– adapted from Pinch of Yum
Are you making this recipe? I'd LOVE to see it! Post a photo of your creation on Instagram and use the hashtag #MyLGWRecipe. It may just get featured!
---
More recipes to try: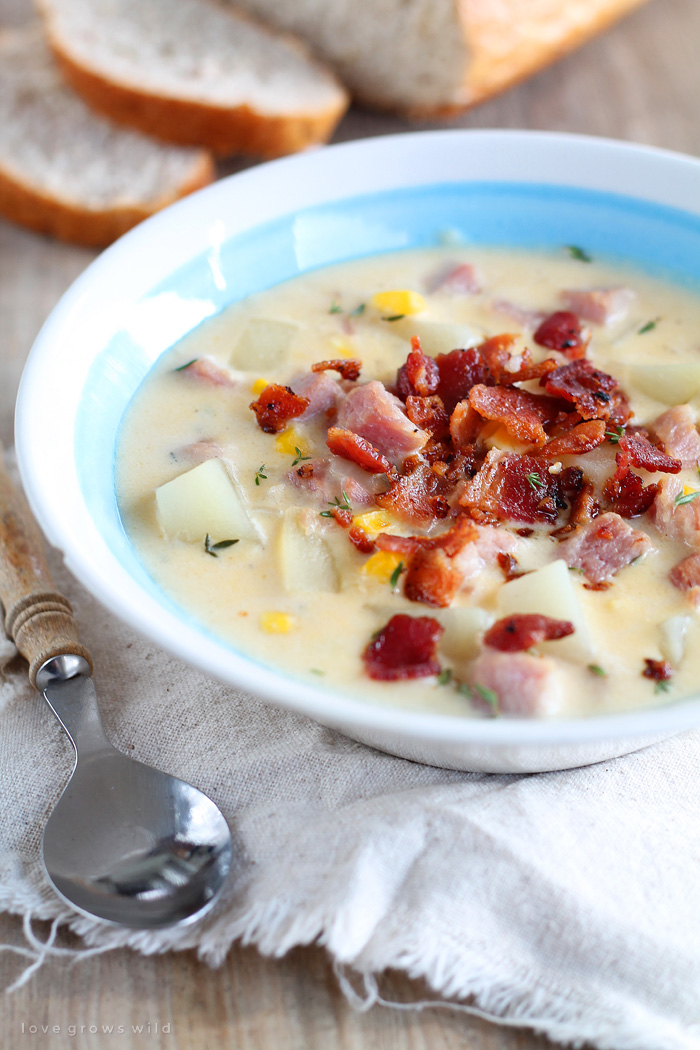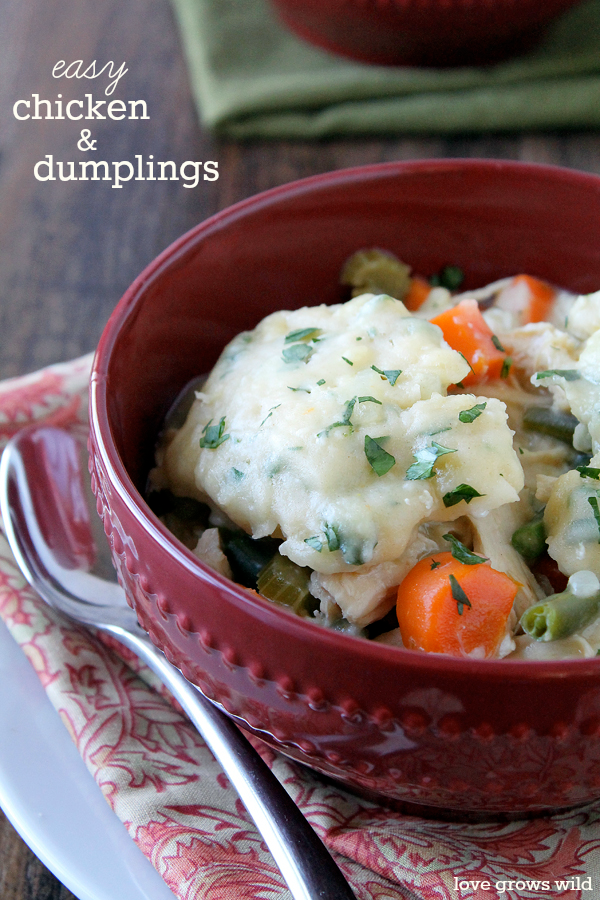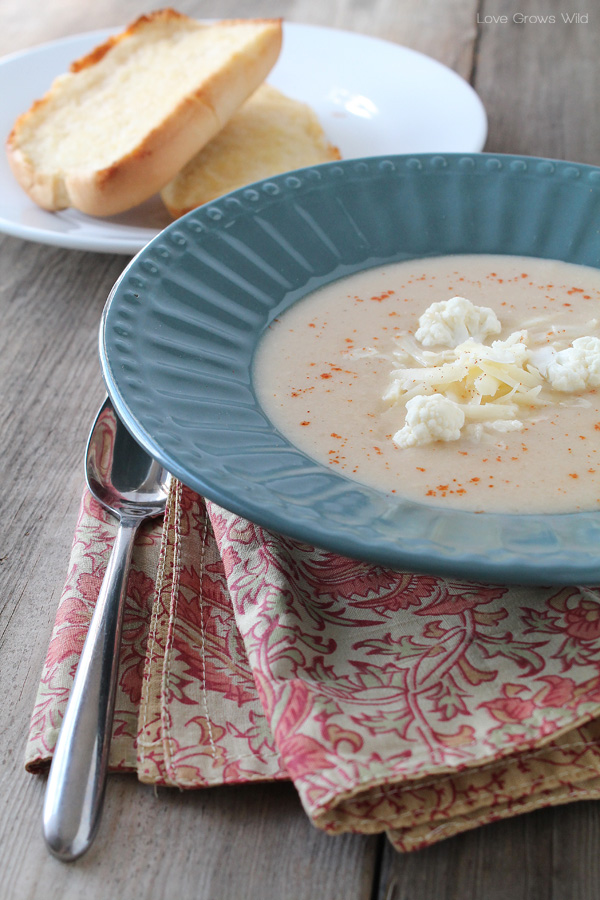 Creamy Cheesy Cauliflower Soup
---
LET'S KEEP IN TOUCH!
Subscribe to Blog | Browse my Shop | Follow on Facebook | Follow on Twitter
Follow on Google+ | Follow on Pinterest | Follow on Instagram