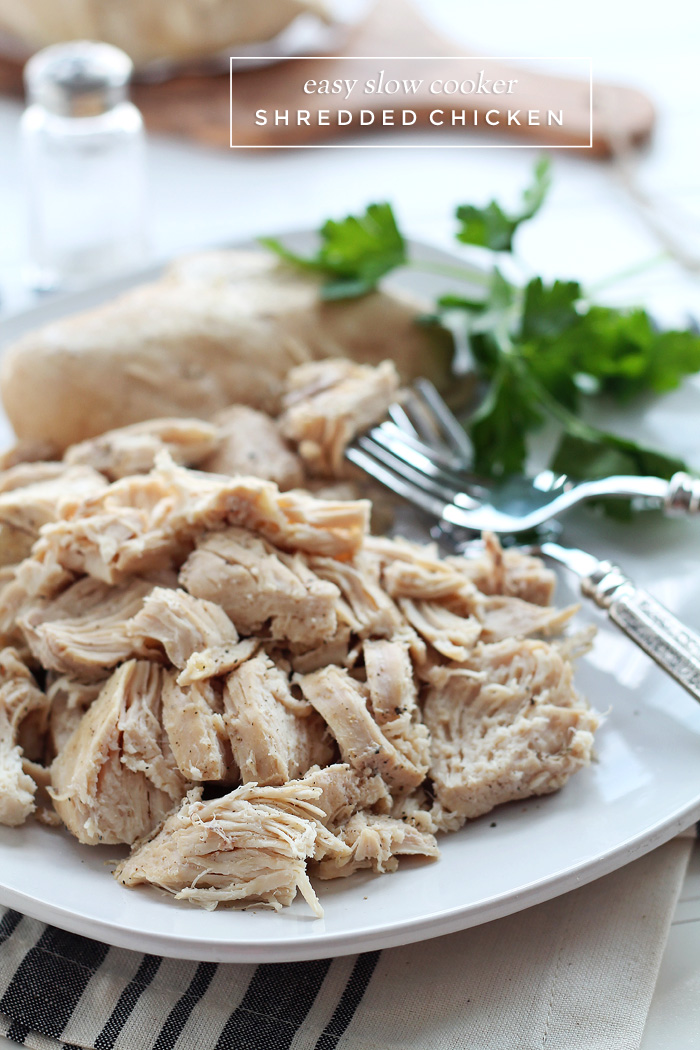 We're going back to basics in the kitchen today with a simple trick I love using to make dinnertime a breeze. I'll show you how I make delicious shredded chicken in the slow cooker that can be used in everything from pasta and casseroles to soups, salads, sandwiches and more. Cook the chicken in bulk and freeze to make meal prep super simple all month long!
As I was getting some new dinner ideas together for you guys, I realized that I've never shown you one of the most-used recipes in my kitchen! We eat A LOT of chicken in this house. And sometimes I come across recipes that call for pre-cooked chicken. Rather than dealing with raw chicken every night and dirtying yet another skillet, I like to cook a bunch of chicken breasts all at once, chop or shred them up, and freeze them for future use. I promise you… this trick will make your life 100x easier!
Not only can you cook a whole bunch of chicken all at once, but there's actually very little effort needed to get the job done. Enter: the slow cooker. (cue the trumpets playing)
Are you ready for how incredibly easy this is? First, add the chicken breasts to the slow cooker. Thawed OR frozen chicken will work with this recipe! Then, pour in some chicken broth. The broth adds some flavor and keeps the chicken nice and juicy throughout the cooking process. Since you're prepping a bunch of chicken that will be used in different types of recipes, I like to season the chicken very simply with salt, pepper, and garlic. It adds plenty of flavor, but allows the chicken to be versatile for whatever recipe you put it in.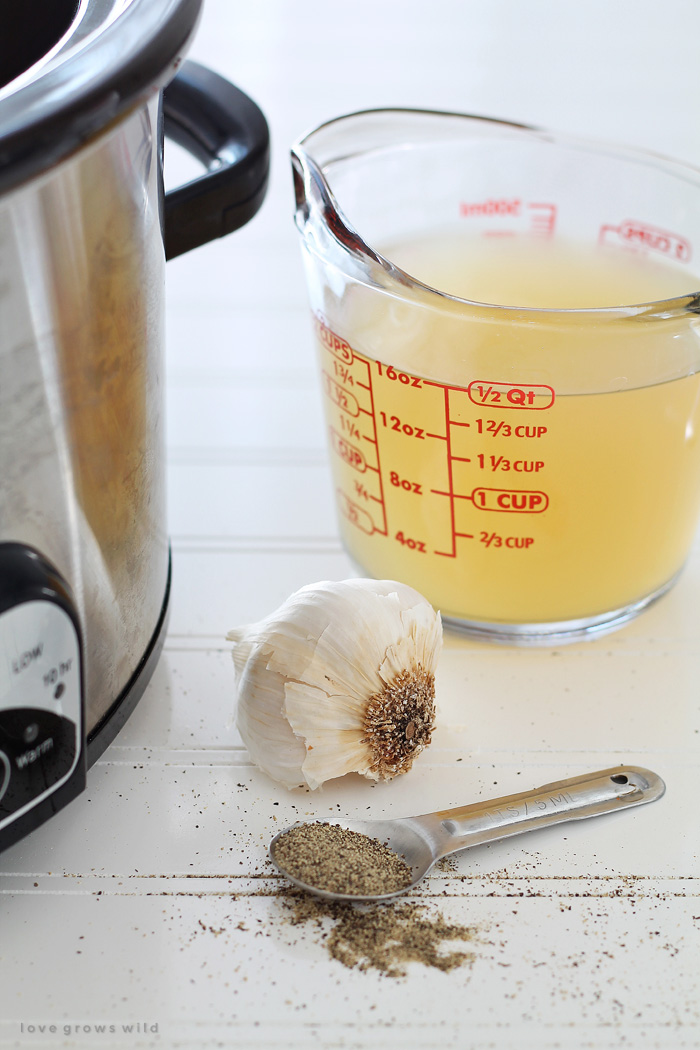 Now it's time to turn on that slow cooker, and let it work its magic! I've tested this recipe dozens of times on both the high and low heat setting, and I will say that I definitely prefer high heat for 4 hours vs. low heat for 8 hours. Here's why: When you let it cook for 8 hours on low, the chicken becomes SUPER tender. Like, you-can't-even-stick-a-fork-in-it-without-it-falling-apart-on-you tender. Tender is good, but I don't want the chicken to shred so much that it's almost nonexistent when you add it to your soup or pasta dish. I like texture in my food, so when I go with the 4 hours on high, the chicken still becomes juicy and fall-apart tender, but I'm able to slice or chop it up into pieces, which is what I usually prefer for my recipes. Maybe I'm a weirdo, and maybe you don't care that deeply about shredded vs. diced chicken, but all I can say is that it's a texture thing!
Do you work all day and NEED to set your slow cooker for 8 hours on low? No worries, my friends! It's still perfectly acceptable. I just wanted to give you the full scoop on how I do my chicken in case you were wondering. 4 hours on high… 8 hours on low… the choice is yours!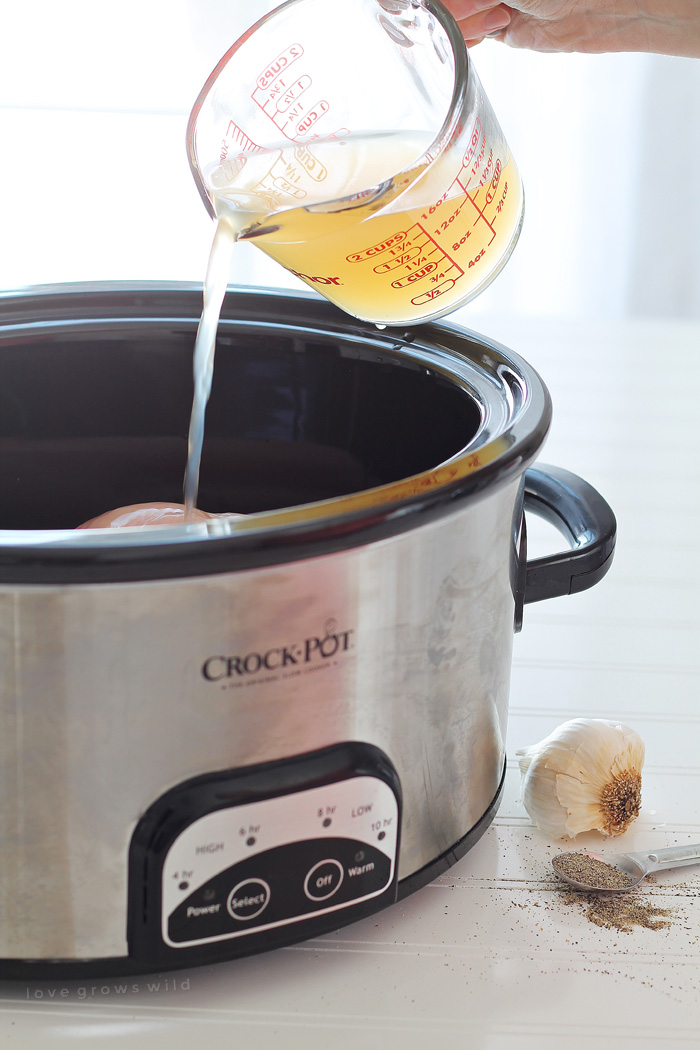 Once the chicken is done cooking, chop/slice/shred it however you like and divide it up into freezer storage bags with a little bit of the cooking liquid. Make sure you label the baggie so you don't look in your freezer 3 months later and go… uh… what was that??
When you're ready to use the chicken, just thaw it in the refrigerator (I usually take mine out the night before) and add it to chicken pot pie, fettuccine alfredo, Asian chicken salad, chicken and dumplings, chicken salad sandwiches, and more! You will find endless ways to use your freezer full of delicious chicken, and I bet you won't be mad at all the cooking time you save either!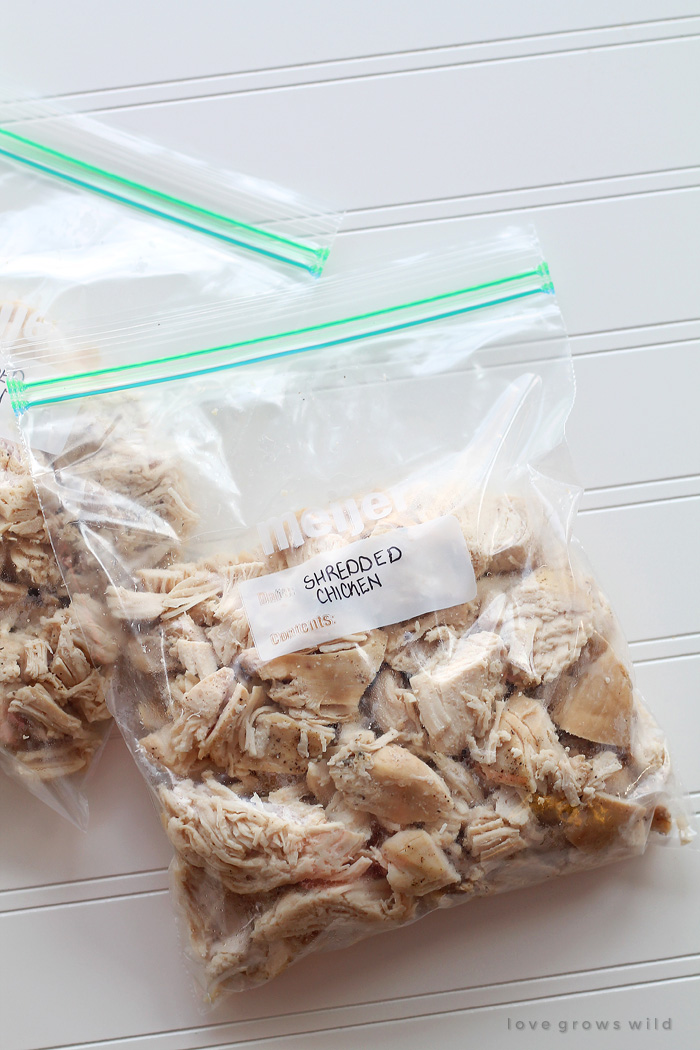 Like what you see? Subscribe to Love Grows Wild so you'll never miss a post!
Follow along on Pinterest, Google+, Instagram, and Facebook for more fun!
Slow Cooker Shredded Chicken
Make meal prep easier with this tender, juicy Slow Cooker Shredded Chicken! Cook the chicken ahead of time and freeze to make dinnertime a breeze on busy nights!
INGREDIENTS
4 boneless, skinless chicken breasts (thawed or frozen will work)
2 cups chicken broth
1 teaspoon salt
1 teaspoon black pepper
½ teaspoon garlic powder
INSTRUCTIONS
Place all the ingredients in a slow cooker and cook on high for 4 hours or low for 8 hours. Carefully remove the chicken onto a cutting board and dice or shred into bite-size pieces.
To freeze: place the chicken in freezer storage bags with a little bit of the cooking liquid, and freeze until ready to use. Thaw overnight in the refrigerator before using.
Are you making this recipe? I'd LOVE to see it! Post a photo of your creation on Instagram and use the hashtag #MyLGWRecipe. It may just get featured!

Still hungry? Try these recipes: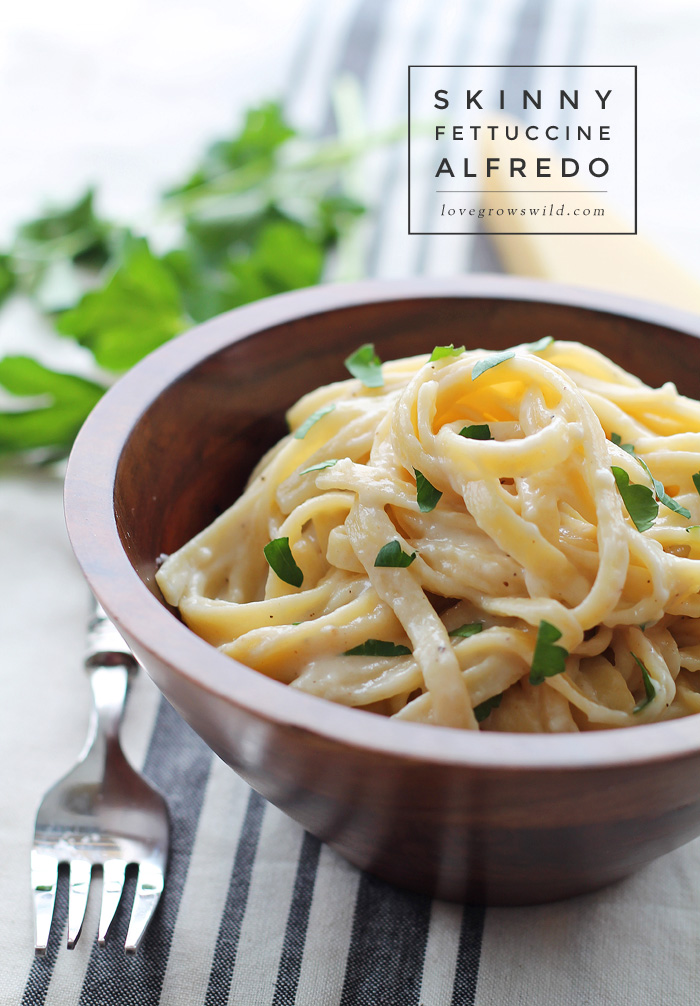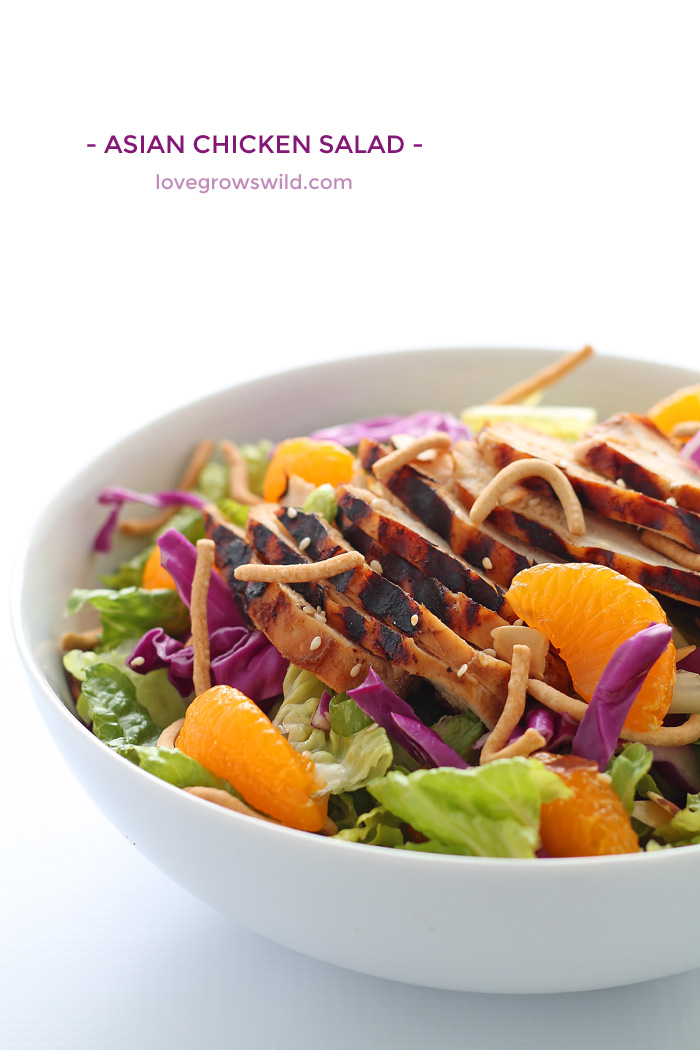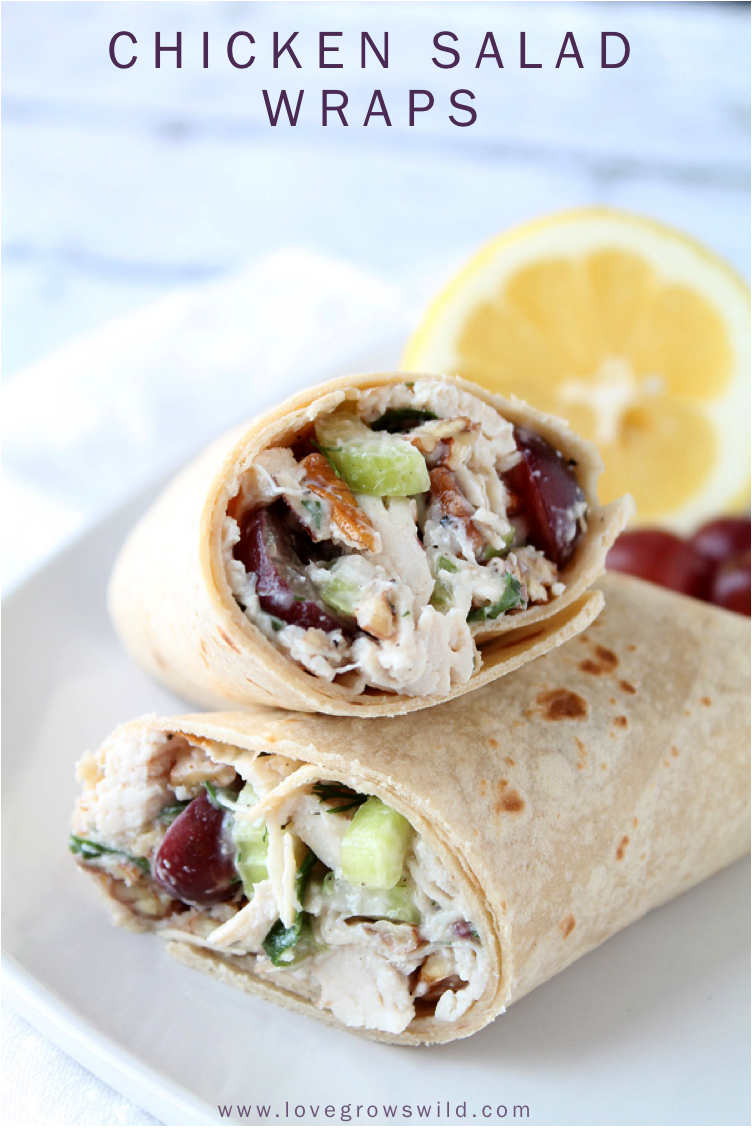 ---
LET'S KEEP IN TOUCH!
Subscribe to Blog | Browse my Shop | Follow on Facebook | Follow on Twitter
Follow on Google+ | Follow on Pinterest | Follow on Instagram