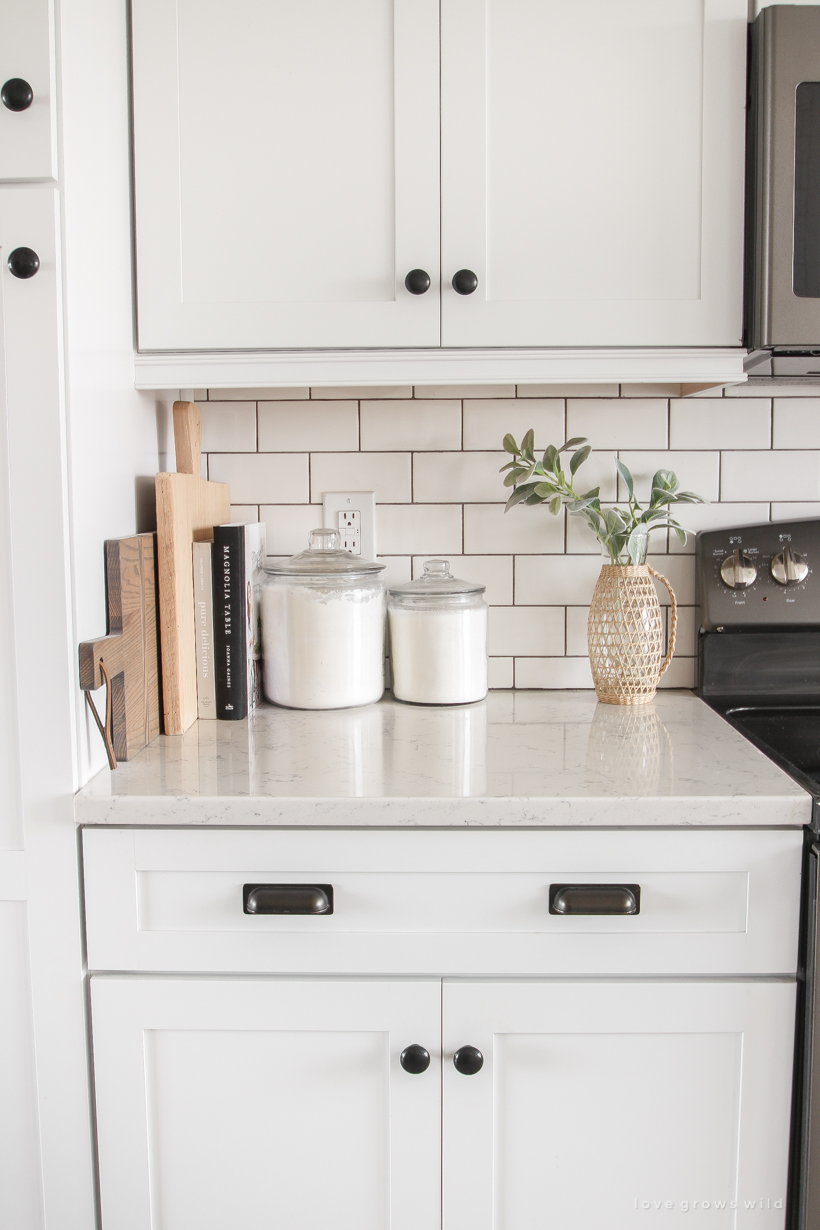 This year has certainly been one for the record books in different ways than any of us ever expected. One thing that I already felt strongly about but 2020 definitely confirmed is the importance of home, health, and family. I tackled a few large outdoor projects this year and found myself enjoying our outdoor living space as an escape often during the pandemic. But I mostly worked on little updates throughout our home, making it feel as cozy and comfortable as possible.
In February I changed out the curtains in our kitchen by the little dining table and restyled the counters.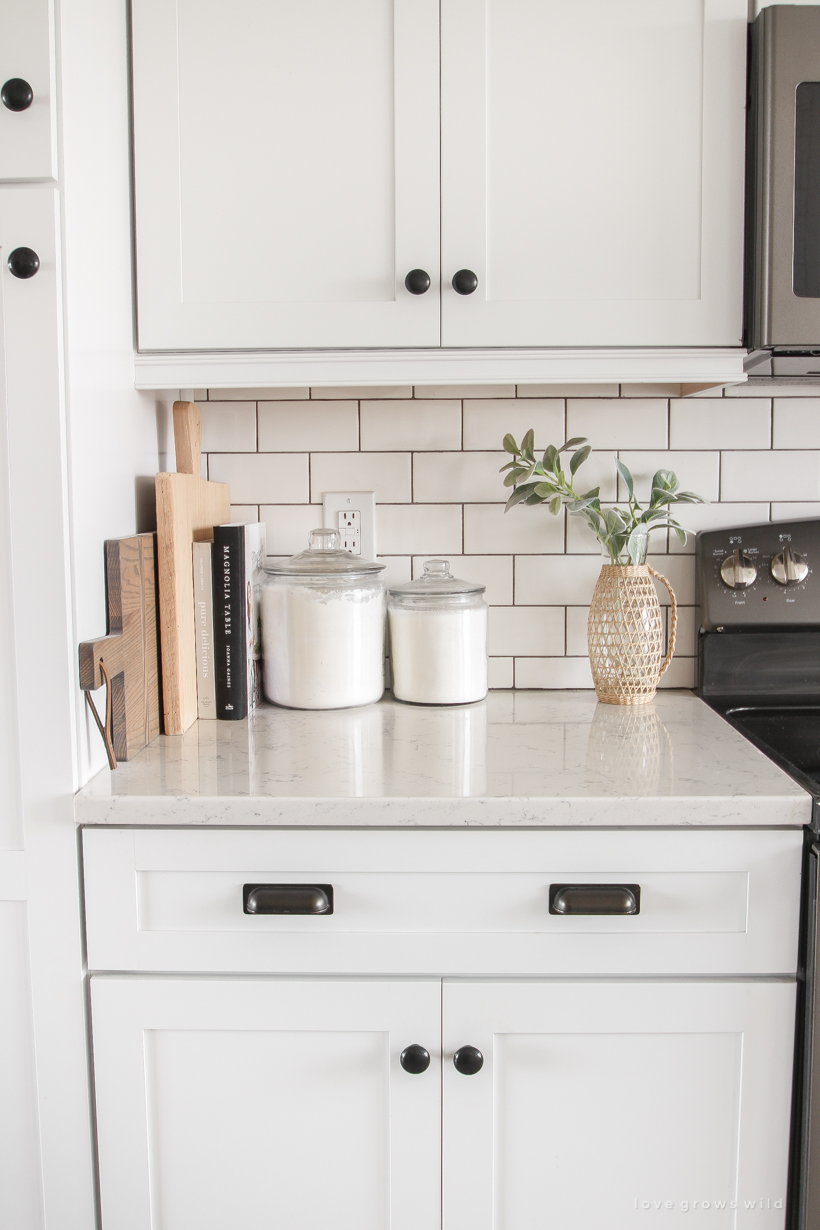 I don't share a ton of recipes here because the main focus is of course decorating and home. But the heart of the home is most often the kitchen, and everyone seemed to love this Peanut Butter Banana Baked Oatmeal recipe I shared back in May. It's one of my favorite breakfasts to prep for the week ahead!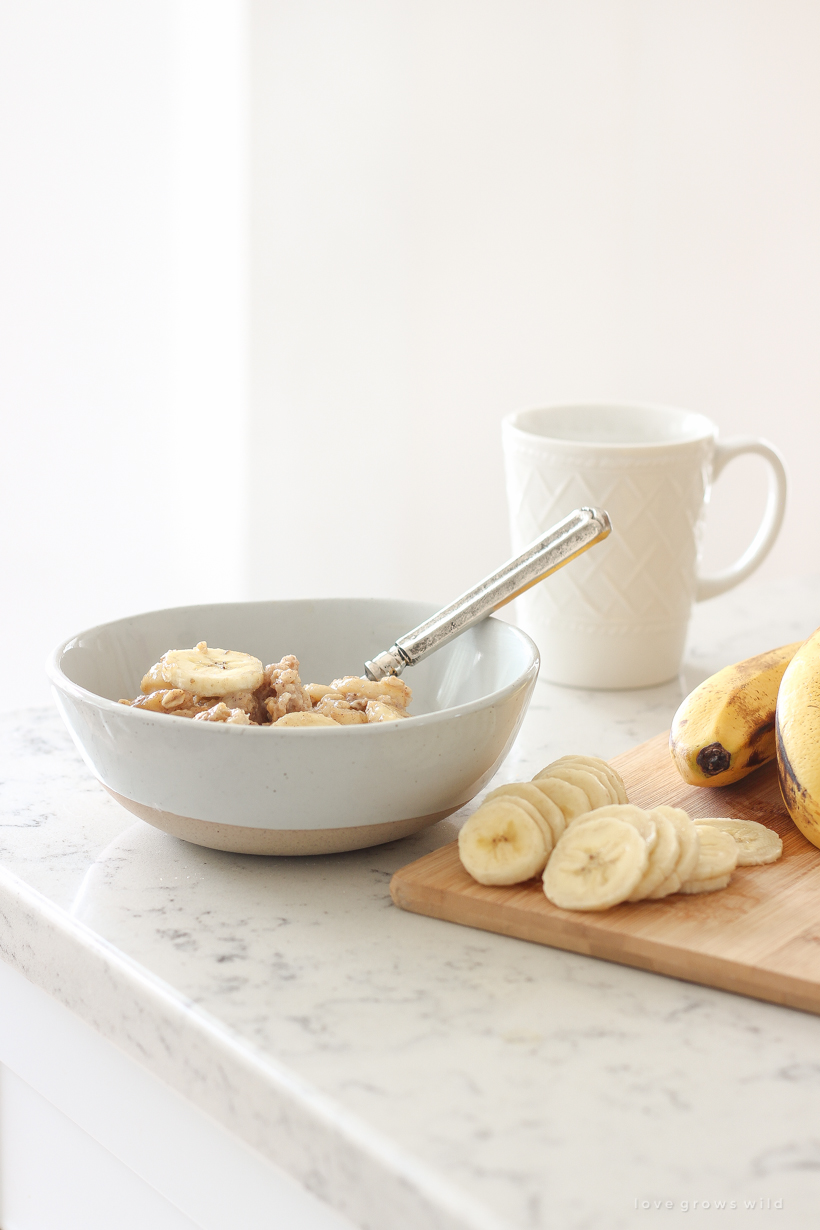 One of the biggest changes to our home happened in the beginning of the year when I swapped the living and dining room area. It's one big open space that I've always struggled with the layout, but this new arrangement has worked so much better and feels just right now. There's a ton of views of this main living space in this post as well as links for sources for everything in the living and dining rooms, so it's a great post to check and save!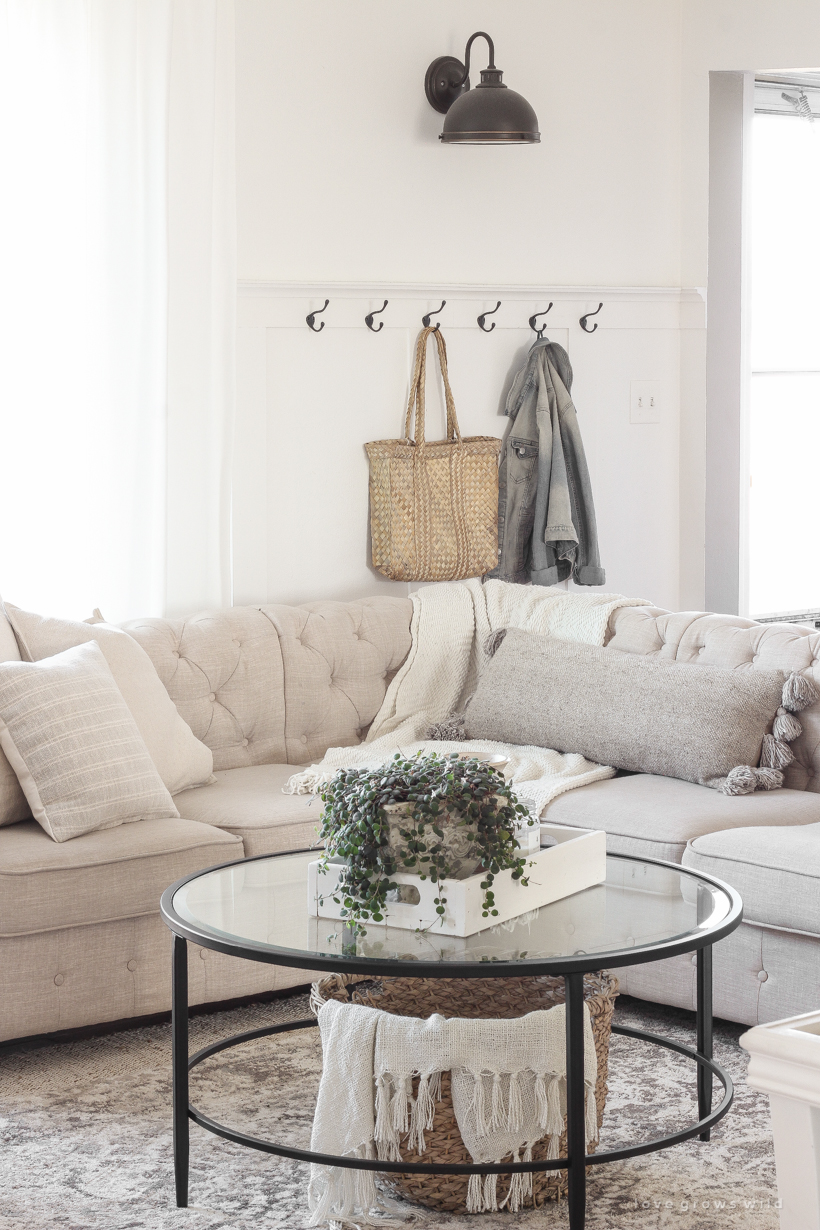 2019 is the year we built the deck on the back of our house, but this year I added a small extension connecting the deck all the way to breezeway/garage. You can read the full details in the post, but long story short my original plans for the transition from the deck to the breezeway didn't work out, so this became plan B for finishing the deck project. And honestly I love it so much more now than what I had originally planned! I'm enjoying a little break from all the yard work that comes with spring and summer time, but I can't wait to get back out here and start enjoying this dreamy space again.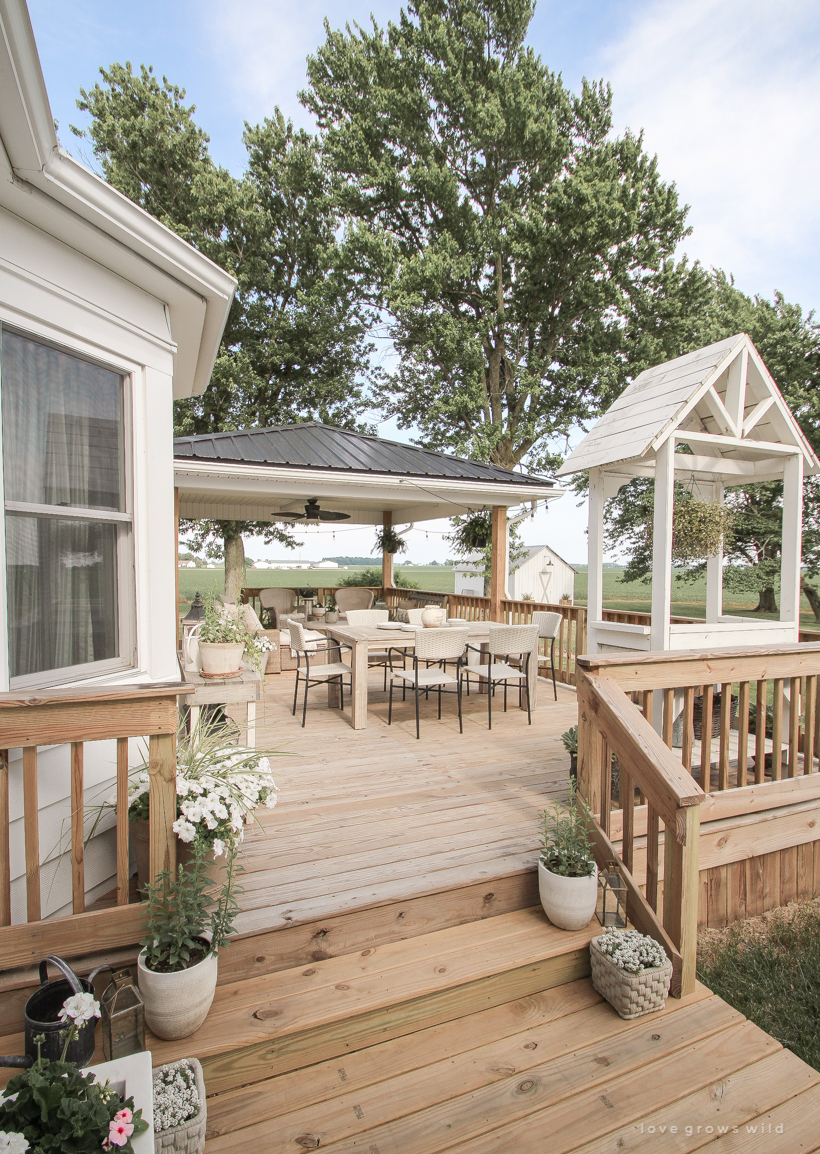 I tried to take a little more time this year to sit and work on smaller decorating projects like this paper mache pressed flower art. It was inspired by artwork I found in a store, and I knew I could easily recreate something similar at home. You guys ended up loving this project as much as I did, and I have loved seeing your versions of this diy art project!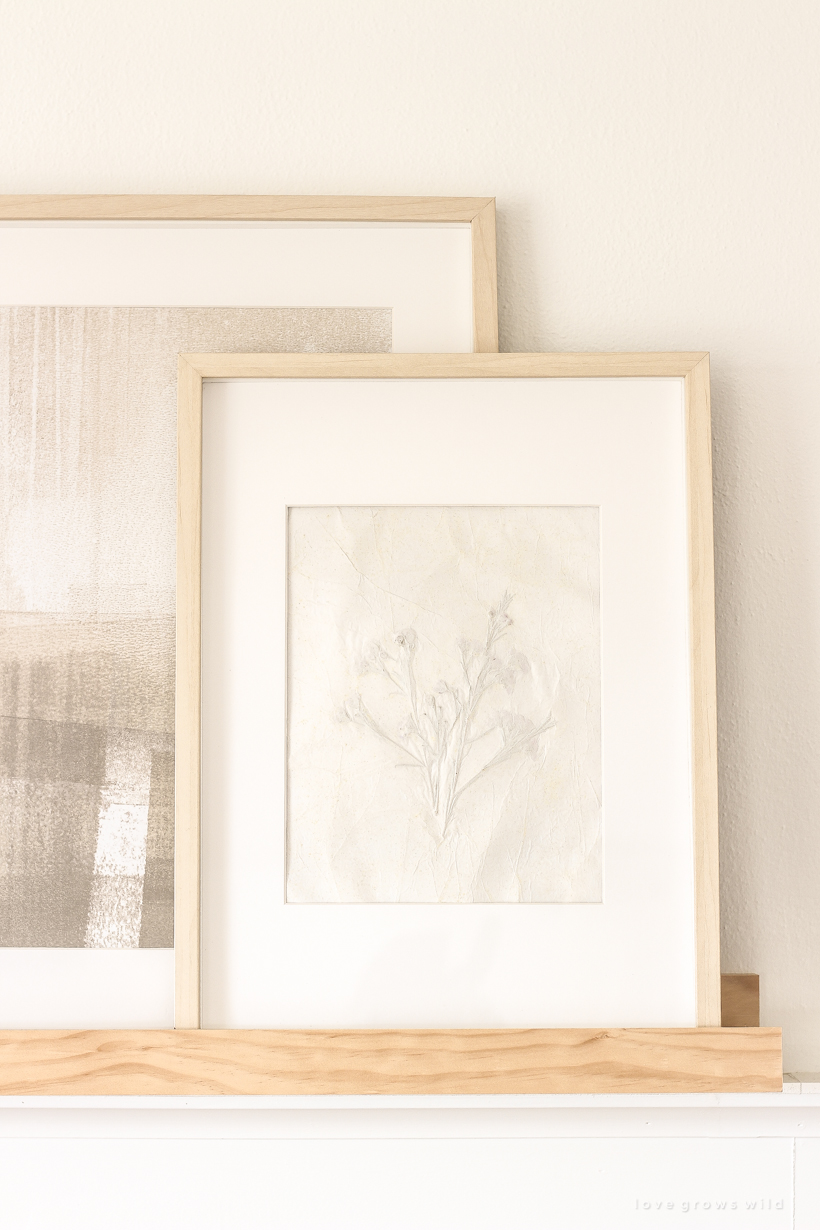 I've made very few major changes in my master bedroom since I first designed in back in 2015 (holy cow, how is that five years ago?). It's the one space that I feel like was perfect from the very beginning and I haven't felt the urge to change many things. This fall I did make a few little updates as my style has evolved over the years, taking away some of the lace, ruffles, and more feminine elements and adding in more cozy, laidback, organic vibes. A new rug, curtains, bedding, and new artwork was just what this room needed to feel refreshed, but still perfectly "me".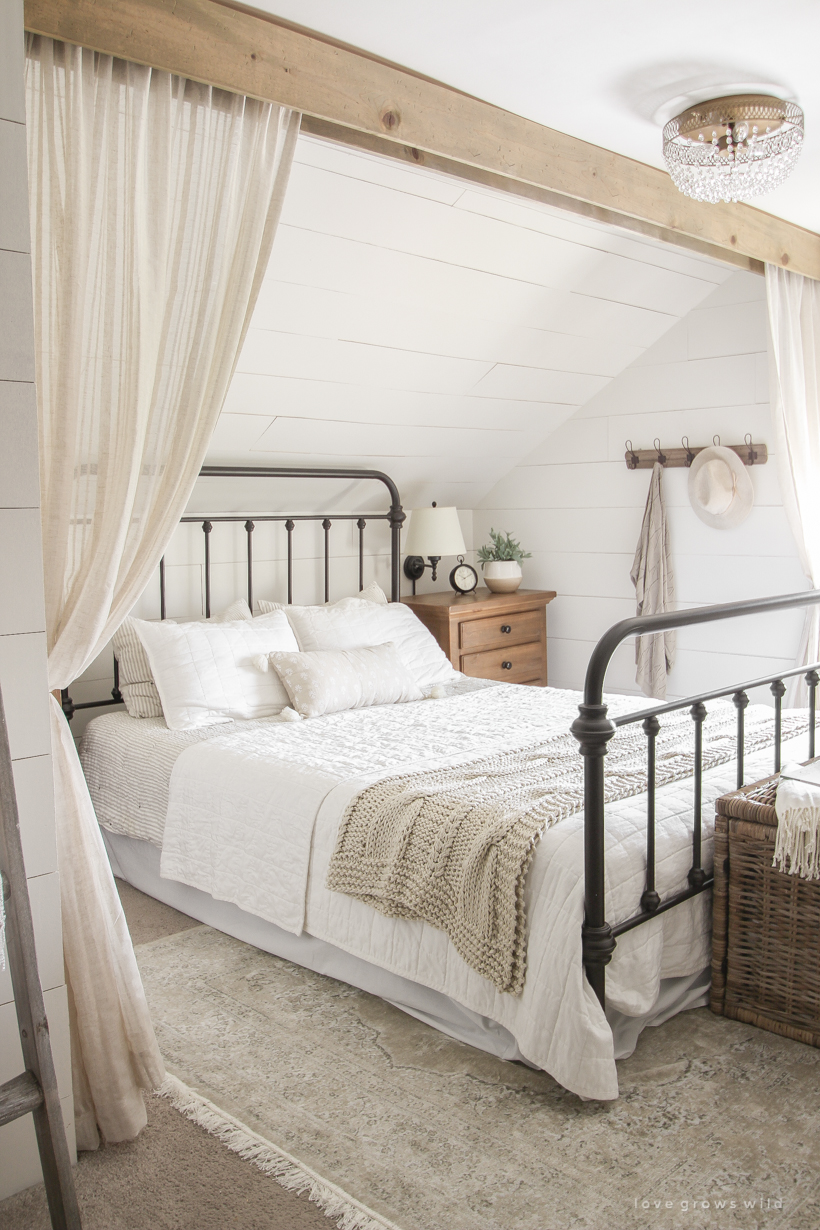 This spring I shared an update on my home office (a.k.a. Love Grows Wild headquarters), and you guys loved seeing the space I create in and practical, but stylish storage solutions.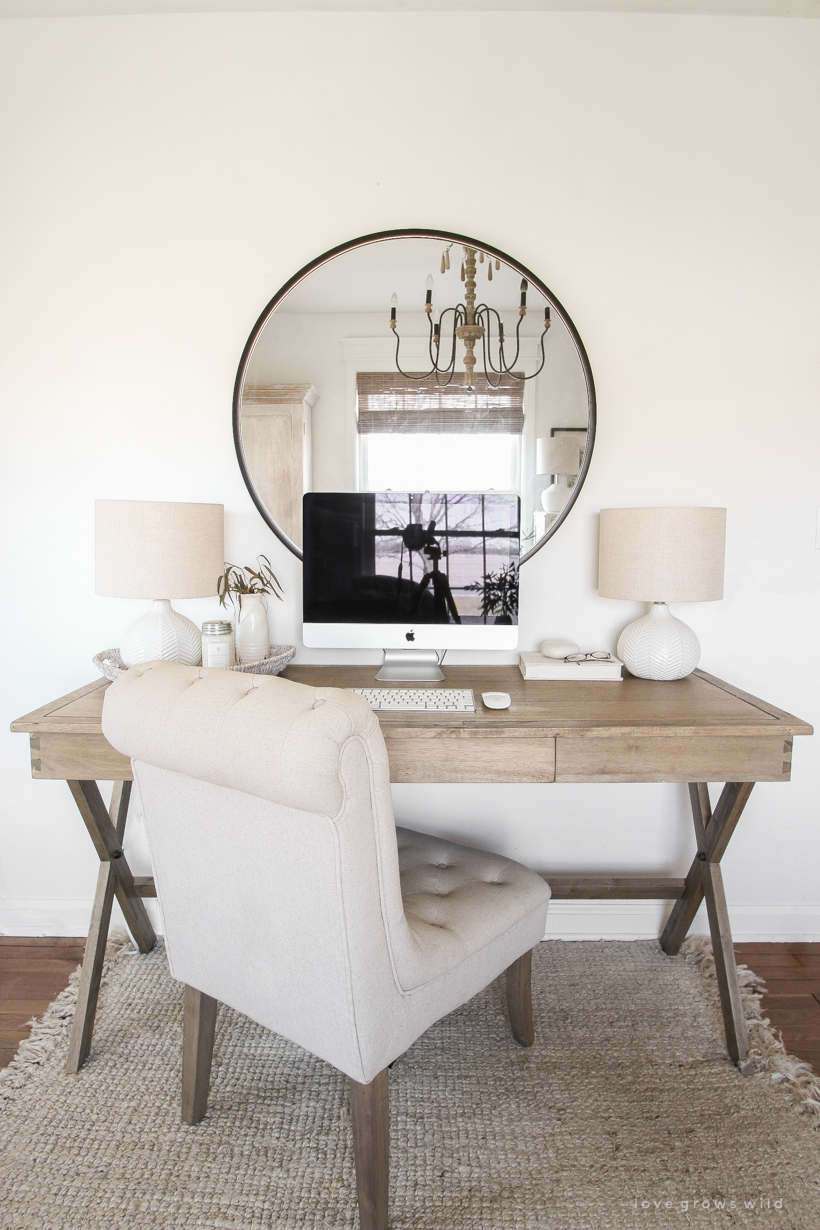 In the spring when I was getting the deck cleaned up from winter, I shared a quick tutorial on how I clean all our outdoor cushions and pillows. One of the questions I get asked most is how this outdoor sofa has held up, so I wanted to give an update on how pleased I've been with the pieces I picked for the deck and how I keep them looking new… even living out in the country with boys and a dog.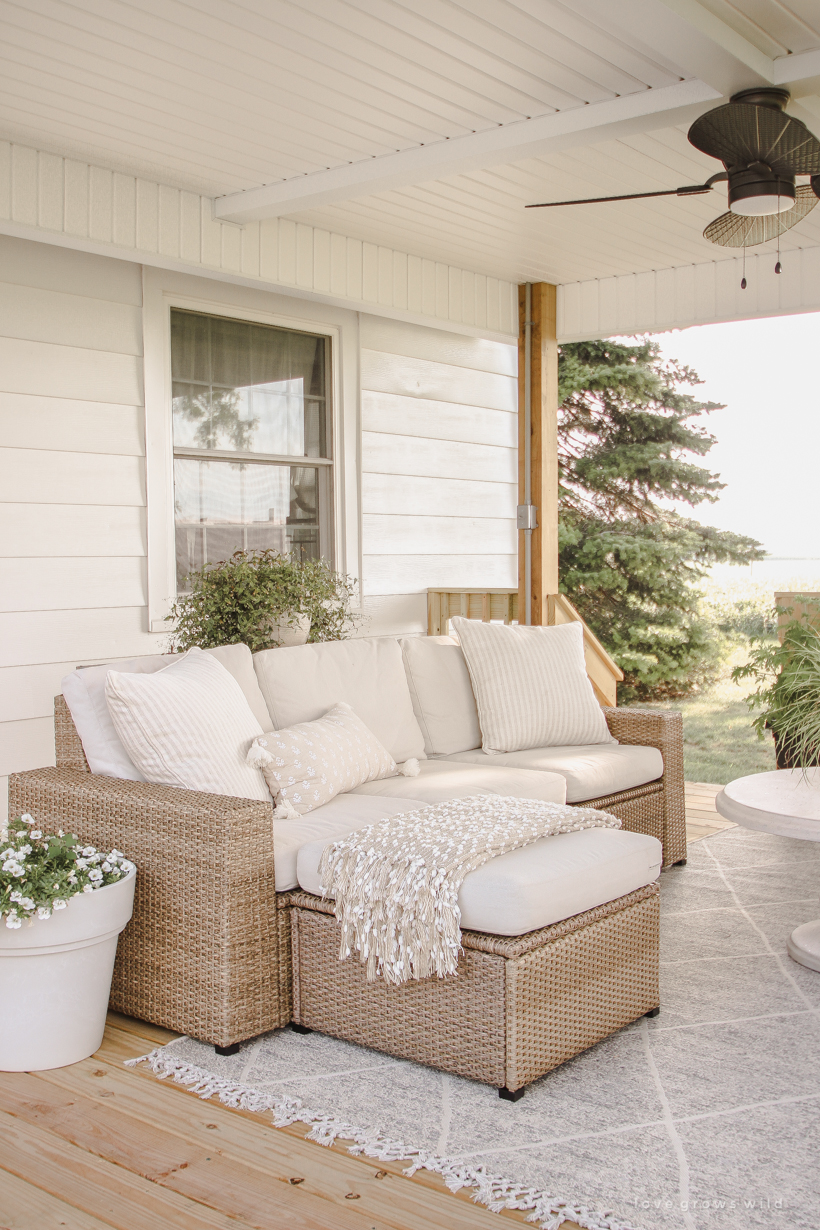 I told you our outdoor spaces got a lot of love and attention this year, and I wanted to share a ton of my favorite decor and furniture pieces for outdoor living (75 to be exact!) on any budget. You can check out this post to get you thinking ahead for next summer.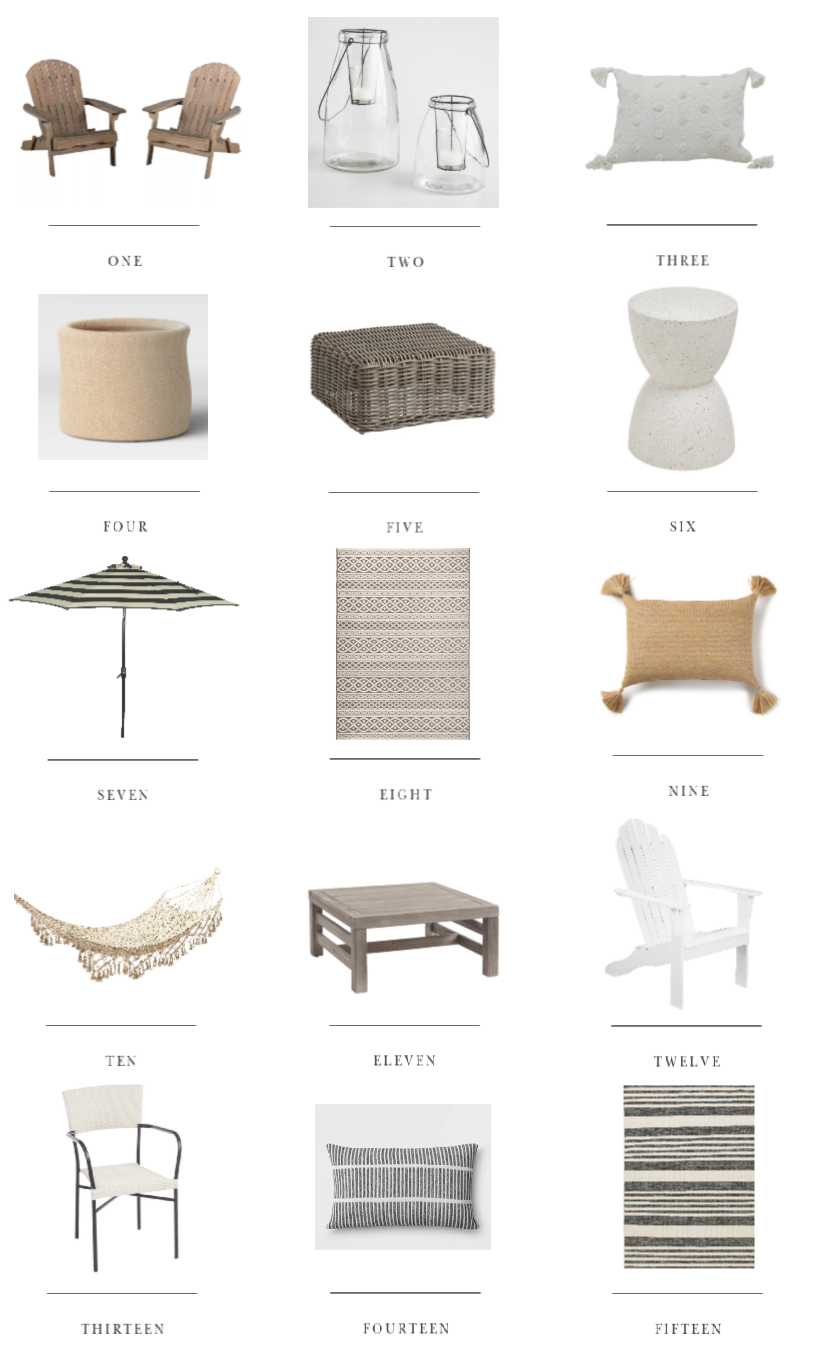 And last, but not least… probably my favorite outdoor project from the year. Our new front door! This is a project I've been wanting to do for years, and I finally pulled the trigger after the backyard projects were all complete. Black felt like a bold choice for my very white house, but at the same time it was the only color that felt just right for this little farmhouse. Timeless, classic, and so beautiful. And yes… shutters are still the next outdoor project on the list for 2021!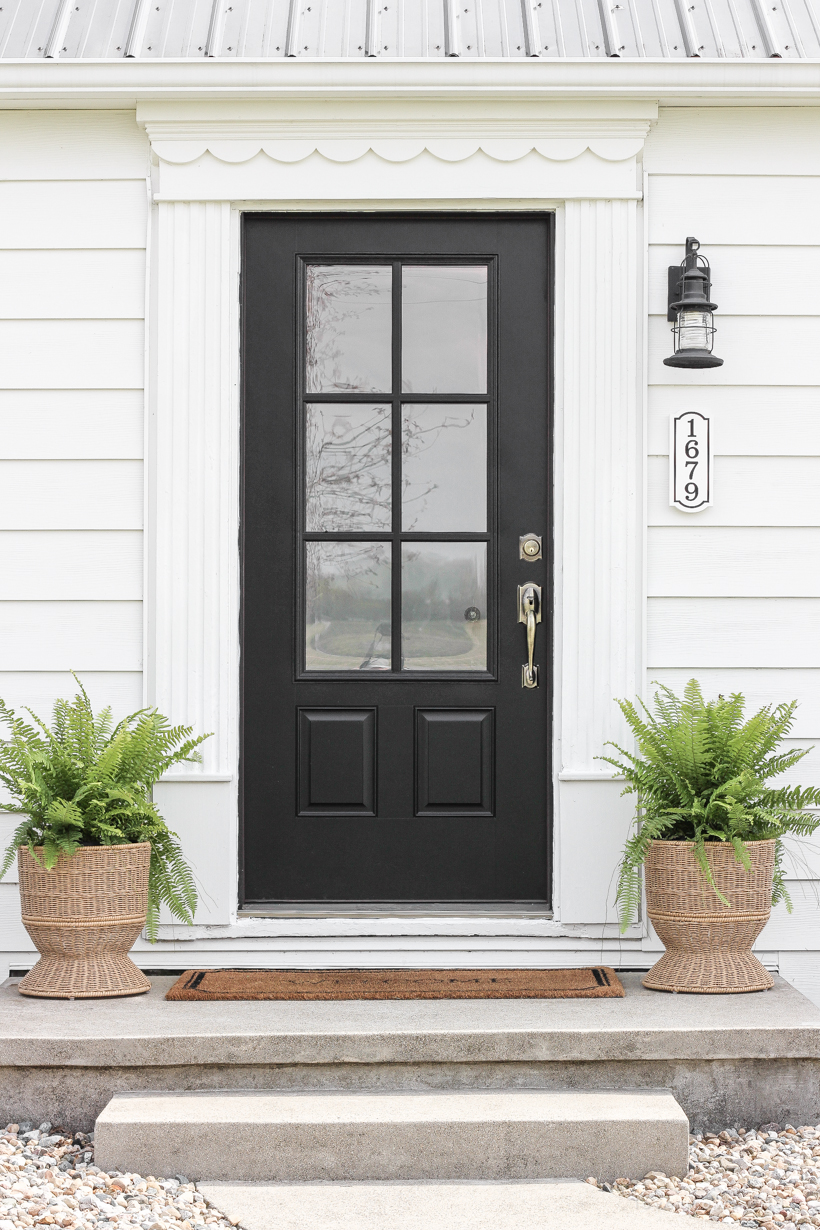 Those posts were the top ten most viewed this year, but there were a few that were pretty big milestones for me that completely changed the course of my year (and if I'm being honest, my whole life).
The biggest project I tackled this year was not at my house, but the house that became known as "The Armstrong Project". I'll let you read the full details in the following two posts, but I was able to work on a major rental house flip this summer that in the end my sweet momma end up renting, which made the whole process even more exciting. If you haven't seen the before photos of this little house with all the yellow nicotine stains, you have to go check out this post:
We spent the summer renovating this house from top to bottom including a full kitchen and bath remodel, a new roof, siding, paint, flooring, lighting… you name it, we replaced or updated it. The before and after still amazes me when I look back on all we did, but the hard work, lessons learned, connections made, and end result that my mom is able to now enjoy was an invaluable gift this year. Who knows if or when I'll ever lose my mind enough to jump into another renovation project like this, but I can definitely say it sparked my interest.
p.s. I know you guys have been dying to see the house since Momma Lynne moved in and decorated, and I have that blog post photographed and ready to share in the new year!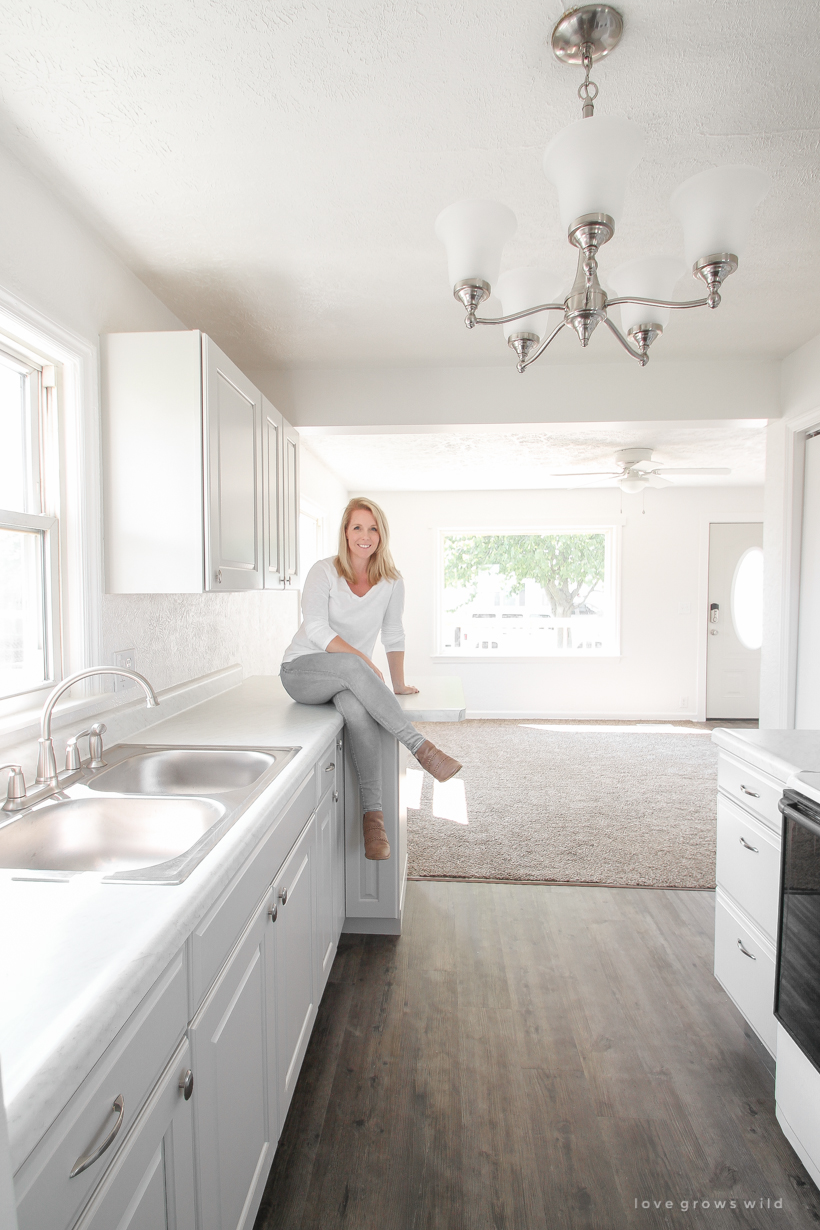 The other major milestone this year came just a few short months ago when I announced a brand new extension of my business and a huge step for me personally. I launched my virtual interior decorating service, Liz Fourez Interiors.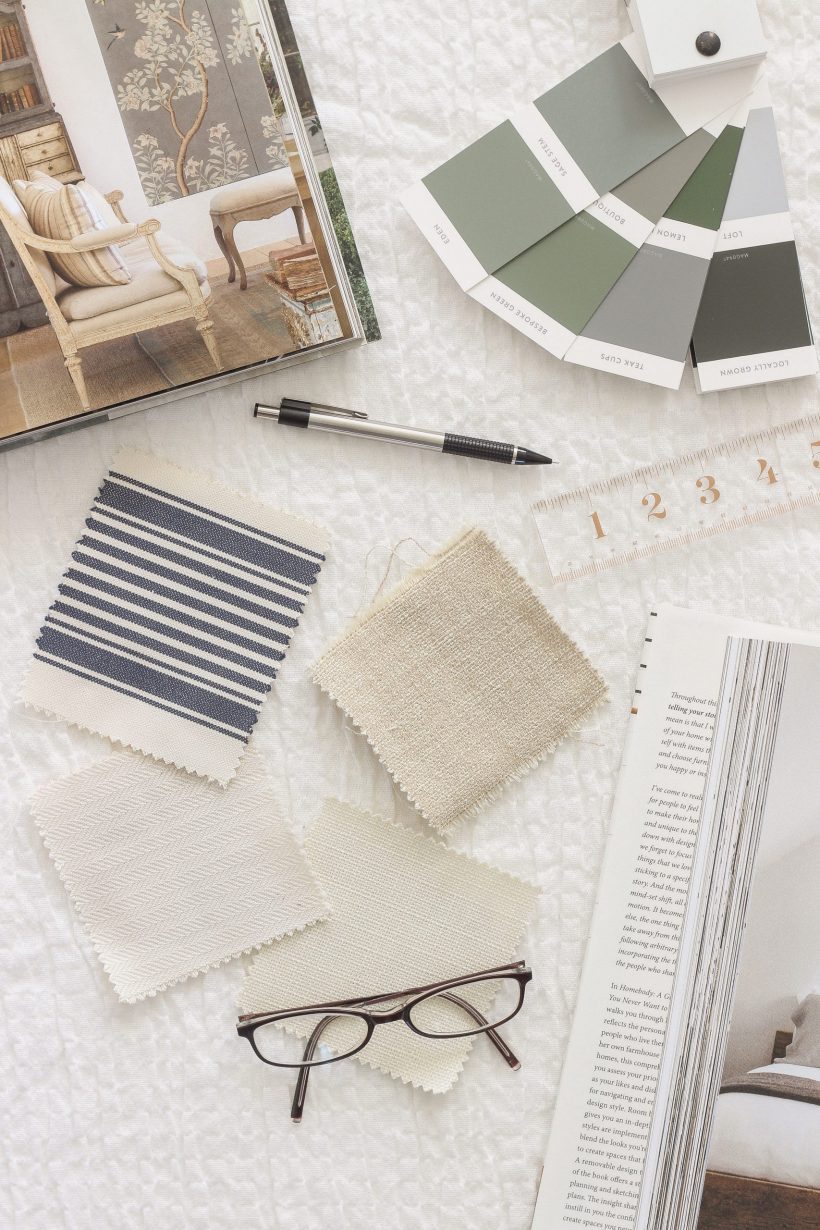 I've been blogging for over 8 years now, and this step towards taking on clients to help them decorate their homes is something I'm still pinching myself over. In just these last couple months I've been so blessed to work with several of you both local to me and across the United States, which is the huge benefit and beauty of e-design. I've completed a stunning home office, the most relaxing master bedroom, and am currently working on a dream lake house that I cannot wait to show you guys more of. I want to dive into sharing more of this new part of my business in the coming year and am still navigating the best way to let you guys into that process. But I just want to say thank you from the bottom of my heart for continuing to be here, supporting what I do, being so kind and encouraging, and sharing a love of home and family with me. I wouldn't have made it through 8 crazy years of running my own small business as a single mom without you, and I can't wait to show you what I have in store for the year ahead.
Happy New Year & cheers to 2021!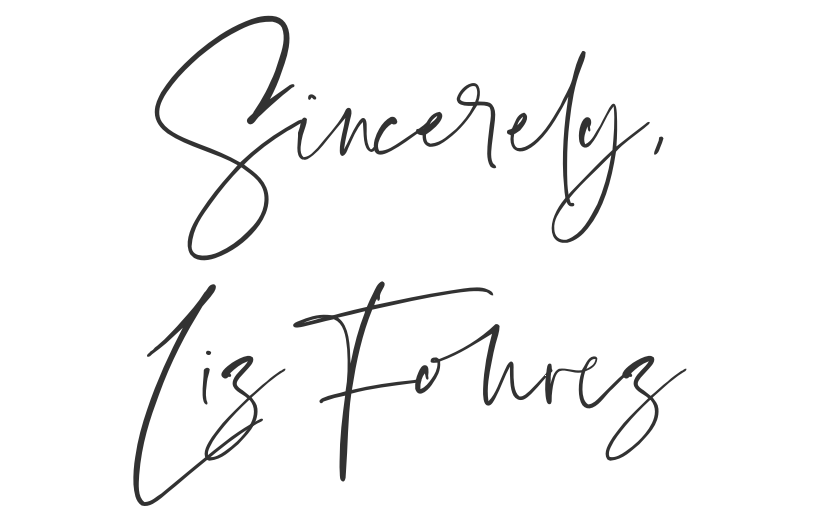 ---
Subscribe to Blog | Follow on Instagram
Follow on Pinterest | Follow on Facebook