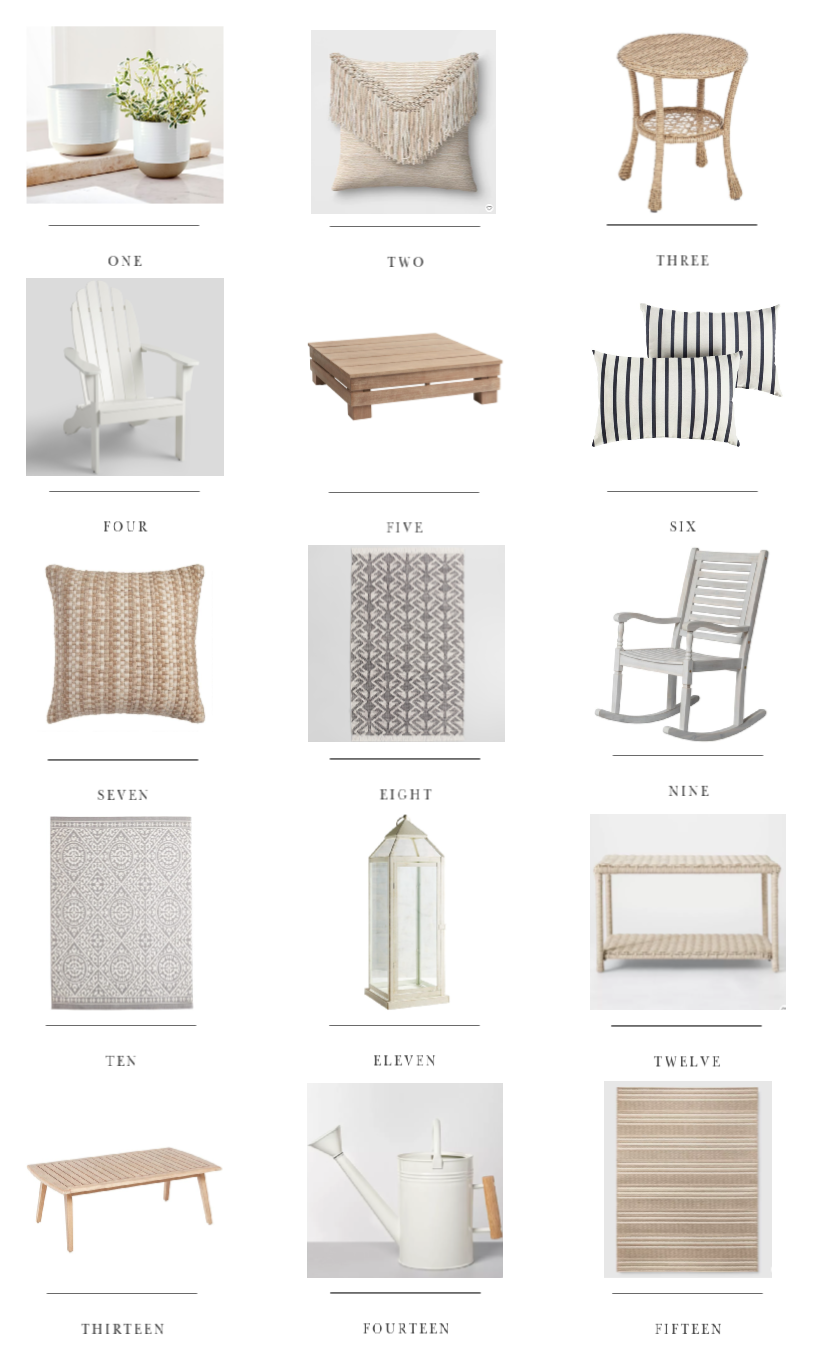 It's been such a treat to finally be able to get outside after a long winter and global pandemic to start working on our outdoor spaces. Earlier this week I shared my method for cleaning outdoor cushions to keep them looking brand new, and now I'm starting to think about how I want to decorate the deck this year. I've been gathering tons of inspiration for outdoors, and when I asked all of you in my wonderful Instagram community, you said you're ready to do the same!
I've spent countless hours over the last few days pulling together the most beautiful outdoor decor and furniture from my favorite stores, and to help you stay within your budget (because I know we are all on one right now!) I put everything in collections starting from the most affordable to some higher end pieces towards the end. You'll find 75 of my favorite items from stores like Walmart, Target, World Market, Wayfair, Pier 1, Pottery Barn, and more. I tried to source the items you all have been requesting most like comfortable seating, outdoor pillows, coffee tables, rugs, planters, and dining furniture. I am so excited to share all of these with you, and I sincerely hope that you feel inspired to create your own little outdoor oasis to enjoy the rest of the year. I can't wait to see what you pick and your beautiful outdoor spaces!
Also here are the current sales I've found that I hope you're able to take advantage of!
Wayfair – up to 65% off outdoor
World Market – 40% off outdoor
Target – up to 25% off outdoor +
an extra 15% off furniture with code SPRING
Pottery Barn – up to 40% off outdoor furniture +
25% off everything else with code EARTHDAY
Pier 1 – up to 40% off outdoor
Walmart – sales throughout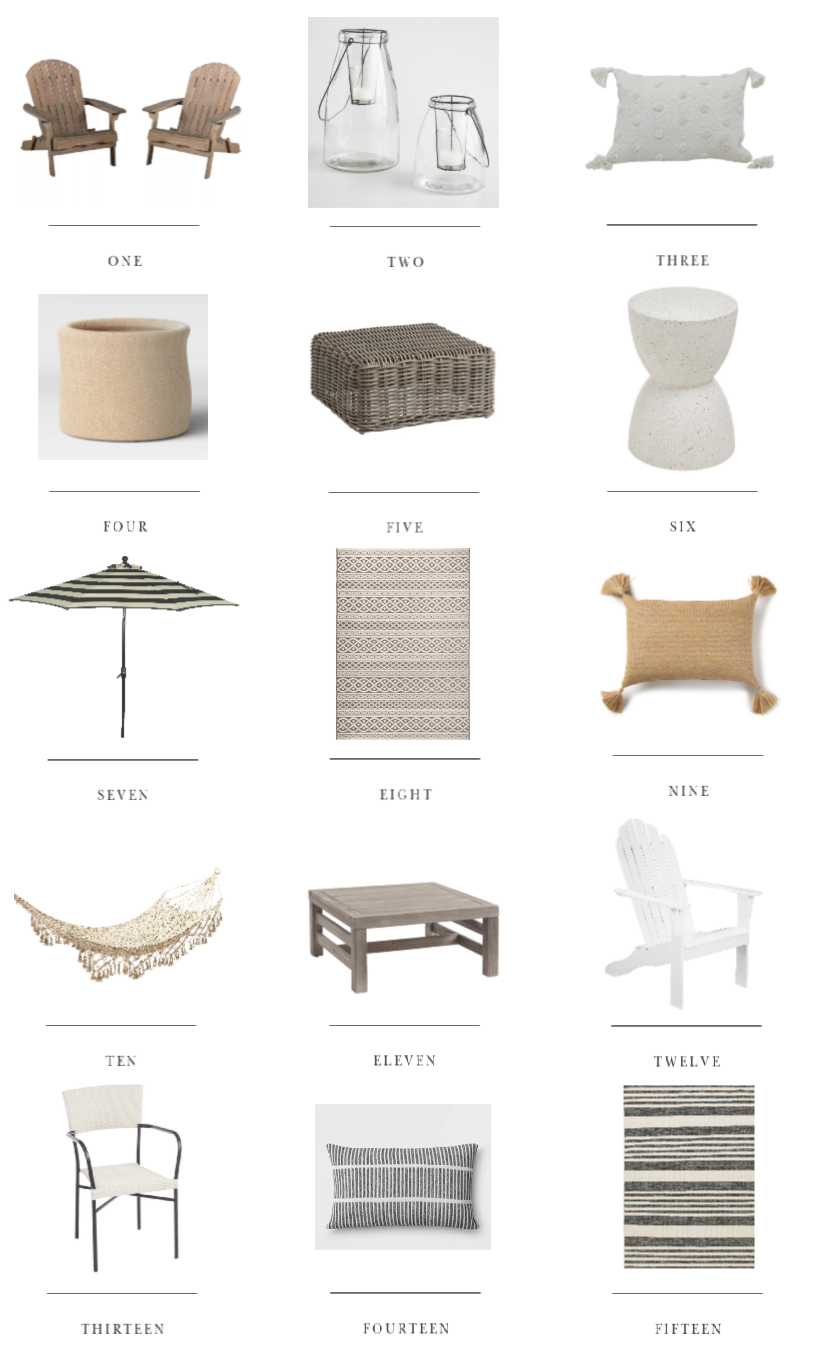 1 // set of 2 folding wood adirondack chairs
2 // clear glass lanterns
3 // ivory woven outdoor pillow
4 // textured concrete planter
5 // modular wicker coffee table
6 // terrazzo garden stool
7 // stripe patio umbrella
8 // outdoor cable area rug
9 // hermosa outdoor throw pillow
10 // harlow beige tassel hammock
11 // graywashed outdoor table
12 // wooden white adirondack chair
13 // del rey ivory stacking chair
14 // gray outdoor lumbar pillow
15 // spaced stripes outdoor rug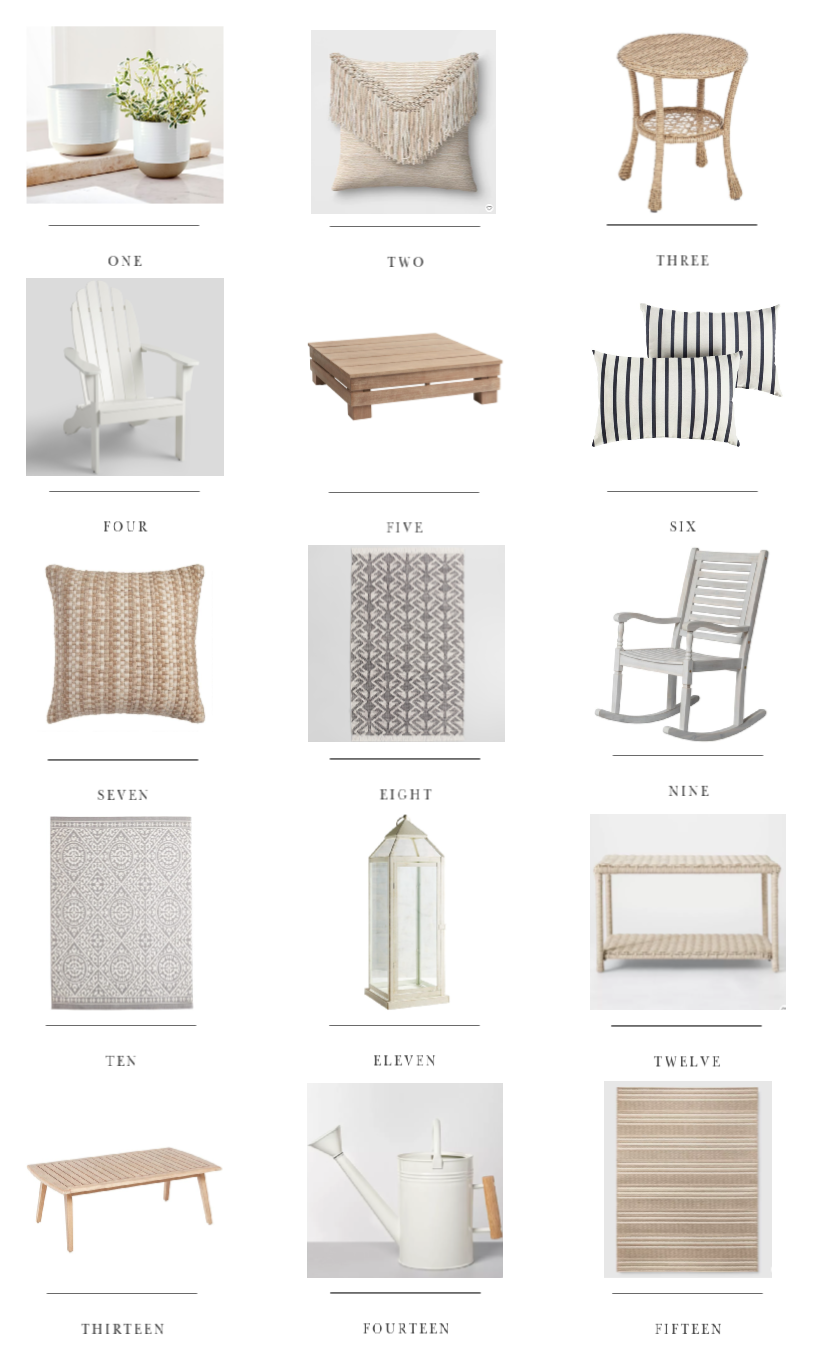 1 // quinn stoneware planters
2 // macrame outdoor throw pillow
3 // celeste end table
4 // antique white adirondack chair
5 // segovia outdoor coffee table
6 // set of 2 outdoor lumbar pillows
7 // basket weave outdoor pillow
8 // emerson outdoor area rug
9 // whitewashed rocking chair
10 // medallion gray area rug
11 // landen white metal lanterns
12 // monroe wicker coffee table
13 // whitewashed coffee table
14 // white watering can
15 // oat stripe outdoor rug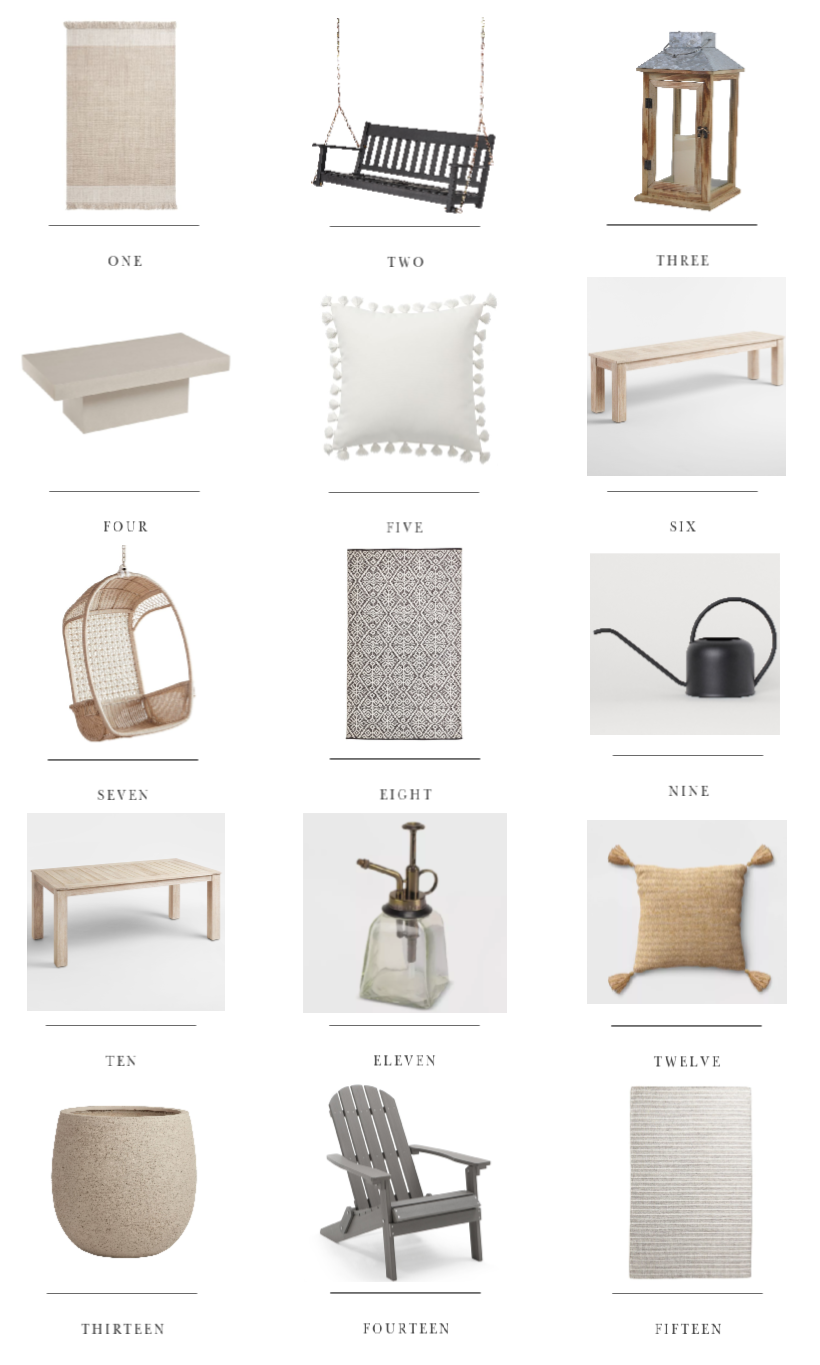 1 // kian khaki outdoor rug
2 // delahey wooden porch swing
3 // solar powered wood lantern
4 // concrete coffee table
5 // tassel trim outdoor pillow
6 // whitewashed outdoor bench
7 // parchment hanging chair
8 // tribal black + white area rug
9 // black metal watering can
10 // whitewashed outdoor dining table
11 // glass plant mister
12 // outdoor tassel pillow
13 // andreas outdoor planter
14 // belham resin wood adirondack chair
15 // woven stripe gray rug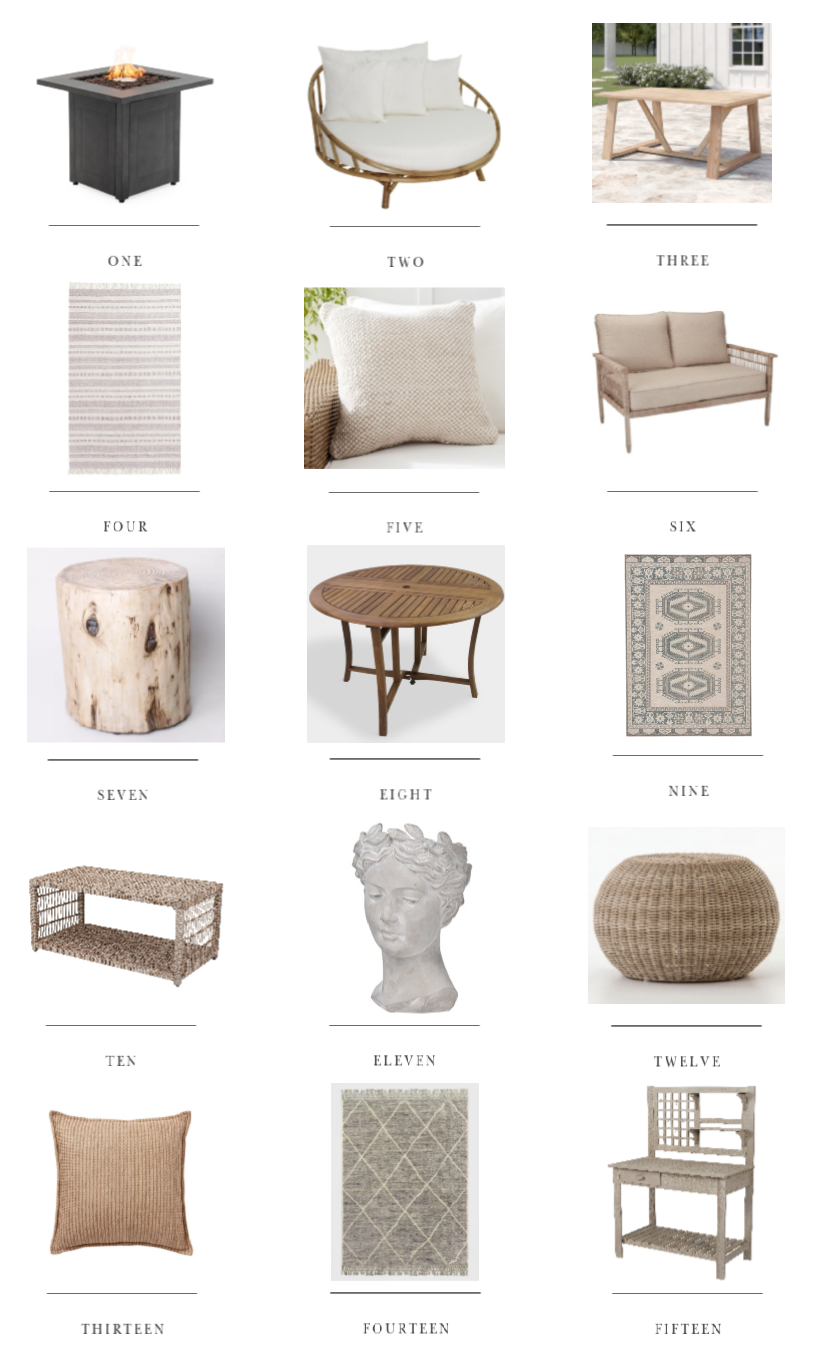 1 // brinlee propane fire table
2 // olu outdoor daybed
3 // kearns teak coffee table
4 // bennie striped taupe rug
5 // laverna outdoor pillow
6 // meadow lake wicker loveseat
7 // faux wood stump accent table
8 // round wood folding dining table
9 // teal + gray medallion area rug
10 // meadow lake wicker coffee table
11 // visage cement statue planter
12 // annette rattan accent stool
13 // natural fiber outdoor pillow
14 // desert hatch gray outdoor rug
15 // camrose farmhouse potting bench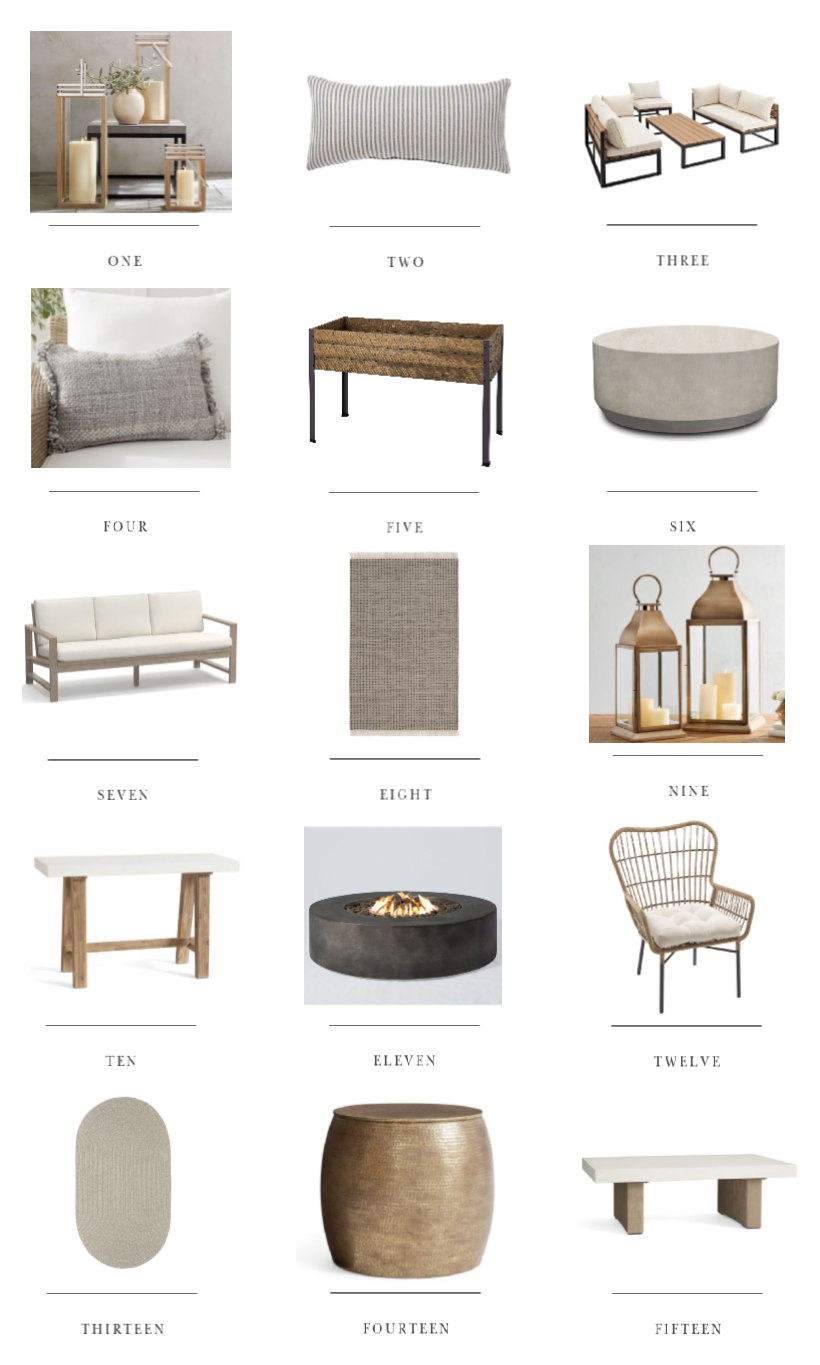 1 // rivington mango wood lanterns
2 // claremont striped outdoor pillow
3 // 4 piece patio set
4 // ixora outdoor lumbar pillow
5 // rustic elevated planter
6 // temple concrete coffee table
7 // indio outdoor sofa
8 // oden charcoal outdoor rug
9 // chester brushed brass lantern
10 // capitola console table
11 // grice concrete propane fire table
12 // sand outdoor chair
13 // emerson oval braided rug
14 // bermuda hammered brass side table
15 // pomona concrete coffee table
Thank you for being here, and I hope this was helpful to get some ideas flowing for your outdoor spaces. I want you to know how much it means to me when you choose to shop through any of the links that I share here or on social media. It is such a blessing and a big help in supporting my family, and I feel very grateful to each and every one of you! xoxo Liz
Note: As always, I sincerely appreciate you shopping through the links I share, which allows me to make a small commission from your purchase while your purchase price stays the same. When you use my affiliate links, I'm better able to create content for this blog as well as support my family, and I thank you from the bottom of my heart for supporting what I do!
---
Subscribe to Blog | Follow on Instagram
Follow on Pinterest | Follow on Facebook