Welcome to Liz Fourez Interiors | a completely virtual interior design experience to transform your spaces efficiently & affordably.
defining your unique style
choosing pieces that will maximize your space & your budget
taking the guesswork out of design decisions
giving you the confidence & a plan to decorate your space
creating a home you'll love to be in
We can help with all of those! Liz Fourez Interiors is an Indiana-based design company that creates custom room designs virtually for clients all over the United States. We firmly believe that quality design should be accessible to everyone and that the space you live in should feel like home. With over 8 years of experience in interior decorating, we have just what you need for your design projects big and small.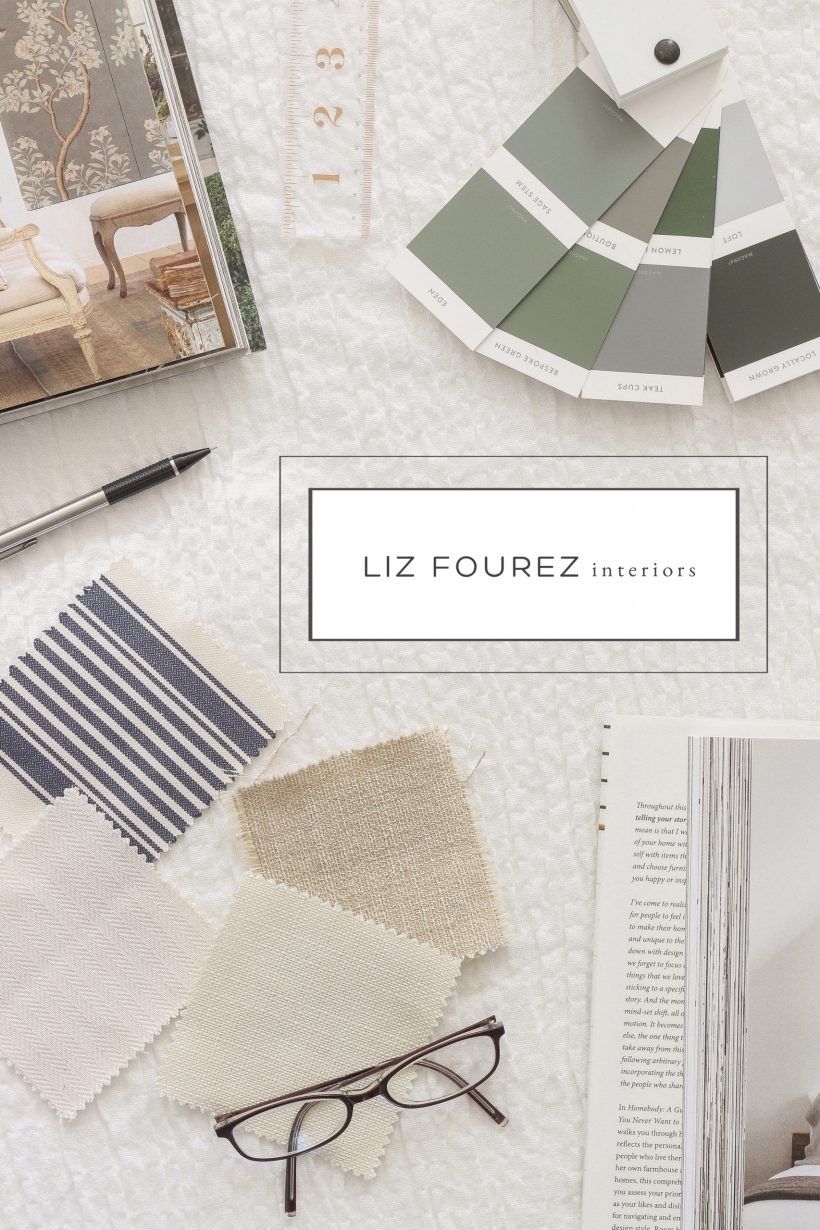 SIGNATURE ROOM DESIGN PACKAGE
the details | you will receive:
mood board & color palette to illustrate the look & feel of the room
complete design plan including furniture, accessories, paint colors, and artwork to transform the space with two opportunities for revisions & feedback
an itemized floor plan
a detailed virtual design rendering
shopping list with product details & clickable (shoppable) links
detailed instructions for putting the room together
*for pricing information please send an email to [email protected]
DESIGN CONSULTATION
If you don't need a full room makeover, but have a few small, specific design questions, this option is perfect for you. You can email me questions like:
which paint color should I choose?
where should I put my sofa?
ideas for styling my bookcase?
what light fixture would look best here?
*for pricing information please send an email to [email protected]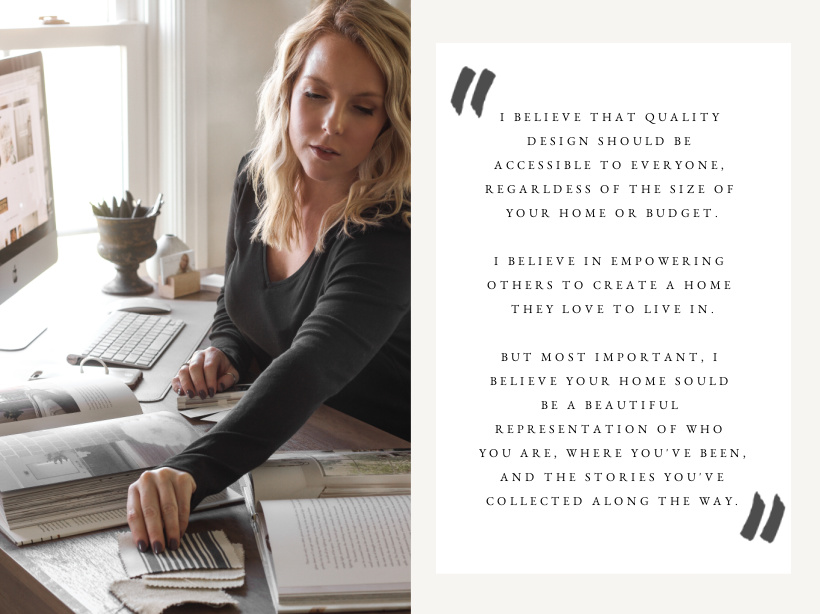 ---
FREQUENTLY ASKED QUESTIONS
What is e-Design?
e-Design is a completely virtual interior design service to transform your spaces efficiently & affordably. You're able to work side-by-side with an interior designer to create a custom room you'll love for a fraction of the cost of tradition interior design.
Are your e-Design services limited to a certain area?
Because all our communication and collaboration is done online, we are able to work with clients from anywhere in the United States!
Do you work on renovations?
Our e-Design service is meant to help with the decorative elements in your home: choosing paint colors, furniture options & layout, accessories, artwork, lighting, etc. If you are in need of any remodeling for your project, we recommend consulting a contractor and booking a service with us once the room is ready to decorate!
What is the difference between traditional interior design and e-Design?
An interior designer will typically come into your home, take measurements and photos, and design the space for you. After the design process is complete, they will also assist with ordering, installation, and styling the space as well. It's the "white glove" service of design, and you pay for it accordingly.
e-Design is more of the DIY approach, and there are significant cost savings and other benefits that make this type of service very attractive. First, I show you how to measure and photograph your own room, and we are able to communicate over e-mail and phone, so no in-person meetings are required. After the e-Design is complete, you are provided with everything you need to decorate your space: a design rendering, floor plan, shopping list, detailed instructions on how to pull the whole room together, and support for any questions you may have along the way.
Instead of paying an hourly rate for your interior designer to take measurements, order and unbox products, and travel to your home, you pay a simple flat fee that covers the entire design plan with no hidden fees. And by ordering all the items yourself, you eliminate the markup that designers would typically place on anything they order for you.
Because all communication is done online, I am able to work with clients anywhere in the United States versus just clients in my local area, and my turnaround time is typically much quicker since the workload is less hands-on than in traditional design.
If you are comfortable shopping online and just need some guidance selecting the right pieces for your home, e-Design would be a great option for you!
How long does the process take?
Our e-Design service typically takes two-four weeks. Occasionally there may be a waitlist for projects to start, but I will let you know upfront during our phone meeting or before if that is the case. As soon as you submit your deposit, your spot is reserved!
How do I know I will like the design?
We start every project with a detailed questionnaire that gives us a great place to start and follow up with a 30-minute phone consultation so we can pinpoint the exact look and feel you want for your space. You have two opportunities throughout the design process to provide feedback and ask for revisions, as well as full approval for every single item that goes into your design. We work together as a team to create a space you'll love to be in, and I'm always available through e-mail to help in any way I can to make sure you are satisfied!
How does e-Design work?
First, I ask you to fill out a design questionnaire that will help me understand your needs for the space, determine a budget, and get to know you better. I will guide you through taking measurements and photos of your room and set up a 30 minute design meeting over the phone where we discuss specific details of your project.
I then create a mood board for you to review with paint colors, furniture, accessories & artwork. This will help you envision the overall look & feel of the room and provide you with an opportunity to give detailed feedback so we can create a space that is perfect for you!
Once you approve the finalized mood board, I will begin creating your room's e-Design, which includes: a virtual design rendering so you can see what your space will look like with the selections from your mood board, an itemized floor plan to show placement of all furniture & accessories, a complete shopping list with all items needed to execute your design, and a detailed guide with instructions for setting up your room & styling the space.
I will send you the virtual room renderings I create to get your final approval on the entire design and then finally your completed e-Design with everything you need to place orders, arrange the room, and style your new space!
How do I measure my room?
We will send you a guide for measuring and photographing your space so you'll know exactly the information we need to start your design!
What if I have questions after?
Questions are always expected with this type of service, and I'm here to help! For 30 days after you receive your completed design, I will be available to answer any questions you have and help guide you through setting up and styling your room. If any of the items on your shopping list become out of stock or discontinued within these 30 days, just let me know, and I will find another option that will work with your design! I want this process to be as easy & enjoyable as possible, and I am here to help with whatever you need. After the 30 days have passed, any support or sourcing of new items will be charged by an hourly rate.
Where can I see your work?
Our website, Instagram, Facebook, and Pinterest are the best places to find my recent work. In 2016 I published a best-selling DIY decorating book, A Touch of Farmhouse Charm, and have also been featured in numerous magazines such as Country Living & HGTV Magazine.
How do you define rooms in an open concept home?
Many homes today have an open concept floor plan, and it may be hard to "define" one room from another. For example, if you have an open concept kitchen and living room, I recommend purchasing a design plan for BOTH spaces (two separate plans). Even though they are two separate areas, they flow together and feel like one large space, so you want the design to be cohesive between both rooms. I know it may seem like a lot to spend all at once, but remember that once you get the completed design, you're able to order and install everything at your own pace, which can help spread out the cost over time. If you're unsure about your open concept space, just send me an e-mail with photos, and I will let you know what I think would be the best option!
What if I am not happy with an item I ordered after I receive it?
With any kind of online purchase, there is always a possibility that the item delivered might look different online than it does in real life. We take care to make sure all items included in your design are from reputable, well-known online retailers that allow & facilitate easy returns. If something arrives that doesn't work in the space, we will simply help you find a replacement. Sometimes seeing an item in person is the only way to know for sure it will be the best fit, so we allow for these rare, but sometimes necessary occurrences!
When and how do I pay for my e-Design?
PayPal is the easiest way for me to accept your payment. When you receive your design questionnaire, I will also include an invoice for 50% of the design fee that can be paid through PayPal. Once this deposit is made, your spot will be reserved in my schedule. When your e-Design is completed, I will e-mail you an invoice for the remaining 50% of the design fee.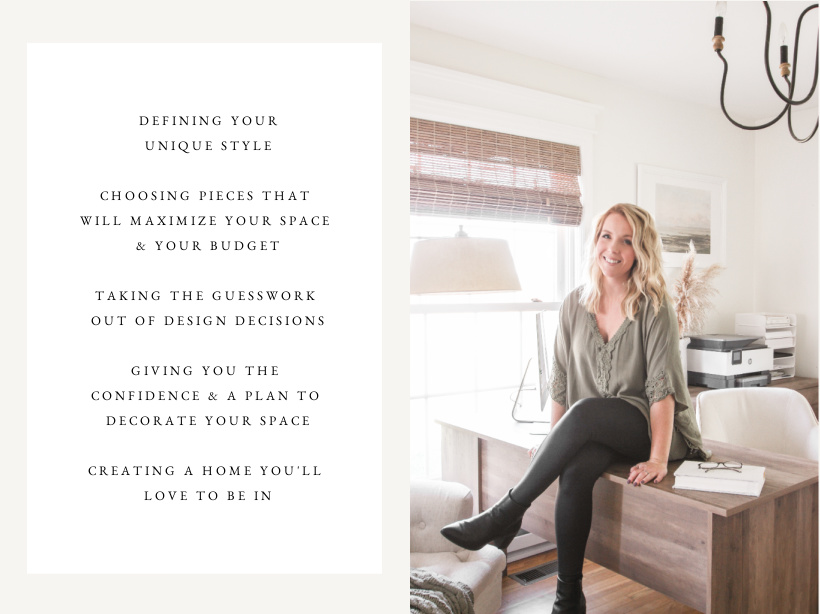 READY FOR THE NEXT STEP?
I can't wait to get started on your design project and help you create a home you'll love to live in. Send an email to [email protected], and let me know if you're interested in the full room makeover or if you have just a few design questions you need help with. I look forward to working with you!