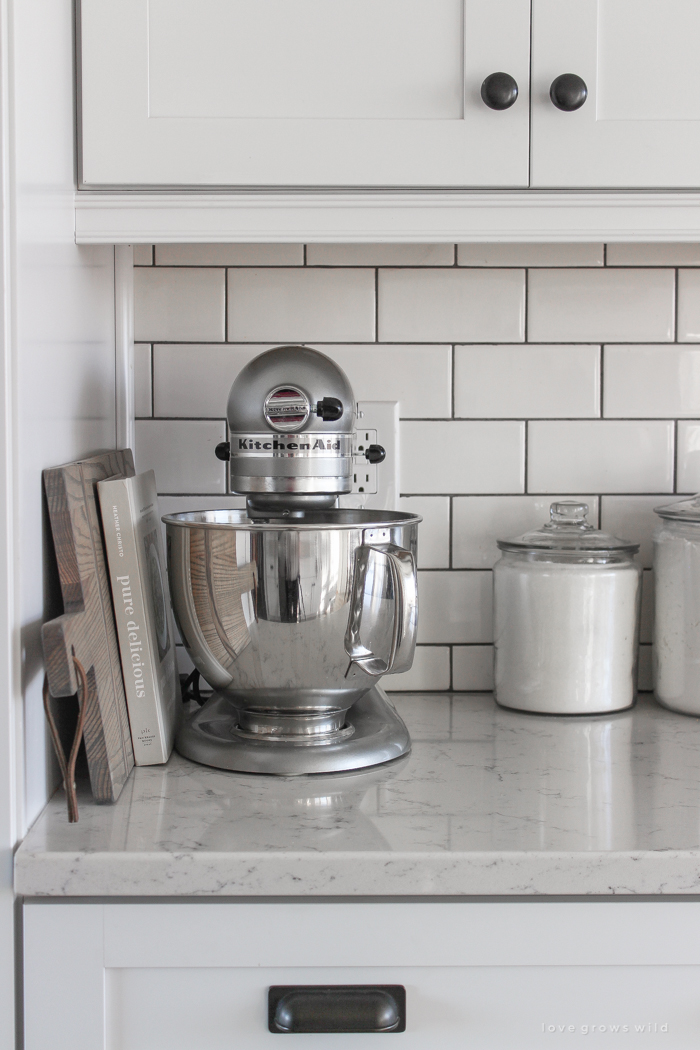 Kitchen counters can be fun to decorate, but can also be rather challenging. You want your kitchen to have lots of personality and style without adding items that just take up precious counter space and create visual clutter. Some of us are blessed with large kitchens and plenty of countertop real estate, and some of us are working with smaller kitchens where every inch matters. Either way, you want the accessories you choose to add purpose and style, and I've come up with my favorite 12 ways to style kitchen counters that are timeless, intentional and guaranteed to create gorgeous vignettes in your kitchen. These suggestions work for any decorating style and can be combined in many different ways to create a unique look. And the best part is you probably already have most of these items in your house already!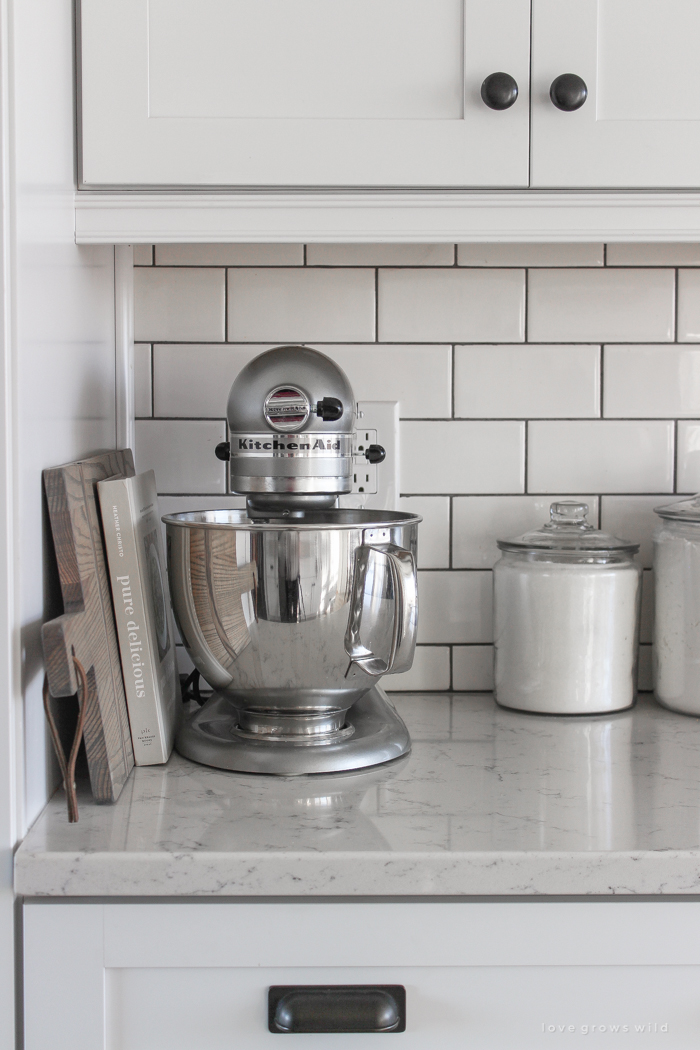 – small appliances –
When your kitchen is on the small side, this tip can be very helpful for saving storage space. Display stylish small appliances on the counter for easy access to your most used items such as stand mixers, blenders, or coffee grinders. Tuck the cords neatly behind the appliance to keep your counters from looking messy, and you can quickly whip up a smoothie without having to dig your blender out of a cabinet.
– canisters –
Again, canisters are a great way to keep your most used ingredients close at hand. I keep my flour and sugar in canisters for when I bake, and I find it to be so much easier than scooping and measuring ingredients out of bags. I went with glass so I can see when I'm running low, but there are so many cute options out there in all kinds of styles.
– cookbooks –
I know many of us look up recipes on the internet now, but I still go back to some of my favorite cookbooks when I want a good meal. Tuck a couple of your favorite cookbooks in a corner or stack them together for a flat space to display your favorite dishes. A collection of cookbooks instantly adds personality to your kitchen and tells a lot about what you and your family like… maybe you are gluten free or love Mexican food or enjoy cooking with items fresh from the garden. Cookbooks can be a great way to bring a little bit of color into your kitchen too!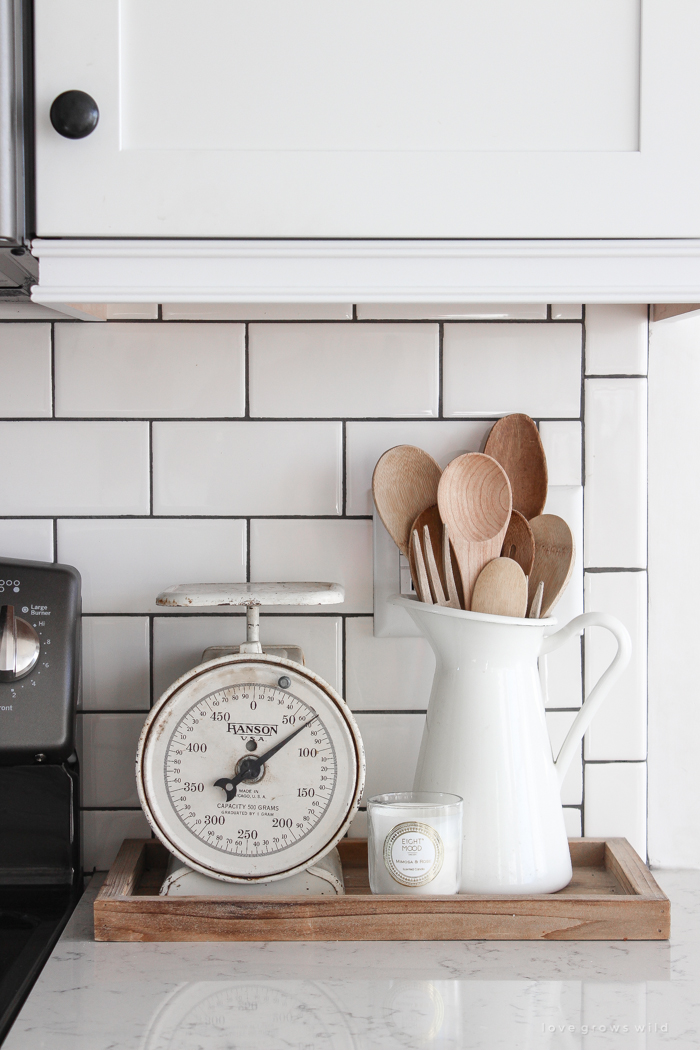 – trays –
It's easy for small items to feel like clutter sitting out on your countertops, but setting them together on a tray makes it feel much more intentional. I use a wood tray to add warmth to my counters that look like marble but are actually quartz.
– cooking utensils –
Instead of digging through drawers to find your cooking utensils, set them out in a pretty container such as a pitcher or crock. I like displaying wooden utensils in my white kitchen, but metal ones would look great in a more modern setting.
– candles –
I'm probably in my kitchen more than any other room of the house, so I always like having candles on the counter to add ambiance and get rid of any unwanted food smells. Try to find ones that have kitchen-inspired scents such as vanilla, citrus or herbs.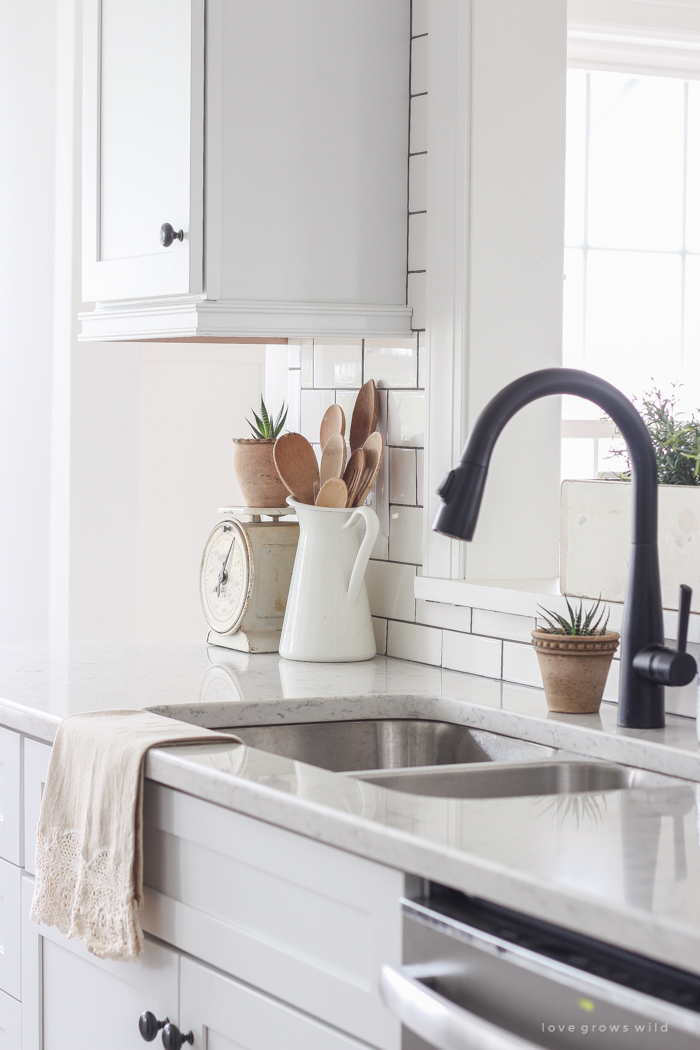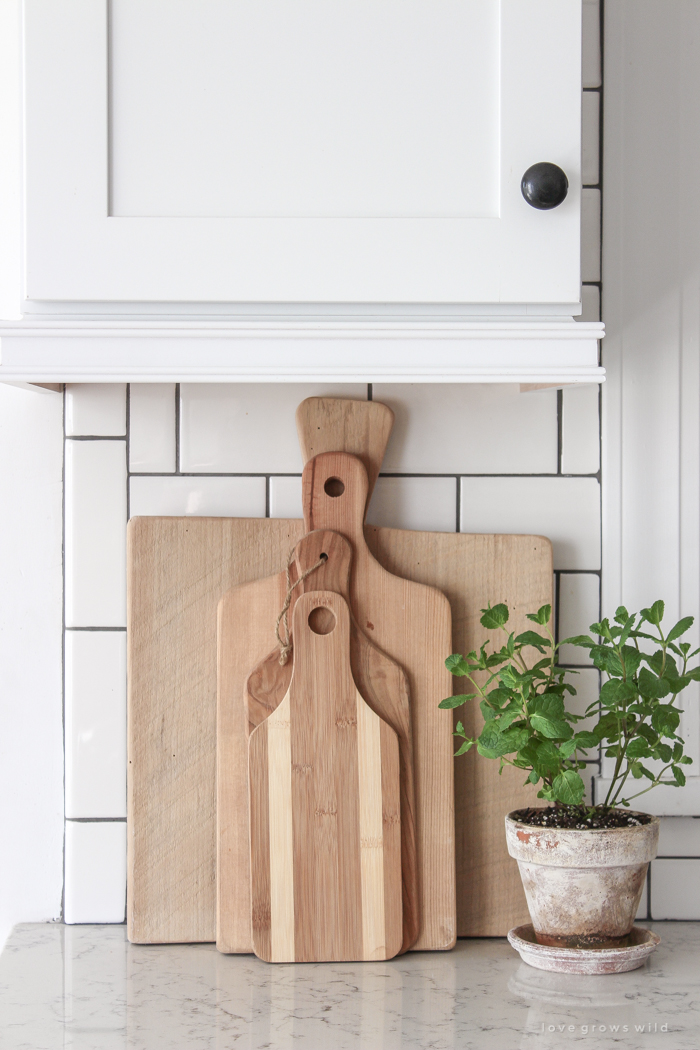 – cutting boards –
I've been collecting wood cutting boards for years and think they look stunning stacked together against a kitchen backsplash. The wood tones add warmth to my all white kitchen, and the wood grain is a beautiful textural element.
– plants & flowers –
One of the easiest ways to breathe life into any kitchen is adding a potted plant or fresh flowers to your counter. It's a pop of color that feels natural and subtle, and I love growing herbs such as rosemary, basil or mint that I can use in my cooking.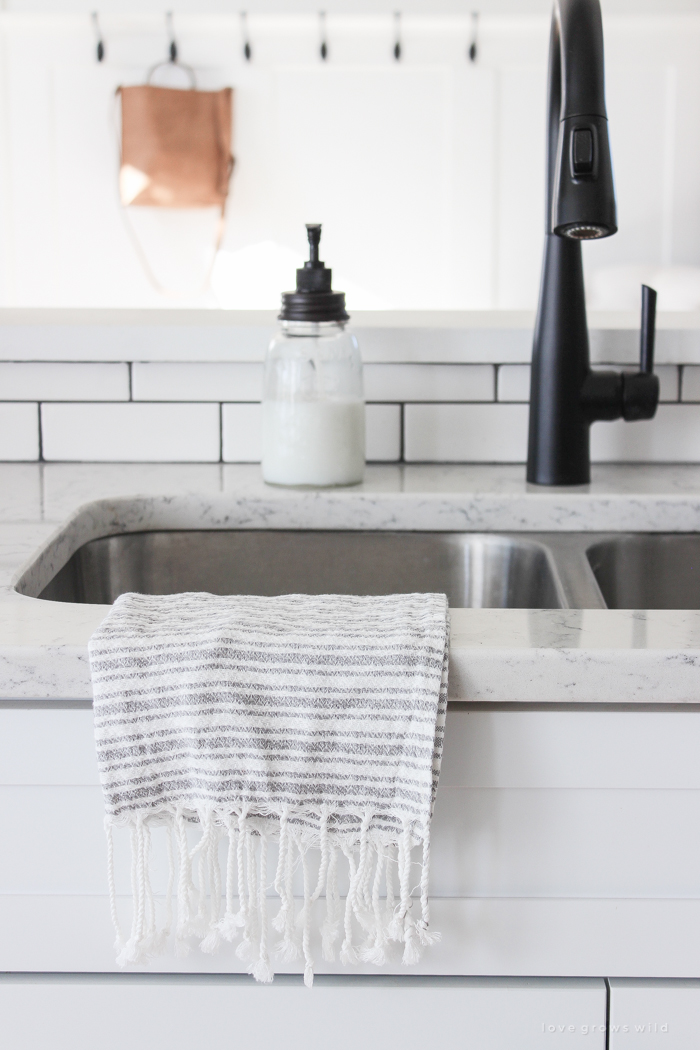 – pretty soaps –
Everyone needs hand soap and dish soap by their kitchen sink, so you might as well put in a pretty container! There are many stores where you can buy soaps already in fancy bottles, or you can invest in a container that you refill as needed.
– pretty towels –
Kitchens are full of hard design elements like tile, stone and metal, so adding things like tea towels and curtains is a great way to bring softness into the space. Pretty kitchen towels are kind of like throw pillows in my opinion… you can never have too many!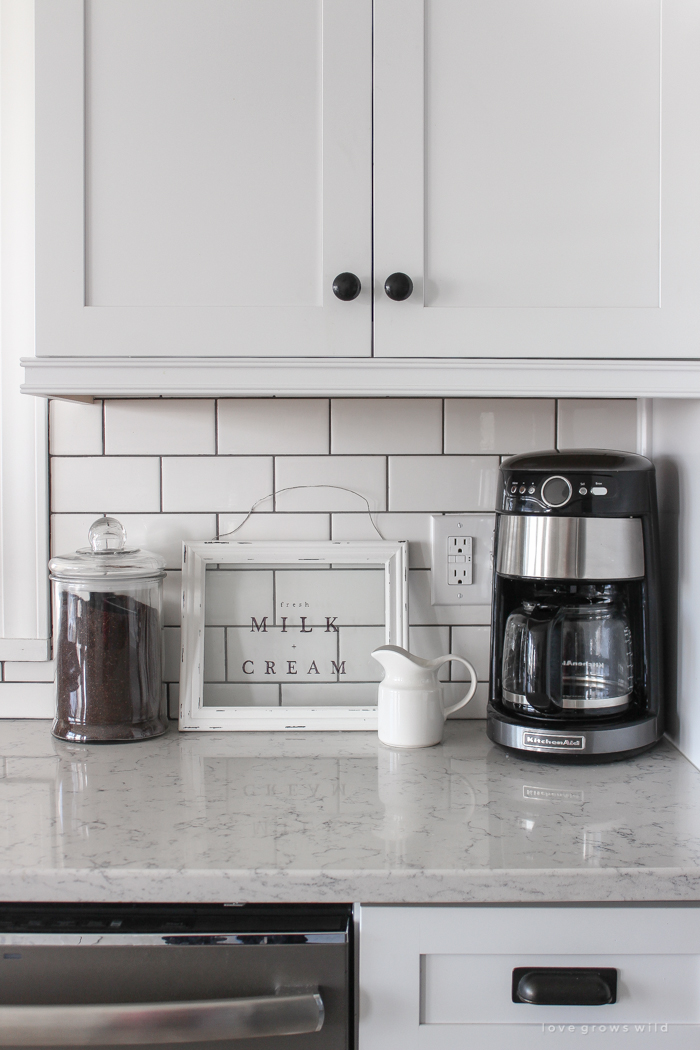 – coffee station –
If you're a coffee drinker like me, your morning coffee routine is one of the most important parts of the day. So why not set up a little coffee station to brew that perfect cup quickly and easily? In all honesty, I would prefer not to have my coffee pot out on the counter since it's not the prettiest appliance, but since it's how I survive motherhood and running my business, I might as well make it look as nice as possible. I have a glass canister for coffee grounds and a little creamer that I hide my stevia packets in. Displaying some of your favorite mugs would be a great addition too.
– art –
Most of us probably don't think of artwork when it comes to decorating our kitchen counters, but it can be a beautiful way to add personality to the space. I have a little milk + cream sign that I made (tutorial can be found in my book) leaned up against the backsplash, but the sky is the limit when it comes to framed artwork you could use here. Have fun with it and change it out with the seasons if you like!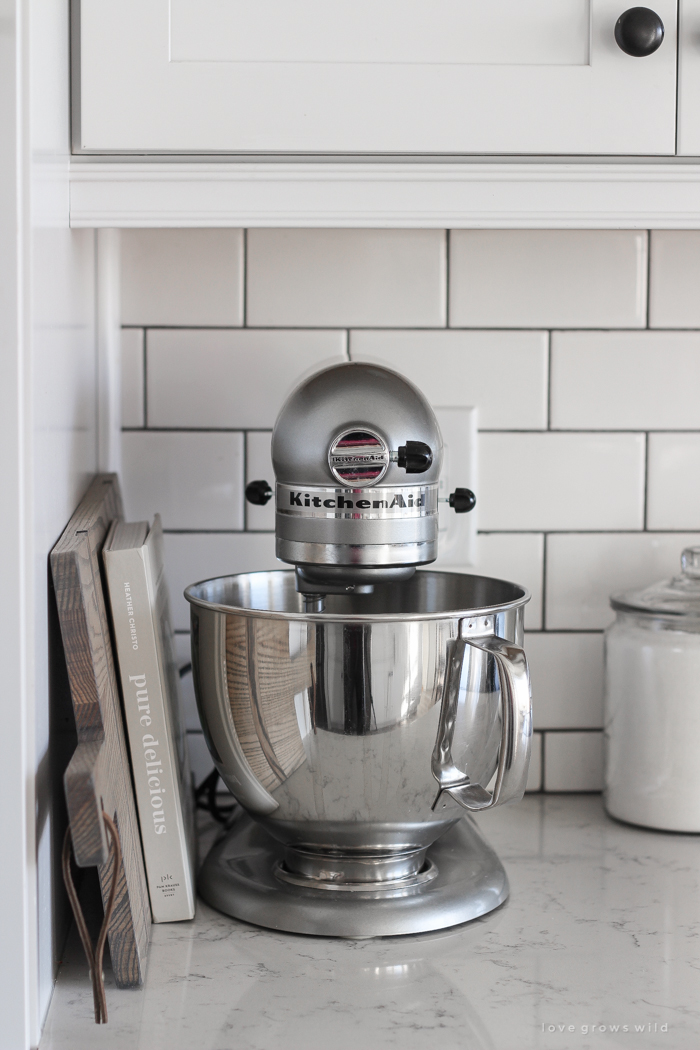 I've gathered some of my absolute favorite kitchen items to help style your kitchen, and I hope today's post inspires you to do some decorating!
Some links in this post are affiliate links, which allows me to make a small commission from your purchase, but your purchase price stays the same. Thank you for helping support our blog and keep it going!


---
LET'S KEEP IN TOUCH!
Subscribe to Blog | Follow on Instagram
Follow on Pinterest | Follow on Facebook