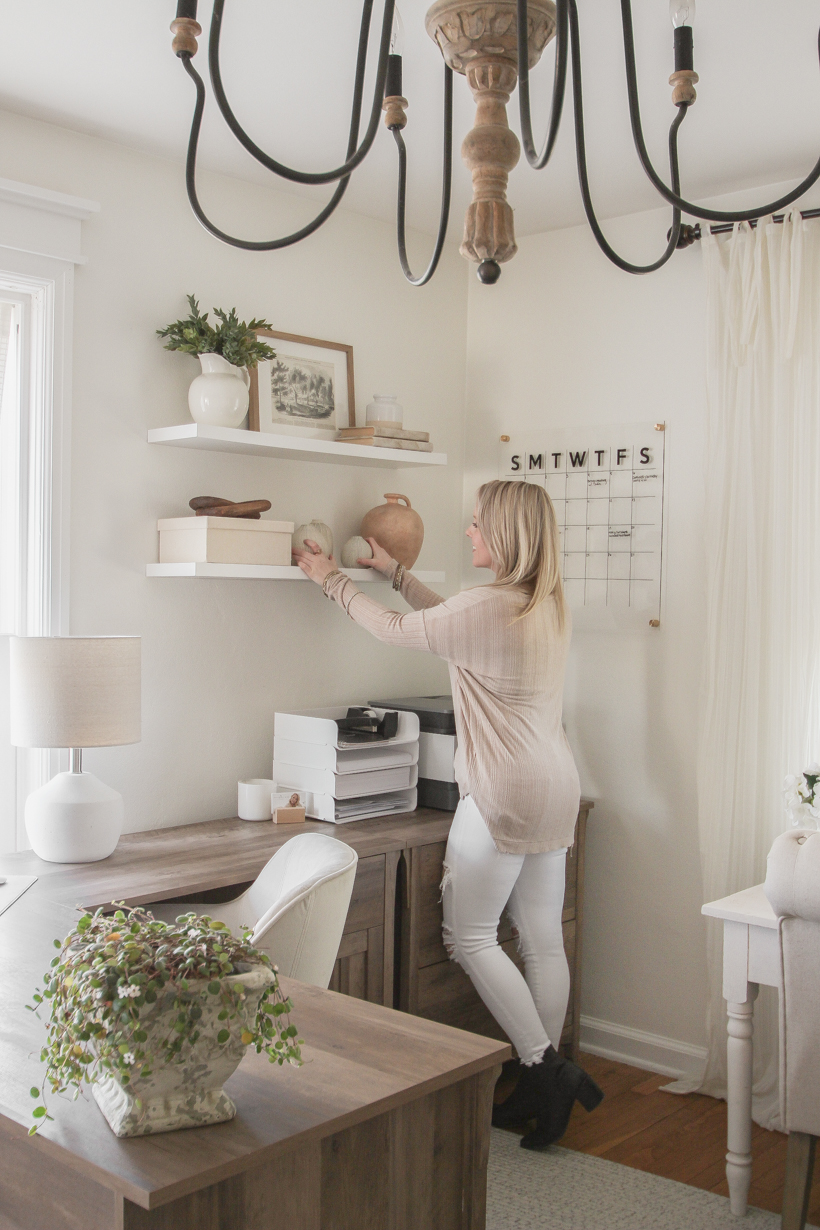 Today I have a very long overdue update to share with you on my home office! Last year I decided to expand the services I offer by opening up my virtual interior decorating business, Liz Fourez Interiors. Instead of only sharing design inspiration from my own home, I wanted to be able to work with people from this amazing Love Grows Wild community to help them create beautiful spaces in THEIR homes. I started taking on clients and over the last few months have completed some amazing full room makeovers and helped dozens of you with smaller design decisions through my design consultation service!
But while I was preparing to launch my new business venture, I knew I needed to make some updates to my home office that would allow me to be more productive, organized, and inspired with all the additional hours I would soon be spending in here. If you follow me on Instagram (and if you don't, I invite you to follow me here for more behind the scenes of Love Grows Wild!), you probably saw little previews of what I've been working on in the office, including a very bold makeover of a large piece of furniture, a new desk setup, and more. Let's take a tour of my new home office!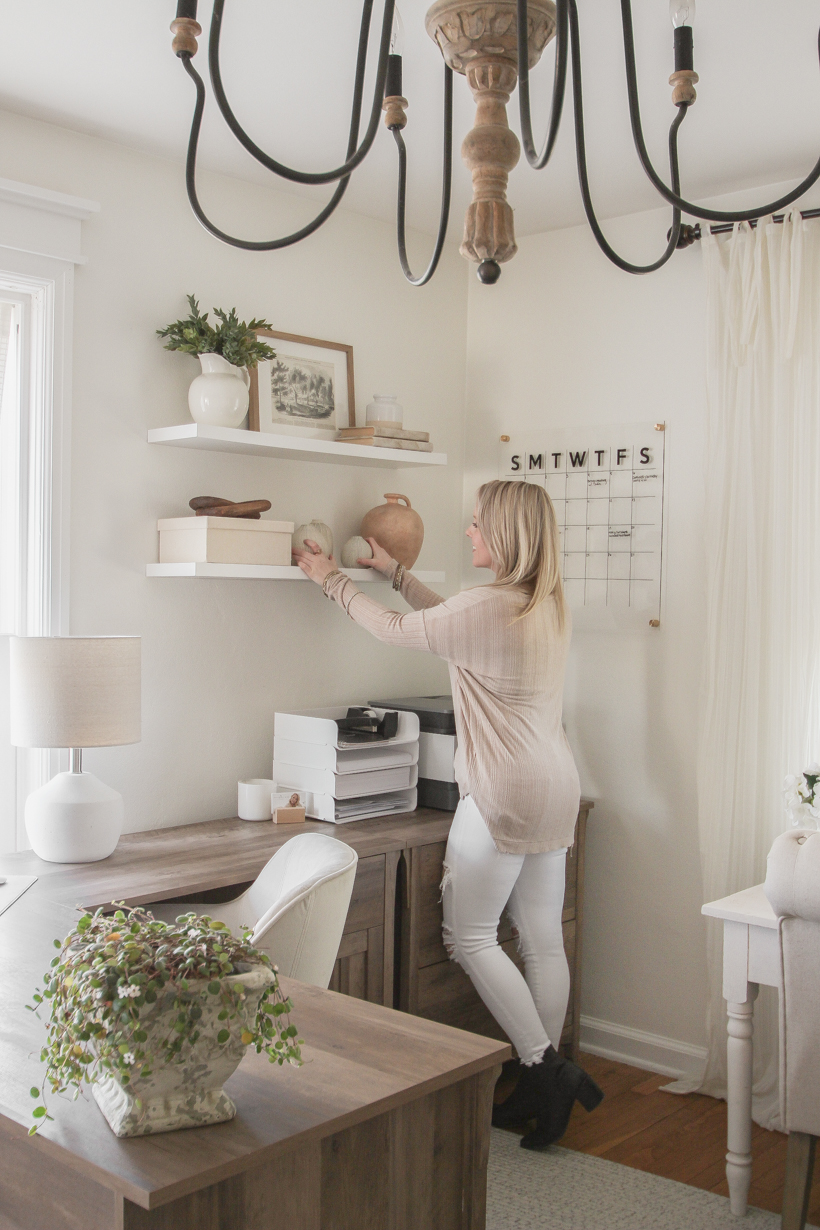 One of the biggest changes in the room was getting rid of my old World Market desk and replacing it with this L-shaped wood desk and matching file cabinet. I absolutely loved the old desk and how beautiful it was, but I need a little more space and storage for my office to function the way I need it to. I was a little nervous adding such a large darker wood piece of furniture to the room (you know I'm a light and bright kind of gal), but it inspired a really pretty design contrast between dark and moody & my usual white and airy aesthetic.
I've had the desk for several months now and am very pleased with the quality and design. I love that it has a matching file cabinet so I can keep any paperwork organized and close at hand without looking like the typical metal office eyesore.
I decided to position the desk against a wall where my computer, printer, and lamp cords could be hidden, but my desk chair is able to face both the window and the center of the room, which I find to be so helpful with work productivity. I would much rather have some kind of a view while sitting at my desk than be staring straight at a wall!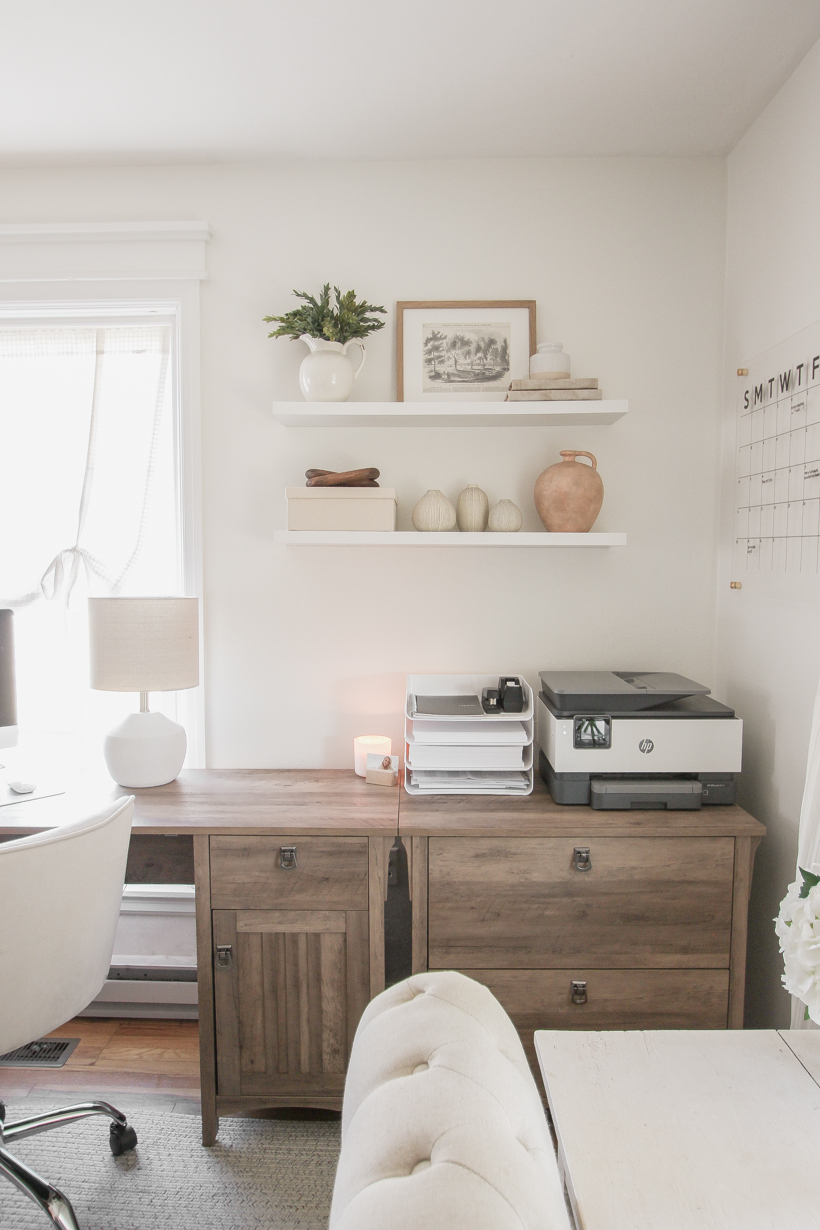 I installed two floating shelves on the wall above the filing cabinet to help visually fill the space and create a focal point when you walk into the room. I bought these inexpensive shelves in white (they come in several different lengths/colors), and they were very easy to install.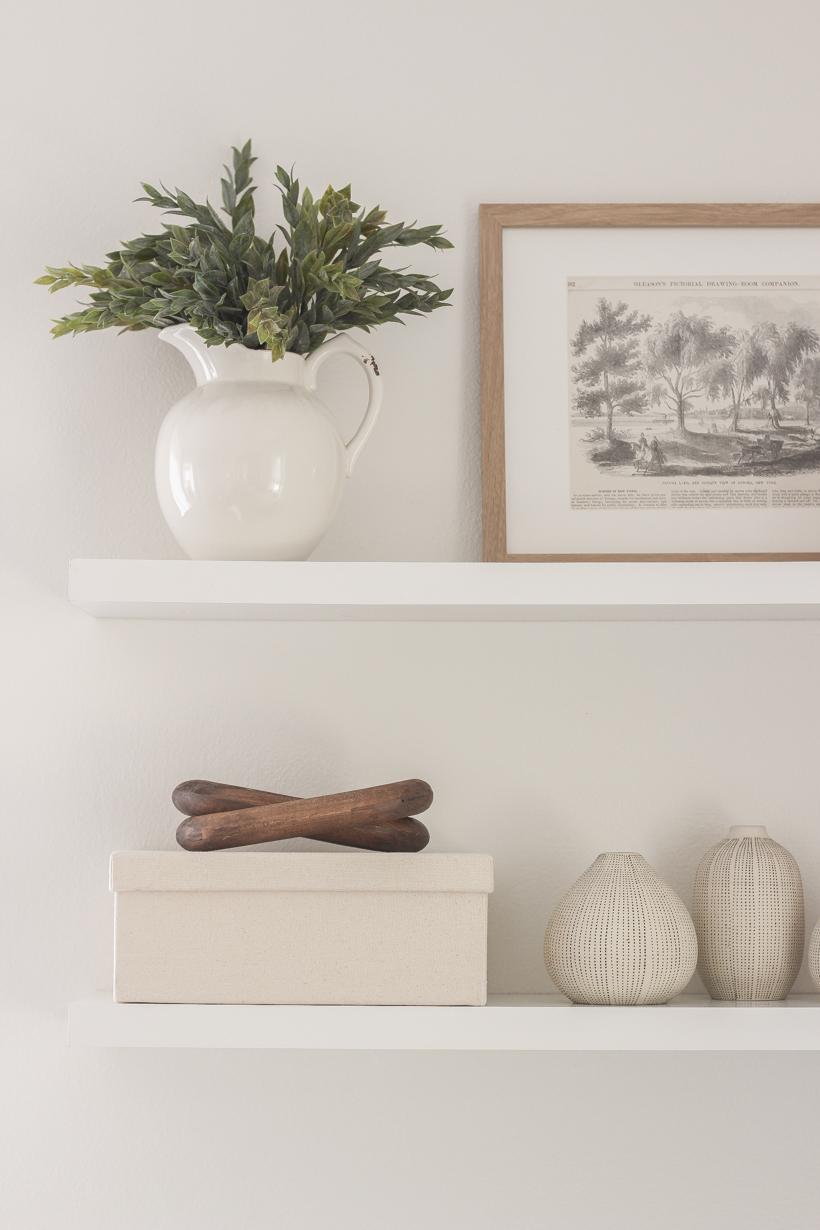 On the other side of the window, I added a few pieces of art that I absolutely fell in love with. I'm a sucker for a pretty vintage landscape painting, and I surprised myself by choosing a portrait painting to pair with it. I quickly realized how difficult it is to pick a human you don't know to be prominently displayed in your home, but I was instantly drawn to this female portrait… having a male in the headquarters of my female-run business just didn't seem right. I think she's absolutely perfect, and I love this little corner of my workspace.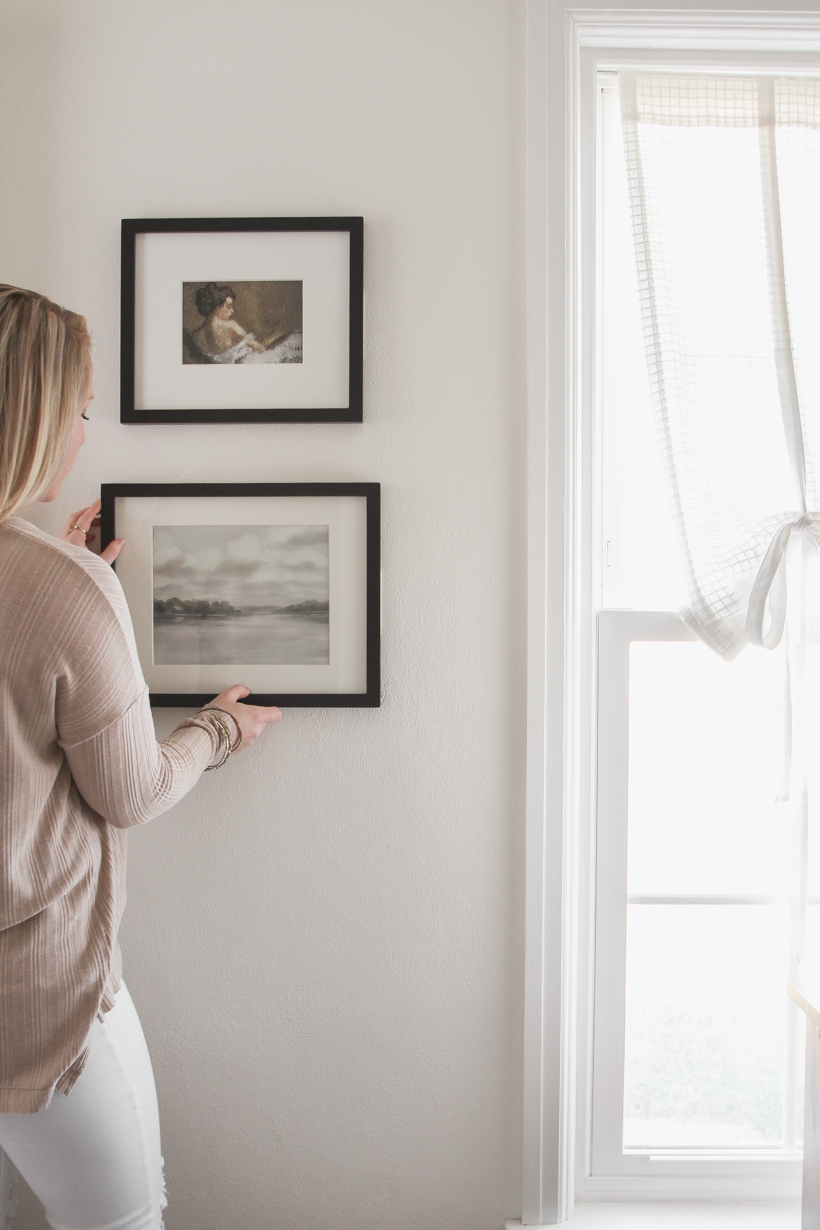 And now for the boldest change in my office…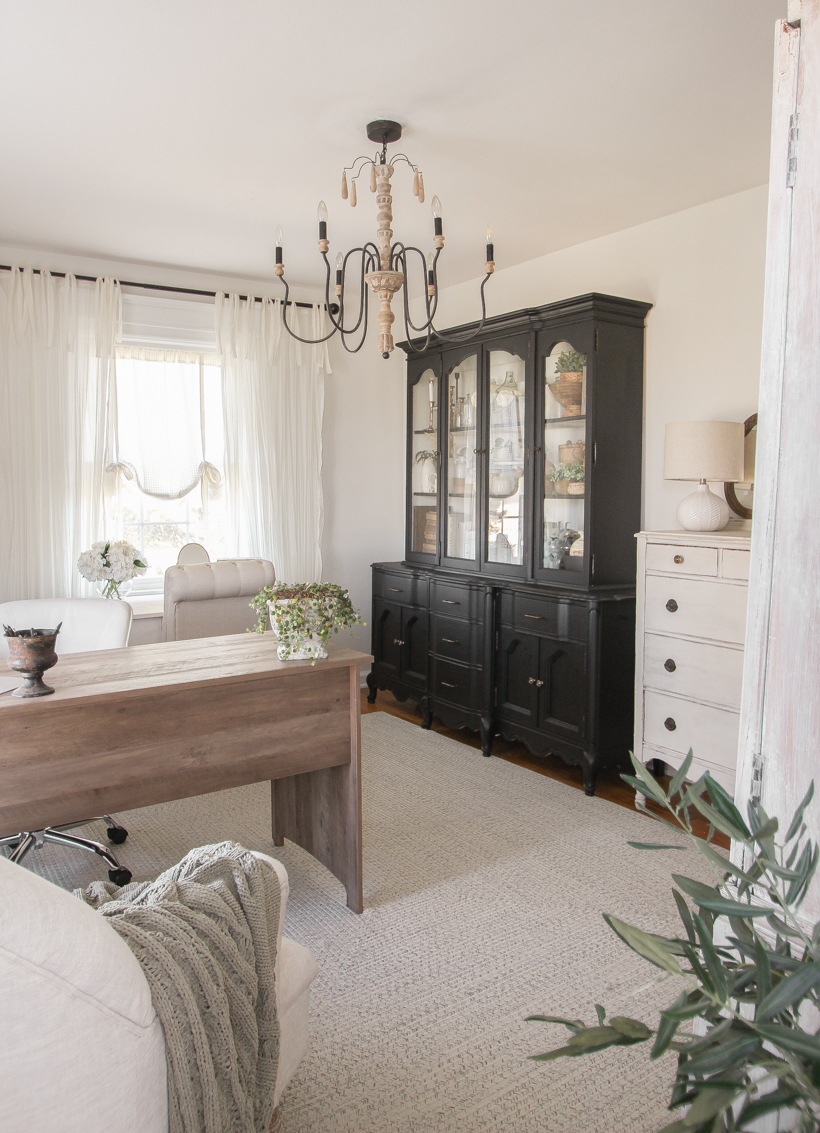 I painted my bright white antique cabinet a dark, moody, matte black, and I'm absolutely in love with the character it added to the entire room.
I've slowly been embracing some colors and finishes outside of my usual comfort zone, and when I added my black front door to the house last year, I knew it wouldn't be long before I updated something else with this darker, more grounded color. I used Fusion Mineral Paint in the color Coal Black, and I will say that out of all the chalk, milk, and other furniture paints I've used over the years, this is one of my very favorites. It had such good coverage even with the first coat, and the finish was so smooth. I highly recommend Fusion if you're looking to update a piece of furniture in your home.
I left the original hardware on the top hutch, but the many of the hardware pieces on the bottom part of the cabinet were not in good shape. I matched the same antique brass finish and replaced several drawer pulls and knobs so I wouldn't have to pry open the cabinet doors any longer.
I have a whole blog post where I discussed how I use this cabinet, but this is where I store all my decor and accessories that I'm not currently using. If you want to see what this cabinet looked like before I painted it black, go check this out!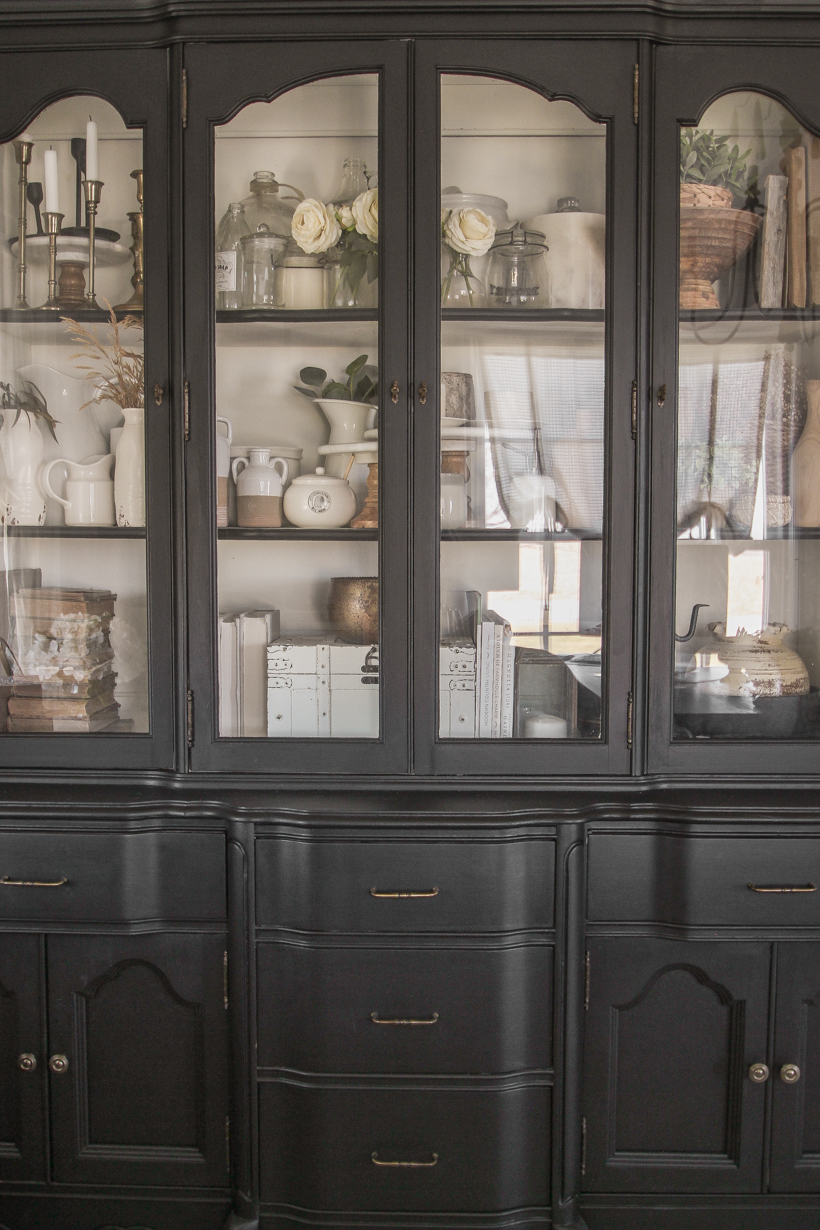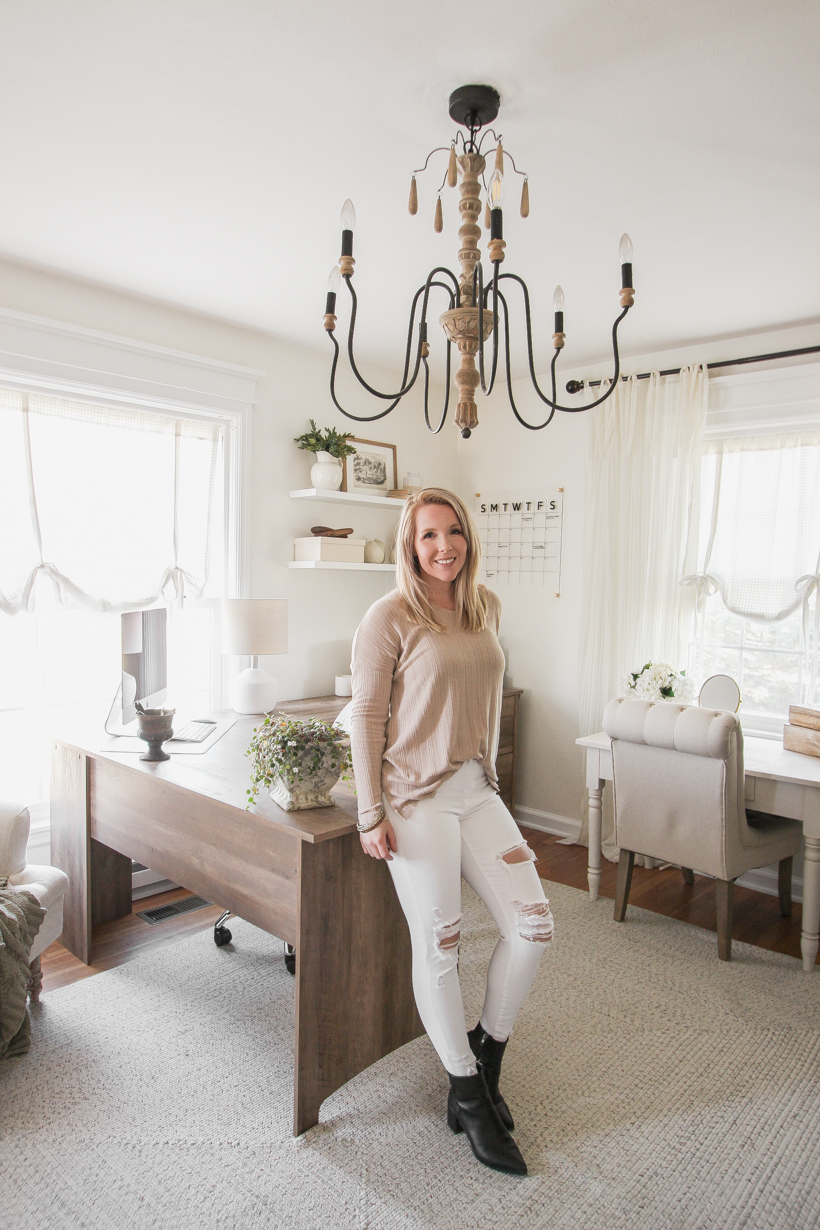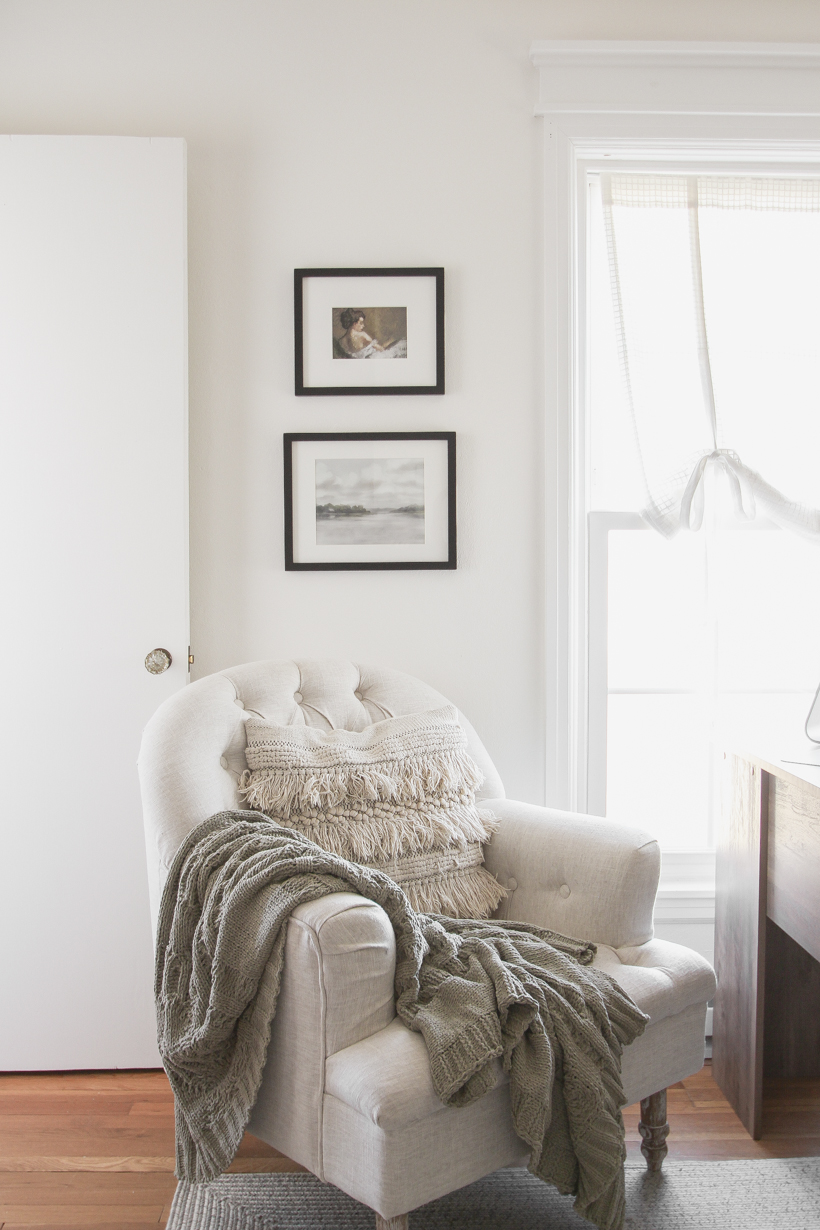 Since we only have one bathroom, I've had a little makeup vanity set up in my office for several years now, and it works perfectly. It's just a little antique desk and my old desk chair with a small mirror and some decorative boxes to hold all my makeup. I always prefer to be as close to natural light as possible when doing my makeup, so sitting right next to this window is the perfect little spot.
You may have noticed I also switched out the darker bamboo roman shades with these white balloon shades that I borrowed from another bedroom. The new desk made the bamboo shades feel too overpowering in the room, and this was the perfect easy swap.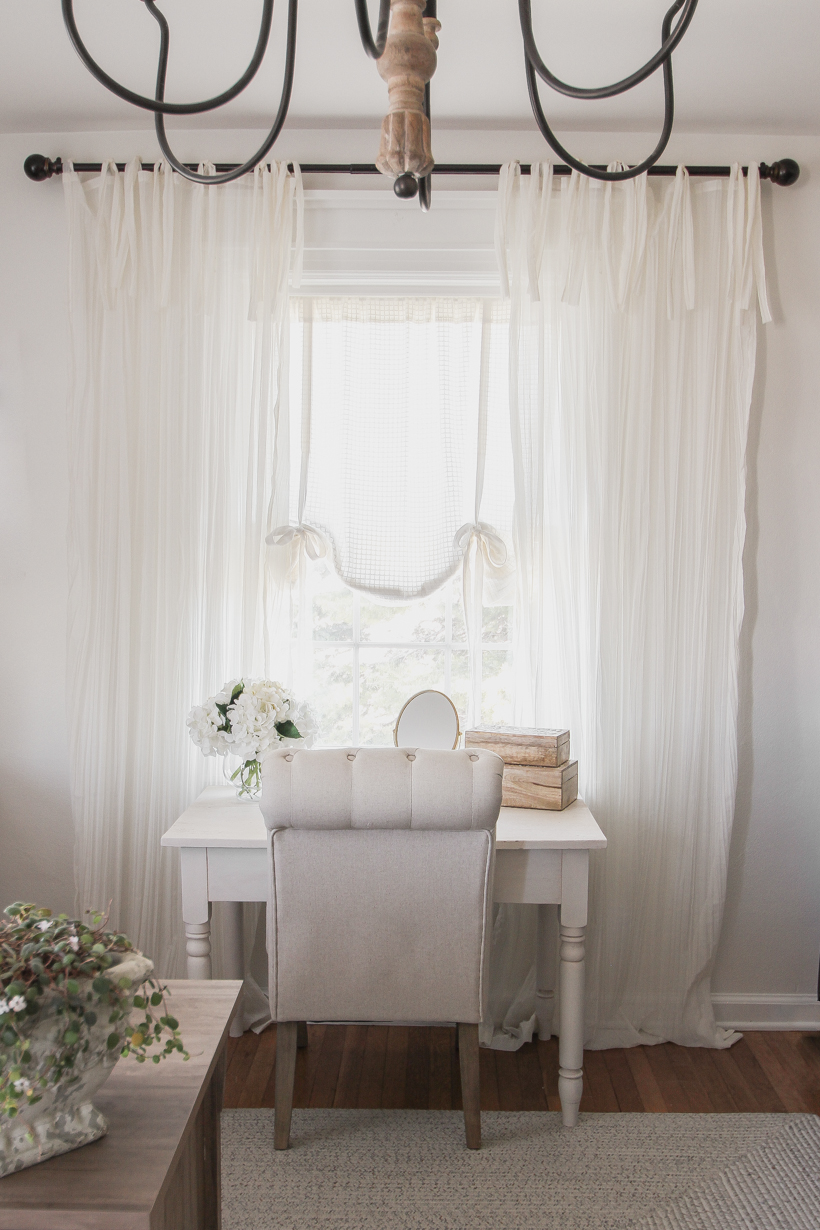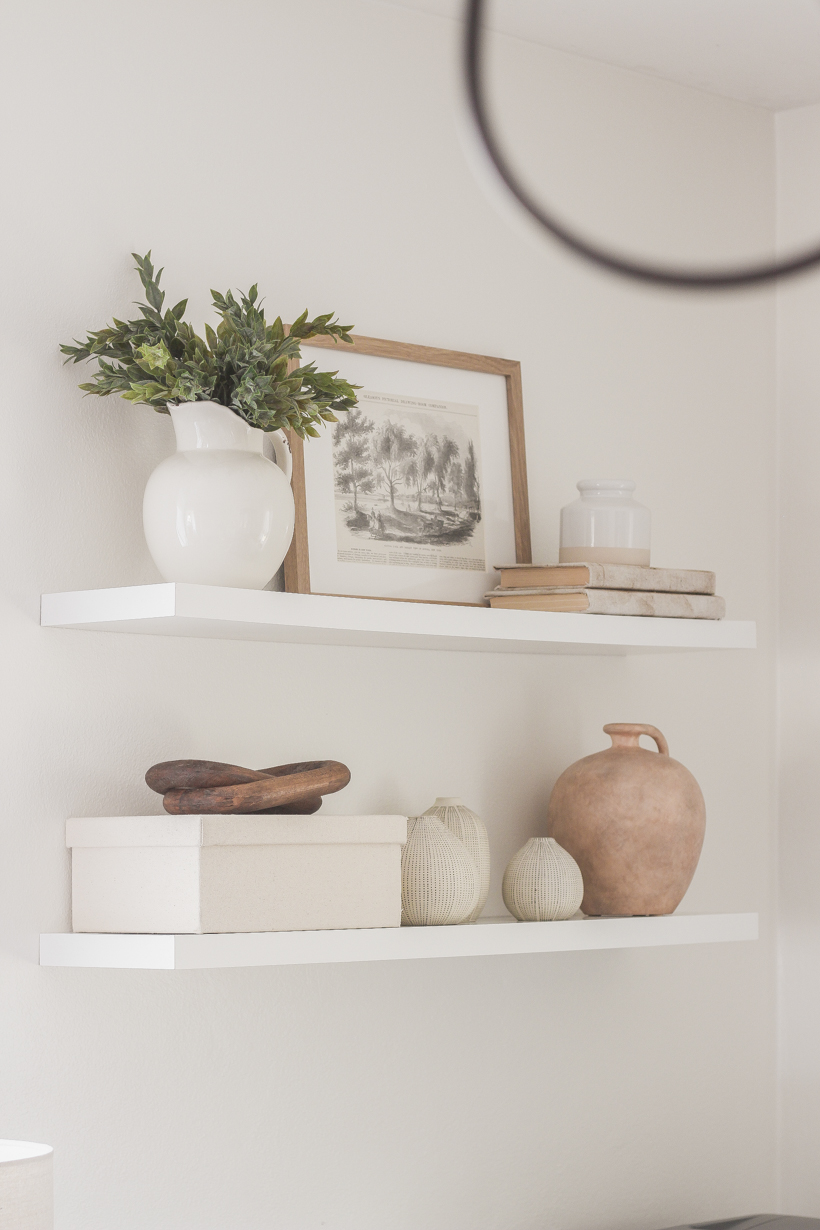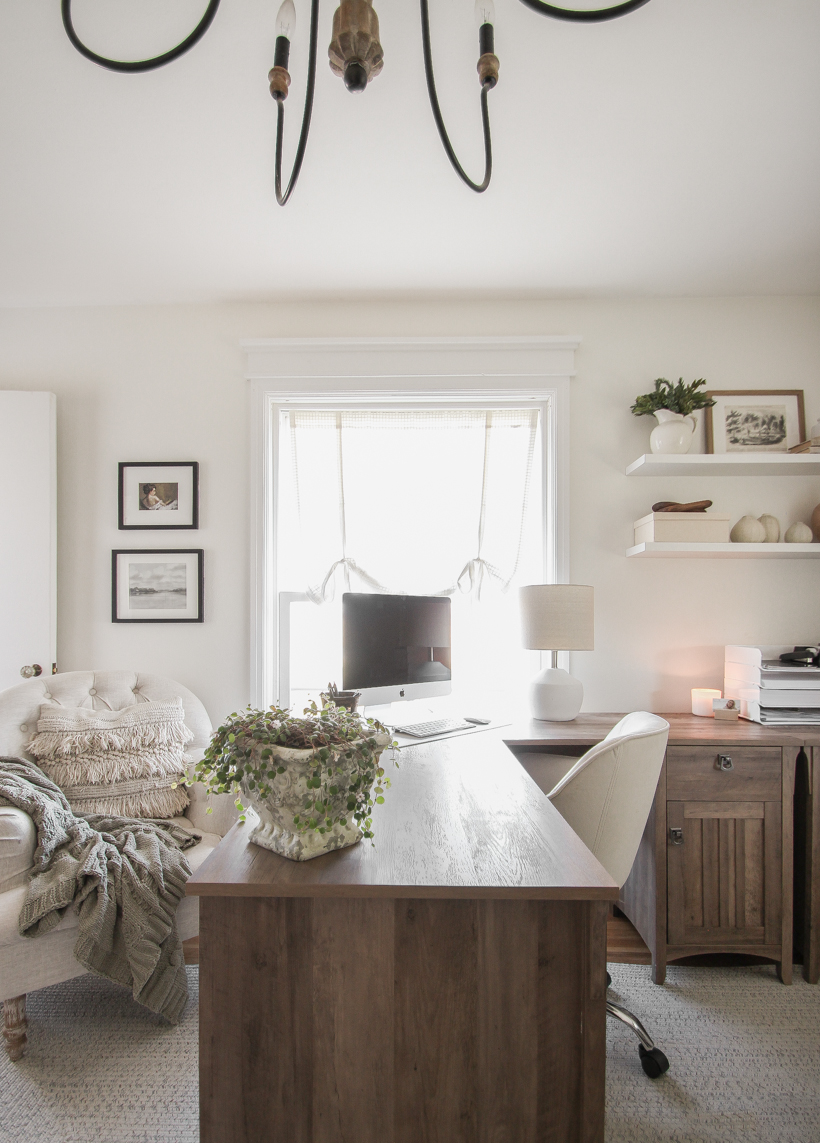 When I design a space, I try to keep function as the top priority and the decorative aspects a close second. It's not always easy to balance the two, especially because our home is the backdrop I use to create content for this blog, but my office is one room that function had to be the number one priority. I will admit when I've shown my office in the past, sometimes I've moved things around slightly to create that "magazine worthy" photo. But I never want anyone to leave here feeling like the ideas I share are unattainable in your own home, and this is truly how my office looks now… giant printer sitting on top of the desk, a calendar on the wall to keep me organized (although it is a very pretty calendar), and stacks of papers (just neatly organized in trays).
I've added so many storage pieces in this room, many of them antiques, so that my office can be organized and tidy, which allows my brain to be able to focus and be creative so much better. In fact, I think this room has more antiques in it than any other room of the house. I suppose it's a little collection of all my favorite pieces… the whitewashed armoire, the black cabinet, a tall chest that stores office supplies, and my old vanity table.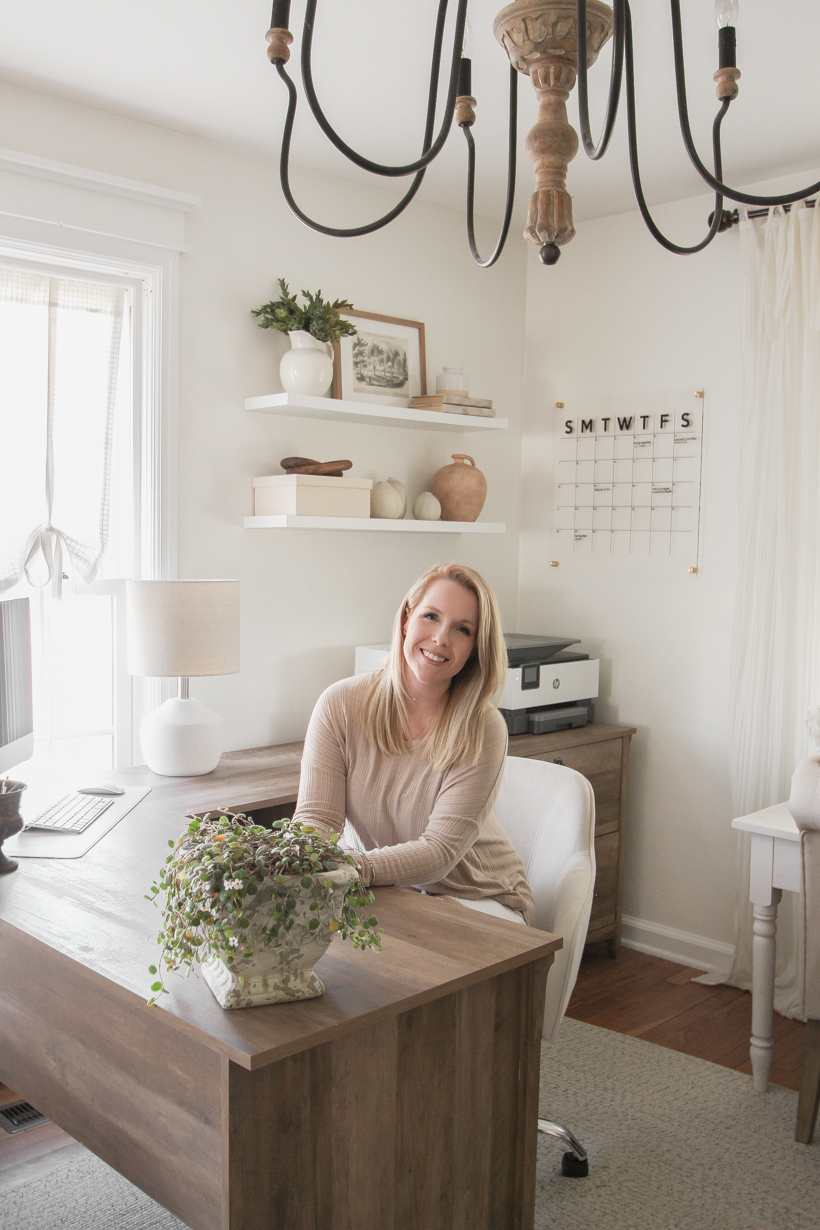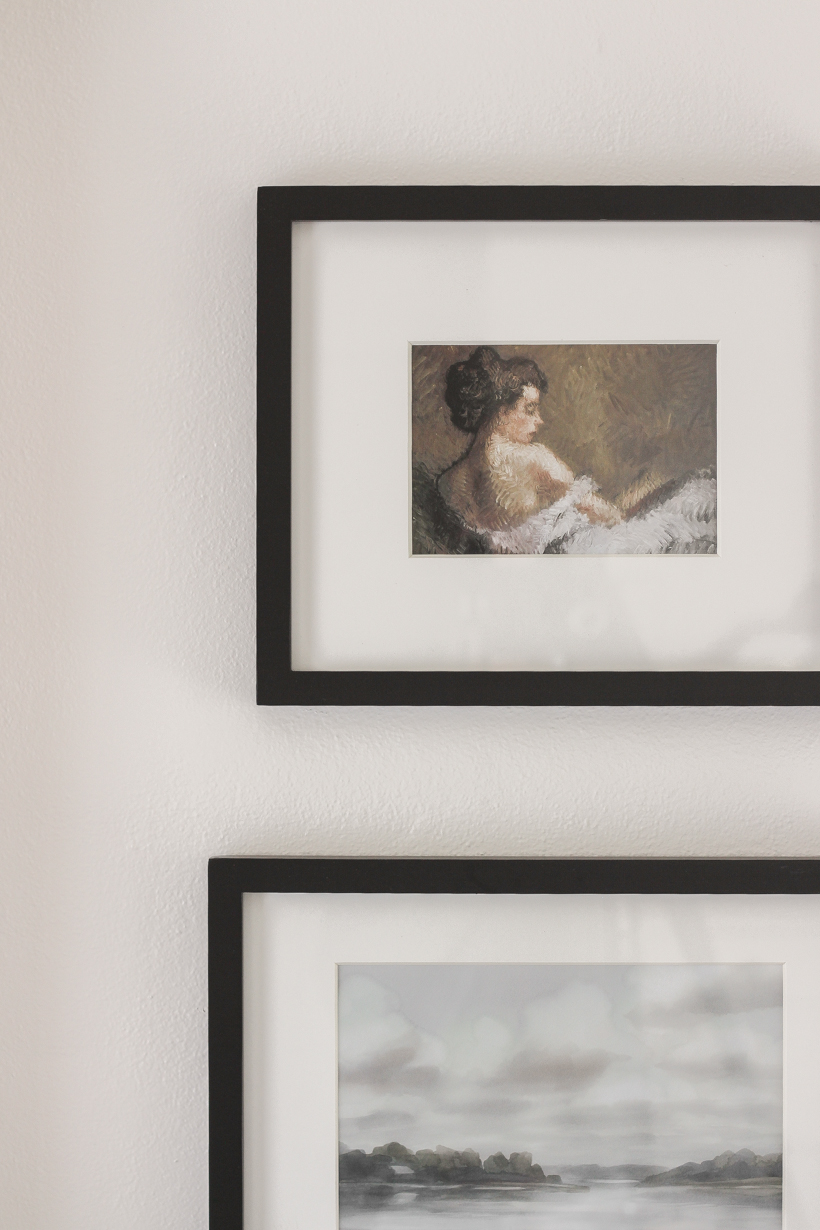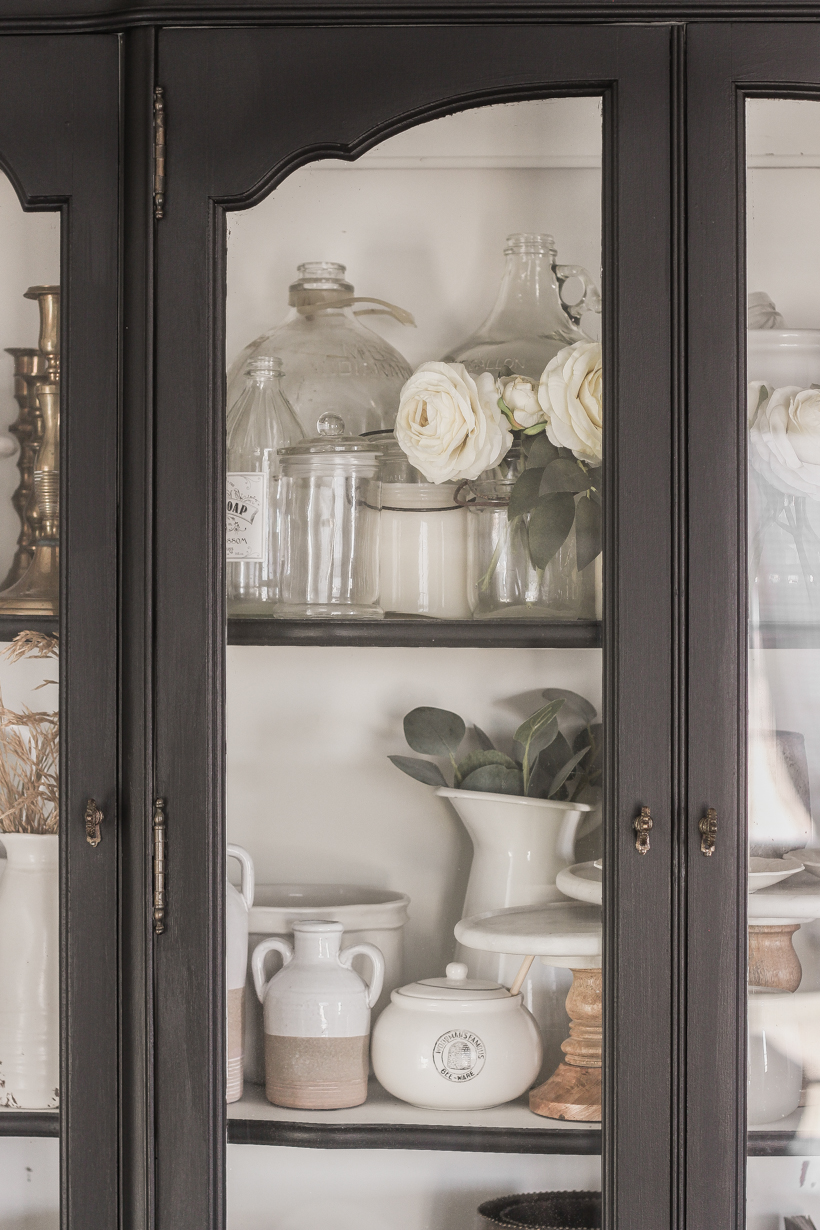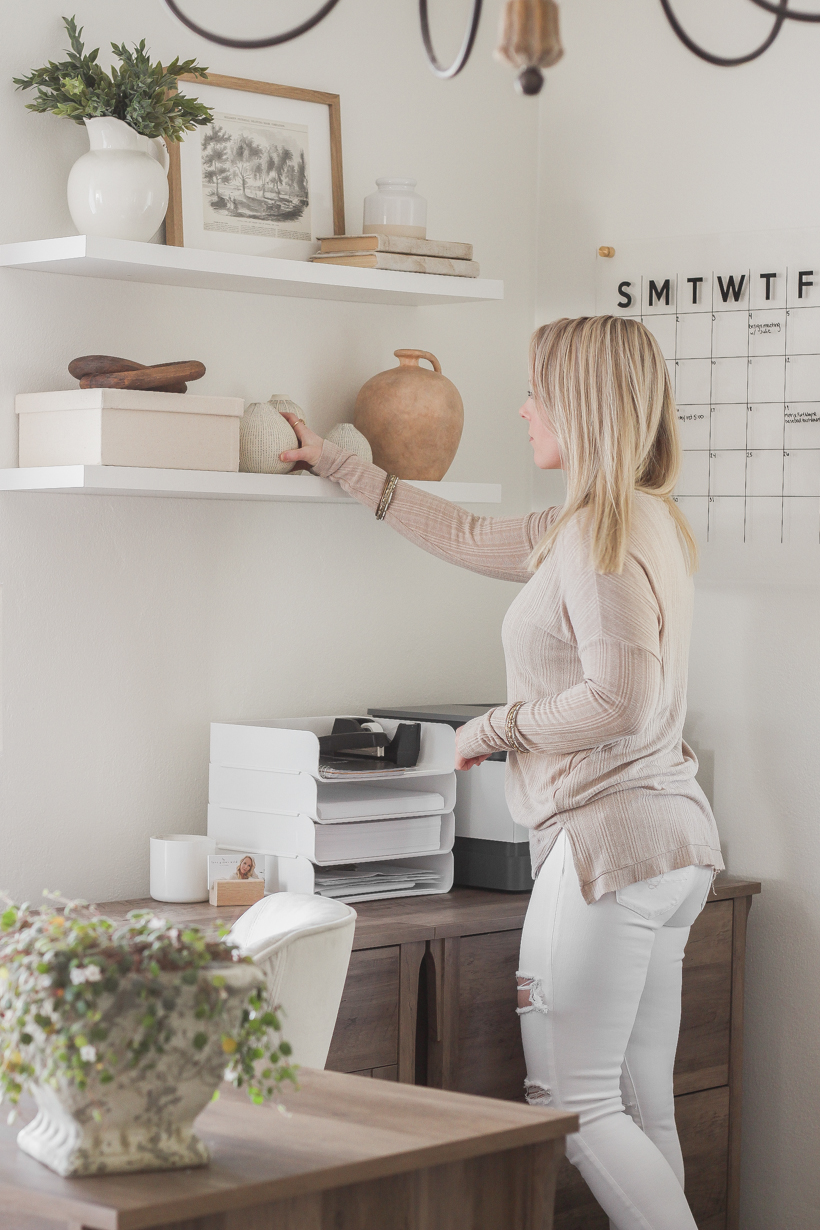 Doesn't this photo feel so pretty and dreamy with the sunlight coming in through the sheer curtains?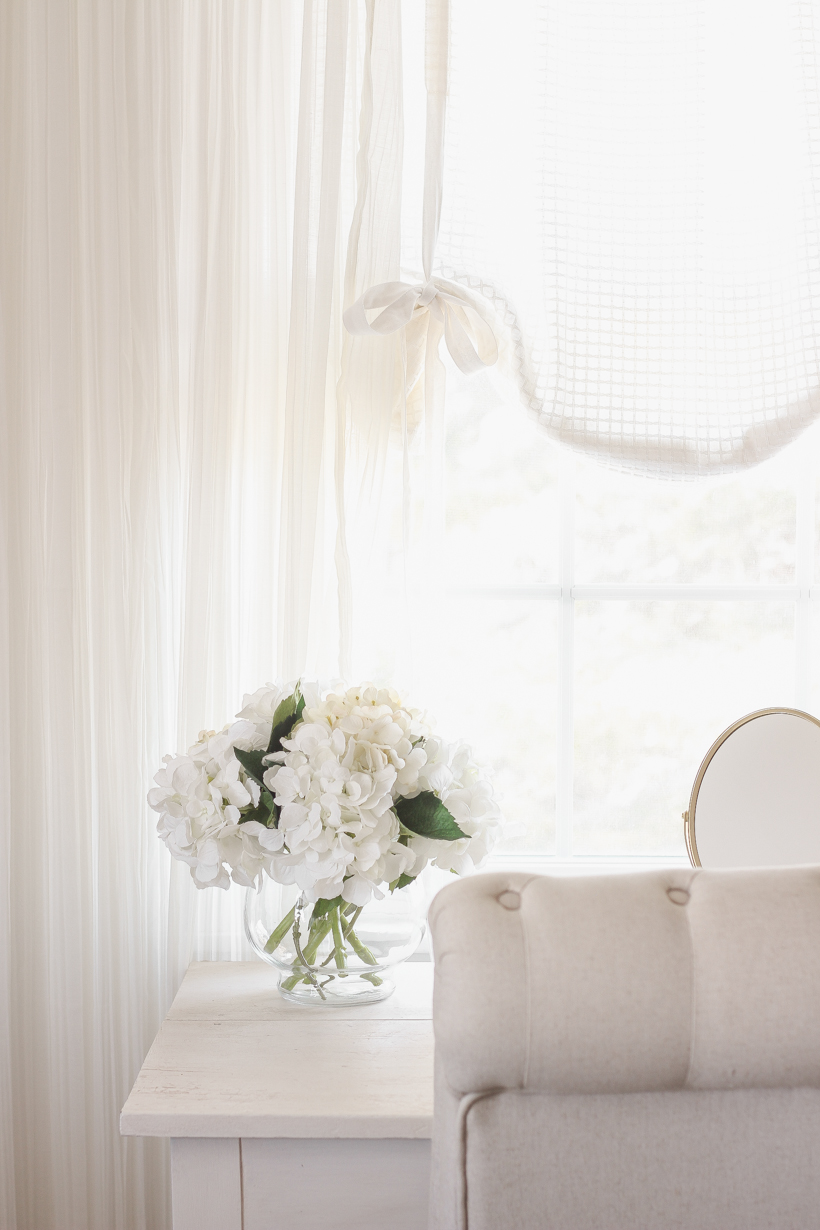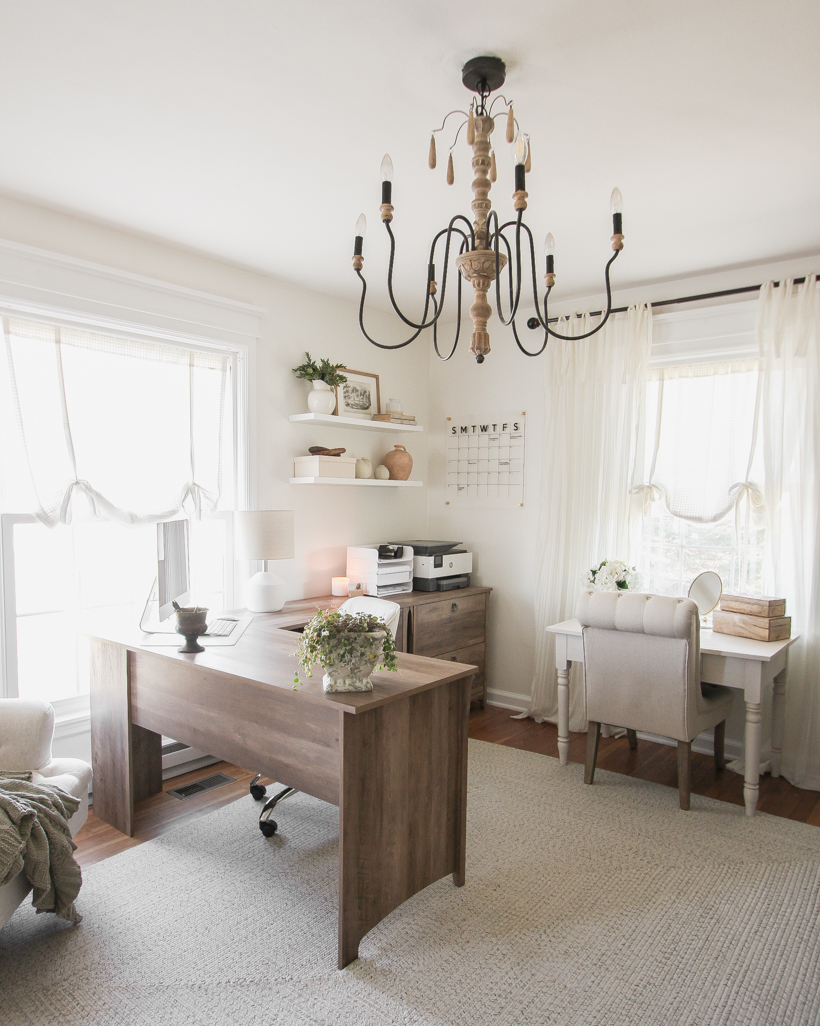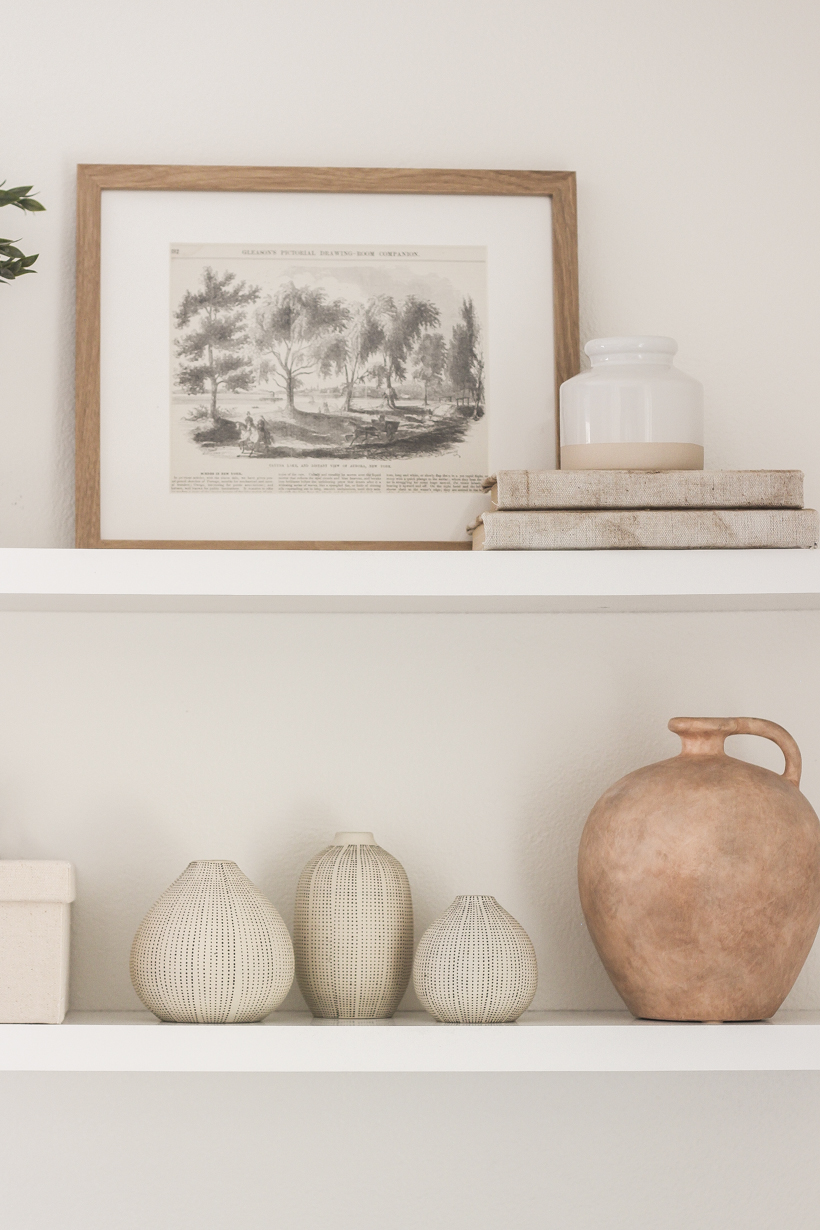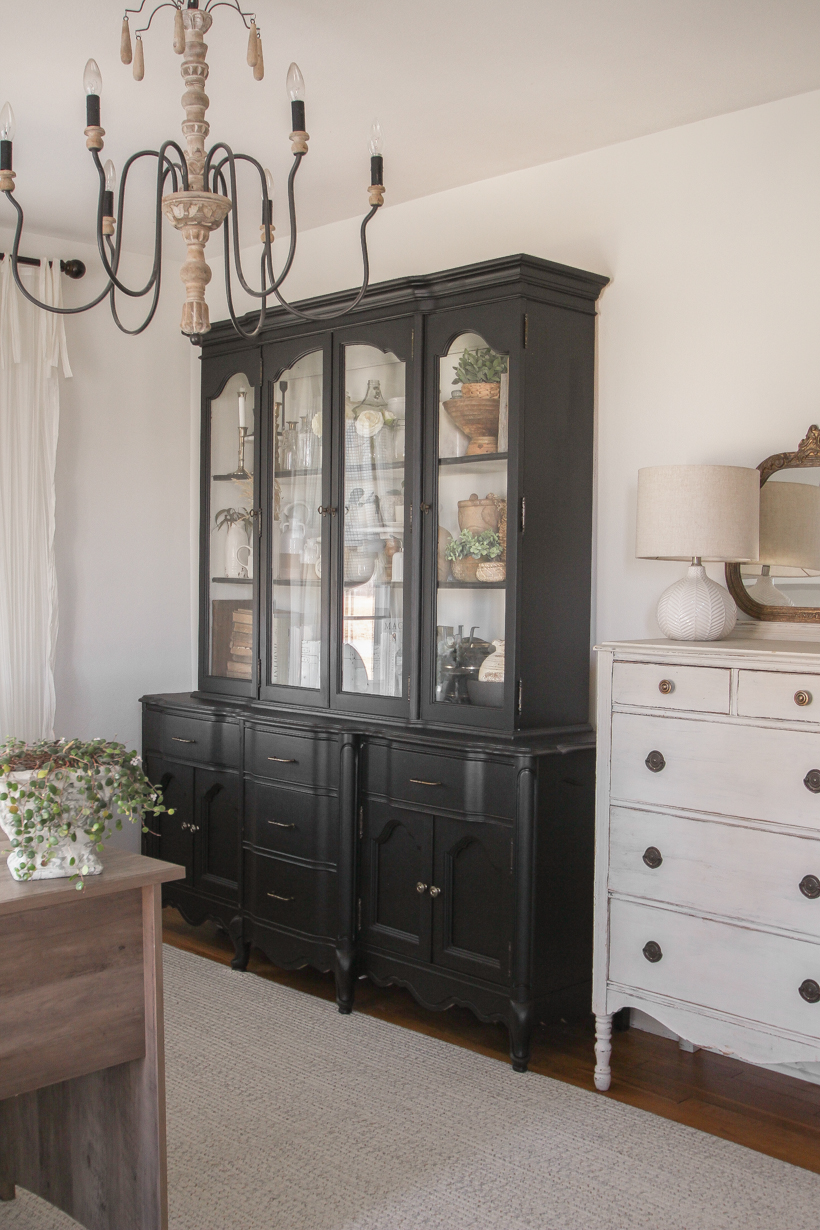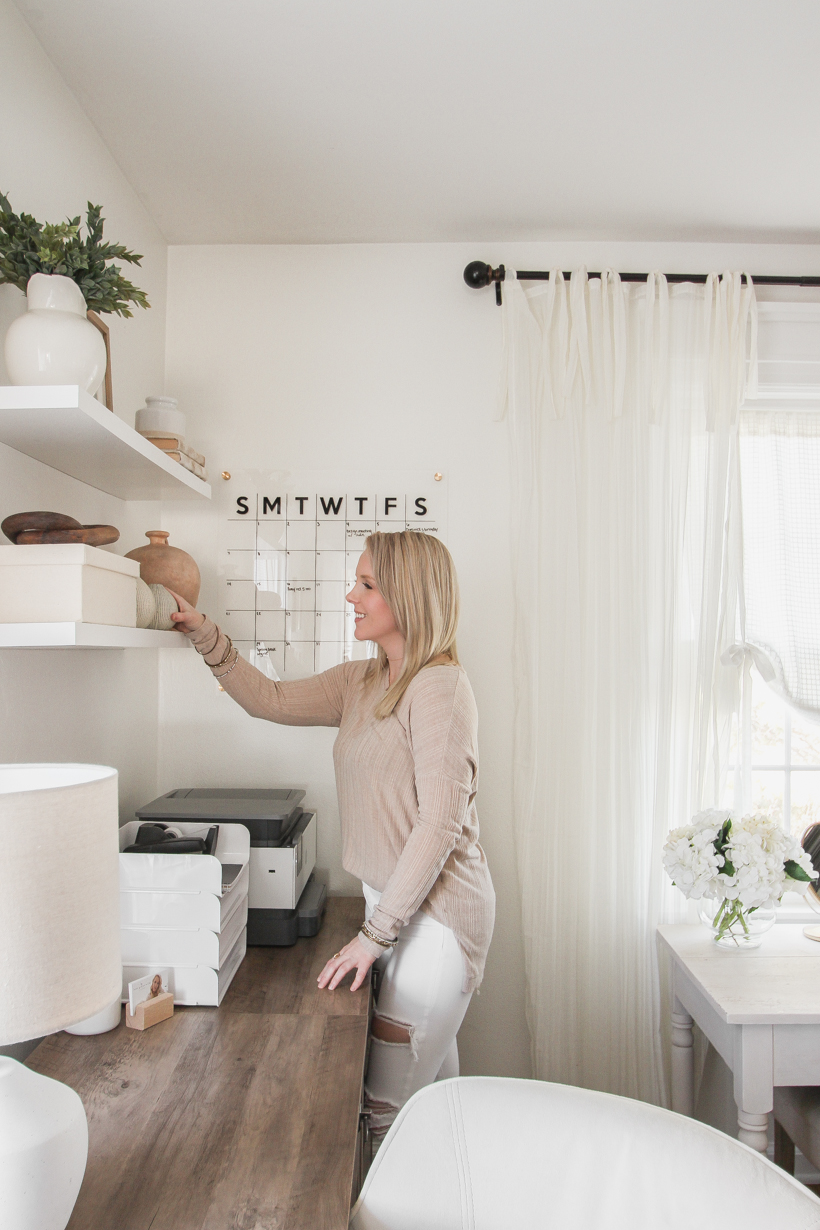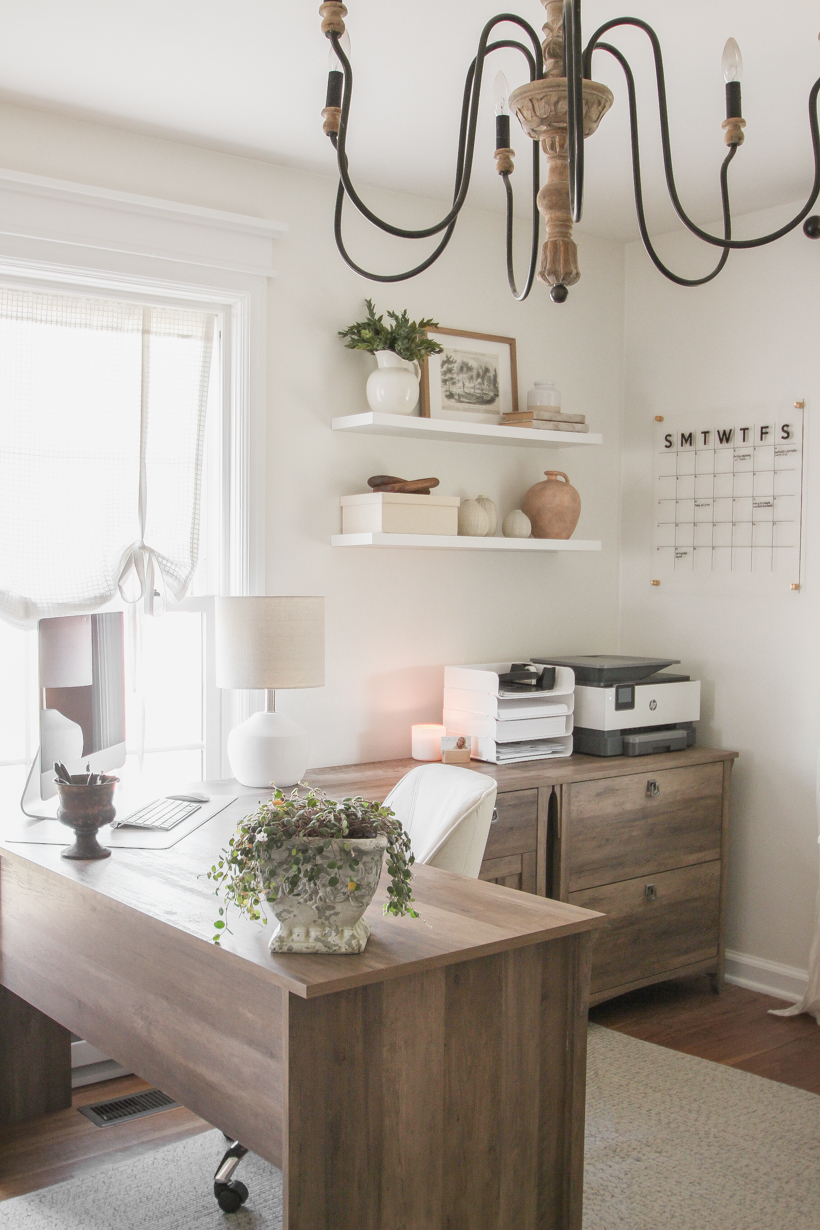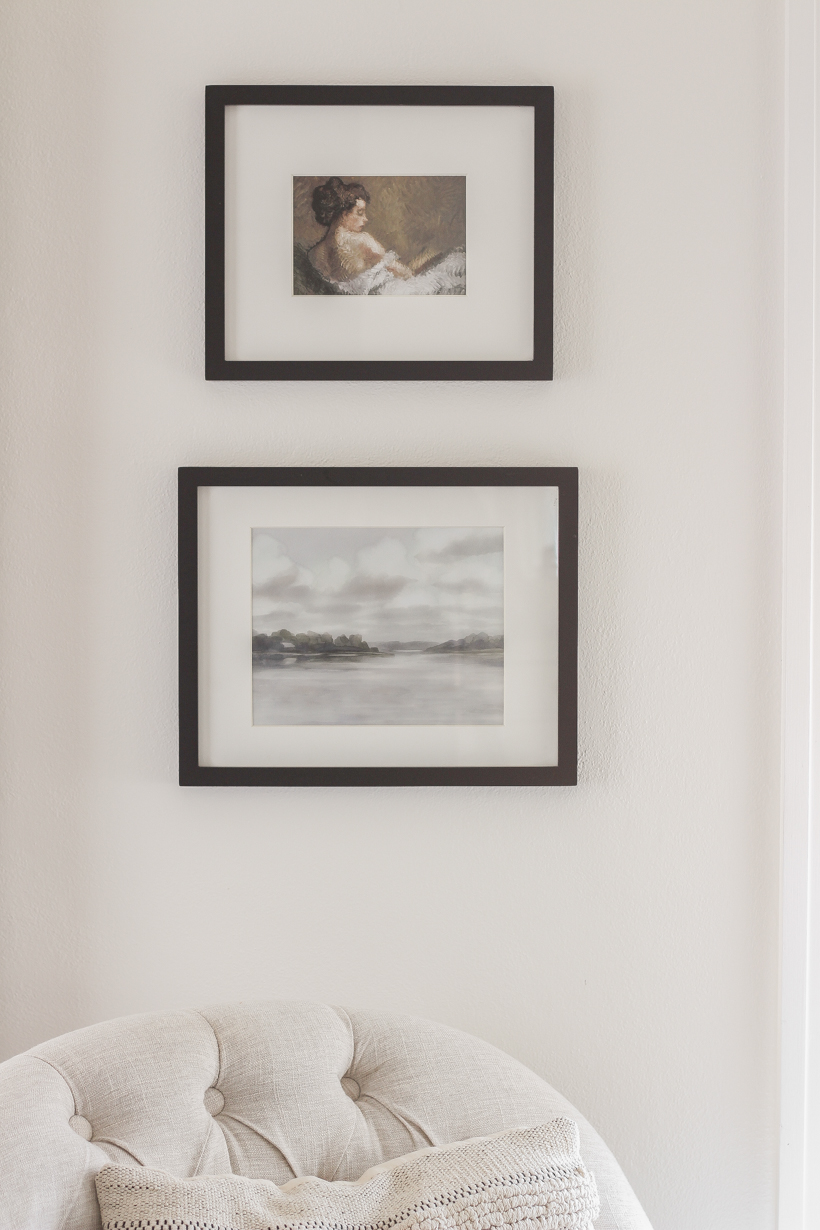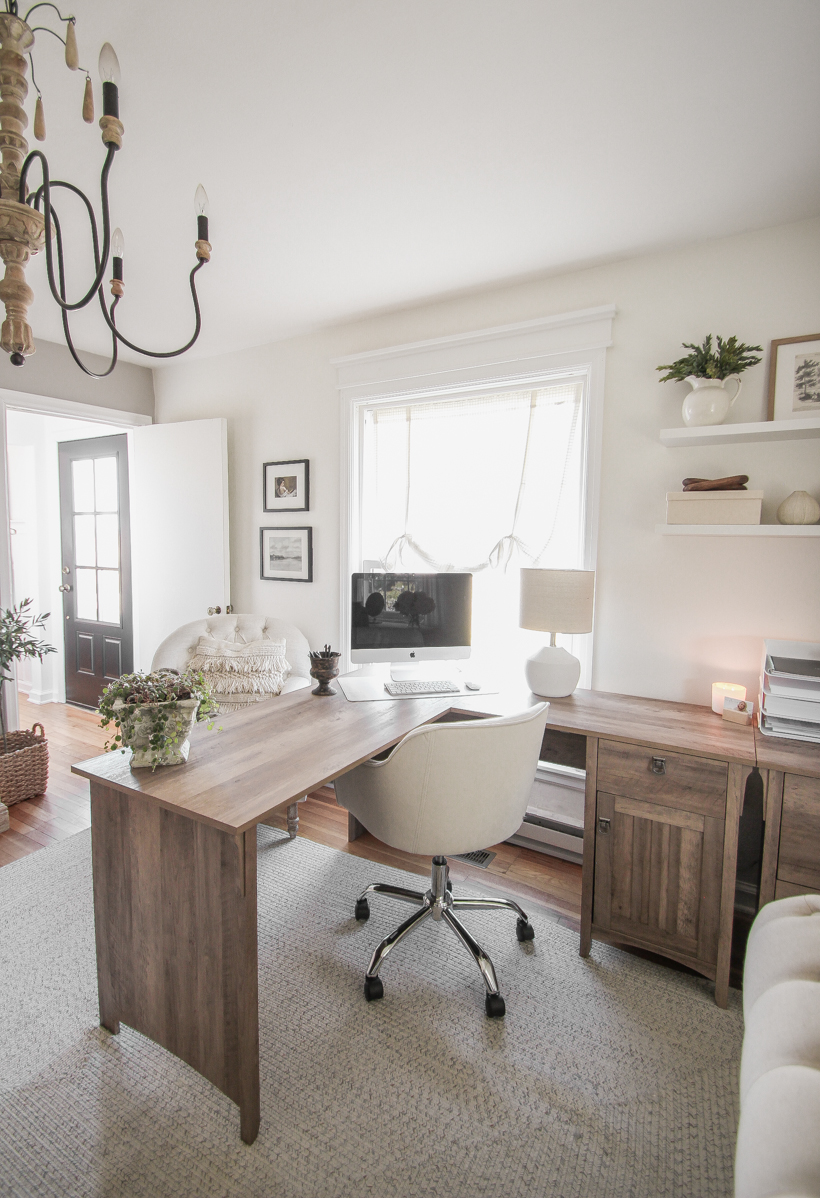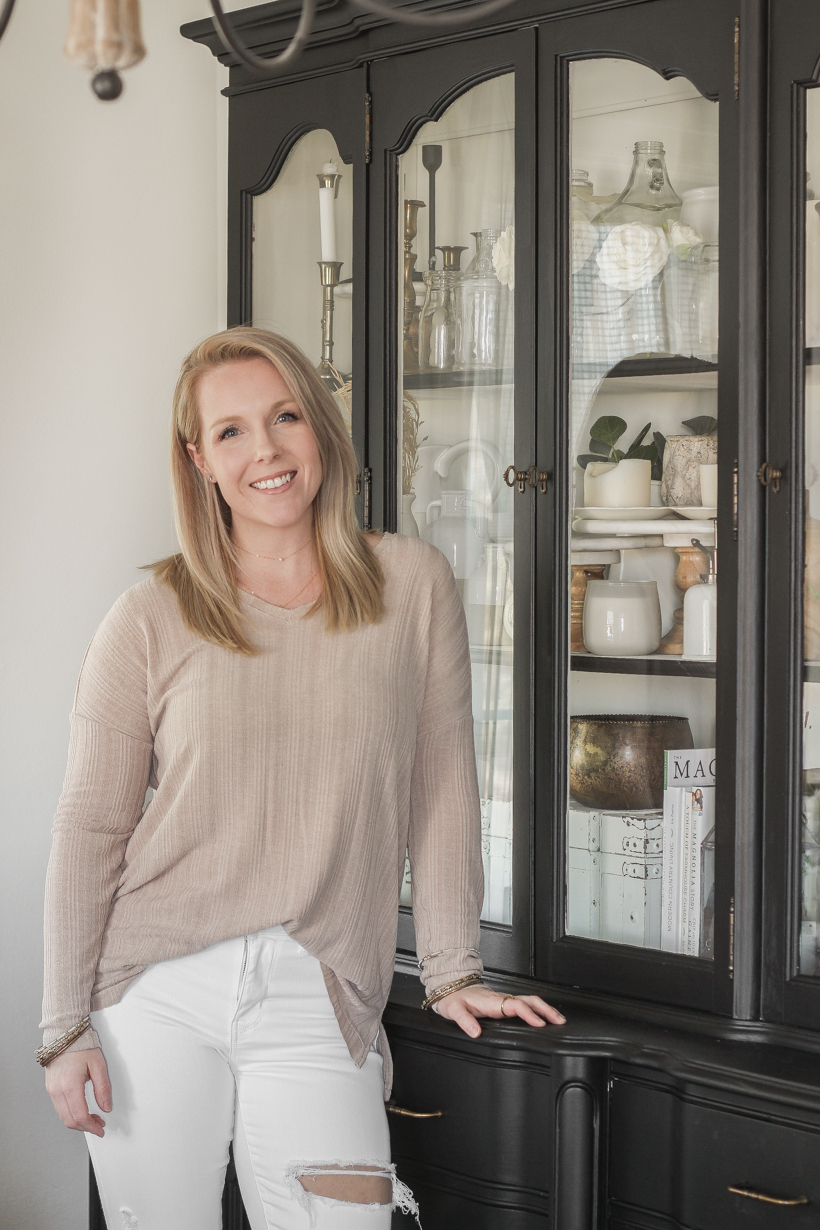 – SOURCES –
wall color: PPG in Gypsum
cabinet color: Fusion Mineral Paint in Coal Black
desk | file cabinet | chandelier
rug | desk chair | lamp | floating shelves
wall calendar | sheer curtains | balloon shades
jug vase | covered books | engraving art
vanity chair | landscape painting | woman's portrait
throw blanket | armchair
– SHOP THE POST –

As always, I sincerely appreciate you shopping through the links I share, which allows me to make a small commission from your purchase while your purchase price stays the same. When you use my affiliate links, I'm better able to create content for this blog as well as support my family, and I thank you from the bottom of my heart for supporting what I do!
---
Subscribe to Blog | Follow on Instagram
Follow on Pinterest | Follow on Facebook