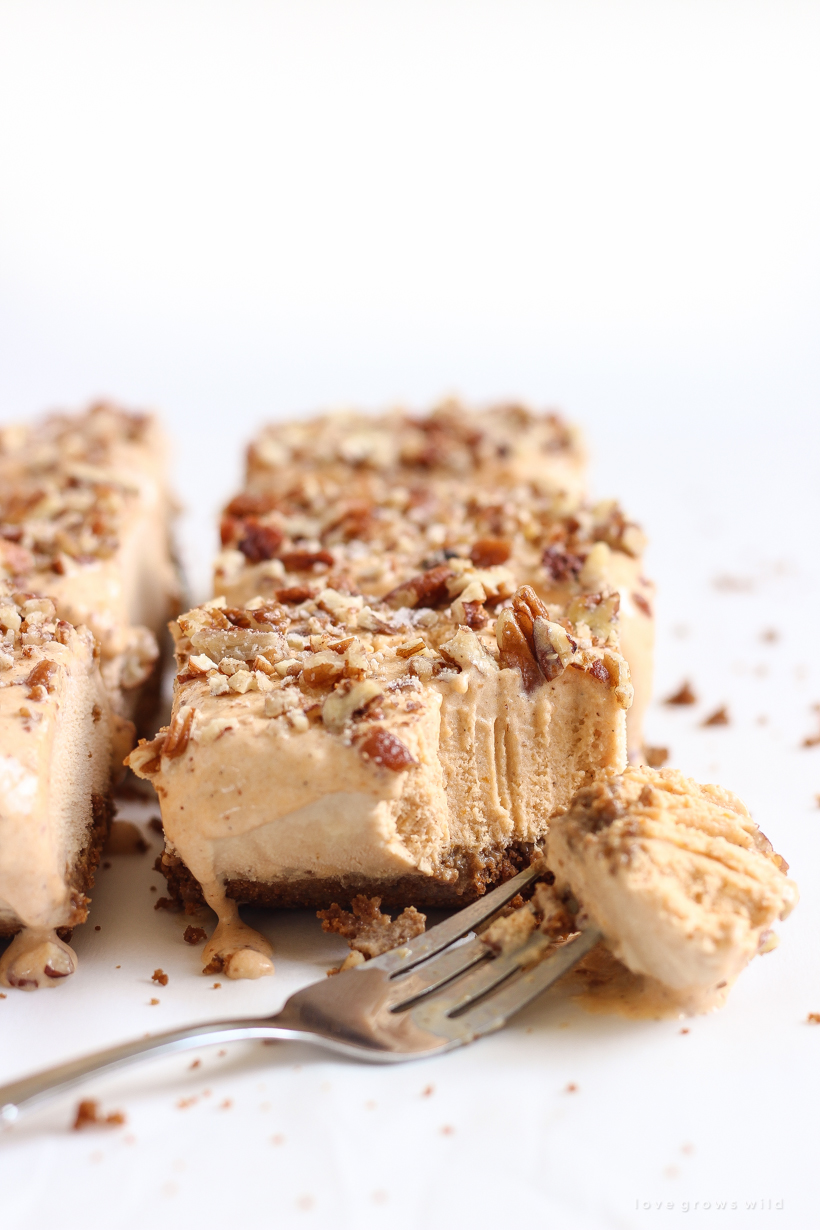 Since today is the first official day of fall, it only felt right to share this insanely delicious Pumpkin Ice Cream Bars recipe with you to celebrate. I've been working on it for a few weeks to get it just right, and what better time to give into all our pumpkin cravings than today? I don't know what the weather is like where you live, but this week has been mostly 90+ degree days until just this morning when I woke up to a cool, crisp perfect fall day. I'm assuming at least some of you are in a climate where it's still somewhat toasty outside, so I thought this pumpkin ice cream would be the perfect way to slide into the fall season with a cool treat, and oh baby, is it good.
Fun fact: Today is also my youngest son's birthday, so pumpkin ice cream bars for his birthday worked out perfectly! We started calling him Moose when he was just a baby, and now that he's 9 years old I think he's more often called Moose than Wyatt, which he loves. This kid loves sports, wants to be a farmer when he grows up, and asked for a leather jacket, pocket watch, and an apple tree for his birthday. I wish I was half as confident in who I was at that age, and I hope he never loses all the things that make him uniquely him.
Okay, back to the ice cream! This recipe has a couple steps, but is really easy to prepare. Don't worry, for those of you who don't have an ice cream maker (myself included) you're not making homemade ice cream from scratch! The recipe starts with regular vanilla ice cream, and with the addition of pumpkin and pumpkin pie spices, this delicious new ice cream flavor is created. Crushed gingersnaps become the crust layer underneath, and chopped pecans sprinkled on top are the perfect nutty crunch in each bite of the cool, creamy ice cream. I love semi-homemade recipes like this that don't take a ton of effort, but are so, so delicious and will make whoever you serve this to feel extra special.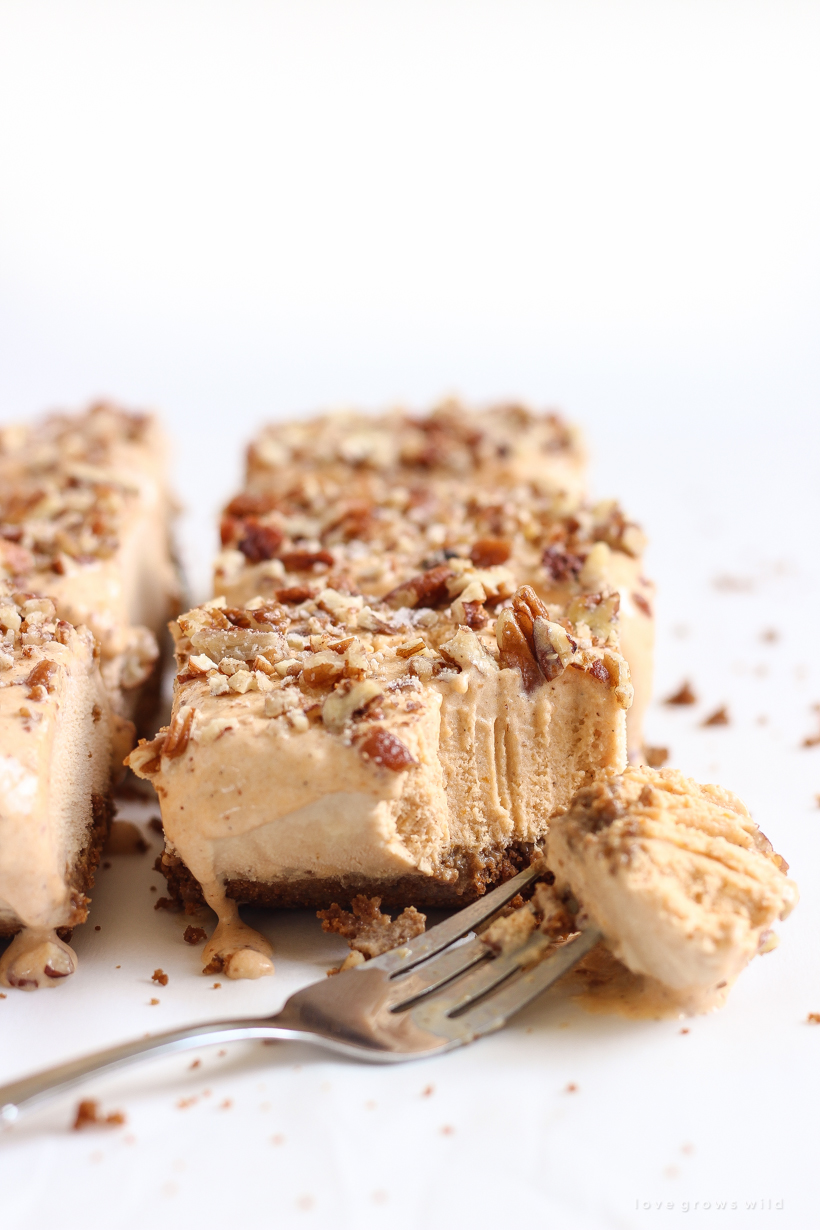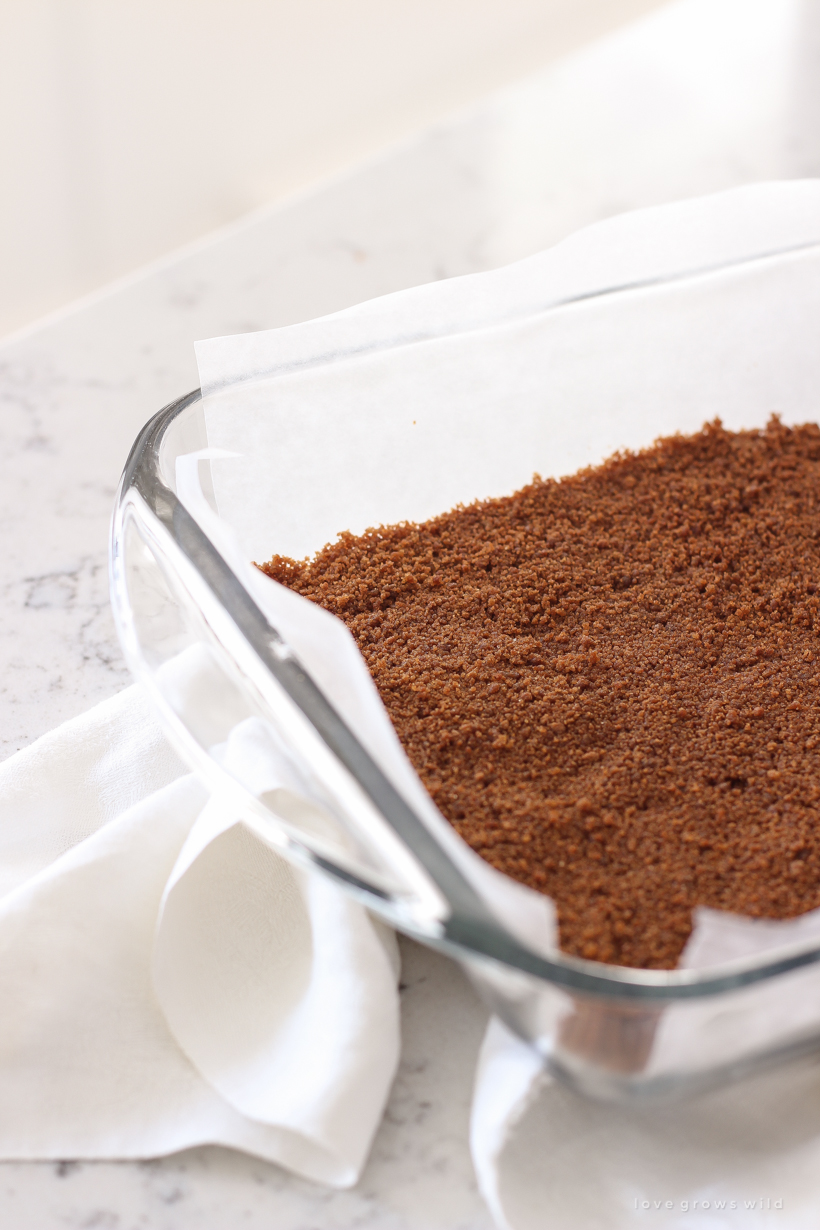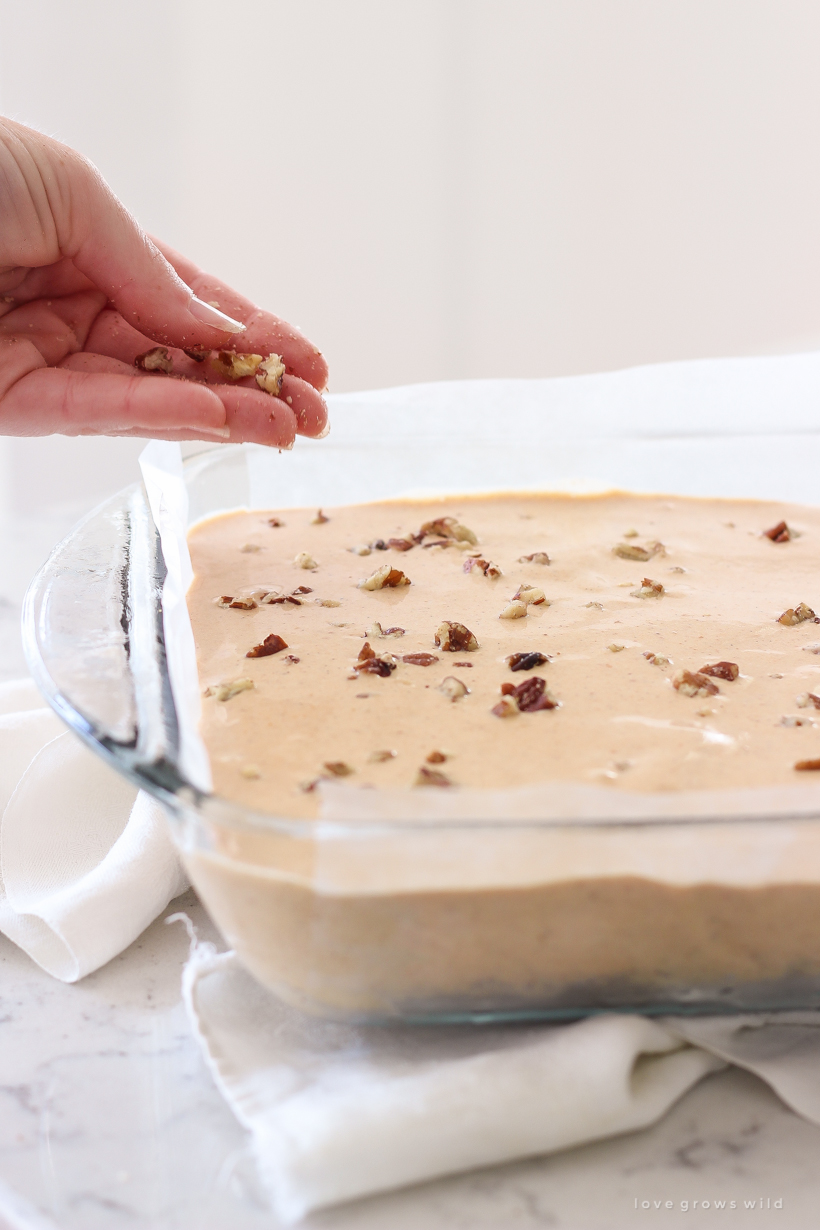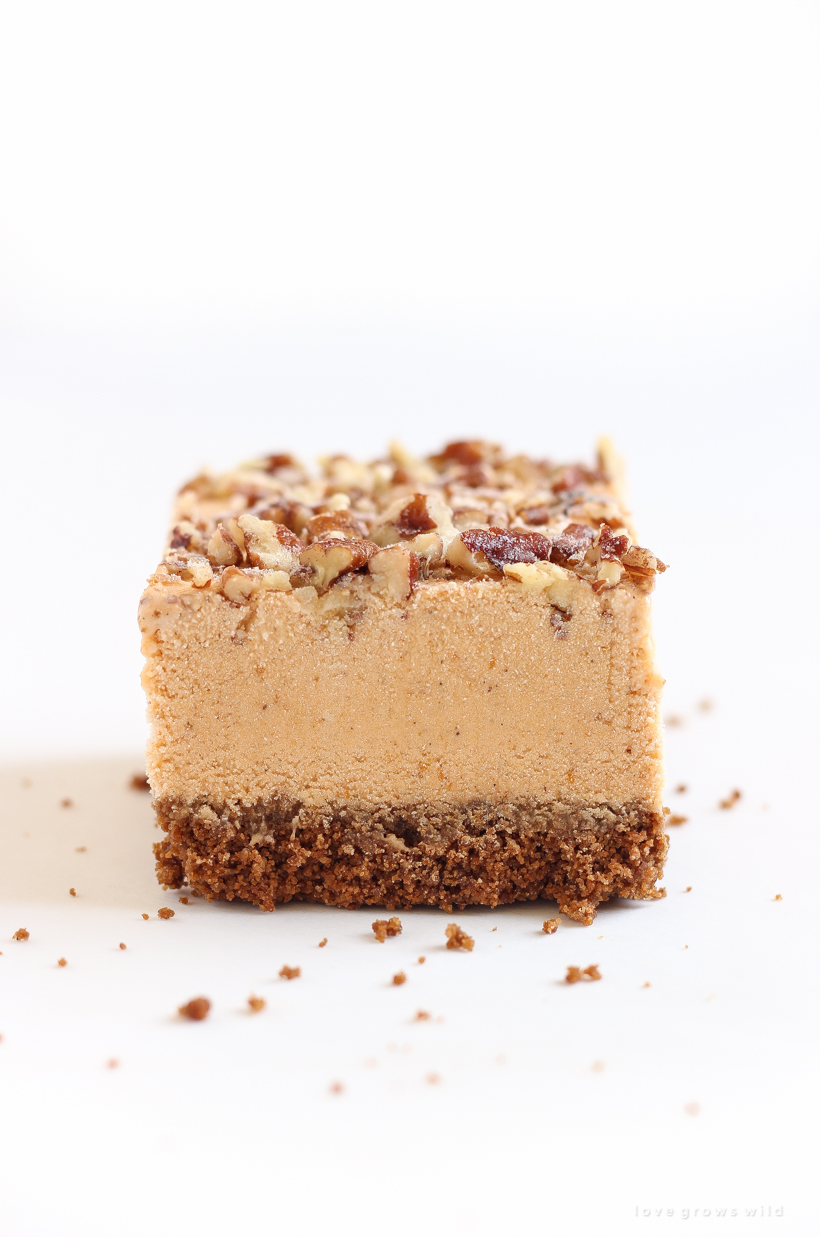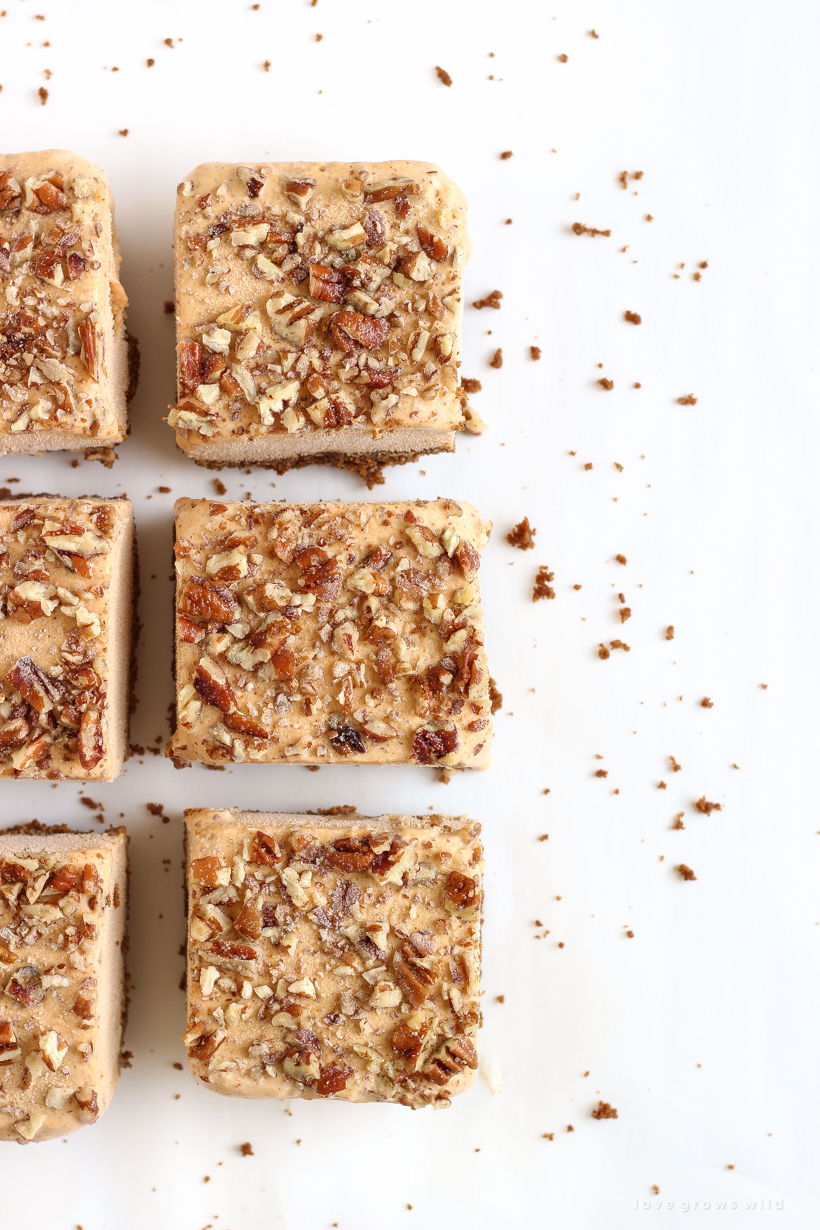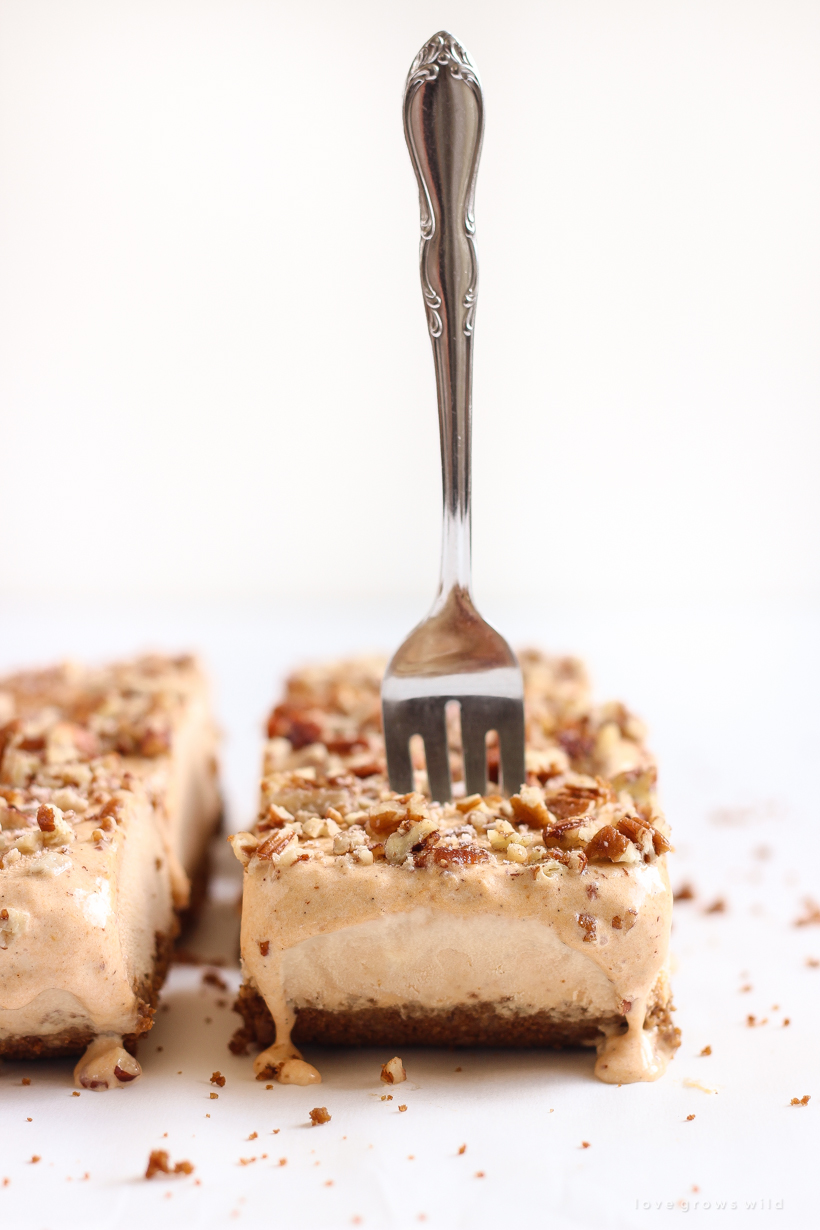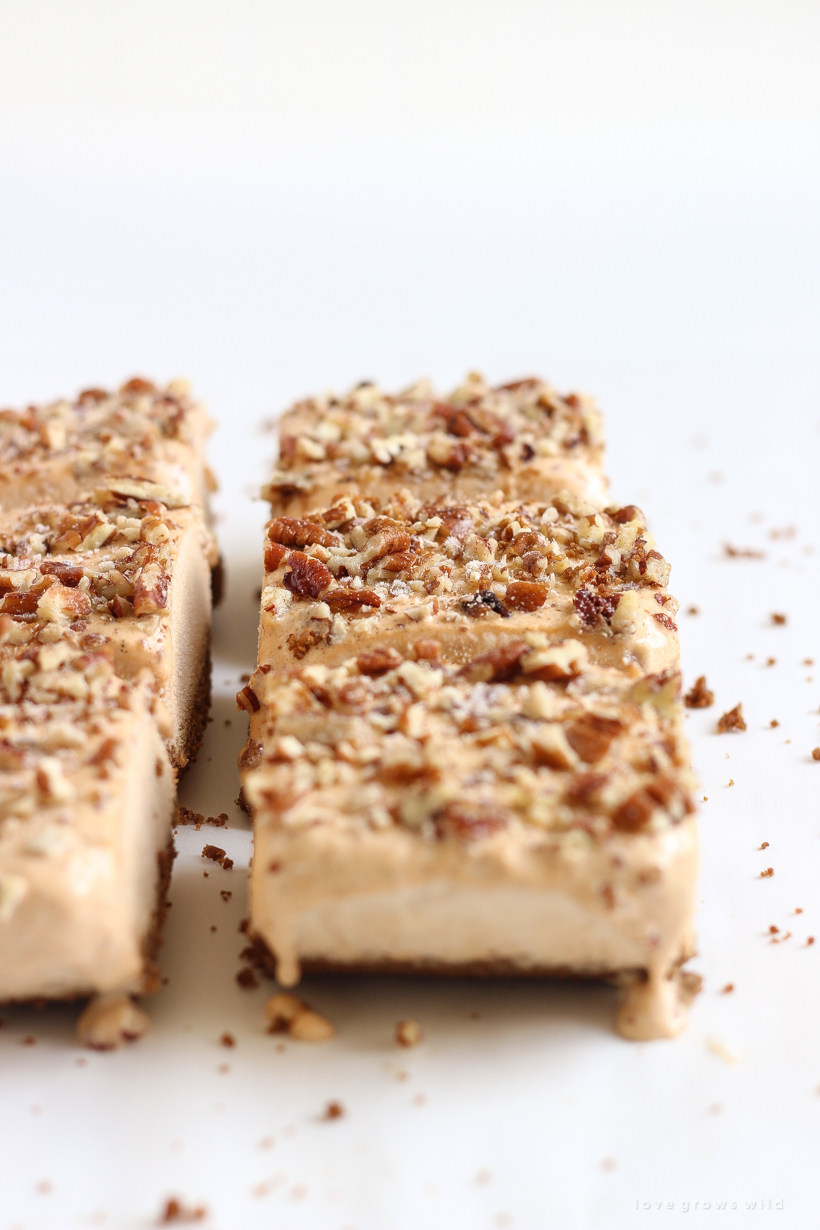 Also try our: Apple Turnovers, Maple Glazed Pumpkin Hand Pies, Salted Caramel Apple Crisp, Pumpkin Bread Pudding, Apple Pie Bars, Pumpkin Bread, or Applesauce Sheet Cake with Cream Cheese Frosting
Pumpkin Ice Cream Bars
2 cups gingersnaps, crushed
3 tablespoons unsalted butter, melted
1 cup pumpkin puree
½ cup sugar
1 teaspoon pumpkin pie spice
½ teaspoon salt
1 quart vanilla ice cream, softened
1 cup pecans, chopped
Add gingersnaps to the bowl of a food processor and pulse until fine crumbs form. Add the melted butter and continue pulsing until the butter is evenly distributed throughout the gingersnap crumbs. Note: You can also crush the gingersnaps in a sealed zipper storage bag. Once you have broken down the gingersnaps into fine crumbs, pour the melted butter in the bag and toss combine.
Pour the cookie crumbs into the bottom of an 8 x 8 baking dish and press down to create a crust. Place the dish in the freezer for 20 minutes to let the crust harden.
Meanwhile, combine the pumpkin puree, sugar, pumpkin pie spice, and salt in a large bowl. Add the softened ice cream and stir until well combined. After 20 minutes, remove the dish from the freezer and pour the ice cream pumpkin mixture over the crust in an even layer. Sprinkle the chopped pecans over the top of the ice cream and freeze for at least four hours or overnight. Note: If the ice cream mixture is very soft and liquid when you pour it over the crust, place the dish in the freezer for another 20 minutes before sprinkling the pecans on top so they don't sink down into the ice cream.
To serve, cut the ice cream into bars and enjoy immediately.
---
Subscribe to Blog | Follow on Instagram
Follow on Pinterest | Follow on Facebook