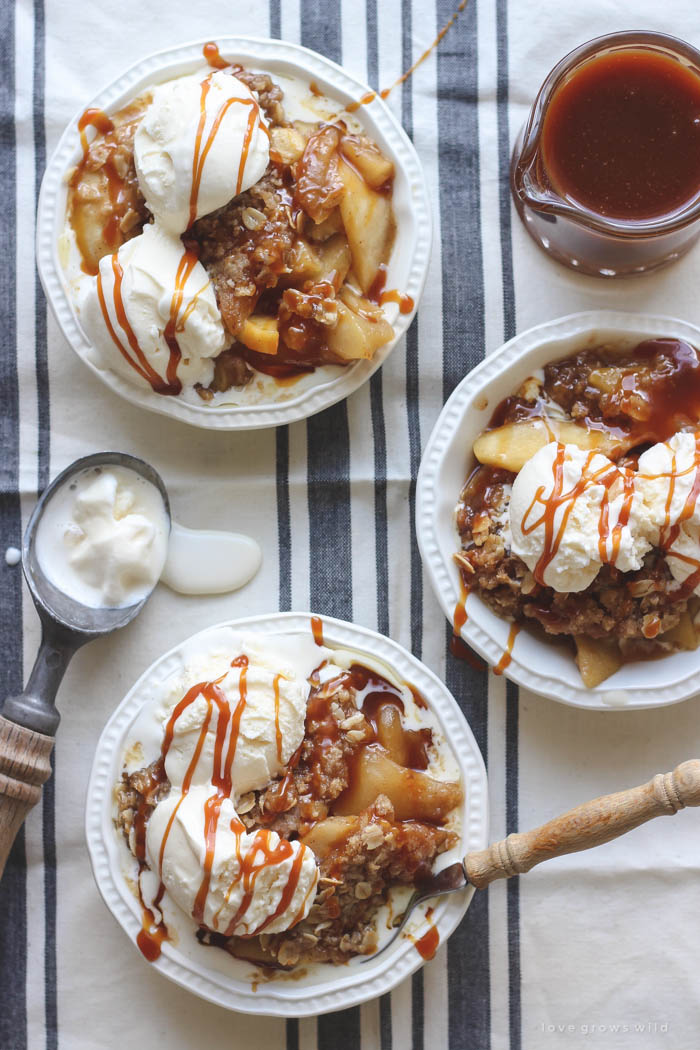 Warm salted caramel apple crisp topped with scoops of creamy vanilla ice cream and more salted caramel drizzled over top… the perfect dessert!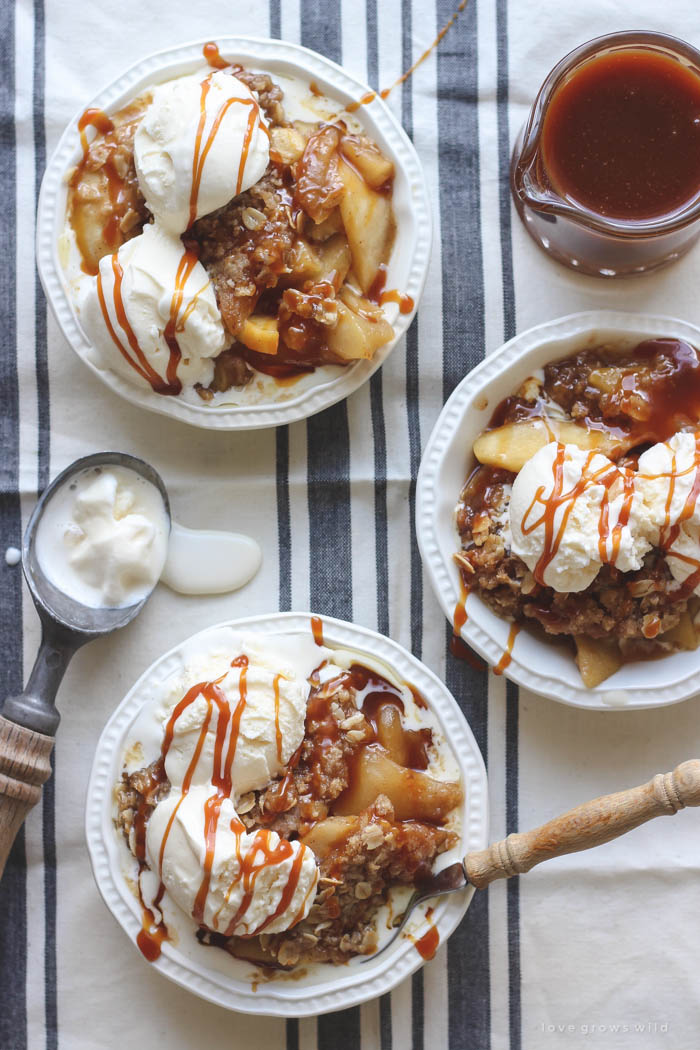 Is there anything better than the smell of warm cinnamon apples simmering on the stove? After making this recipe a few times over the last couple weeks, I have grown very fond of this delicious scent, which probably explains why five warm apple pie candles ended up in my cart at the store the other night… oops. I like to make sure I'm well-stocked in the candle department this time of year!
After I shared a summery strawberry crisp recipe earlier this year, I knew an apple crisp would be on the agenda this fall. Although the ingredient list may look a little intimidating when you first glance at it, just trust me… it is actually pretty simple to make and SO worth the effort! Your tummy and taste buds will definitely be thanking you! The recipe is broken up into 3 steps: the crisp topping, the apple filling, and the salted caramel sauce. If you have never made homemade caramel sauce, pleeeeeaase stop what you're doing and whip some up right now! There is nothing… absolutely NOTHING like it in the world! Of course, if you are in a time crunch or don't want to mess with homemade caramel, you can certainly grab a jar of caramel sauce at the store, and it will still be delicious. Just not quite as delicious as the stuff you make with your own two hands, in your own kitchen, with your own ingredients. Homemade salted caramel sauce… I love you.
Speaking of my beloved caramel, this recipe will make more than you need for the apple crisp, but that's a GOOD thing. Some of it will go into the apple filling, but you'll have plenty left over to drizzle on top of the crisp when it's time to eat. Oh, and please promise me you'll wait the recommended 20 minutes after baking before cutting into your beautiful, delicious dessert, okay? The apples need a chance to cool slightly and reabsorb some of the liquid they release while cooking.
Now go grab a spoon and some ice cream, and let's dive into this salted caramel apple crisp!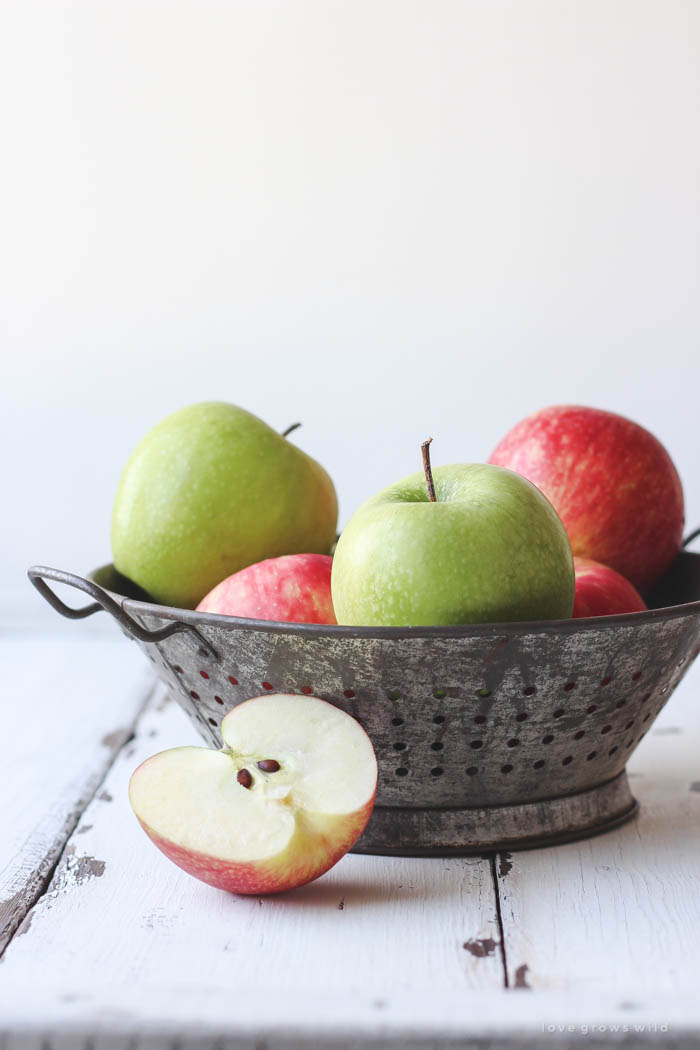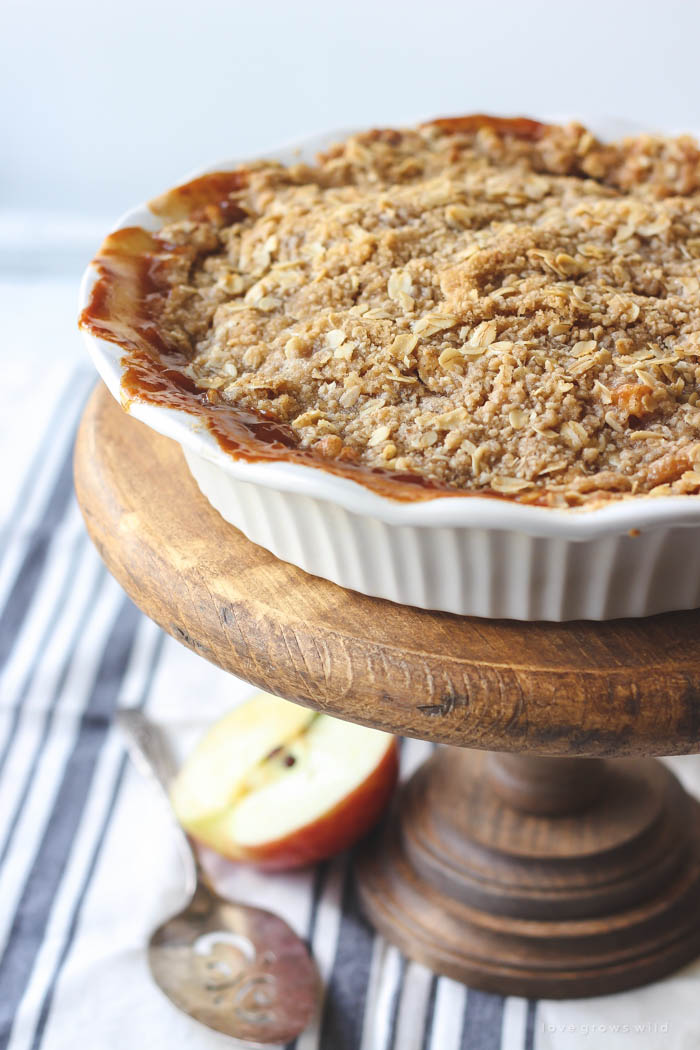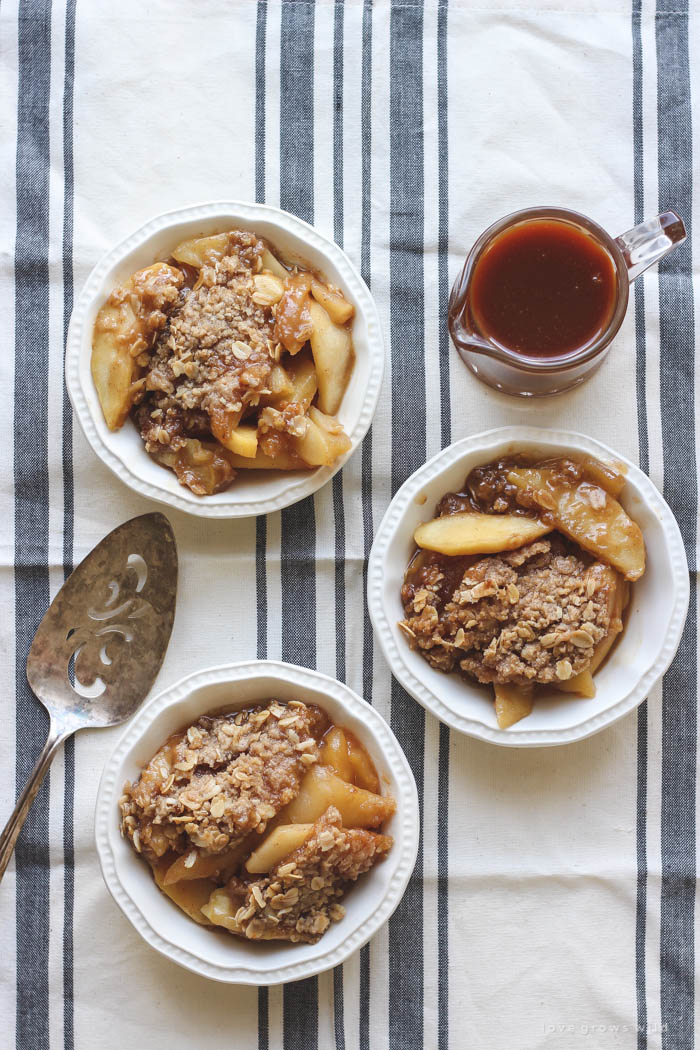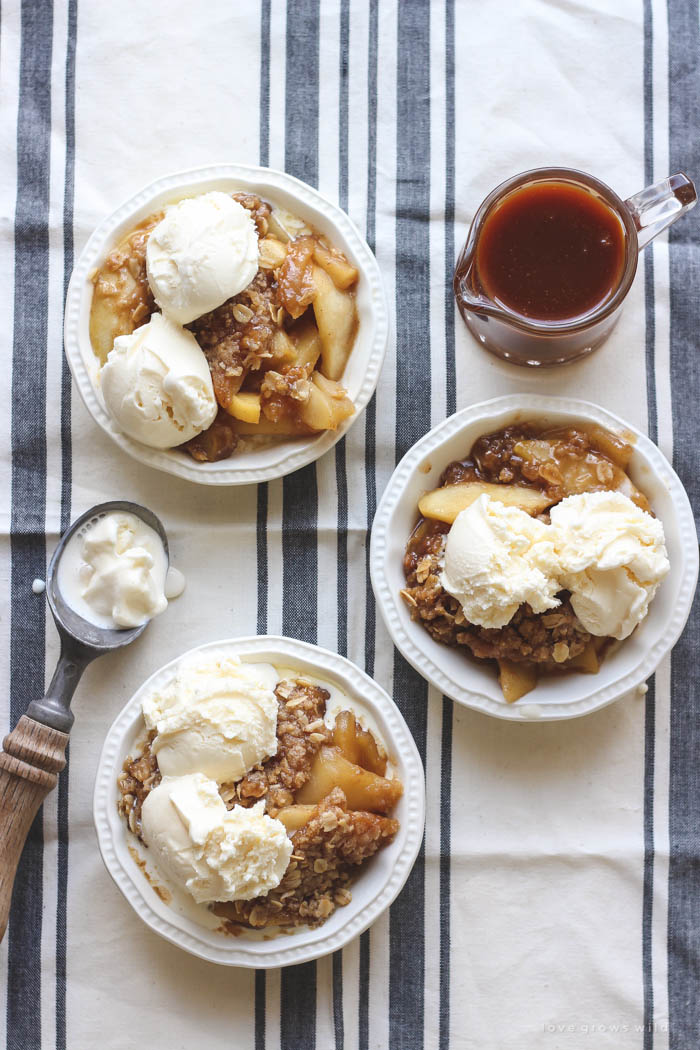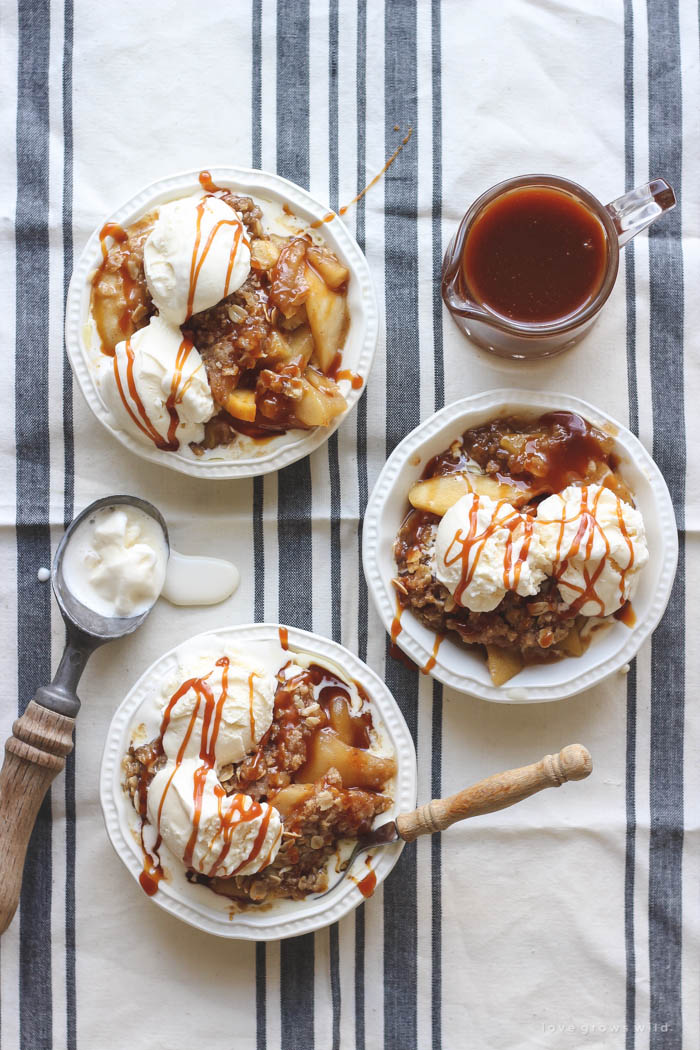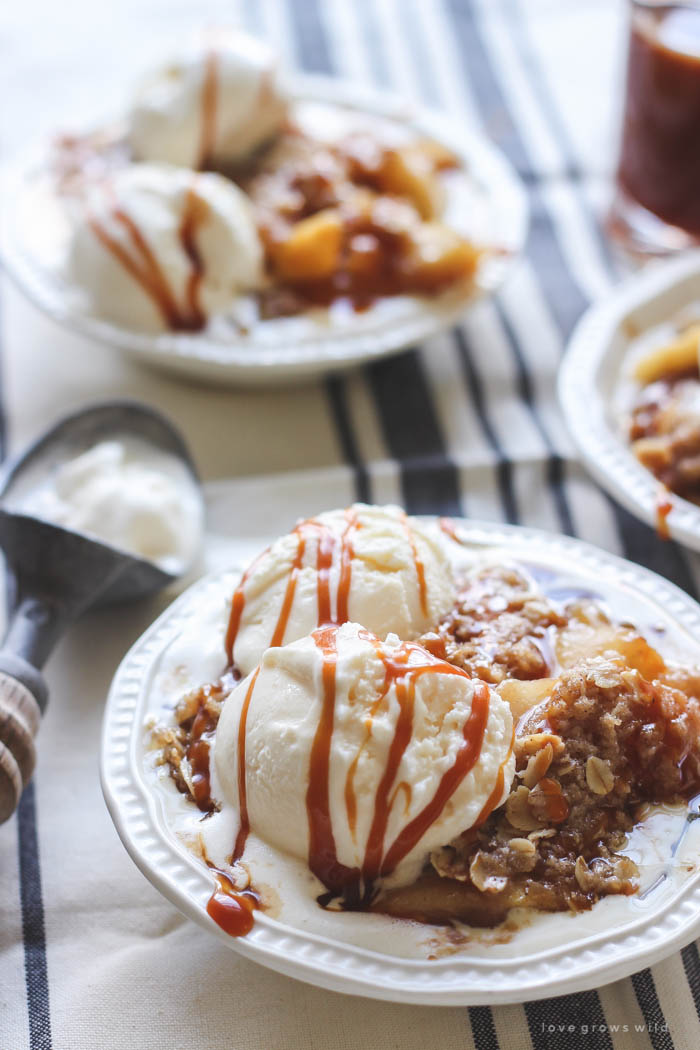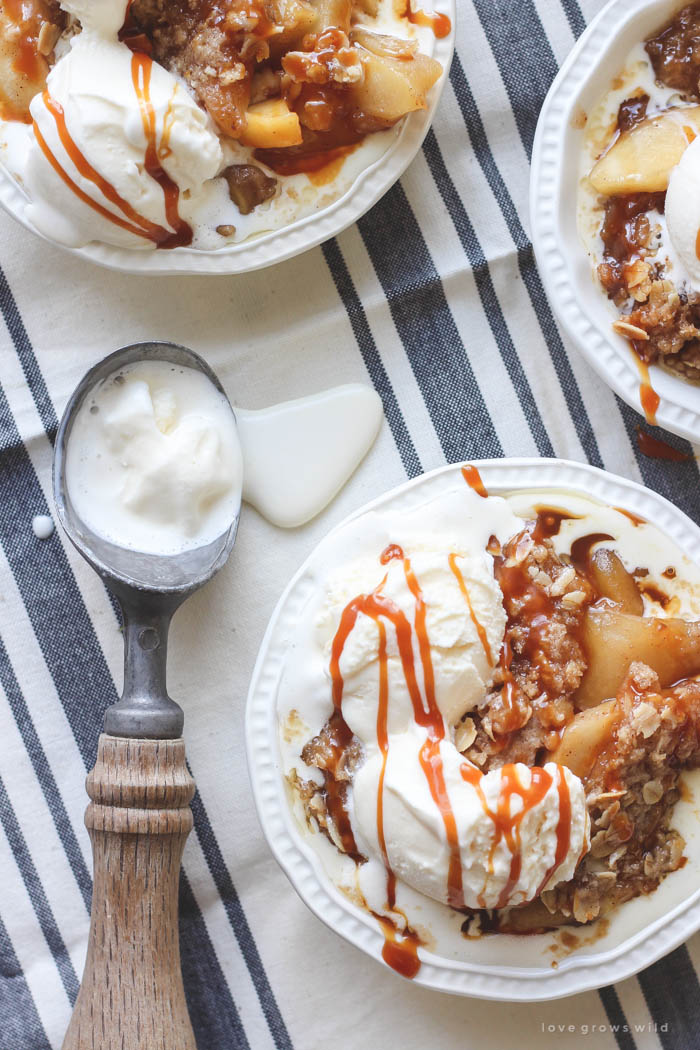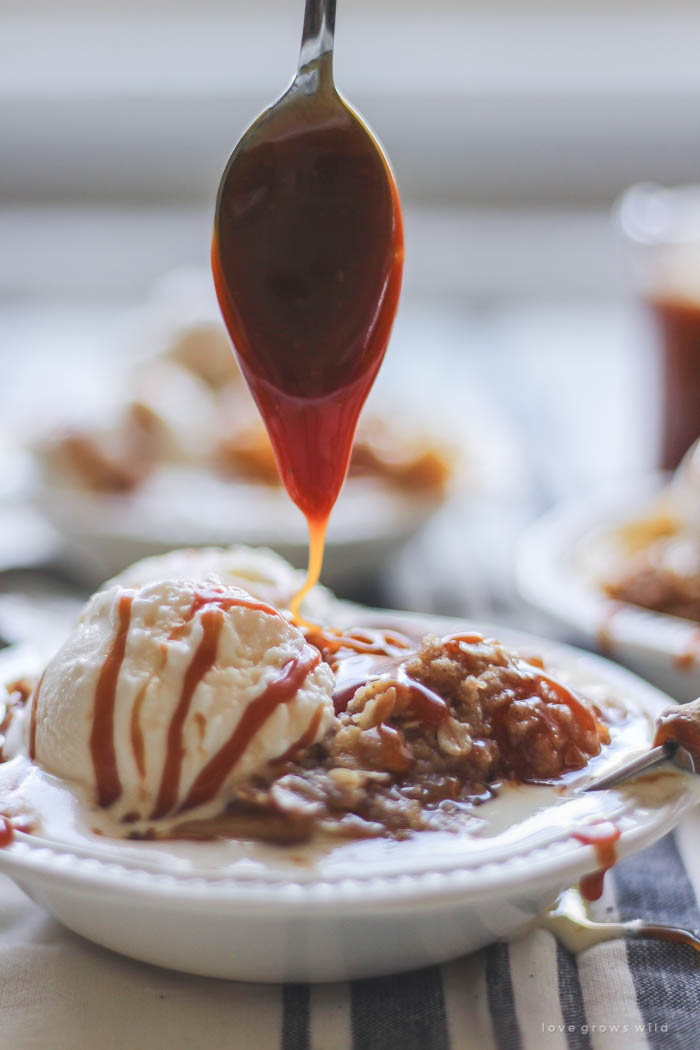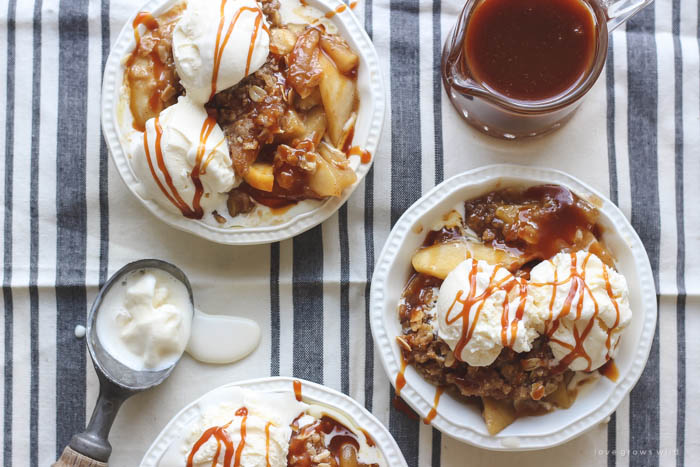 Salted Caramel Apple Crisp
Warm salted caramel apple crisp topped with scoops of vanilla ice cream and more salted caramel drizzled over top... the perfect dessert!
INGREDIENTS
For the salted caramel sauce:
2 cups granulated sugar
12 tablespoons unsalted butter, room temperature, cut into cubes
1 cup heavy cream, room temperature
1 tablespoon sea salt

For the topping:
½ cup all-purpose flour
½ cup brown sugar
½ cup old-fashioned oats
½ teaspoon cinnamon
⅛ teaspoon salt
8 tablespoons cold unsalted butter, cut into cubes

For the filling:
6 large apples, peeled, cored and sliced
¼ cup brown sugar
2 tablespoons all-purpose flour
1 tablespoon unsalted butter
1 tablespoon fresh lemon juice
½ teaspoon cinnamon
⅛ teaspoon nutmeg
⅛ teaspoon salt

Optional: vanilla ice cream, for serving
INSTRUCTIONS
To make the salted caramel sauce: Heat the sugar in the bottom of a large saucepan over medium heat, stirring constantly with a wooden spoon. Once the sugar is melted, stop stirring. Continue cooking the sugar until it reaches a deep amber color. Add the butter and stir until smooth. Remove the pan from heat and pour in the heavy cream. Stir until fully combined and smooth, then stir in the sea salt. Allow the caramel to cool to room temperature.
To make the topping: Add the flour, brown sugar, cinnamon, and salt to a food processor and pulse to combine. Add the butter and pulse until small crumbs of butter are evenly distributed throughout the mixture. Then add the oats and pulse once or twice to combine.
To make the apple filling: Preheat oven to 350ºF. Melt the butter in a large pan over medium heat. Add the apples, brown sugar, flour, lemon juice, cinnamon, nutmeg, and salt. Stir to combine. Cook the apples for 8-10 minutes, stirring occasionally, until apples begin to soften. Remove from heat and stir in ½ cup of the salted caramel sauce. Pour the apple filling into 9" deep-dish pie dish in an even layer. Sprinkle the topping over the apples and bake for 35-40 minutes until filling is hot and bubbling and the topping is golden brown. Cool at least 20 minutes before serving. Top the crisp with scoops of vanilla ice cream and extra salted caramel sauce, if desired.
NOTES
- I like to use a mix of Granny Smith and Honeycrisp apples in this recipe.

- If you don't have a food processor, you can also use a pastry cutter or fork to mix the butter into the flour mixture.
adapted from Williams-Sonoma, Lauren's Latest, and Two Peas and Their Pod
---
More desserts to try:
---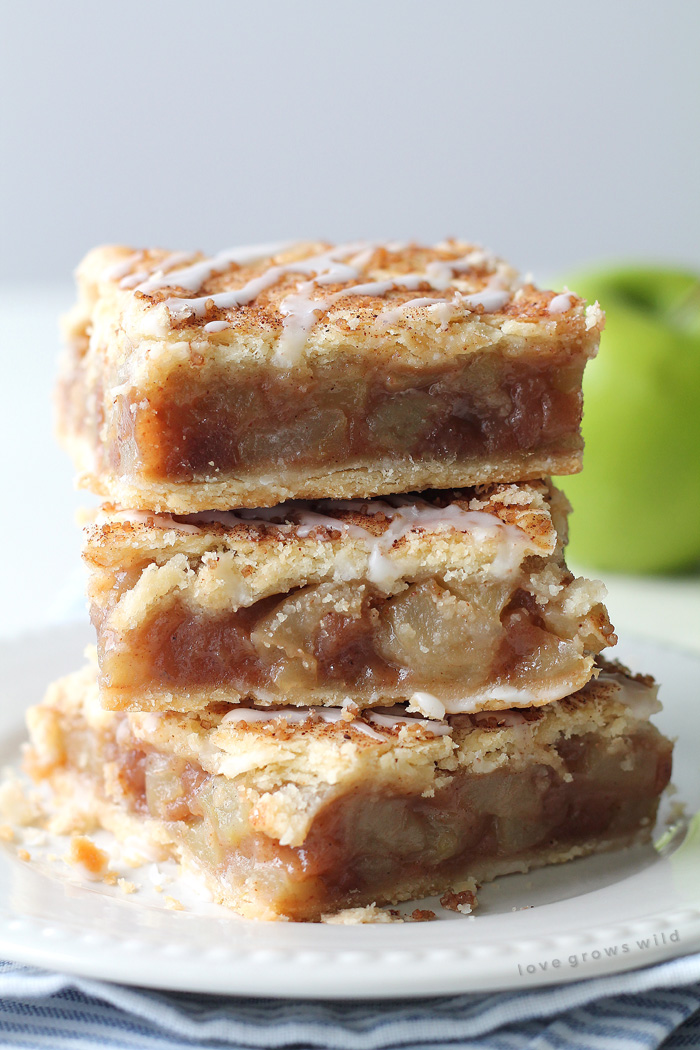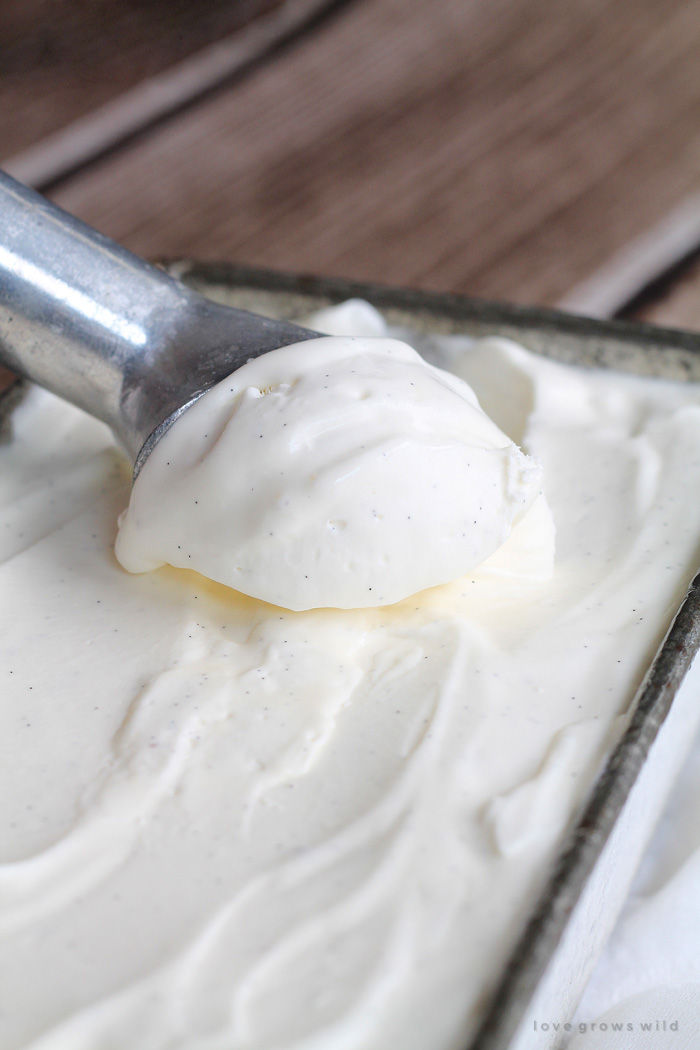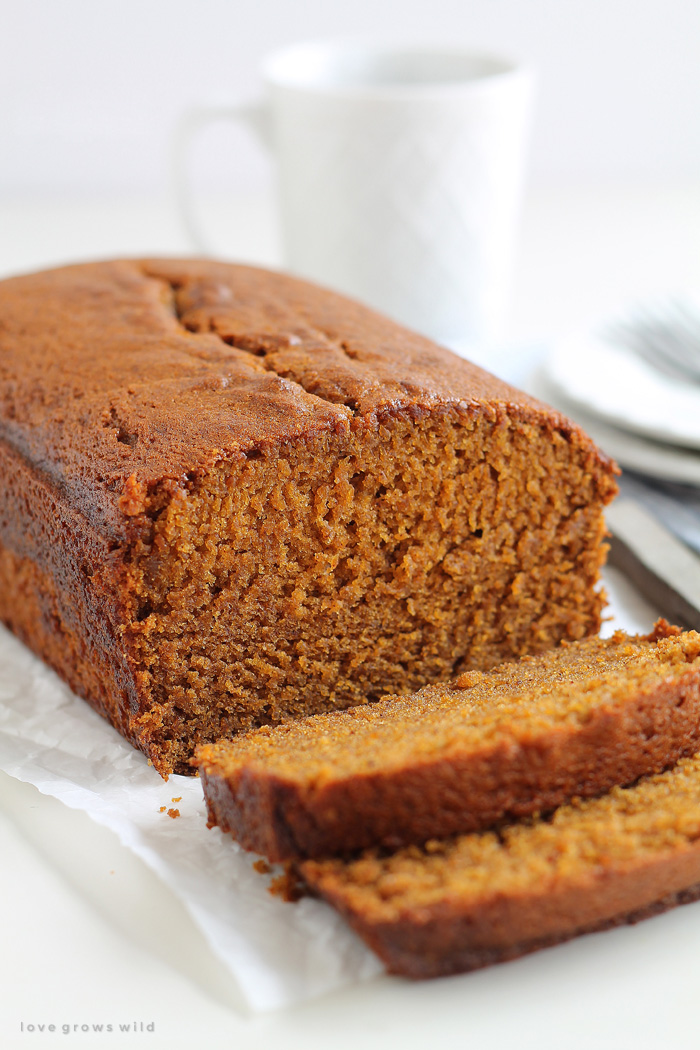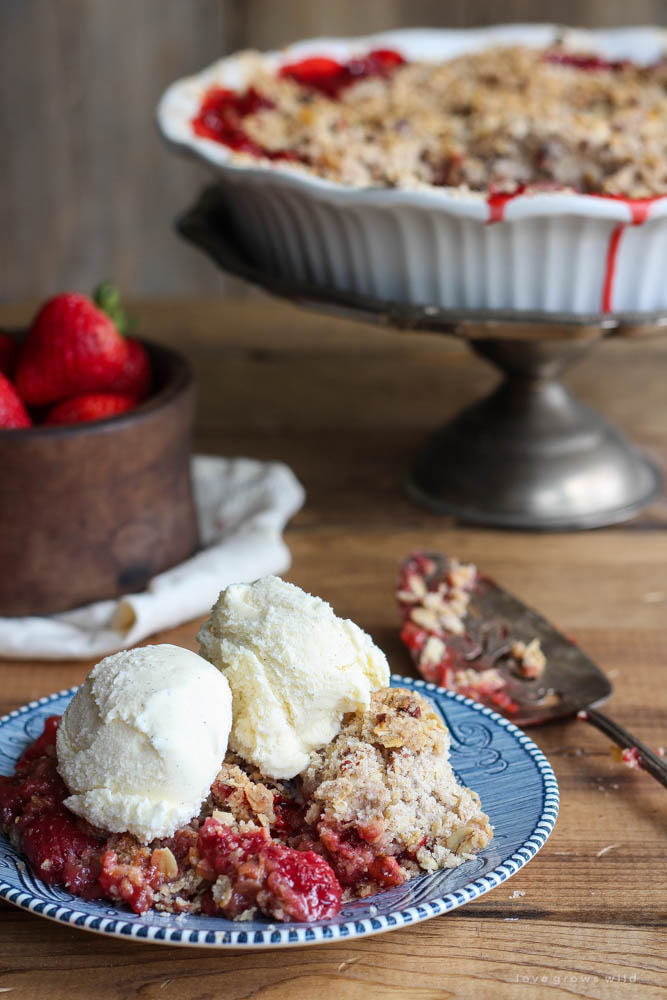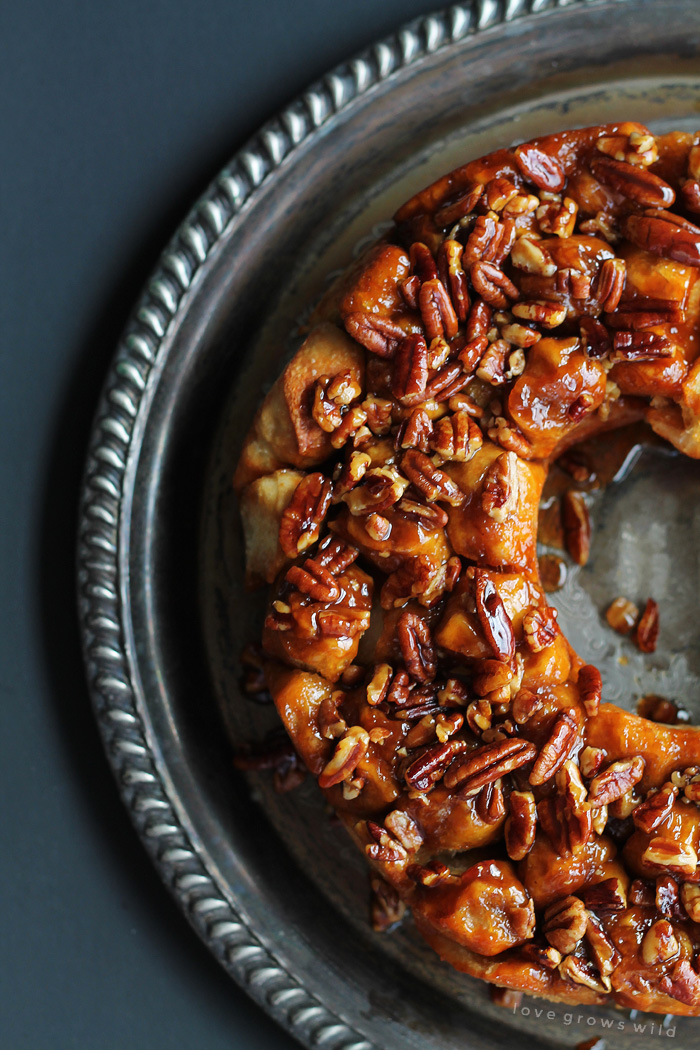 Gooey Caramel Apple Pull-Aparts
---
LET'S KEEP IN TOUCH!
---
Subscribe to Blog | Browse my Shop | Follow on Facebook | Follow on Twitter
Follow on Google+ | Follow on Pinterest | Follow on Instagram