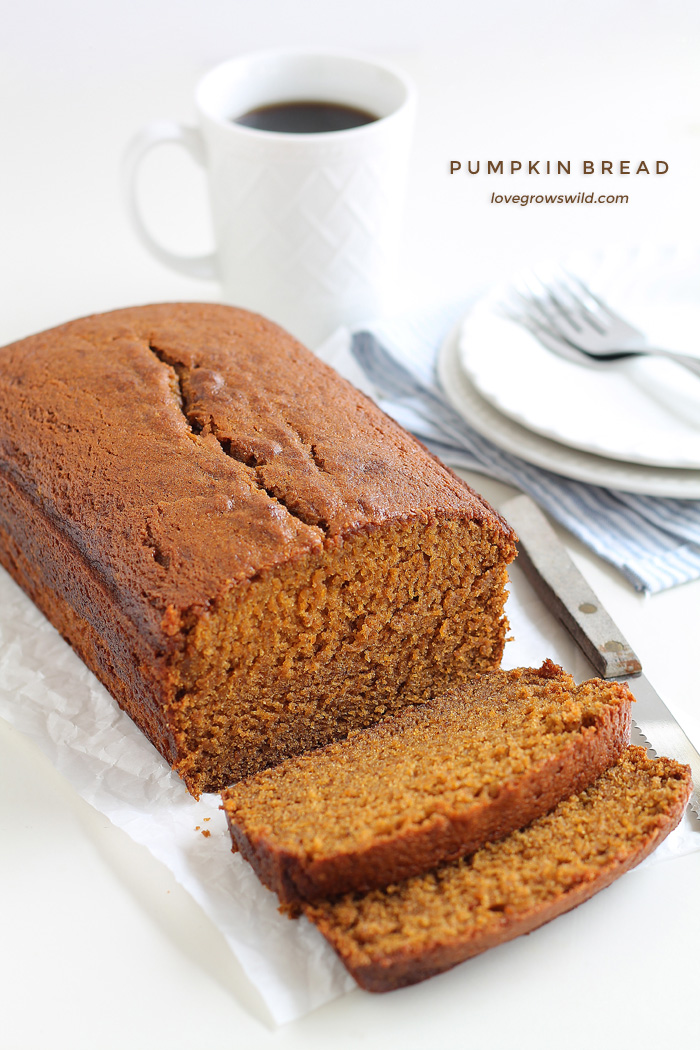 This post is brought to you by Silk // Throw the confetti and blow those party horns… it's the first pumpkin recipe of the season! I'm one of those people that gets ridiculously giddy this time of year when the heat of summer starts to die down and the cool, cozy feeling of fall begins to sneak in. Get ready for lots of soup and slow cooker recipes plus plenty of pumpkin and caramel apple thrown in… It's time to start celebrating fall!
Of all the fall flavors, I have to say that pumpkin is probably my favorite. Totally cliché, I know. But the sweet aroma of pumpkin mixed with cinnamon, nutmeg, ginger, and cloves… it gets me every time. So naturally, I'm currently trying to eat just about anything and everything I can put pumpkin into. I have a few fun ideas coming up on the blog soon, but one of my favorite, go-to recipes when I need a pumpkin fix is this sweet, moist, and oh-so-delicious Pumpkin Bread!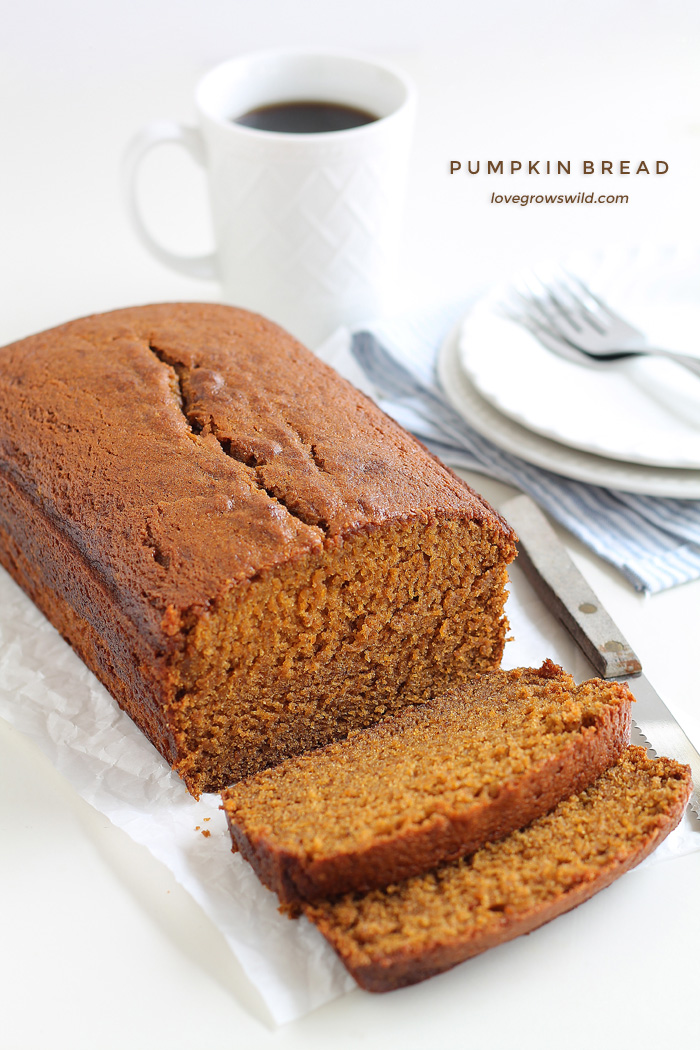 I love cake. I love cookies, too. But put a loaf of fresh-baked sweet bread in front of me… now that's the way to my heart!
Zucchini bread…
Banana bread…
Pumpkin bread… I love you guys from the bottom of my hungry stomach!
Okay, now that I've openly confessed my love for all things pumpkin, let's get down to business. This recipe has become my go-to for a couple reasons…
First, it bakes up beautifully. About 1 hour in the oven at 350°F and out comes a loaf that is cooked evenly all the way through. Have you ever made bread where the center is still all gooey but the outsides are burned? Well, I definitely have, and it's a total bummer. Every time I make this pumpkin bread though, each slice is perfectly moist, sweet, and typically devoured within the first 24 hours after baking. In fact, I think I accidentally ate about half of this particular loaf while cleaning the house before a lunch date with my bloggy friends Kristen and Jocelyn last week. Jocelyn chatted about her awesome cross-fit workouts while I nonchalantly brushed pumpkin bread crumbs off my shirt. Do you think they noticed? 😉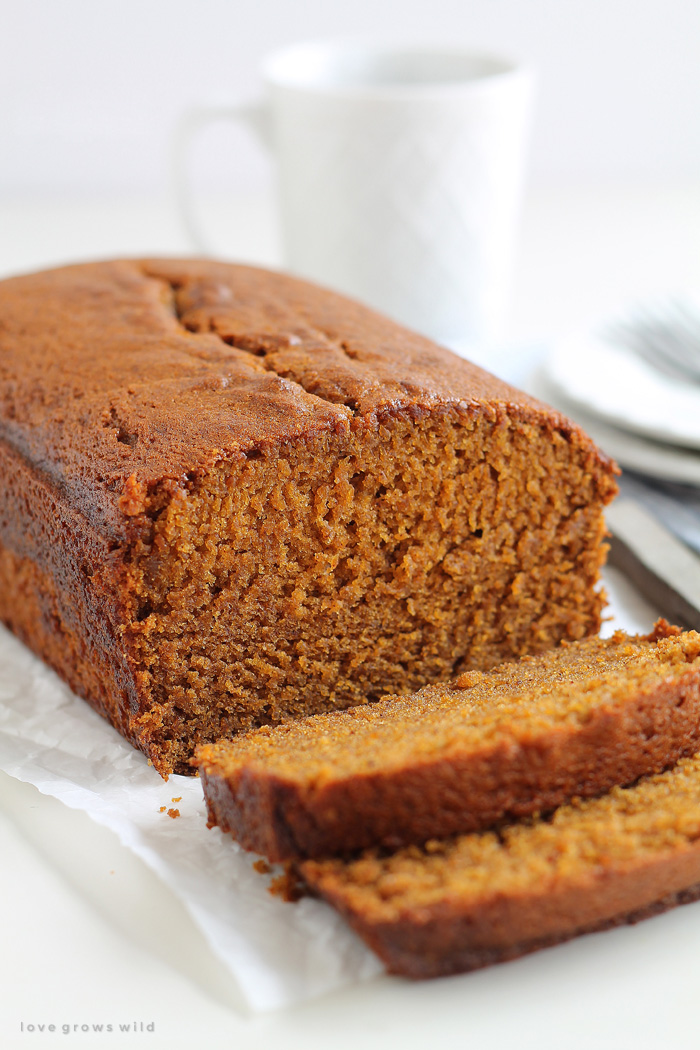 The other (and probably most obvious) reason for loving this recipe is the incredible flavor combination. Warm cinnamon, sweet brown sugar, aromatic vanilla, and the star of the show… pumpkin! You have to promise me you'll let your taste buds give it a try!
You guys have seen me use Silk Almond Milk in all kinds of different recipes here before… french toast, biscuits, popsicles, oatmeal, and of course, smoothies.
It's my favorite low-calorie, non-dairy product, and I always have a couple cartons in my refrigerator. About a 1/3 cup of almond milk was the perfect addition to my pumpkin bread batter to add moisture without a ton of extra sugar or calories. Now get out your loaf pans and stock up on pumpkin… it's time to start baking!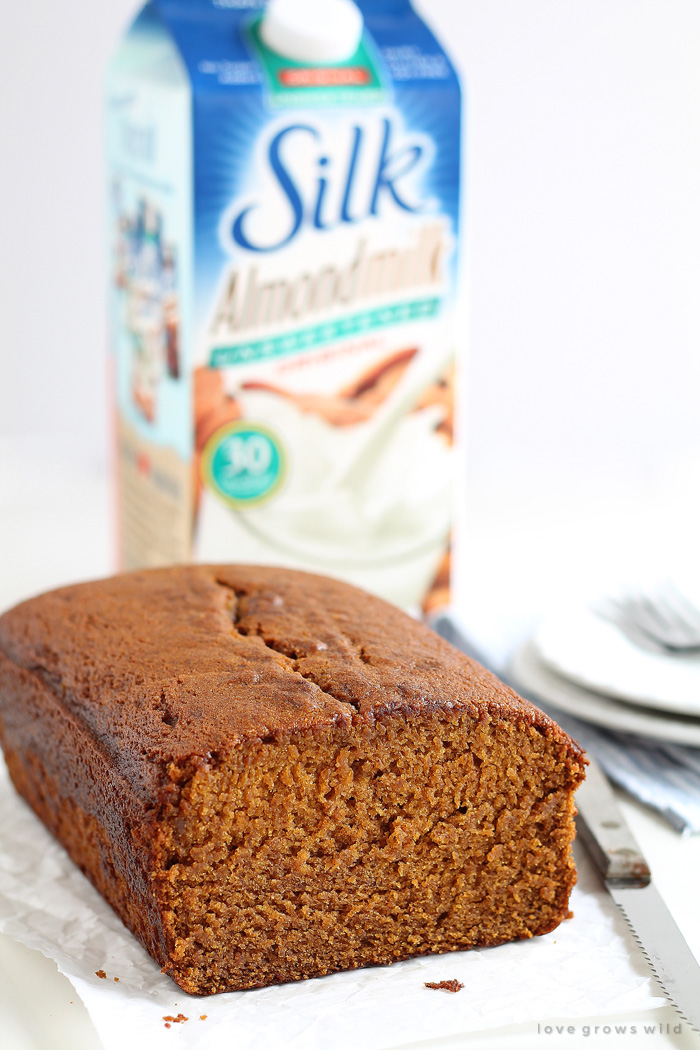 Like what you see? Subscribe to Love Grows Wild so you'll never miss a post!
Follow along on Pinterest, Google+, Instagram, and Facebook for more fun!
Pumpkin Bread
INGREDIENTS
1½ cups all-purpose flour
1½ teaspoons cinnamon
1 teaspoon baking soda
1 teaspoon salt
1 teaspoon ground ginger
½ teaspoon ground nutmeg
¼ teaspoon ground cloves
¼ teaspoon baking powder
6 tablespoons unsalted butter, softened
1½ cups brown sugar
2 large eggs
1 cup unsweetened pumpkin puree
1 teaspoon vanilla extract
⅓ cup almond milk
INSTRUCTIONS
Preheat oven to 350°F. Spray a 9" x 5" loaf pan with cooking spray and line bottom of pan with wax paper. In a medium bowl, sift together flour, cinnamon, baking soda, salt, ginger, nutmeg, cloves, and baking powder. Set aside.
In a large bowl, beat the butter until creamy. Add the brown sugar and beat for 4 minutes. Add the eggs, one at a time, mixing well after each addition. Then beat in the pumpkin puree. In a small bowl, stir the vanilla into the almond milk. Mix the dry ingredients into the pumpkin mixture in 3 additions on low speed, alternating with the almond milk mixture.
Spread the batter into an even layer in the prepared pan. Bake for about 1 hour or until a toothpick inserted in the center comes out clean. Let the loaf cool in the plan for 10 minutes, then turn out onto a rack.
– adapted from Food & Wine
---
Are you ready to try Silk? Sign up for a coupon! All new registrants will receive $0.75 off any Silk half gallon!
When you register, you can also look forward to:
– Additional coupons sent straight to your inbox, plus a special birthday offer
– New of Silk sweepstakes and promotions
– Monthly chances to win a year's supply of Silk!
You can also follow Silk on Facebook!
---
Still hungry? Try these sweet recipes: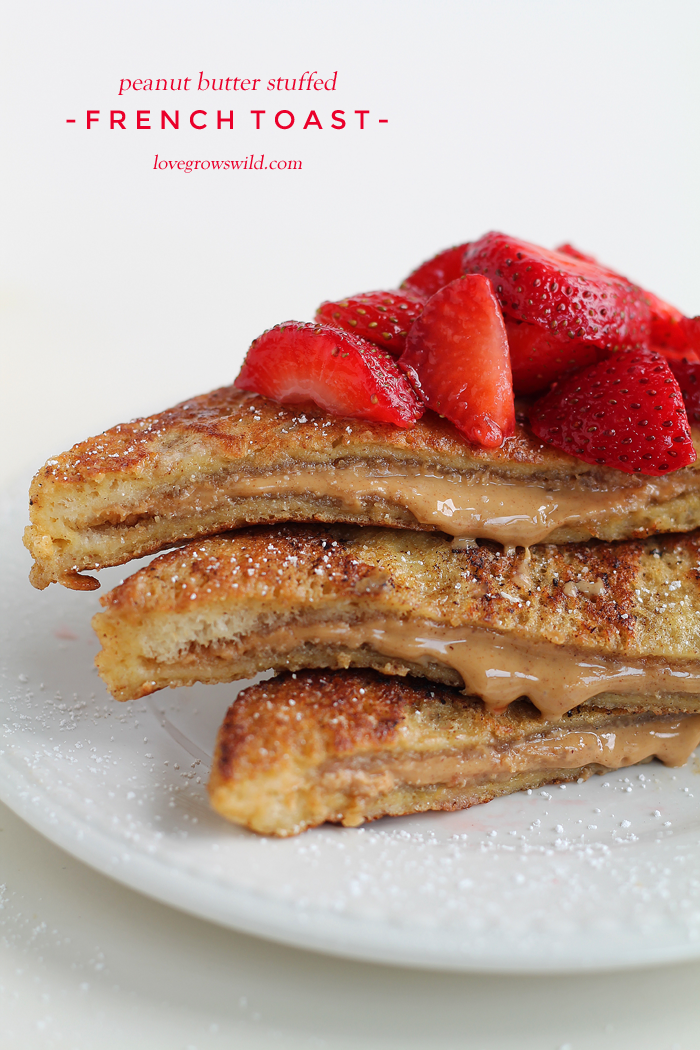 Peanut Butter Stuffed French Toast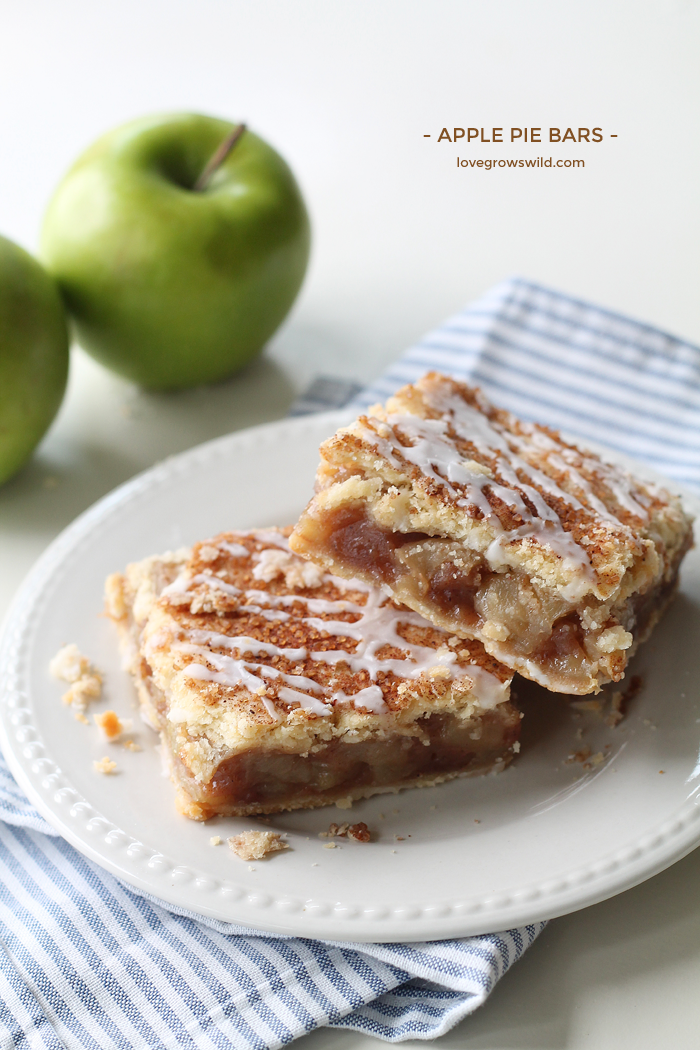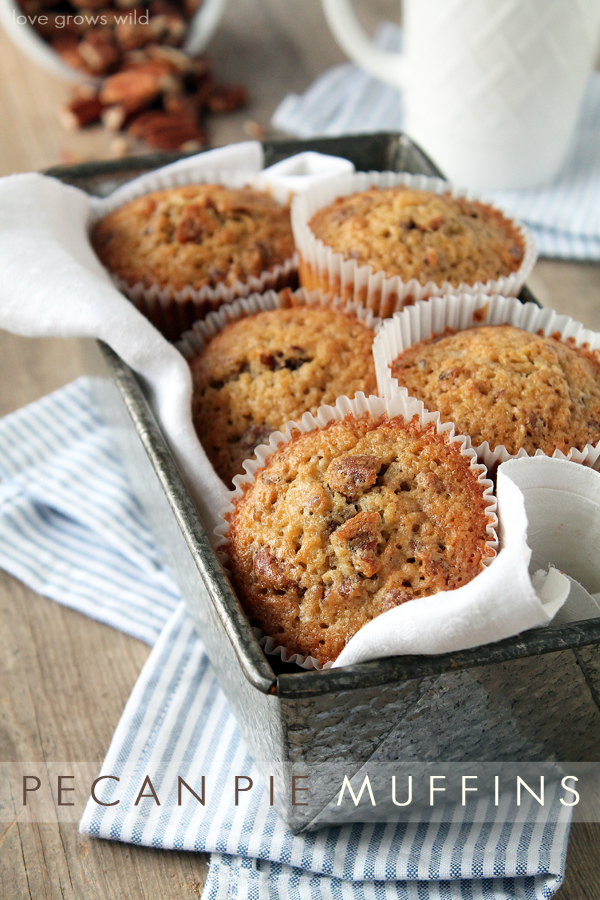 ---
LET'S KEEP IN TOUCH!
Subscribe to Blog | Browse my Shop | Follow on Facebook | Follow on Twitter
Follow on Google+ | Follow on Pinterest | Follow on Instagram
This conversation is sponsored by Silk. The opinions and text are all mine.