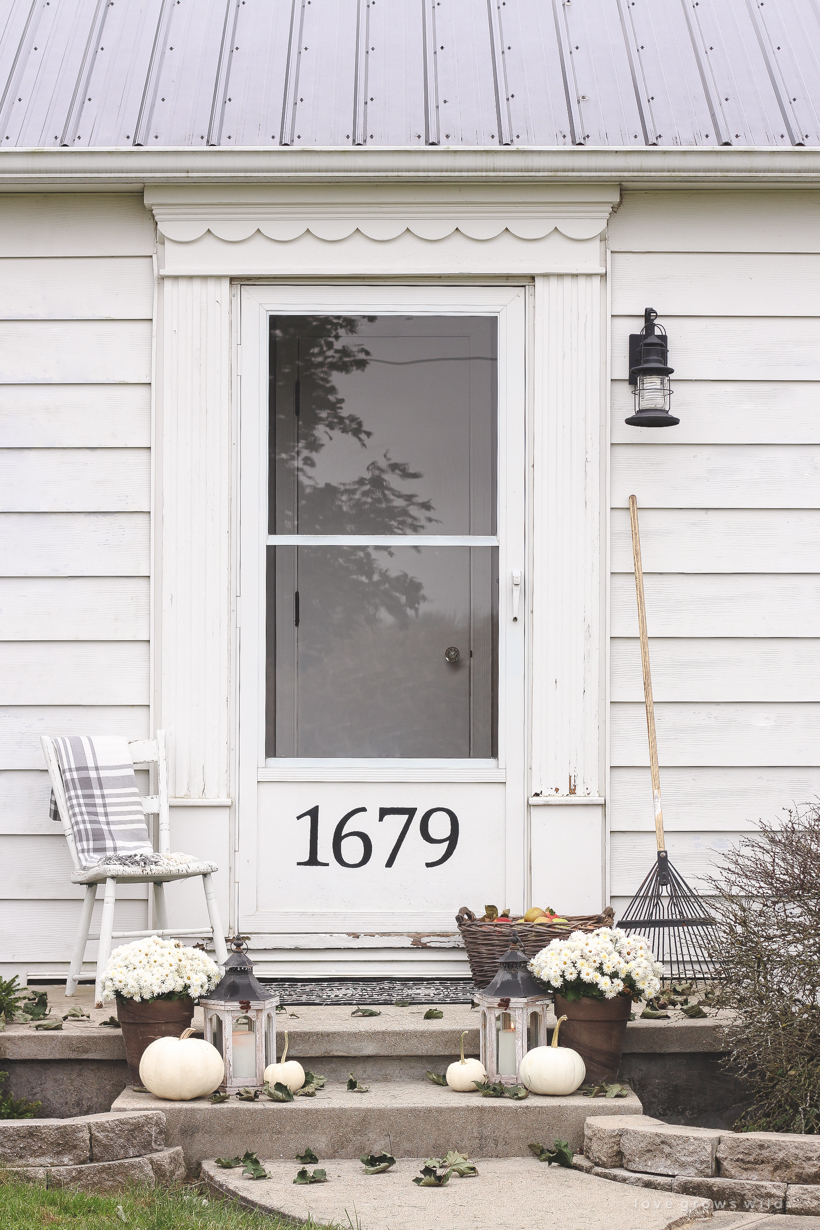 This week I tackled decorating our front porch for fall, and even though I kept it simple with just a few pumpkins and mums, it feels extra special this year for a few reasons that I've been so excited to tell you about. But more on that in just a second…
You all know simplicity has been my mantra this fall, and the front porch is no different in that aspect. In past years I would bring home piles and piles of pretty heirloom pumpkins after stalking my local markets for weeks until they arrive, but this year I decided to save my money on pricey pumpkins and use as many things that I already had around the house as I could.
an antique chair with the same plaid blanket I've had for years…
a basket of fruit picked from our apple tree on the farm…
lanterns from our back patio…
The only items I purchased were two small mums and four little white pumpkins that Wyatt talked me into buying. They added just enough "fall" for me this year, and while I do truly love an abundance of beautiful fall decor, the money, time and effort I saved keeping everything simple feels really good. Who knows how I will decorate these spaces next year, but I really hope you've enjoyed seeing some fall decorating ideas that won't cost a fortunate or feel too styled and magazine-like. Sometimes in a world of gorgeous styled spaces at our fingertips everyday, I find simplicity to be so refreshing. : )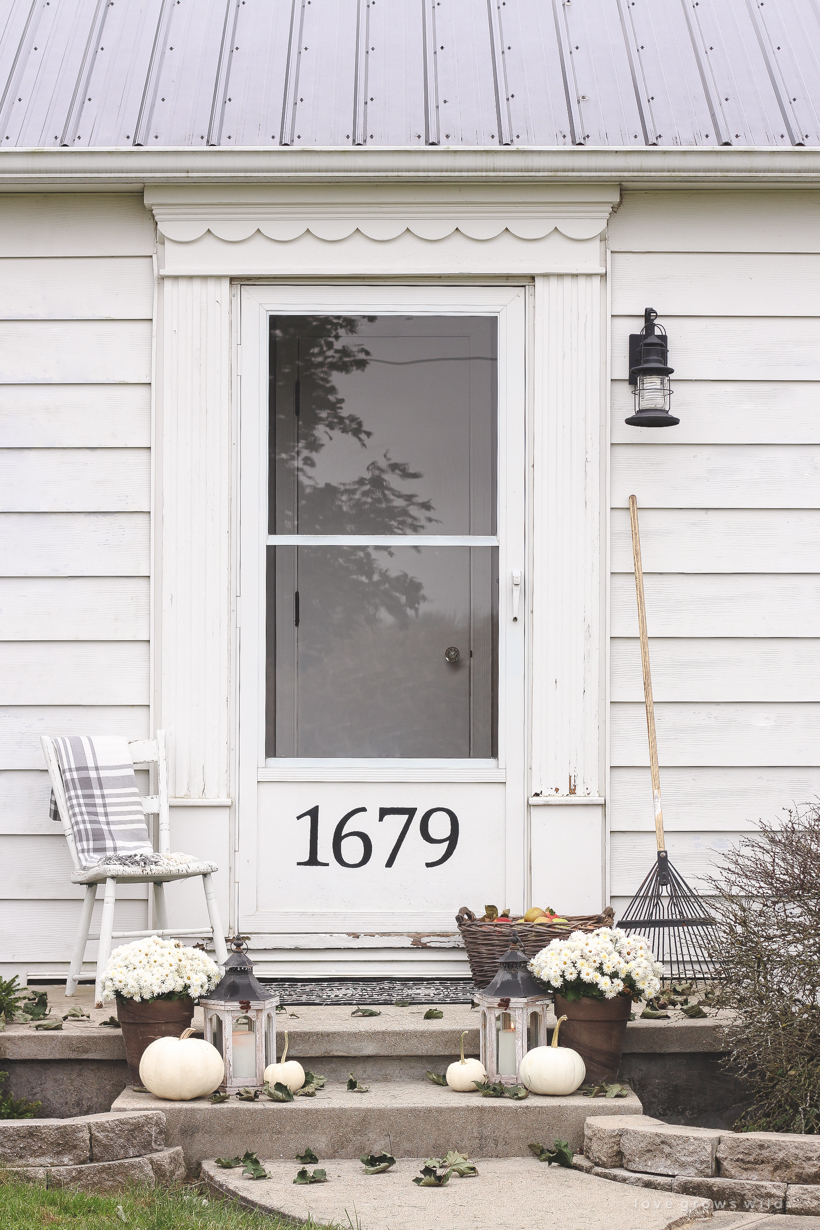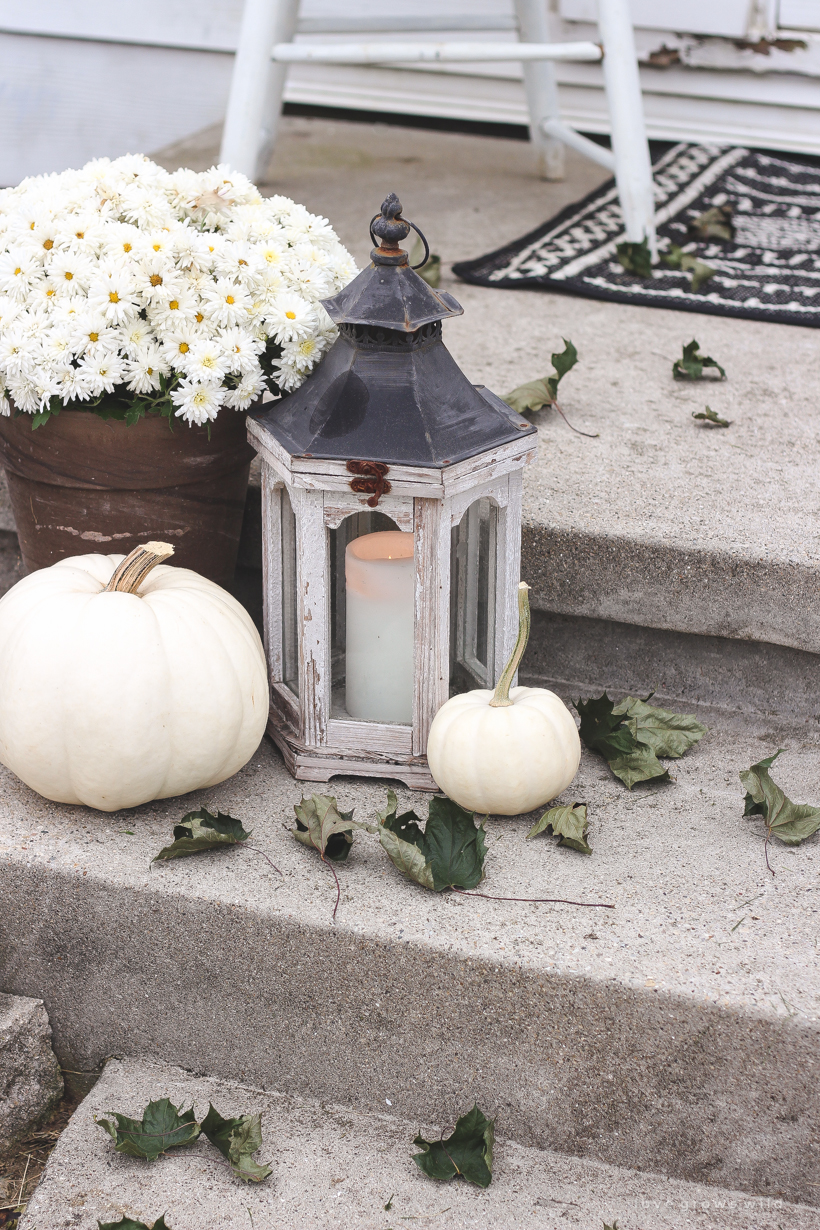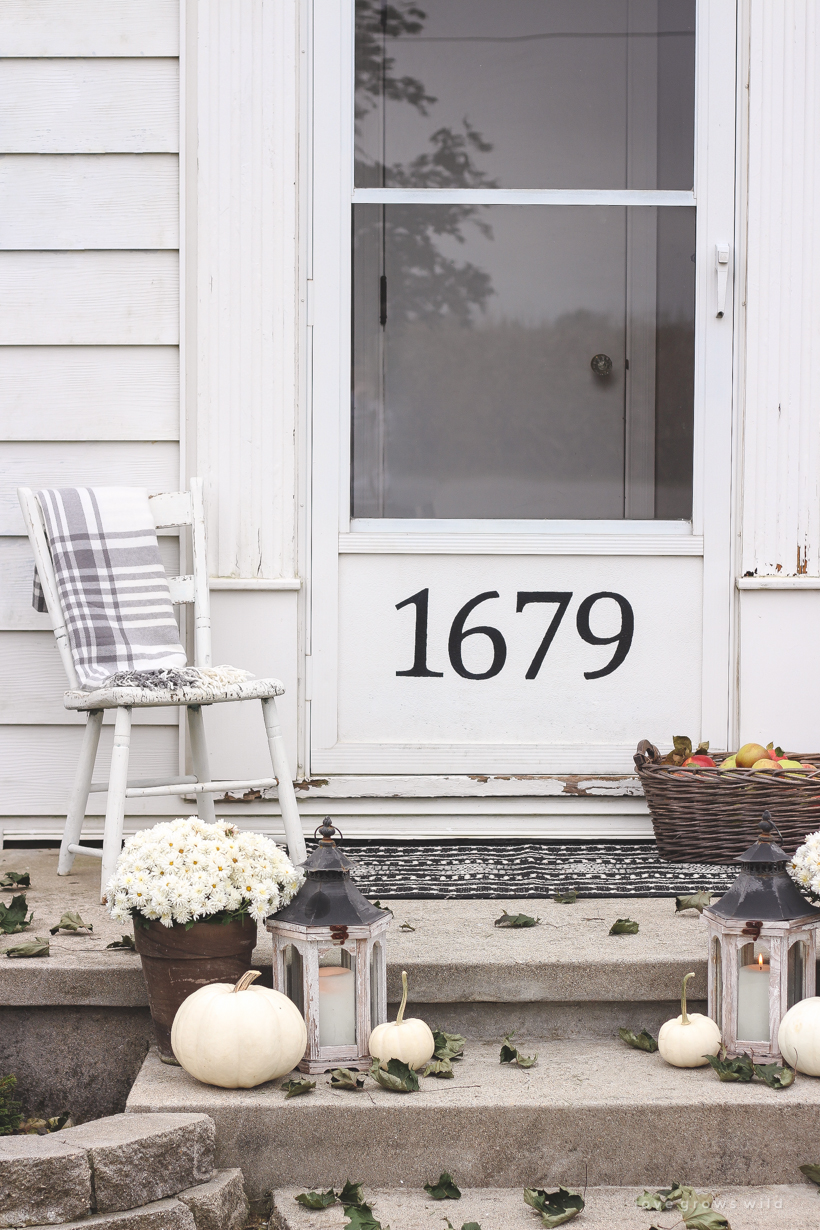 Now for some exciting plans I have in the works!! Here's why the porch and these photos I took of our little farmhouse feel so special this year:
Usually when I share an outdoor space on the blog it's almost always our back patio. I do love that little area because we've put so much love and work into it, but I've also been avoiding sharing our front porch because: 1) the front of the house needs repainted terribly and 2) the front landscaping is not in great shape. In fact, some of the paint is now coming off in sheets since I pressure washed it last week (using this machine that I LOVE), and there are a few bushes that are completely dead along the front of the house. To be honest, it's a little bit embarrassing because I put so much work into the inside of our home to make it beautiful, but the outside hasn't been updated in a long time.
But that's all about to change! I finally got motivated to give the exterior of our little farmhouse some (okay… actually, LOTS) of love, and hopefully in the next month or two it will start looking a lot different! I will write a post soon with all the details, but the front of the house is going to get a big boost in curb appeal with a fresh coat of paint, all new landscaping, and I may even finally add some shutters and a new front door I've been dreaming about forever.
So even though you can see some of the chipping paint and mildew stains in these photos, that's okay. I really wanted to capture the last time our home looks this way before things start changing. I painted those numbers on the door years ago because I thought it would look cute, even though everyone else thought I was crazy. And the little scallop trim details above the door literally make my heart skip a beat every time I see them. The beauty of those details have just been lost for awhile in between all the dingy siding and chipping paint.
I feel like this is a big step and on the more expensive side of renovations and updates I've done on this house, but I am so excited (and just a little nervous!) to see our farmhouse live up to its full potential and be just as charming on the outside as it is on the inside. I'll share more about the exterior changes soon!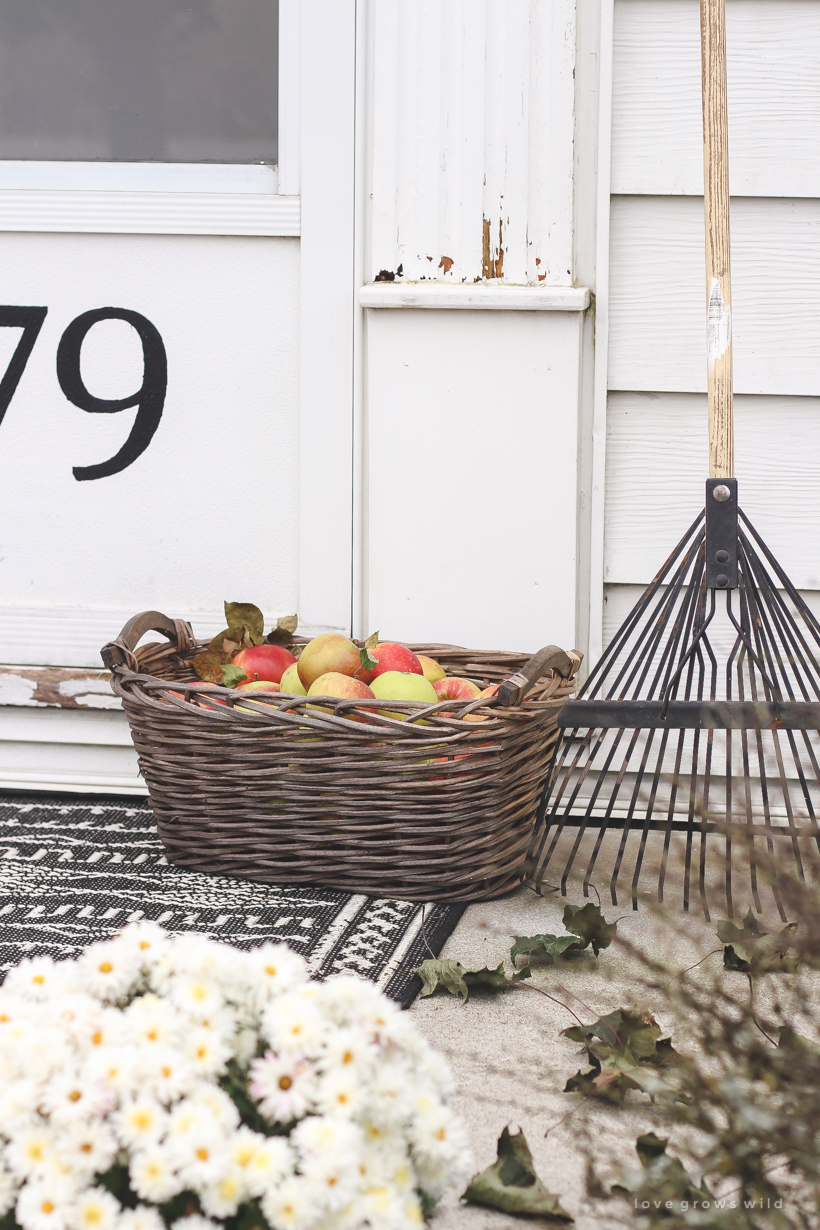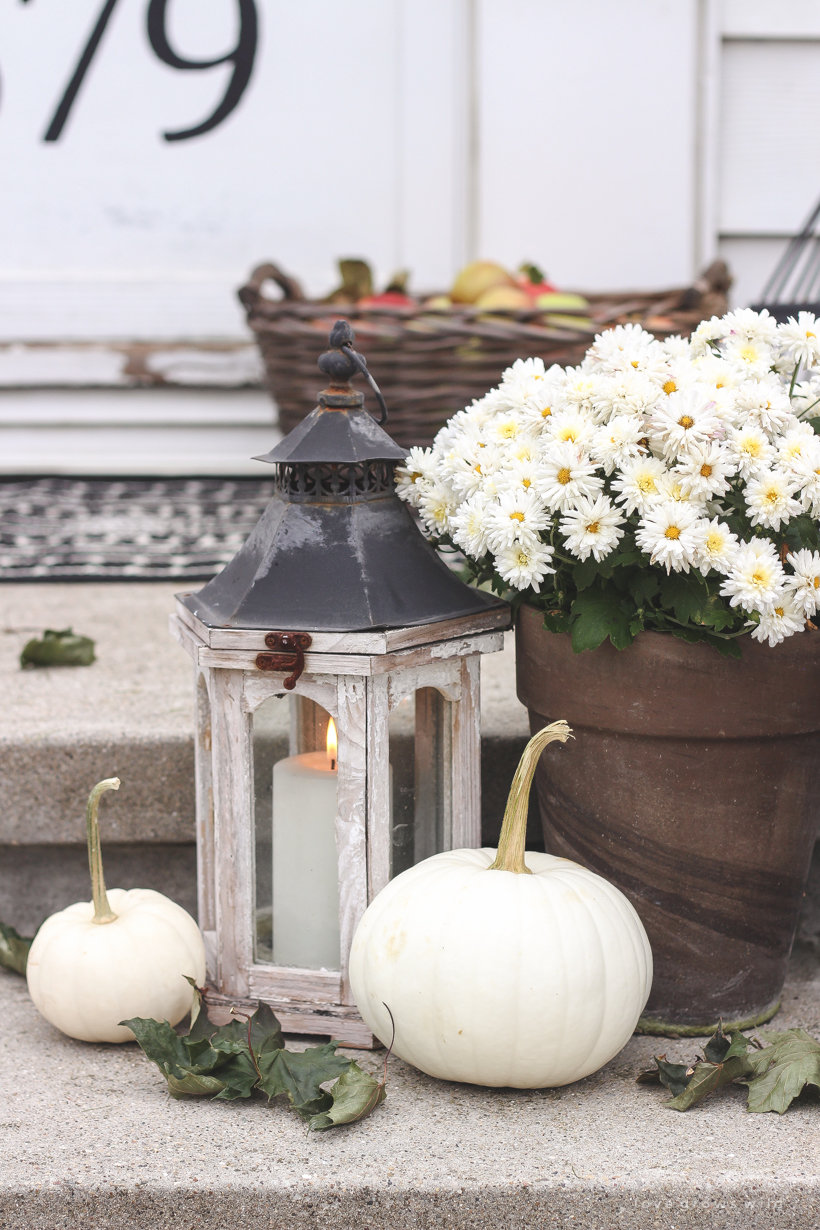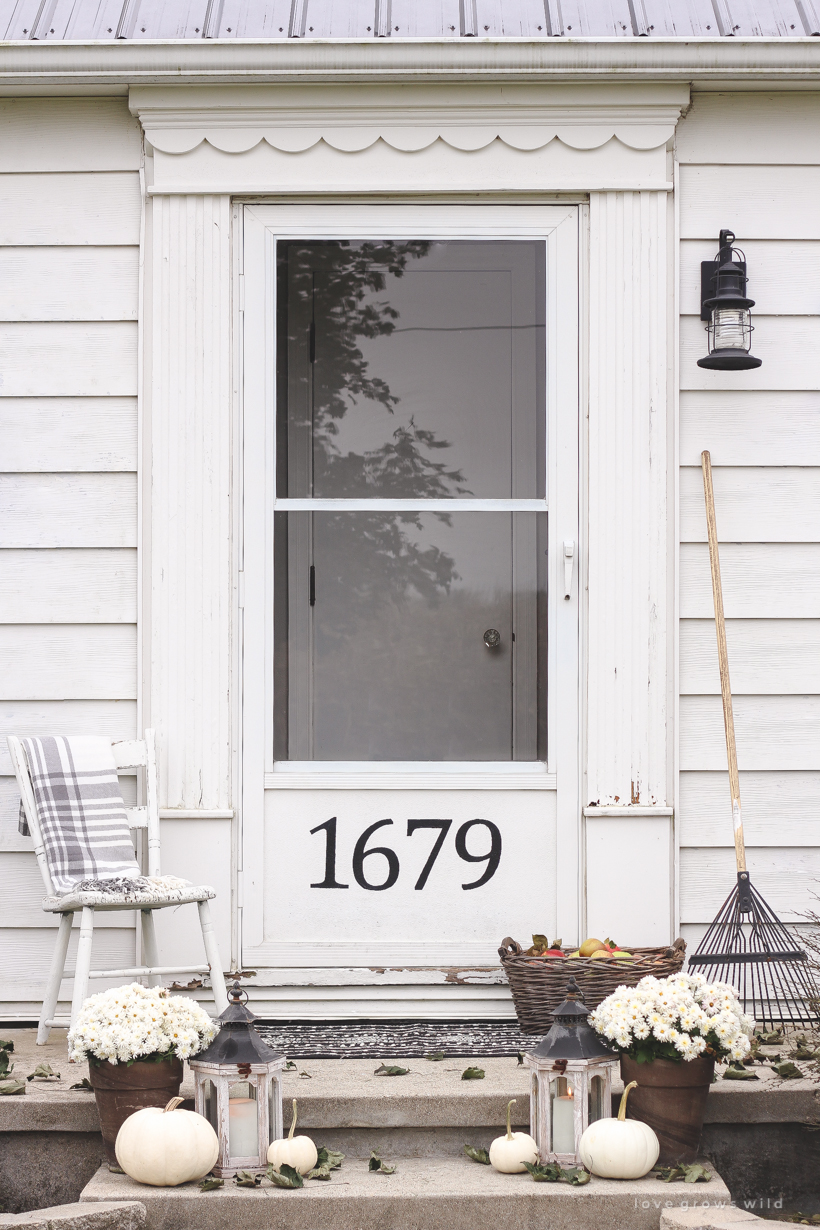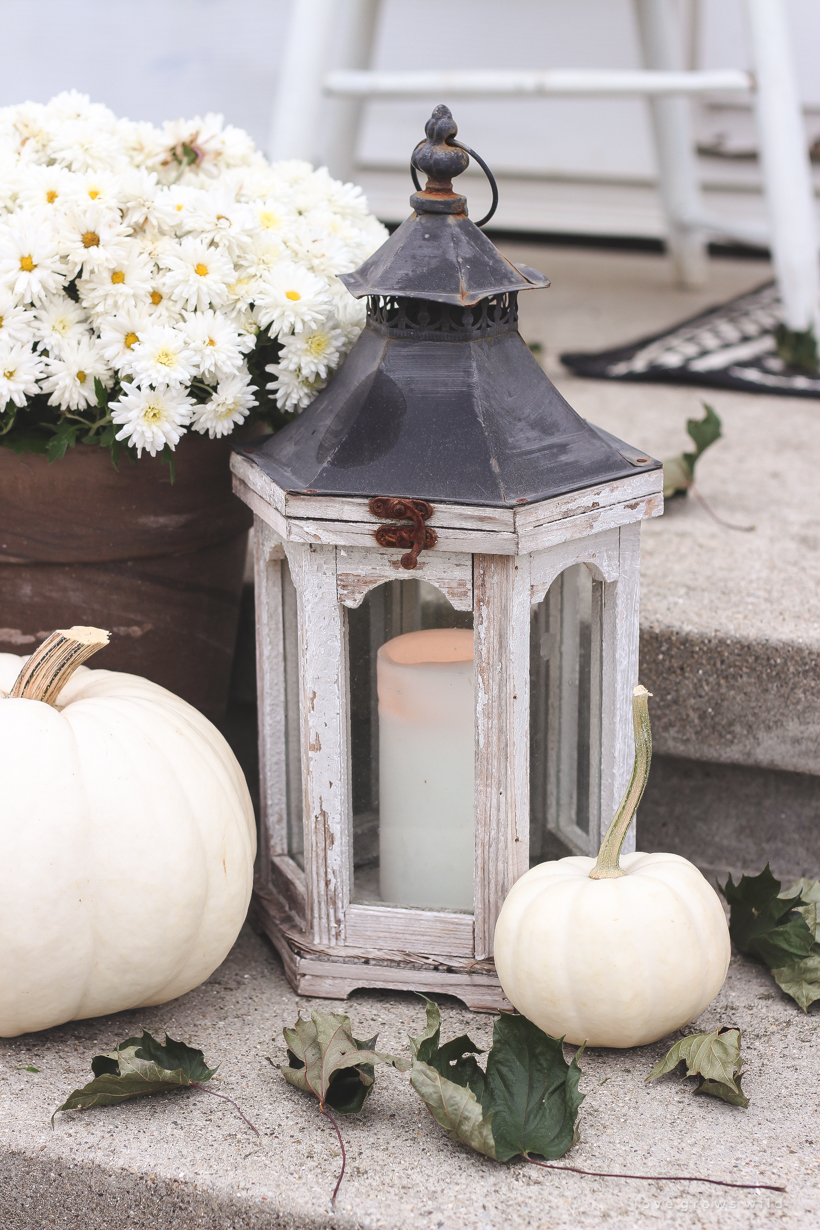 Thank you for visiting with me today, sweet friends! xoxo Liz
---
More Outdoor Fall Spaces to Inspire You:
---
Ella Claire | Inspired by Charm | Zevy Joy | The Lilypad Cottage
Jeanne Oliver | Boxwood Avenue | Liz Marie Blog | Love Grows Wild
French Country Cottage | Home Stories A to Z | Nesting with Grace | Beneath my Heart
Shades of Blue Interiors | City Farmhouse | Jennifer Rizzo Design Company | Rooms for Rent
---
Subscribe to Blog | Follow on Instagram
Follow on Pinterest | Follow on Facebook