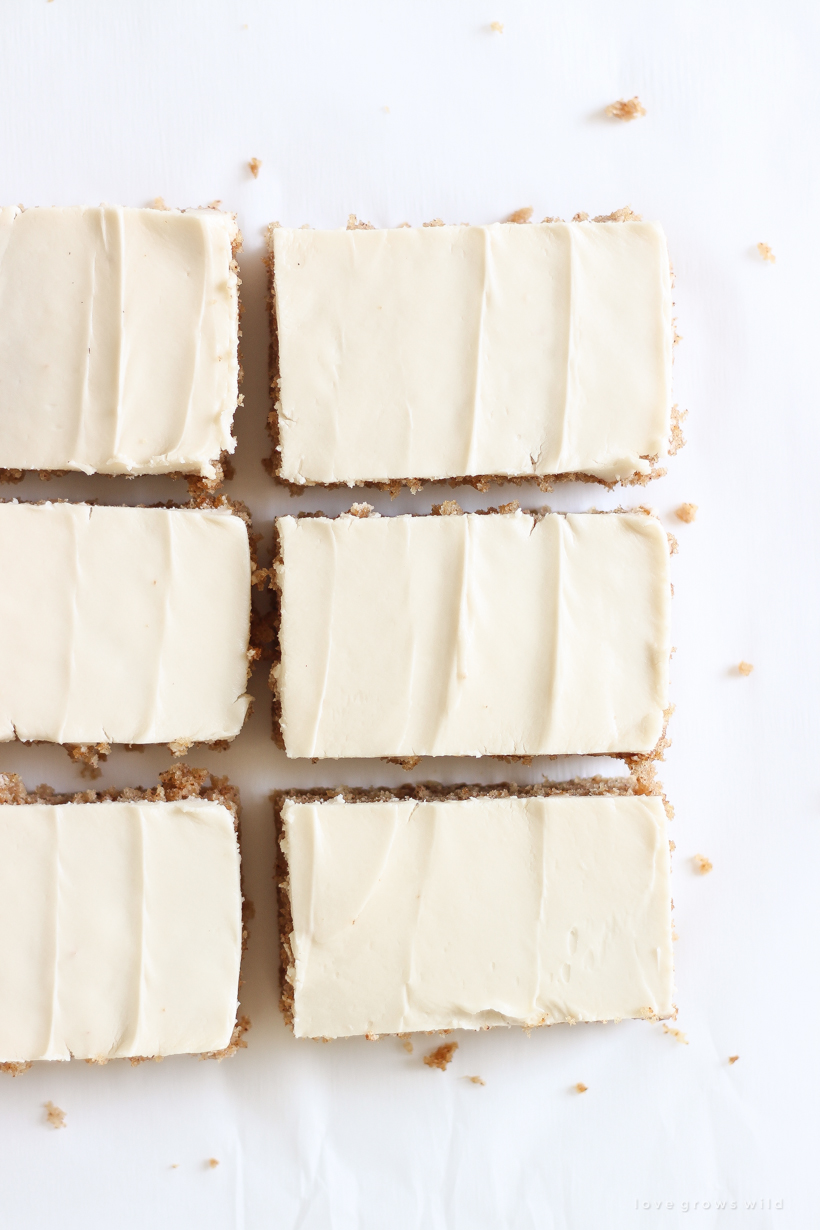 I'm coming to realize that life will probably never slow down, but at least now that the boys are back in school I feel like we have more normalcy to our days and a much better routine and schedule. I get more work done during the day, cook meals more often at night, and try to spend time unplugged and away from the computer on weekends to catch up on life and family time. I'm a creature of habit and crave structure, so the last few weeks have been near bliss for me!
It's been so nice to dive back into cooking and baking after a very hectic summer and way too much fast food, and I thought the boys deserved a sweet treat for making it through their first few weeks of 3rd and 7th grade. I'm not even sure how it's possible that I have a child in middle school already, but here we are. My babies are growing up before my eyes, and all this momma can do is bake and bribe them to keep spending time with me. So far this Applesauce Sheet Cake with Cream Cheese Frosting is doing just that and even earned me a hug and a high five yesterday. #momwin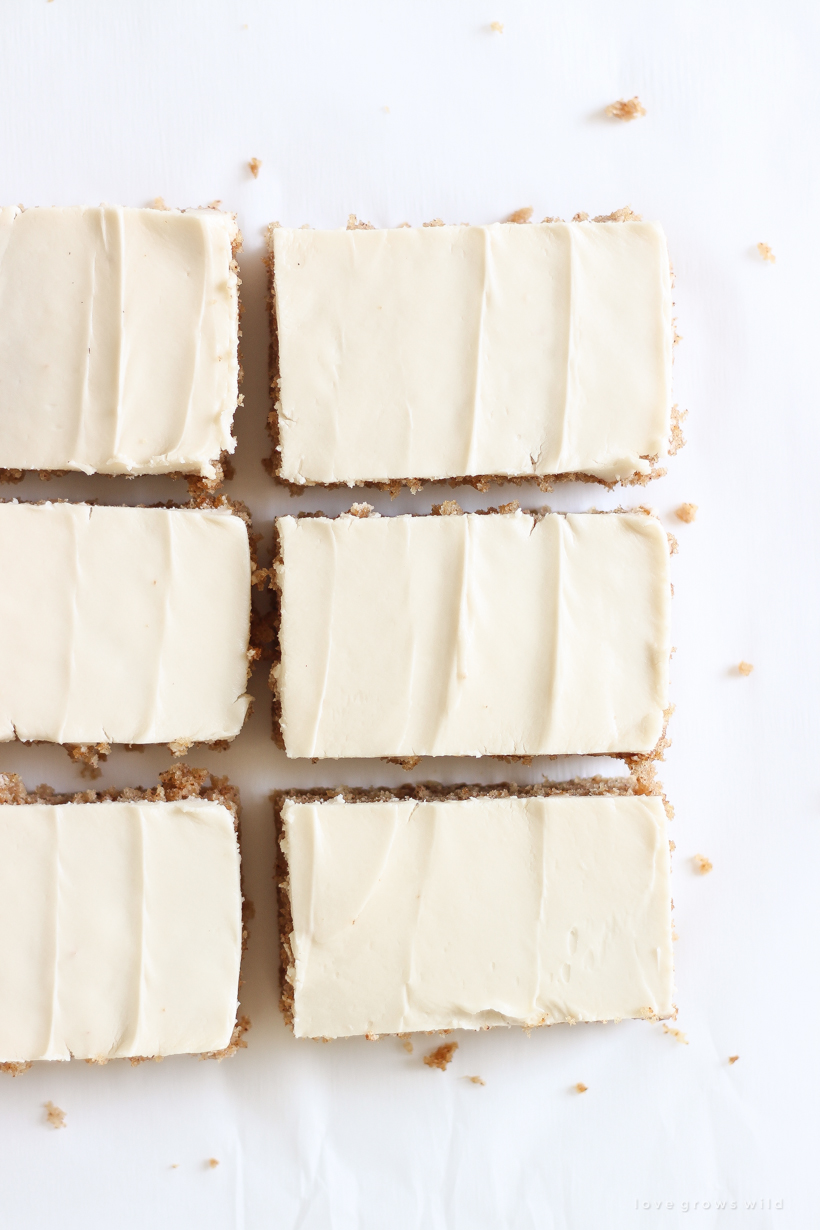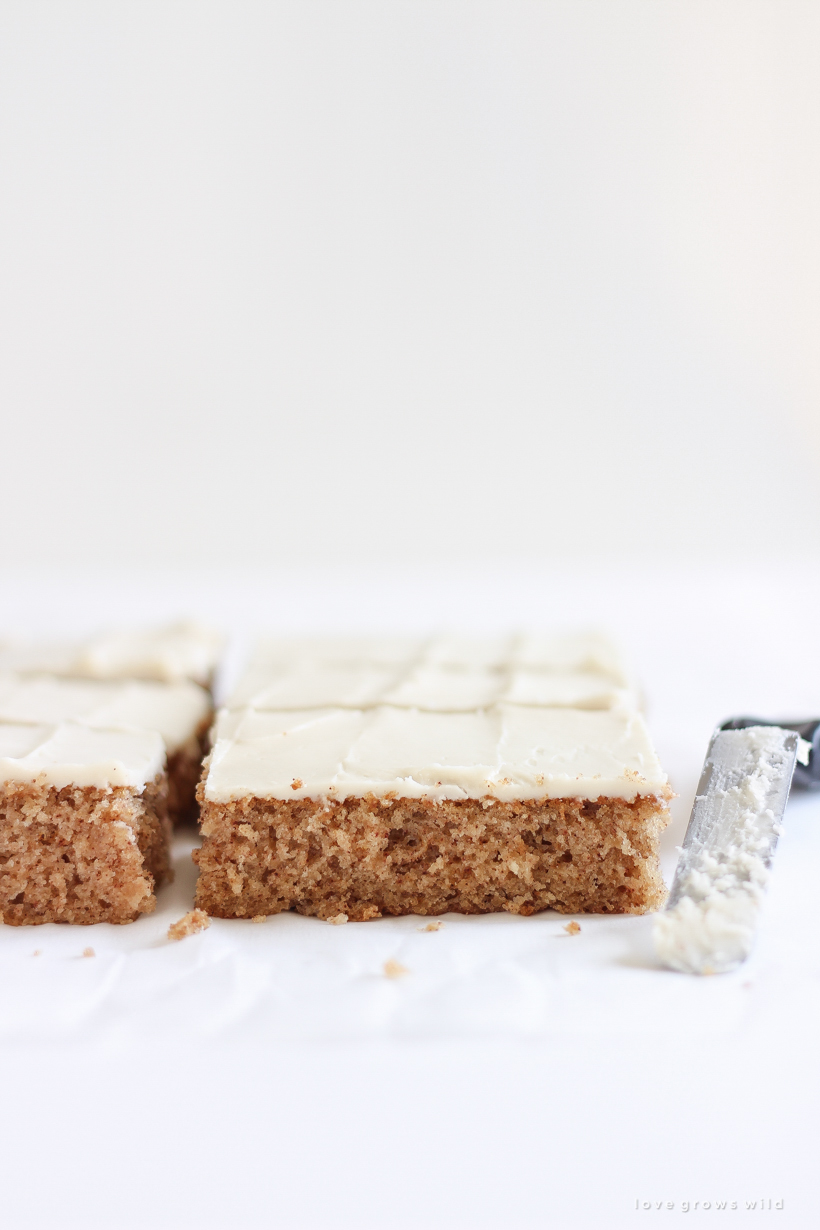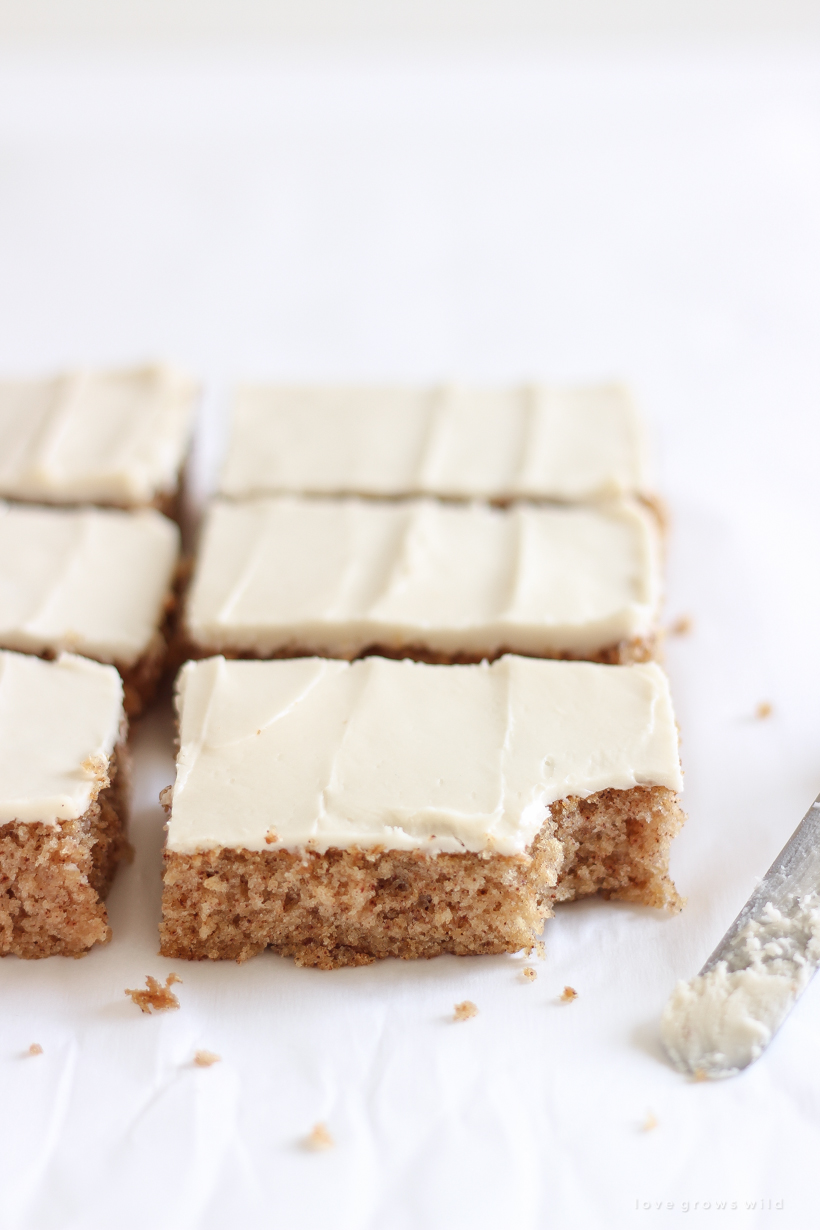 This sweet and simple applesauce sheet cake topped with a rich cream cheese frosting is easy to make, and I think you're really going to enjoy it. Let me know what you think in the comments below!
Also try our:Apple Turnovers, Maple Glazed Pumpkin Hand Pies, Salted Caramel Apple Crisp, Zucchini Bread, Apple Pie Bars, Pumpkin Bread
Applesauce Sheet Cake with Cream Cheese Frosting
for the cake:
2 cups all-purpose flour
1 1/2 cups granulated sugar
2 teaspoons baking powder
2 teaspoons ground cinnamon
1 teaspoon baking soda
1/4 teaspoon salt
1/4 teaspoon ground cloves
4 eggs, beaten
1 – 15 ounce jar unsweetened applesauce
1 cup canola oil
for the frosting:
4 ounces cream cheese, softened
1/4 cup unsalted butter, softened
1 teaspoon vanilla
2 1/2 – 3 cups powdered sugar
Preheat the oven to 350ºF. In a large bowl stir together the flour, sugar, baking powder, cinnamon, baking soda, salt and cloves. Add the eggs, applesauce and oil and stir until combined. Spread the batter in an ungreased 15 x 10 x 1 – inch baking sheet or jelly roll pan.
Bake the cake for 25-30 minutes or until a wooden toothpick inserted in the center comes out clean. Cool in the pan for 2 hours sitting on a wire rack.
When the cake is done cooling, prepare the frosting. In a large mixing bowl beat the cream cheese, butter and vanilla on medium speed with a stand or hand mixer until the mixture is light and fluffy. Gradually add powdered sugar and continue mixing until the frosting reaches a spreadable consistency. Spread the frosting over the cooled cake and cut into squares or bars. Store any leftover cake in an airtight container in the refrigerator.
tip: Substitute a 15 ounce can of pumpkin for the applesauce to make it a pumpkin sheet cake.
---
More Apple Recipes to Try:
---
Slab Apple Pie + Caramel Sauce by Ella Claire | Applesauce Sheet Cake + Cream Cheese Frosting by Love Grows Wild | Apple Spice Streusel Cake by Inspired by Charm | Baked Apple Slices by Julie Blanner | Cinnamon Maple Sourdough Apple Pie by Farmhouse on Boone
Brioche Apple Bread Pudding by Boxwood Avenue | Apple Cider Pound Cake by Anderson + Grant | Apple Crumble Muffins by A Burst of Beautiful | Banana Apple Cake Bread by Sweet C's | Rustic Apple Strudel by So Much Better with Age
New England Apple Crisp by Nina Hendrick | Maple Apple Oatmeal by Finding Home Farms | Chocolate Apple Mini Cakes by Zevy Joy | Artisan Apple Bread by Nesting with Grace | Low Carb Apple Sandwich Snacks by My Sweet Savannah
Apple Peach Crisp by Summer Adams | Roasted Apple and Butternut Squash Soup by Town & Country Living
---
Subscribe to Blog | Follow on Instagram
Follow on Pinterest | Follow on Facebook