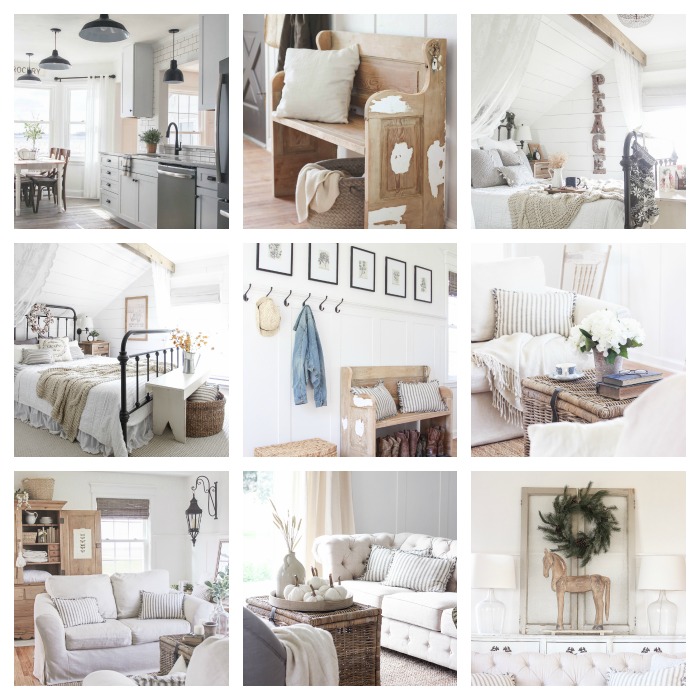 And so another year begins on this little blog of mine…
It would be completely cliche to say something like, "this year has been full of ups and downs", but quite frankly it has. At the beginning of last year, I was finally able to afford a complete renovation of our old farmhouse kitchen, and I'm still amazed at the before and after photos every time I look at them. And then in the midst of the renovation chaos, I wrote my very first book, A Touch of Farmhouse Charm. Those few months I spent planning, creating, decorating, photographing, writing, and editing 70 new tutorials for the book were some of the longest and most exhausting days of my life. But in the end, I realized that I could do way more than I thought I was ever capable of doing and that dreams don't work unless you do.
I spent the summer working on a ton of outdoor projects, including a huge makeover of our little patio. I cannot wait until it's nice outside again so I can enjoy my cozy retreat! The rest of the year I worked on decorating the farmhouse for each passing season and holiday, and I realized just how much I love this tiny, little home we live in. The end of 2016 was celebrated with the release of my book on December 6th, and to my utter surprise and shock, the book sold out and immediately went back into its second printing within just a week of the release date. It still feels completely surreal to be able to call myself a published author, but to see so many people buying and loving the book has been an experience that I can't even put into words. Every time I open Instagram and see people sharing the book in their homes or projects they've made from the book, my heart is filled with joy and gratitude.
P.S. If you are still wanting to order a copy of the book, they should be back in stock soon! Go ahead and order, and it will be shipped as soon as it is available!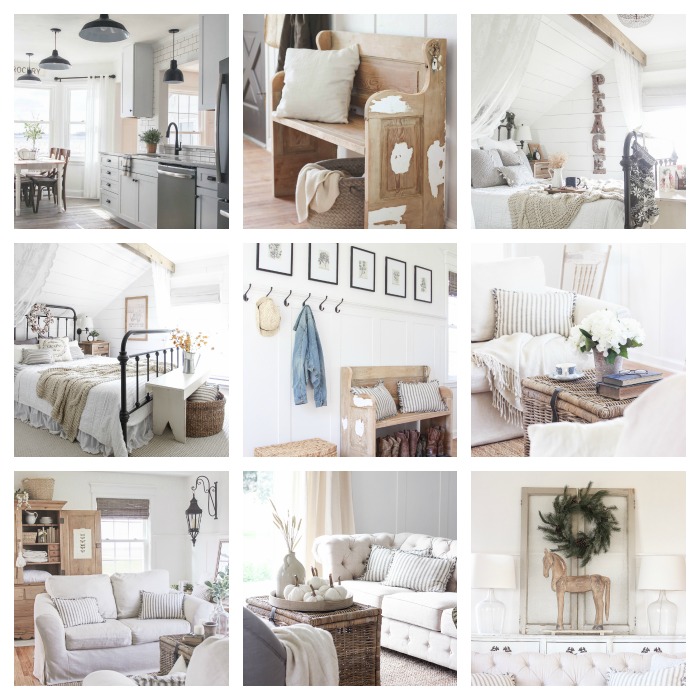 I thought it would be fun to start the year with a look back at the posts you all loved most from 2016, starting with our #1 most popular post…
The biggest change to our farmhouse this year hands down was the kitchen renovation. Every little inch of this space was updated… cabinets, flooring, countertops, backsplash, lighting, appliances, and more. We even opened up an entire wall and tore out an old chimney in there. You will hardly be able to recognize this kitchen before! There were days I thought we would never survive living through that renovation, but it was worth every bit of construction dust I cleaned up for weeks and weeks afterwards. I absolutely adore cooking and spending time in our bright and beautiful kitchen now.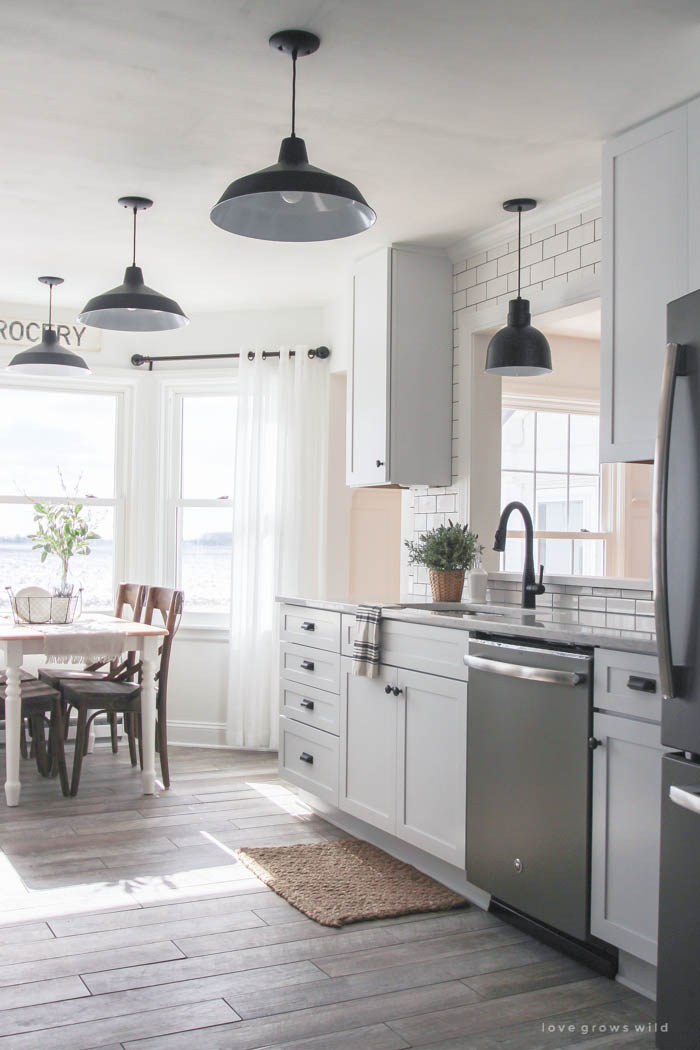 This was one of the first furniture building projects I tackled in 2016 and still is one of my absolute favorites. I took an old door that used to hang in our farmhouse and turned it into a beautiful, church pew style bench for our entryway. The wood grain on this door was gorgeous, but I loved the few little pieces of white paint it had left in some spots. And that detail of the keyhole on the side… that kind of character makes me swoon.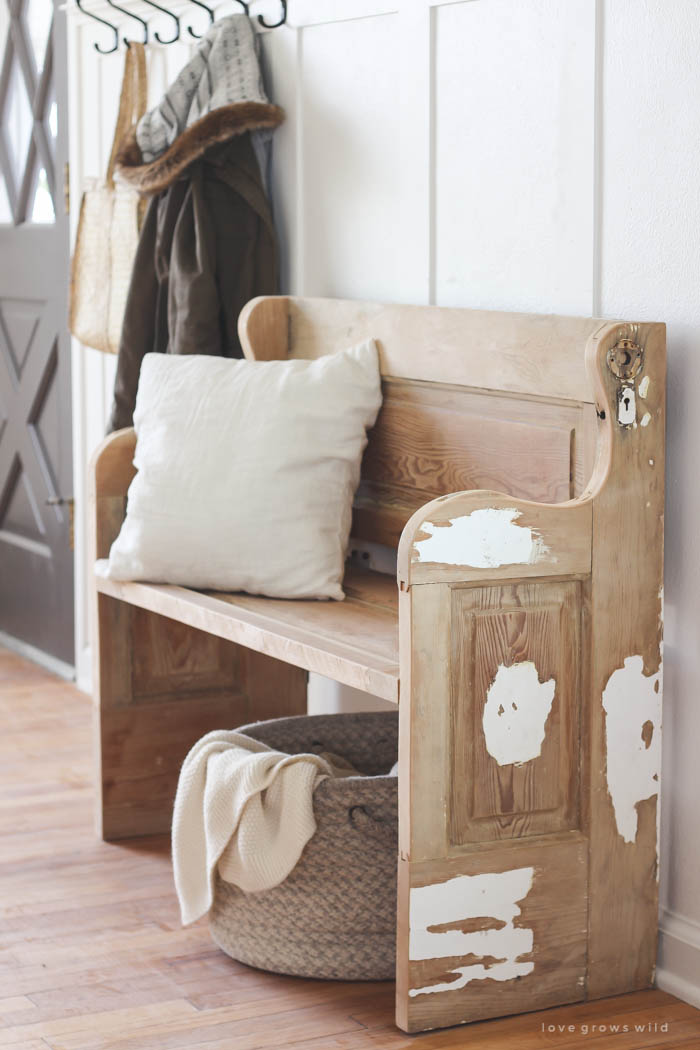 When I first designed my bedroom, I wanted it to feel light and bright, rustic and cozy, and a little bit soft and romantic. This room has become one of my favorites to photograph because of its clean, simple beauty, but during the holidays when I add touches of greenery and stockings at the foot of the bed, it becomes truly magical.
Fun fact: Our bedroom is always the most liked photos on Instagram too!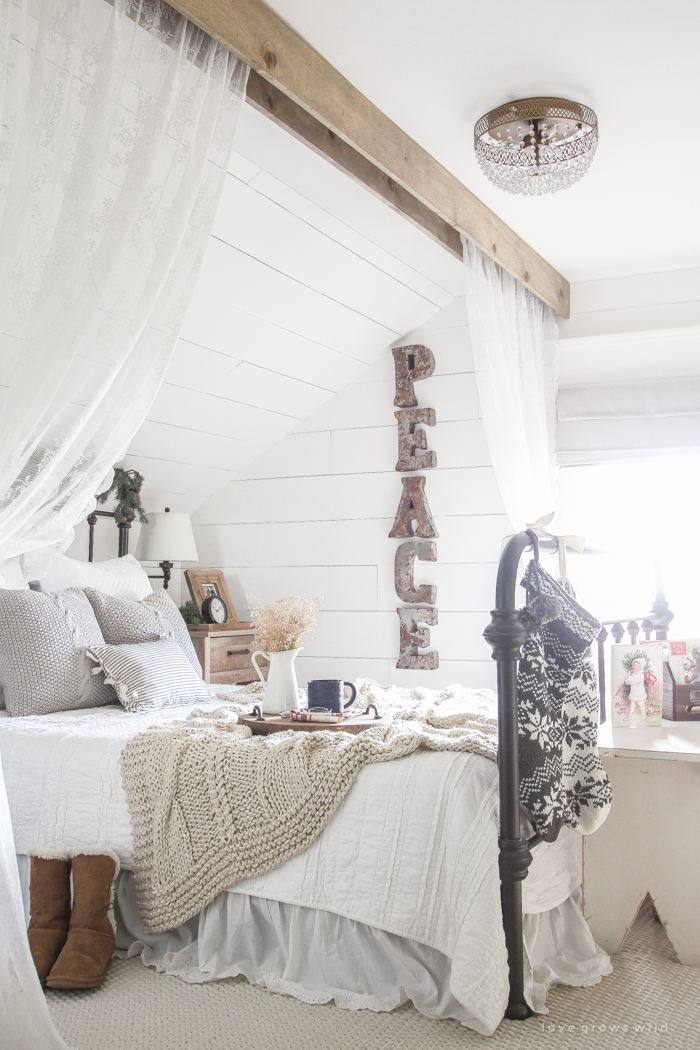 Our bedroom decorated for fall ended up on the favorites list too! I've learned over the years that less is definitely more when it comes to my personal decorating style. I keep all the rooms in the farmhouse pretty light and neutral and only swap out a few items like throw pillows, blankets, wall art and flowers to celebrate each season. It makes life so much more simple for the constant re-decorator in me!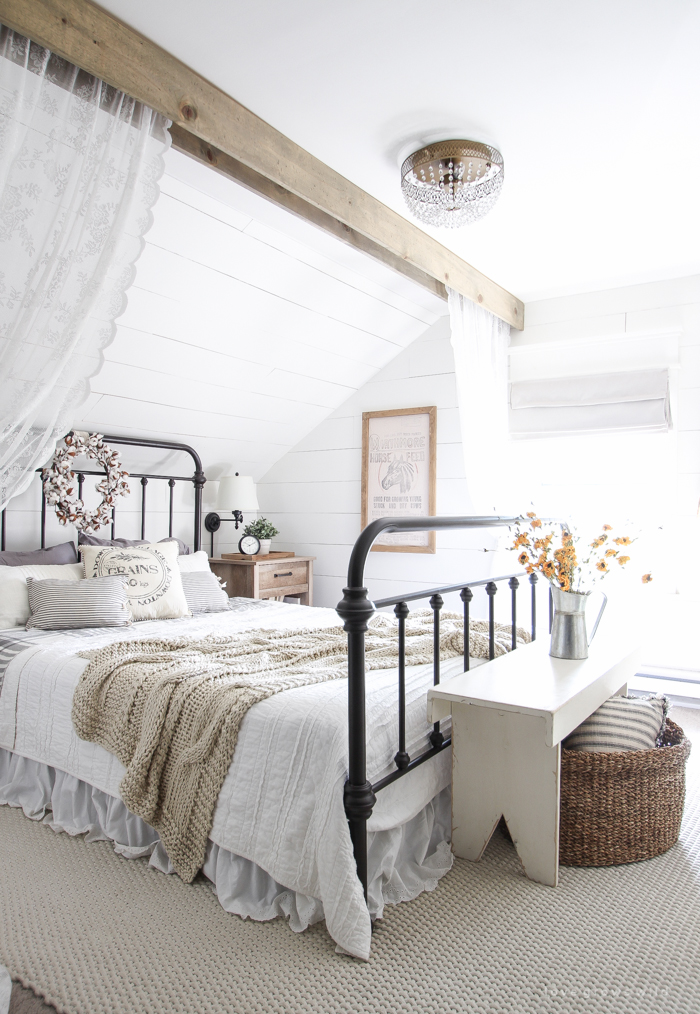 This summer I photographed a two part home tour that showcased our farmhouse's laid-back, simple summer style, and both posts ended up making the favorites list! I feel like this was when I really started to embrace simplicity in my design, and I loved getting to share the inside and outside of our farmhouse with you all. I even got in front of the camera for a few shots, rather than staying behind it like I normally do. Looking back at these photos definitely makes me crave the warm summer months again!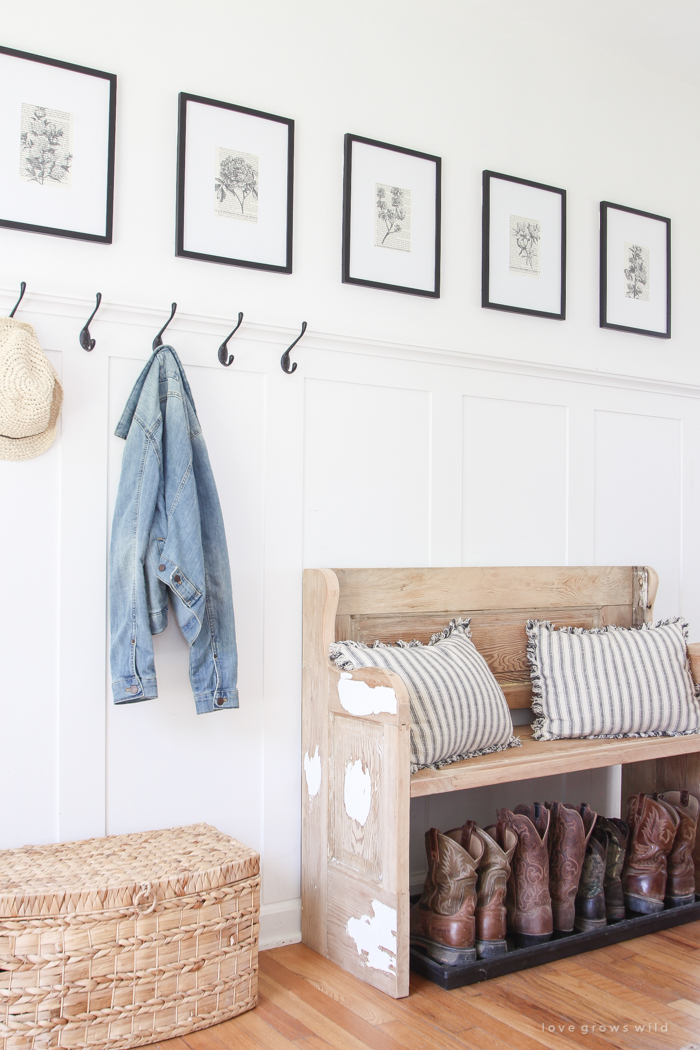 Part one of the summer tour (shown above) featured our dining room, entryway, kitchen, bathroom, front porch, and the little white barn, and part two (shown here) showcased our living room, master bedroom, office, and patio. Sometimes all a room needs is a bouquet of fresh flowers and some sunshine to make it feel fresh and beautiful!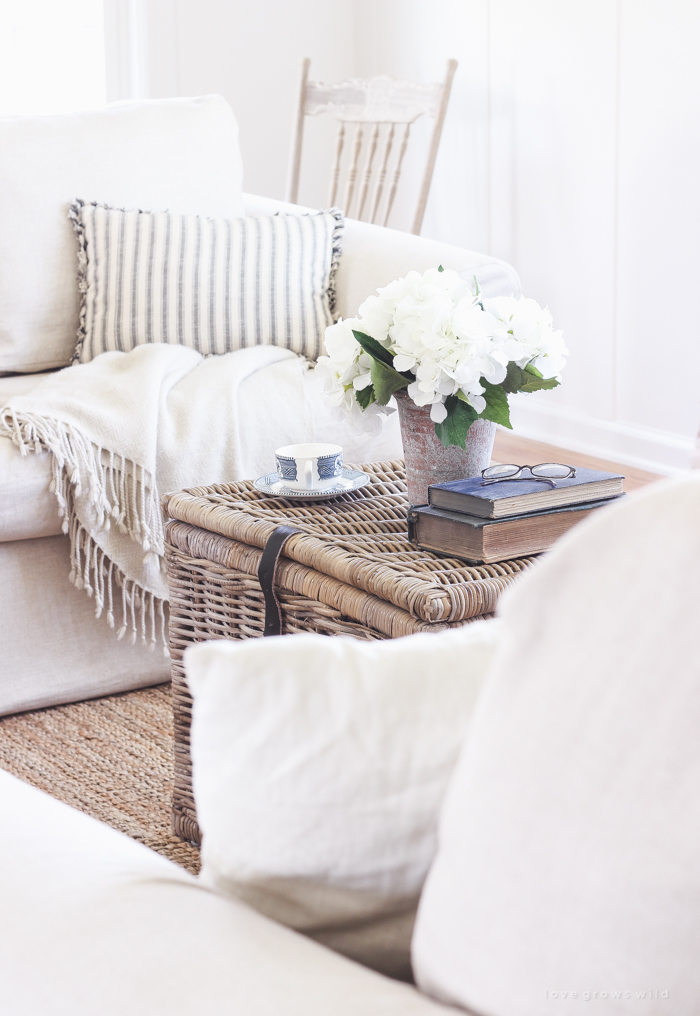 During the beginning of 2016, I was right in the thick of a kitchen remodel and writing my book, when I got a wild idea to slipcover our gray couches. It was quite an interesting experience, and I'm sure you'll get a laugh when you go back and read this post. I'm still not sure if it is a good trait or a bad one, but when I get an idea in my head, there's generally no stopping me! The slipcovers turned out perfect, and although we ended up selling these couches later in the year, I loved the lighter, cozier look these linen slipcovers gave our living room.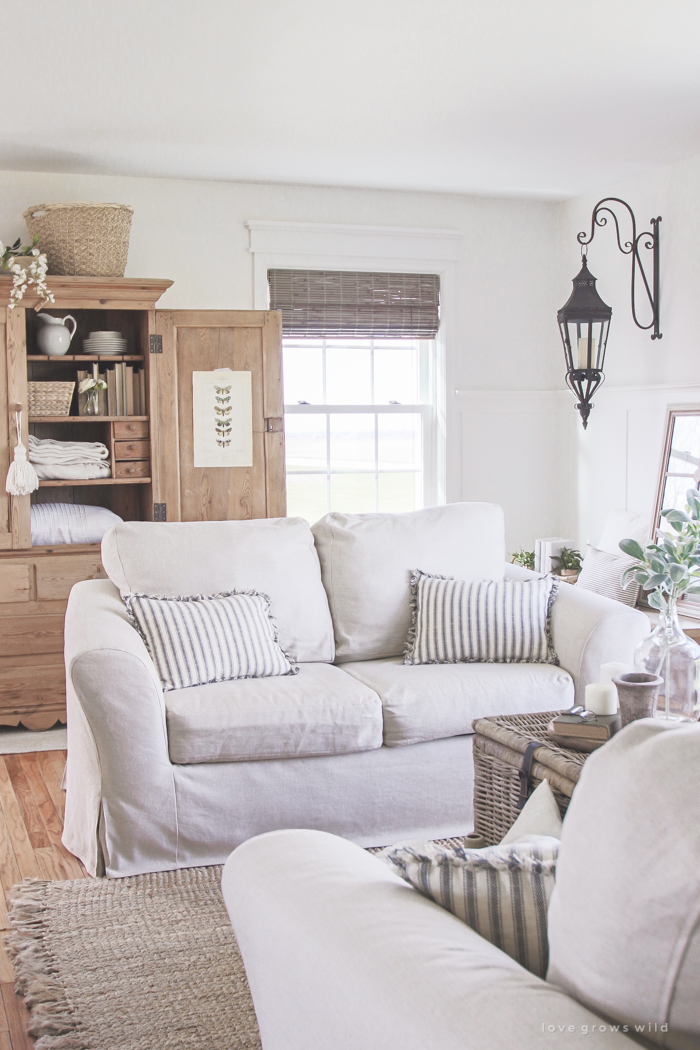 Once I sold the slipcover couches, I had a Cinderella moment for a little while… trying on a few different couches until I found the right one to fit our small living room. This tufted linen beauty ended up being the winner of our year long couch searching adventure, and I can't wait to show you updated photos of the living room very soon. I picked up these darling velvet pumpkins from our fall home tour this year, and I absolutely adore them!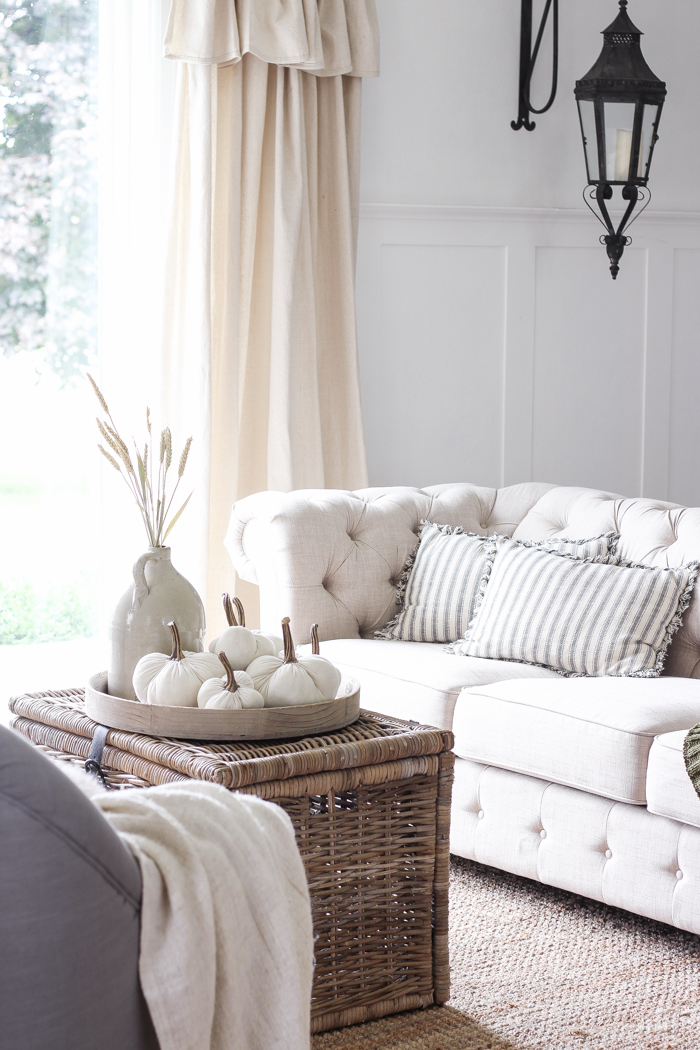 The last posts of 2016 were all about decorating for the holidays, and I just love how cozy and warm and festive the farmhouse feels this time of year… wreaths and Christmas trees and pinecones and presents everywhere you look.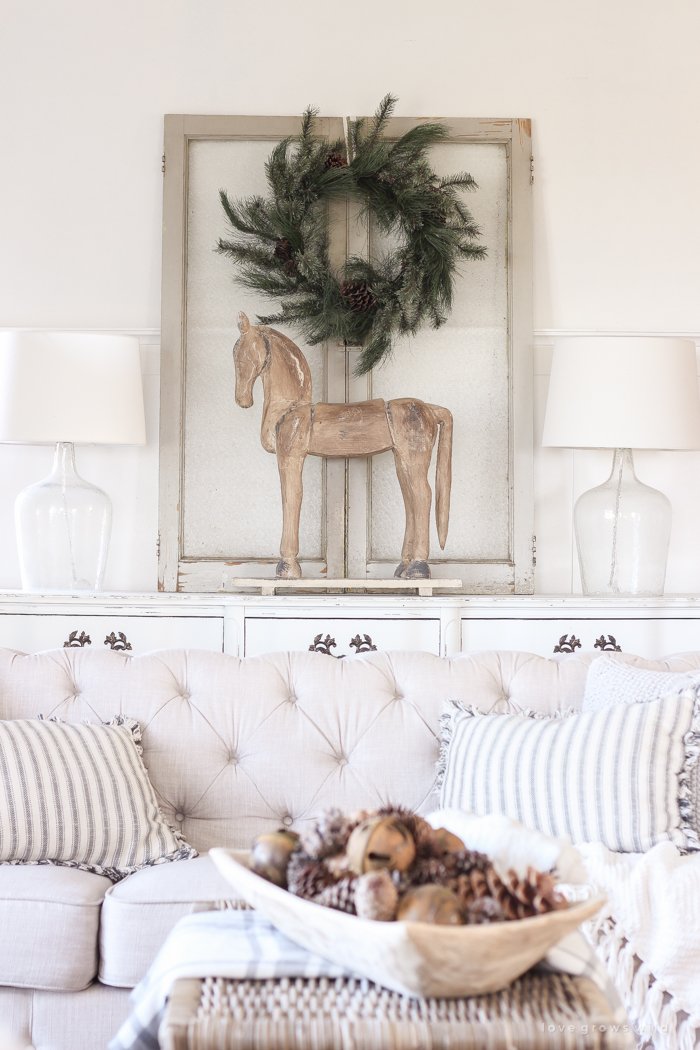 But as much as I enjoyed all the holiday decor, it feels so good to have all the Christmas stuff packed away again and a fresh, clean slate to start the new year with.
Looking forward to sharing another year of my journey with you!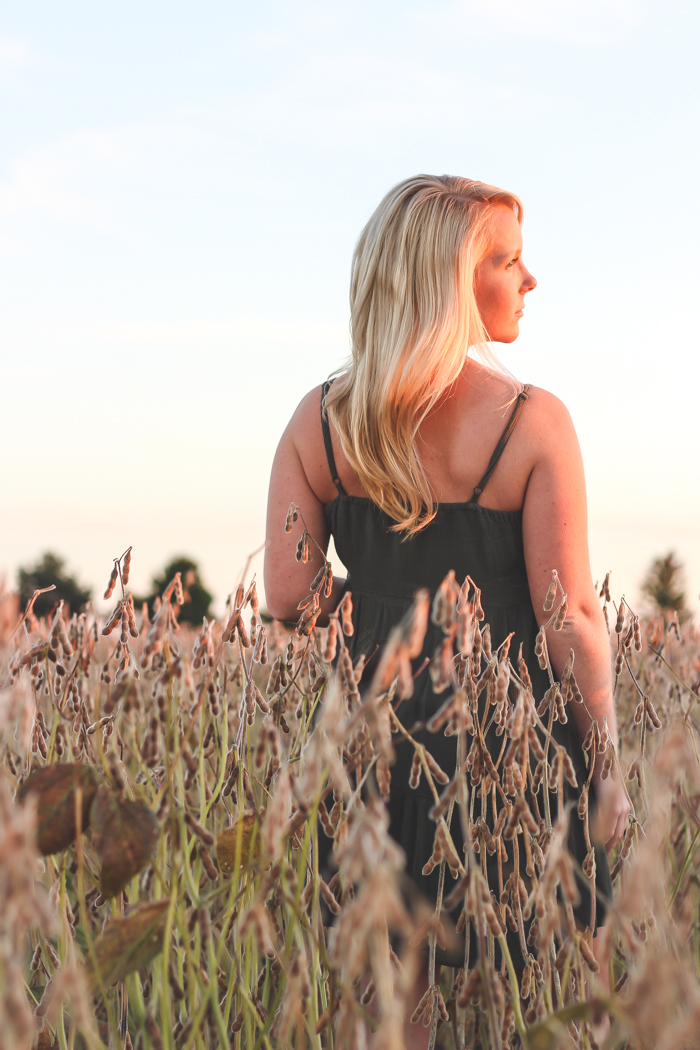 ---
LET'S KEEP IN TOUCH!
---
Subscribe to Blog | Follow on Instagram
Follow on Pinterest | Follow on Facebook