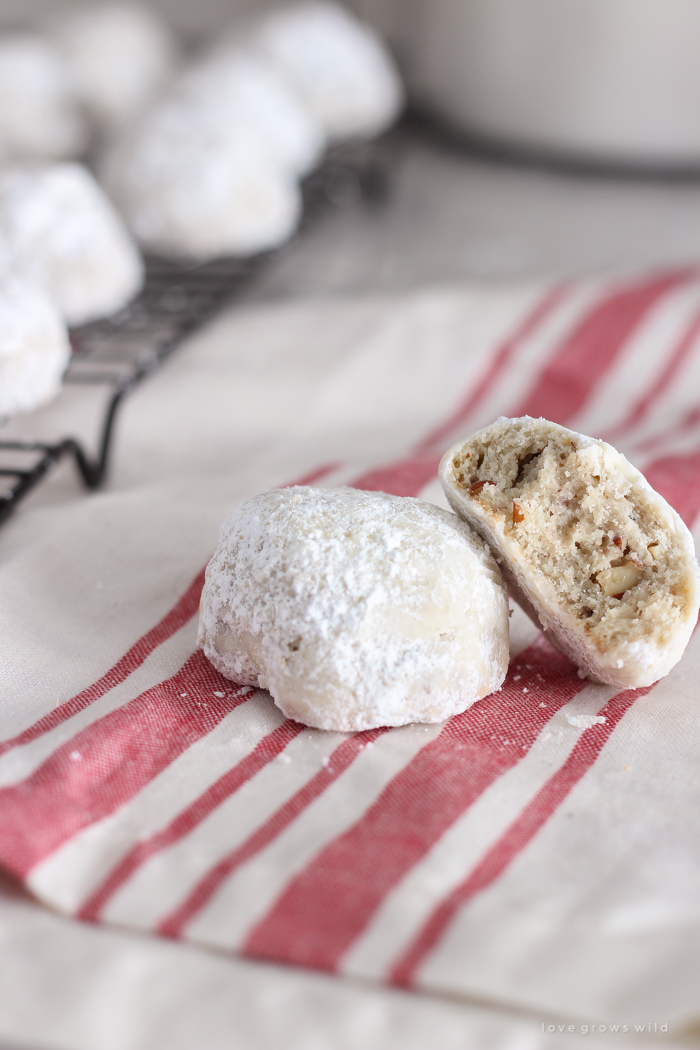 Sponsored by Gordmans // I have a special treat for you today, my friends! I know that I post a lot more home stuff than I do recipes here anymore, but I couldn't let this holiday season go by without sharing these buttery, delicious, melt-in-your-mouth Snowball Cookies with you!
I've been so excited to start doing some baking for the holidays lately, and I pulled out my stack of recipes to see what kind of cookies I wanted to do this year. My sugar cookie cut-outs are always at the top of the list, and I thought about adding some of the boys' favorites too… either cherry chocolate chip cookies, monster cookies, or molasses cookies. I realized it had been YEARS since I've made snowball cookies for them, so that's exactly what I'm going to do this year! And I thought you all would love to have the recipe too!
These round, little balls of joy are perfect for the holidays, and you can make them either with or without nuts (depending on your preference). I personally always make them with nuts! The cookie itself isn't overly sweet, but the powdered sugar coating gives it the perfect sweet finish and makes it look like an adorable, little snowball. My boys were so happy when they saw these cooling on the counter the other day!
Do you remember a few weeks ago when I did a little bit of shopping at Gordmans and decorated my entryway for the holidays? While I was shopping, I browsed through their kitchen section (which is awesome by the way!), and they had a great price on KitchenAid stand mixers. This silver beauty below hopped in the cart and came home with me!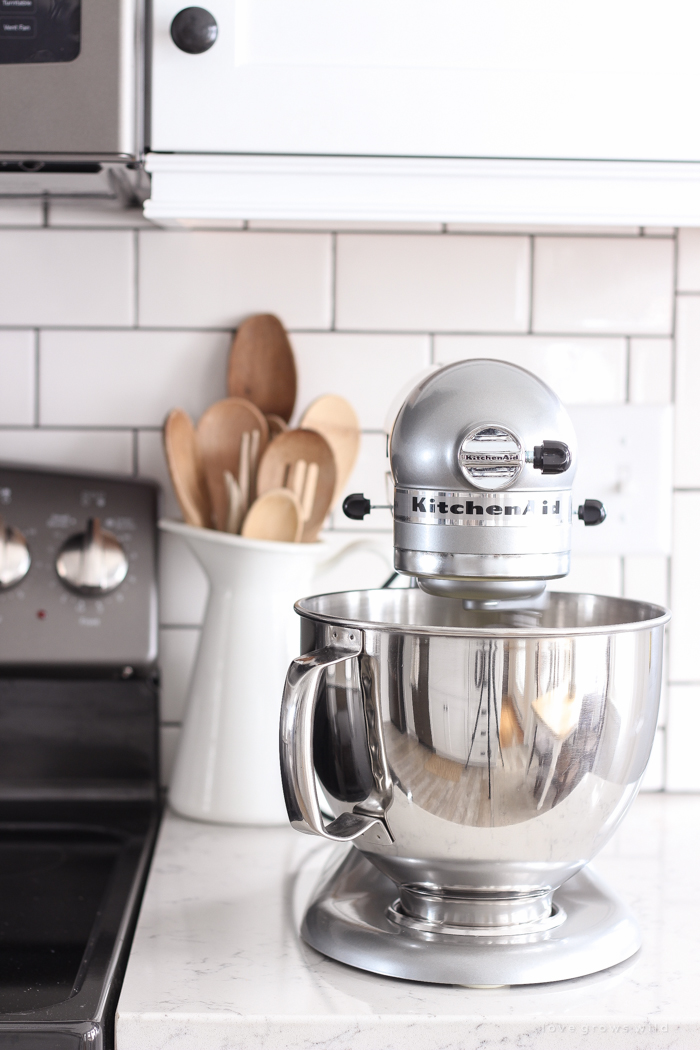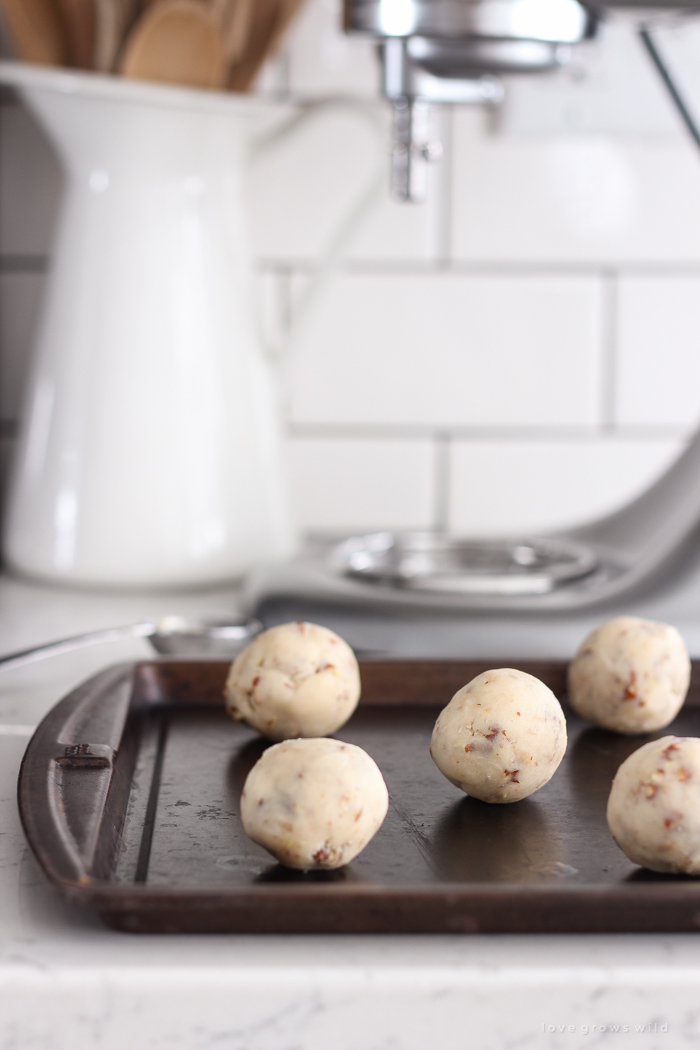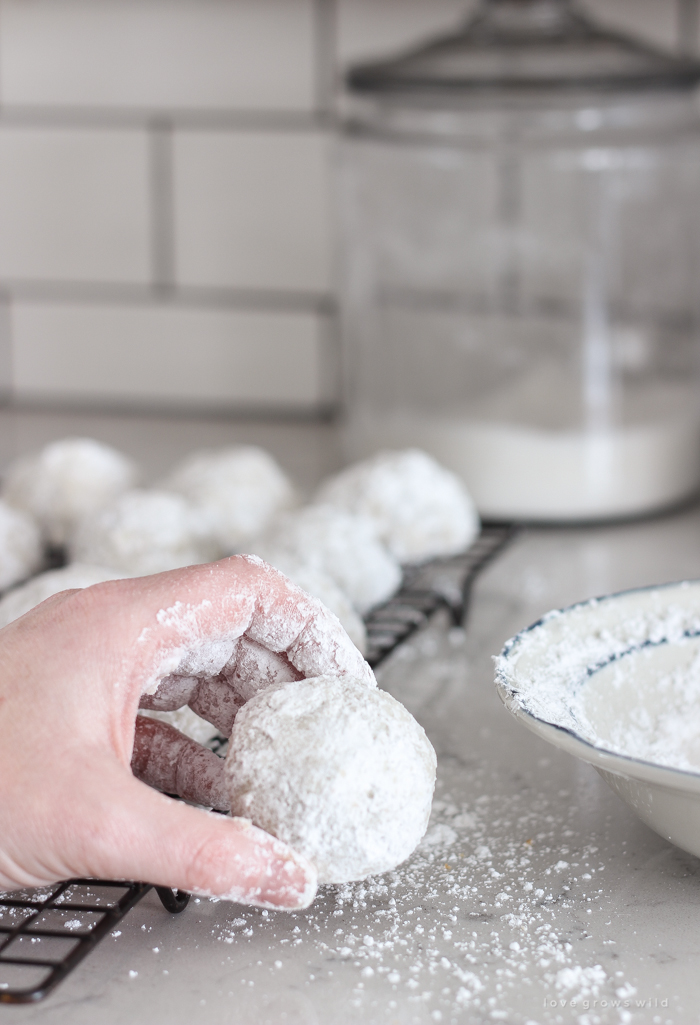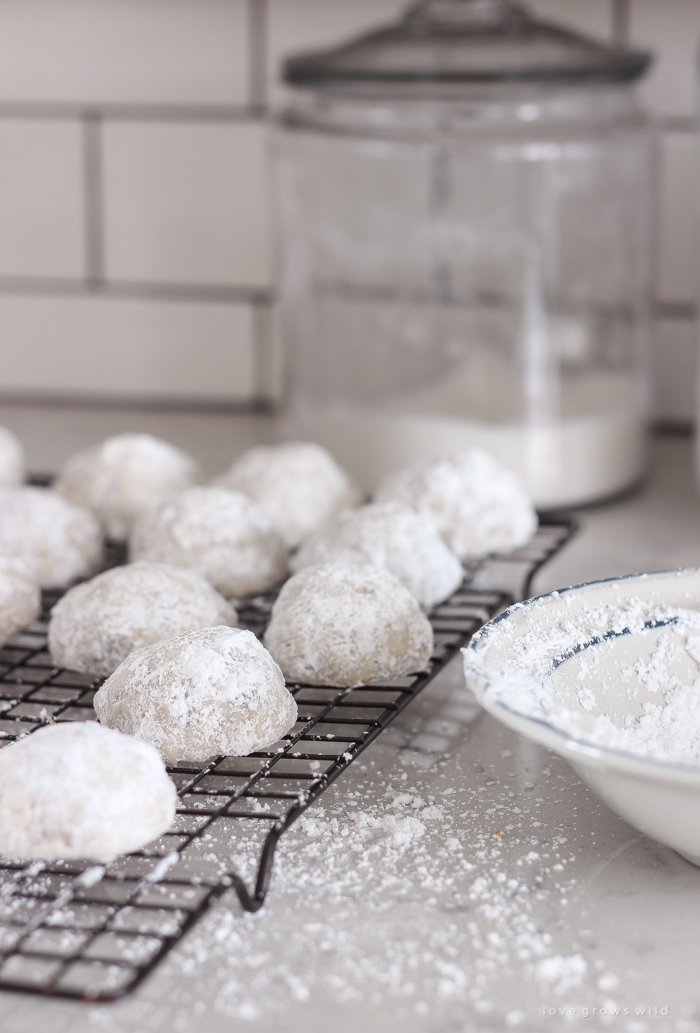 See that cute wooden sign I hung up in the kitchen? That came from Gordmans too! I love their home decor section, and I can find everything from throw pillows and blankets to wall art and accessories and mirrors and lamps and more. And the prices fit right into my budget, especially with the holidays right around the corner!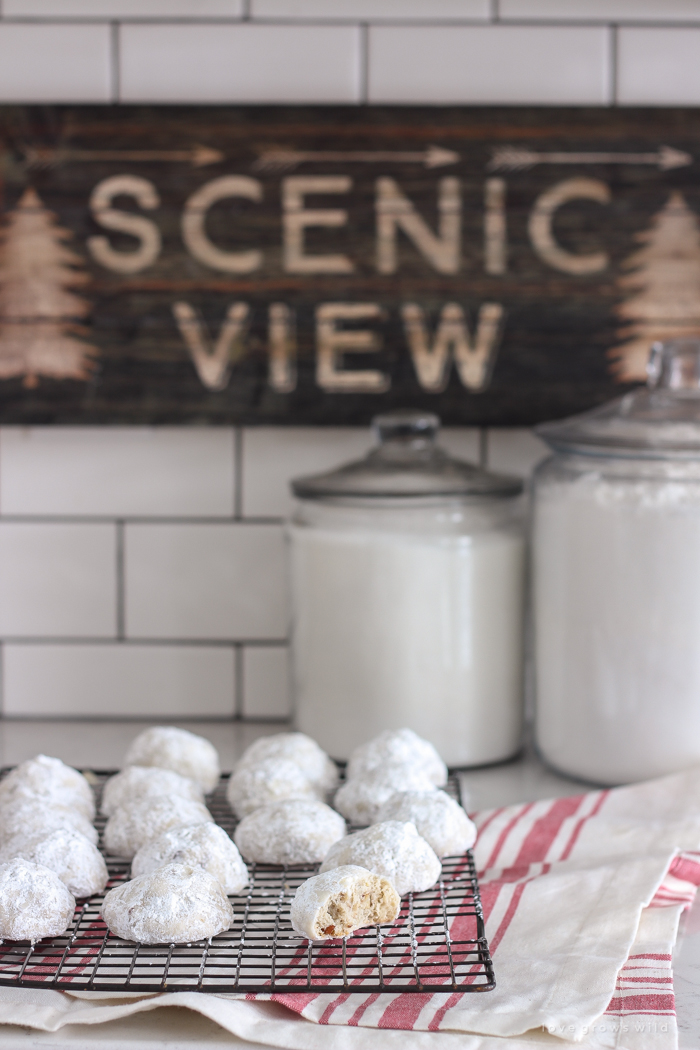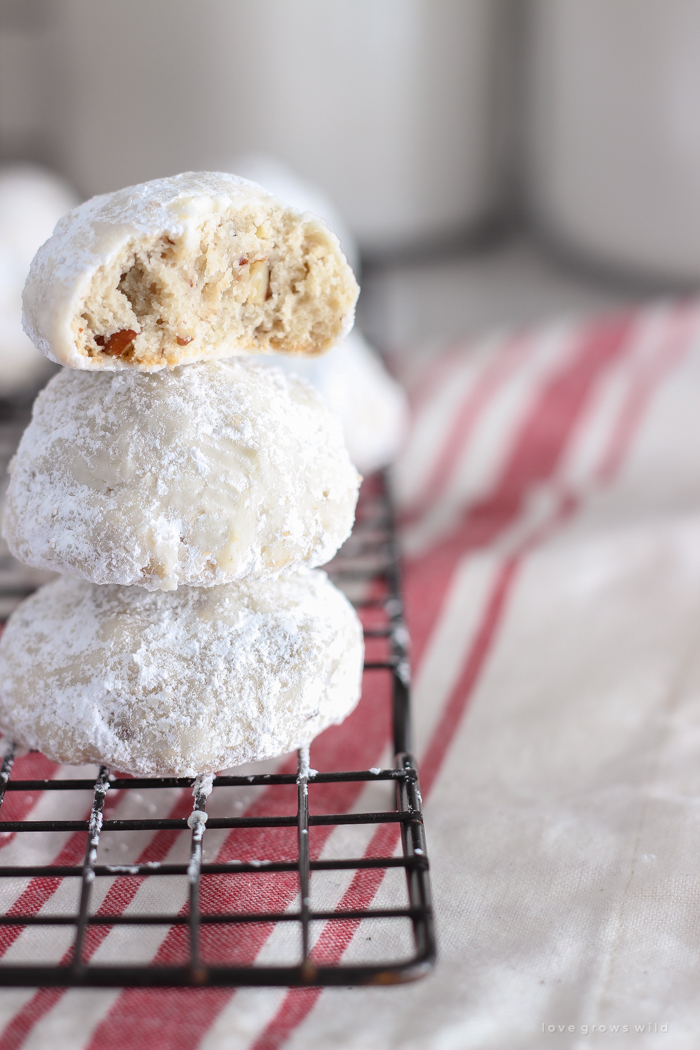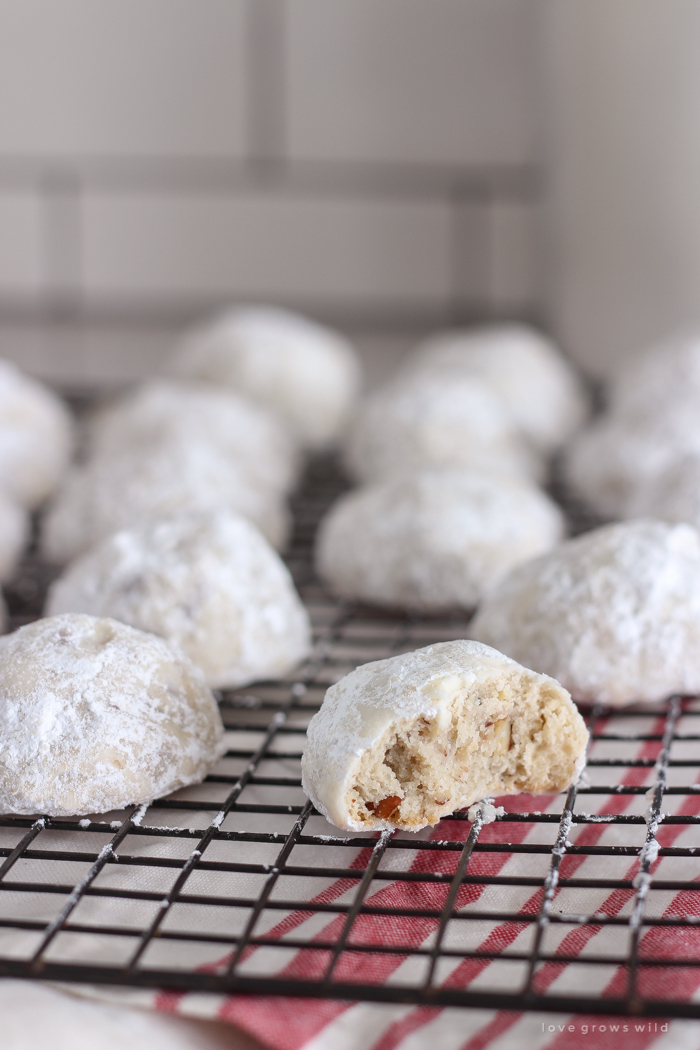 I hope you enjoy this cookie recipe just as much as we do. Merry Christmas and Happy Holidays, sweet friends!

Snowball Cookies
INGREDIENTS
1 cup unsalted butter, at room temperature
½ cup confectioners sugar
2 teaspoons vanilla
¼ teaspoon salt
2 cups all-purpose flour
1 cup pecans or walnuts, finely chopped (optional)
additional confectioners sugar for rolling, about 1 cup
INSTRUCTIONS
Preheat oven to 350ºF. Line a baking sheet with parchment paper and set aside.
In a large bowl cream together the butter and ½ cup sugar using a stand or hand mixer until light and fluffy, about 3-4 minutes. Add the vanilla and salt and slowly add the flour, mixing until just combined. Fold the pecans into the dough until combined.
Roll the dough into 1½-inch balls and place on the prepared baking sheet about 2-inches apart. Chill the dough balls in the refrigerator for 30 minutes before baking.
Bake the cookies for 13-15 minutes until the bottoms are just slightly brown. Remove from the oven and cool for about 2 minutes until the cookies are cool enough to touch.
Add 1 cup of sugar into a medium bowl, and while the cookies are still warm, roll them in the sugar until well coated. Place the cookies on a cooling rack and allow them to finish cooling completely. Once cooled, roll them again in the sugar until well coated. Store in an airtight container.
adapted from
Cooking Classy
This post is sponsored by Gordmans, but all thoughts and opinions are 100% my own. Thank you for supporting the brands that make this blog possible!
---
More holiday treats to try:
---
Gingerbread Bundt Cake
Molasses Cookies
Gingerbread Milkshake
Frosted Sugar Cookie Bars
Perfect Sugar Cookie Cut-outs
Homemade Hot Chocolate
White Chocolate Holiday Popcorn Mix
Peppermint Mocha Coffee
Cranberry Holiday Punch
---
LET'S KEEP IN TOUCH!
---
Subscribe to Blog | Follow on Instagram
Follow on Pinterest | Follow on Facebook