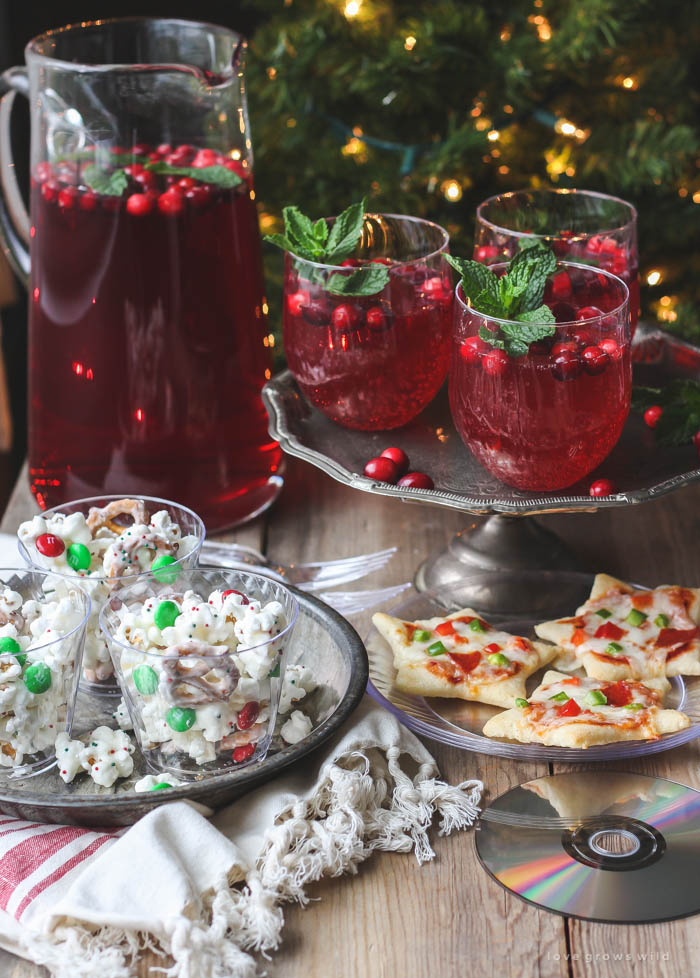 I love hosting holiday movie nights in our home, and this year I've come up with some fun, festive treats to serve during the movie: White Chocolate Holiday Popcorn Mix, Cookie Cutter Mini Pizzas, and Cranberry Holiday Punch. I think you're going to love these easy movie treats too! This post is sponsored by our friends at EVITE® and Chinet® Cut Crystal®.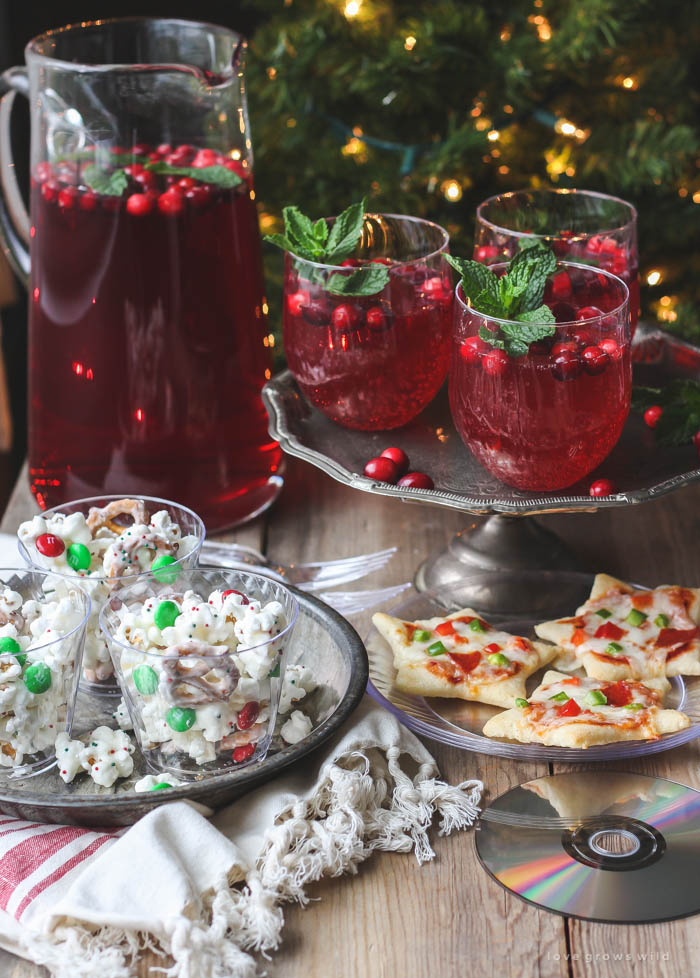 I think I'm still in denial that it's really almost time for the holidays already, but I have to admit… busting out one of my little Christmas trees and seeing the twinkling Christmas lights for the first time this year made me ridiculously happy. Our little farmhouse has changed so much over the last year, and I cannot wait to start decorating it for the holidays! Don't worry, I promise to wait at least few more weeks to get started… maybe. 😉
Have you guys ever hosted a holiday movie night in your home? Sometimes with all the hustle and bustle of the holiday season, I find that it's nice to have a low-key night at home instead of another big, fancy cocktail party. And let's be honest… would you rather wear high heels and an uncomfortable dress all night or be snuggled up on the couch in comfy pajamas? I vote P.J.'s!
So I put together a simple, little menu of treats that you can serve at your movie night, and all of the recipes are kid-friendly, super easy, and very festive for the holidays. Want a little holiday hosting tip? No one likes to spend all night at the kitchen sink doing dishes, so serve your movie treats on Chinet® Cut Crystal®. This line of plates, cups, stemless wine glasses and cutlery looks elegant and stylish, but can be thrown away at the end of the night. Now let's start with the popcorn…
This salty-sweet version is a mixture of fluffy, freshly-popped popcorn, salty, crunchy pretzels, and sweet chocolate M&M's all covered in white chocolate. SO delicious! You can usually find bags of only red and green M&M's around the holidays, or you can be like me and color sort a giant pile of M&M's until you have enough. This recipe can easily be doubled or tripled if you're expecting a lot of guests, and trust me… it will go fast!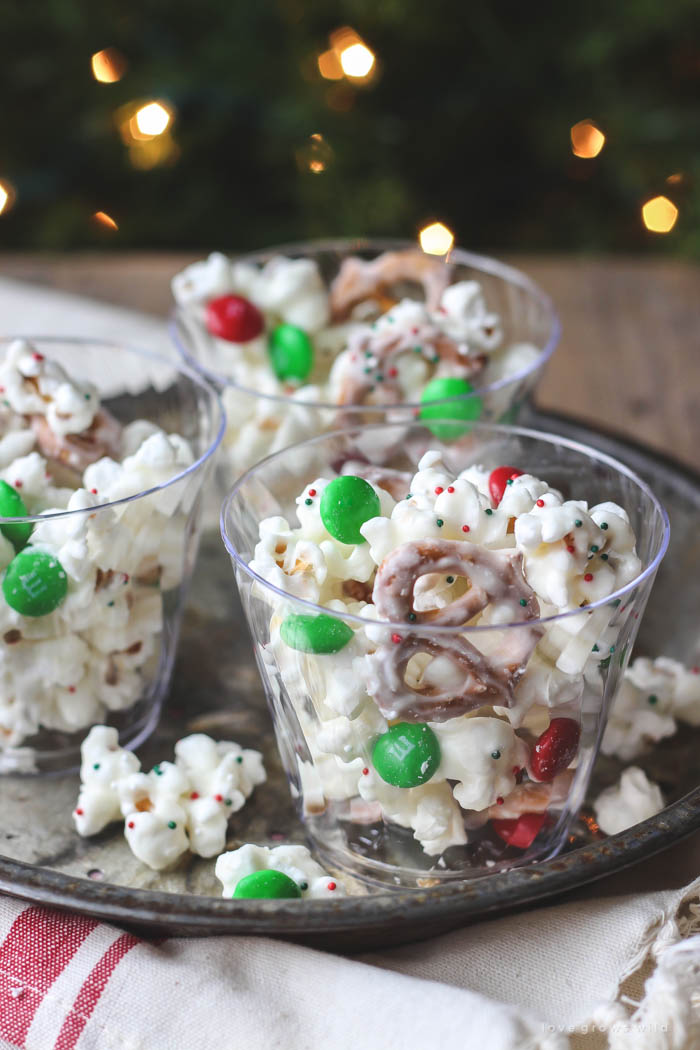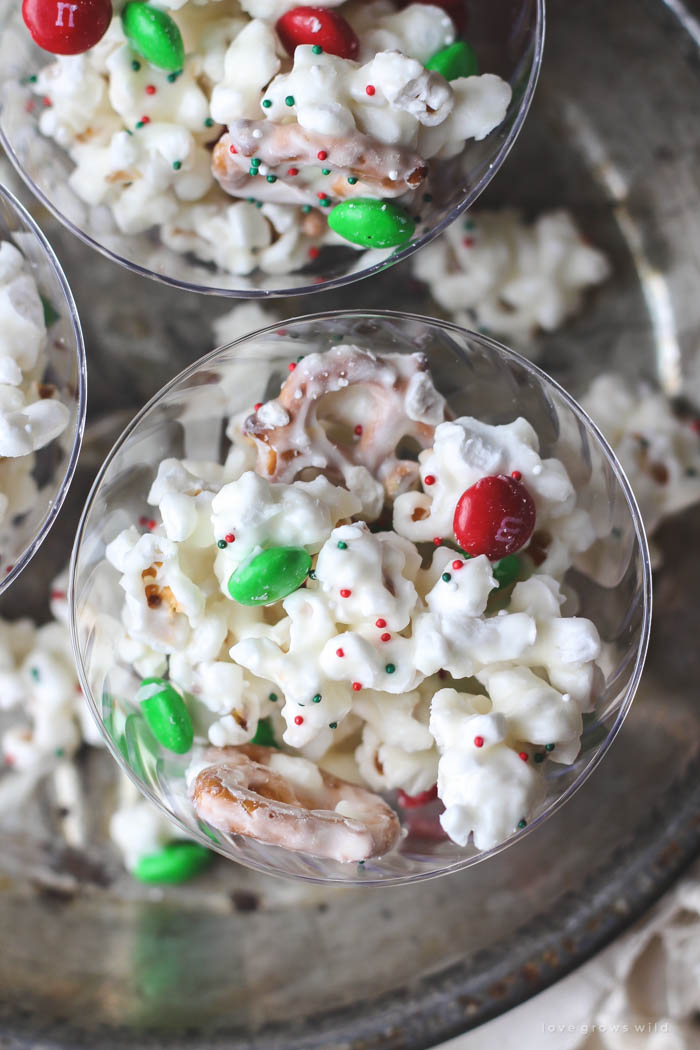 White Chocolate Holiday Popcorn Mix
This sweet and salty popcorn mix is easy to make and so addicting! Package some up for an easy gift idea!
INGREDIENTS
¼ cup unpopped popcorn kernels (or about 8 cups popped)
12 ounces white chocolate candy melts (I like to use CandiQuik)
1 cup pretzels
½ cup M&M candies
sprinkles
INSTRUCTIONS
Pop the popcorn according to package instructions and remove any unpopped kernels. Place the popcorn and pretzels in a large bowl and set aside.
Heat the white chocolate candy melts in the microwave according to package instructions until melted. Stir until smooth and pour over the popcorn and pretzels. Gently stir the popcorn mixture until all the pieces are evenly coated, then pour the mixture out onto a large baking sheet. Spread the popcorn into an even layer and sprinkle the popcorn with sprinkles while the chocolate is still warm. Sprinkle the M&M's evenly on top of the popcorn and allow the chocolate to cool and harden. Gently break any large chunks of popcorn into pieces and store in an airtight container.
NOTES
- I use white chocolate candy melts or candy coating because I find that they are much easier to melt to a smooth consistency and are lighter than white chocolate chips. The melted chocolate chips are dense and heavy and make the popcorn soggy, but the candy melts have a lighter texture that keeps the popcorn crunchy under the chocolate coating.

- I prefer to pop my own popcorn in a large pot on the stove, but you can also use microwave bag popcorn.
– adapted from Cooking Classy
Next up is a recipe for this gorgeous Cranberry Holiday Punch. It is non-alcoholic for the kiddos and only needs 3 ingredients (plus the garnishes). Again, you can easily make as much or as little you need and serve it in either a large punch bowl or a smaller pitcher, but either way, make sure to add some fresh cranberries and mint leaves floating on top! Doesn't it make a BEAUTIFUL presentation?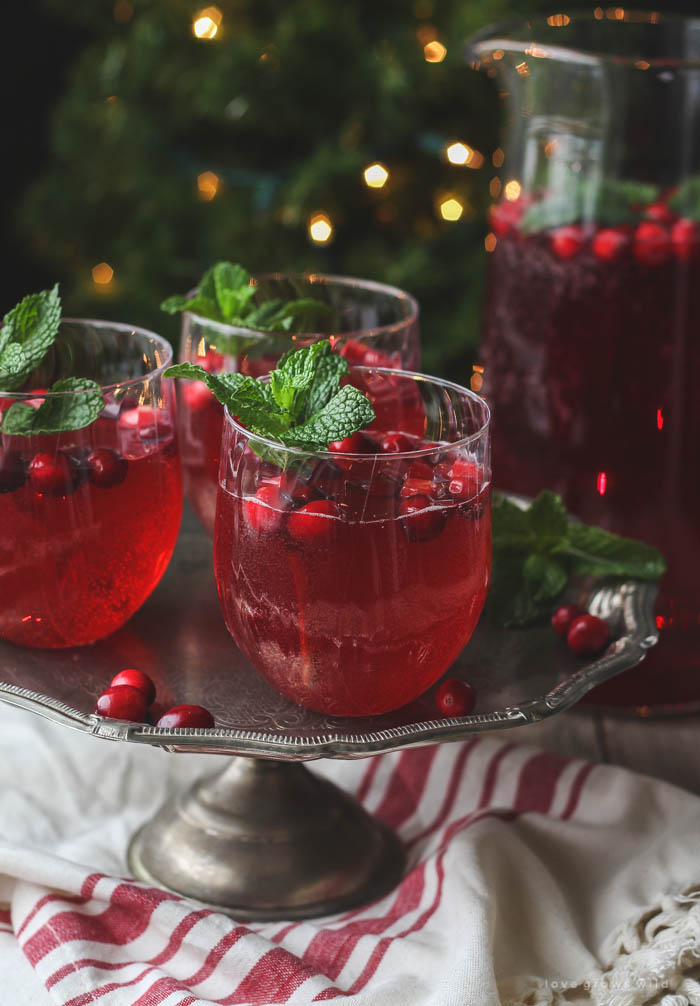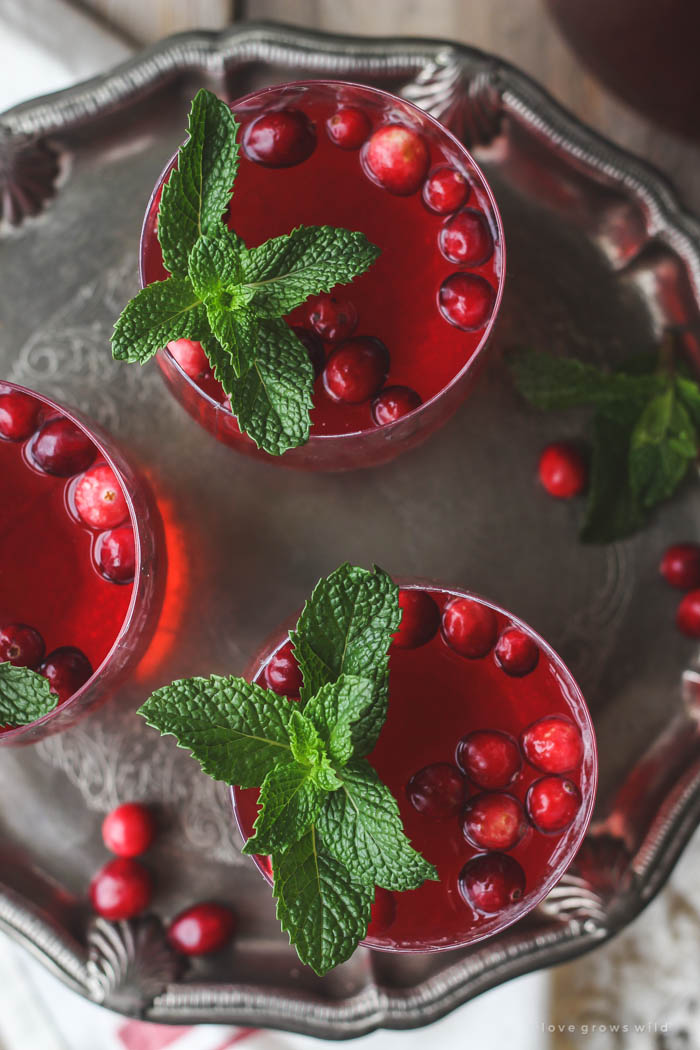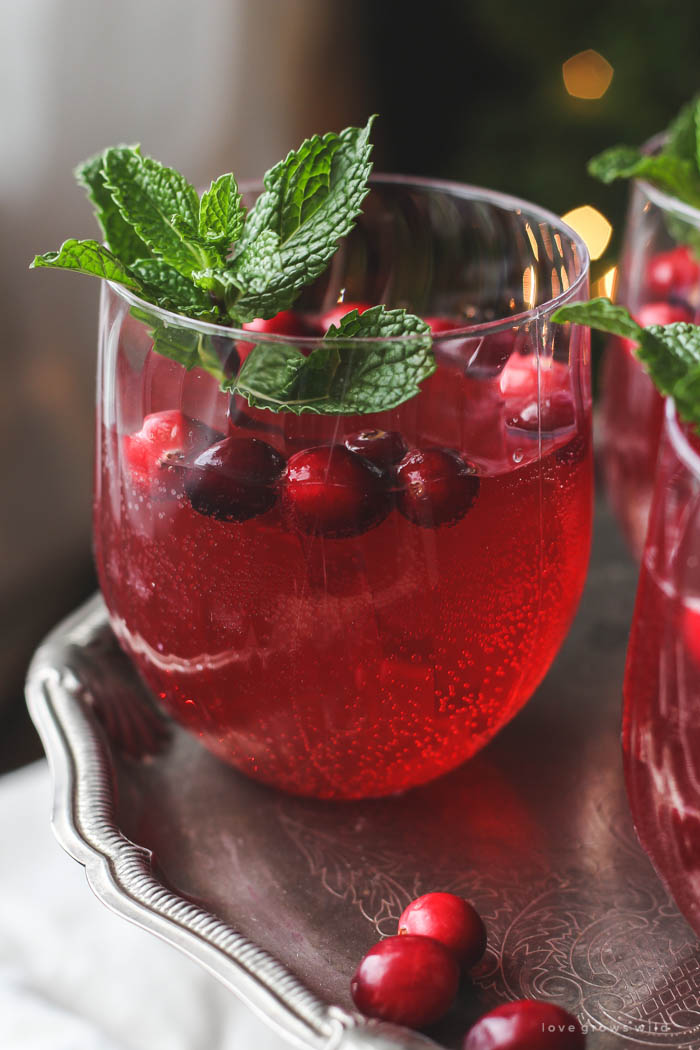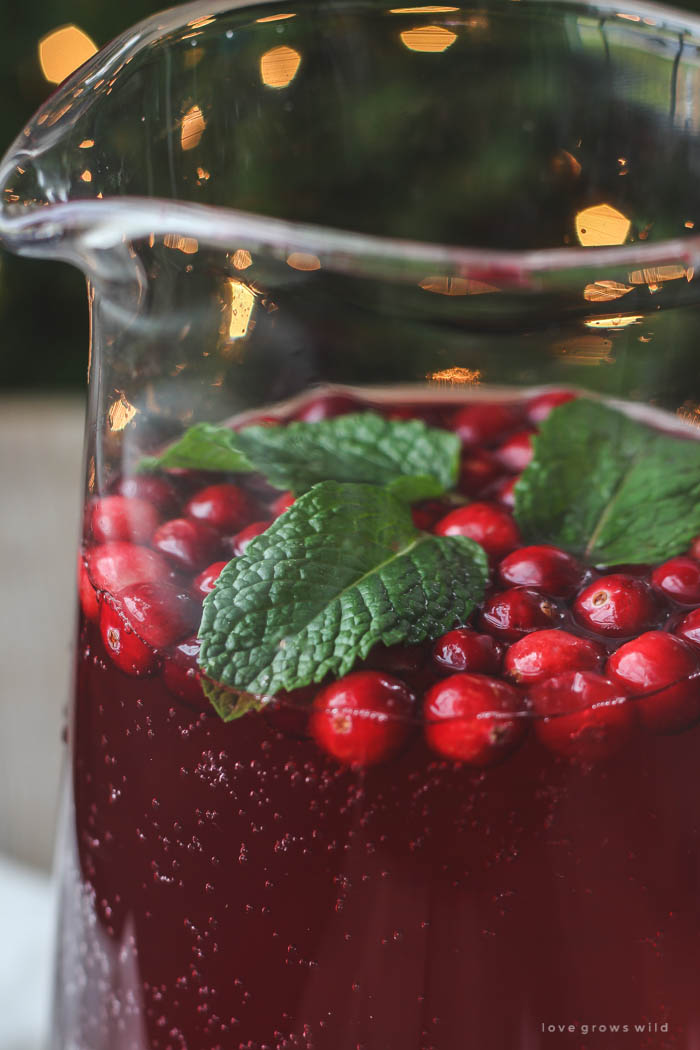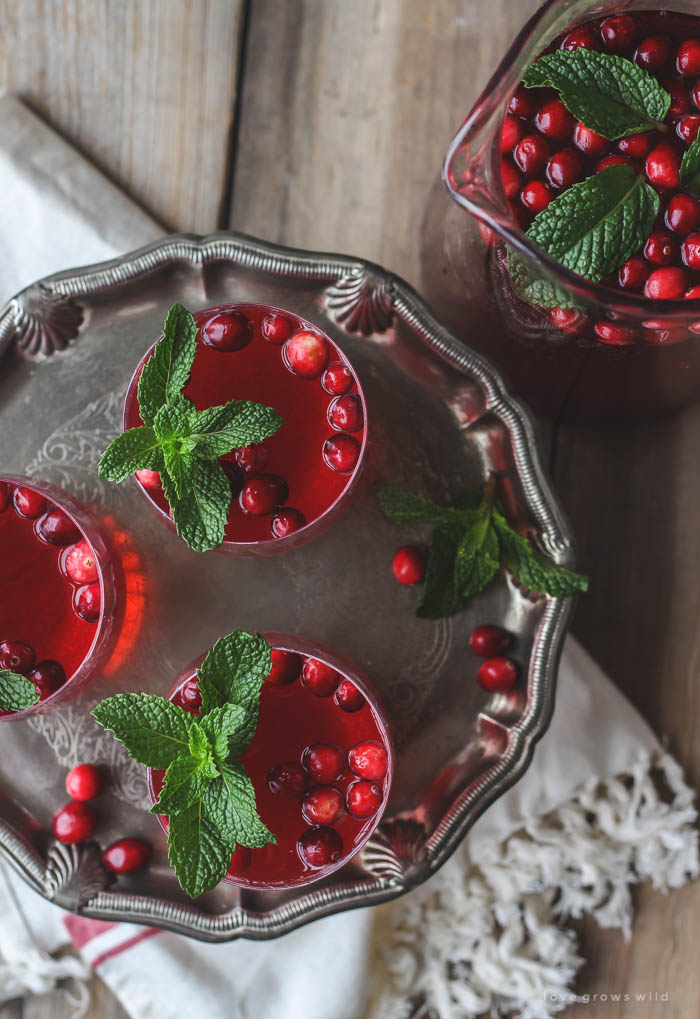 Cranberry Holiday Punch
This non-alcoholic Cranberry Holiday Punch is a must for your next holiday party! Serve with cranberries and mint leaves for a beautiful presentation.
INGREDIENTS
1 part cranberry juice, chilled
1 part lemonade, chilled
1 part ginger ale, chilled

for garnish:
fresh cranberries
fresh mint leaves
INSTRUCTIONS
Combine equal parts cranberry juice, lemonade, and ginger ale in a large pitcher and stir to combine. Add fresh cranberries and mint leaves on top for garnish.
And last but not least, we have Cookie Cutter Mini Pizzas! We've taken care of the treat and beverage departments, but most likely you'll want something of a little more substance to hold you over during movie night. So why not serve little individual pizzas in fun holiday shapes? You can certainly make your own pizza dough and sauce if you prefer, but especially around the busy holidays, I like to go the semi-homemade route and pick up all the pizza ingredients from the store. Get as creative as you like with toppings and shapes… maybe make a stocking pizza with sausage or a Christmas tree pizza with black olive ornaments… whatever you like! This is a great time to get the kids involved, and they will love decorating their own little pizzas.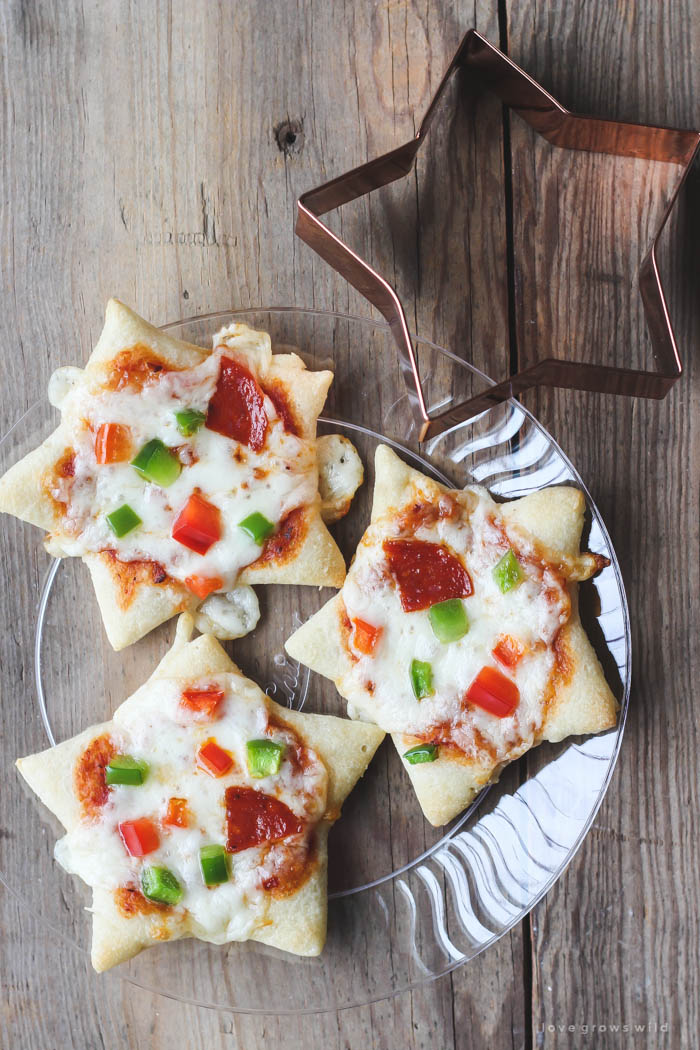 Cookie Cutter Mini Pizza
INGREDIENTS
refrigerated pizza crust (or homemade)
pizza sauce (store-bought or homemade)
mozzarella cheese, shredded
pepperoni
red and green bell pepper, finely diced
cookie cutters
INSTRUCTIONS
Preheat the oven to 425ºF. Spread the pizza crust on a baking sheet and use cookie cutters to cut the dough into shapes. Top the mini pizzas with pizza sauce, mozzarella cheese, pepperoni and bell peppers and bake according to package instructions, about 8-10 minutes.
NOTES
- To easily cut the pizza dough into shapes, press the cookie cutter firmly into the dough, then run a sharp knife along the outside edge of the cookie cutter to separate the dough.
Now that we have our movie snacks, it's time to pop in a Christmas classic and snuggle up with friends and family! For more holiday movie night ideas, head to
EVITE
. I hope you enjoy this holiday tradition in your home as much as we do in ours! Tag me in your movie night pics on Instagram (
@lizlovegrowswild
) so I can celebrate the holidays with you!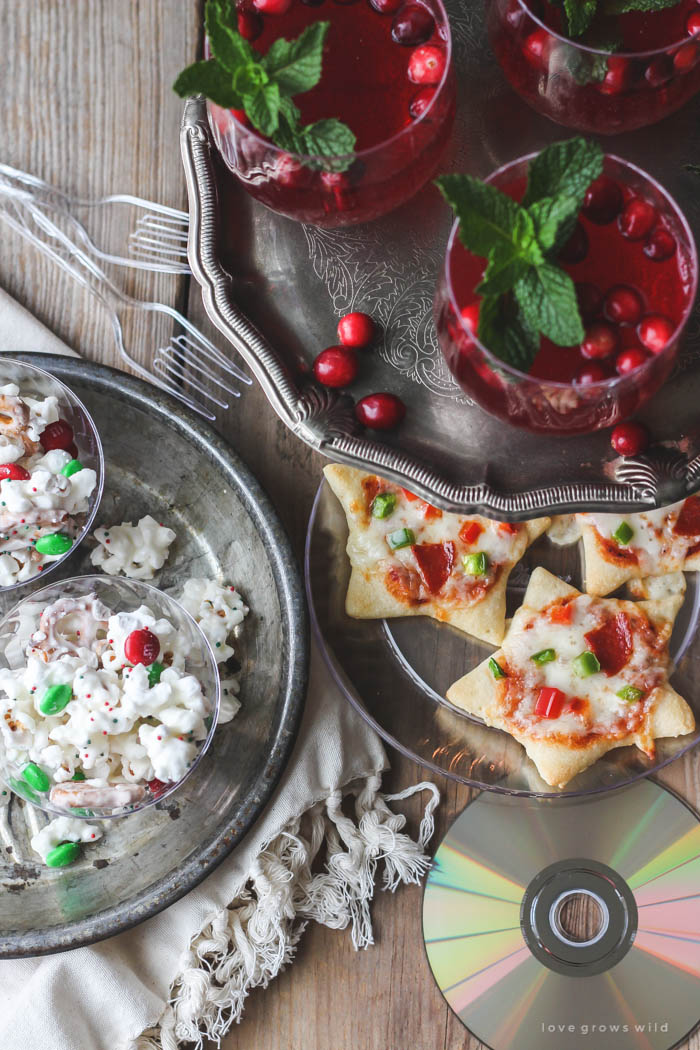 ---
LET'S KEEP IN TOUCH!
---
Subscribe to Blog | Browse my Shop | Follow on Facebook | Follow on Twitter
Follow on Google+ | Follow on Pinterest | Follow on Instagram
This post has been sponsored by EVITE® and Chinet® Cut Crystal®, but all thoughts and opinions are 100% my own. Thank you for supporting the brands that make this blog possible!