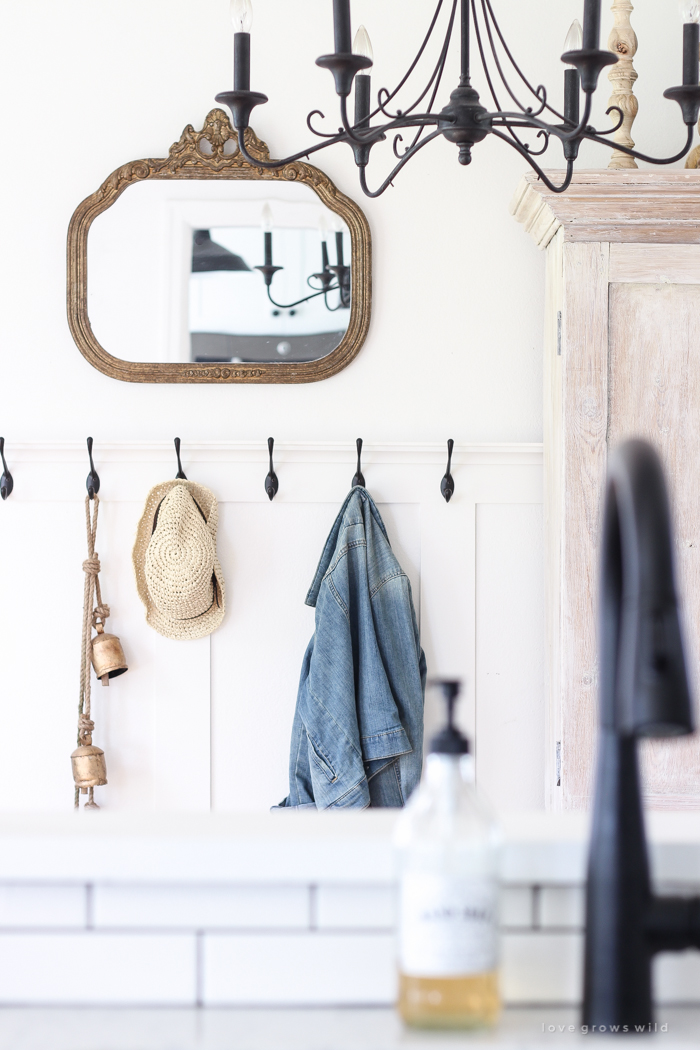 Our living room and dining room are the first spaces you see when you walk into our farmhouse, and while I do love a lot of the things we've done in these rooms, I've always only been about 90% happy with either space. These two rooms have been tough for me to design and decorate for some reason. Our living room is open to the dining room, kitchen and front hallway, so we have a lot of traffic coming through this space. Plus we also have baseboard heaters on a few walls and a big picture window that makes furniture placement challenging. And then our dining room happens to also be our entryway, since we use this exterior door to come and go instead of the main front door. Unfortunately this space is pretty tight and narrow, and for the last few years I've tried to cram our large farmhouse dining table AND space for entryway storage in here. We made it work for a few years, but this summer I started playing around with the furniture placement and LOVE the way this space flows now. Welcome to our new entryway!
You can find product sources and paint colors at the very bottom of this post!
So before I dive into all the entryway details, let me give you a little reminder of what this room looked like earlier this summer.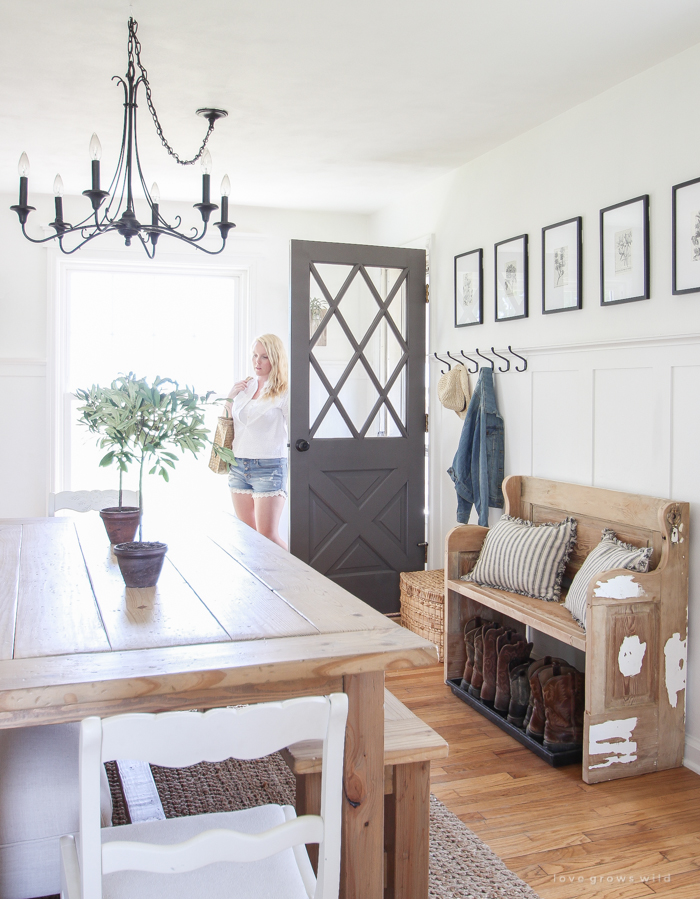 It made the most sense to have our big dining table right next to the kitchen, but it didn't leave a lot of room to walk through here, and I was pretty limited in storage for our shoes, coats, hats, gloves, etc.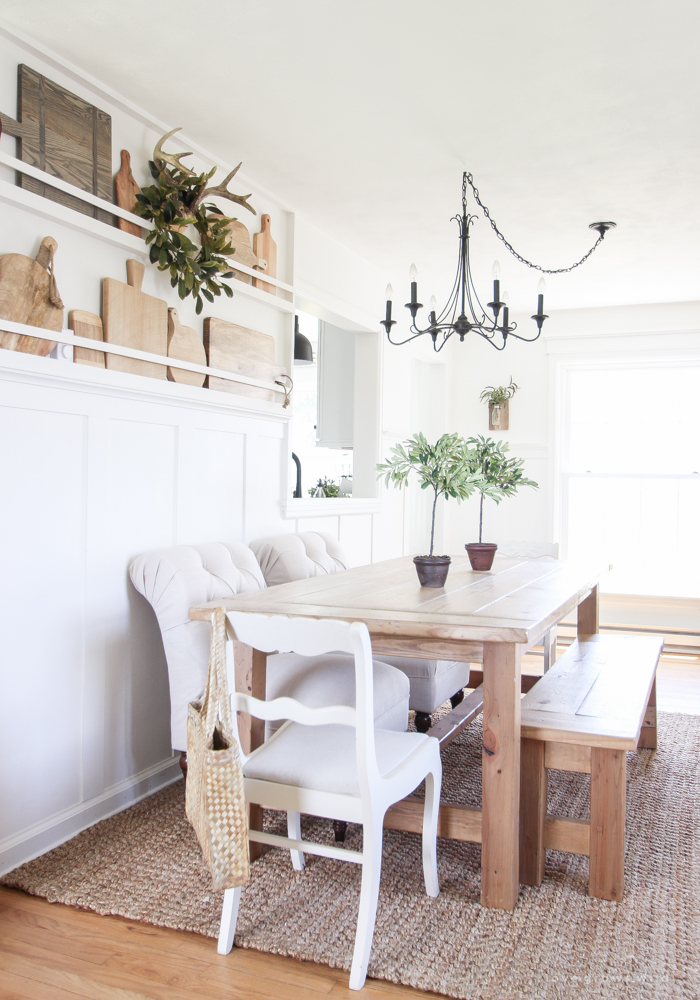 So I decided to slide the table and benches down into the living room area, which allowed me to utilize this entire space as our entryway. Ever since we remodeled our kitchen last winter, we always eat at the kitchen table anyway, so not having the larger dining table right off the kitchen isn't too big of a deal anymore. We really only use it for homework and entertaining now!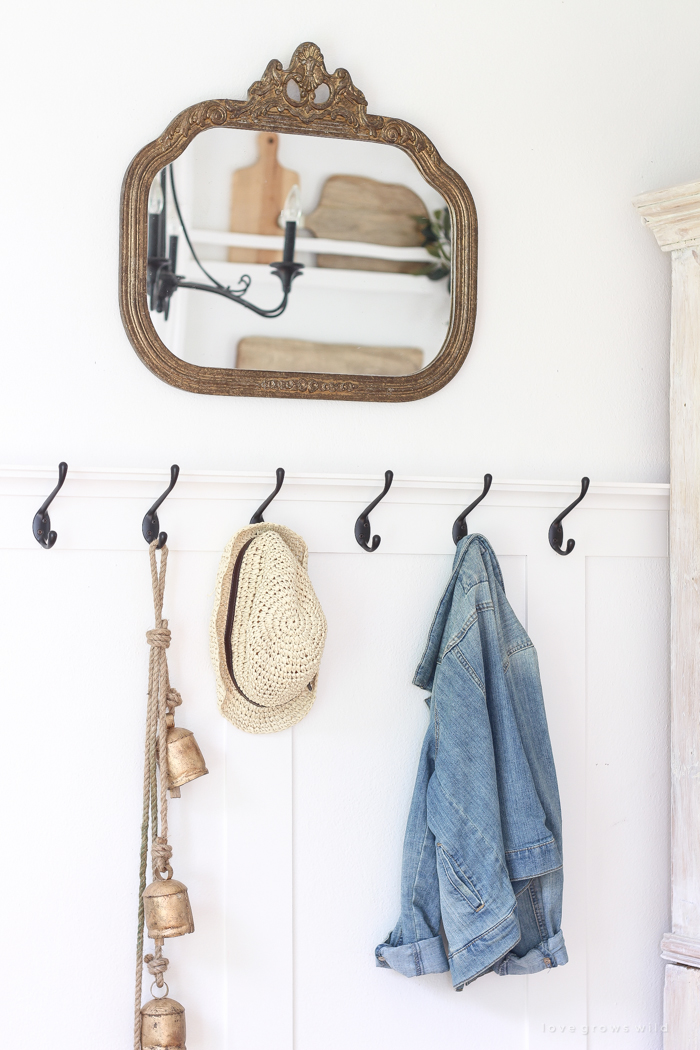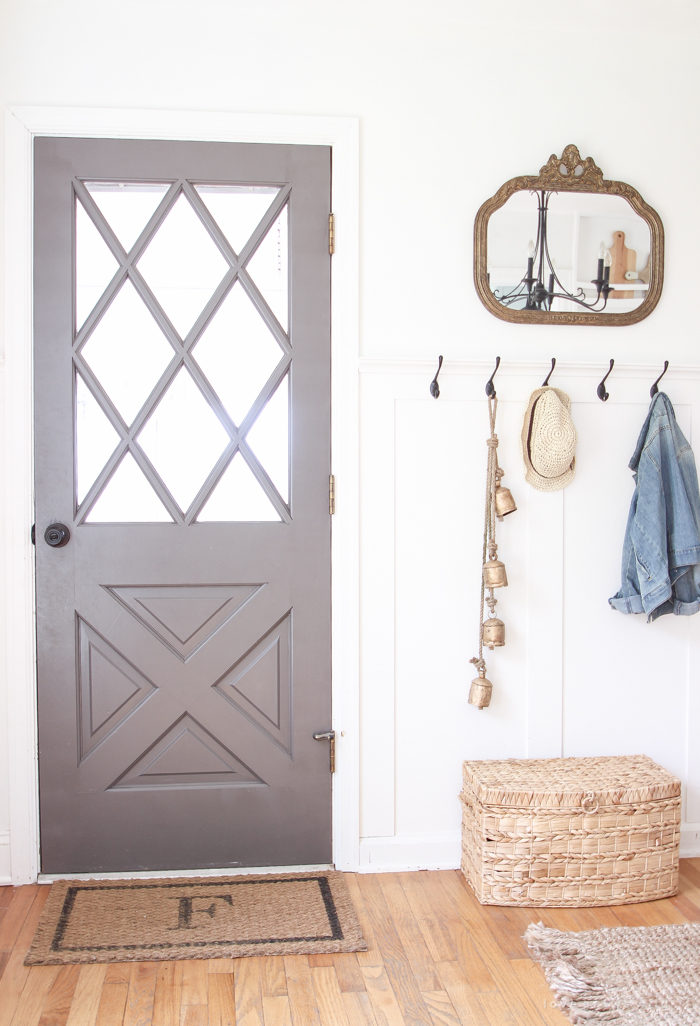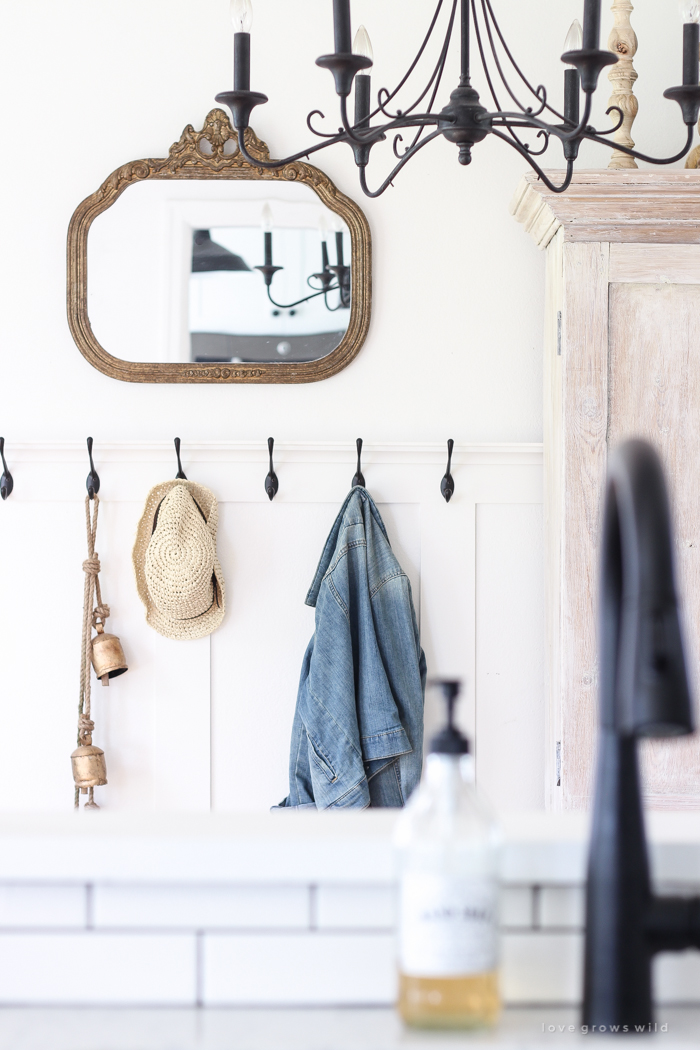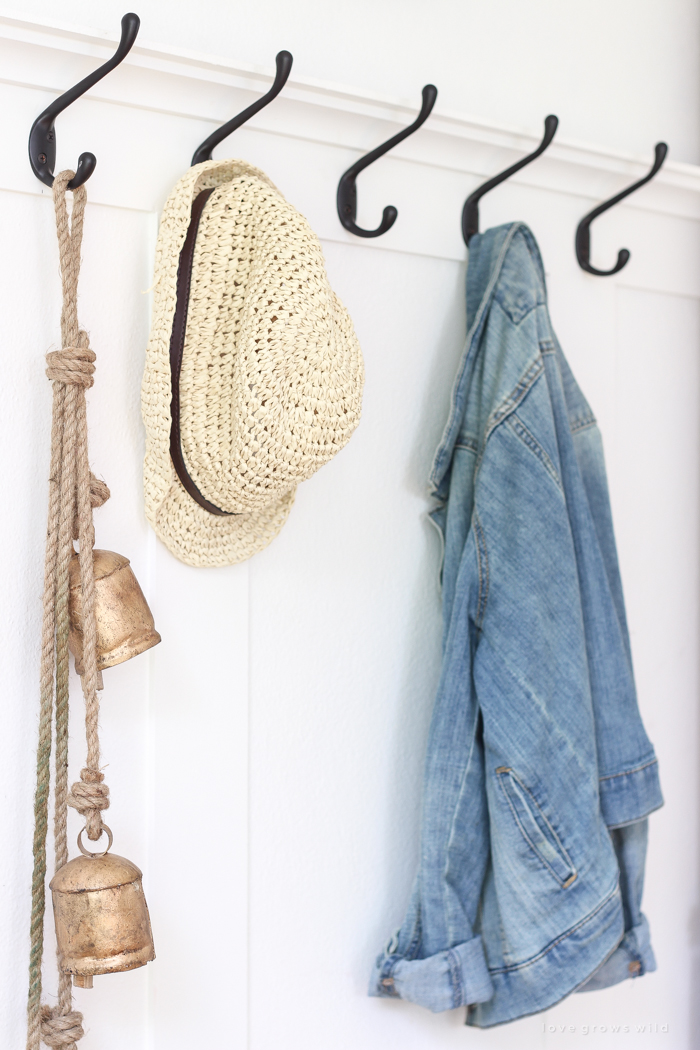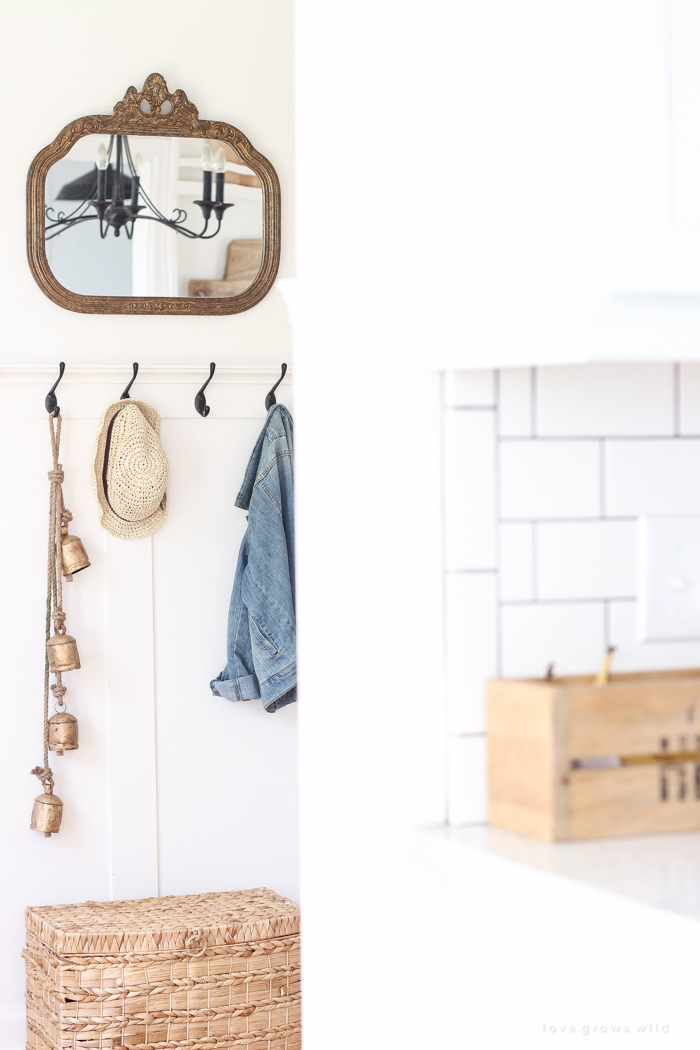 I left our coat hooks in the same spot next to the door and hung a really pretty antique mirror I just picked up a few months ago over them. Honestly, it's too high up for my short 5'2″ self to look into, but I love the character it adds!
I also moved our big antique armoire from the living room into the entryway, and yes, I painted it!! Well… I kind of painted it. I will be sharing the super easy paint technique I used as soon as I have a chance to sit down and write the tutorial! Between the coat hooks on the wall and all the drawers and shelves in the armoire, we have more than enough storage for our outerwear now, and I love playing around with the armoire decor. It's such a pretty piece to style!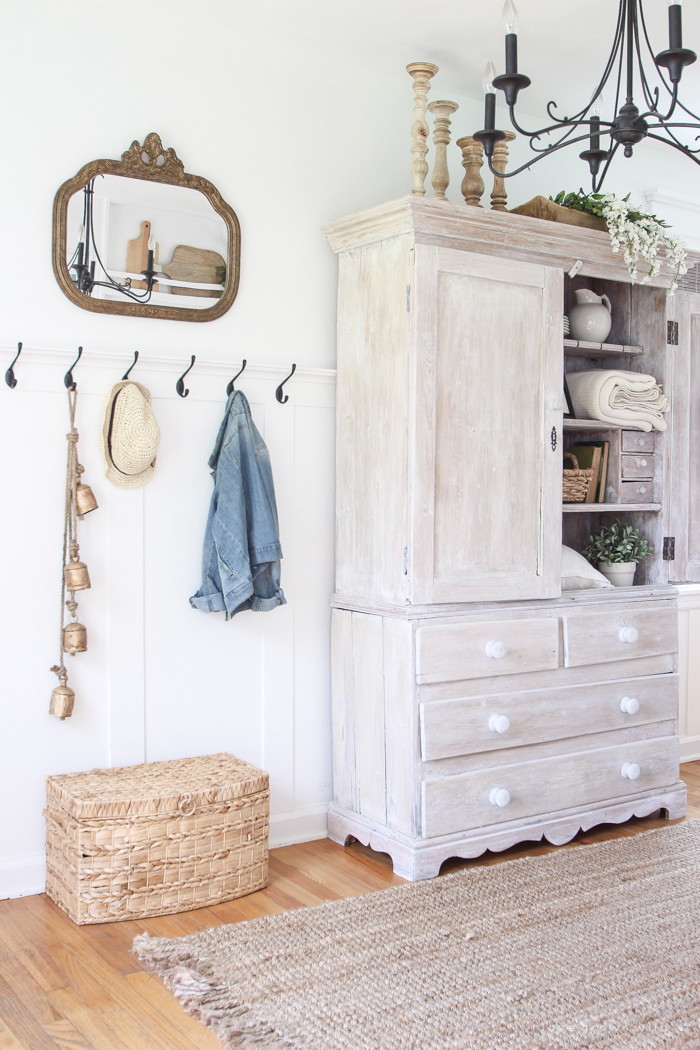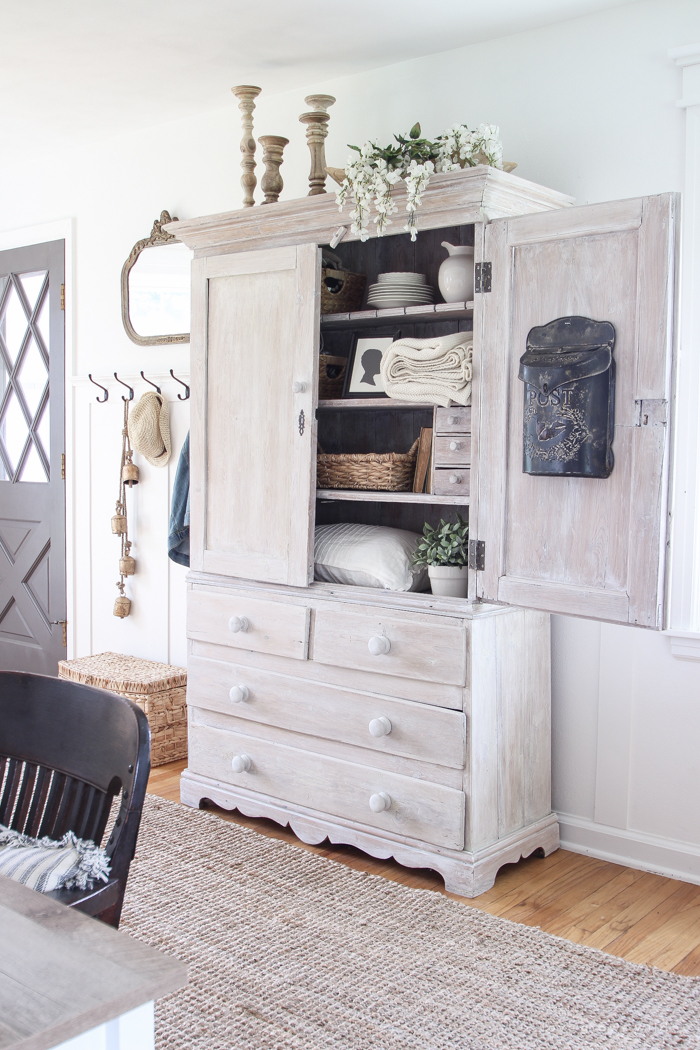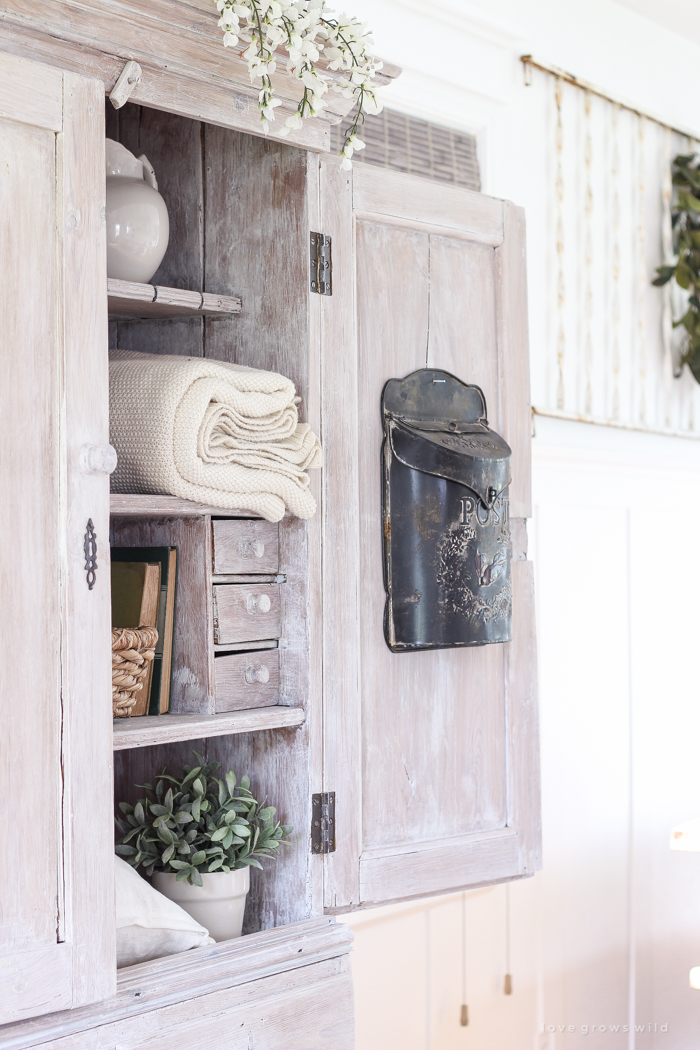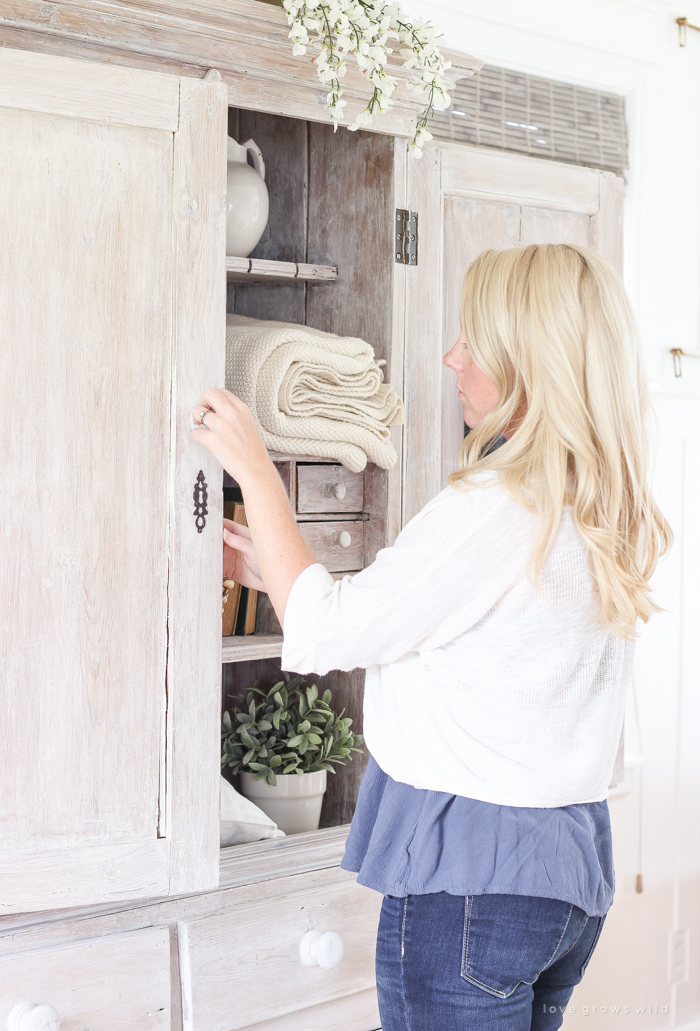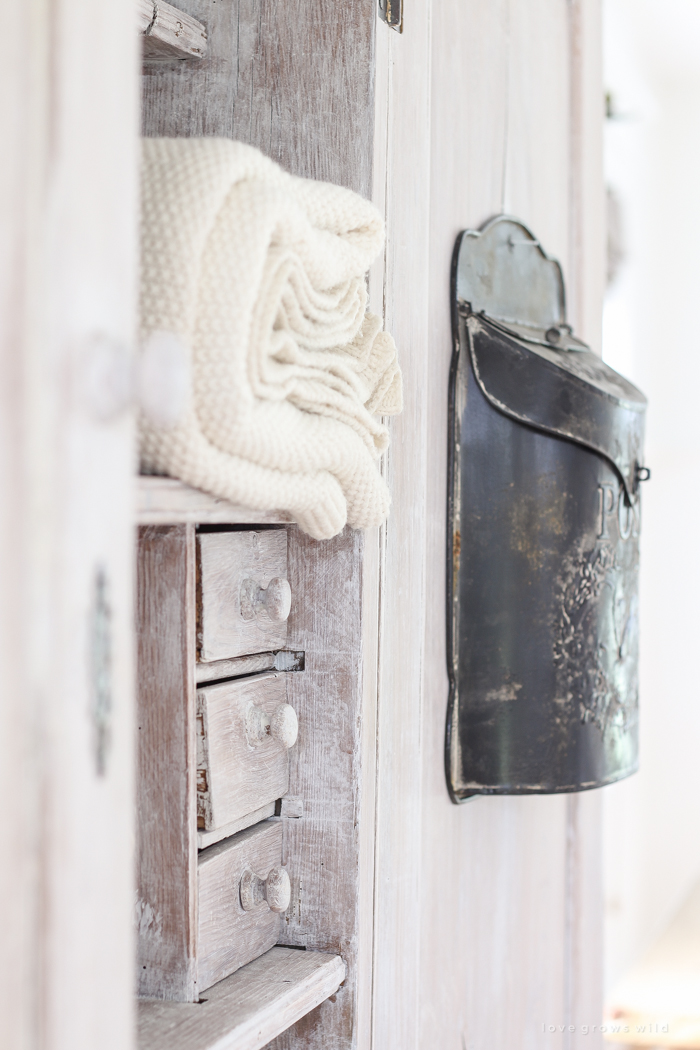 The wood bench that was originally in this room is still here, just on the opposite wall underneath the opening to the kitchen. It's the perfect fit in this spot, and I love seeing all our boots lined up in a row underneath.
Did you know that Jeremy and I made this bench out of an old door from our farmhouse? Yep, you can see how we did that here!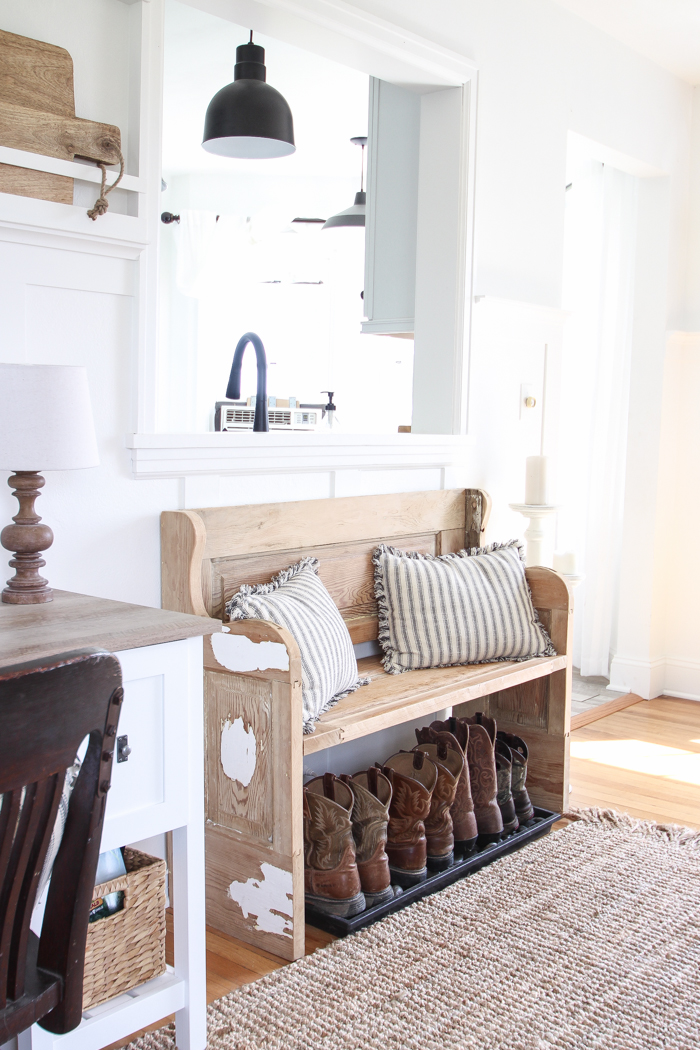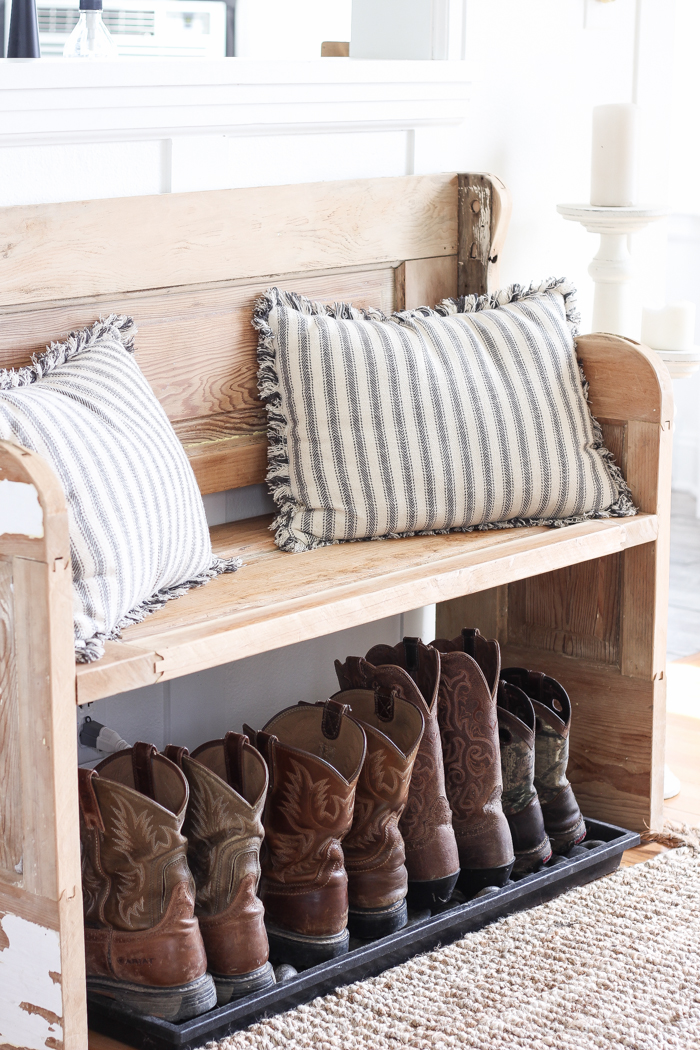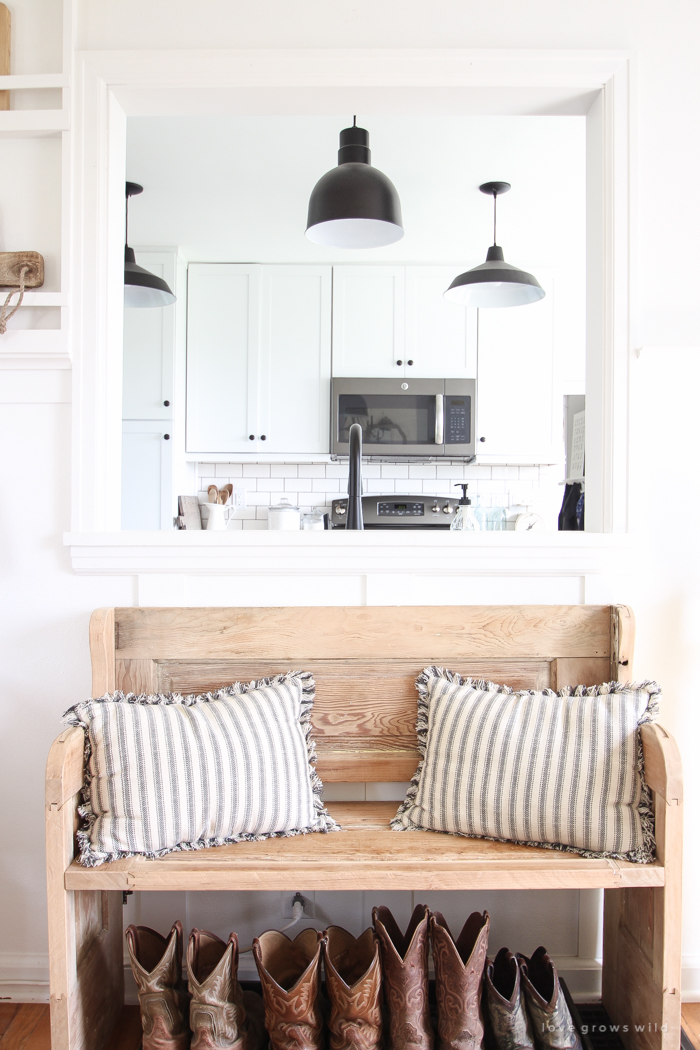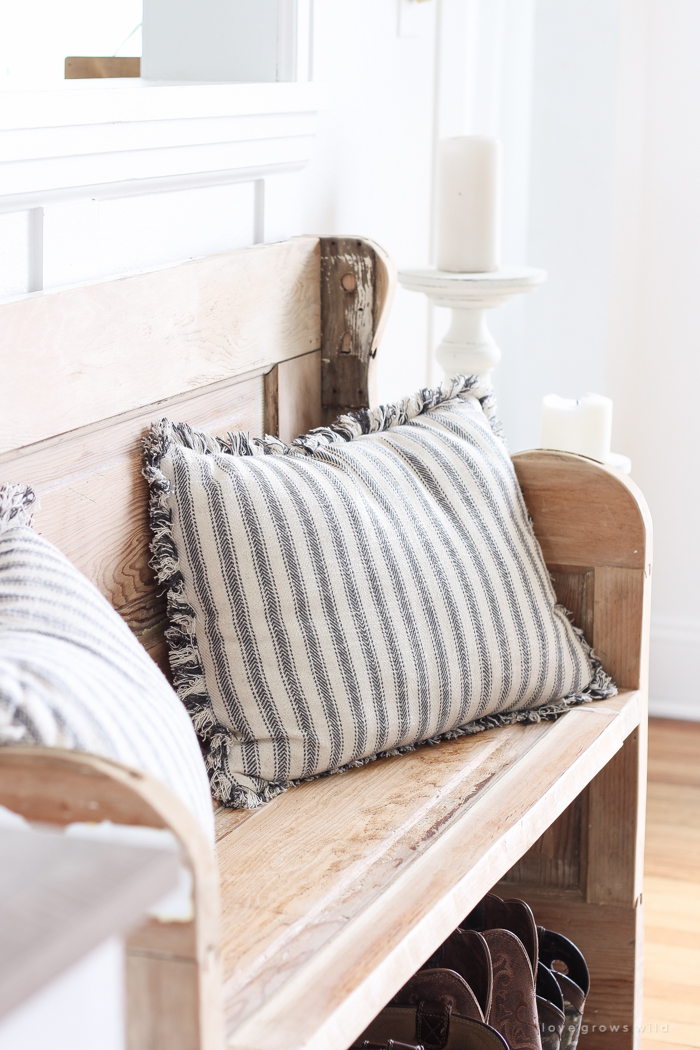 And last but not least, I had to figure out what to do on the wall underneath the plate rack I built earlier this year (you can find that tutorial in my book!). We had an extra desk sitting the boys' playroom, so I moved it in here to see what it would look like. It fit well and gave my husband a workspace that he desperately needed to do his farming bookwork. We used to have a desk for him upstairs in our bedroom, but there are a lot of salesmen and consultants that stop by to chat with him and I really didn't want them up in my bedroom with my dirty clothes and messy bed!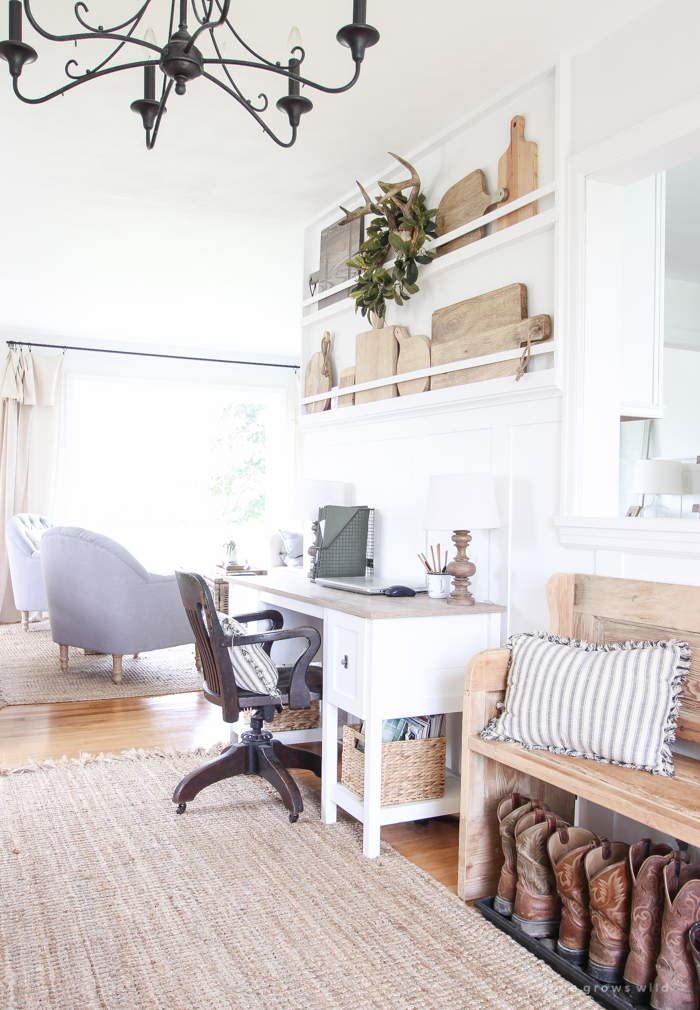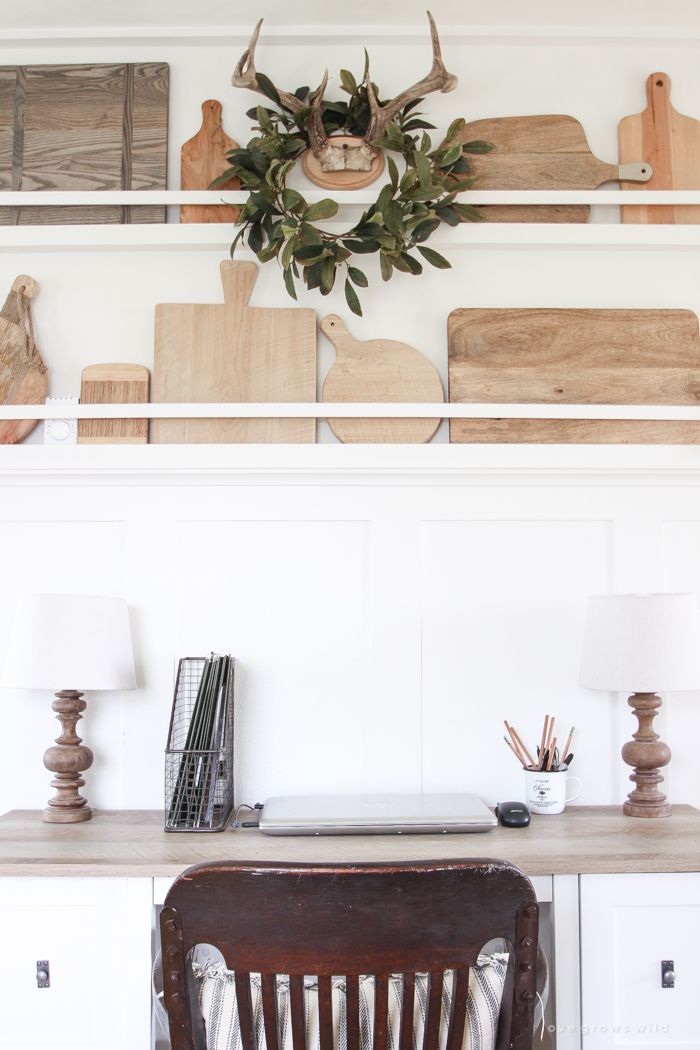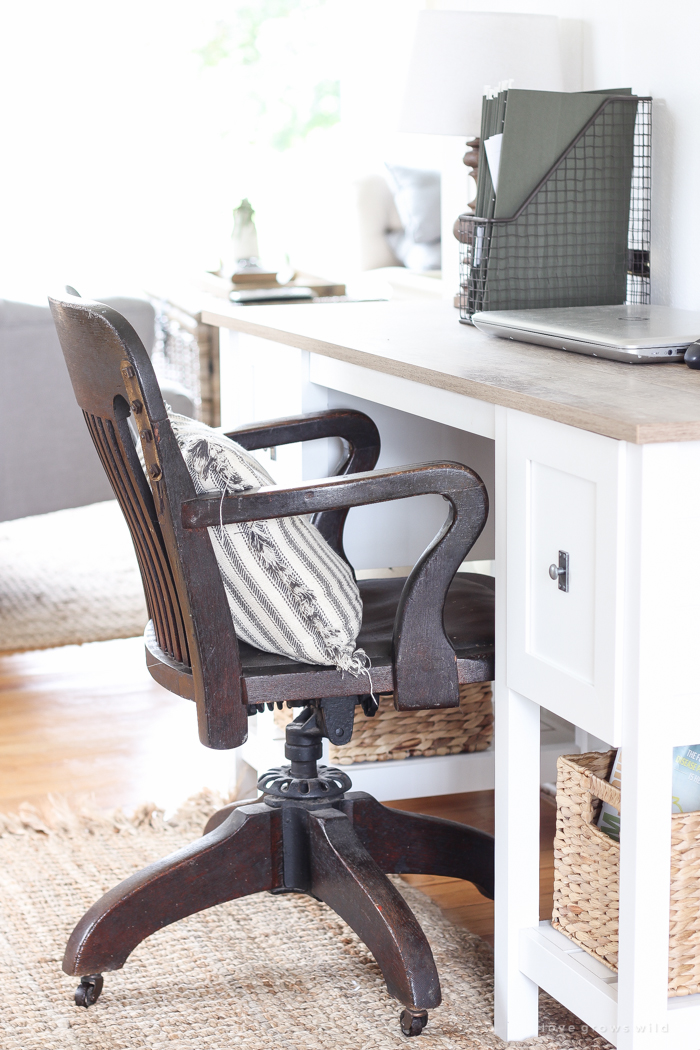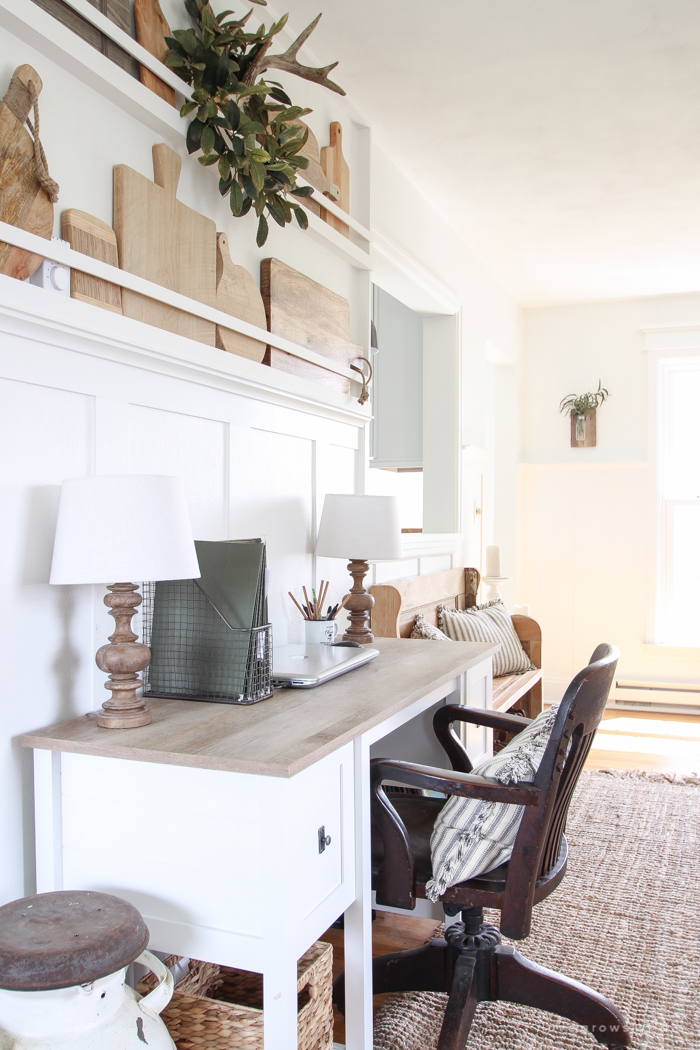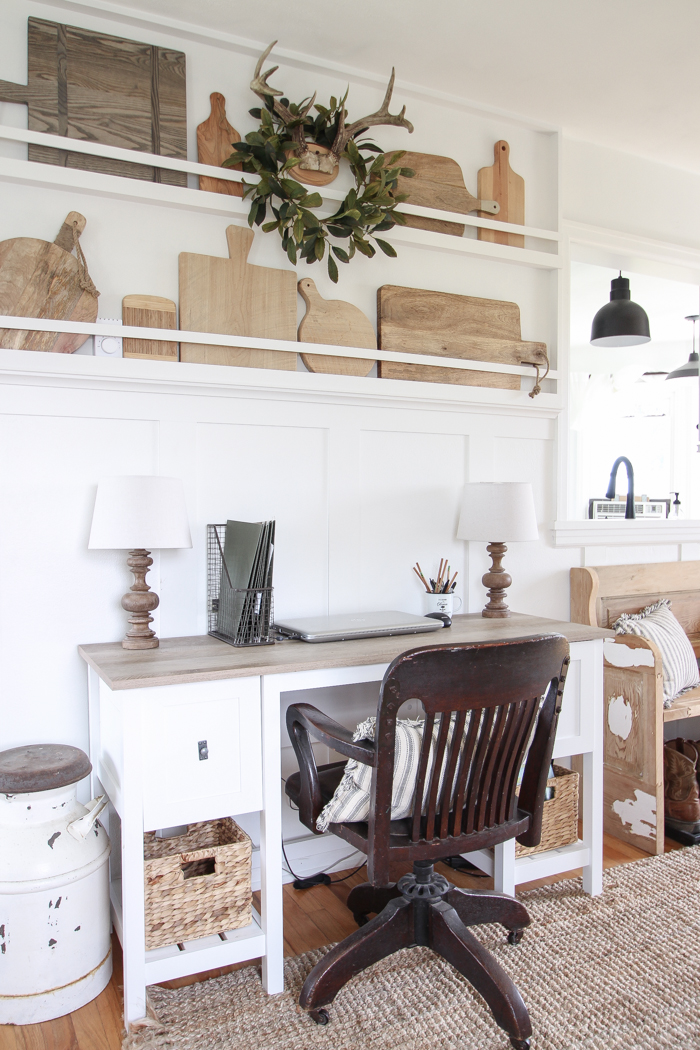 The new entryway layout is much more open and inviting now that you're not walking through the door straight into a giant table. I love it! What do you guys think of the new look? And like I mentioned before, I will have a tutorial for the paint technique I used on the armoire very soon! Stay tuned for that post. : )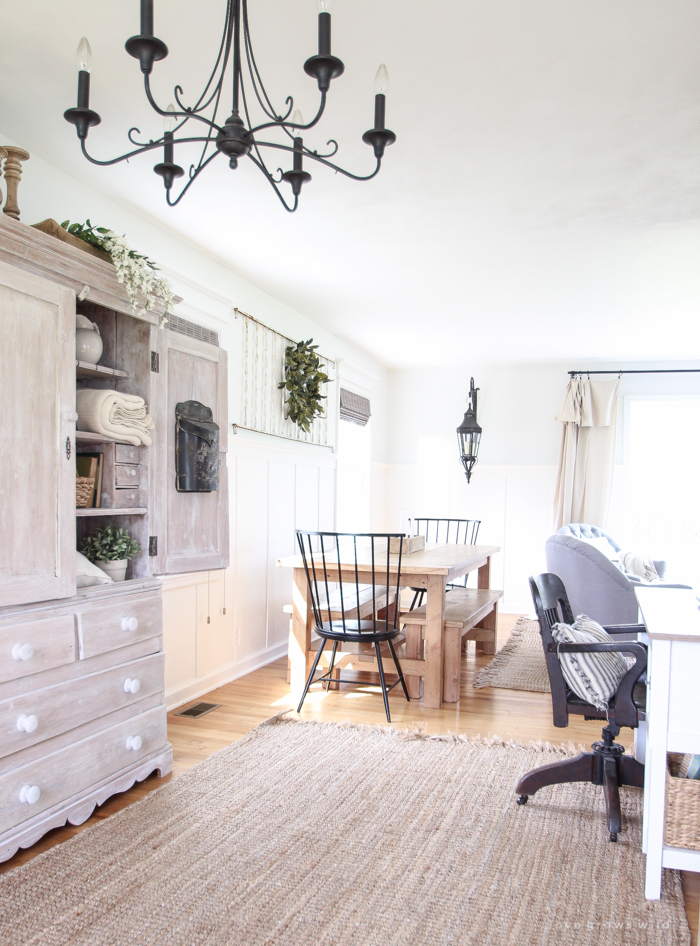 ---
SOURCES
---
Note: Some of the links in this post are affiliate links, which allows me to make a small commission from your purchase, but your purchase price stays the same. Thank you for helping support our blog!
Door color – Rust-Oleum Door Paint in Rustic Pewter
Wall and trim color – Du Jour by Valspar
Jute rug – Rugs USA
Entryway bench – tutorial
Striped bench pillows – World Market
Desk – Sauder
Wood lamps – Target
Vintage mailbox – Decor Steals
Wood candlesticks – Birch Lane
Cream sweater blanket – Target
Wicker trunk – TJ Maxx
Hanging vases beside window – tutorial in my new book!
Monogram doormat – tutorial in my new book!
Farmhouse dining table – tutorial
Farmhouse dining bench – tutorial
Black dining chairs – Wayfair
Board and batten trim – tutorial
Plate rack – tutorial in my new book!
Antique and/or Handmade: armoire, mirror, desk chair, milk can
---
LET'S KEEP IN TOUCH!
---
Subscribe to Blog | Follow on Instagram
Follow on Pinterest | Follow on Facebook