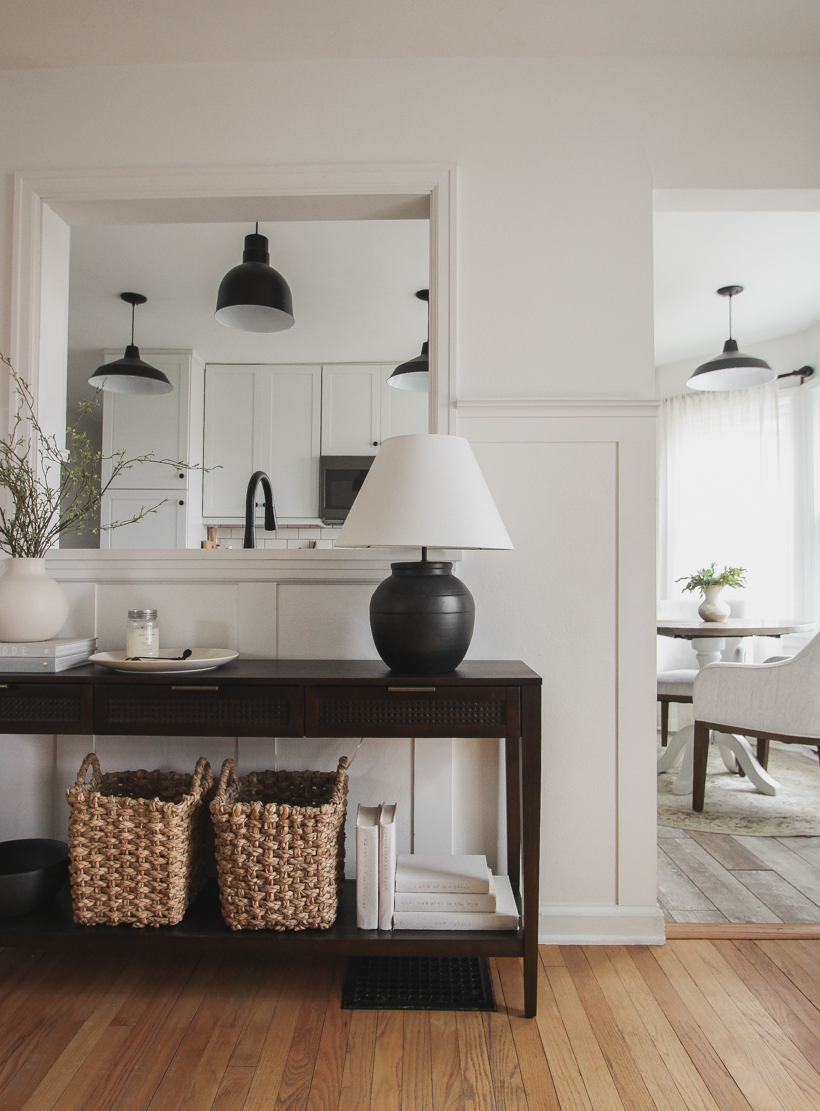 You can definitely say I'm embracing my dark and moody era, or at least my version of dark and moody. 🖤 For years my signature style has been visually light, bright, airy, and very… well, white. It has always felt clean and fresh and calming, and I love the peacefulness that aesthetic brings to our home. In the last year or two, I've craved a bit more contrast and warmth – just a few touches to make each space feel more grounded, more refined.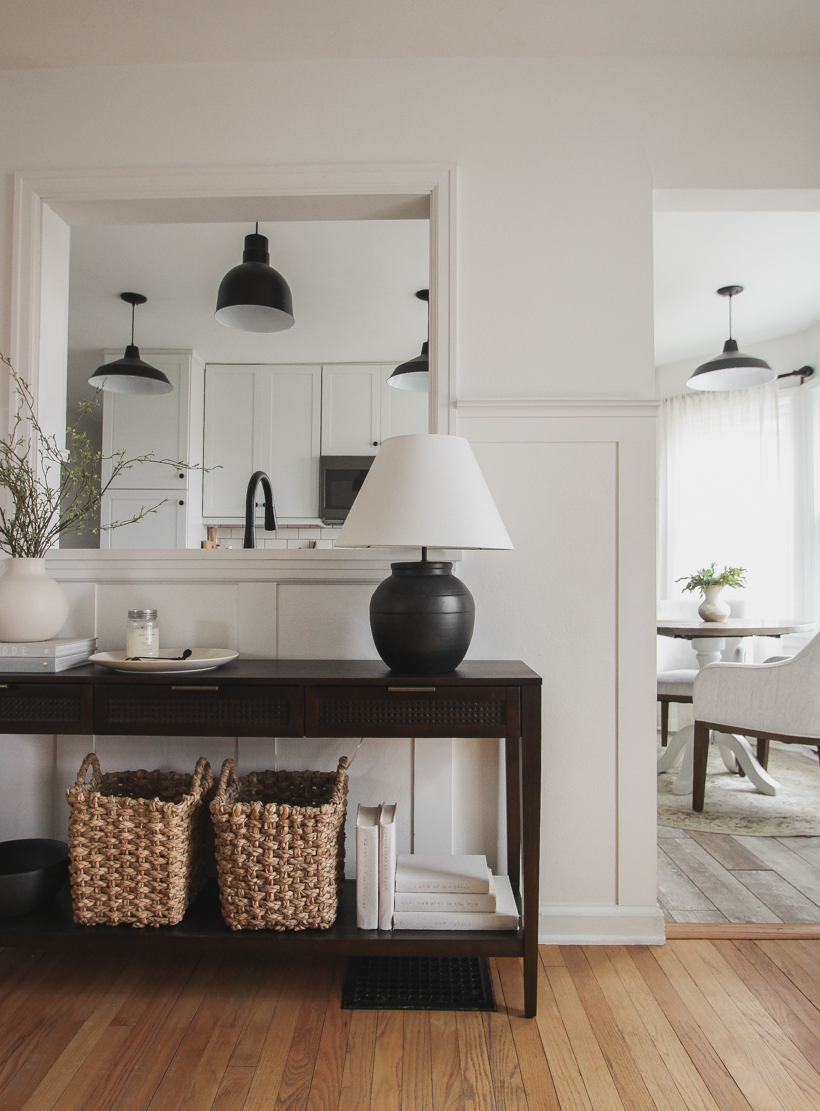 Right before the holidays, I decided to move things around in our dining room, which also doubles as an entryway. Not the ideal set up, but I've always found a way to make it work. I pushed the dining table closer to the exterior wall, away from the kitchen, making room for a console table on the opposite side.
Normally I would choose a light wood or a white finish, but when I saw this console by Studio McGee for Target, I fell in love. The rich, dark wood finish. The woven drawer fronts. The antique gold handles. It somehow feels traditional and modern at the same time.
Shop: East Bluff Woven Drawer Console in Brown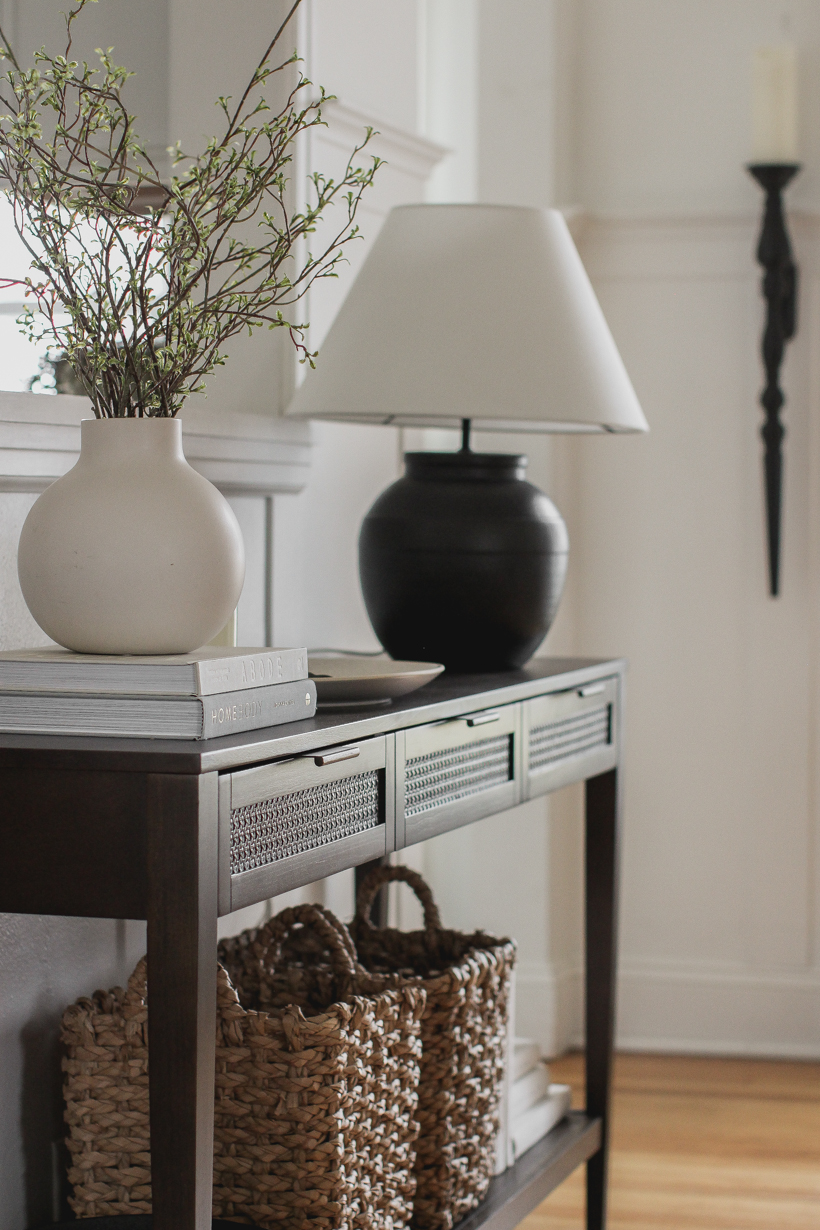 The drawer space is perfect for sunglasses, keys, a dog leash, gloves… the typical things you might need when heading out the door. And on the shelf underneath, I have two woven baskets for umbrellas, scarves, and other large items that won't fit in the drawers.
I kept the decor pretty simple to allow the table's beautiful details to stand out. A few stacks of books, a vase with some faux branches, baskets, and a platter to keep any incoming clutter (mail, keys, wallets, change, etc.) contained. The last thing I added was a stunning large black ceramic table lamp with a beautiful empire shade. Another recent Target purchase that I am head over heels for.
Shop: Large Ceramic Black Table Lamp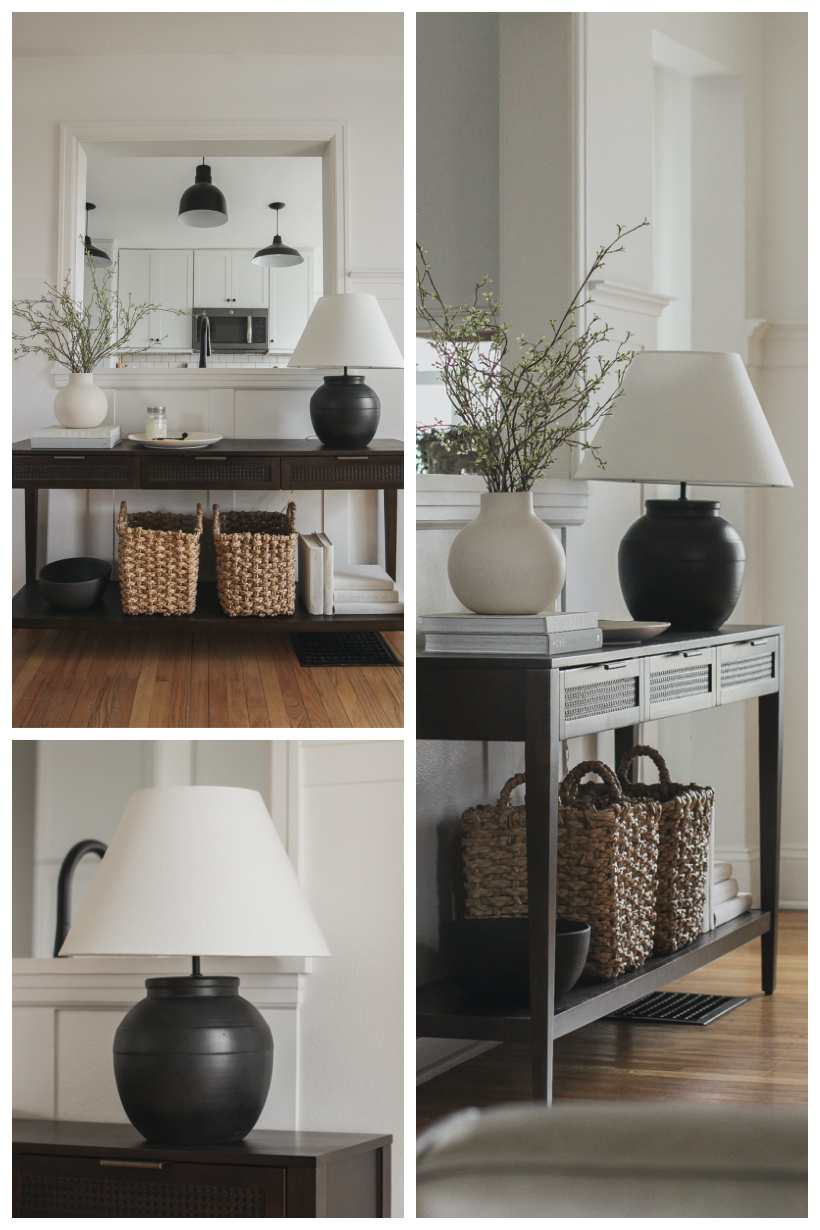 Current favorite candle I always have lit: Cozy Cabin + this wick trimmer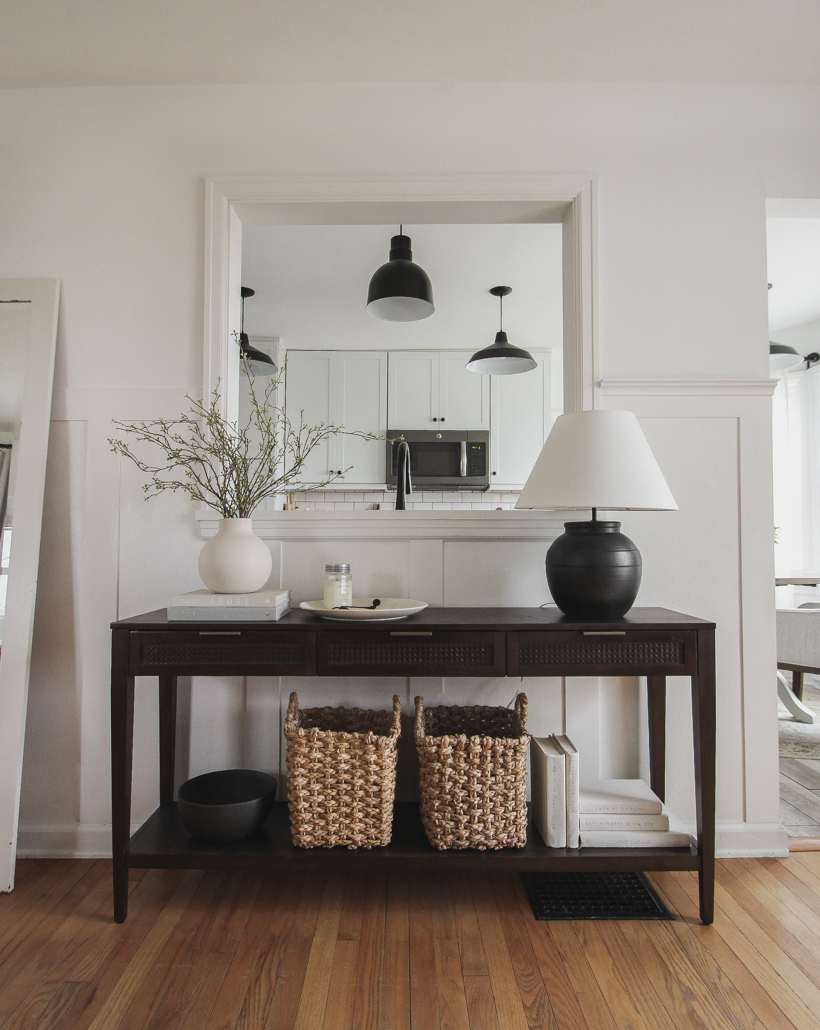 I still have a few more little projects/purchases to make before I share a full view of the dining room, but I am so thrilled with the direction it's going in. And the way the dark wood and black pops against the white walls… perfection 👌🏻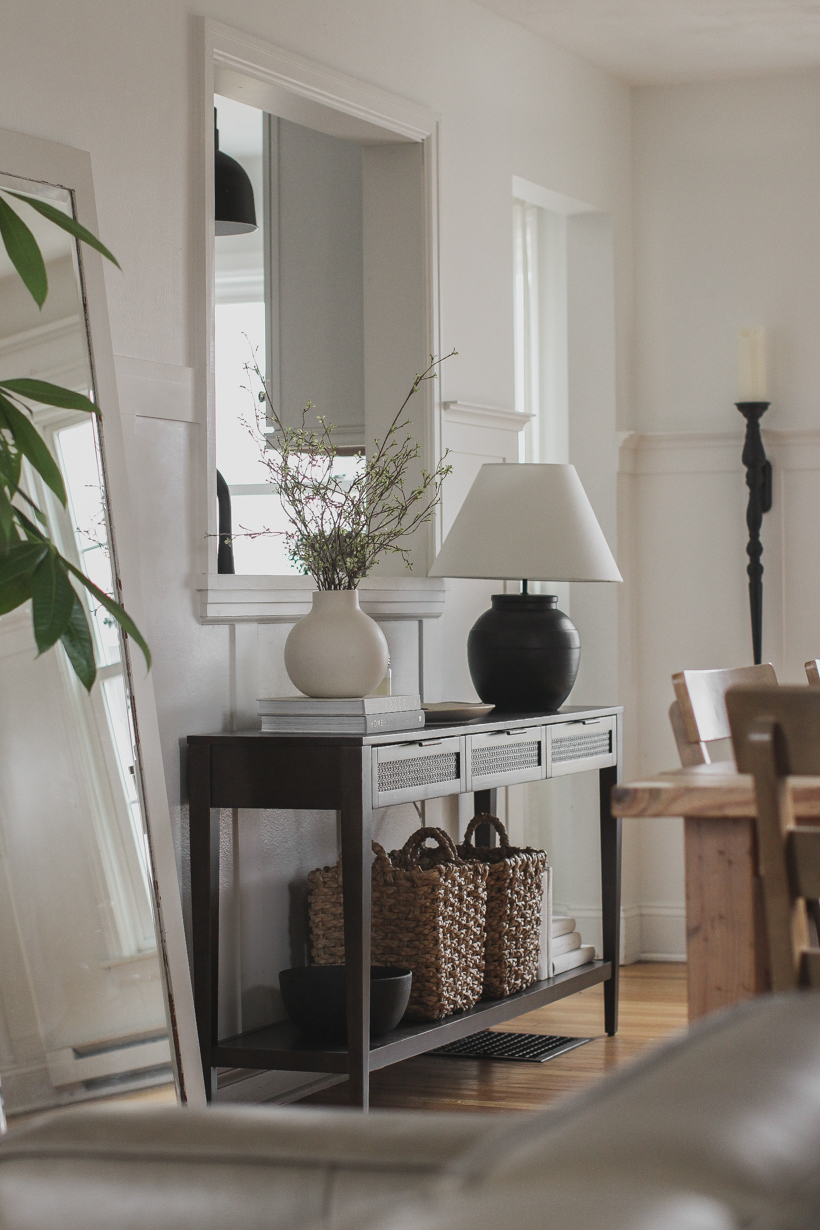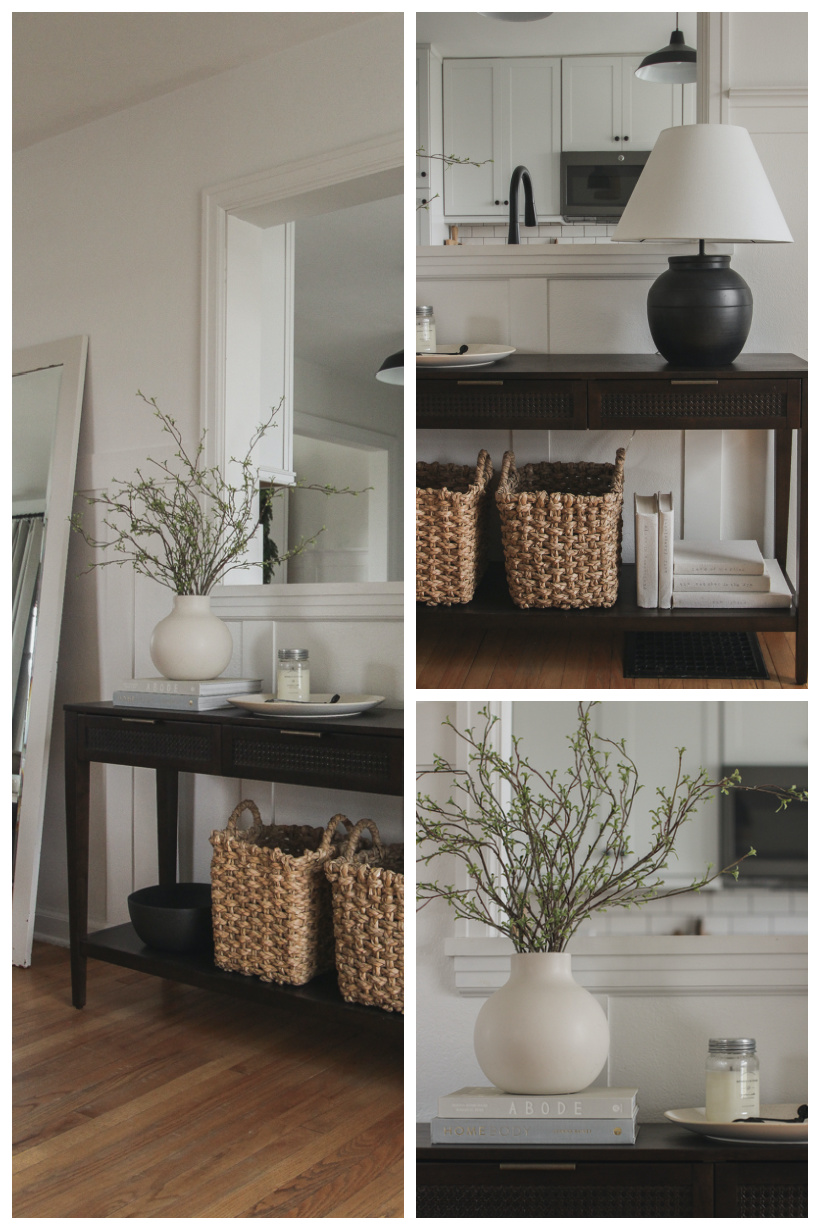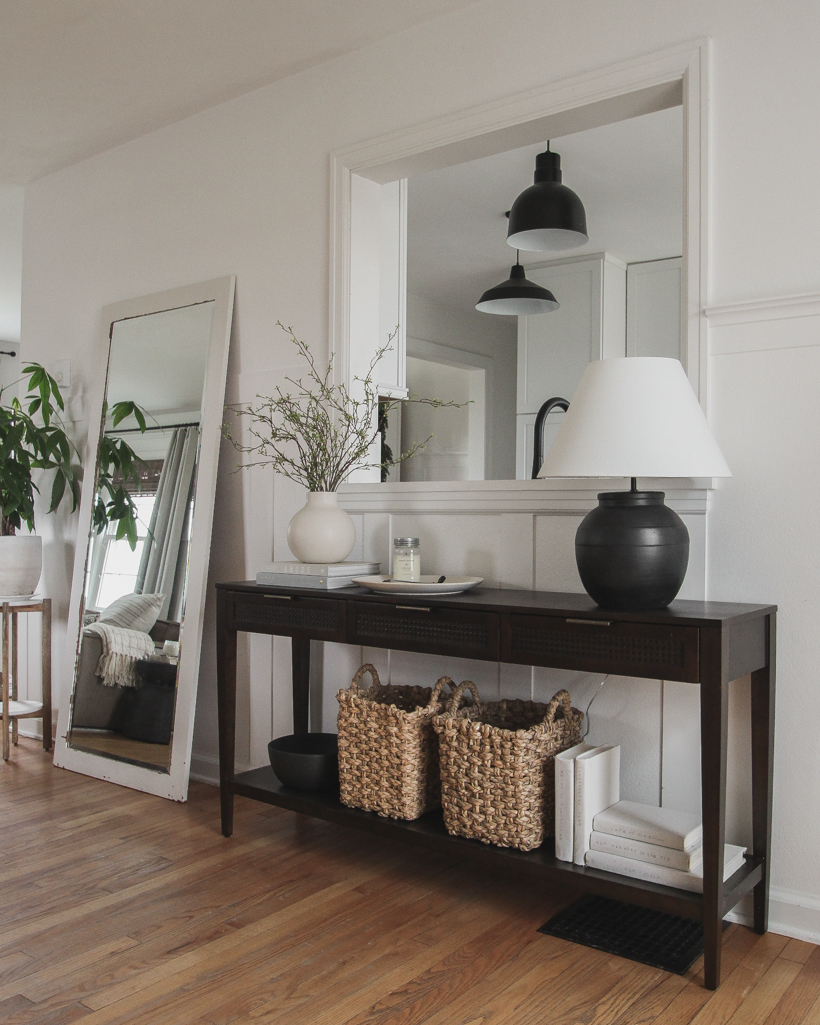 – CLICK IMAGES BELOW TO SHOP –

Other Sources:
canvas covered books – diy tutorial | faux branches – Hobby Lobby
candle – Grow + Gather | wick trimmer – Grow + Gather
---
As always, I sincerely appreciate you shopping through the links I share, which allows me to make a small commission from your purchase while your purchase price stays the same. When you use my affiliate links, I'm better able to create content for this blog as well as support my family, and I thank you from the bottom of my heart for supporting what I do!
Our Store: Grow + Gather
Shop my Posts | Shop my Amazon Store
Join our Community | Follow on Instagram
Follow on Pinterest | Follow on Facebook