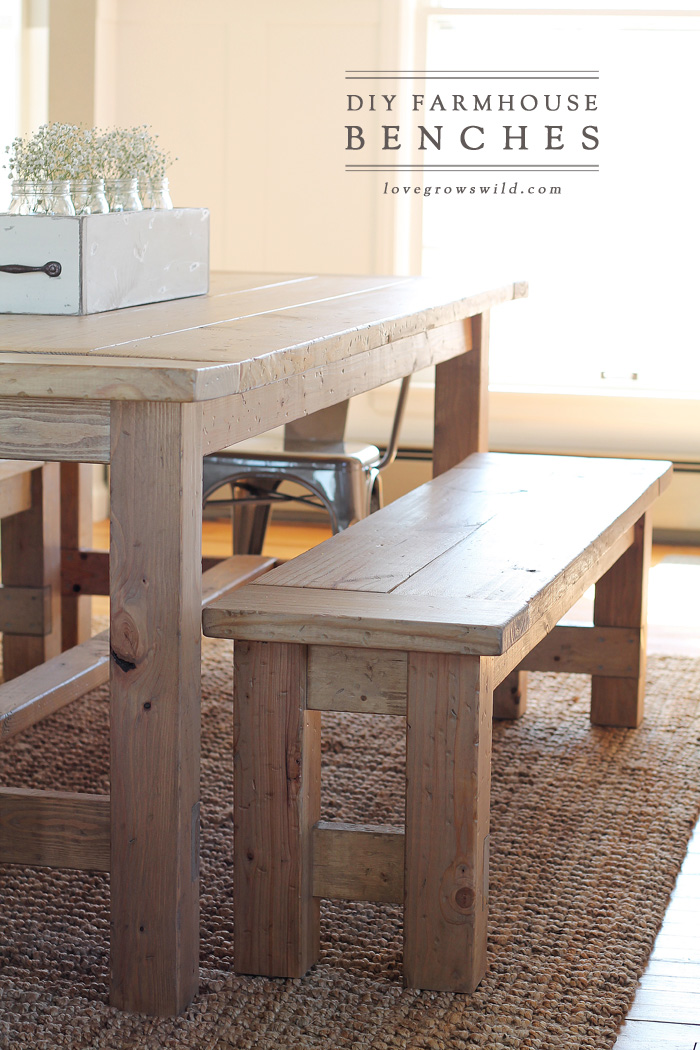 Using benches in a dining room instead of chairs is a great way to save space and give the room a relaxed, rustic feel. Follow this tutorial to build your own DIY Farmhouse Bench!
I know what you're all thinking… "We love the farmhouse table, but aren't you going to show us those benches, Liz??"
Abso-freaking-lutely! Before we even started building the table, I knew I wanted benches instead of formal dining chairs. #1 It saves a TON of space in our super tight, itty-bitty dining room. The benches just slide right under the table when we're not using them! And #2 I think it really adds to the rustic farmhouse feel.
These benches are basically a mini version of the farmhouse table, but we did have to make a quite a few adjustments, so I'll walk you through all the steps.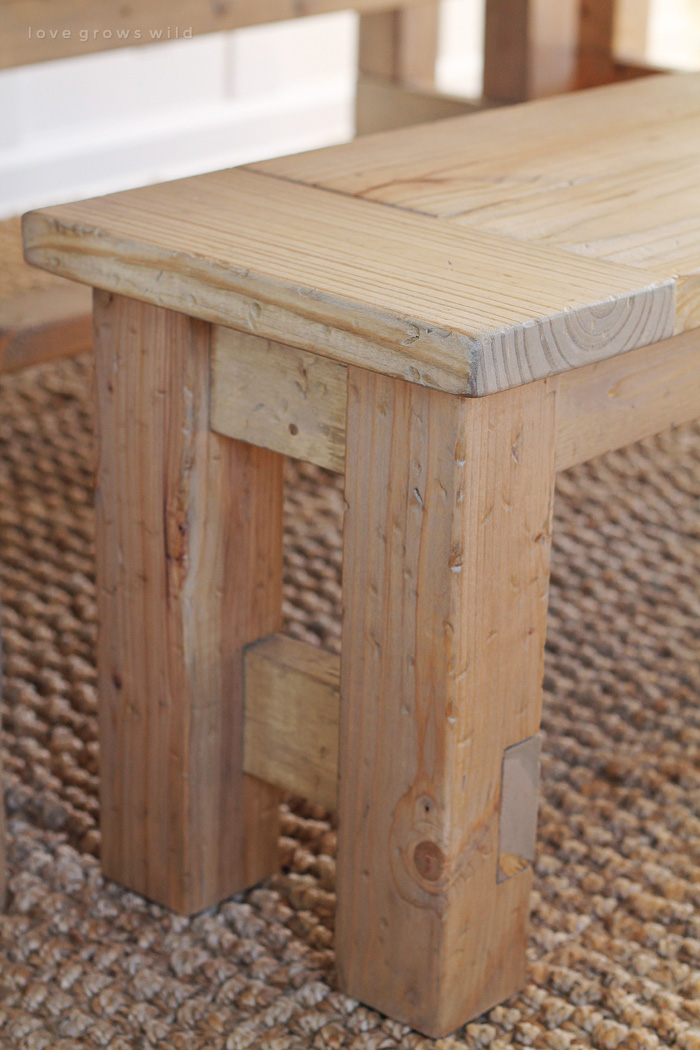 Supplies Needed:
(For one bench)
4 – 4×4 cut to 16 1/2″ (legs)
2 – 2×8 cut to 49 1/2″ (long bench top)
2 – 2×8 cut to 14 1/2″ (short bench top ends)
2 – 2×4 cut to 54 1/2″ (long apron)
2 – 2×4 cut to 5″ (short apron)
2 – 2×4 cut to 12″ (support)
miter saw
and/or circular saw

Kreg Jig

tape measure

drill

2″ Kreg Jig screws

3″ wood screws
palm sander

paint or stain of choice
Use 2″ Kreg Jig screws, unless otherwise stated
Instructions:
Start by notching out the legs to make room for the support board. To do this, set your circular saw to 1 1/2″ depth. Measure 3 1/2″ up from the bottom of the leg and make your first cut. Then measure 7″ up from the bottom of the leg and make your second cut. Once you have the top and bottom cuts made, go back and cut every 1/4″ in between. Use a chisel to finish knocking out any remaining wood in the notch and sand smooth, if necessary. Repeat on all the legs.
Attach a support to two legs using 3″ wood screws. The edge of the support board should be flush with the outsides of the legs. Then add the short apron in between the legs using pocket holes (made with a Kreg Jig) and 2″ Kreg Jig screws. Just like when we built our coffee table, I used a scrap piece of 1×4 underneath the apron to create an inset. Repeat this process with the other two legs.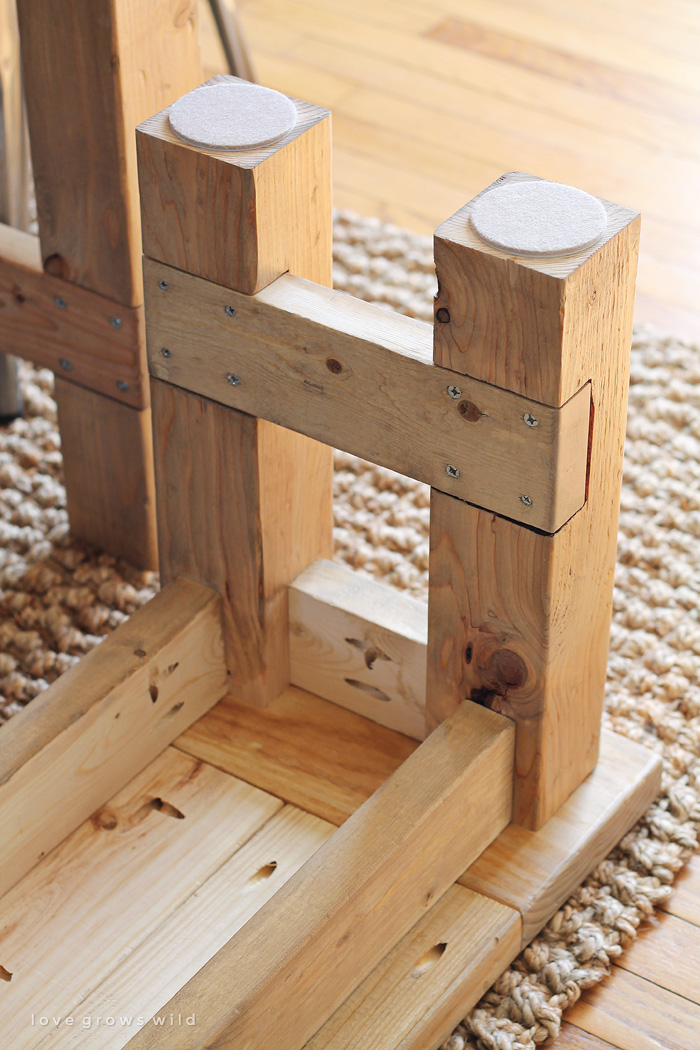 Attach both long aprons to the legs using pocket holes and 2″ screws. The entire apron should be flush with the top of the legs.
Now the bench frame is done, and it's time to work on the top. Connect the two long boards by drilling pocket holes every 8-10 inches on the long side of one board and connecting the other board with 2″ screws. Then attach the short ends using four pocket holes and 2″ screws.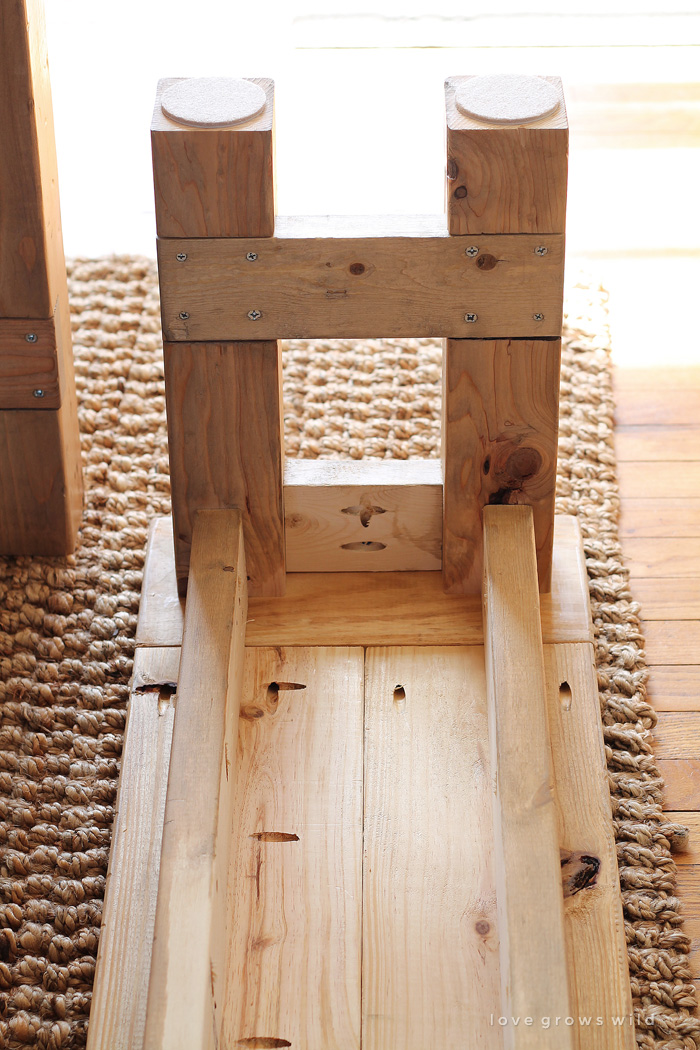 Drill pocket holes along the inside of the apron every 8-10 inches and attach the completed bench top to the frame using 2″ screws. You're all done with one bench! If you need a second bench for your table, grab a second set of supplies and repeat this process.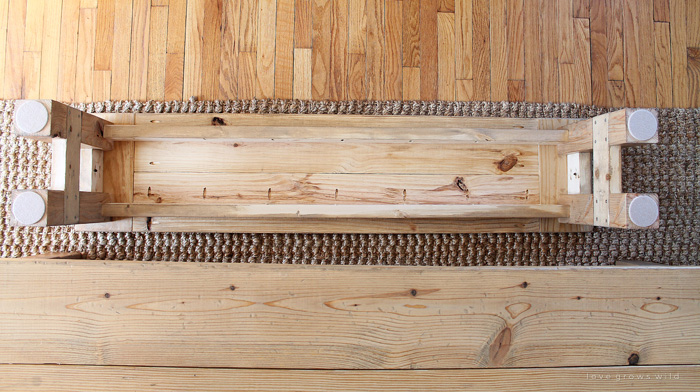 To finish the benches, I gave them the same weathered, rustic look as our table. I first sanded everything down, making sure to round off any sharp edges. To make the wood look old and distressed, I used my very precise, technical method of beating the heck out of it with rocks, hammers, and other miscellaneous tools. It's a great stress-reliever. 🙂 Then after cleaning the dust off REALLY well, I applied a coat of pre-stain wood conditioner followed by my custom stain mix: 1/4 cup dark walnut + 1 1/2 cups weathered oak. It keeps the wood nice and light with a weathered gray tone and just enough dark contrast in the grain. Then I sealed the benches with 2 coats my favorite matte-finish polyurethane from Varathane.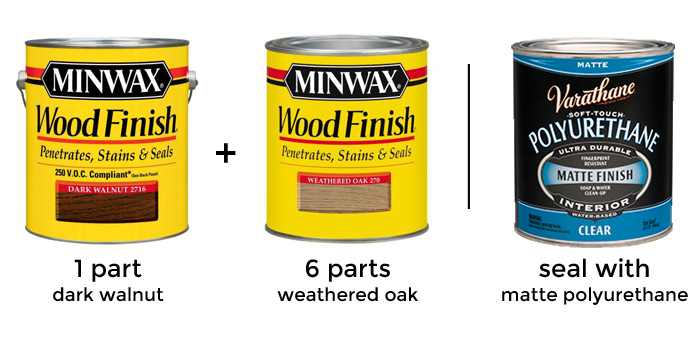 I had a couple readers ask on our table tutorial, so I thought I'd put this here too:
Total cost of this project:
Around $50 in wood for the table + $34 in wood for both benches + $25 in screws and misc. tools = Just under $110!
We've come a LONG way from where this dining room began, and I'm thrilled to have our table and benches checked off the to-do list. I cannot wait to host our first holiday now and see how many people we can fit at this massive table! I foresee many, many sweet memories being made here for years to come. So who's coming over for dinner??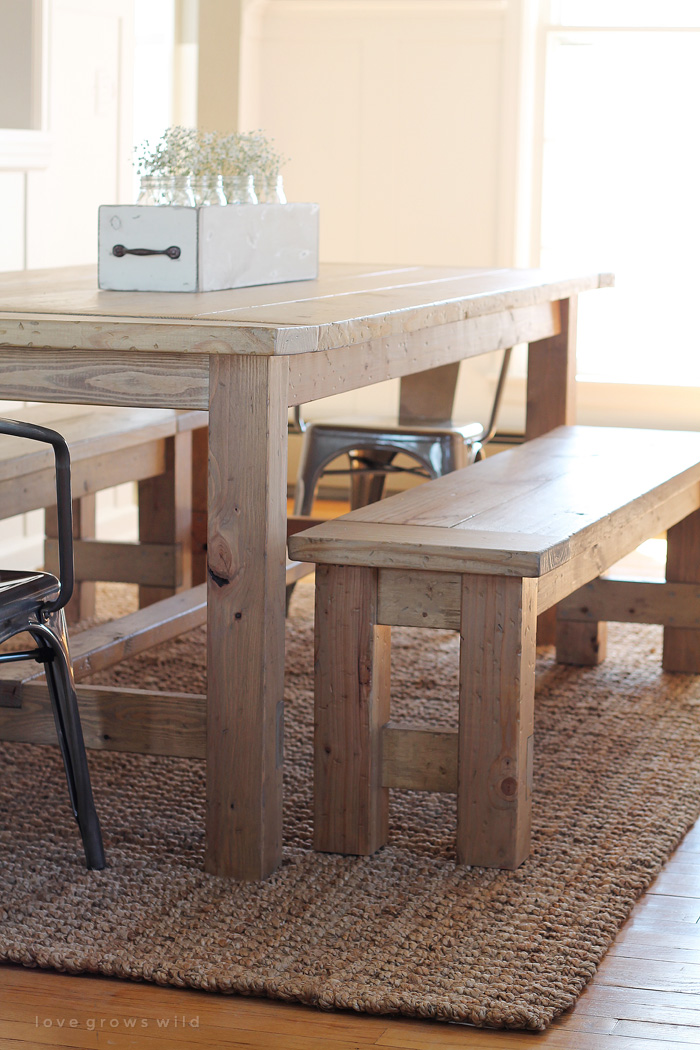 TELL ME WHAT YOU THINK! Leave me a comment below and share your thoughts on the new benches in our dining room! I can't wait to hear your feedback!
Are you making this project? I'd LOVE to see it! Post a photo of your creation on Instagram and use the hashtag #MyLGWProject. It may just get featured!
---
Like what you see? Subscribe to Love Grows Wild so you'll never miss a post!
Follow along on Pinterest, Google+, Instagram, and Facebook for more fun!
---

---
Feeling inspired? Check out these projects:
---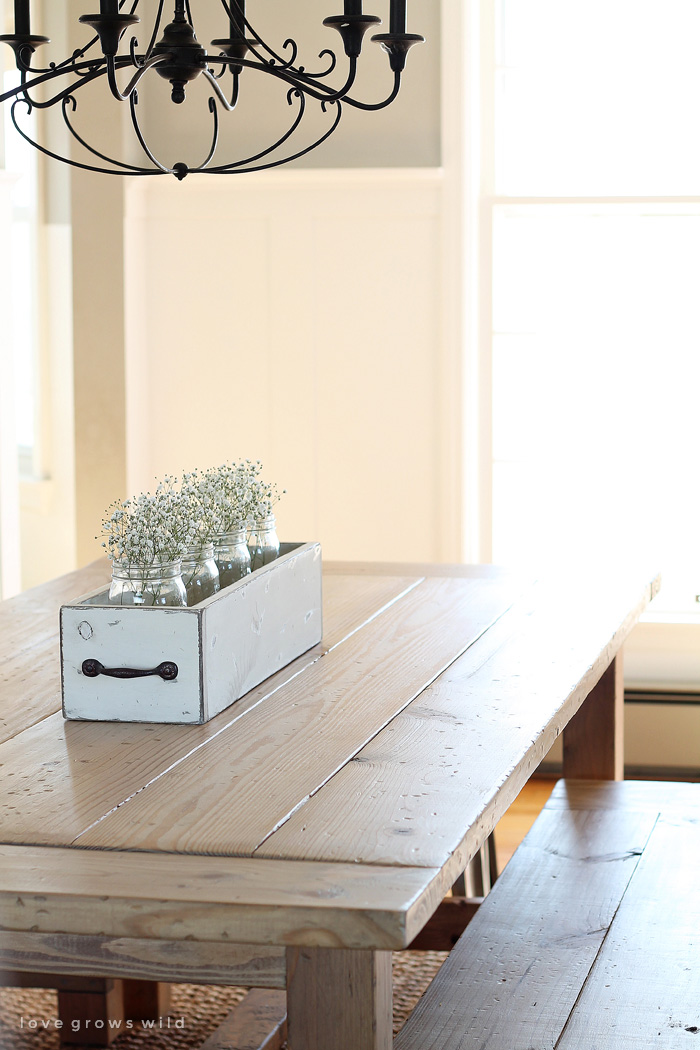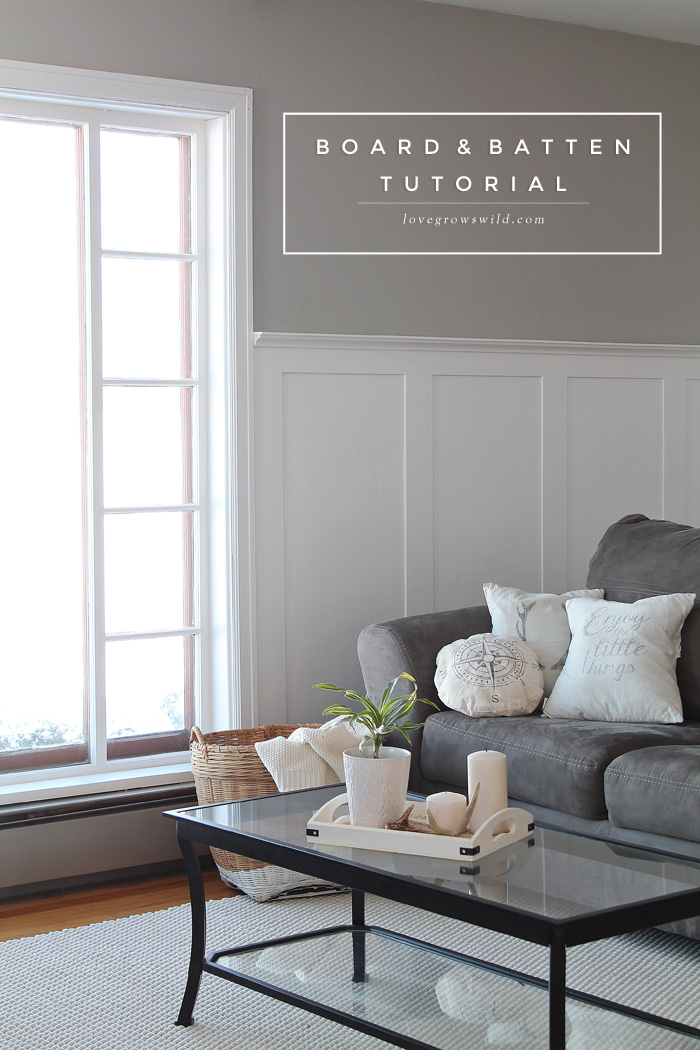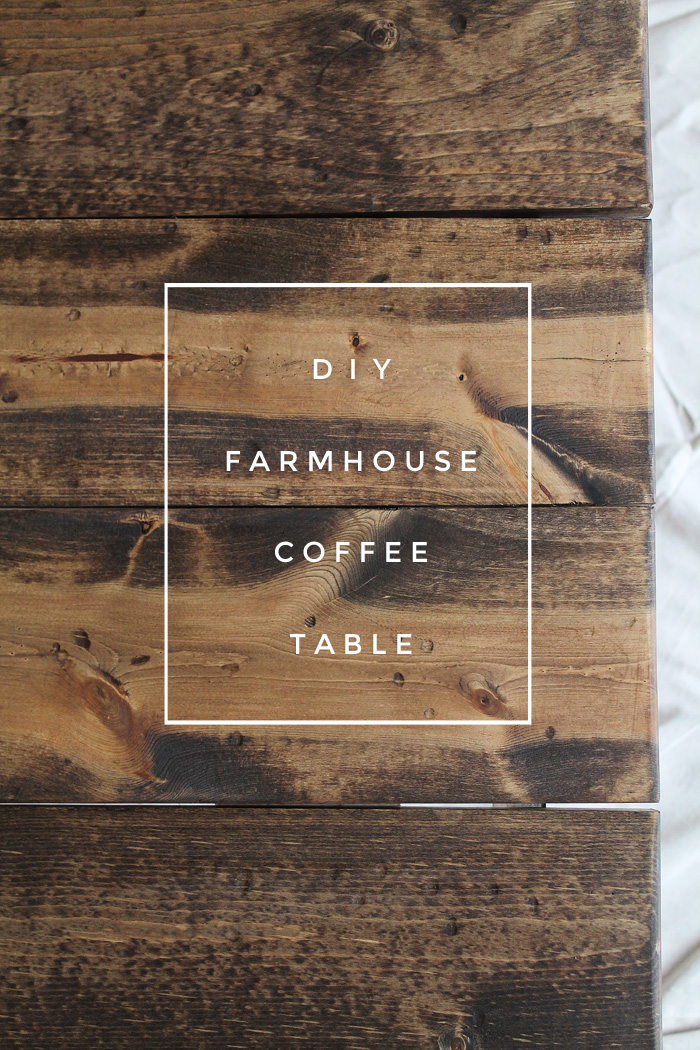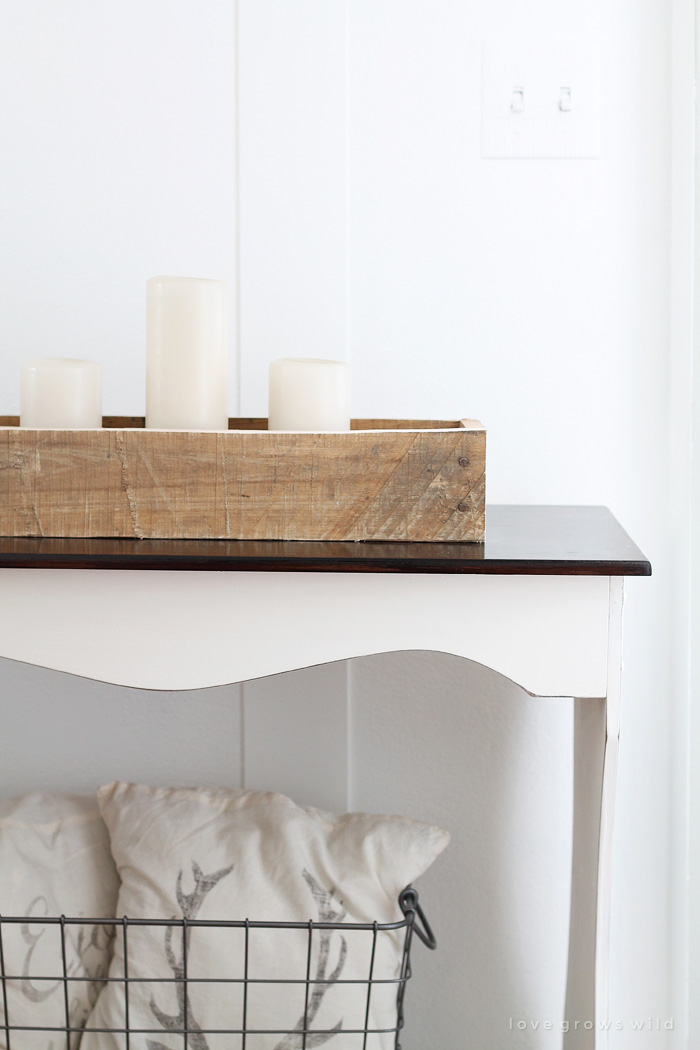 The Beginning of our Farmhouse Living Room
---
LET'S KEEP IN TOUCH!
---
Subscribe to Blog | Browse my Shop | Follow on Facebook | Follow on Twitter
Follow on Google+ | Follow on Pinterest | Follow on Instagram