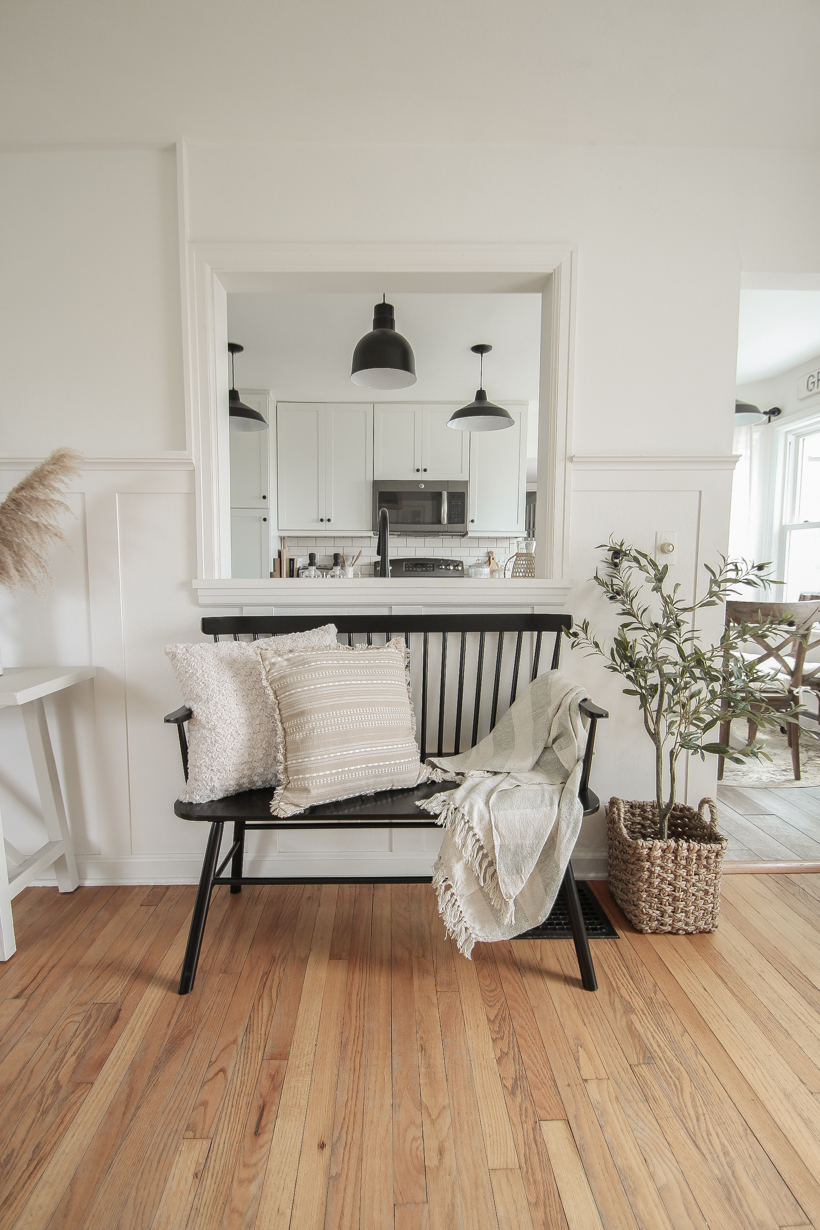 In partnership with Walmart | Earlier this week I shared a decorating tip for making any room instantly feel bigger and brighter (see that post here), and I mentioned more entryway updates coming later on in the week. Our entryway tends to be a catch-all for everything as we enter and exit the house, and I often forget that this is the first view people see when they come into our home. I want it to be first and foremost functional for our family, but I also want this space to feel warm and welcoming when guests come to visit. Last weekend I had family come stay with us, and my brother-in-law laughed at the empty picture frames I have had hanging on the wall for who knows how long… it was time the entryway got a little bit of an update!
I always recommend shopping your home first to see what you can move around or repurpose without spending any money, and I was able to switch a few pieces of furniture to make the space more functional. Then I bought a few items from Walmart Home to complete the new look…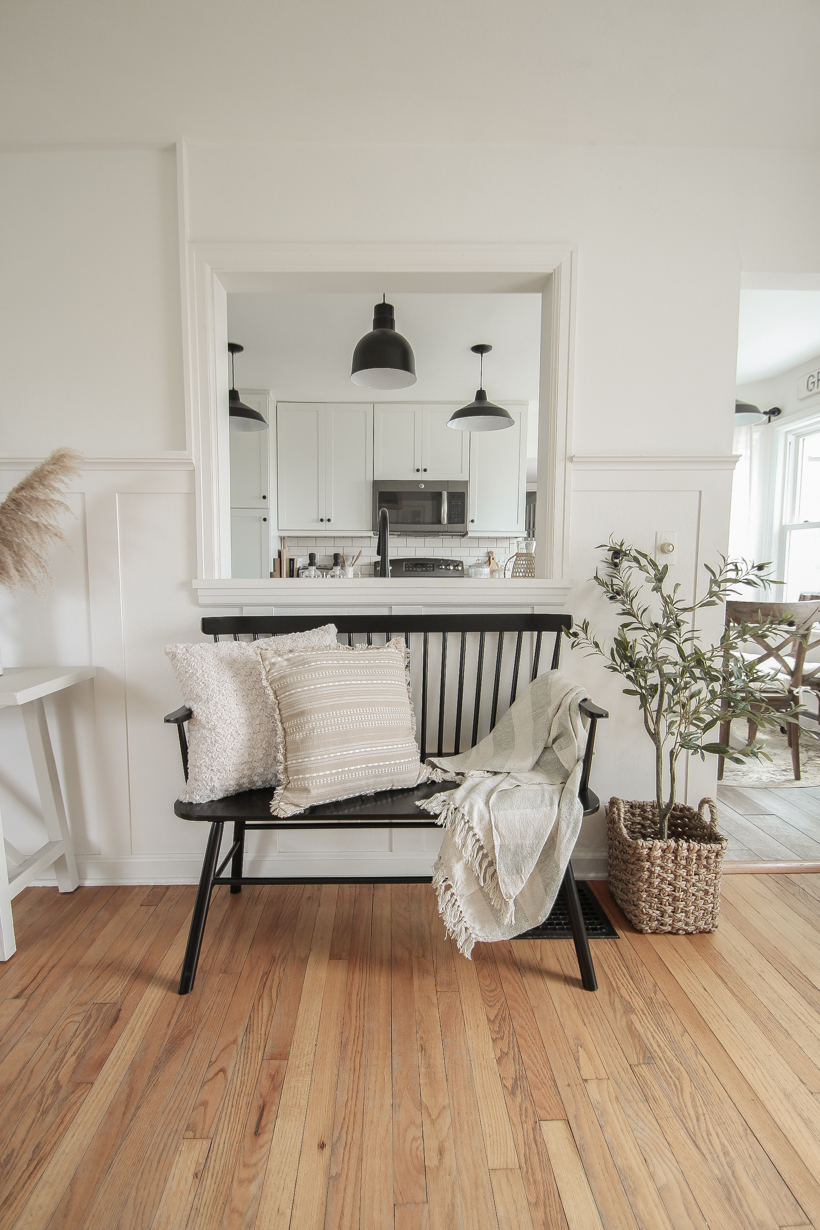 I started with this black wooden bench to give us somewhere to sit while putting on our shoes, and I love how the dark color contrasts against all the wood and white and also ties into the lights in the kitchen, which you can see through the wall opening above the bench. To soften the more modern lines of the bench, I added a cozy throw blanket and a few pillows. One rule of thumb I often use when styling pillows is to have one that is more simple and solid like this plush ivory pillow and one with a little bit of color or pattern, like this reversible stripe pillow.
Sometimes I confuse people when I talk about where our entryway is because it's technically not by our front door. We always use our side door that is right beside the driveway and garage, so it just makes sense to utilize this space as our entryway. You can see in the photos below that the layout is open to both the living/dining room on one side and the kitchen on the other.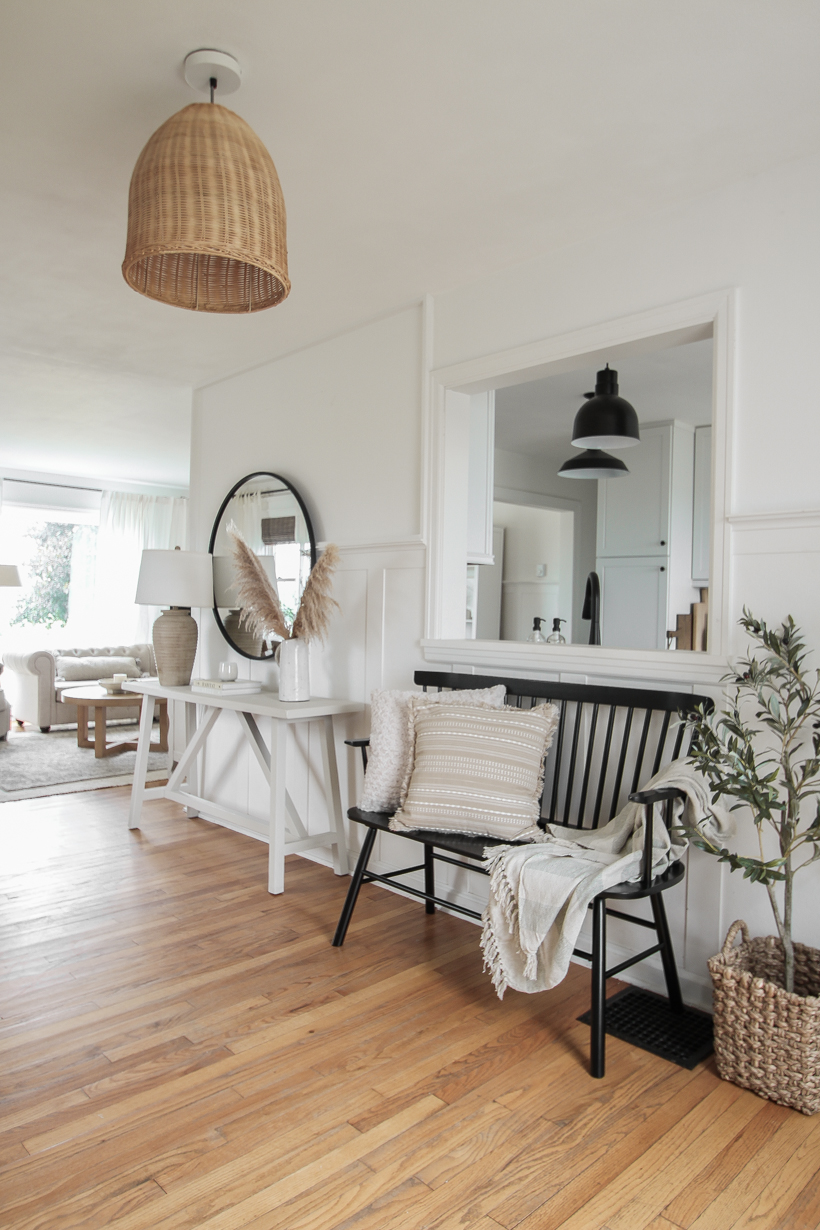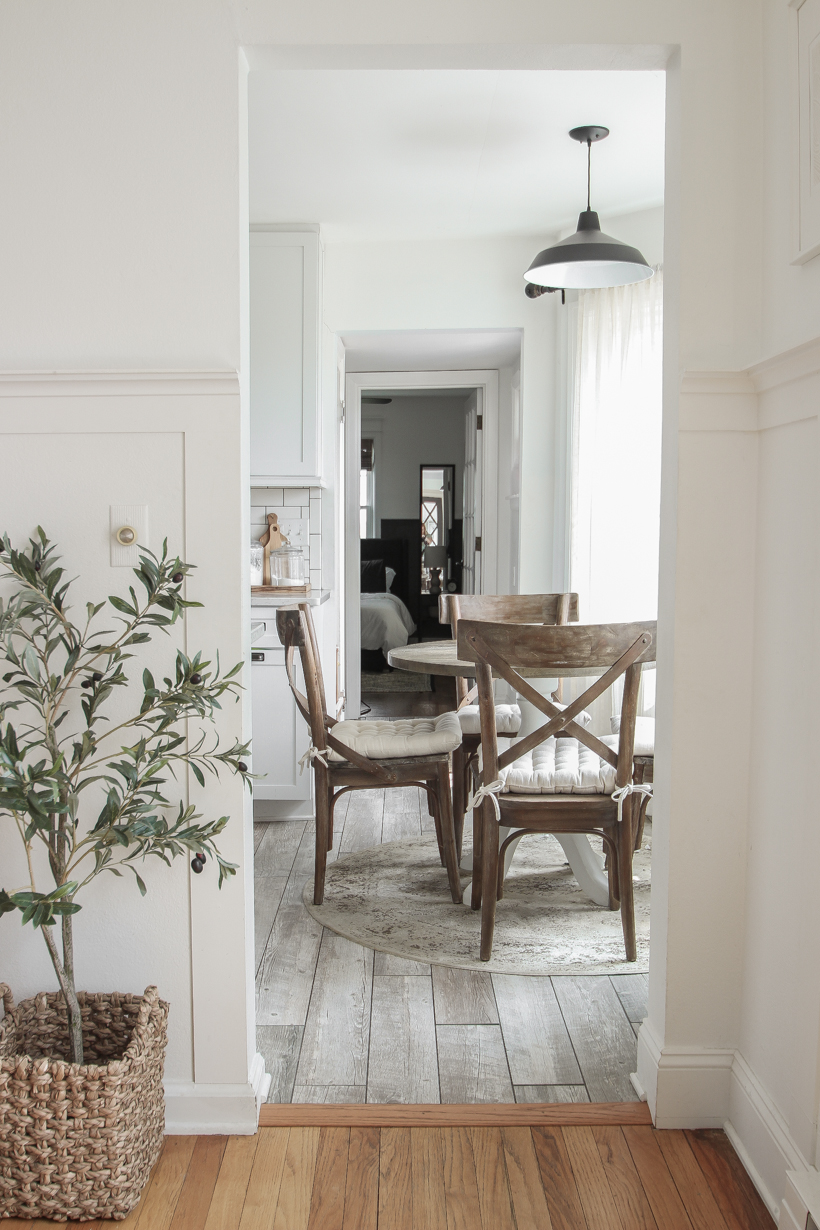 I absolutely love this little console table area next to the bench with the big mirror, pampas grass, and a new lamp I bought. I always have my eye out for larger lamps like this that resemble old pottery, and you can easily pay upwards of $200-$300 for them at some stores. I was thrilled when I found this one at Walmart for less than $100!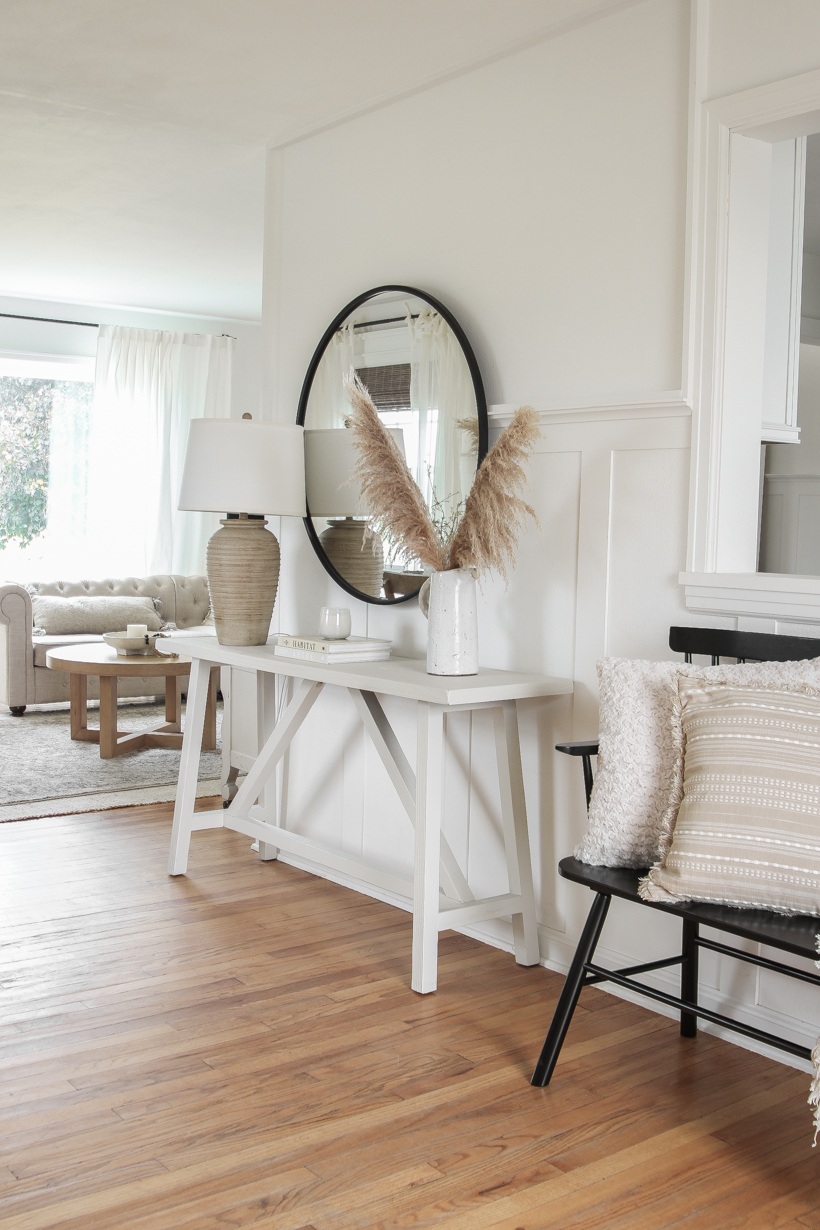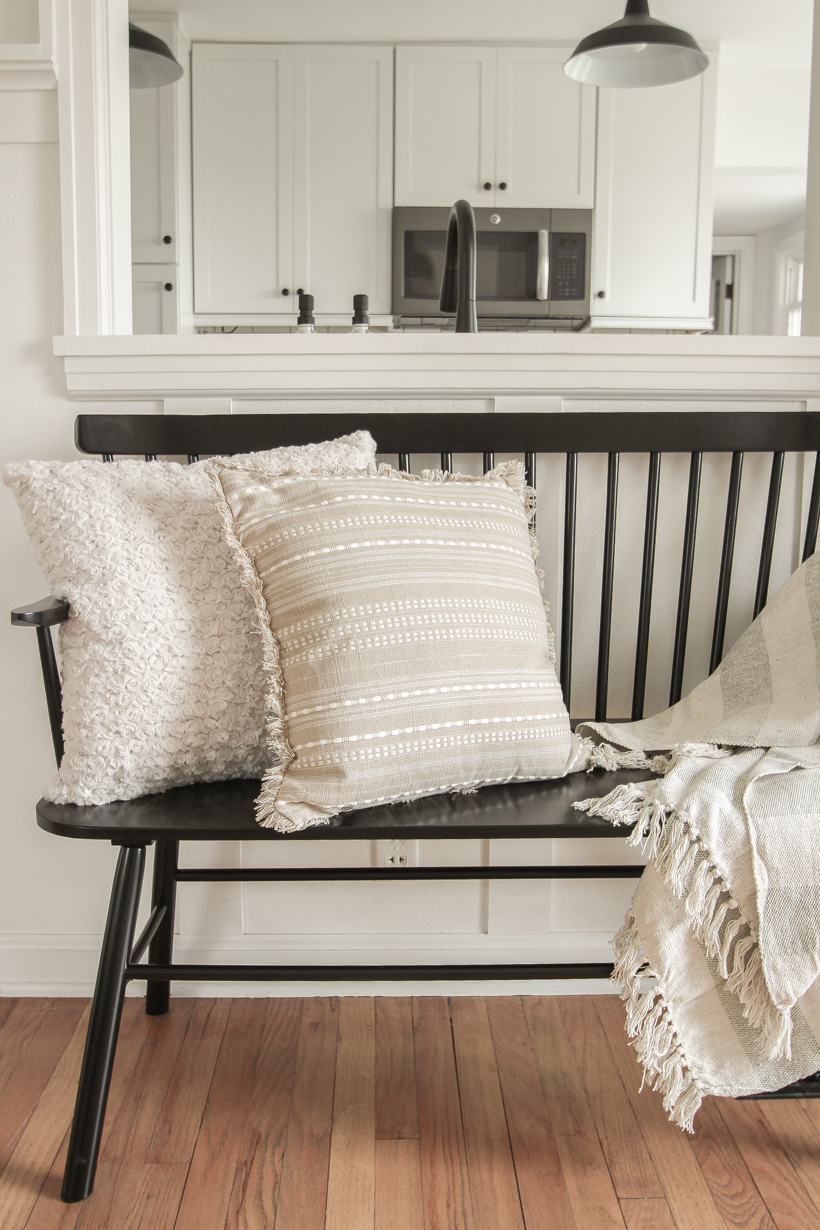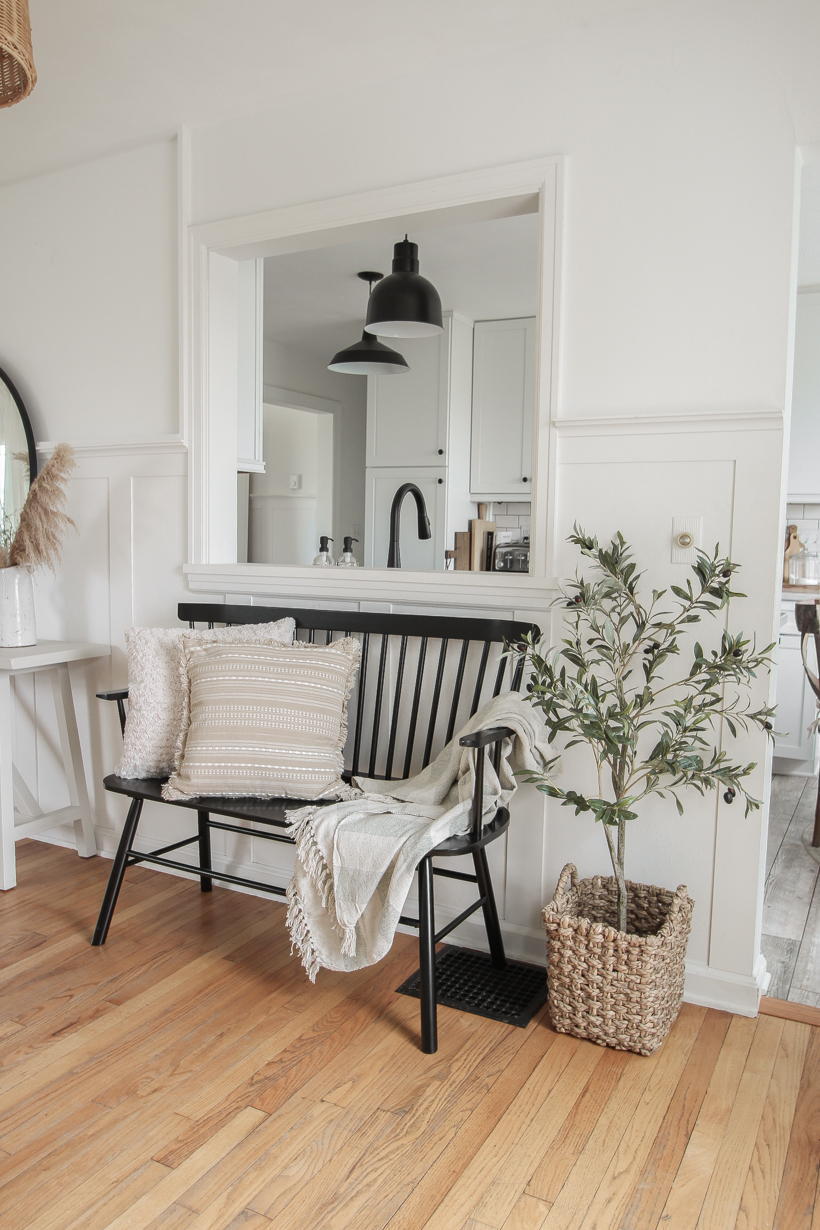 One the opposite side of the entryway is a large armoire I painted a few years ago, a wicker trunk for shoe storage, and a brand new light fixture I've had my eye on for awhile now. Do you remember this rattan shade floor lamp I bought for my living room a few years ago? They also had a large rattan pendant light available for such a good price, but I never had a good place to use it. I finally decided to update the old black chandelier I had hanging in here and install this gorgeous textured rattan light instead. It adds SO much warmth and coziness to the space!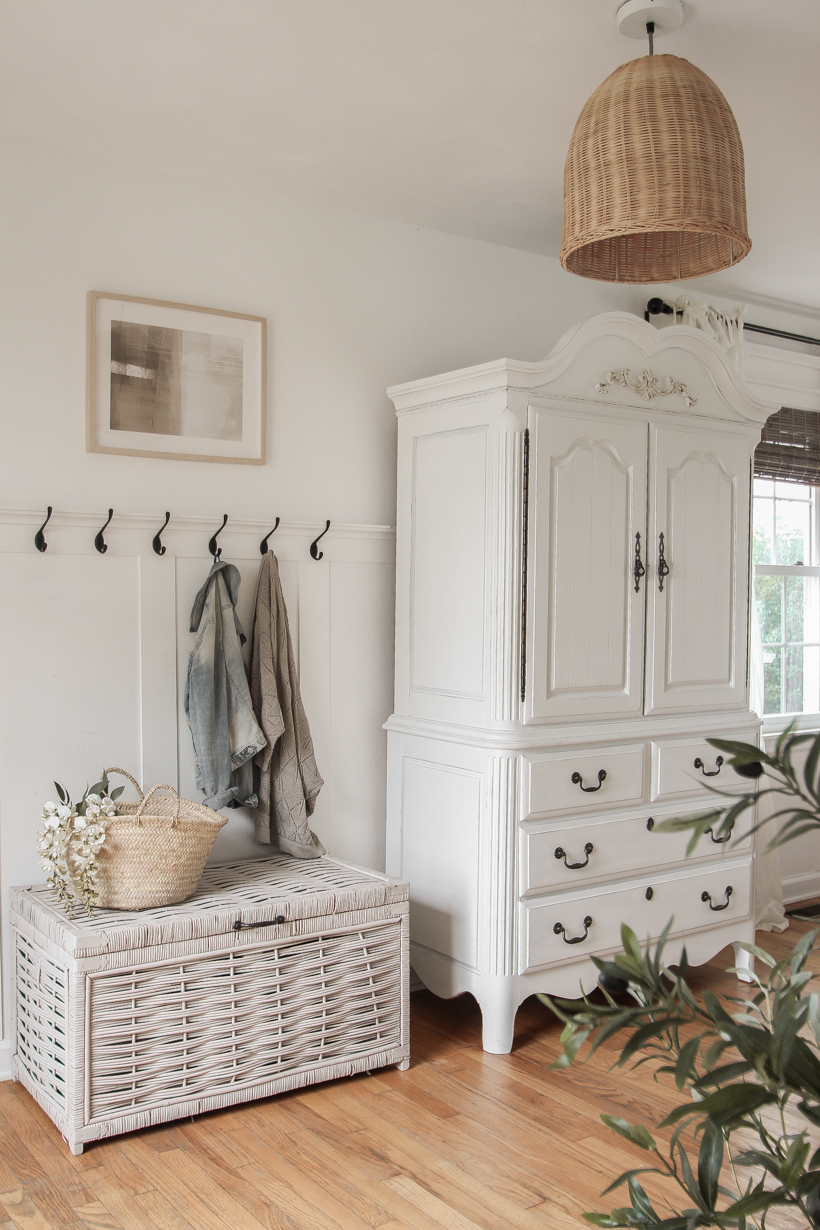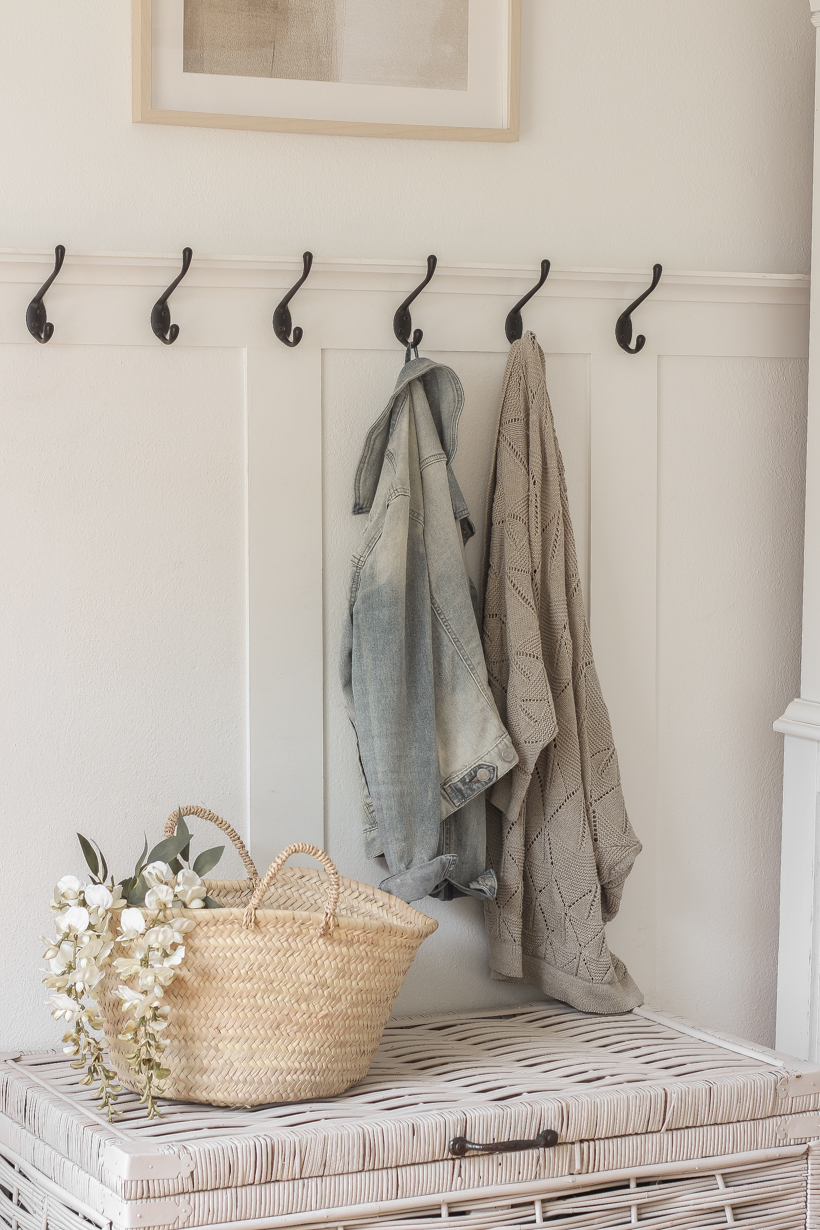 Look at that gorgeous distressing and texture on the lamp…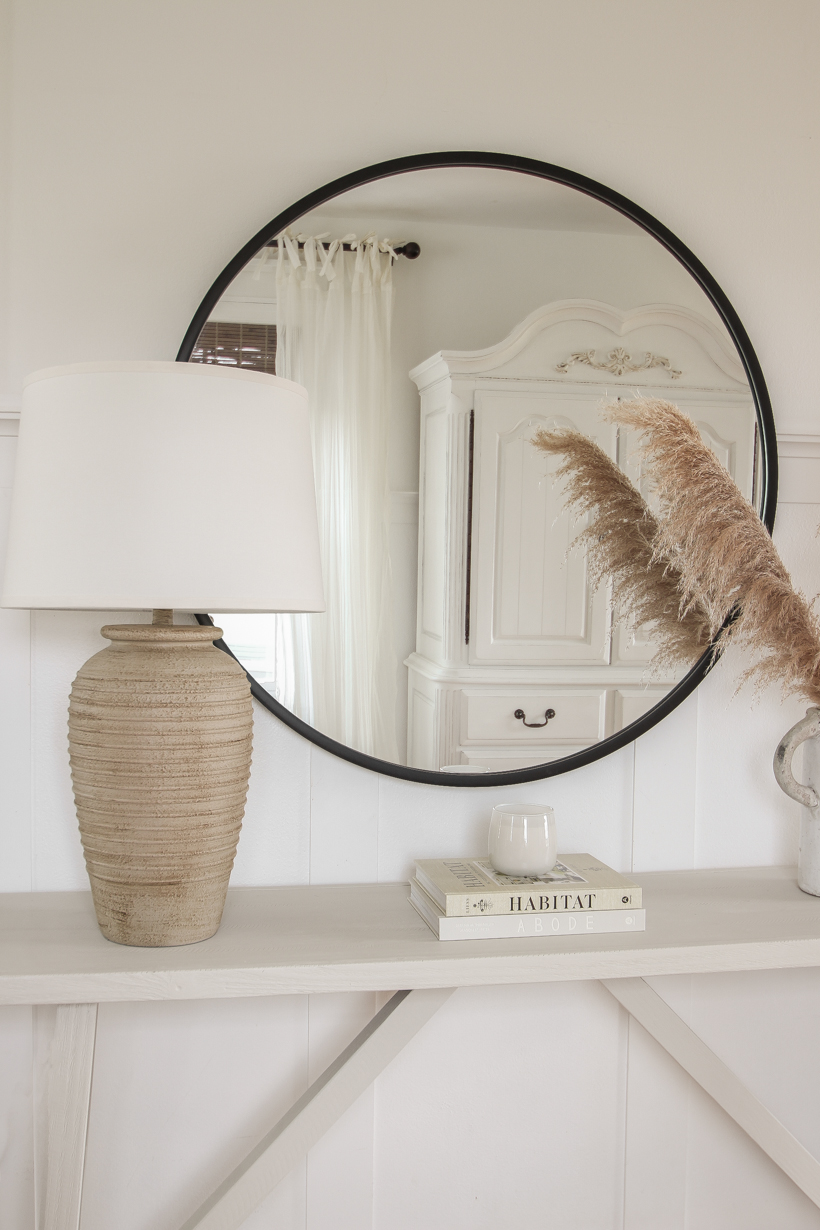 What do you think of the new look in our entryway? It's been awhile since I've shared this view of our home, so it may be the first time seeing it for some of you! Do you better understand the layout of our home now after seeing the photos? Have you found anything for your home from Walmart lately? Let me know if you have any questions!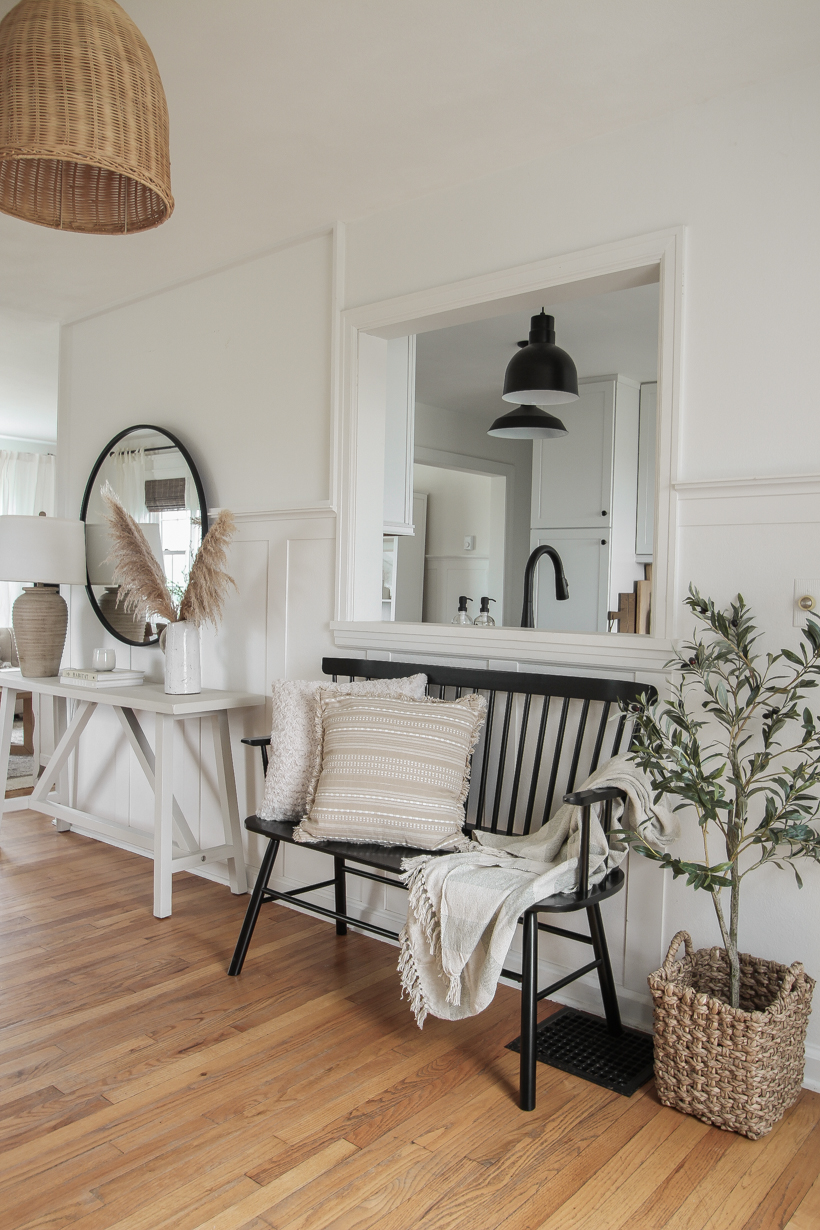 I partnered with Walmart on this post, but as always the thoughts and opinions shared are 100% my own. Thank you for supporting our blog and brand partners! As always, I sincerely appreciate you shopping through the links I share, which allows me to make a small commission from your purchase while your purchase price stays the same. When you use my affiliate links, I'm better able to create content for this blog as well as support my family, and I thank you from the bottom of my heart for supporting what I do!
SHOP THE POST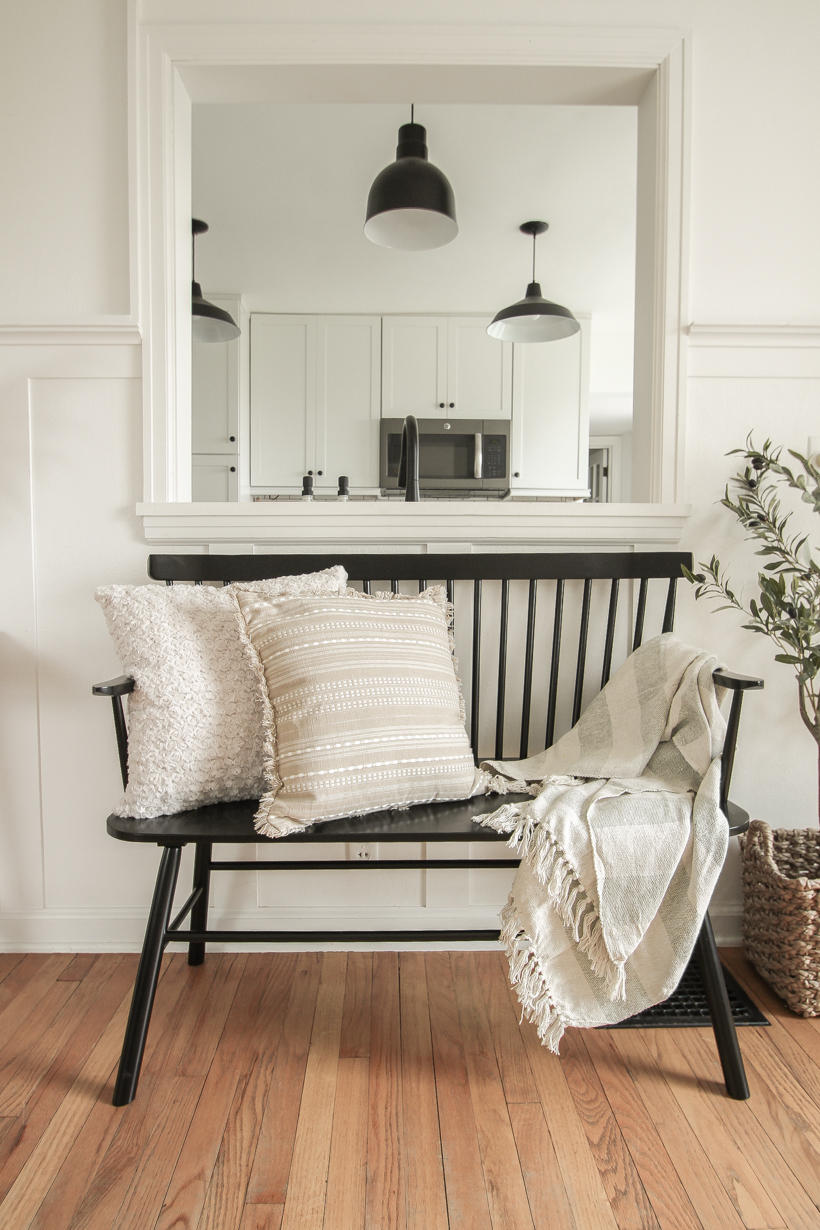 ---
Subscribe to Blog | Follow on Instagram
Follow on Pinterest | Follow on Facebook