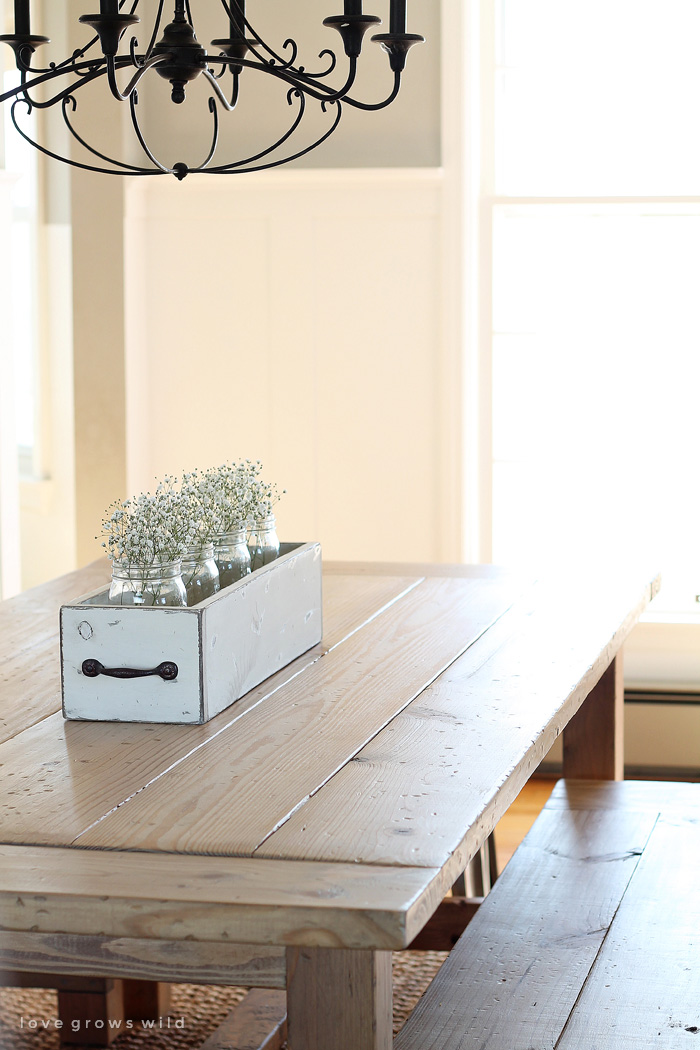 I have such a big treat for you guys today! I'm giving you the first look at our new dining room, sharing the massive farmhouse table we built, AND showing off the new chandelier we added!
Once Jeremy and I completed our board and batten project in the living room and dining room, it became pretty obvious that our old table just didn't fit in anymore. It was a beautiful old table, but had a ton of curvy, flowery details that felt more "grandma chic" than "rustic farmhouse" to me. I said to Jeremy, "If this was my dream dining room, I'd get rid of the grandma table and build a big, beautiful farmhouse-style table with benches."
Jeremy looked at me and hesitantly said… "So, why don't we?" Gosh, I love that man sometimes.
So as soon as we finished up a few lingering projects in the living room, we built ourselves the farmhouse table I'd been dreaming of.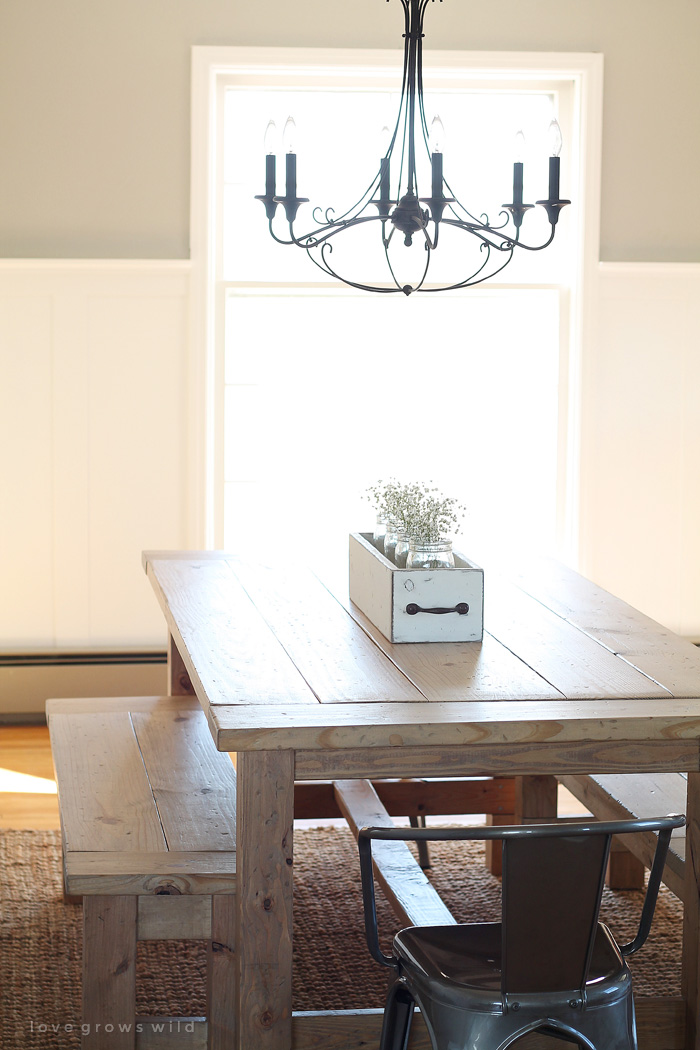 This project turned out to be something incredibly special to our family… something we all built together. Normally, I try to keep the boys entertained with something while I work on blog projects, but this table was different. This is the place we gather for every meal. The place where holidays, birthdays, and Taco Tuesdays are celebrated. The place where we talk and struggle through math homework and compare biceps with each other.
Wyatt was our shopping buddy and made sure we had everything on our list. Which, of course, we didn't and had to go back 3 more times, but that's okay. He helped Jeremy notch out the table legs and handed us all the tools we needed.
Alec, my 9 year old, is getting quite handy when it comes to projects. He helped me haul all the heavy boards out of the truck and held the long boards steady while I cut them on the saw.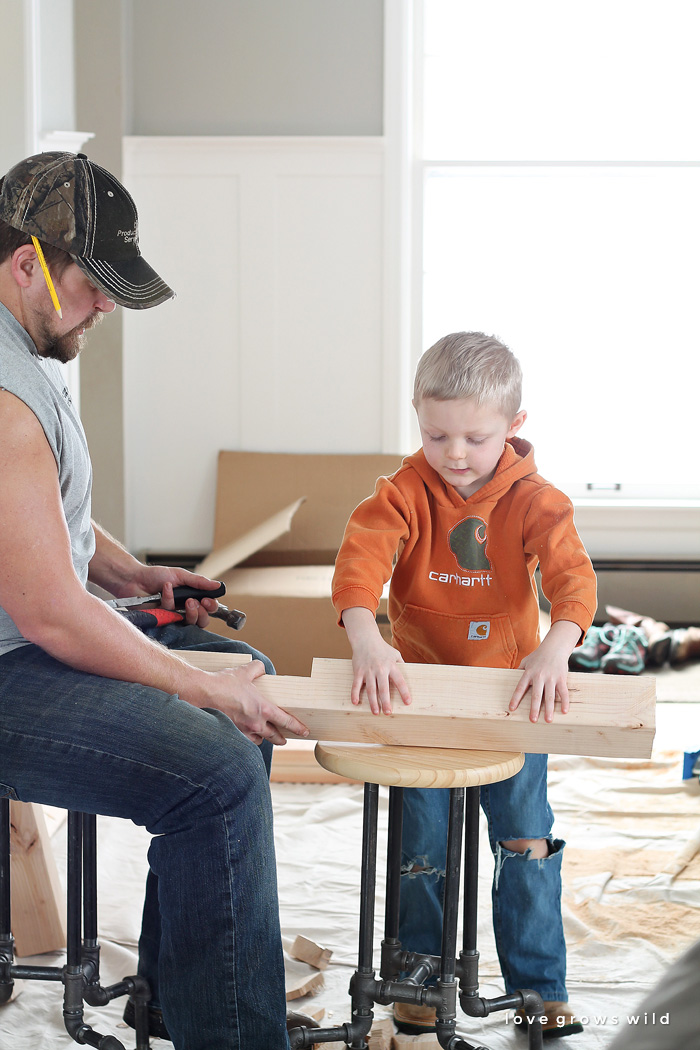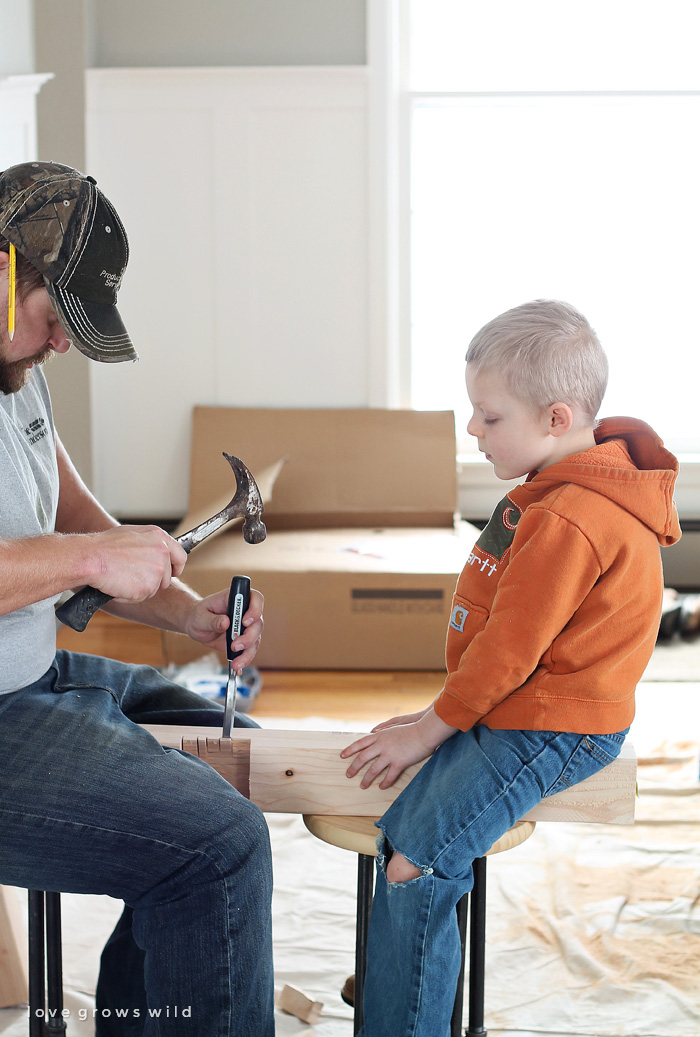 We followed Ana White's awesome build plans with just a few exceptions:
– We flipped the stretcher supports to the inside of the table so you would see less screws on the outside.
– We added two 2×4 supports in the middle of the table before adding the tabletop for extra support.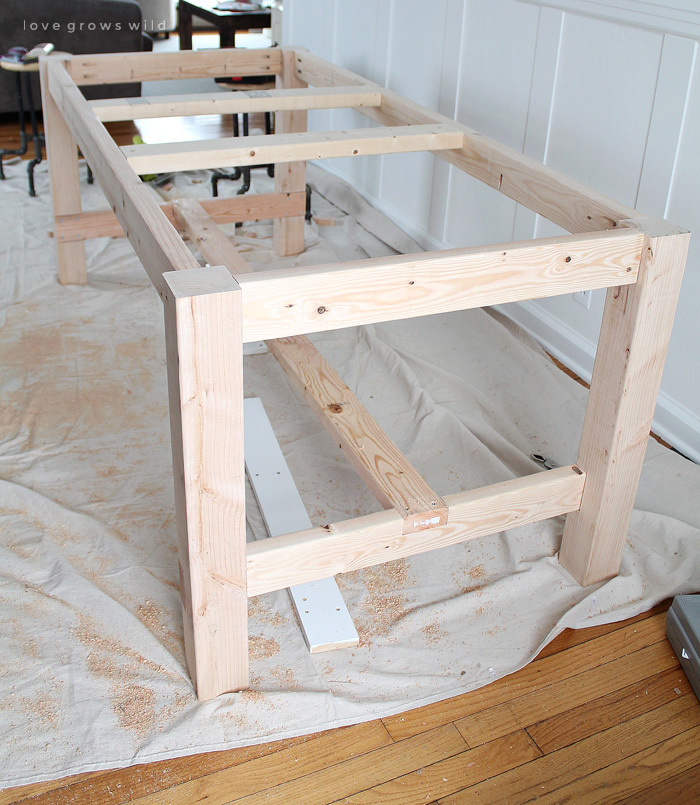 To see the build plan for this farmhouse table, click here to visit Ana's site. If you saw my plans for the farmhouse coffee table last week, they are actually pretty similar!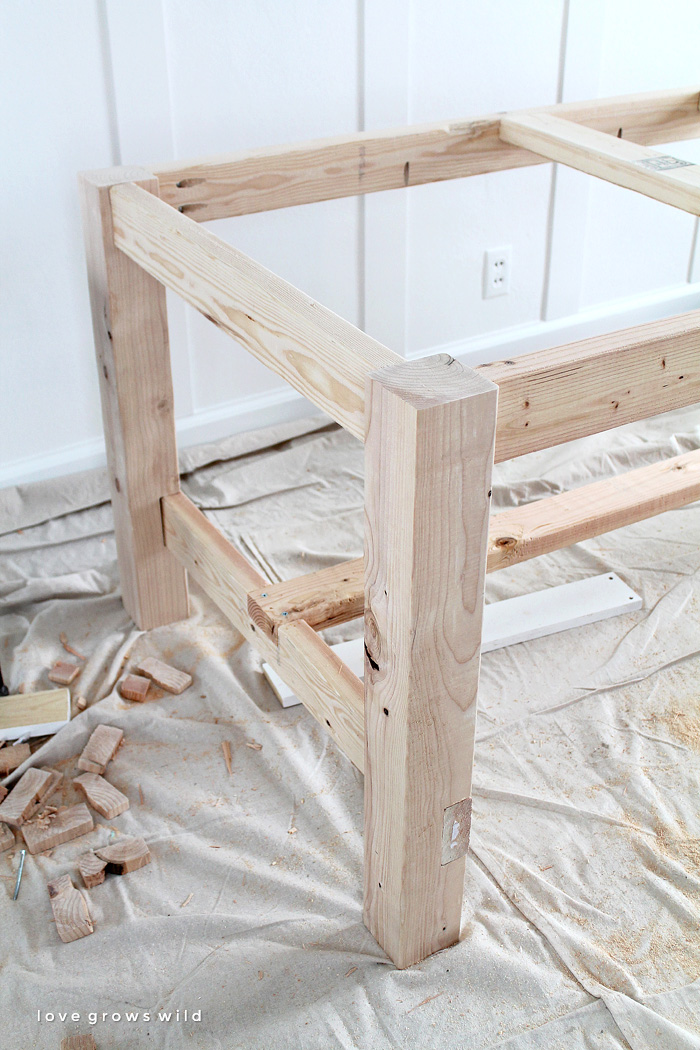 To finish the table, I first sanded then added a little bit of distressing. Okay… A LOT of distressing. This step was probably the boys' favorite, because I handed them each a large rock and let them go to town banging the heck out of the table. I wanted the table to look like it's been around for generations, and all the little nicks and dings add SO much character to the wood.
After we got all our aggression out on the table, I applied a coat of Minwax pre-stain wood conditioner followed by a custom stain I came up with. I've purchased several "gray" stains that are supposed to give the wood a weathered, rustic look, but no matter how many coats I add, the gray barely colors the wood at all. I wanted the table to still be light enough to show all the wood grain, but have that old, weathered look to it, and this is the perfect mix I came up with: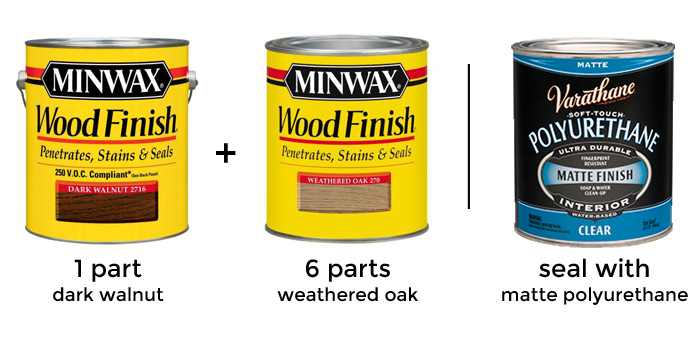 1 part dark walnut stain mixed with 6 parts weathered oak stain. Basically, I took an old plastic container and added 1 1/2 cups weathered oak and just 1/4 cup dark walnut. The weathered oak stain gives the wood a nice gray wash and the dark walnut deepens the grain lines just enough to add some contrast. I just love how it turned out!
I sealed the table with 2 coats of my favorite matte finish polyurethane by Varathane. There would be nothing more tragic that building a beat-up, rustic farmhouse table and finishing it with a high gloss poly… don't do it, guys!
EDIT: I've had a couple readers ask, so here was the total cost of this project:
Around $50 in wood for the table + $34 in wood for the benches + $25 in screws and misc. tools = Just under $110!
—> Get plans for the farmhouse benches that go with this table here!
On the night we finished the table, I couldn't help but smile at all the memories we made as a family building this table together. I grabbed a marker and let everyone sign the underneath of the table, and Jeremy drew a heart around our names.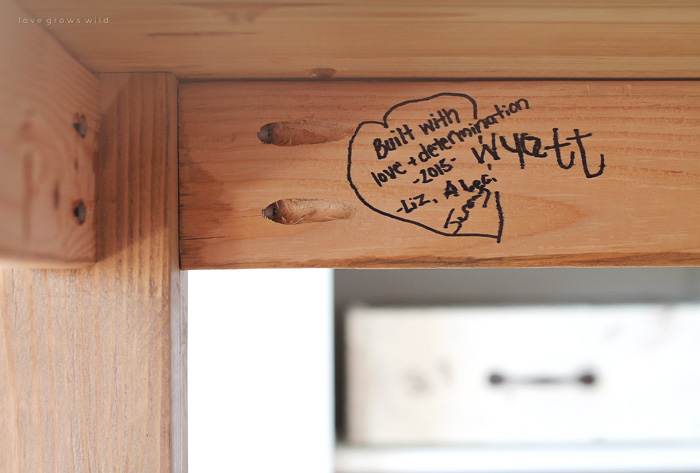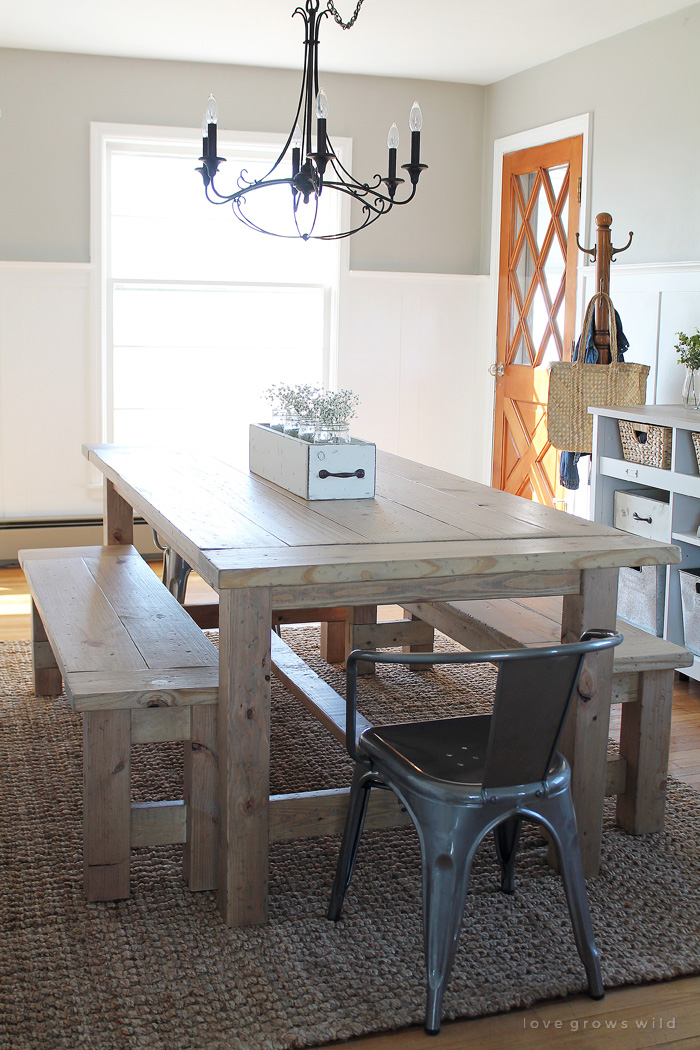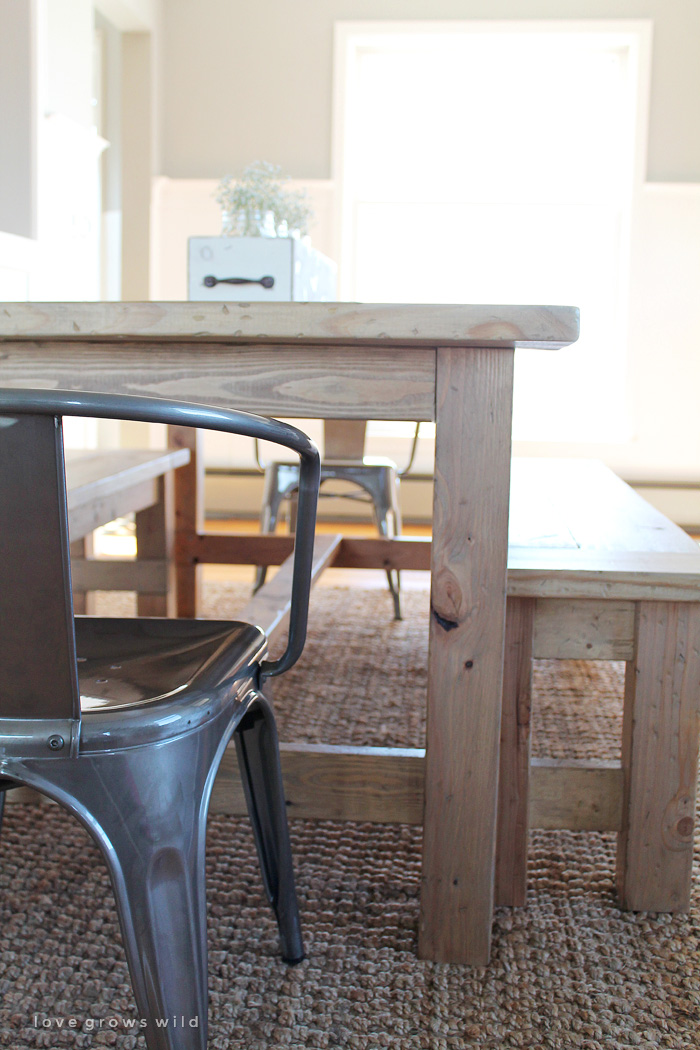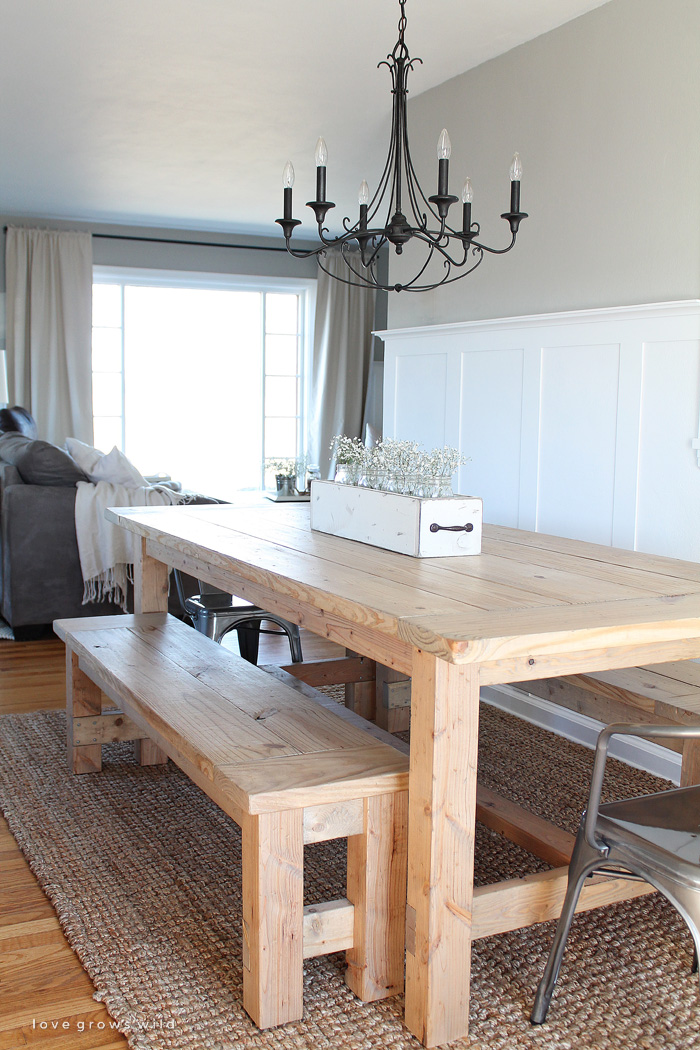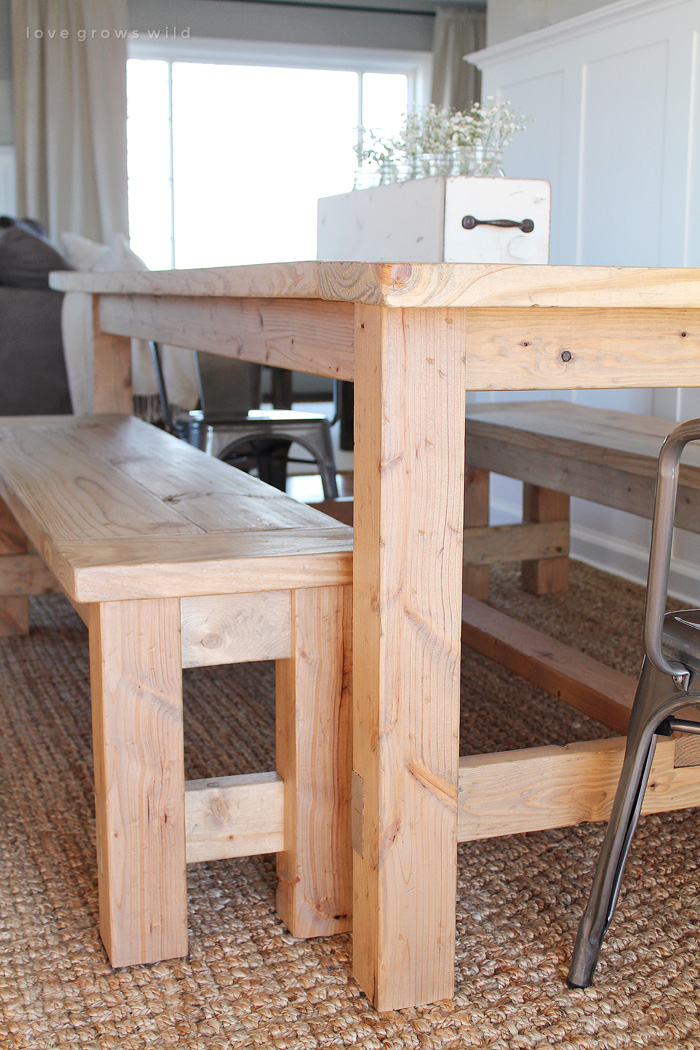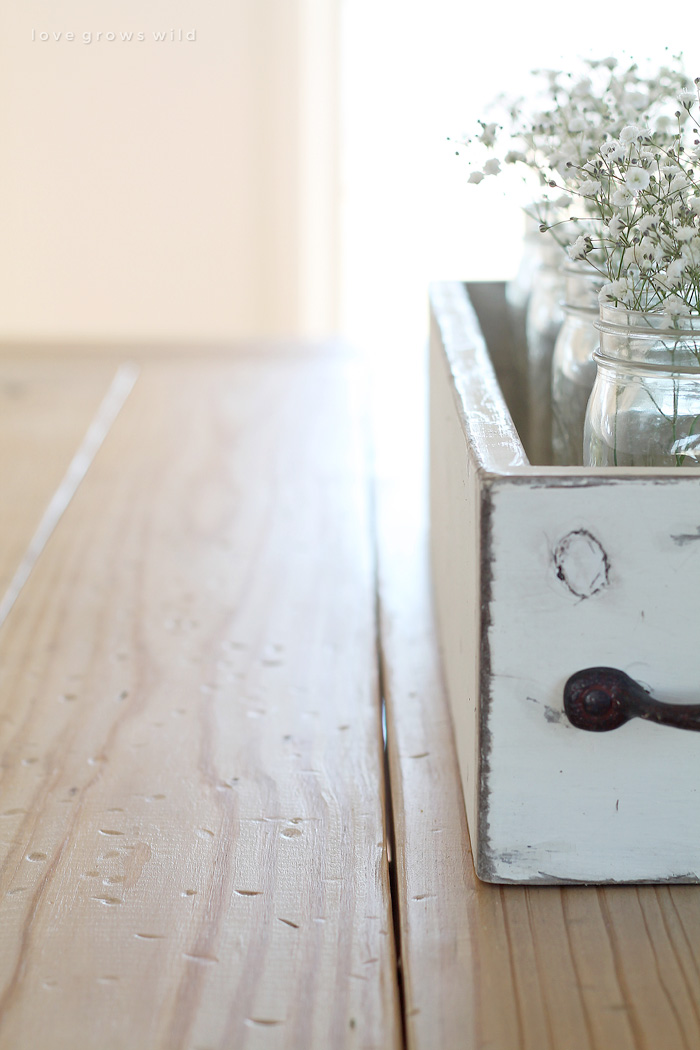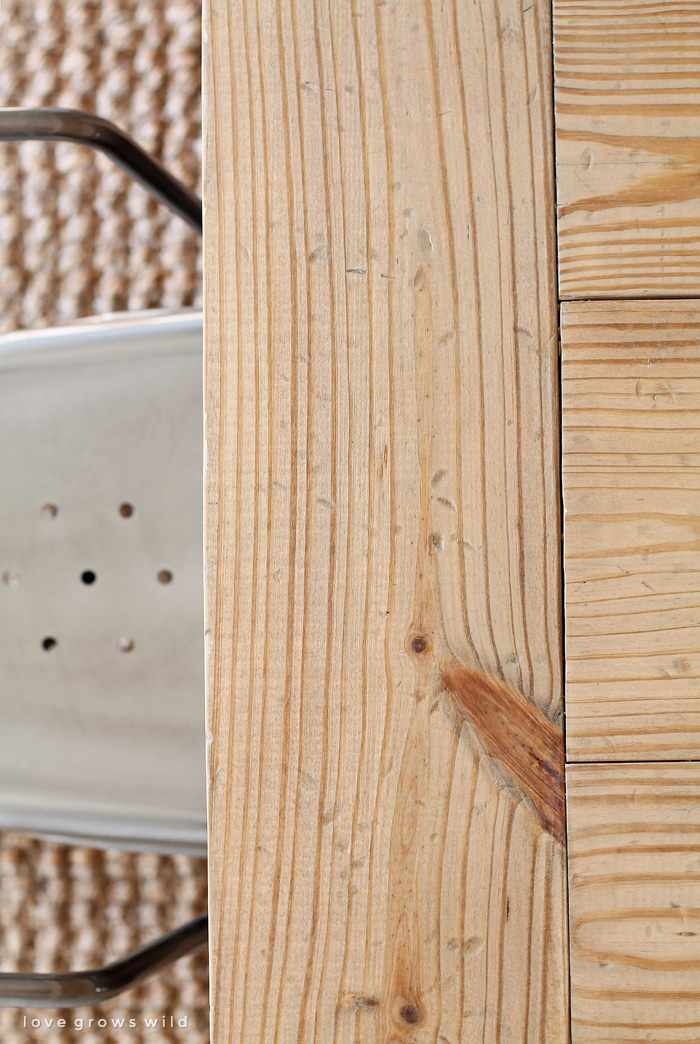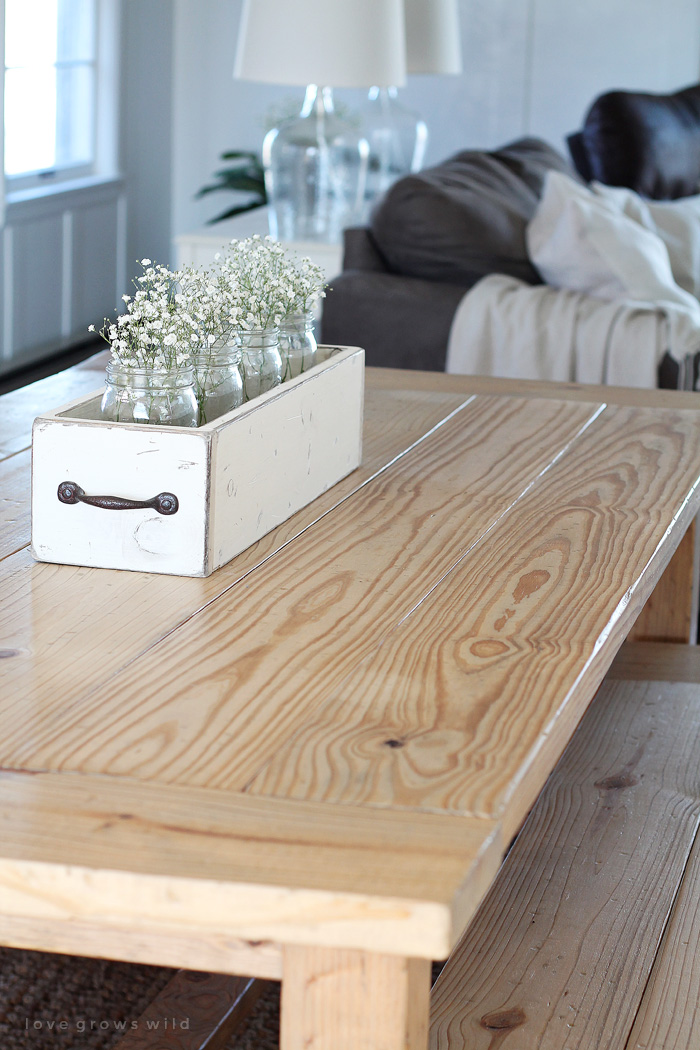 This gorgeous farmhouse table just didn't look right with the tacky gold chandelier we had hanging in here before…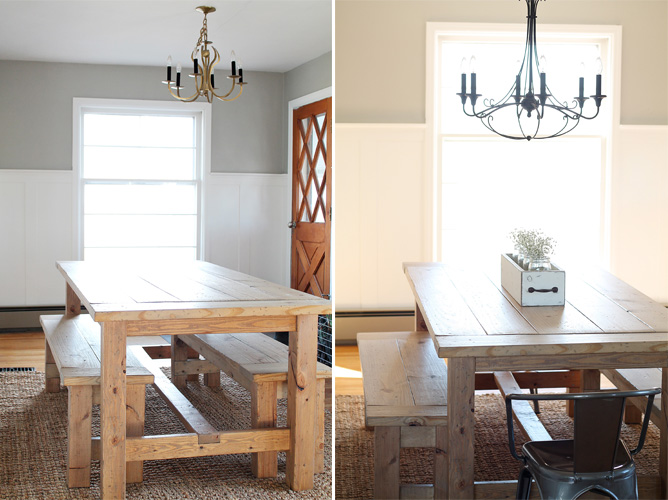 … so it got replaced with a larger fixture with a distressed black finish that I am IN LOVE with. I wanted something simple and rustic, yet elegant enough to dress up the dining room and this Kichler Basel 43454DBK was the perfect fit.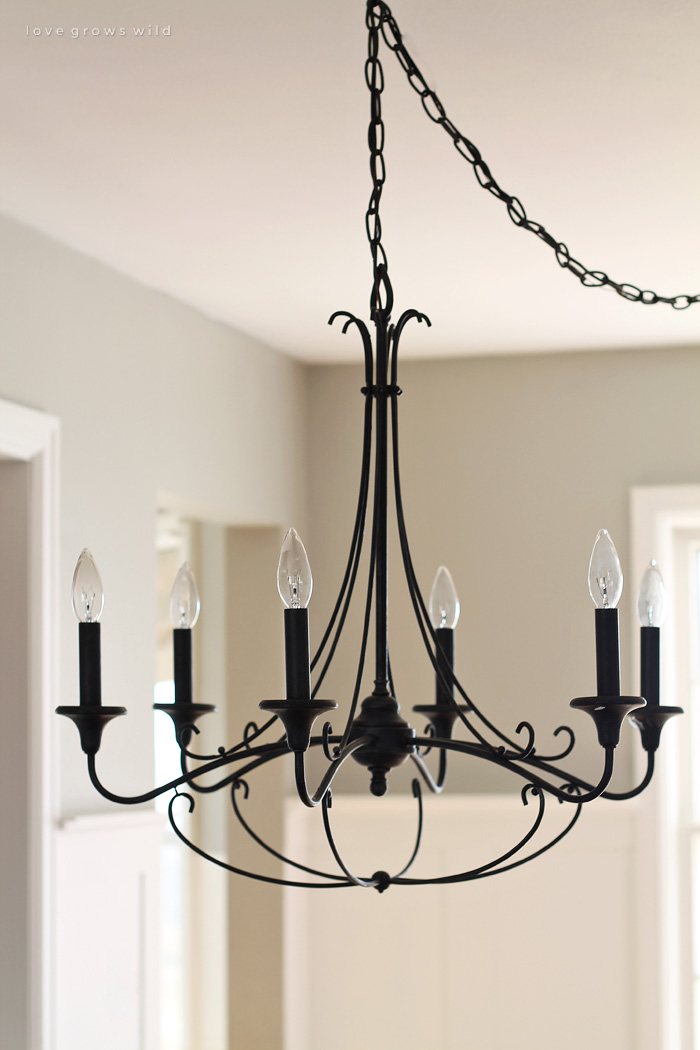 It has just the right amount of ornamental detail without feeling fussy, and it added so much more light in our dining room.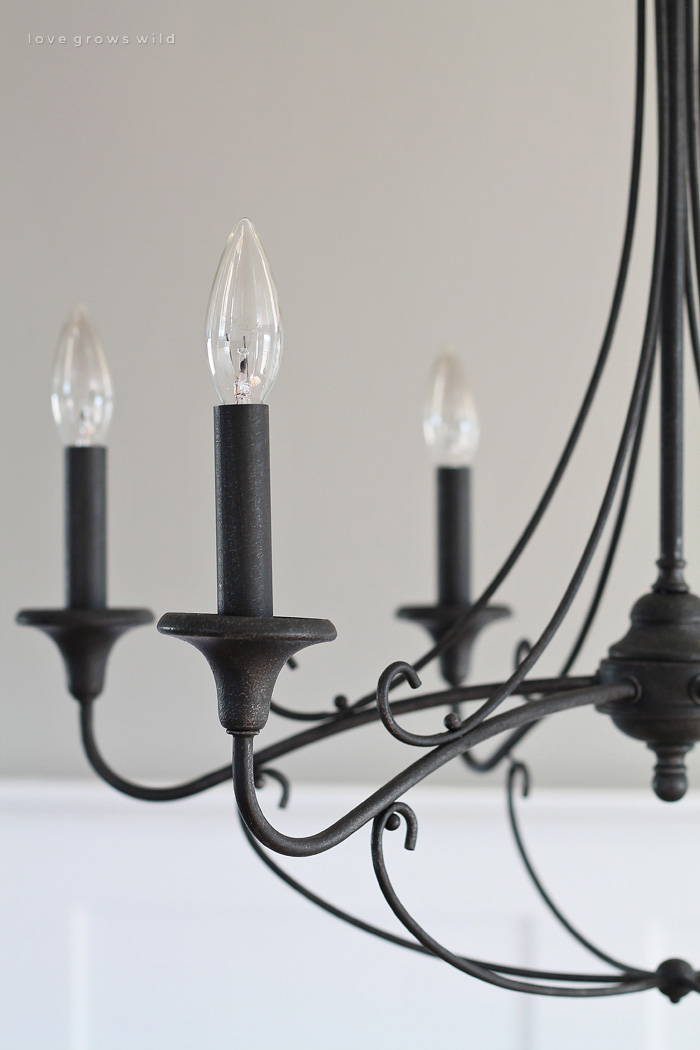 Since I can't invite you all over for dinner in our new dining room (wouldn't that be fun though?), I've teamed up with Kichler & Del Mar Fans & Lighting to bring you a GIVEAWAY!
– You can have our chandelier in YOUR dining room! –
How fun is that?? To enter the giveaway, you'll need to head over to Del Mar Fans & Lighting's Facebook page where you can fill out an entry form. The giveaway starts on 3/18 and ends on 3/25, so hurry and get yourself entered! I would love to see how this chandelier looks in YOUR house!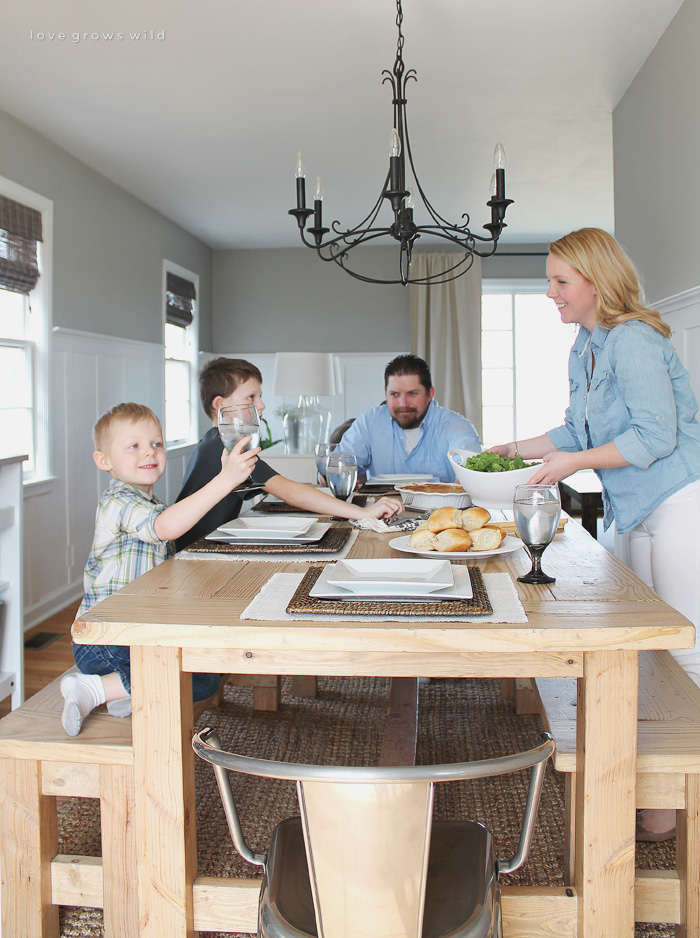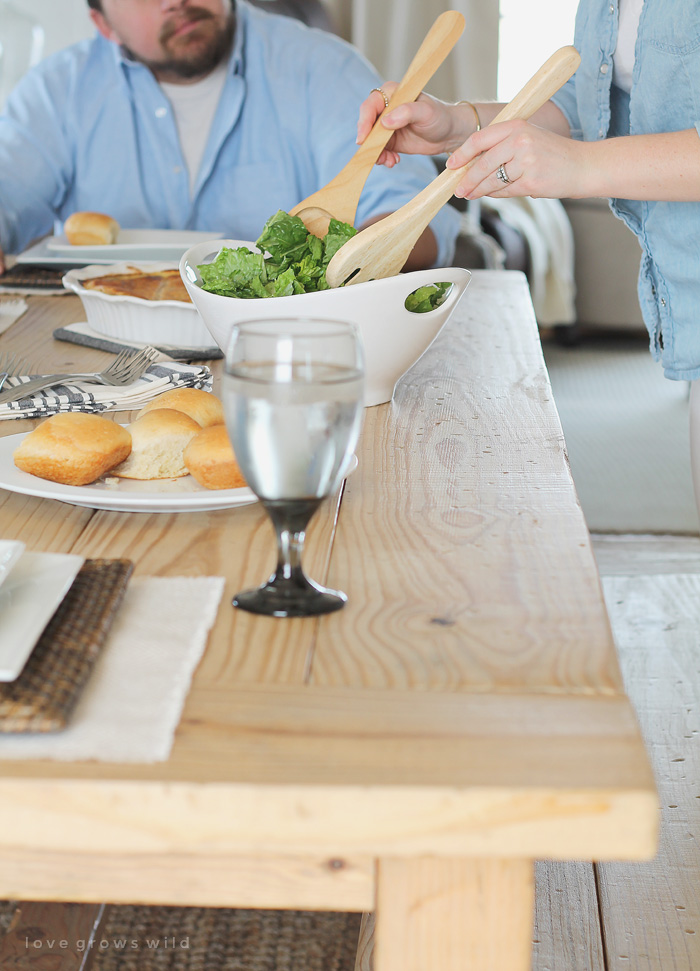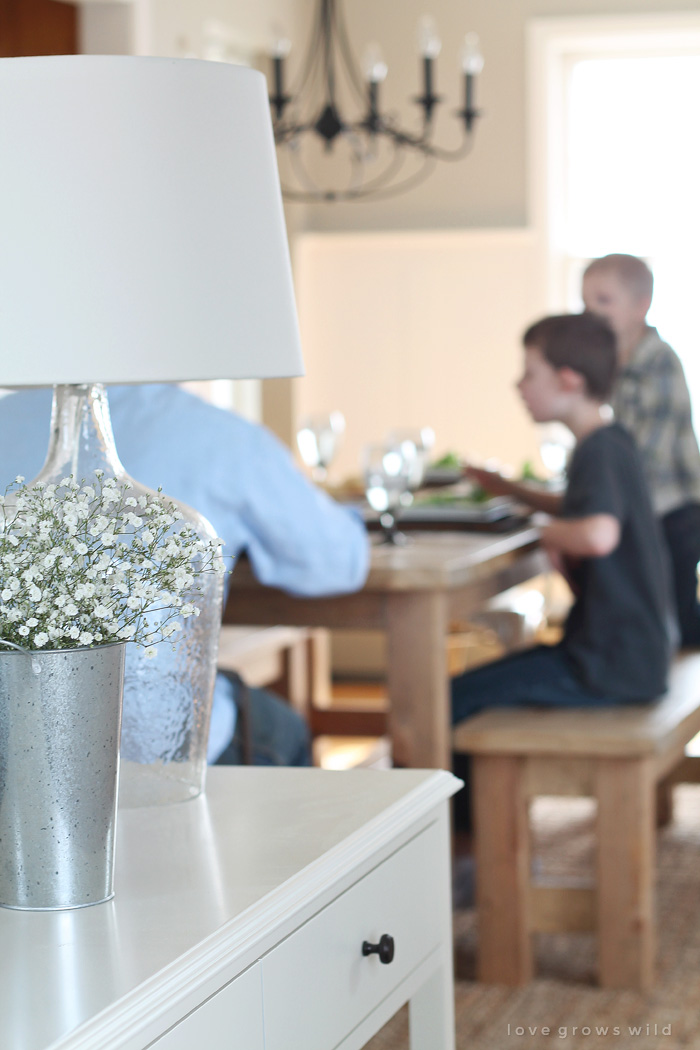 Thank you so much for stopping by today, and I cannot WAIT to hear your thoughts on the new table and chandelier! Leave me a comment below and tell me what you think!
---
Feeling inspired? Check out these projects: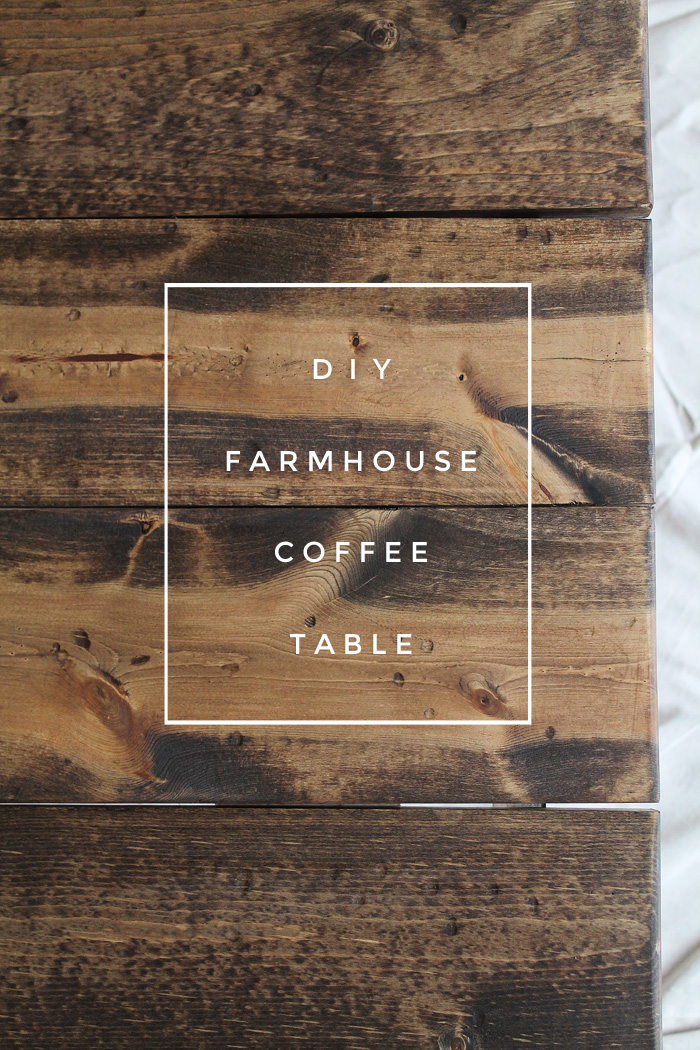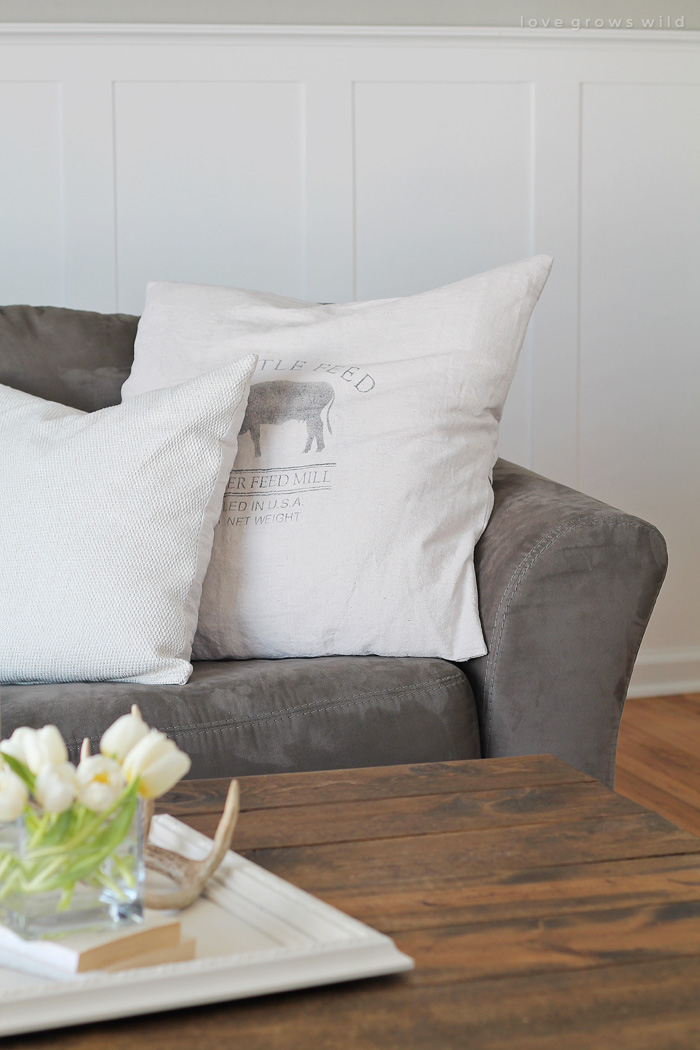 The Beginning of our Farmhouse Living Room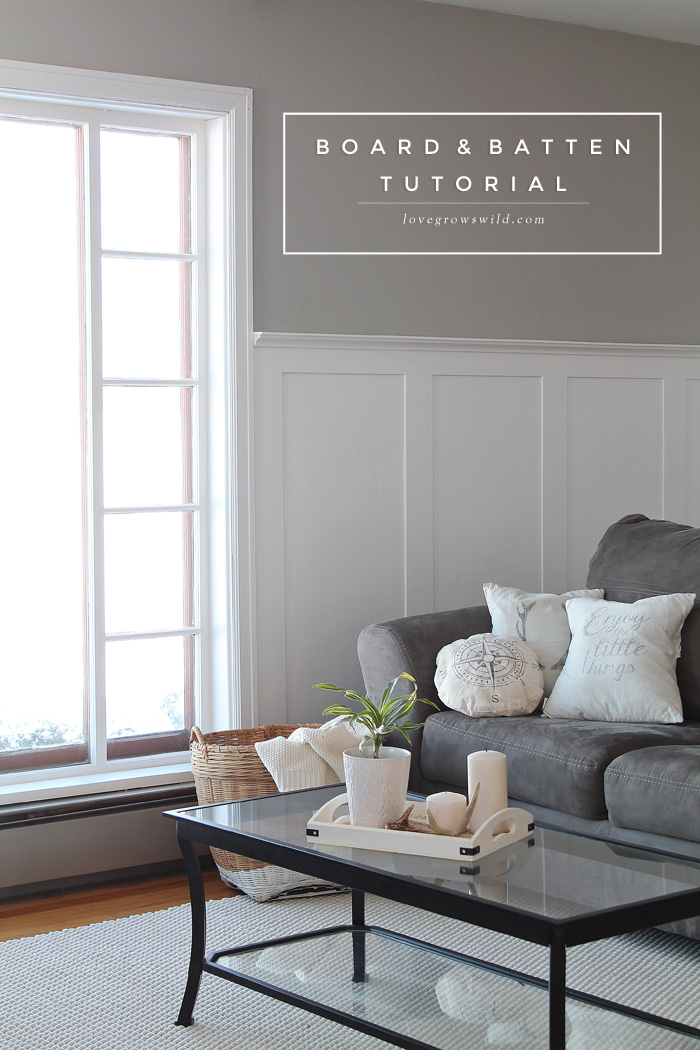 ---
LET'S KEEP IN TOUCH!
Subscribe to Blog | Browse my Shop | Follow on Facebook | Follow on Twitter
Follow on Google+ | Follow on Pinterest | Follow on Instagram
---
This post is sponsored by Kichler and Del Mar Fans & Lighting. Thank you for supporting the brands that make this blog possible!