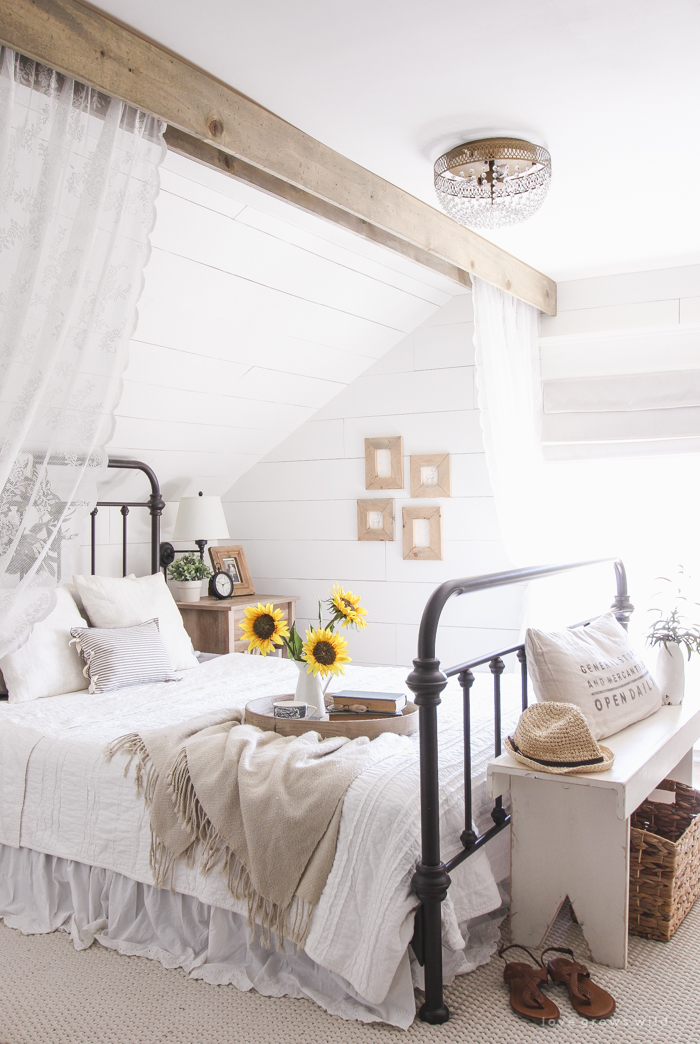 The days are getting longer, the temperatures are rising, and it's starting to look a lot like summer at our little farmhouse! Today I'm going to give you a look at our (early) summer decor and share some of the rooms we've been working on lately. Welcome to the Celebrate Summer Home Tour! Come on inside!
---
Master Bedroom
---
Here's my motto for summer decorating: relaxed, casual, cozy, fresh.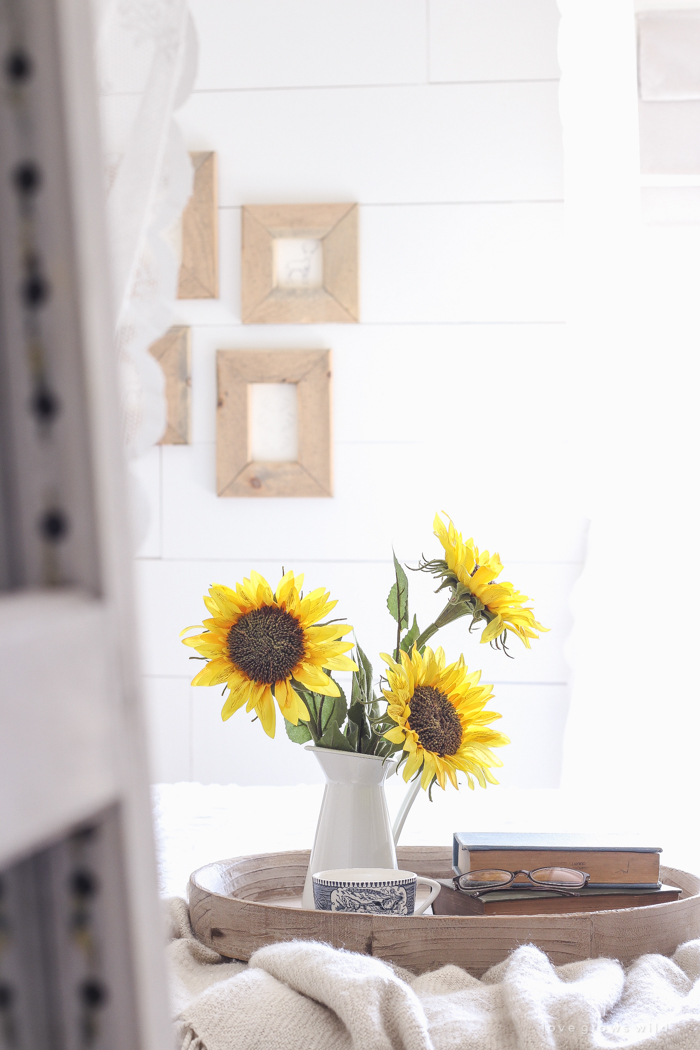 The kids are done with school starting next week, so my goal for summer decor is to keep things simple and relaxed. Nothing fancy or fussy… just a comfortable place for our family to enjoy the few precious months of summer we have.
– Follow our summer adventures on Instagram! –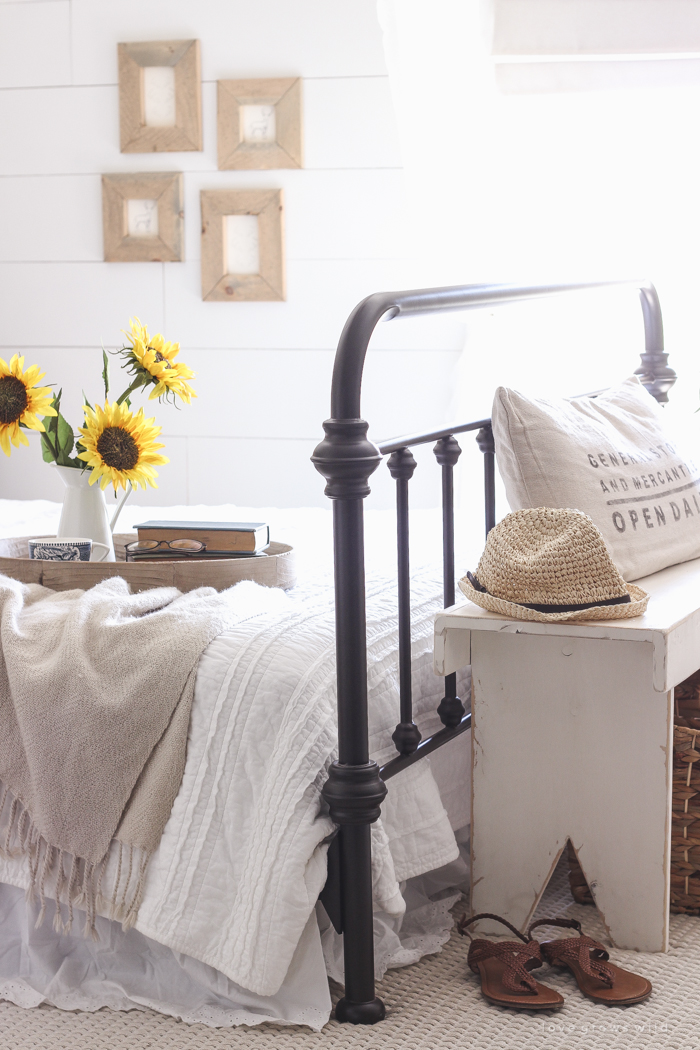 In our master bedroom, I set out a tray with some bright yellow sunflowers, which are fake for now, since it is still so early in the season. I love how such a simple vase of flowers can signify the beginning of a new season. When I first started creating our home, I felt like I had to completely redecorate for every season, but over the years I've learned that less is definitely more.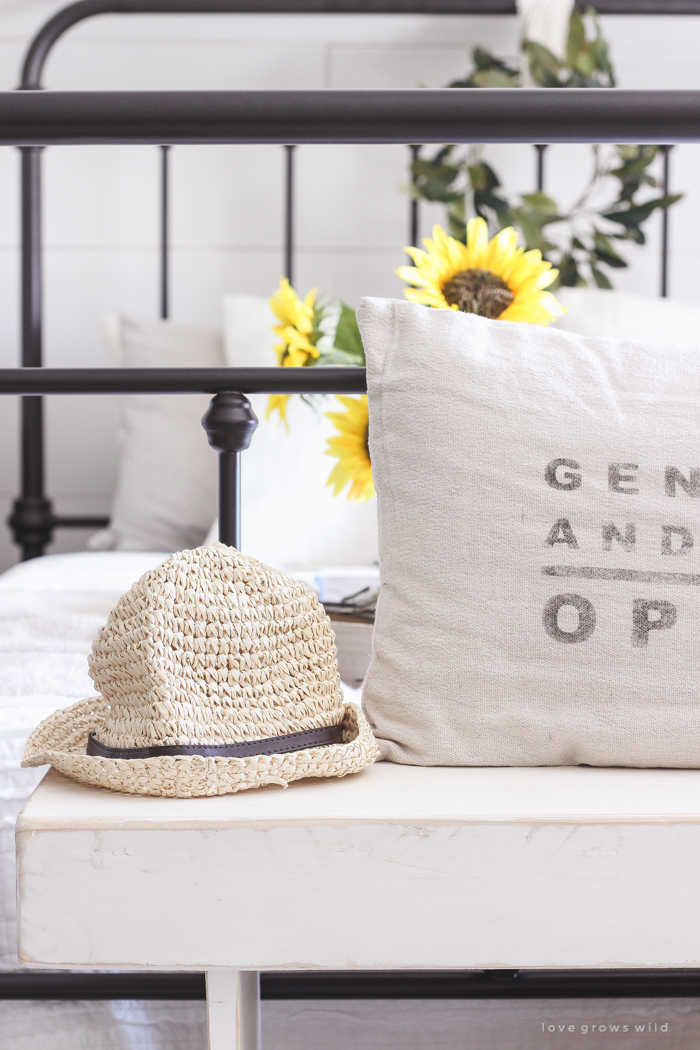 A pair of sandals on the floor, a beach hat sitting on the bench, and a market bag hanging on the ladder next to the window… all of these small, subtle touches give the whole room a feeling of summer.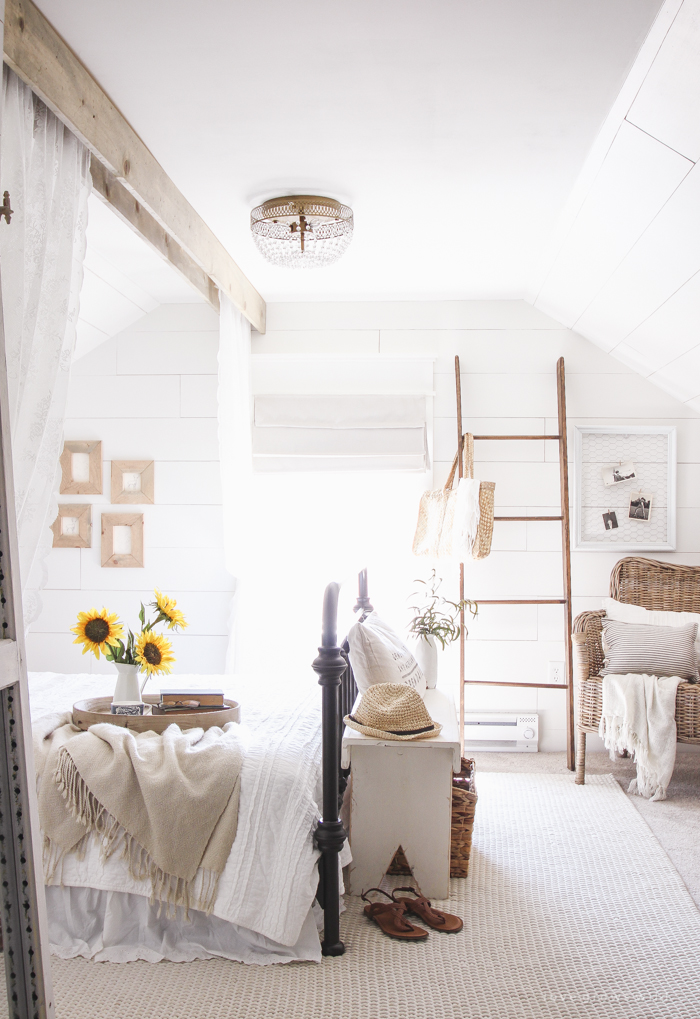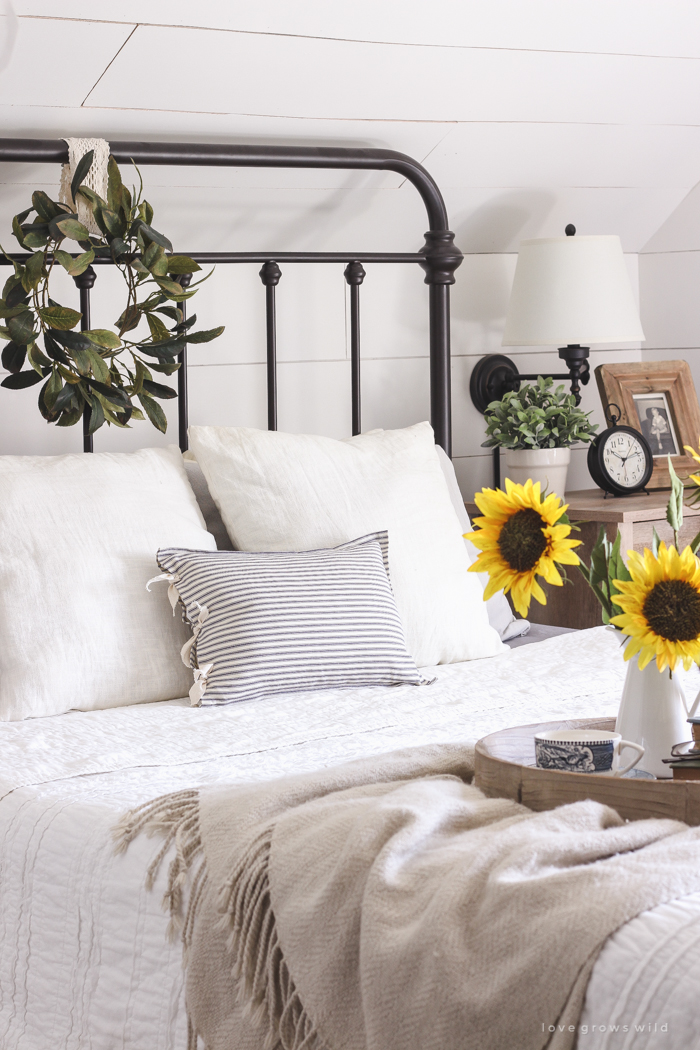 ---
Living Room
---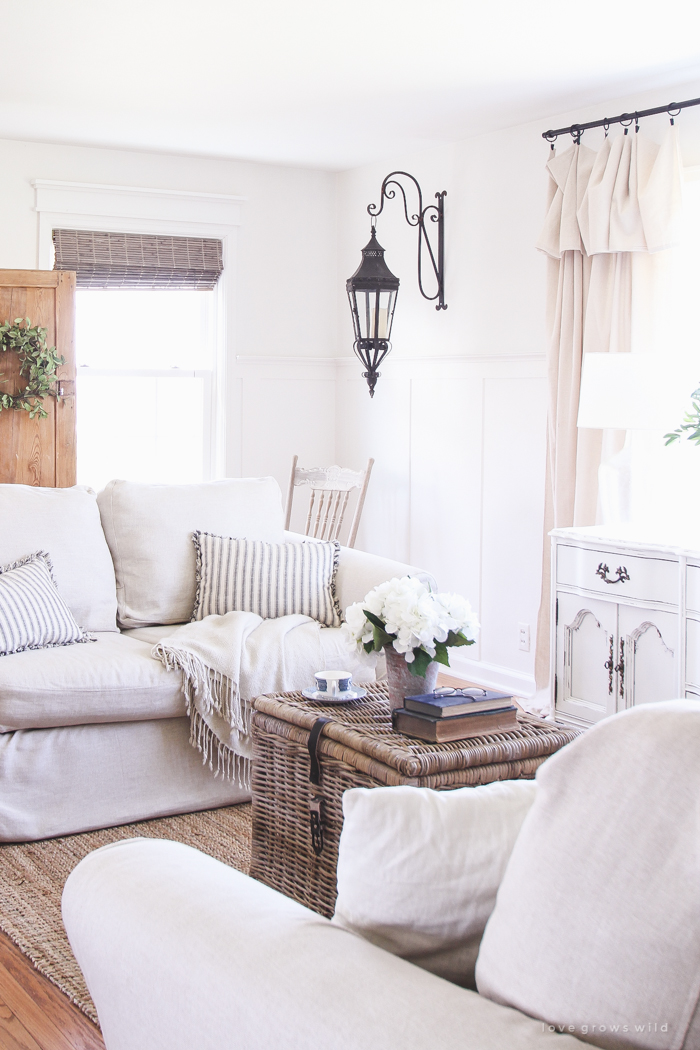 To make our neutral living room feel more like summer, I added simple hints of blue and green with pillows, plants, flowers, and books.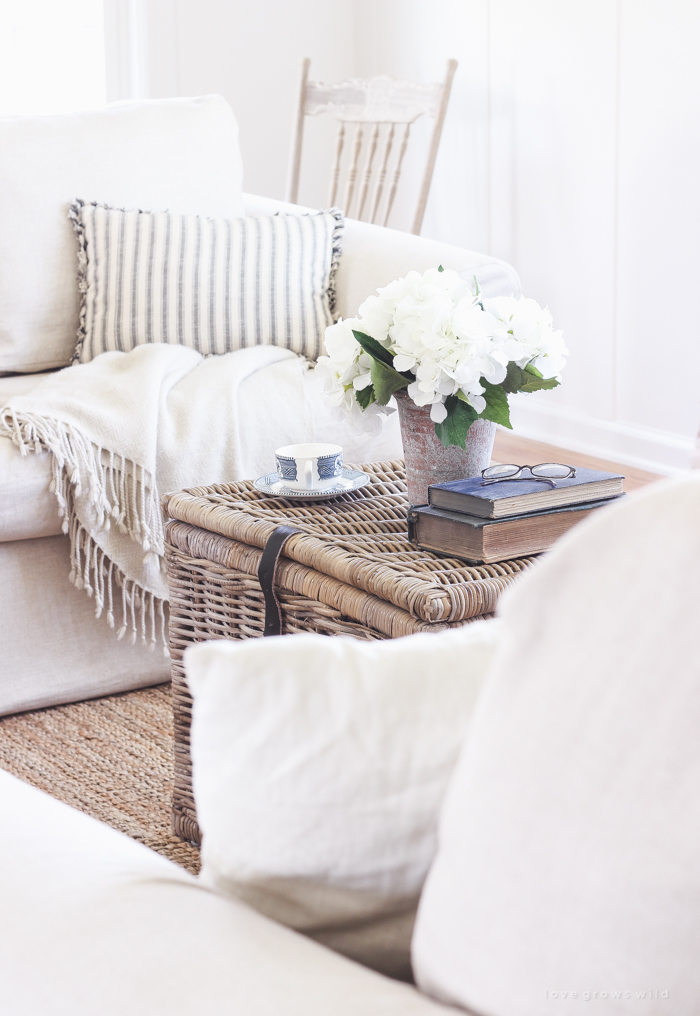 We'll be spending a lot of time in here over summer playing board games and having movie nights, so again, I wanted the whole room to feel casual and relaxed.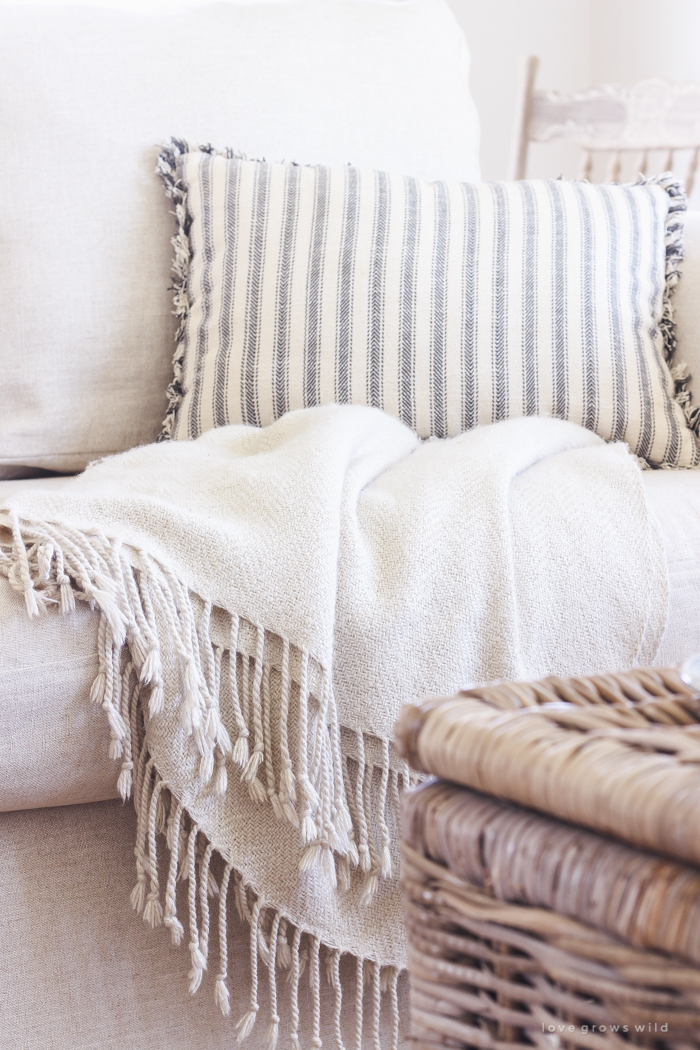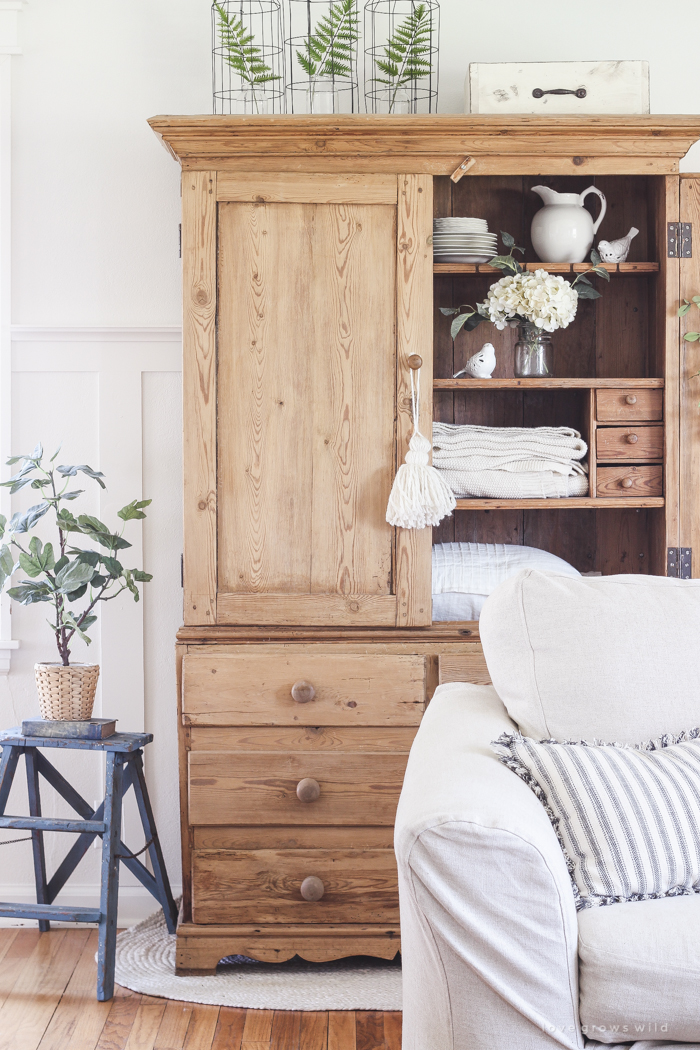 Hydrangeas on the coffee table are the perfect nod to summer.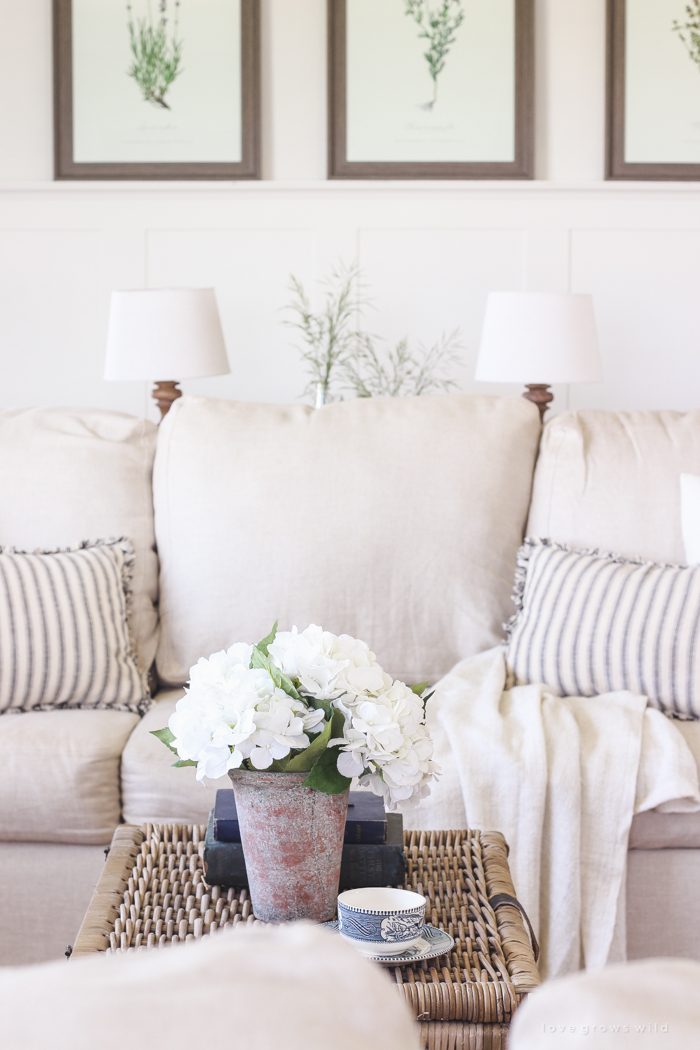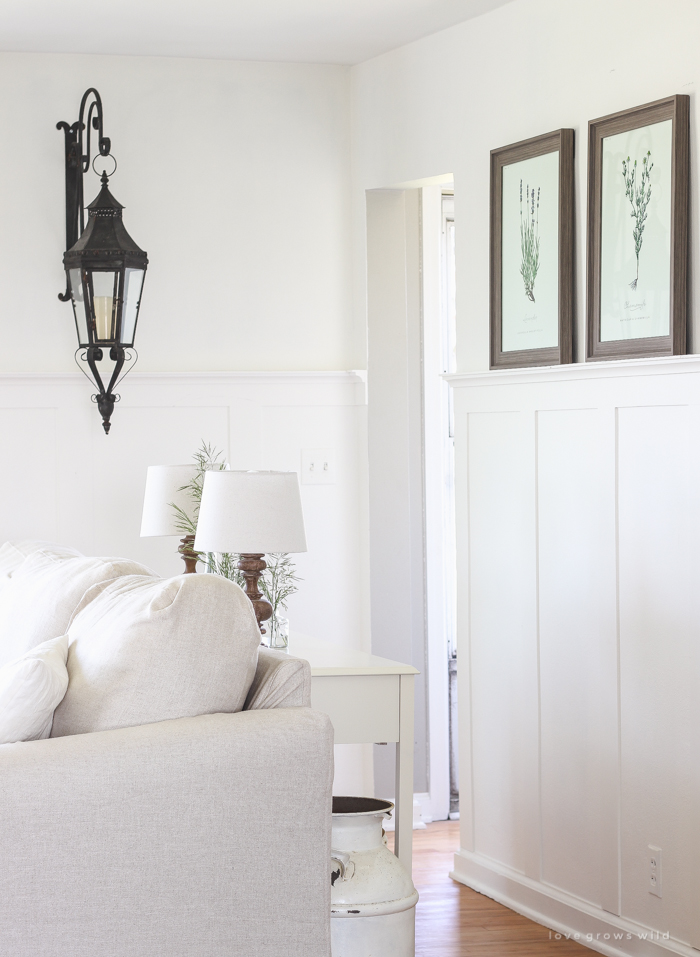 And here's a little secret for you…
… that greenery on the console table behind the couch? Those are weeds from my backyard.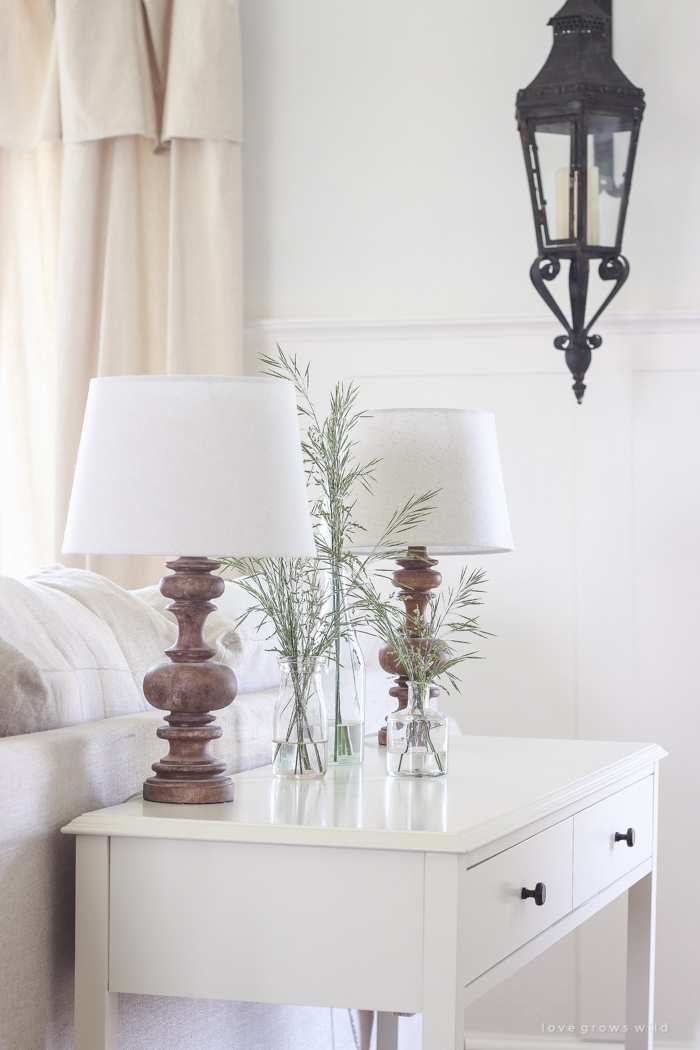 One of the best parts of decorating this time of year is all beautiful things you can find right outside your door for free. Tree branches, garden clippings, or even overgrown weeds that you haven't had time to deal with yet… they make for some gorgeous natural accents in your home!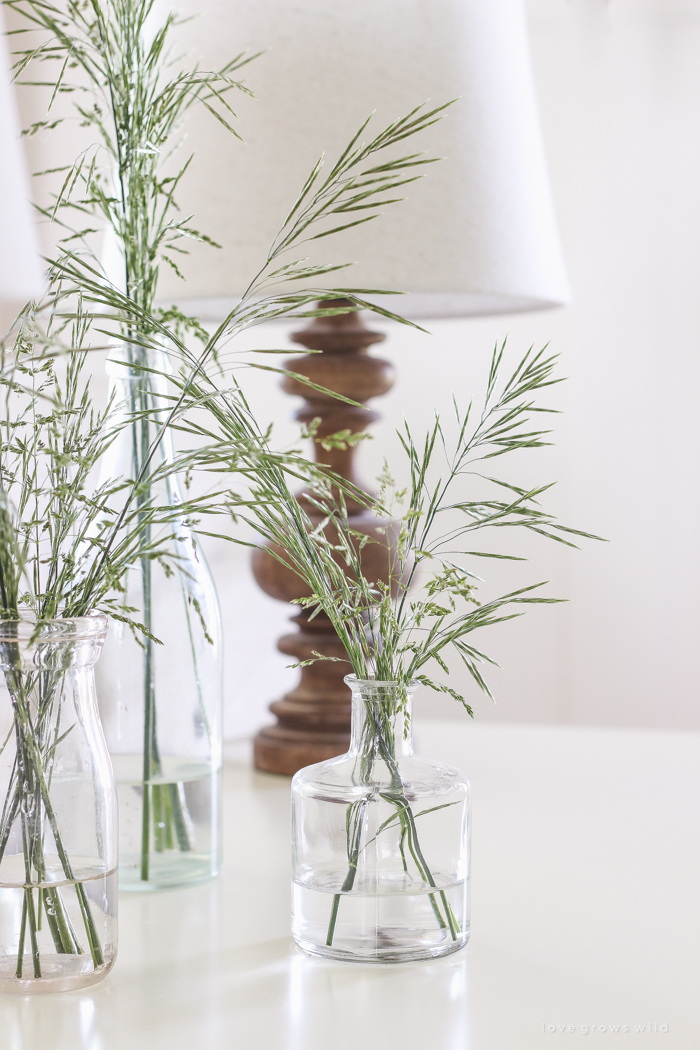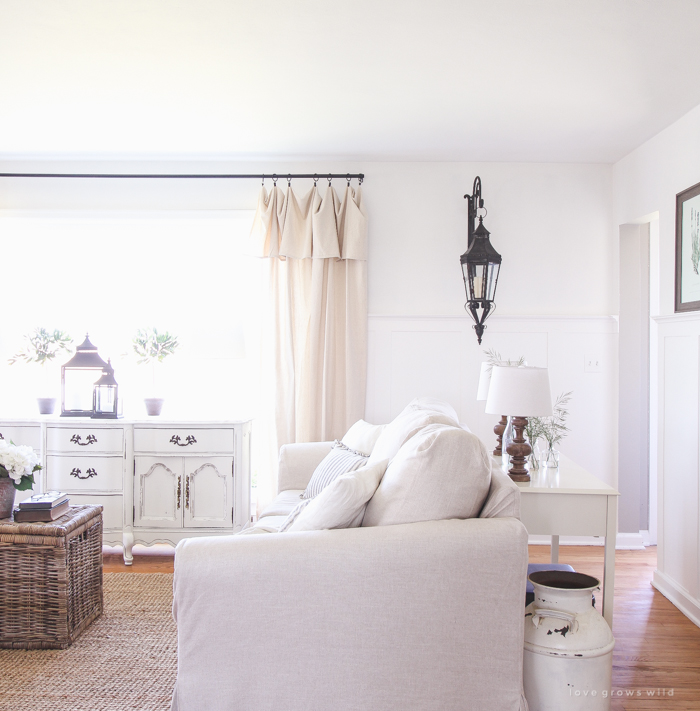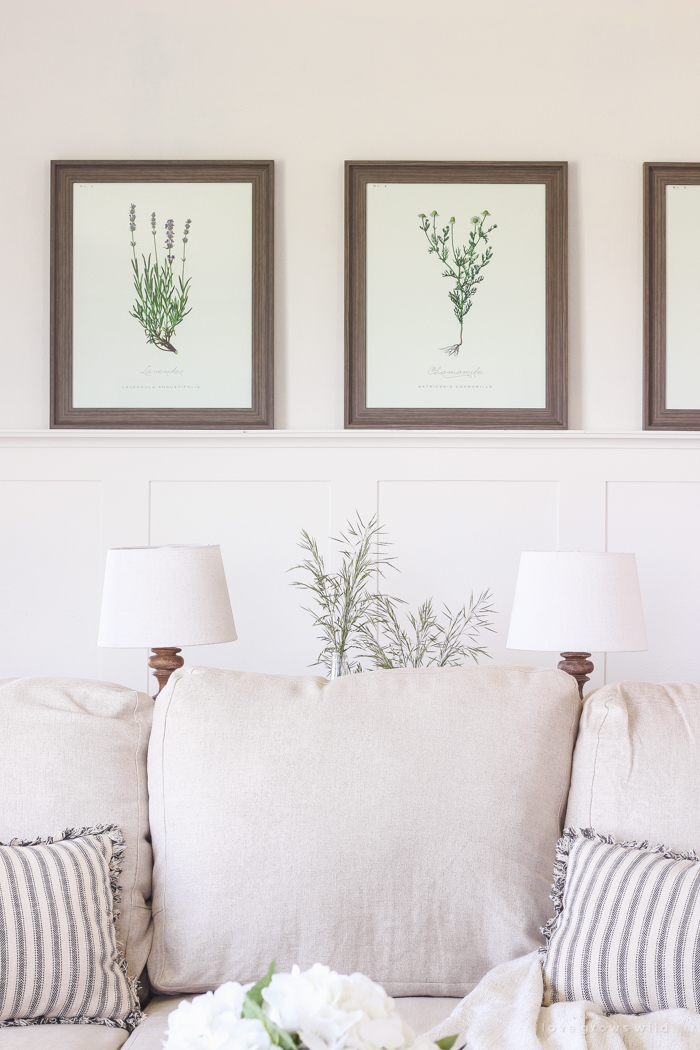 ---
Office
---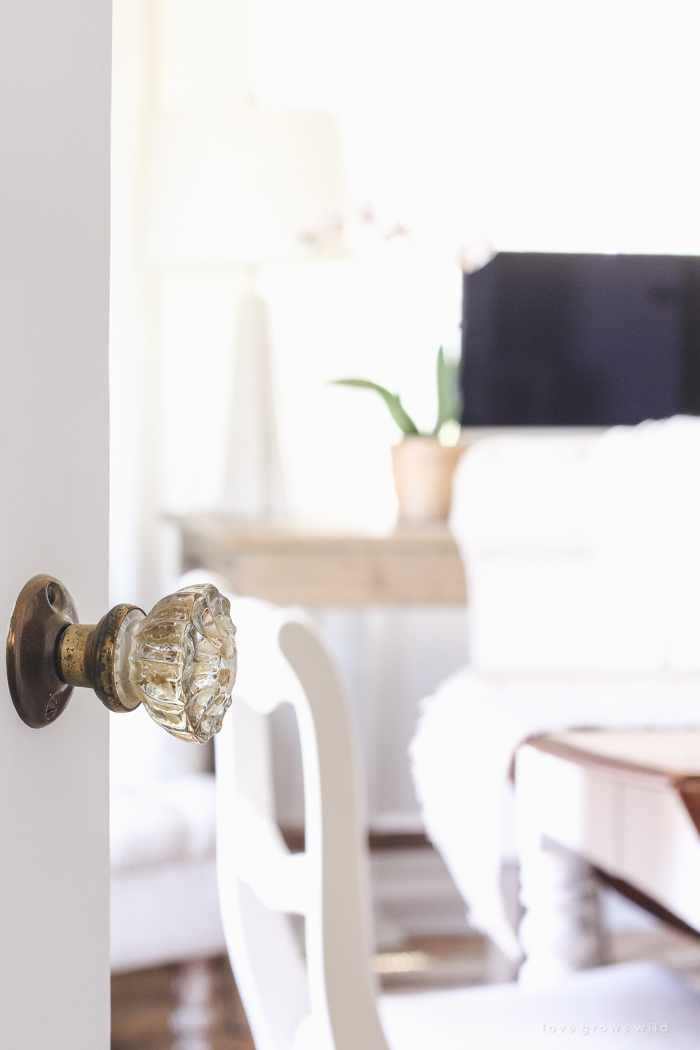 My office has changed quite a bit since the last time you saw it here on the blog, so I thought this would be a great time to share the updates!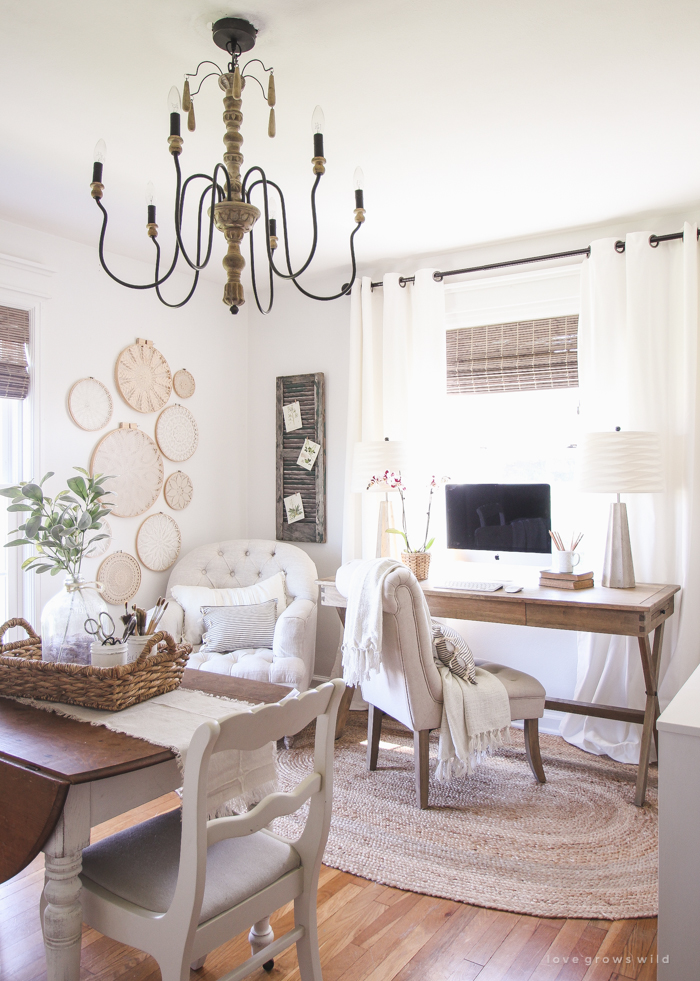 There was nothing wrong with the old layout (remember the big farmhouse table desk floating in the middle of the room?), but one day I started shuffling some furniture around, and before I knew it, I had a whole new design that I loved. This layout gives me more room to work in, which is really the main goal for an office, so I think I'll keep it for awhile!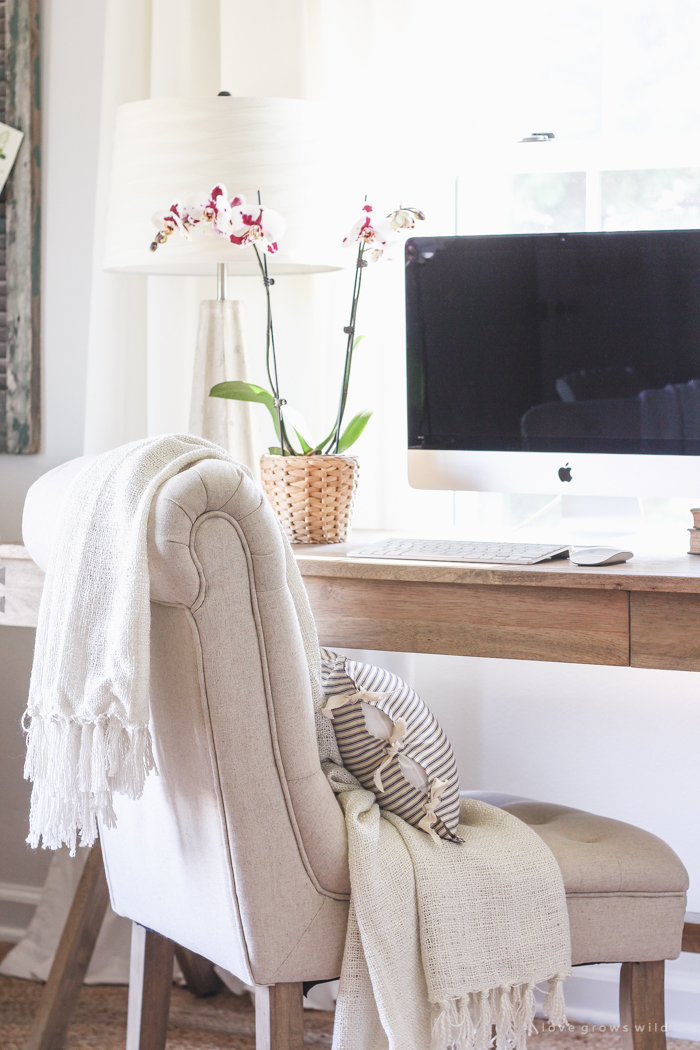 Jeremy bought me the most beautiful orchid recently that has been blooming like crazy. Isn't the color fantastic?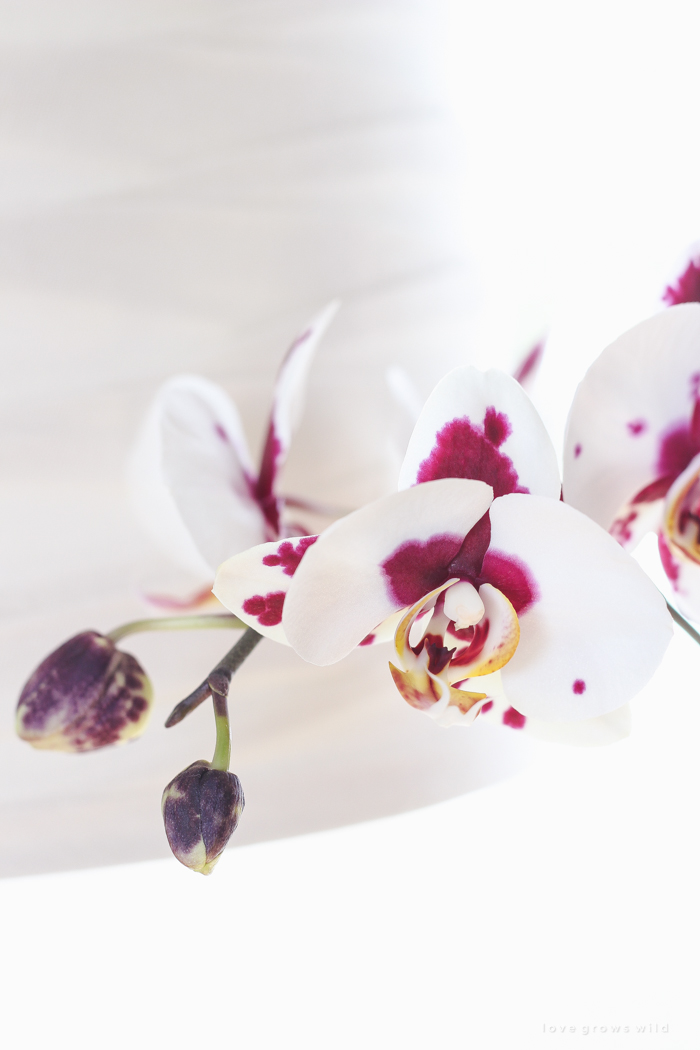 I now have a work table to do my projects on, a desk area, a cozy sitting area, and plenty of storage.
By the way, many of the pieces you're seeing in this home tour are actually projects I made for my book! A Touch of Farmhouse Charm will be released on December 6th, 2016, but you can pre-order your copy now and find out how to make all these projects (like the doily gallery wall in my office)!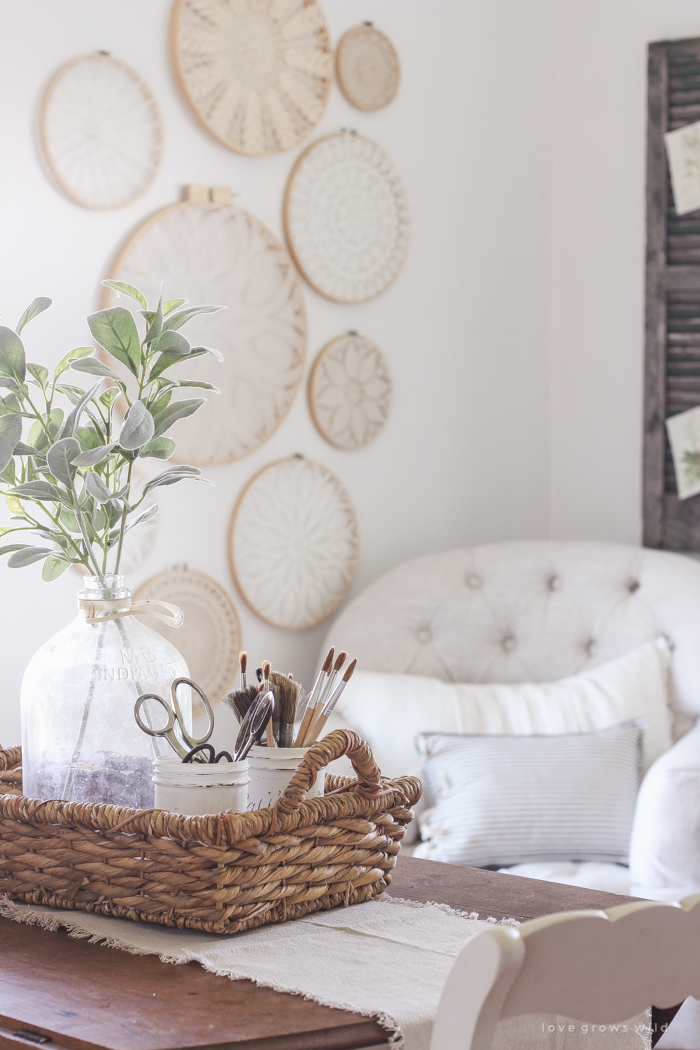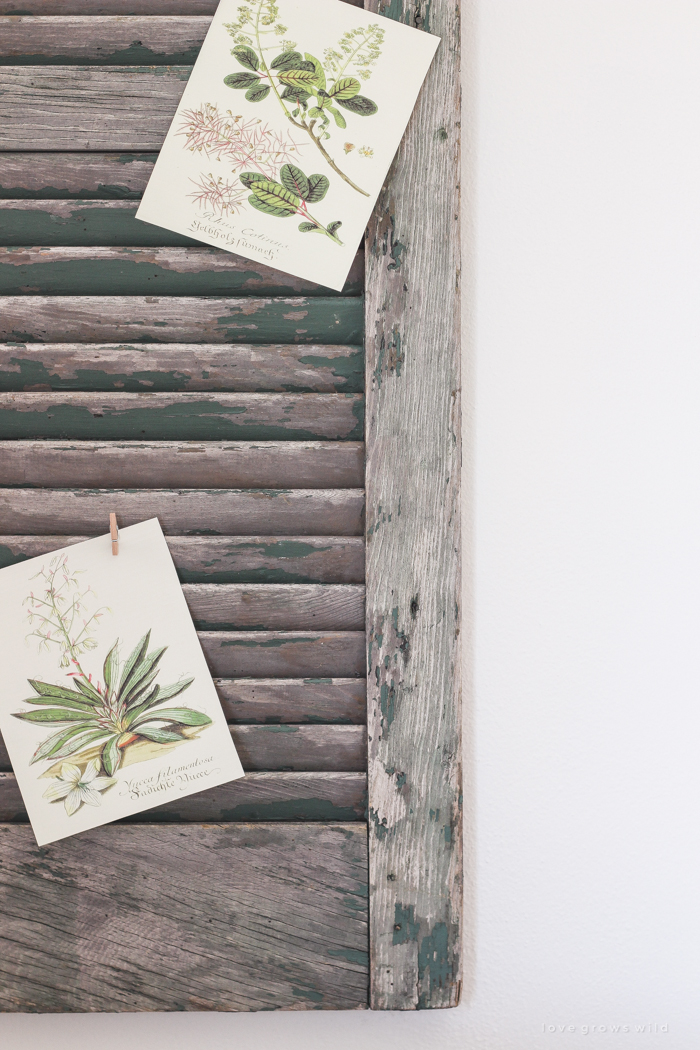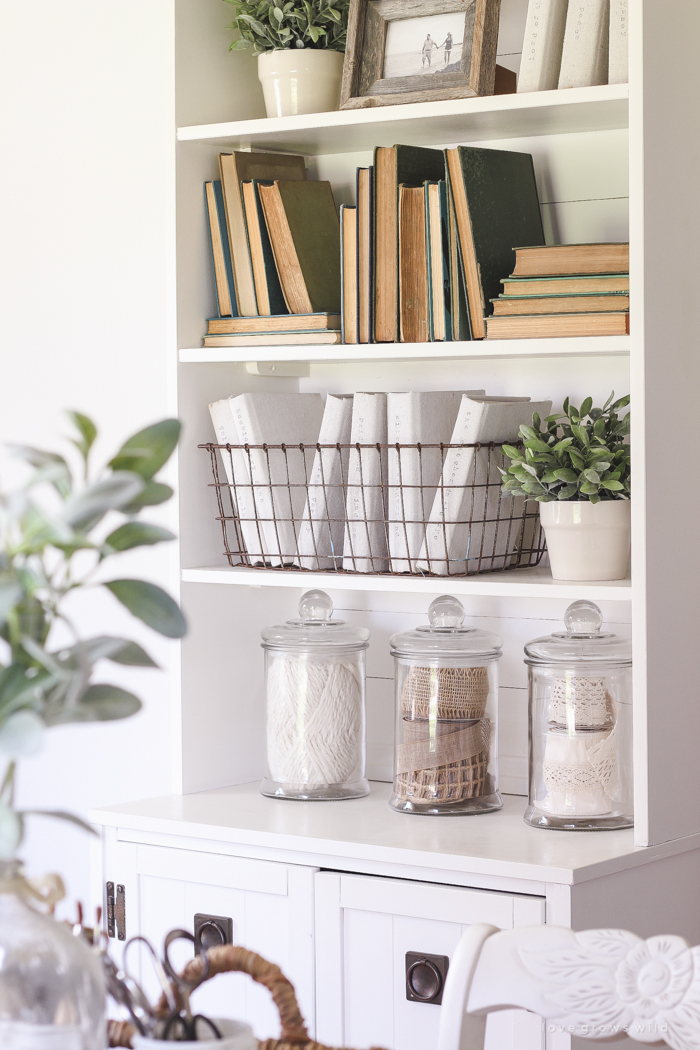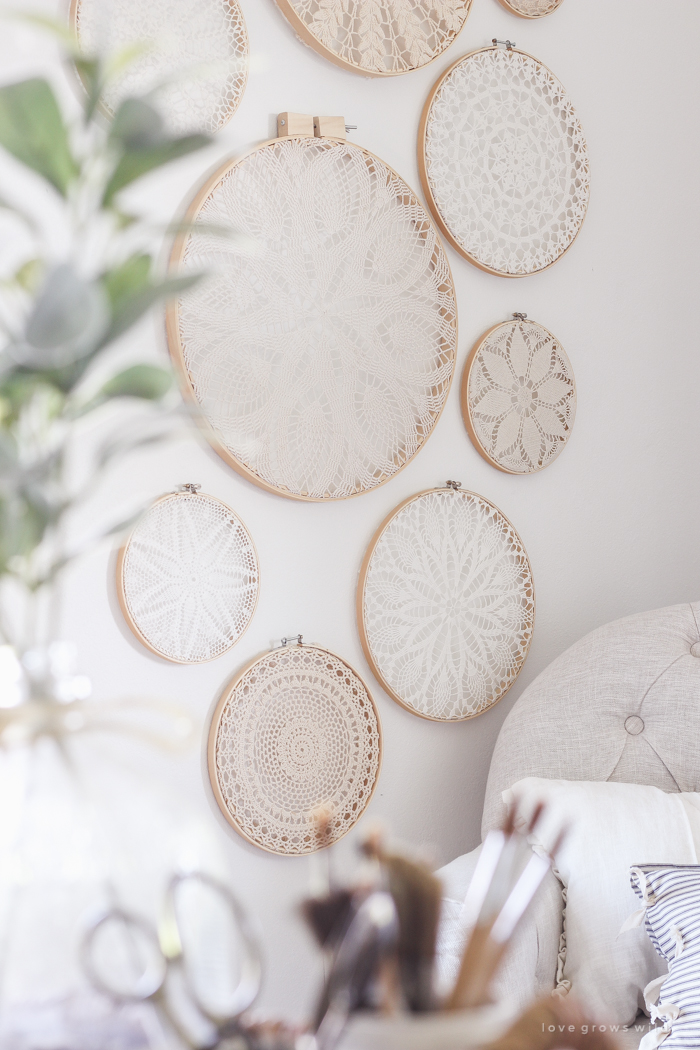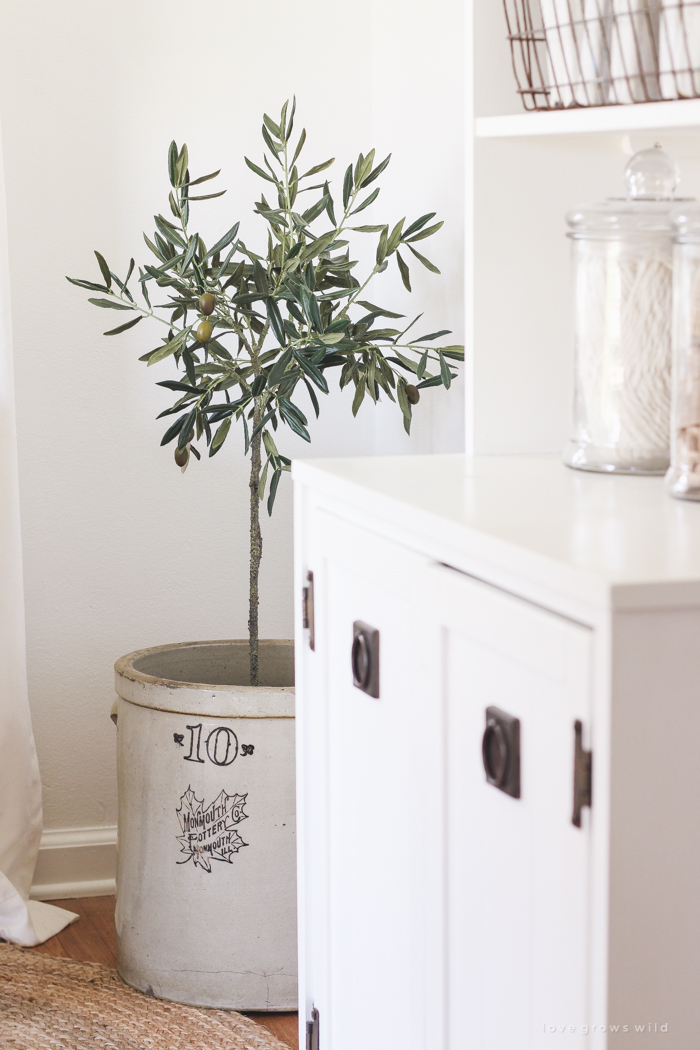 ---
Patio
---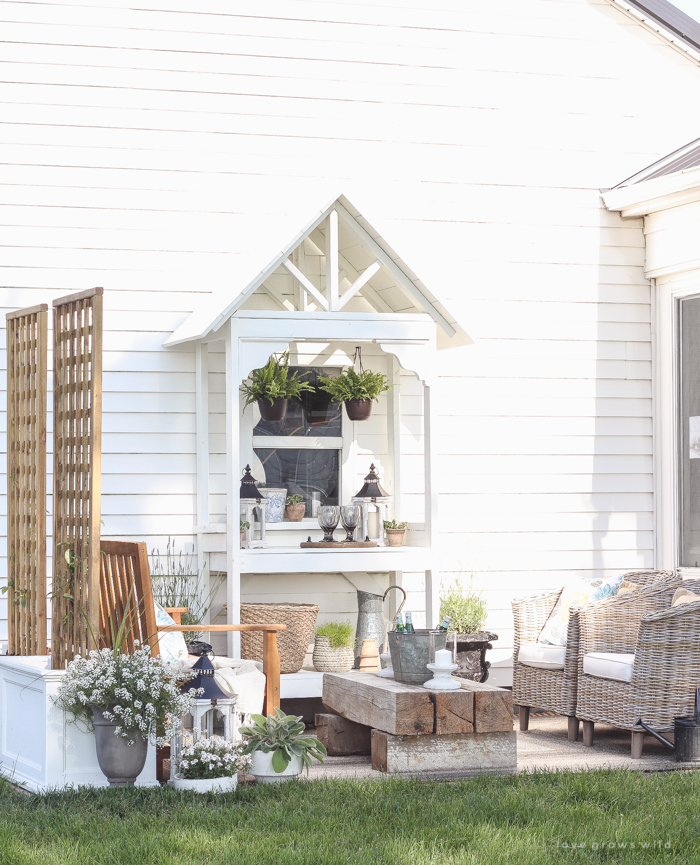 The final stop on today's tour might just be my favorite.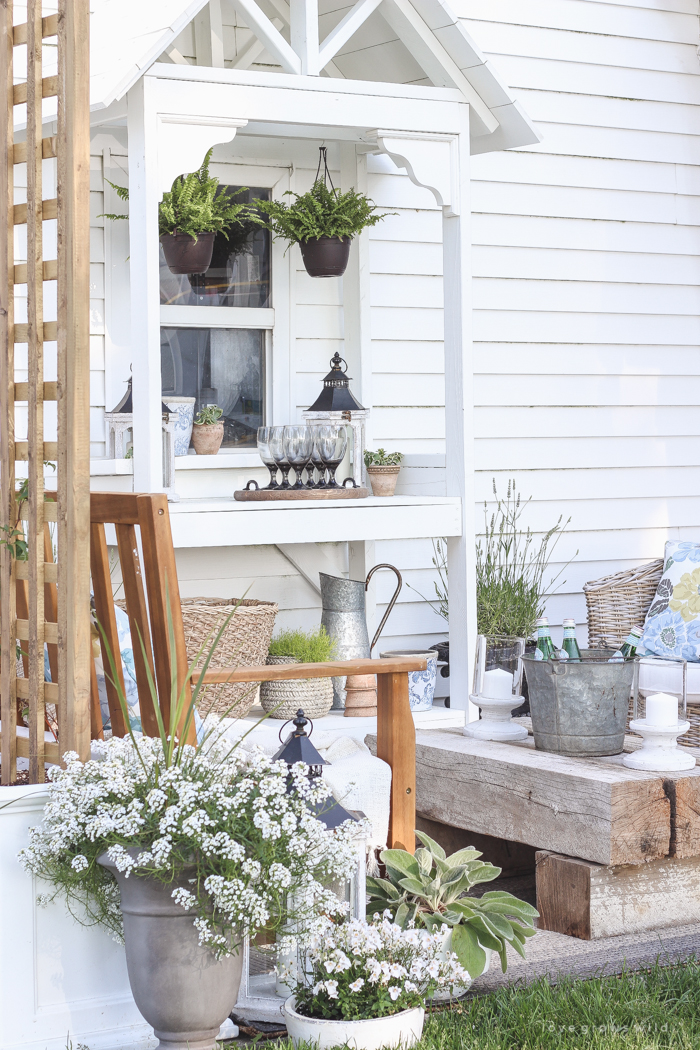 We recently gave our patio a big makeover, but I wanted to continue the "summer blues" I added throughout the rest of the house onto our patio as well.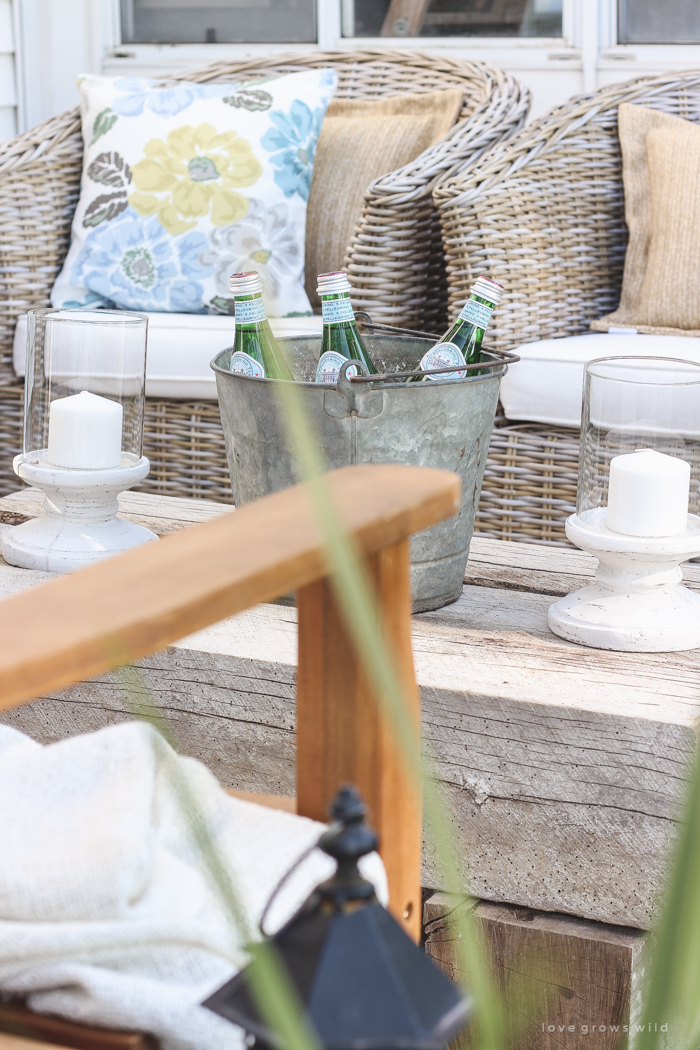 I added a few new pillows in a blue floral pattern and used some blue and white vases on the potting bench.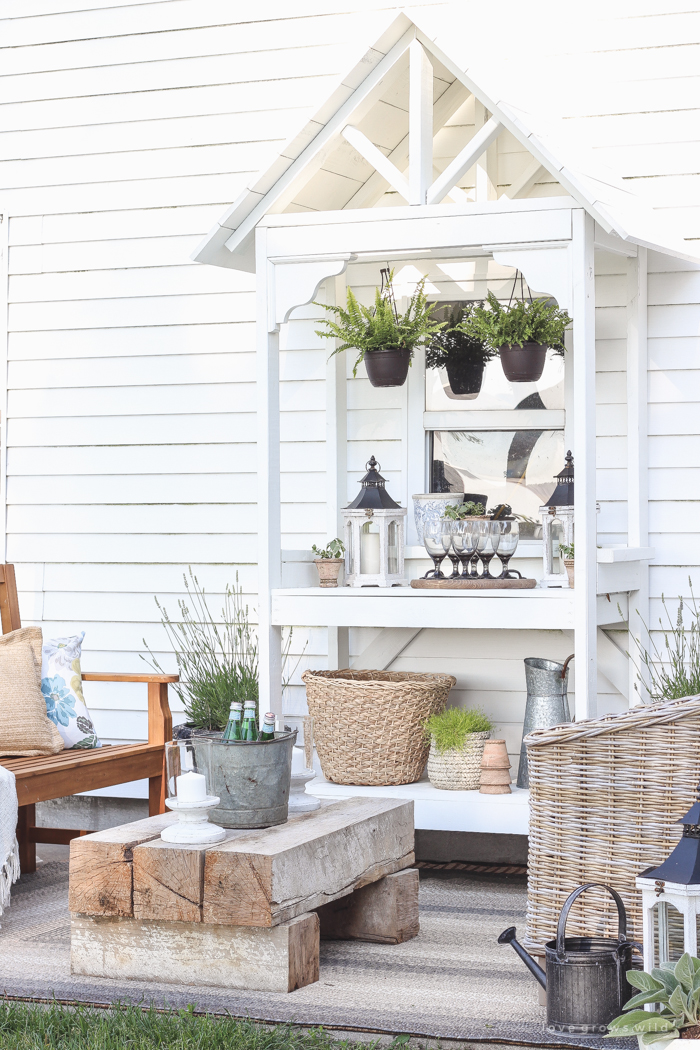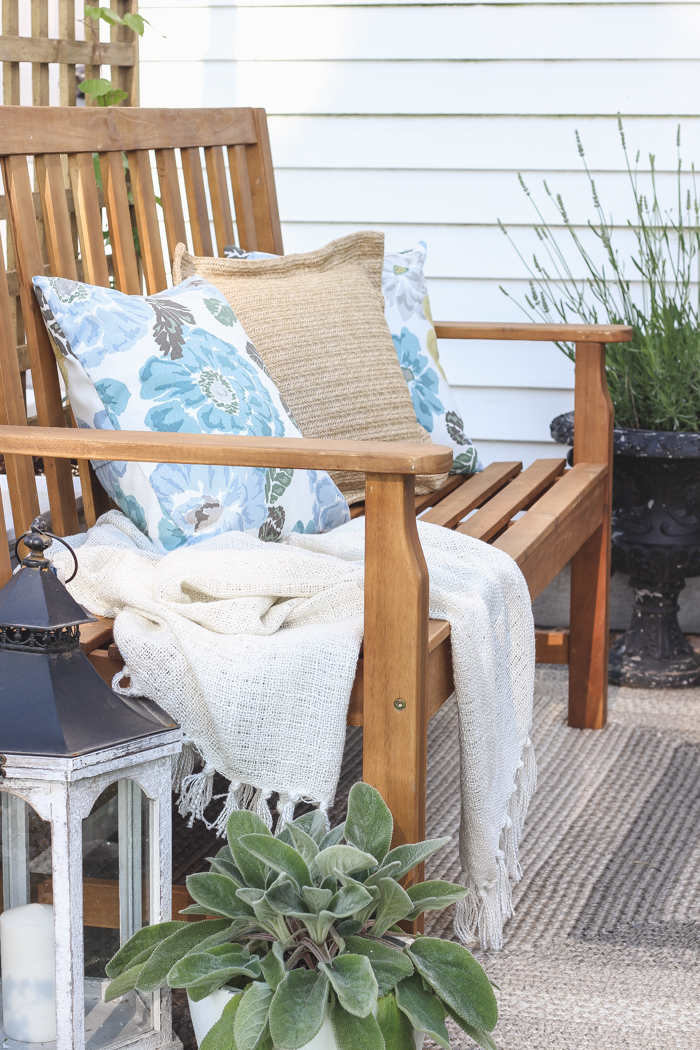 A new rug in a cool, neutral shade helped tone down all the wood pieces on the patio, and my plants and flowers are all growing beautifully! I am so excited to relax out here with the family this summer!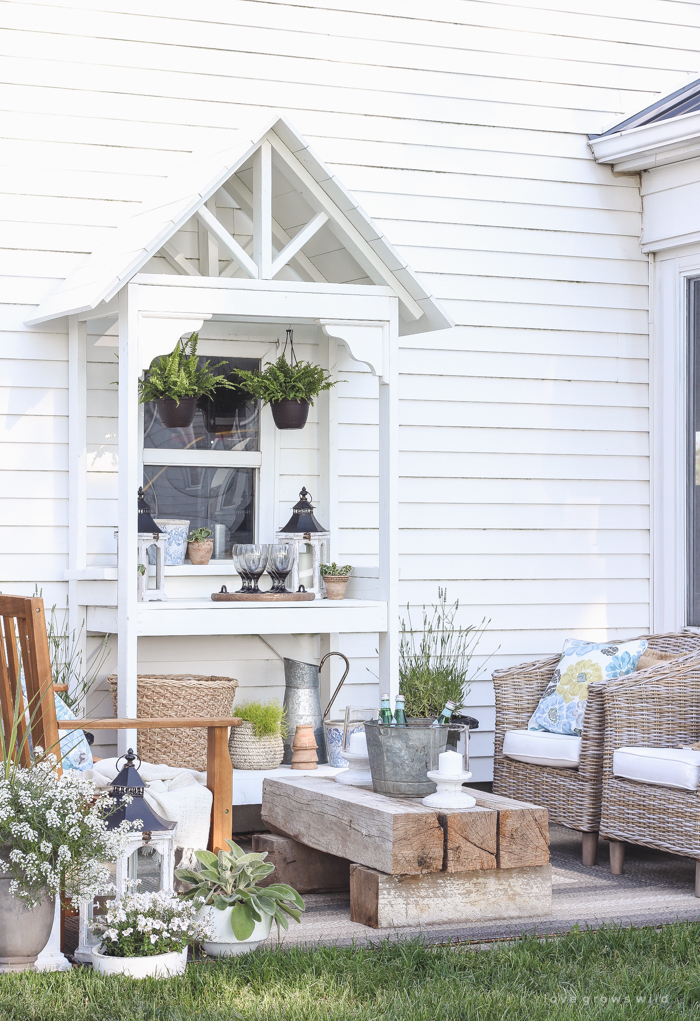 Thank you so much for stopping by our farmhouse today… it means the world to me to have you here! You can find where I purchased all of the items seen in this home tour in the source list below.
I want to thank Julie Blanner for hosting this amazing home tour, and I encourage you to follow the hashtag #celebratesummerhometour on Instagram! The next stop on the tour is the stunning home of Bre from Rooms for Rent… I'll meet you over there!
Visit the rest of the Celebrate Summer Home Tour:
MONDAY:
Boxwood Avenue
The Zhush
Finding Home
Thistlewood Farms
House 214 Design
TUESDAY:
Love Grows Wild – that's me!
Rooms for Rent
Beneath My Heart
Restoration House
WEDNESDAY:
City Farmhouse
My Sweet Savannah
Craftberry Bush
Julie Blanner
French Country Cottage

---
Sources
---
Note: Some of the links in this post are affiliate links, which allows me to make a small commission from your purchase, but your purchase price stays the same. Thank you for helping support our blog!
Master Bedroom
crystal light fixture – Home Depot
iron bed frame – Amazon
planked walls – tutorial
faux wood beam – tutorial
lace curtains – IKEA
white quilt – Target
nightstands – Sauder
white bench – tutorial in A Touch of Farmhouse Charm!
round wood tray – Joss and Main
white pitcher vase – IKEA
general store pillow – tutorial in A Touch of Farmhouse Charm!
white rug – Couristan
ladder – tutorial
wicker chair – IKEA
---
Living Room
sofa slipcovers – Comfort Works
wicker trunk – IKEA
hanging lanterns – Hobby Lobby
bamboo shades – Home Depot
curtains – tutorial in A Touch of Farmhouse Charm!
wood lamps – Target
white console table – Target
jute rug – Rugs USA
farmhouse window trim – tutorial
board and batten walls – tutorial
---
Office
chandelier – World Market
desk – World Market
oval rug – Rugs USA
tufted arm chair – Target
cream velvet curtains – Target
tufted desk chair – Kirkland's
doily gallery wall – tutorial in A Touch of Farmhouse Charm!
faux olive tree – Overstock
---
Patio
wood bench – Joss and Main
floral pillow – tutorial + fabric from Joann
neutral pillow – Target
wicker chairs – Joss and Main
white potting bench – tutorial
trellis planters – tutorial
lanterns – Joss and Main
candleholders – Joss and Main
small clay pots – Joss and Main
braided pot – Joss and Main

metal watering jug – Joss and Main
fringe throw blanket – Joss and Main
rug – At Home
---
LET'S KEEP IN TOUCH!
Subscribe to Blog | Browse my Shop | Follow on Facebook | Follow on Twitter
Follow on Google+ | Follow on Pinterest | Follow on Instagram