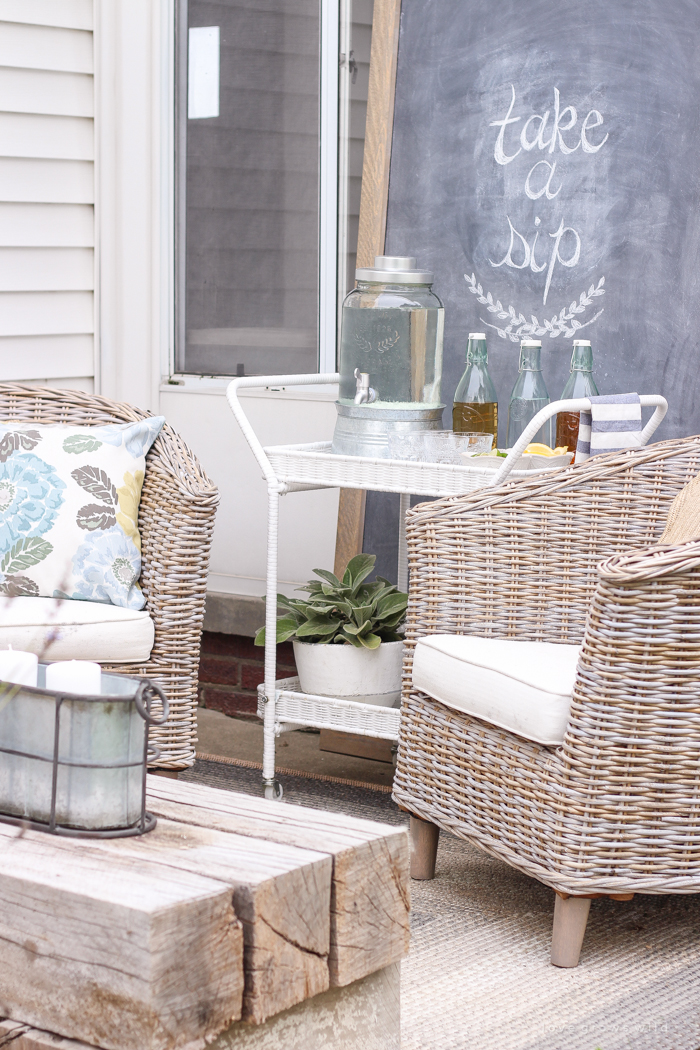 This post is sponsored by our friends at Wayfair // Our summer break is slowly winding down, and soon we'll be busy with schoolwork and football practice and harvest on the farm. I swear, the summer months always seem to just fly right by! Jeremy and I are getting ready to have one last big bonfire at the farmhouse before summer ends, so I thought today would be the perfect time to share with you a little project that I've been working on for our newly decorated patio… a simple, yet elegant outdoor bar cart!
Note: Some of the links in this post are affiliate links, which allows me to make a small commission from your purchase, but your purchase price stays the same. Thank you for helping support our blog!
Having this little bar cart setup outside saves people from having to walk in and out of the house all night long, and I found the perfect spot for it between two of my wicker chairs on the patio.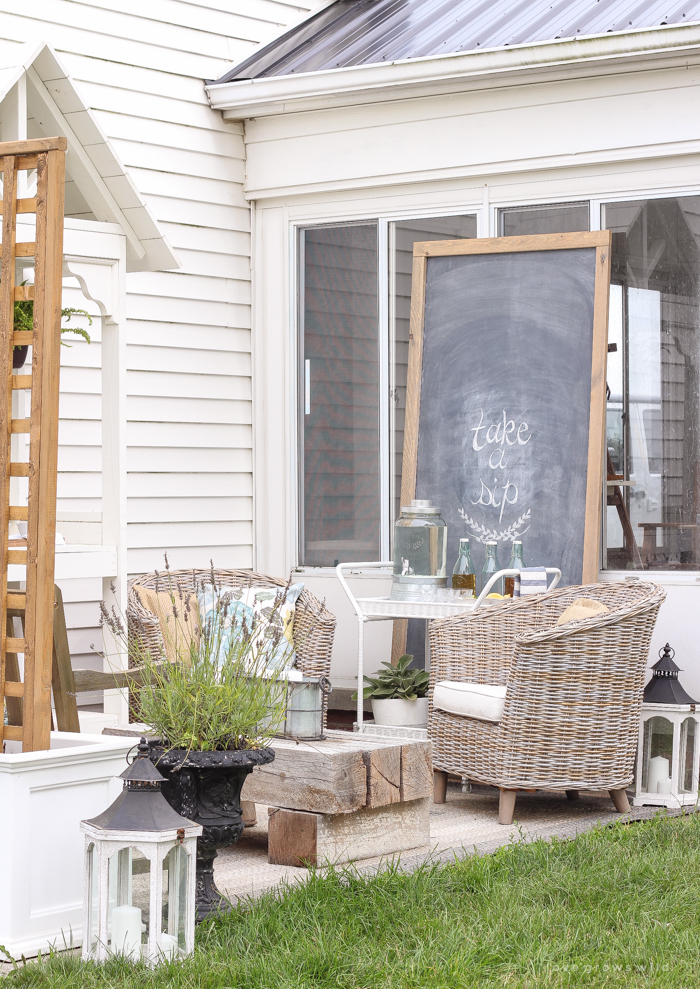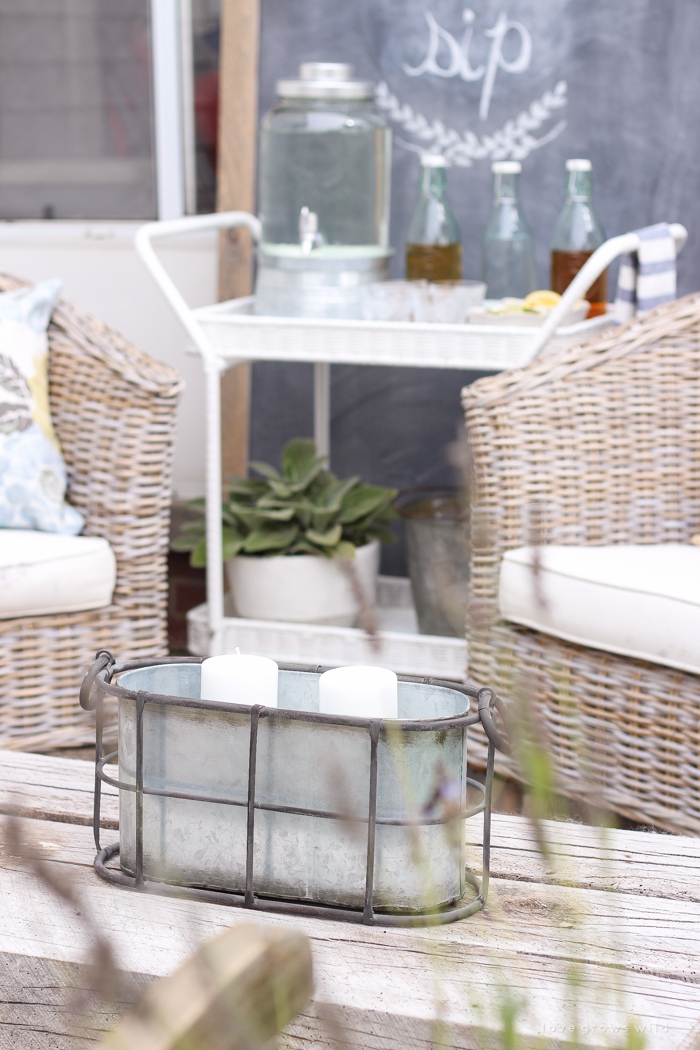 I used this Wayfair serving cart since the size was perfect for our small patio and is made to be used outdoors.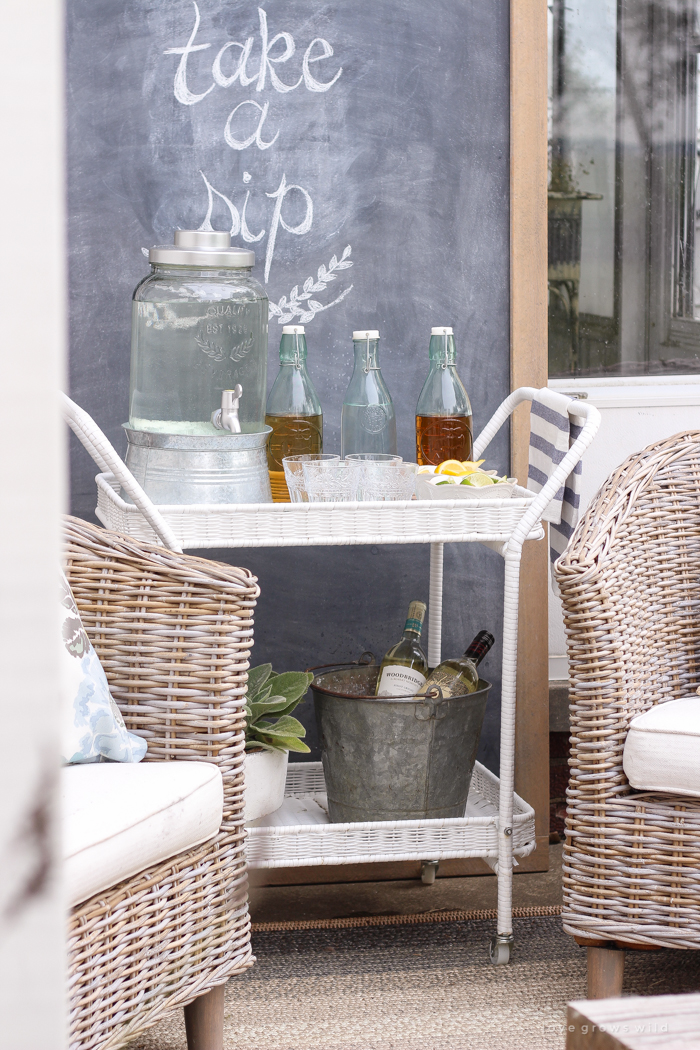 I picked up a few different bottles of liquor, but instead of leaving the liquor in their original containers, I poured each of them into a pretty glass bottles. I'm all about visual details, and all the bold colors and patterns that came on the bottle labels took away from the simple, vintage design of our patio. So by transferring the liquor into this Wayfair cruet and this Wayfair decanter, I was able to get rid of the distracting labels and add a touch of vintage charm to the space.
I set out an old bucket with ice to chill a few bottles of wine and a large beverage dispenser from Wayfair with water for our guests. I love the old fashioned look of these Wayfair glasses, and these decorative bowls were perfect for holding slices of lemon and lime.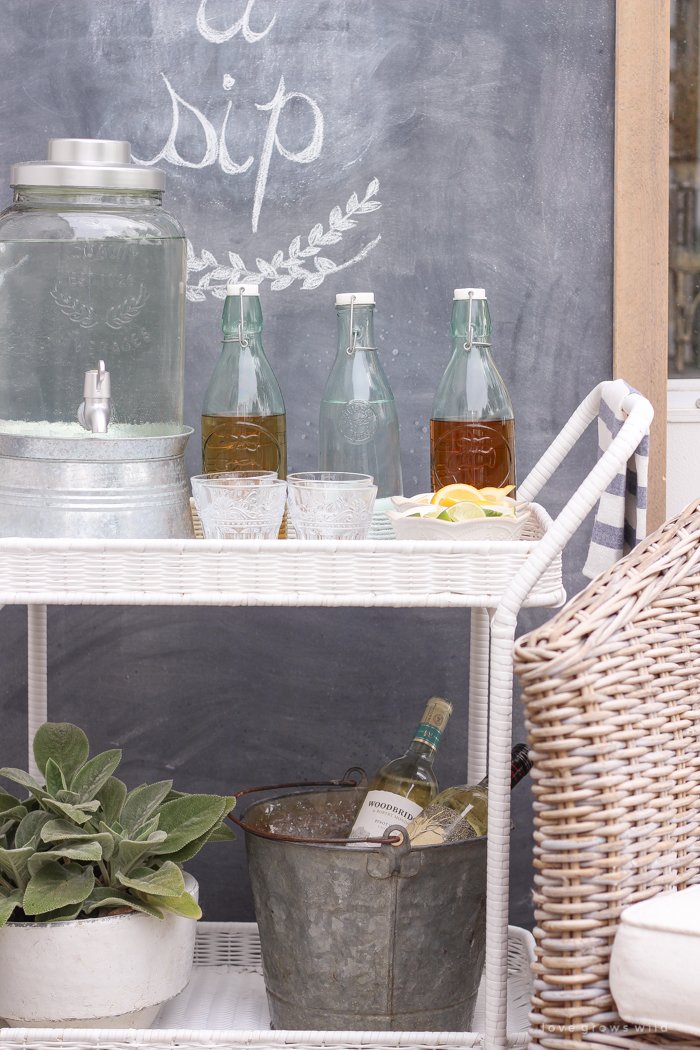 I wanted to give the bar cart a fun backdrop, so I pulled the GIANT chalkboard out of my office and changed the artwork to a more fitting theme. Doodling on this chalkboard is one of my favorite things to do… even though I'm not great at freehand chalk art, it's very fun and relaxing to practice anyway!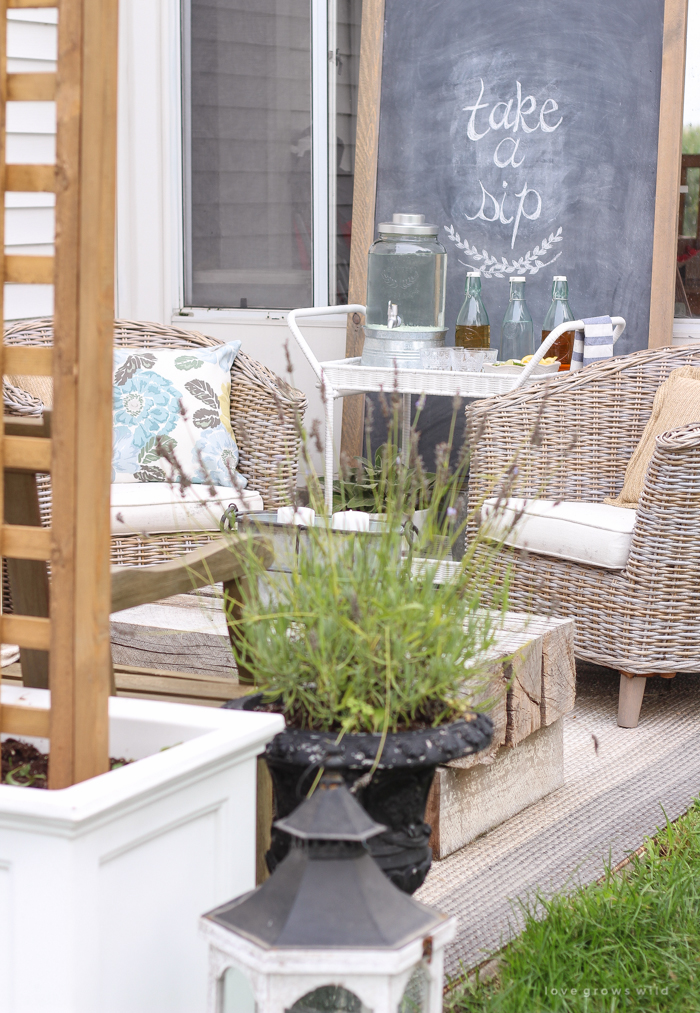 I didn't go crazy overboard with stocking up our bar cart, but here are a few more things that may be handy to have, depending on what you and your friends like to drink:
liquor such as vodka, gin, bourbon, rum, whiskey, or tequila
white and red wine
beer
mixers such as ginger ale, club soda, pop, tonic water, or cranberry juice
drinkware such as wine glasses or highball glasses
bar tools such as a shaker, corkscrew, bottle opener, straws, and napkins
A towel hanging off the side of the cart and a pretty plant or bouquet of flowers make the perfect finishing touches for a beautiful, well planned bar cart for your guests to enjoy!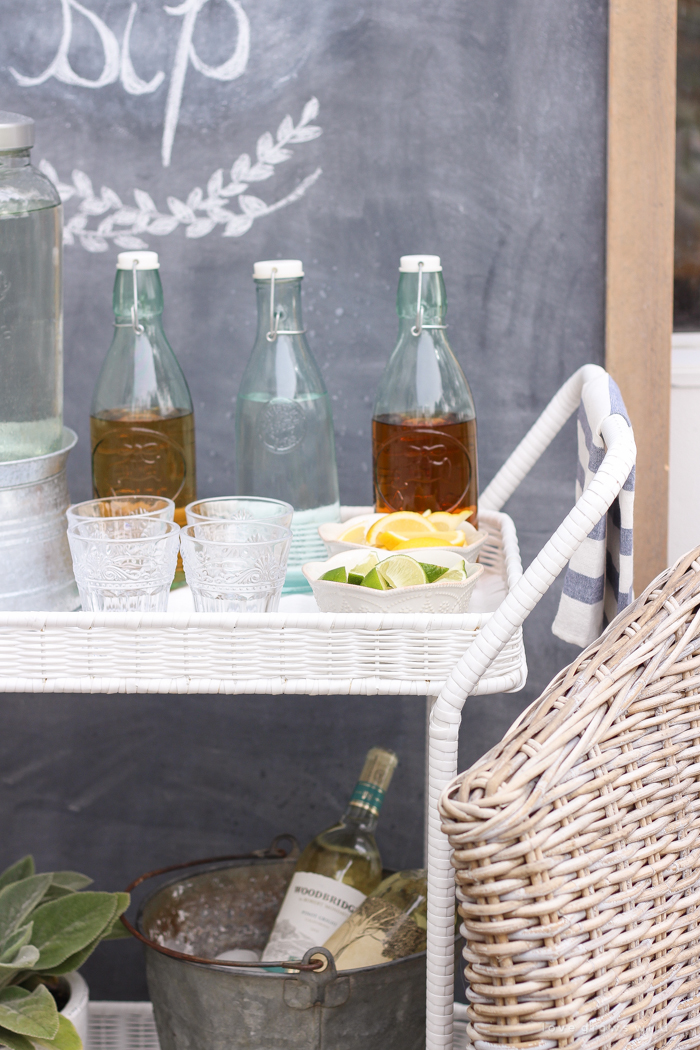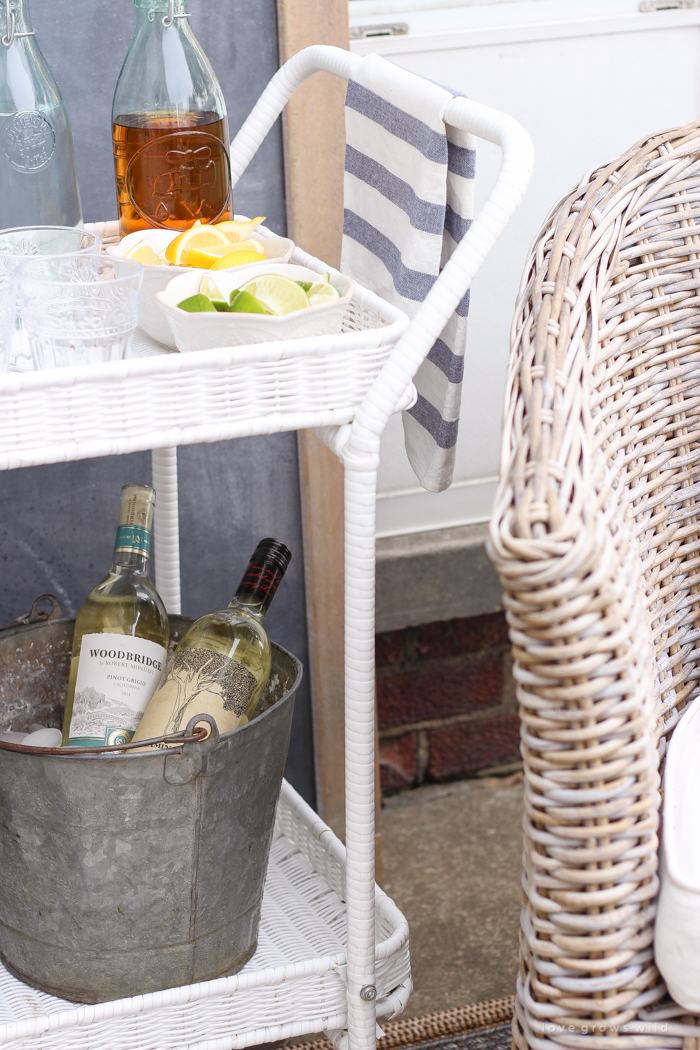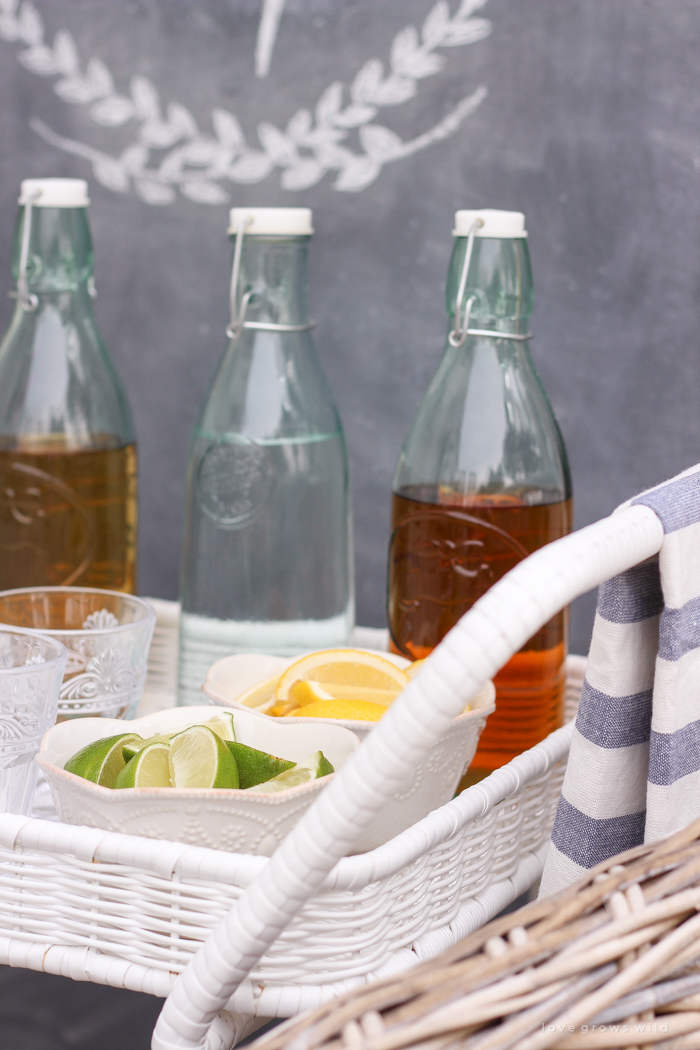 On the other side of the patio, you may remember the potting bench, barn beam coffee table, and trellis planters that I built earlier this summer. All of these pieces have created such a cozy, relaxing space that we have used over and over again this summer!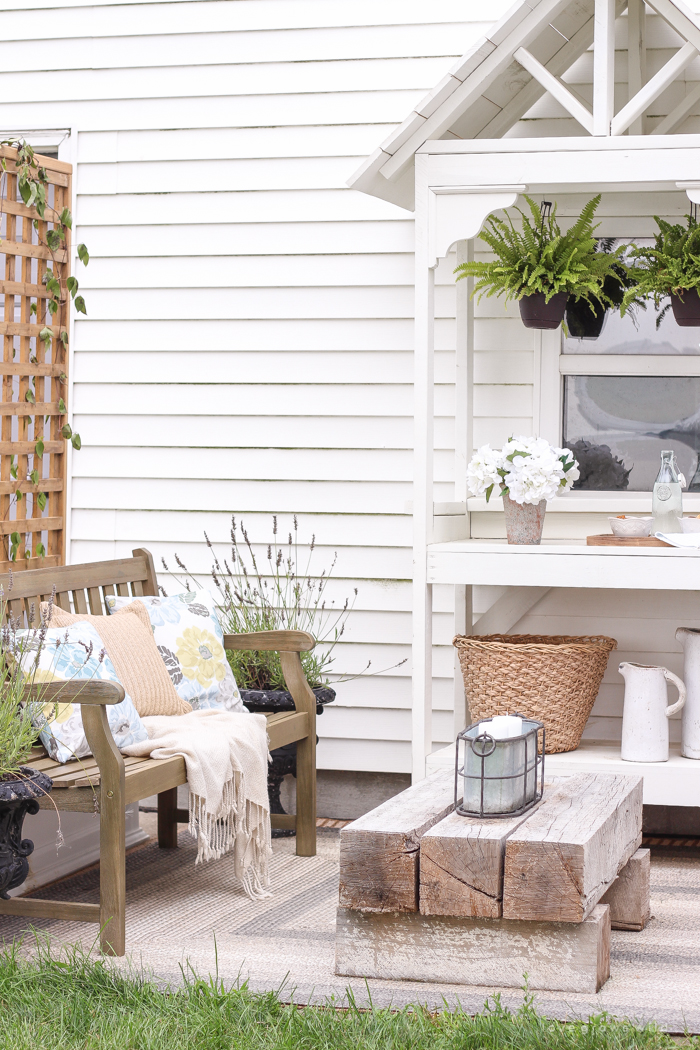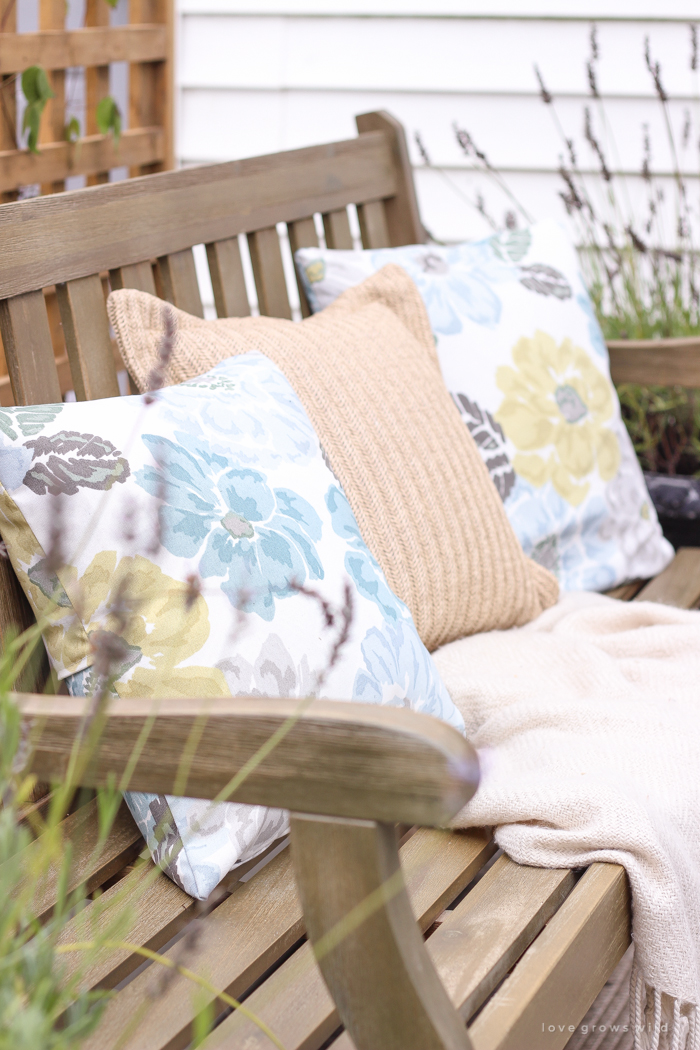 We are all ready to enjoy a big bonfire with our friends this weekend, and now that the bar cart is taken care of, I just need some good weather, good music, and good food to make the night perfect! I hope you picked up a few tips for your next get together from today's post… enjoy your weekend, sweet friends!

---
SOURCES
---
wood bench – Joss and Main
floral pillow – tutorial + fabric from Joann
neutral pillow – Target
wicker chairs – Joss and Main
white potting bench – tutorial
trellis planters – tutorial
bar cart – Wayfair
large chalkboard – tutorial from my book, A Touch of Farmhouse Charm
beverage dispenser – Wayfair
glass decanters – Wayfair and Wayfair
old fashioned glasses – Wayfair
decorative bowls – Wayfair
lanterns – Joss and Main
metal watering jug – Joss and Main
rug – At Home
metal tub with candles – Wayfair
large ceramic pitcher – Wayfair
small ceramic pitcher – Wayfair
---
LET'S KEEP IN TOUCH!
Subscribe to Blog | Follow on Instagram
Follow on Pinterest | Follow on Facebook