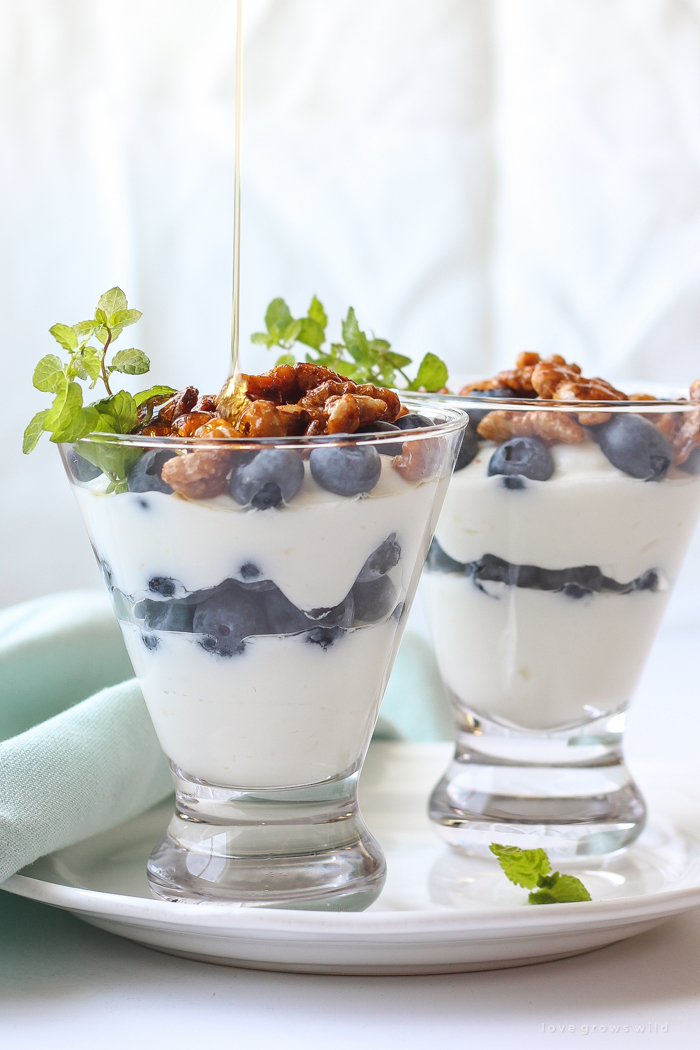 Today's recipe is sponsored by our friends at the American Dairy Association Mideast.
Warm summer mornings call for a cool, healthy breakfast, and this quick and easy yogurt parfait is my go-to choice right now. Lemon-infused Greek yogurt topped with juicy, fresh blueberries and toasted honey-glazed walnuts… what a delicious way to start the day!
I would love to cook up a big breakfast of eggs and bacon and french toast for my family every morning, but reality has something a little different on the menu. Lately, Jeremy is out the door headed to the farm before I'm even out of bed, and when the kids wake up, I'm already sitting down at the computer starting my work day. They are on summer break now and taking FULL advantage of sleeping in every morning!
So basically we're all eating breakfast at different times, but these parfaits make it super simple to have a good breakfast ready to go that tastes amazing, is packed with protein, and doesn't take a lot of time to make!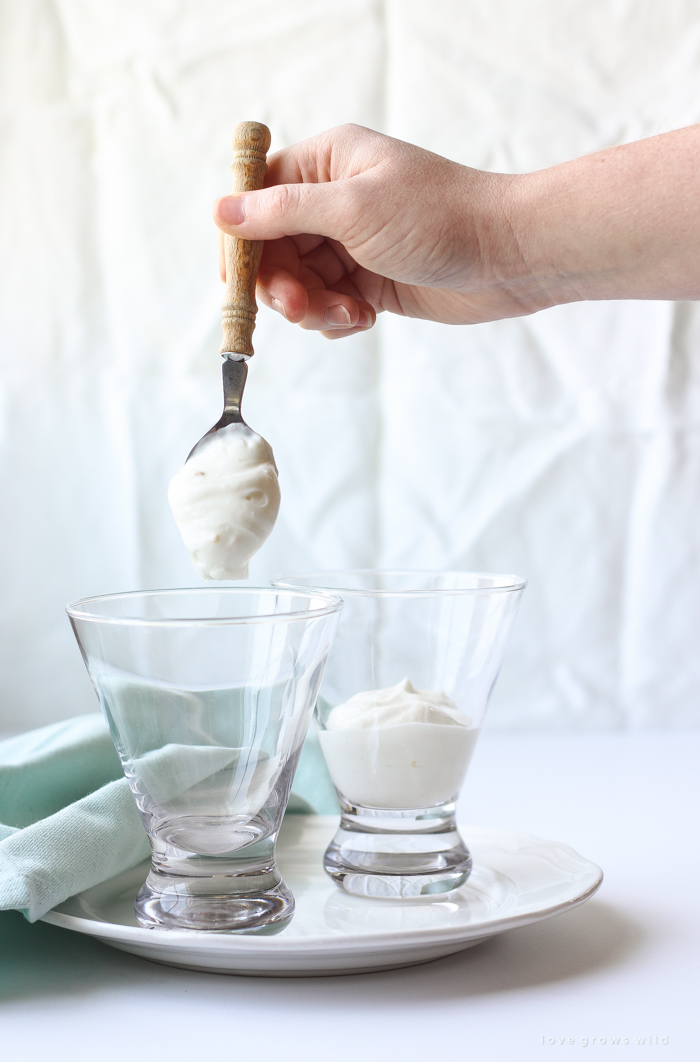 The parfaits start with one of my go-to breakfast foods, Greek yogurt. For this recipe, I infused the yogurt with fresh lemon flavor, plus just a bit of honey for sweetness. Greek yogurt is full of protein without a ton of calories or sugar (as long as you get plain, non-fat yogurt), so I use it as a breakfast or snack option quite often.
Did you know that June is National Dairy Month? It's a good reminder for us all to include dairy foods into our daily diets and celebrate the American farmers who work hard to provide them for us. You guys know I have a soft spot in my heart for all the farmers out there! It is recommended that we eat 3 servings of low fat or fat-free dairy foods each day, and this yogurt parfait is a great way to get one of them in!
A few years ago, I had the pleasure of traveling to Ohio with the American Dairy Association Mideast and touring some of the amazing dairy farms they work with. It was an amazing experience to see first-hand the great care, experience, knowledge, and pride these farmers put into caring for their animals and creating a safe, healthy, and delicious product for us all to enjoy. By visiting the Drink-Milk.com website, you can take a virtual tour of some of the farms, go inside a milking parlor, and follow the journey your milk takes from farm to table.
I also had the chance to interview Laurie Spahr, a local dairy farmer, and ask her how I can be sure that the milk I'm giving my kids is safe and antibiotic-free. You can see our interview and her answer here!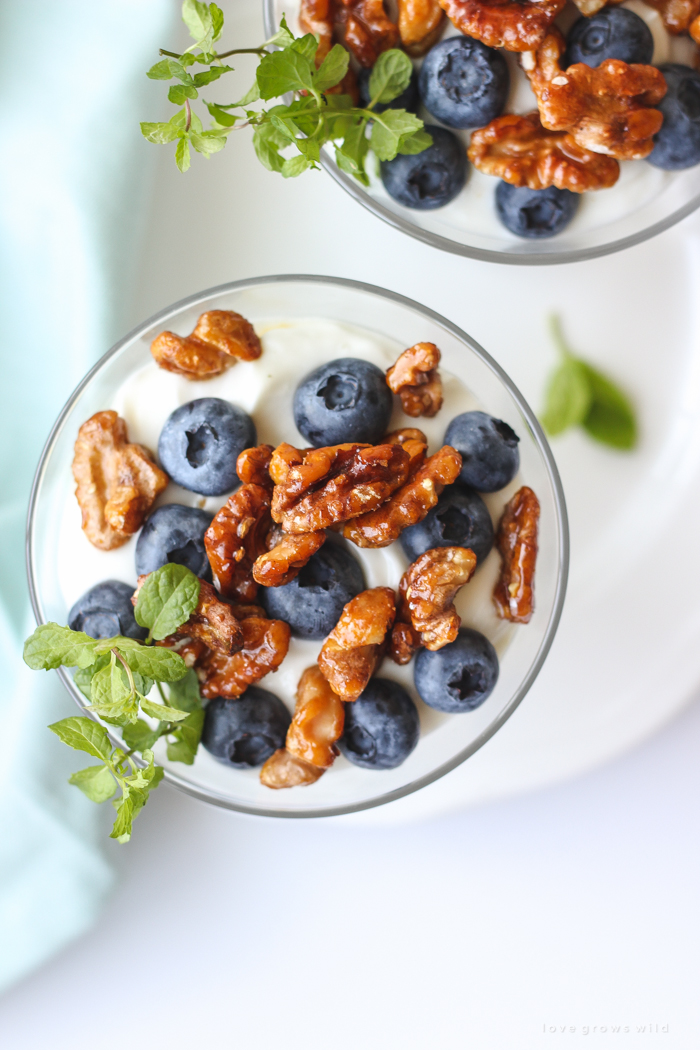 To add some layers of flavor and texture to the lemon yogurt parfaits, I used juicy, sweet fresh blueberries and toasted honey-glazed walnuts that I made right in my oven. You can bake the glazed walnuts ahead of time if you want so these parfaits can be whipped up in no time on busy mornings. Creamy yogurt, crunchy walnuts, and juicy blueberries come together to create a flavorful, light parfait that will fuel you all throughout the morning!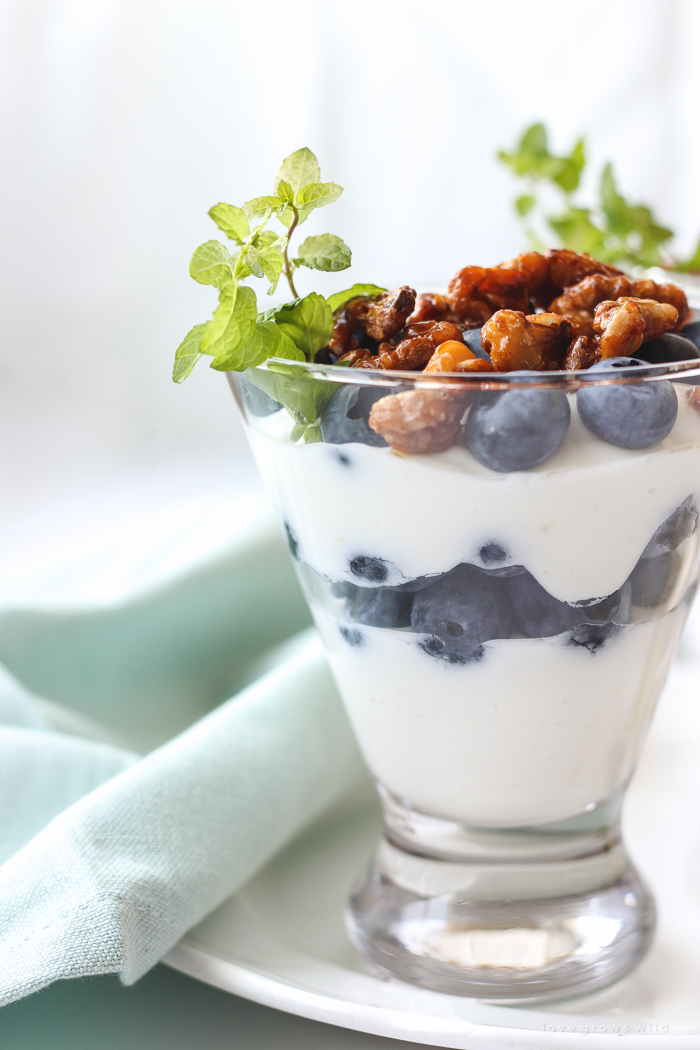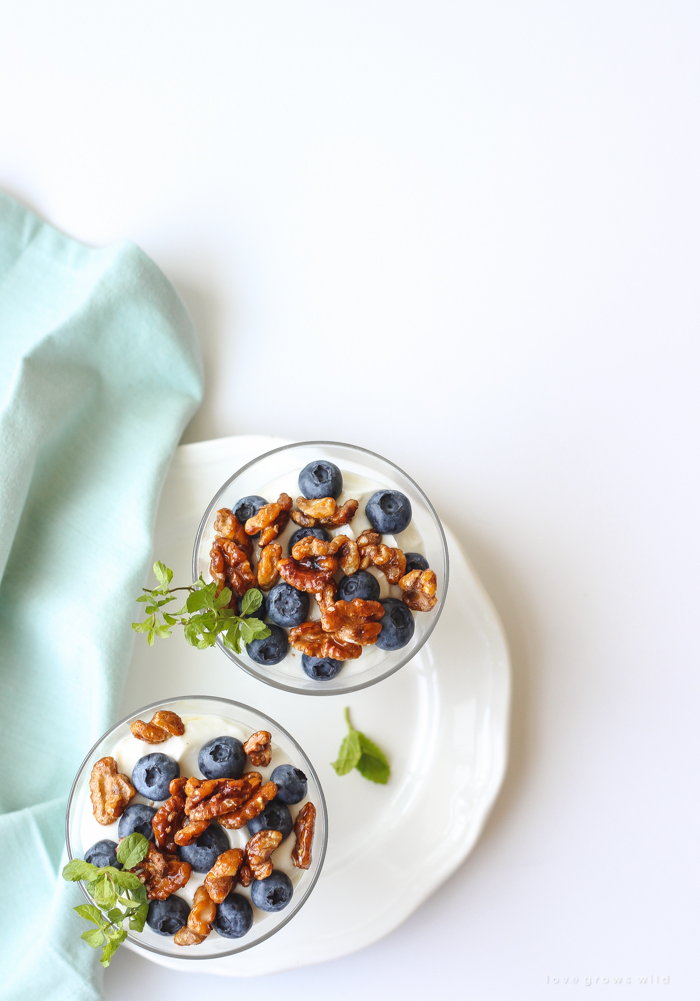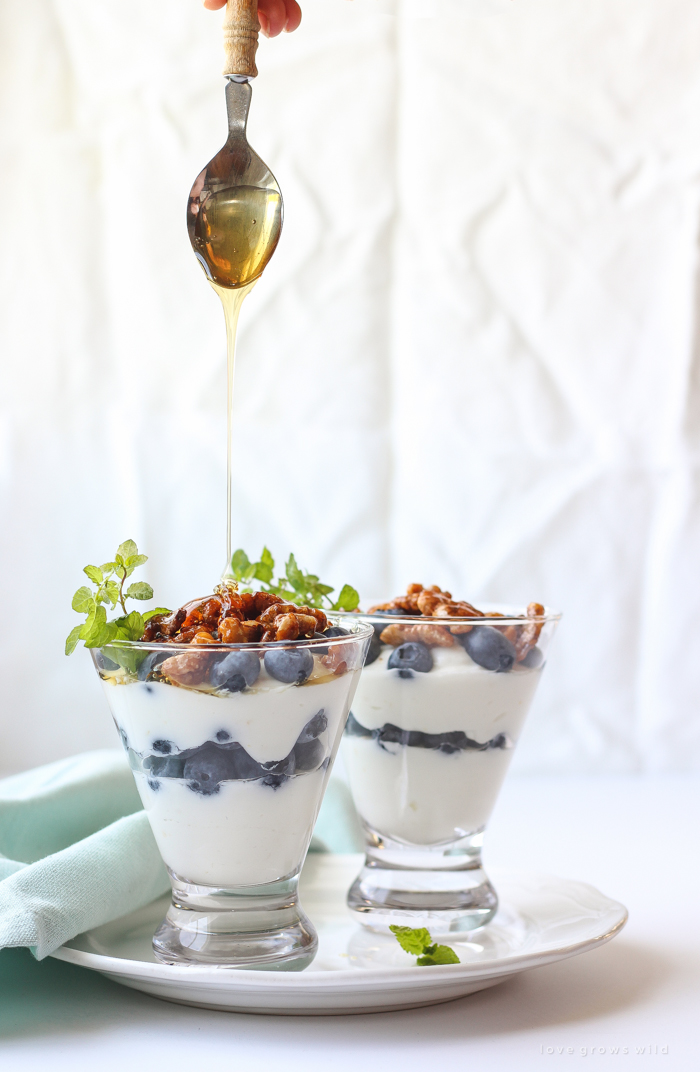 Lemon Yogurt Parfait with Blueberries and Toasted Honey-Glazed Walnuts
Lemon-infused Greek yogurt topped with fresh blueberries and toasted honey-glazed walnuts makes the perfect healthy breakfast for busy mornings!
INGREDIENTS
1 cup walnuts, shelled
¼ cup + 2 tablespoons honey
4 cups plain Greek yogurt
zest and juice from 1 lemon
2 cups blueberries
INSTRUCTIONS
Preheat the oven to 350ºF. In a small bowl, mix the walnuts and ¼ cup honey until the walnuts are evenly coated. Spray a baking sheet with nonstick cooking spray and spread the walnuts out on the baking sheet. The walnuts will want to stick together, so use two spoons to help separate them on the baking sheet.
Bake the walnuts for 5-8 minutes until fragrant and toasted. Remove the glazed walnuts from the baking sheet onto a piece of parchment paper to cool completely. The walnuts will still be sticky when they first come out of the oven, but as they cool the glaze will harden. Once cooled, break the walnuts into small pieces.
Meanwhile, mix the Greek yogurt, lemon zest, lemon juice, and honey in a medium bowl. Spoon about ½ cup of the yogurt mixture into 4 containers and top with ¼ cup of blueberries in each container. Repeat with the remaining yogurt and blueberries, then finish each parfait with ¼ cup of the cooled glazed walnuts sprinkled on top. Serve immediately or store covered in the refrigerator for up to 8 hours.

This post is sponsored by the American Dairy Association Mideast, but all thoughts and opinions are 100% my own. Thank you for helping support the brands that make this blog possible! You can follow the American Dairy Association on Facebook, Twitter, Instagram and Pinterest for more information and recipe ideas!
---
More Breakfast Ideas:
---
Tripe Berry Baked Oatmeal
Lemon Poppy Seed Muffins
Sausage and Cheese Breakfast Casserole
Tropical Smoothie
Buttermilk Pancakes
Spinach Mushroom Feta Frittata
---
LET'S KEEP IN TOUCH!
Subscribe to Blog | Follow on Instagram
Follow on Pinterest | Follow on Facebook