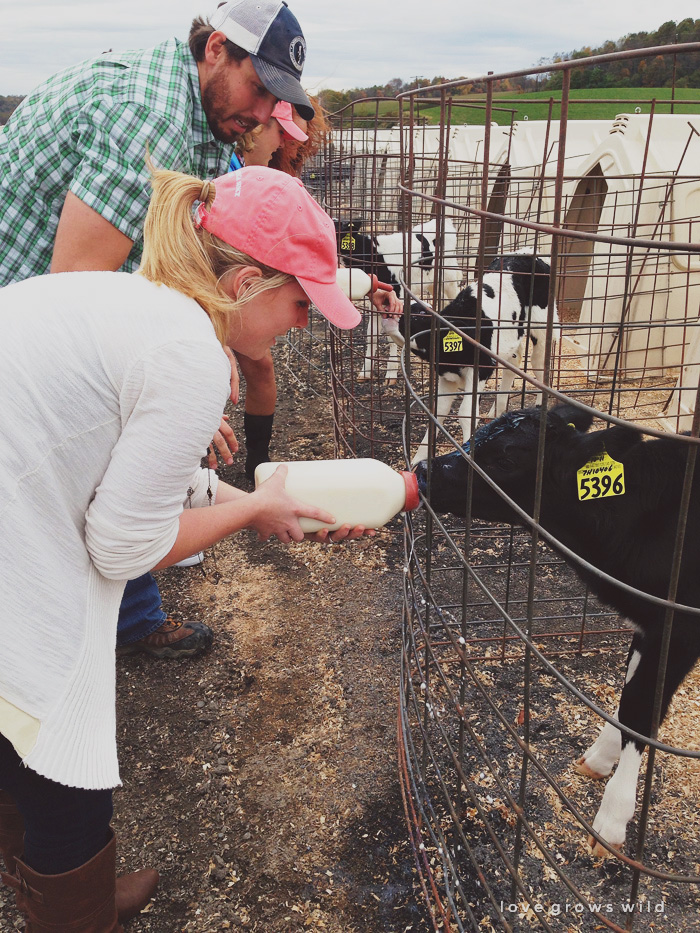 Hi friends! I'm getting some awesome posts ready for you next week (… how about a new pumpkin recipe and an office update?), but today I'd like to take a little break and share with you an incredible experience I had this week, if that's okay. I promise lots of pretty photos and some fun, embarrassing stories along the way! Sound like a plan?
So I guess I'll start at the beginning of the story. I had the opportunity to attend a few blog conferences this past year, which are totally fun, exhausting, and overwhelming all at the same time. You learn new things, go to fun parties, and meet LOTS of new people… fellow bloggers, brands and companies, and even a celebrity or two, if you're lucky. In my experience, even though I may meet hundreds of people at these conferences, I always find myself really connecting with just a handful and develop great, long-lasting relationships with them. And honestly, I wouldn't have it any other way. It's kind of that whole "better to have 1 good friend than 1000 mediocre friends" thing.
Anyway, I had the pleasure of meeting a few women from the American Dairy Association Mideast and was absolutely thrilled when they invited me to join them on their Ohio Dairy Adventure last week. As most of you probably know, my husband and I live on a family farm in Indiana where we raise corn and soybeans. It's a lifestyle he was raised in, but totally new to me, as I grew up just an hour South of Chicago. WAY different than living out in the country! I'm still acclimating to life as a farmer's wife, such as learning how to clean tractor oil and manure stains out of clothes (it's not easy!), but I'm so proud to be part of this community and love learning new things everyday.
ADA Mideast brought 9 food bloggers from all across the U.S. to Cleveland, Ohio for a few days to give us an in-depth look at the journey milk takes from the farm to our table.
We stayed at Hyatt Regency Cleveland at The Arcade, which is a stunning historic building located right next to the East 4th Street Entertainment District. Chef Michael Symon's restaurant, Lola Bistro, is not even a 5 minute walk, and there are all kinds of neat breweries, bakeries, and café's around. I have never seen a hotel this beautiful in all my life.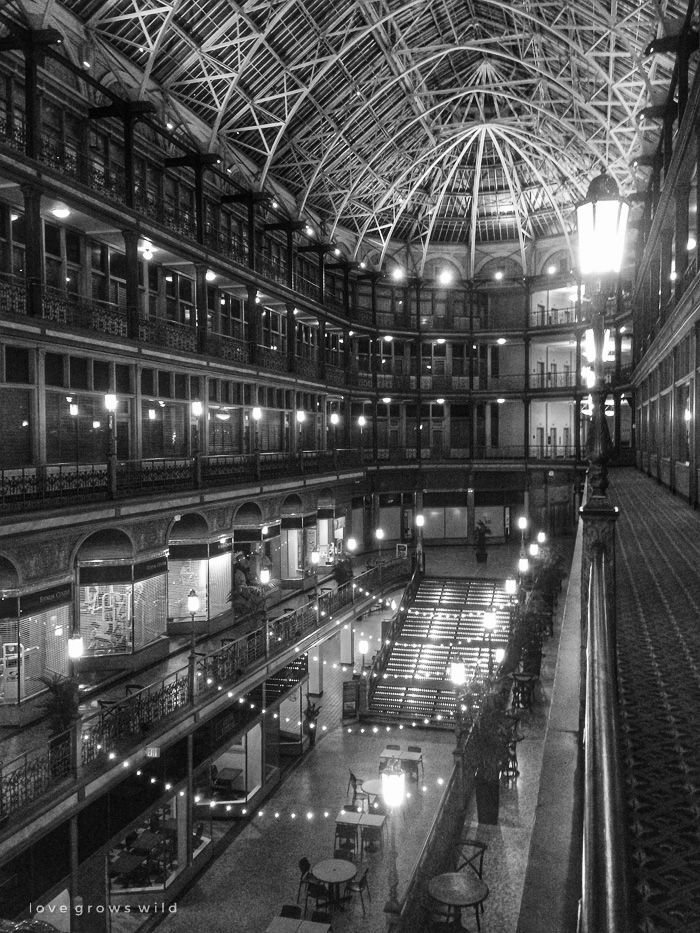 The evening we arrived in Cleveland, we all met up at the House of Blues (also located on East 4th Street) for a fun wine and cheese tasting party to kick off our adventure. We got to sample all kinds of locally-produced cheeses, some of which were from a fantastic producer we would visit the next day. I'm not a huge wine drinker, especially of some of the heavier merlots, but you better bet I ate enough cheddar, Brie, Gouda, Parmesan, and Colby to put me in a cheese-induced coma that night!
The next morning we were up well before sunrise, before the rooster even, and jumped on a bus to start our adventure. Thank goodness for coffee, my friends! We made our way through Amish country and found ourselves at Richman Farms near Lodi, Ohio, just in time for their morning milking. Oh yes, I milked a cow. Scariest moment of my life.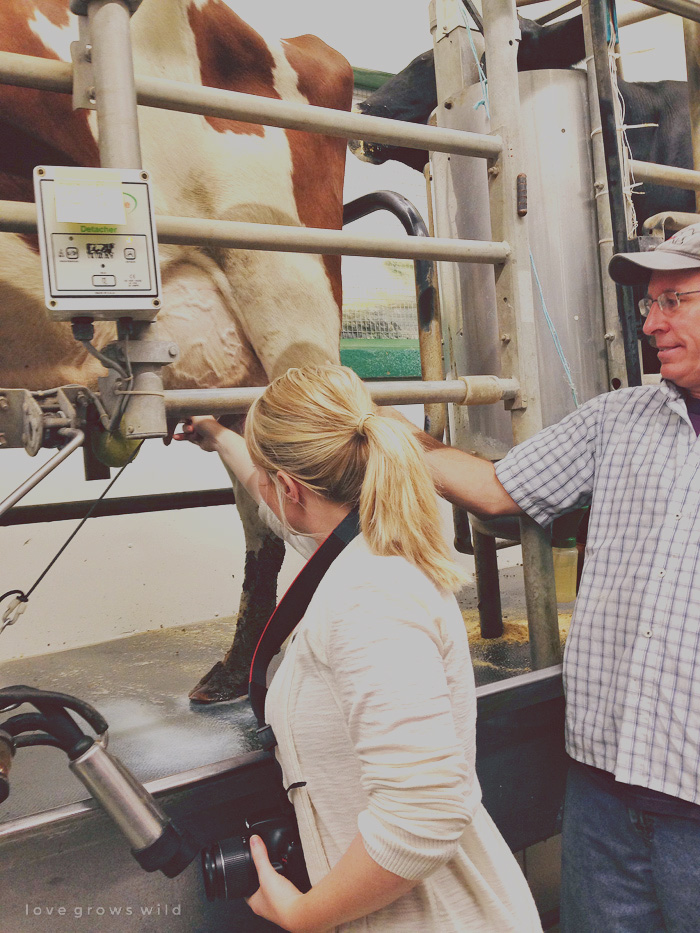 I wasn't scared of the cows themselves. Jeremy has had me around enough of them that I felt pretty comfortable. But when you walk into a 4 foot wide milking parlor with 6 cows on either side of you, and your head comes just about as high as their udders… you start to feel intense panic and a cold sweat come over you as you picture yourself being right in the way of a cow's unfortunate timing of urination. I expected to get a little dirty and smelly on the farm, but that would be a whole new level of gross that I was not prepared for. Luckily we all survived unscathed…. phew!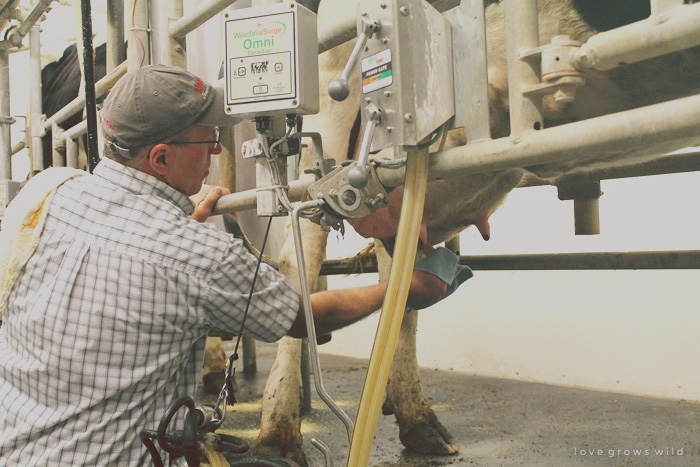 In spite of my intense urination fear, I learned so much from the Indoe Family, who explained the entire process of how their cows get milked. There's a specific protocol that every employee must follow to ensure the cow's comfort level, health, and the quality and safety of the milk. The bottom line is, if these farmers don't have healthy, happy animals and a high standard for quality and safety of the milk leaving their farm, they wouldn't be in business. These farmers take such pride in the work they do, and you could really see that from these kind folks that opened up their farm to us.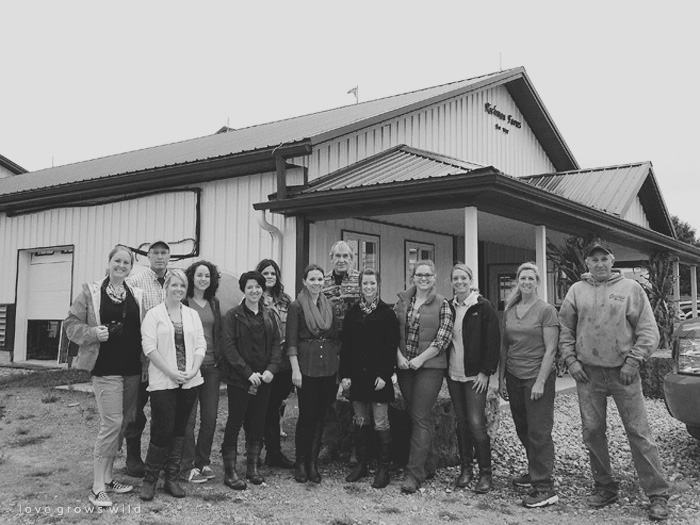 Pictured above: Heather, me, Courtney, Emily, Jamie, Ashley, Taylor, Megan, Lauren, and the Indoe Family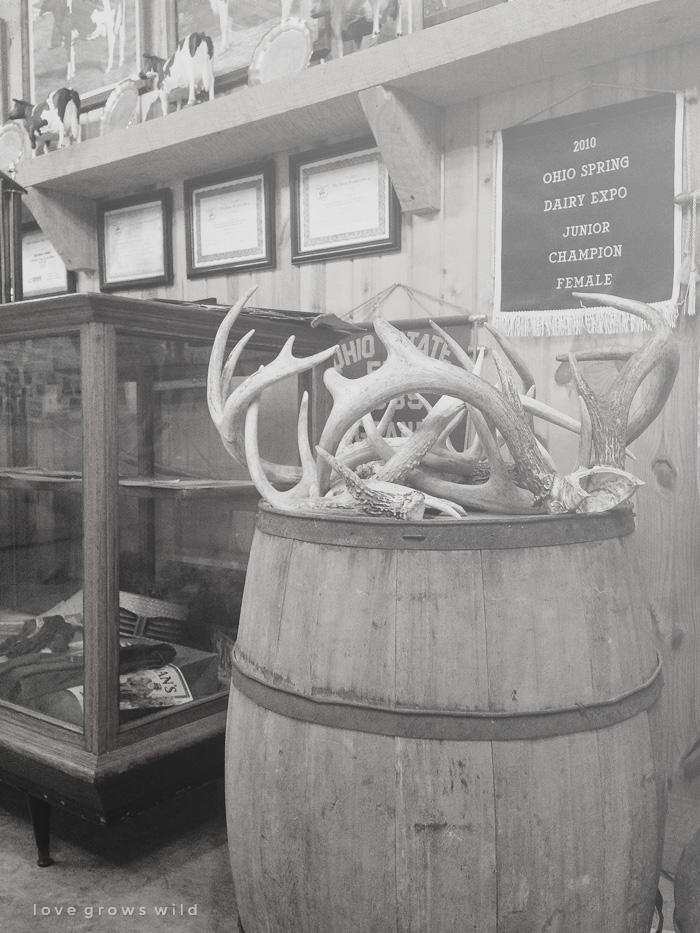 Necessary pause for cute baby calf photos…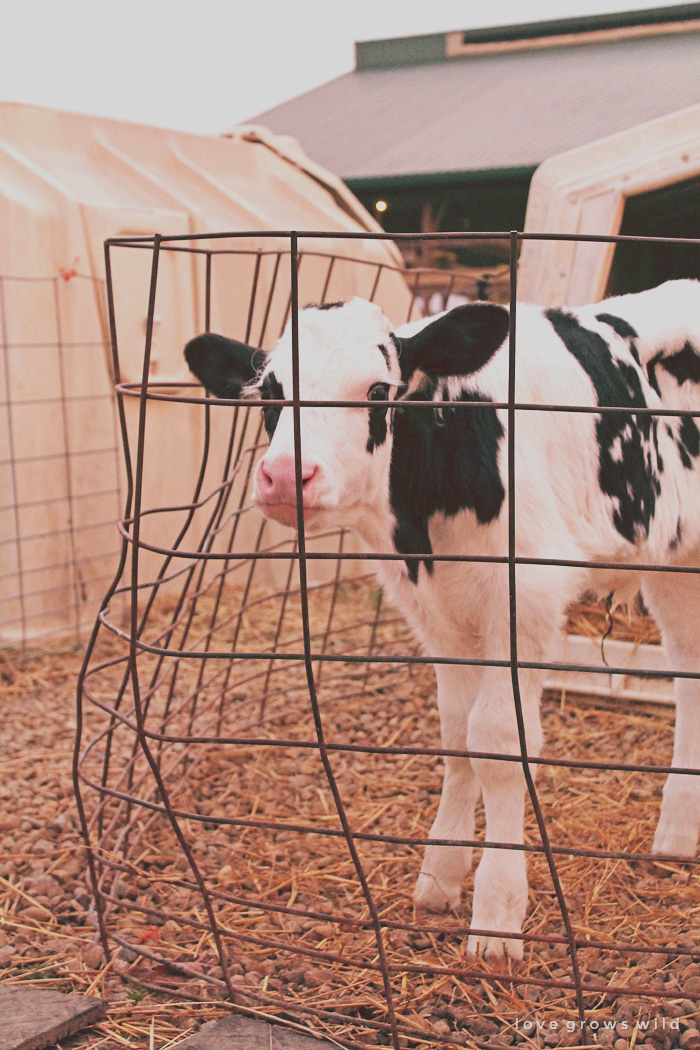 ( insert awww… here )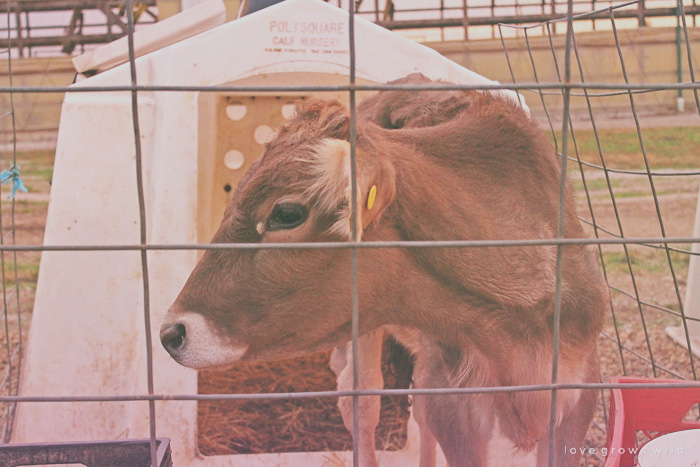 After we were finished with our milking lesson, we hopped back on the bus and traveled through the beautiful countryside, which was nothing short of breathtaking this time of year. I can't remember seeing such a beautiful fall in a long time.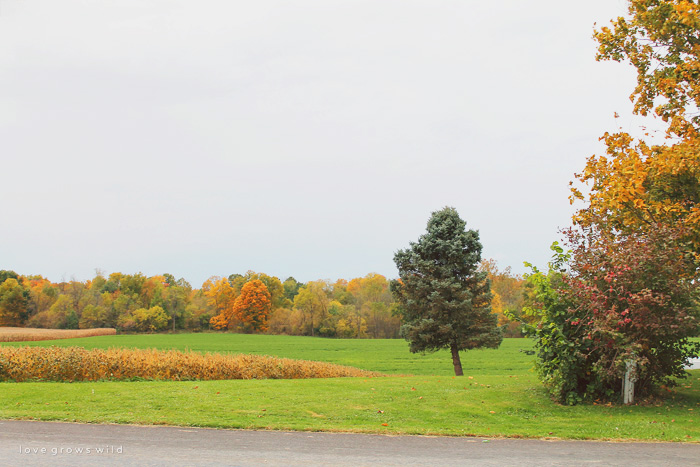 Our next stop was at Pearl Valley Cheese, an Ohio cheese manufacturer that was kind enough to give us a behind-the-scenes tour of their facilities. By this time our bellies were finally waking up, and the smell of fresh cheese was intoxicating!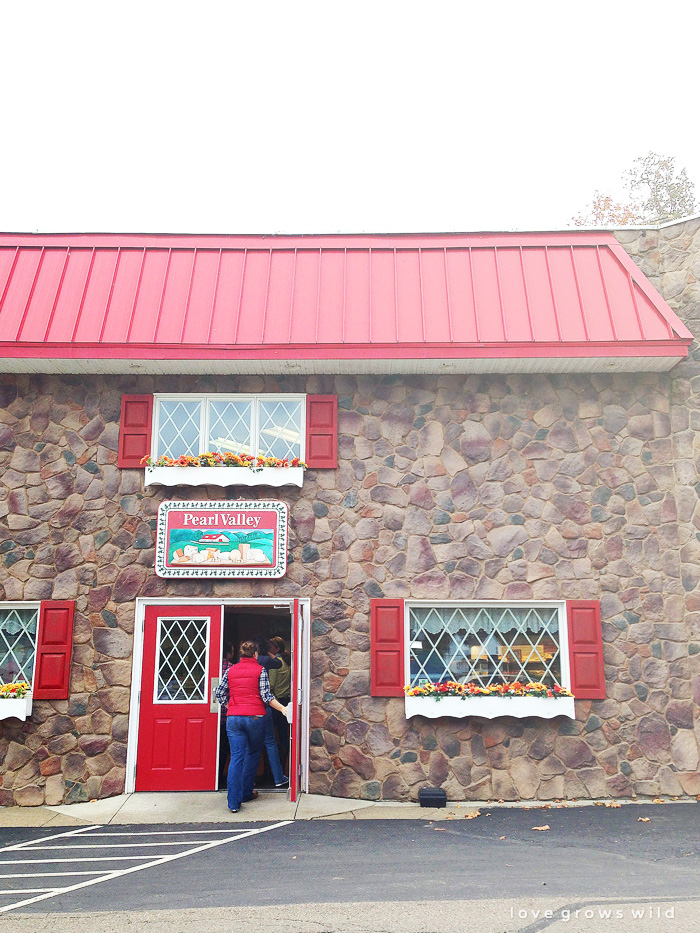 We put on our sexy hairnets, washed our hands, and cleaned our shoes before entering the facility, and learned the ins and outs of cheese-making, from bringing in and testing the truckloads of milk to how each different variety of cheese is made. They specialize in their award-winning Swiss cheese, and we were able to taste a piece straight from the block. It was amazing!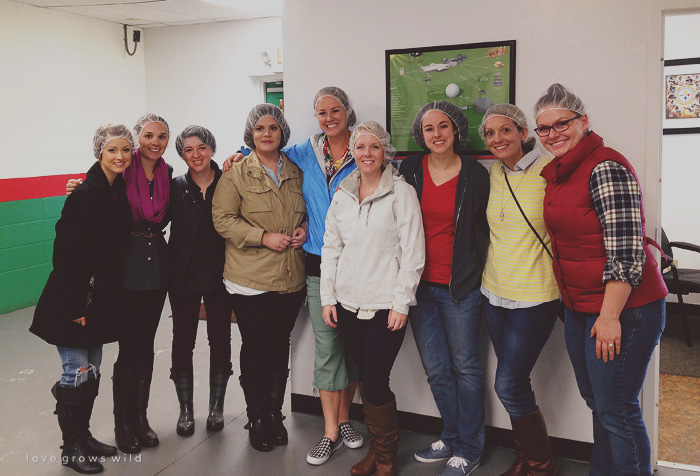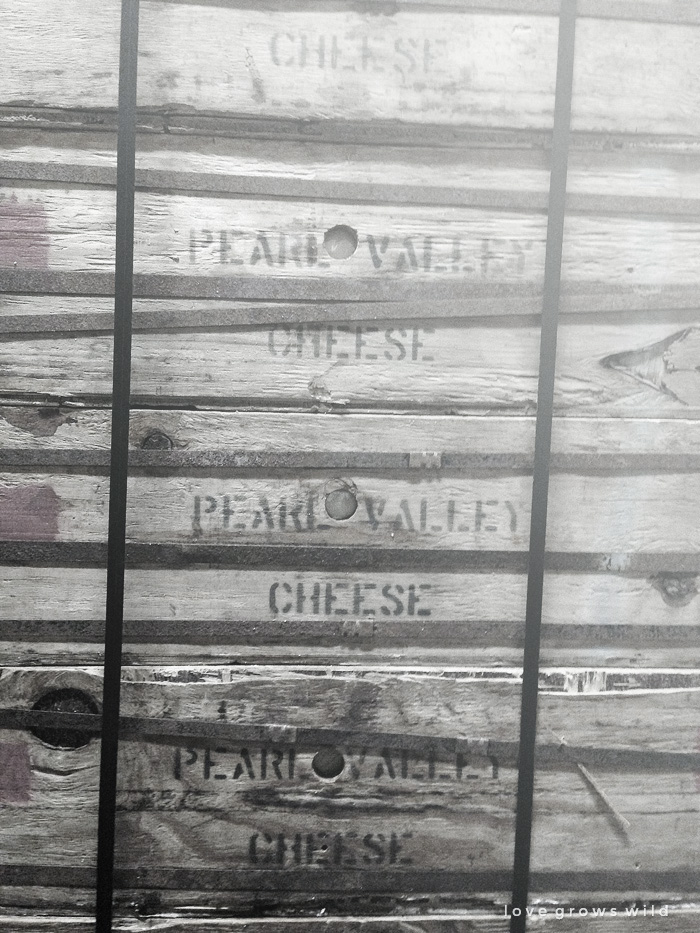 And then they set 9 food bloggers loose in their retail store to shop for cheese. I'm pretty sure we would have never left if it wasn't for the fabulous lunch we were about to have!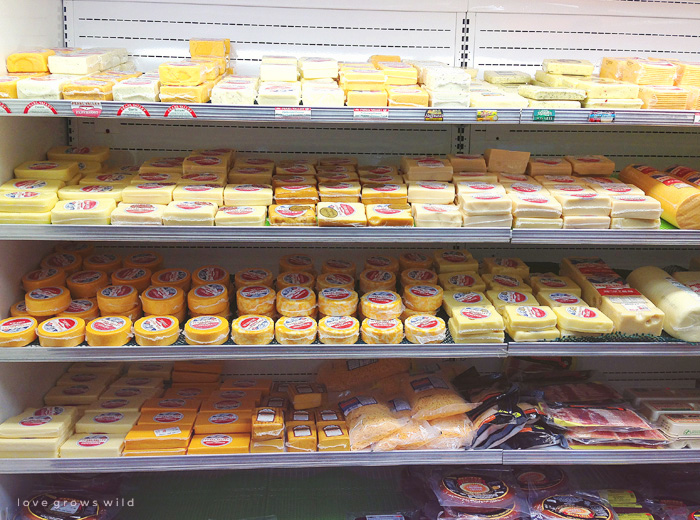 Now that we were all awake and REALLY hungry, we headed back into Amish country and stopped at a home where a family had prepared the most amazing lunch for us… fried chicken, beef, green beans, mashed potatoes swimming in butter, bread, coleslaw, pies, and more. Everything was made from scratch by the sweetest Amish family and served in a building they built to feed 700+ guests at their daughter's wedding. The next year they served over 800 guests in this building for their other daughter's wedding. Can you imagine feeding over 800 people? I'm pretty sure she's secretly Super Woman.
As you can imagine, the scenery surrounding us was absolutely picturesque.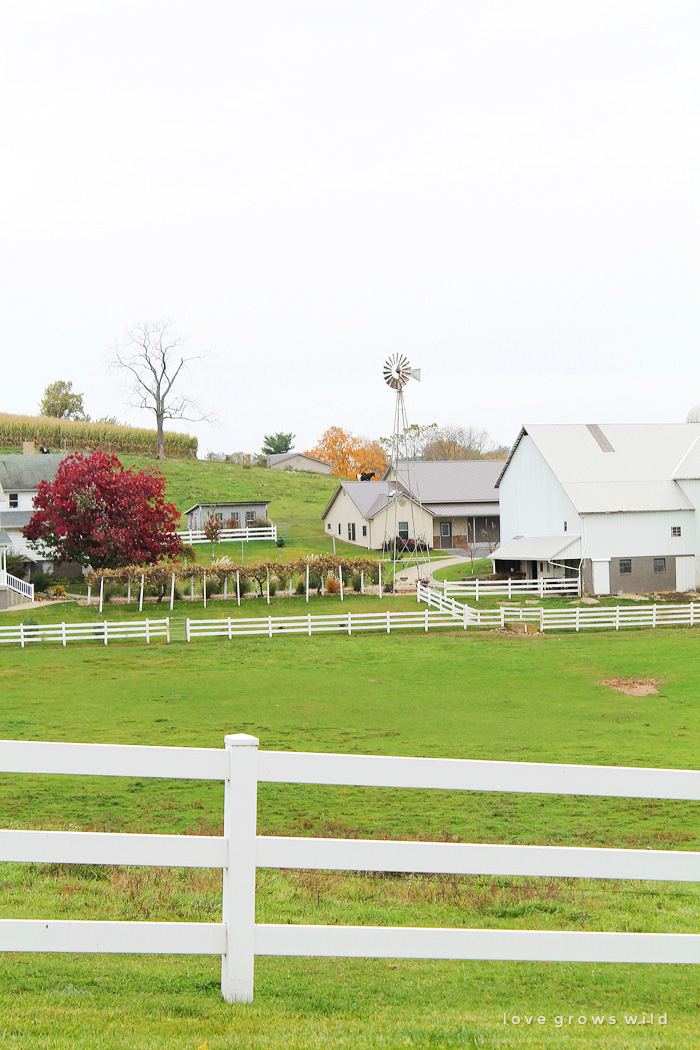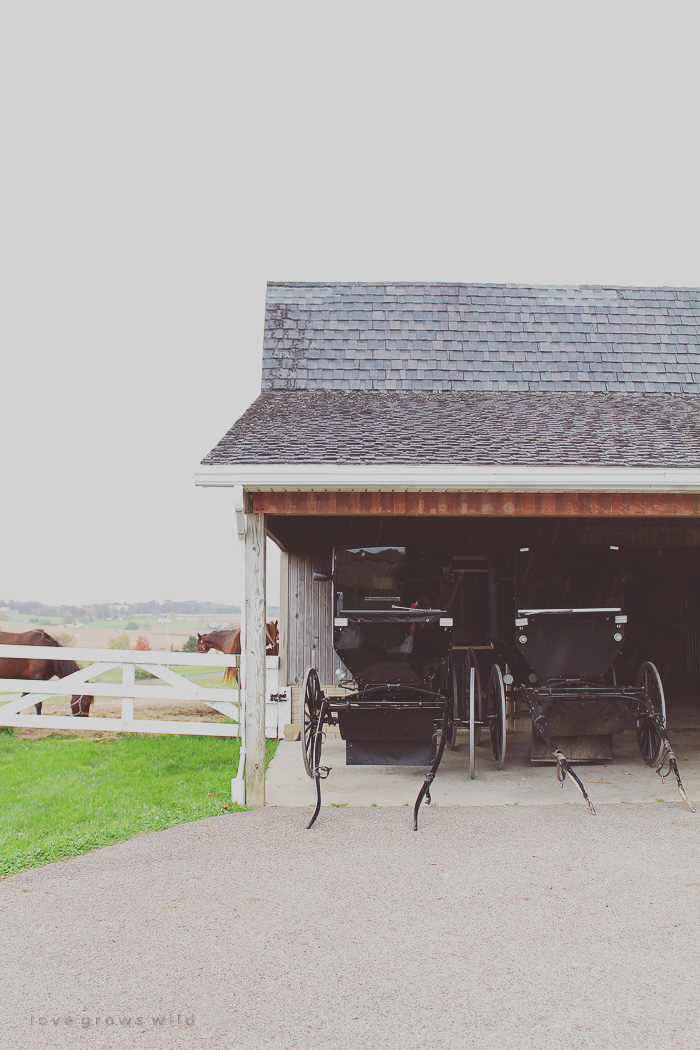 After lunch, we headed to Andreas Dairy Farm to see what a day in their life was like. This farm was much larger and had closer to 1,300 cows and obviously, a much larger milking parlor. The process was still the same as the first farm, just with many more cows being milked at one time!
We stopped by the barns where the cows get to hang out in between milkings to learn about the feed they eat and how they're cared for. Since this farm is much larger, they have staff on hand who take care of the cows' health including their hooves, care for the calves, and manage their feed and diet. Dan Andreas told us that these cows probably eat better than most of us do. Their diet is tailored specifically to what their body needs, whether they're newborn, pregnant, milking, or "dry" (not milking). Can you imagine someone preparing meals for you everyday with exactly the right balance of protein, fruits, vegetables, dairy and grains that your body needs to be healthy? Dieting would be SO much easier, right?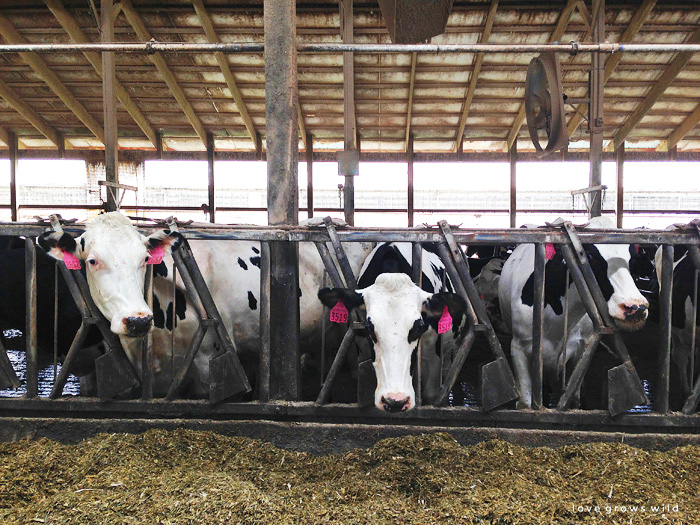 As if we hadn't already come to the conclusion that these cows get treated better than my children do on some days, Dan showed us where they were expanding one of their barns to give the cows more space and install waterbeds for them. Yes… you read that right. They have waterbeds. As I mentioned before, the cow's comfort level is crucial to their milk production, so these farmers will do anything they can to make their home a comfortable place to be. I thought that was so cool!
They also had some really interesting methods for waste management (a.k.a. where to put all that manure from 1,300 cows) that even my husband had never heard of before. Without going into a long, drawn-out explanation about cow poop, basically they clean the manure from the barns, separate the liquids from the solids, heat the solids in a fancy machine that kills any bacteria, and turn the manure into a form of bedding which they can use to replace the wood chips they were purchasing before. It's pretty amazing what sustainability measures these farmers are taking these days!
Okay, enough about cow poo… You want to see more cute baby calf pictures!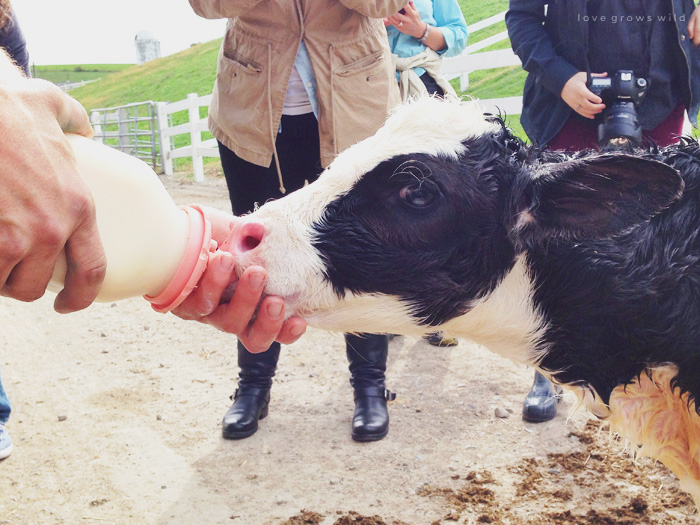 This sweet girl was born just 30 minutes before we arrived at the cows' "birthing suite". You put 9 child-bearing-age women next to a newborn calf, and you could almost see our hearts and ovaries exploding inside of us. She stumbled over to us on those long, awkward legs to say hello, and we watched as they gave her her first feeding. It was almost too much cute to handle.
We then headed over to the farm's nursery, where they keep the calves until they're ready to be with the older cows on the farm. They watch the calves very closely, making sure they're eating properly and growing as they should. The woman who runs the nursery said these calves are just like our human babies. When they need something, they'll let you know. We walked outside where all 200 calves had been fed except 6 that they saved for us. If you can imagine walking into a room full of hungry, crying babies, that was exactly what it sounded like! These 6 calves knew it was time to be fed, and we couldn't get the bottles to them fast enough.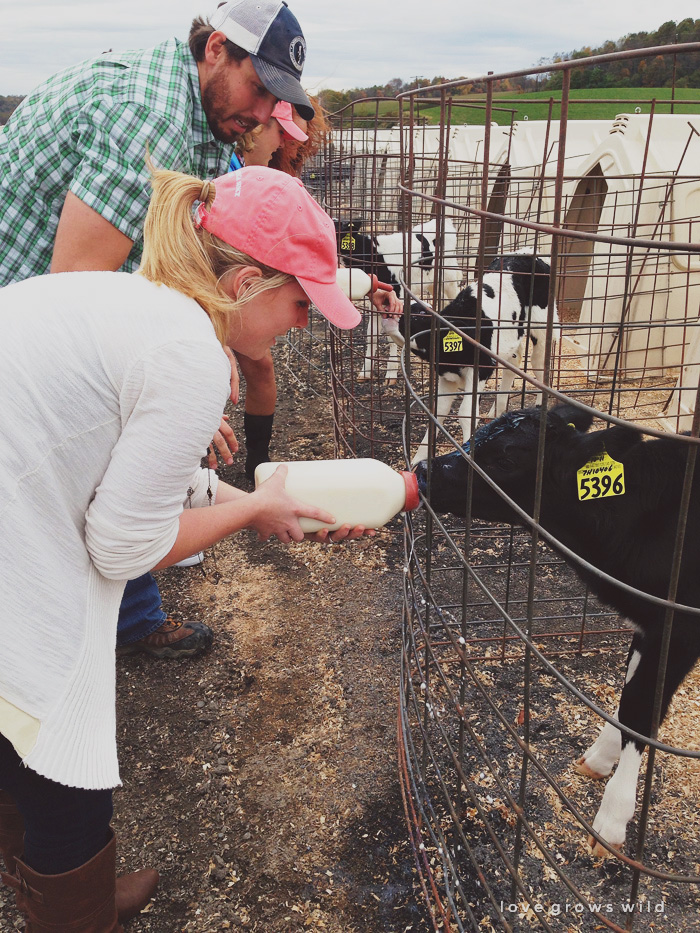 Dan's son, Matt, helped me get started since the calf had a hard time latching on. It didn't help that the nipple had a tear in it, so every time she bumped it, milk came squirting out all over us. Her face was spattered in milk, my arm was covered in milk, and I'm pretty sure at one point I stuck my fingers in the cow's mouth to help her find the nipple. Yeah, I really did that. I'm not sure if it was that motherly instinct kicking in or maybe I really am cut out to be a farm girl, but either way I was pretty darn proud of myself, and I knew my husband would be too. Would you stick your hand in a cow's mouth?
After our farm tours were over, we headed back to the hotel to wash off the milk and farm smell and got dressed up for an evening at the Cleveland Brown's Stadium.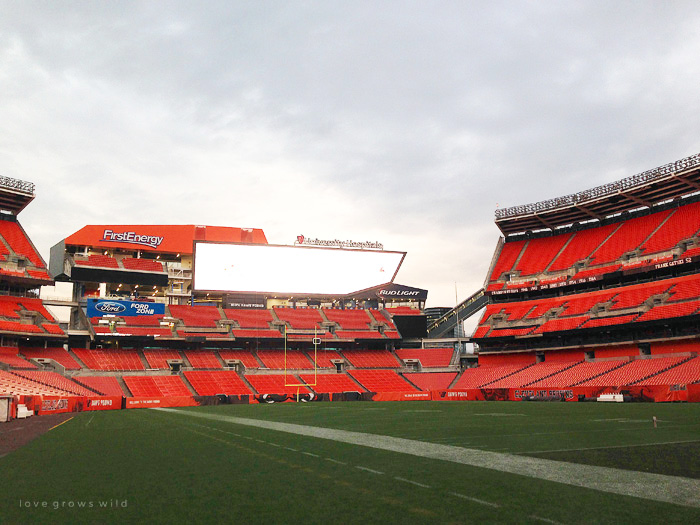 ADA partners with the NFL to promote the Fuel Up to Play 60 program for kids. It's all about getting kids to fuel up with healthy foods and get active for at least 1 hour a day. Joe Thomas, offensive tackle for the Cleveland Browns, has done a lot of work for this cause, including creating some YouTube videos about the importance of eating a healthy breakfast and staying active. He made a surprise appearance at our dinner in the Browns' suites and even signed some footballs for us to take home.
That had to earn me at least 50 cool mom points with my boys, right?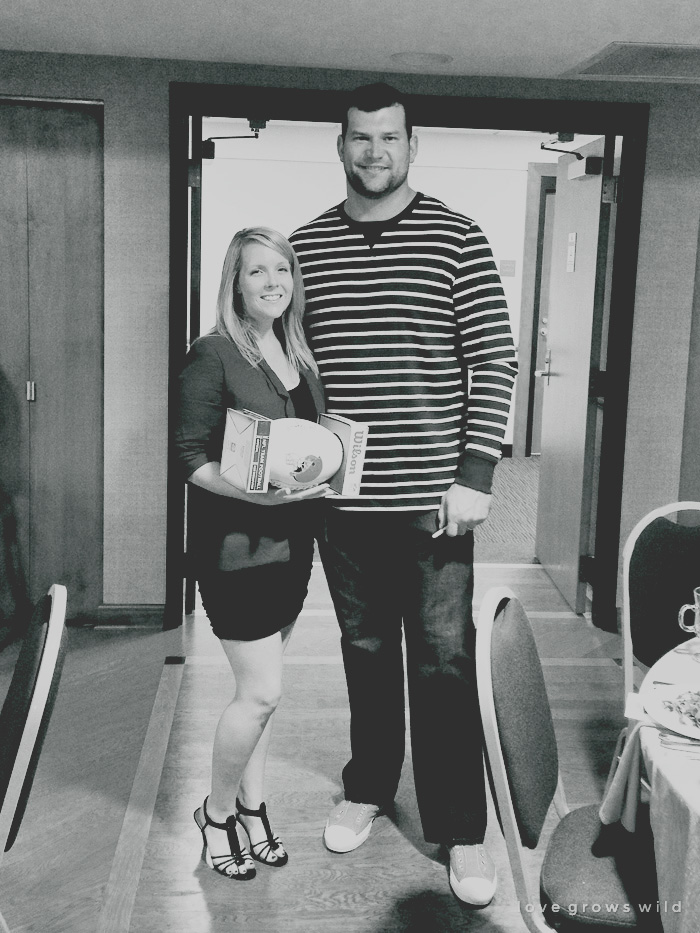 I mentioned before that Michael Symon is a Cleveland local, and that night we had an amazing dinner inspired by his cuisine. I'll spare you the photo I took of the whole roasted pig, and just show you the beautiful results after it was plated for us.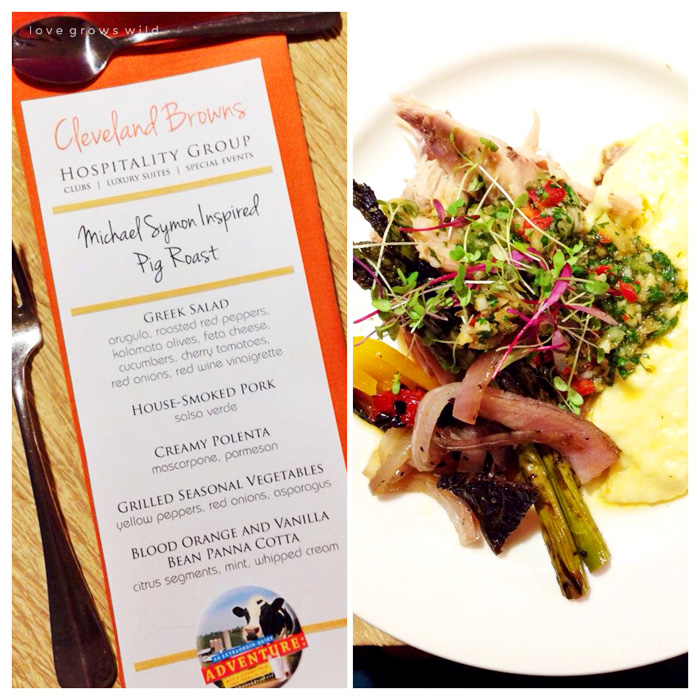 It was the perfect ending to our exciting adventure that day, and I had so much fun getting the know the great group of girls that went on this trip.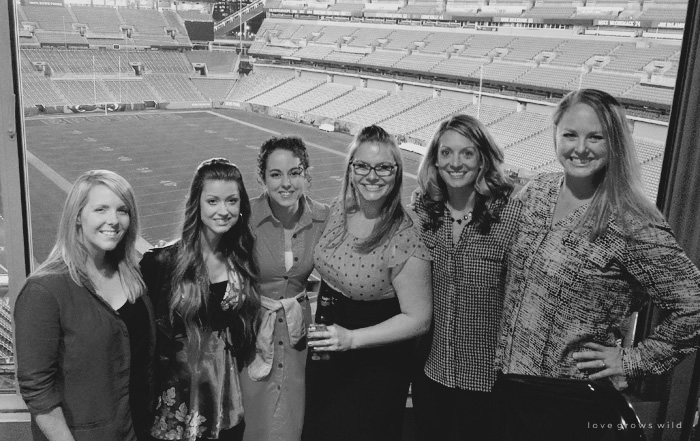 And then I went back to my hotel room that night and realized I had been mingling with a famous football player with a piece of my dinner still stuck in my teeth. Maybe he didn't notice, since he towered at least two feet above me anyway. One can hope, right?
The next morning we woke up not quite so early and headed to a local school to eat breakfast with the students. It truly amazes me how many kids skip breakfast on a regular basis. I don't think I've EVER skipped breakfast, or any meal for that matter, in my life! After the kids went to class, we had a lot of great discussions about why breakfast is so important and a variety of other nutrition topics. We had plenty of questions for ADA's nutrition director, Karen, about white milk vs. flavored milk in schools, hormones, antibiotics, and organic milk.
I personally think there is a huge movement toward learning more about where our food comes from, which is fantastic. But with the internet right at our fingertips, it leaves room for a lot of misinformation, and I learned so many things this week that I never knew before.
Here were some of the top questions I had:
What's the difference between organic and regular milk?
In terms of quality, safety, and nutrition, there's no difference between organic and regular milk. The difference is how they are produced on the farm.
Are there antibiotics in milk?
No. All milk – both regular and organic – is tested for antibiotics. Sometimes a sick cow will get medicine to feel better, but their milk never goes into the regular milk supply. Plus, any milk that would test positive for antibiotics would have to be disposed of – that's the law.
Are there added hormones in my milk?
No. Hormones are naturally present in many foods of plant and animal origin, including milk. Some farmers choose to supplement some of their cows with additional bST, to increase milk production, but science shows that there is no effect on hormone levels in the milk itself.
What is the dairy industry doing to reduce sugars in flavored milk?
The dairy industry has reformulated flavored milks available in schools to reduce fat, calories, and added sugars by an estimated 38% and the majority contain and average of 134 calories per 8 ounce serving – only 31 more than white milk.
(answers provided by the American Dairy Association Mideast)
To cap off our epic dairy adventure, we traveled to Melt Bar & Grilled, a popular Cleveland restaurant that serves up gourmet grilled cheese sandwiches and a large variety of craft beers.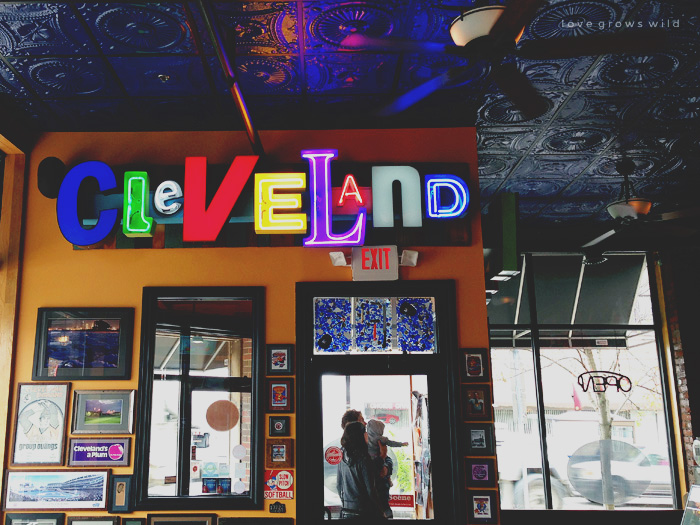 Rather than ordering off the menu (which is attached to vintage record album covers), Matt Fish, owner of Melt, prepared some of his favorites for us, including the Parmageddon, Mushroom Melt, Peanut Butter & Banana, Godfather, and Monte Cristo.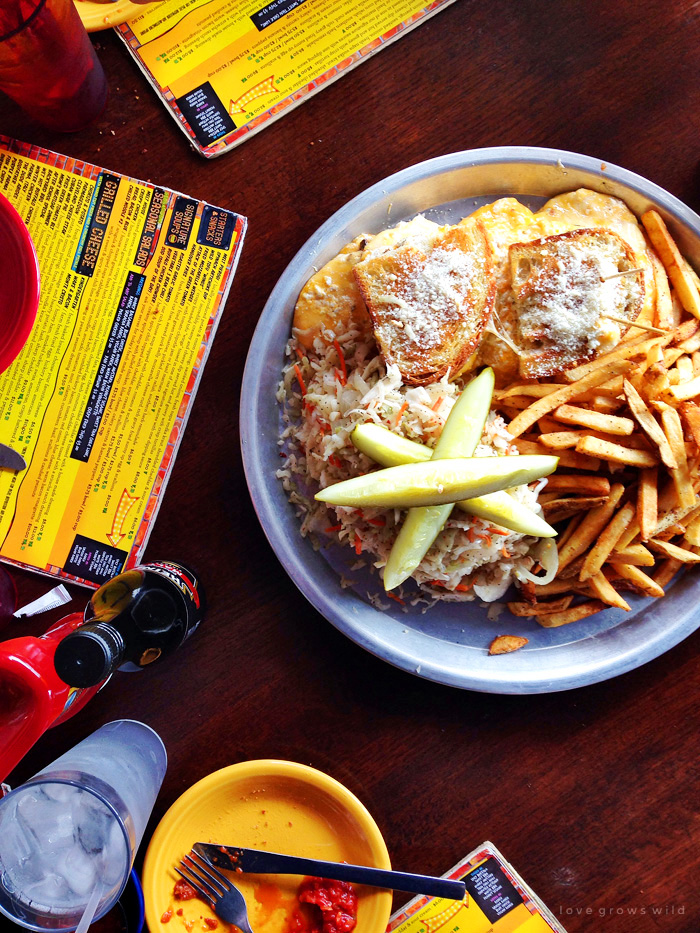 Fat pants were highly necessary after that meal. I've never eaten so much grilled cheese in my life! I definitely recommend checking this place out if you're ever in town!
This trip was a real eye-opener…
I have an even greater respect for these dairy farmers and all other producers out there who feed our nation. I couldn't be more proud to be part of this community!
Also, I know topics such as organic foods, GMOs, and antibiotics are all hot-button issues, and everyone has their own opinion about them. We are so lucky to have a variety of options in our supermarkets with everything from regular milk, organic milk, soymilk, almond milk, lactose-free milk, and more. There is something to suit everyone's lifestyle and nutritional needs, and my only advice to you is to educate yourself as much as possible about the choices you have. Bestfoodfacts.org is a great resource that I just learned about, and although I'm not an expert by any means, if you have any questions after reading this post, feel free to leave a comment below, and I'll do my best to get an answer for you! What type of milk do you keep in your refrigerator?
Many, many thanks to ADA Mideast for taking me on this wonderful adventure. I love MOO! 🙂