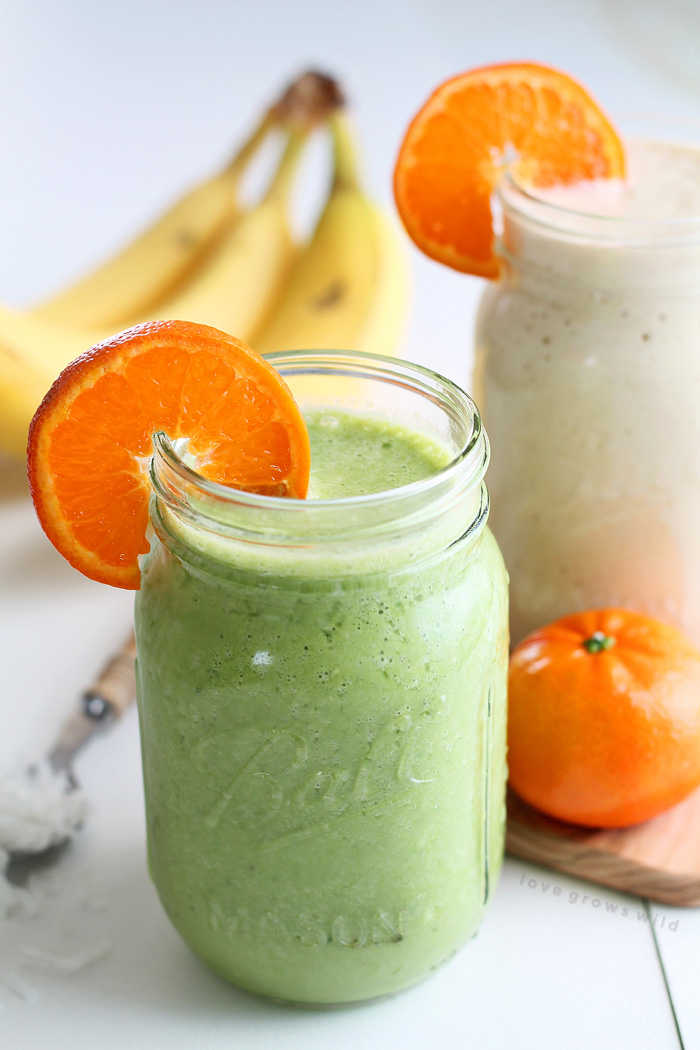 Start your day with a delicious Tropical Smoothie made with orange, banana, pineapple, and coconut! I have two versions to share with you: plain or green (with spinach). Both are packed with nutrition and taste like a sip of summer!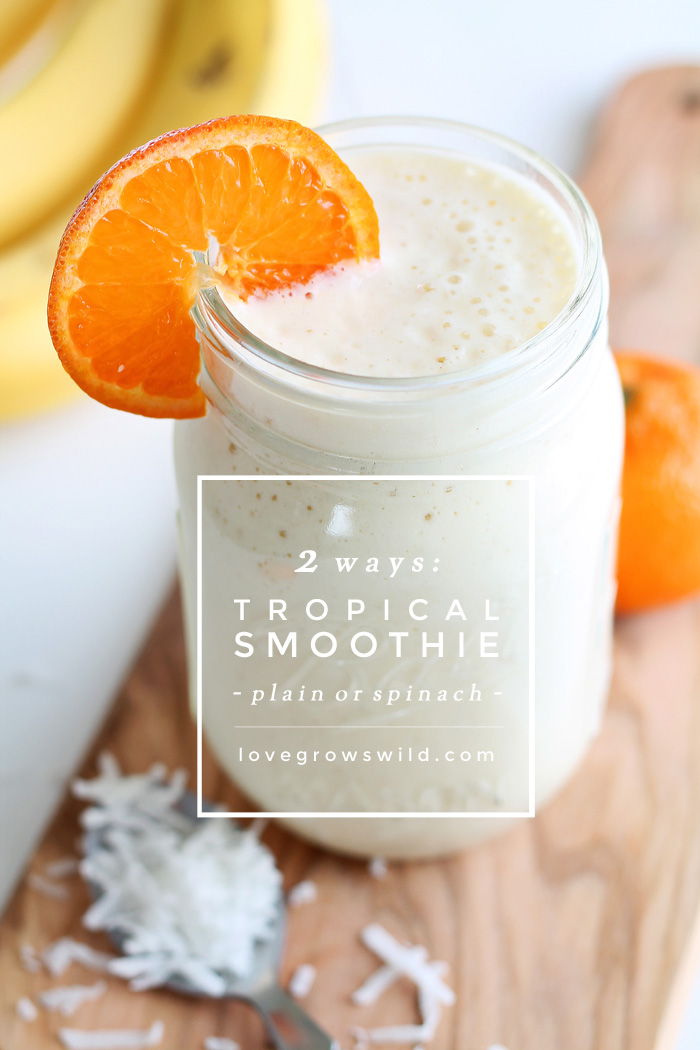 Raise your hand if you're a smoothie drinker like me! I go in phases with smoothies… some months I drink them all the time, and then I'll go months without making one. Now that the temperatures are slowly starting to creep up into the 80's here in good, ol' Indiana, I'm back on the smoothie train and couldn't wait to share this recipe with you.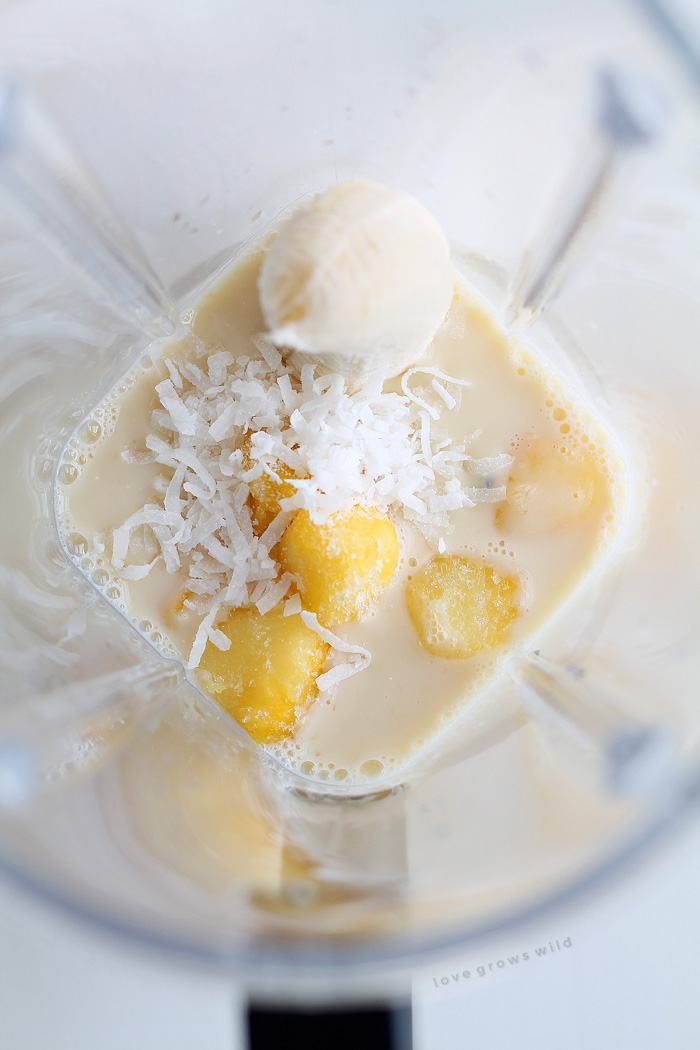 If there was ever a smoothie that tasted like summer, this one is it for me. I'm calling it "tropical" because it's filled with banana, pineapple, orange juice, and coconut. Mmm… just one sip, and I feel like I'm on a warm beach somewhere! Okay, fine… in reality I'm buried under mountains of dirty laundry and carting children back and forth to baseball games, but this smoothie makes me FEEL like I'm somewhere on a tropical island. A girl can dream, right?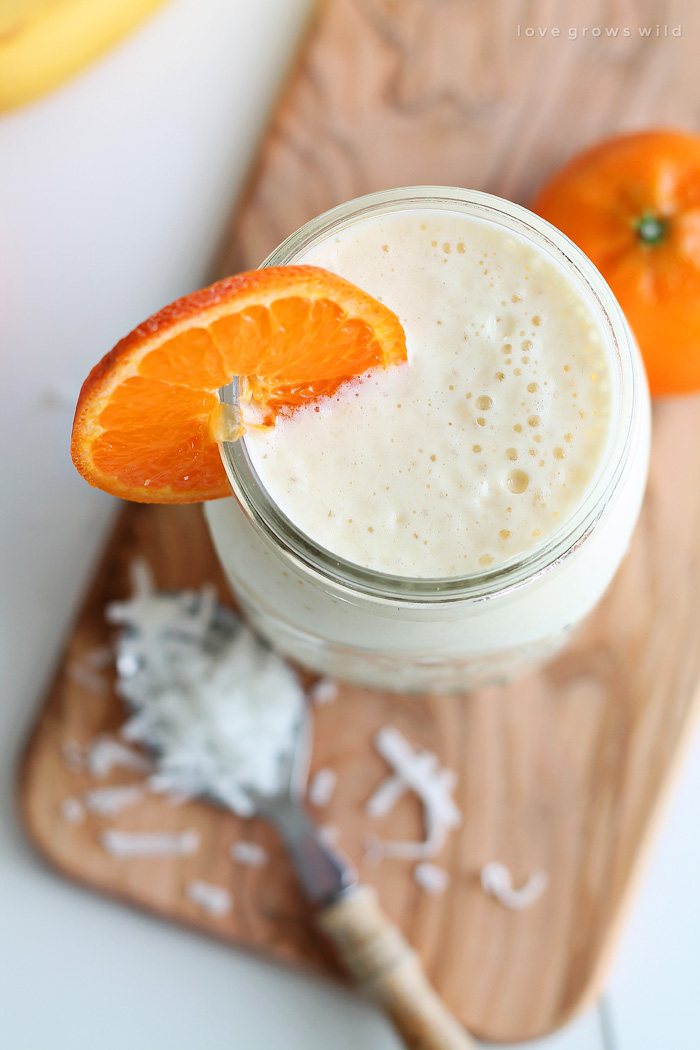 I've touted all the reasons I love making smoothies before, but here's the gist of it: They're healthy. They're easy. They're on-the-go capable. They give me a good start to my morning and make me feel good after a hard workout. And my kids love them too. I'd just recommend leaving out the scoop of protein powder if you're making this for the kiddos. I need the extra protein, especially if I'm making a meal out of the smoothie, but the kiddos don't need that stuff.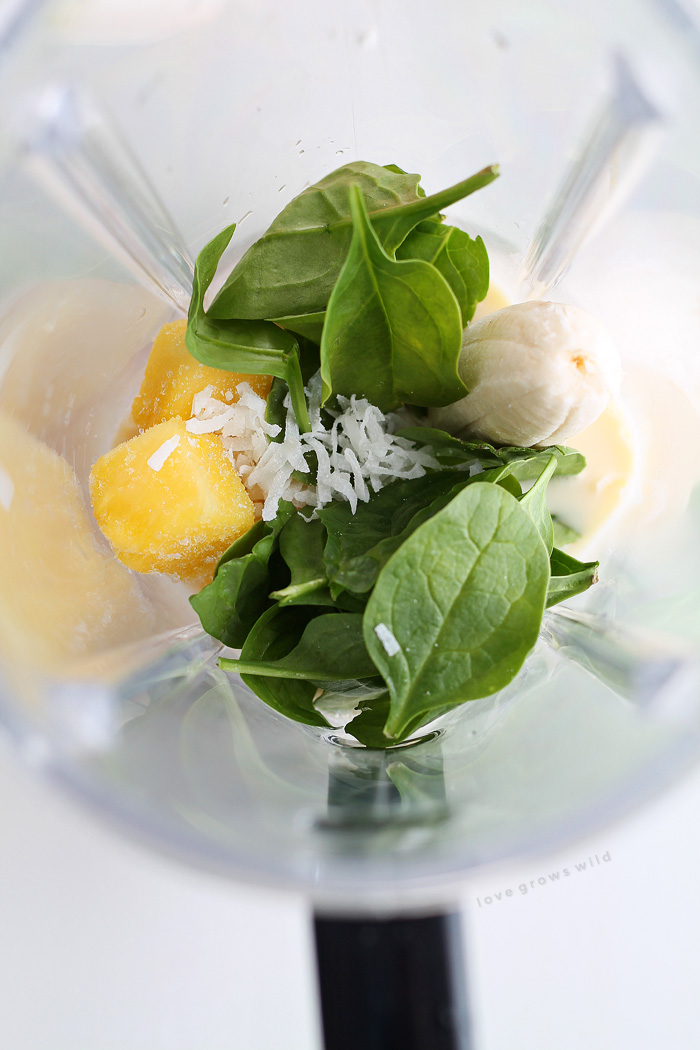 So as I mentioned, I have two different ways you can make this fruity tropical smoothie: green or… uh… not green. 🙂
If you have some extra baby spinach on hand and want to really boost the nutrition factor of your smoothie, add a big, ol' handful to the blender and mix it all together. If you're not a fan of spinach in smoothies, you can certainly leave it out. If you've never tried it before, here's what I recommend: Start with a little spinach. Add maybe just a few pieces the first time, then move up to a 1/2 cup on the next smoothie. If you work your way up to a full cup gradually, your taste buds will have a chance to get used to the taste and your eyes will have a chance to get used to the color. I promise it doesn't taste "spinachy" at all!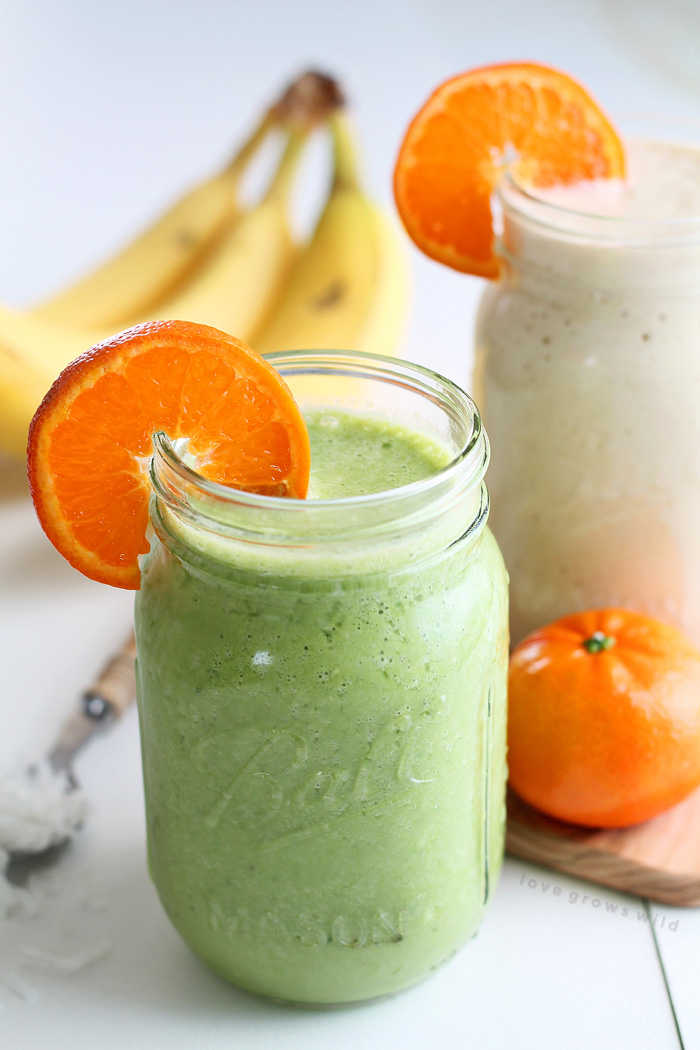 So a couple fun facts: I like to use Silk's CoconutMilk and Trop50 orange juice in my tropical smoothies. Regular orange juice has quite a bit of sugar, which will quickly sabotage the healthiness of your smoothie, especially with all the fruit that's already in there. I usually use frozen pineapple in mine, so I don't add any ice cubes, but if you're using fresh pineapple or like your smoothies extra frosty, go ahead and add 4-5 ice cubes to the blender.
I hope you guys enjoy the new smoothie recipe and be sure to try our others:
Strawberry Banana Oatmeal Smoothie
Blueberry Pomegranate Smoothie
Pumpkin Protein Shake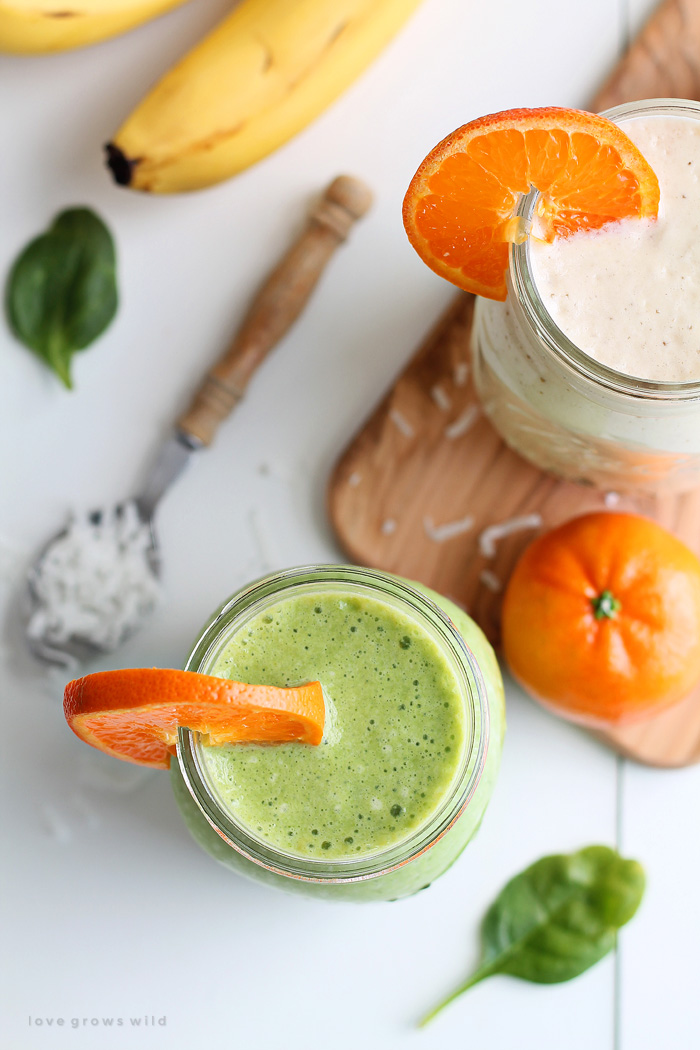 Like what you see? Subscribe to Love Grows Wild so you'll never miss a post!
Follow along on Pinterest, Google+, Instagram, and Facebook for more fun!
Tropical Smoothie - Two Ways
Start your day with a delicious Tropical Smoothie made with orange, banana, pineapple, and coconut! This recipe can be made two ways: plain or green (with spinach)!
INGREDIENTS
½ cup coconut milk (or other milk)
½ cup orange juice
½ banana
½ cup frozen pineapple chunks
1 tablespoon unsweetened coconut flakes
1 scoop vanilla protein powder
optional: 1 cup fresh baby spinach
optional: ice cubes
INSTRUCTIONS
Add all ingredients to a blender and process until well combined. Serve immediately. For a plain tropical smoothie, leave out the spinach. If you want to make it a green smoothie, add the spinach. If you're using fresh pineapple instead of frozen or prefer your smoothie to be more chilled, add 4-5 ice cubes before blending.
Are you making this recipe? I'd LOVE to see it! Post a photo of your creation on Instagram, tag @lizlovegrowswild, and use the hashtag #MyLGWRecipe. It may just get featured!
---
More smoothies to try:
---

Strawberry Banana Oatmeal Smoothie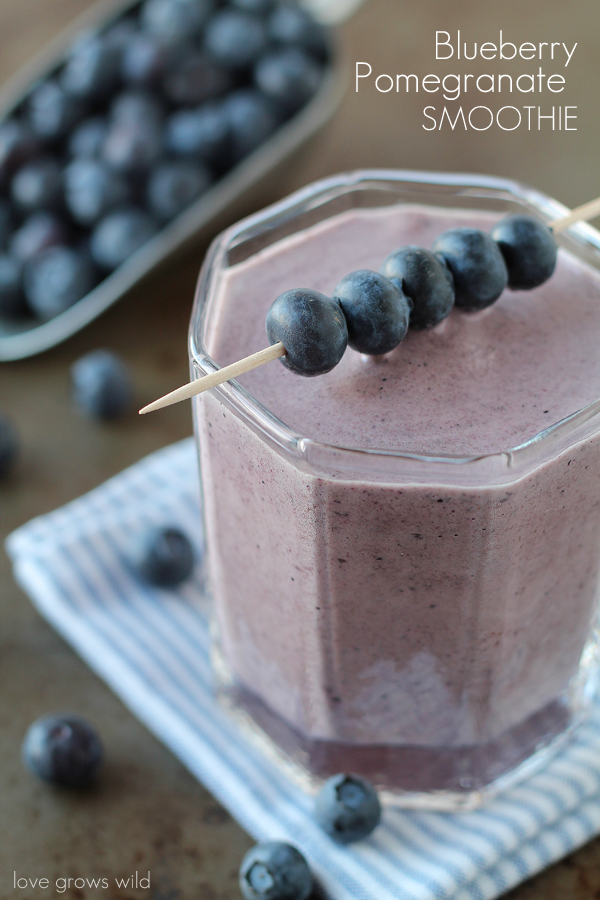 Blueberry Pomegranate Smoothie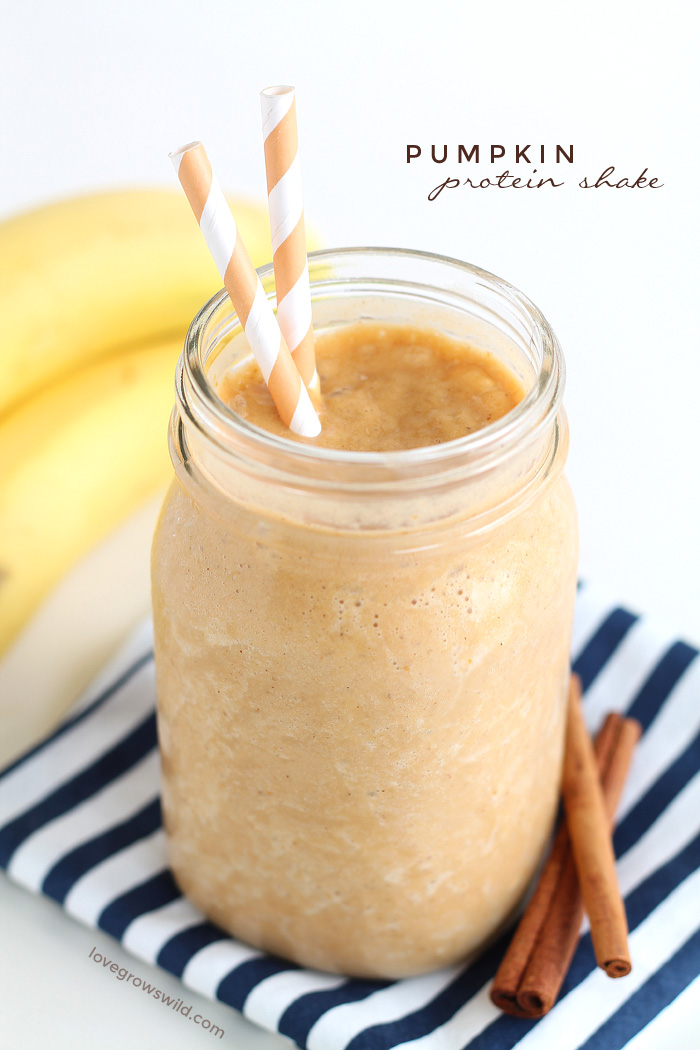 ---
LET'S KEEP IN TOUCH!
---
Subscribe to Blog | Browse my Shop | Follow on Facebook | Follow on Twitter
Follow on Google+ | Follow on Pinterest | Follow on Instagram