Lemon Yogurt Parfait with Blueberries and Toasted Honey-Glazed Walnuts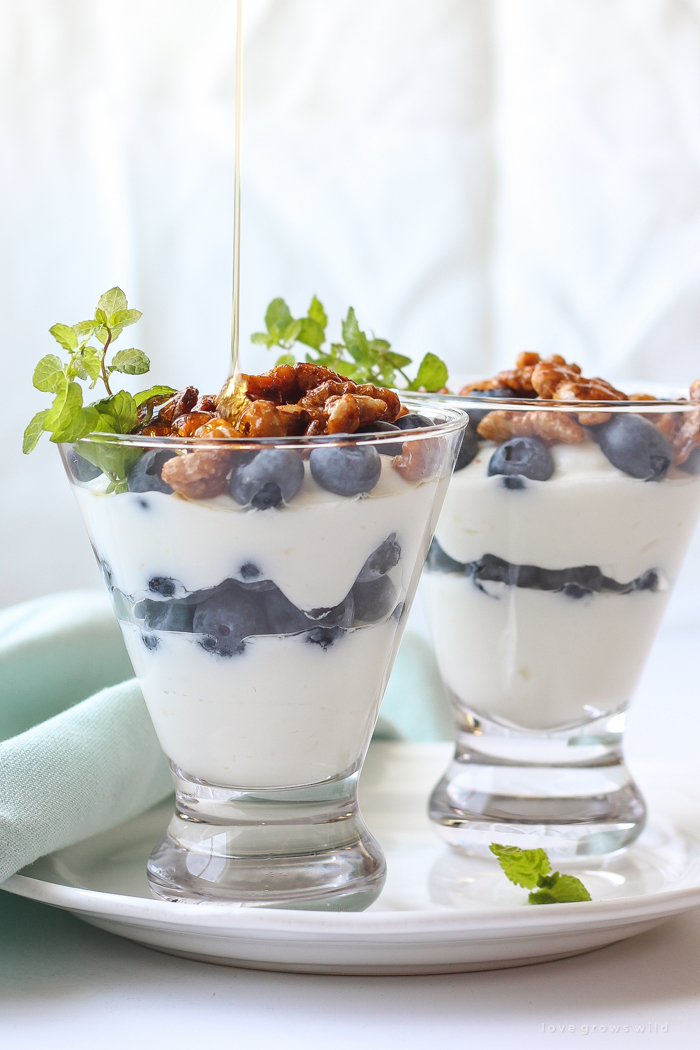 1 cup walnuts, shelled
¼ cup + 2 tablespoons honey
4 cups plain Greek yogurt
zest and juice from 1 lemon
2 cups blueberries
Preheat the oven to 350ºF. In a small bowl, mix the walnuts and ¼ cup honey until the walnuts are evenly coated. Spray a baking sheet with nonstick cooking spray and spread the walnuts out on the baking sheet. The walnuts will want to stick together, so use two spoons to help separate them on the baking sheet.
Bake the walnuts for 5-8 minutes until fragrant and toasted. Remove the glazed walnuts from the baking sheet onto a piece of parchment paper to cool completely. The walnuts will still be sticky when they first come out of the oven, but as they cool the glaze will harden. Once cooled, break the walnuts into small pieces.
Meanwhile, mix the Greek yogurt, lemon zest, lemon juice, and honey in a medium bowl. Spoon about ½ cup of the yogurt mixture into 4 containers and top with ¼ cup of blueberries in each container. Repeat with the remaining yogurt and blueberries, then finish each parfait with ¼ cup of the cooled glazed walnuts sprinkled on top. Serve immediately or store covered in the refrigerator for up to 8 hours.
Recipe by
Love Grows Wild
at https://lovegrowswild.com/2016/06/lemon-parfait-blueberries-honey-walnuts/