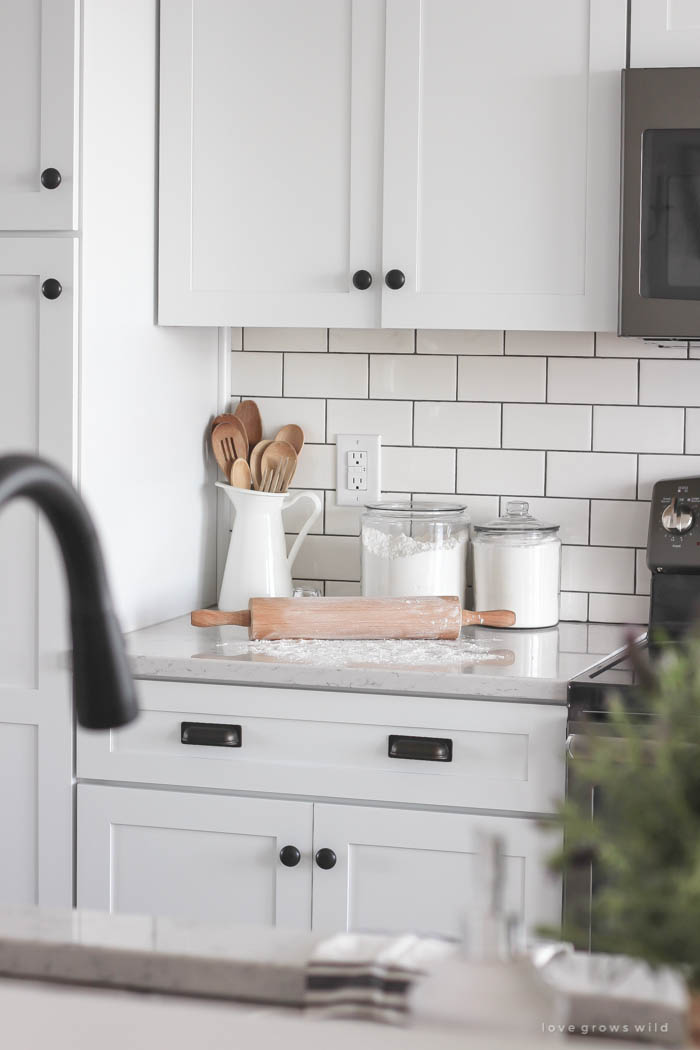 Our little farmhouse kitchen got a BIG makeover! This week I'm sharing the backsplash we chose and why… you can catch up on the rest of the kitchen makeover series here!
---
One of the things I was most excited about for our kitchen makeover was this backsplash. I knew exactly what I wanted right from the beginning and love the way it turned out! Let's dive into the backsplash details…
Before we talk about the end result, let's not forget what we started with in our little farmhouse kitchen.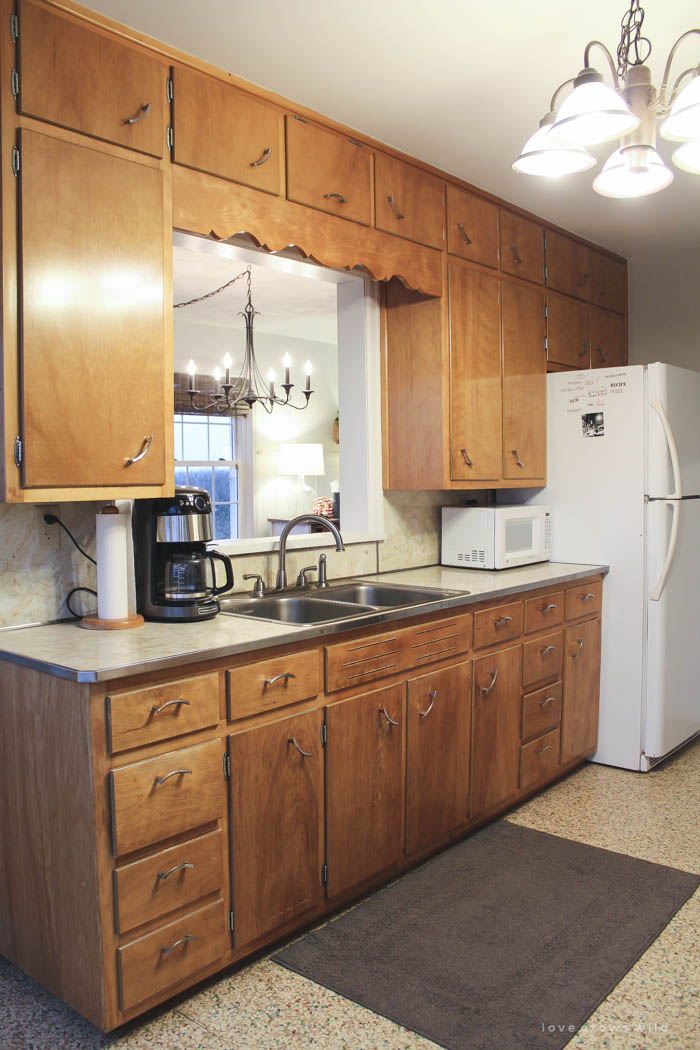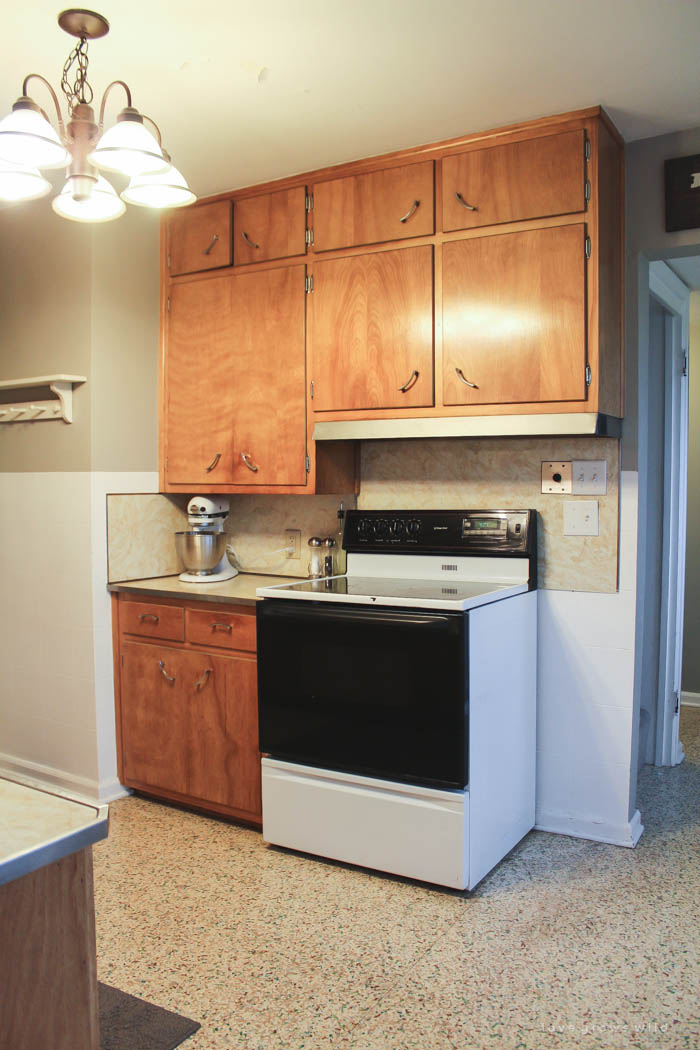 Once we finished demo, flooring, cabinets and countertops, it was time for the backsplash to be installed. Ideally my contractor would have preferred that our appliances were installed first so he knew exactly where the backsplash needed to line up. But the appliances weren't set to be delivered for another week, so Heath (a.k.a. my rockstar contractor) decided to go ahead and tile with the appliance dimensions I provided for him.
Side note: if you are working with a contractor and want to make them really happy, keep paperwork handy for all the details of your kitchen… appliance dimensions, grout colors, cabinet sizes, hardware choices, etc. We picked out all of our kitchen materials from Lowe's, and Heath works directly with them, so he already had paperwork on most of our things. But sometimes mistakes do happen and the wrong product might be ordered, so it's best to keep your own copies so that you can double check the materials before they are installed. Your contractor will be MUCH happier returning a product for the correct one instead of installing, ripping out, and reinstalling something. This is just one thing that I found really helpful on the homeowner's end to make the renovation process move more quickly and smoothly. And when your entire kitchen is torn apart, you definitely want things to move quickly and smoothly!
I knew right from the beginning that I wanted a white subway tile with dark grout for our backsplash. After renovating our bathroom this year and using a white mosaic tile with dark grout for the flooring, I wanted to carry that look into the kitchen as well. Some people think it has a modern look to it, but much like our countertops, I think it has a timeless look that fits in with everything from an old farmhouse to a modern penthouse. And dark grout is SO much easier to keep clean than white!
We went with a 3 x 6-inch white gloss ceramic tile and Mapei unsanded grout in the color Charcoal, both from Lowe's. We also ordered some 2 x 6-inch white gloss bullnose tile for the exposed edges where the tile ends on a wall instead of against a cabinet.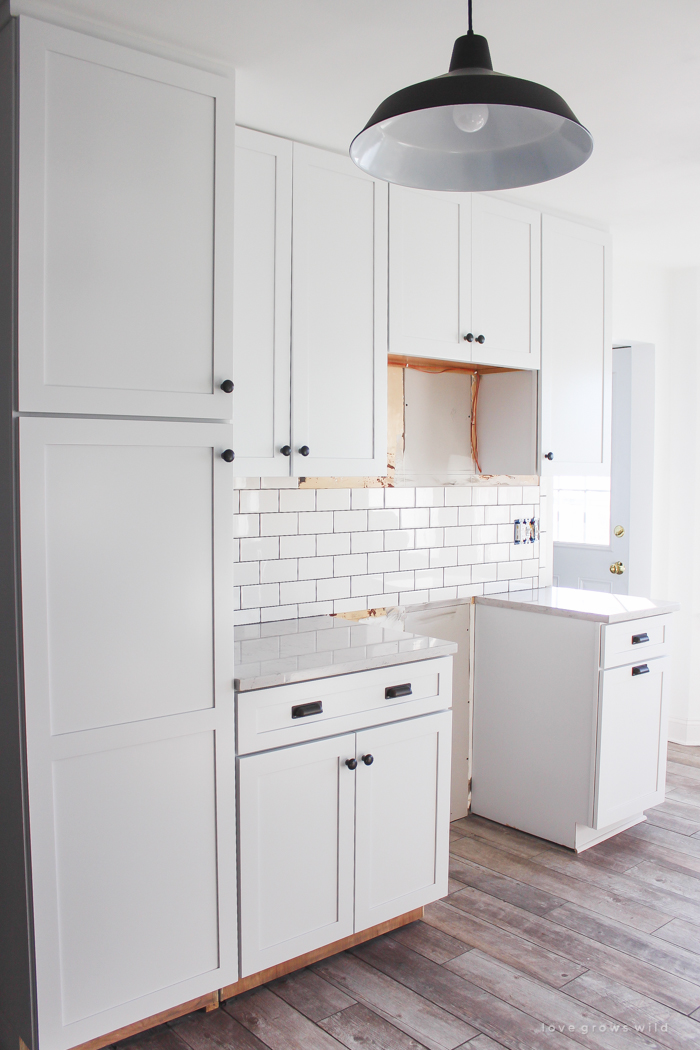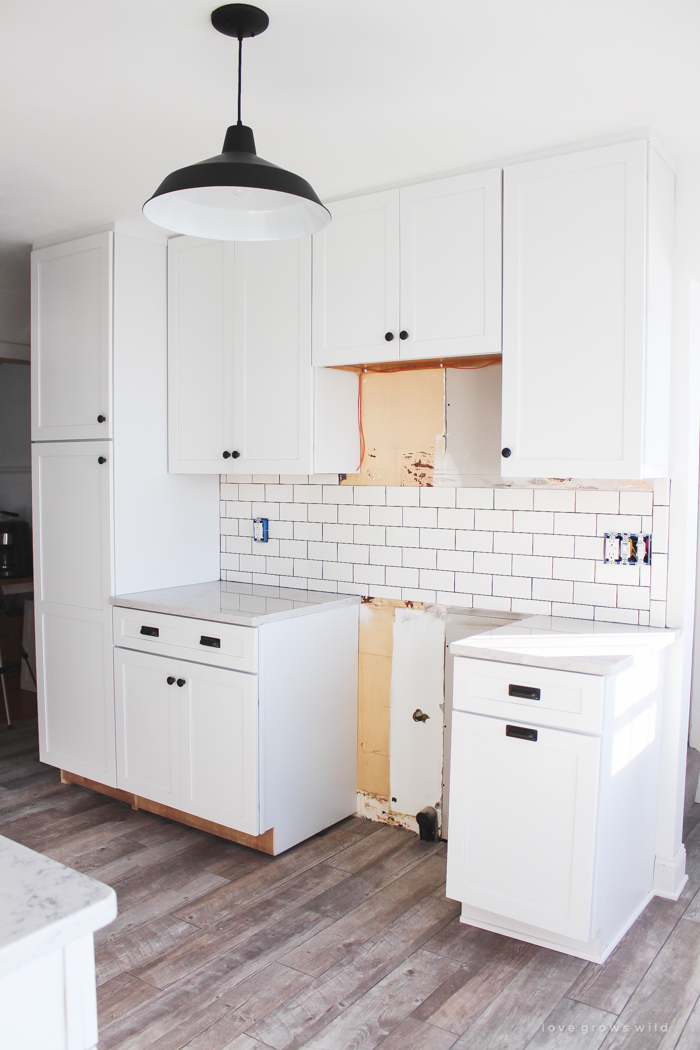 One of the issues we had when designing the kitchen was what to do with the wall space above the opening by the sink. Originally there was a set of small cabinets up there, but of course those were custom made and to have my contractor custom build a cabinet would have cost me a pretty penny. I decided to eliminate that cabinet all together and tile all the way around the opening and up the wall to the ceiling. I'm only 5'2″ and would never be able to reach up in those cabinets anyway, so I figured that having a sort of "feature wall" with the subway tile pattern all the way to the ceiling would be a great backdrop for the pendant light hanging above the sink. It saved a little bit of money and left the sink area feeling open and airy instead of boxed in like it did previously.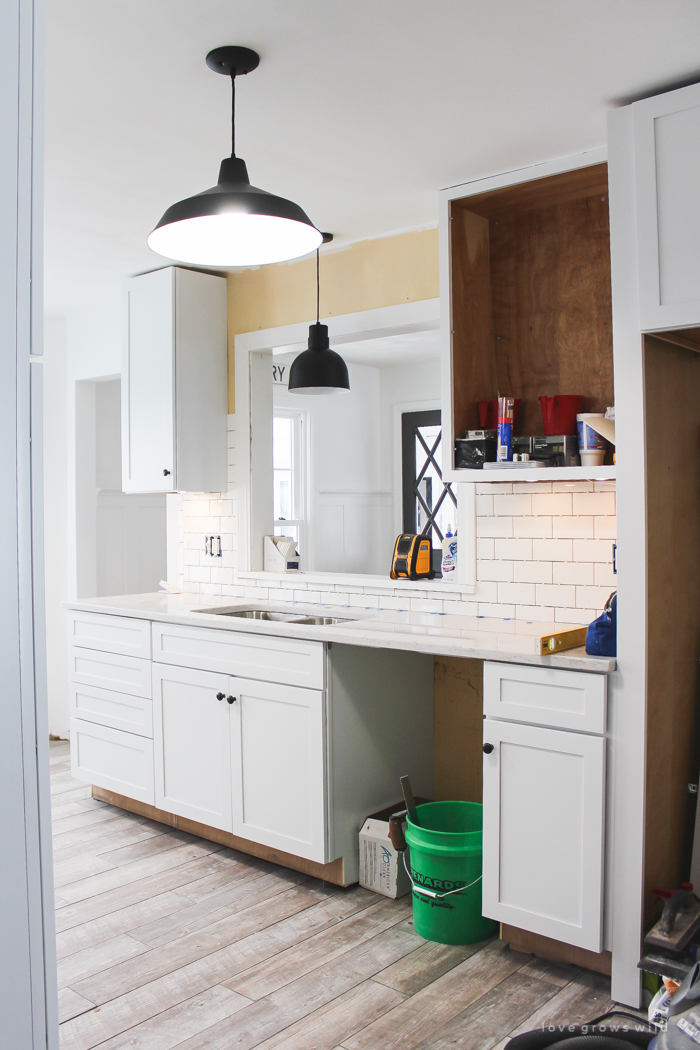 Once the whole kitchen was finished, the backsplash looked AMAZING. You guys know how much I love white, but with white walls, white cabinets, and a white backsplash, we definitely needed that dark grout to add some pattern to the space and break up all the white.
P.S. Now that we've lived with the kitchen a few months, we went and picked out cabinet trim for the bottom of the upper cabinets. We definitely need it to help disguise the wood underneath and the under cabinet lighting! I'll have more details on that once it is installed!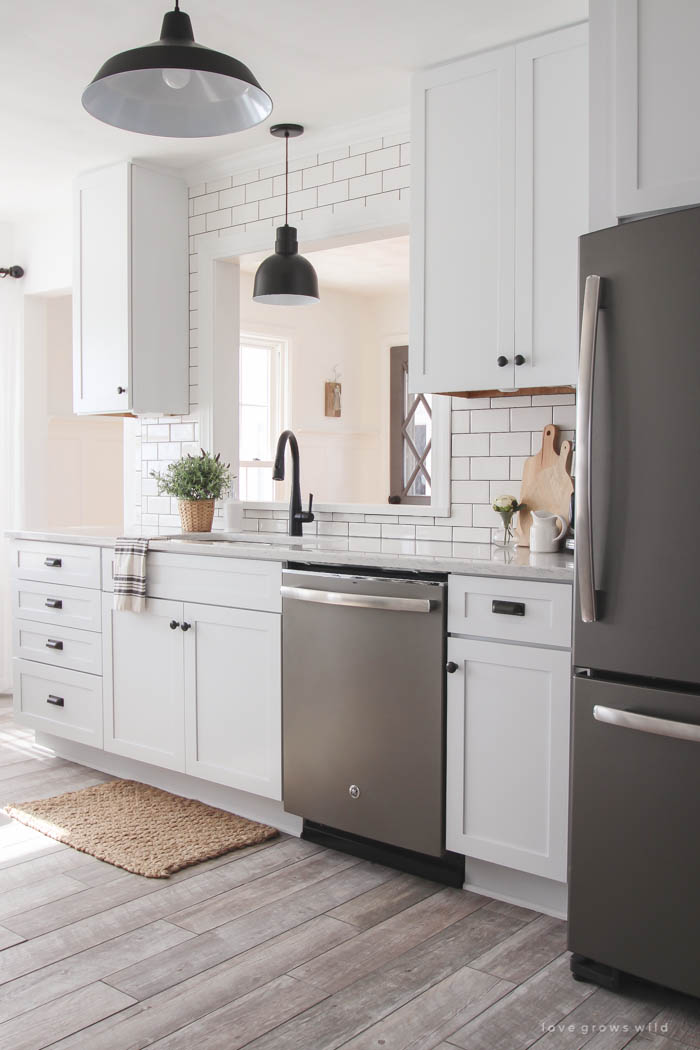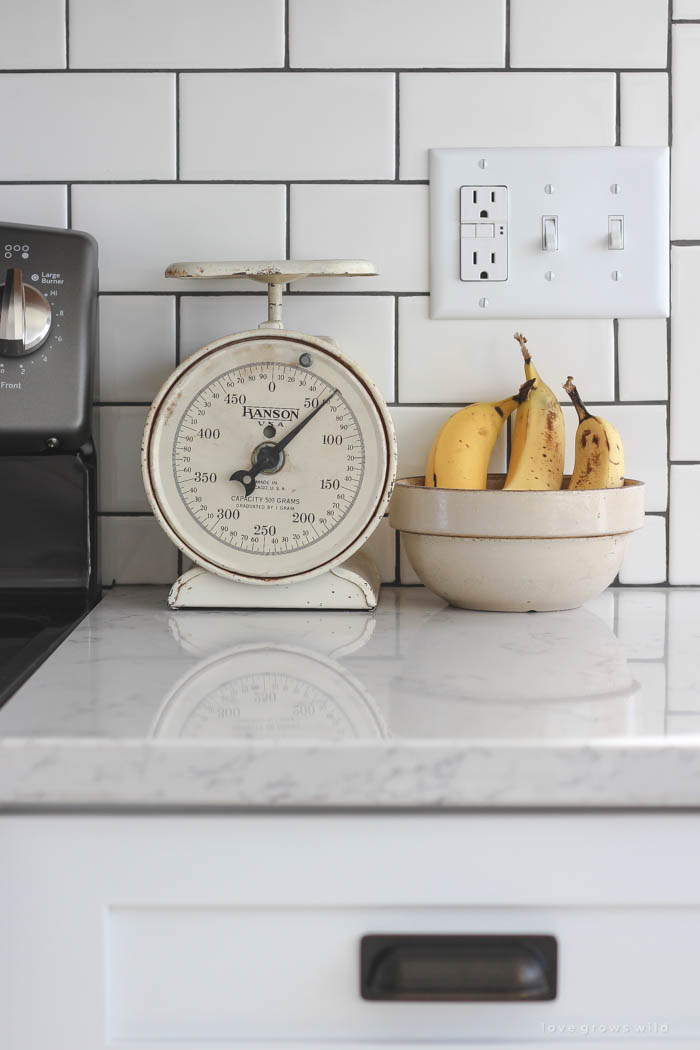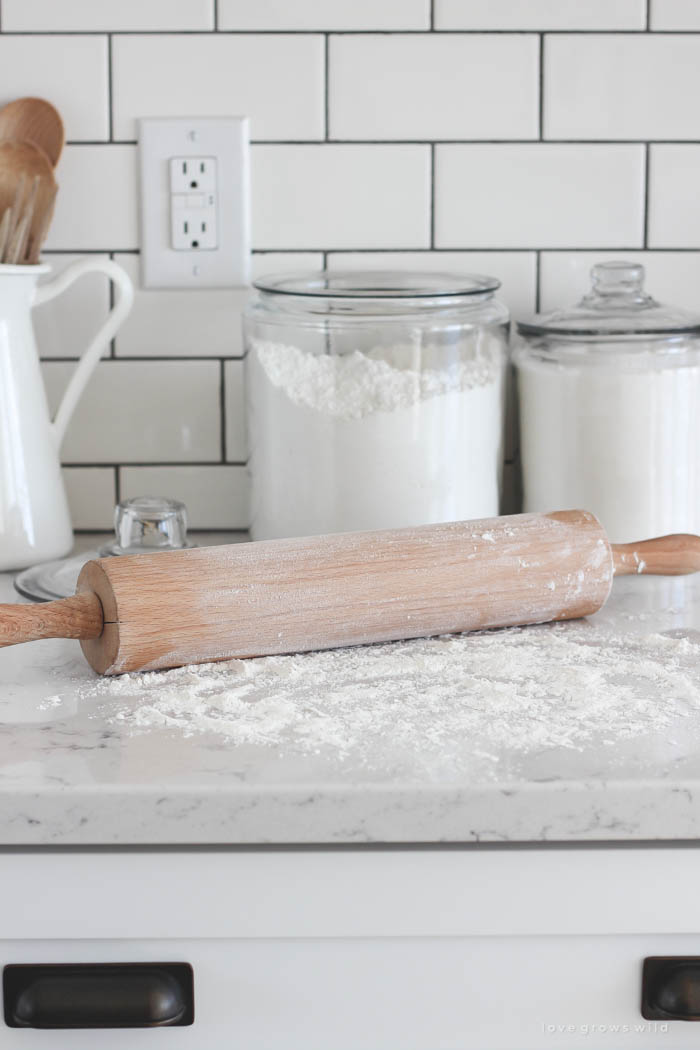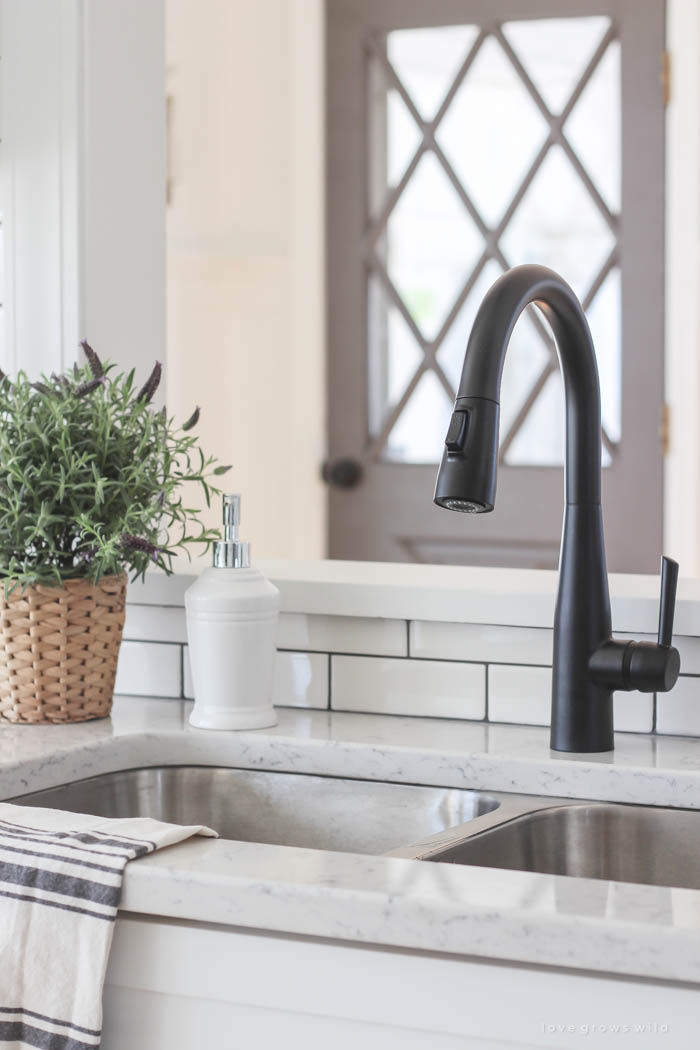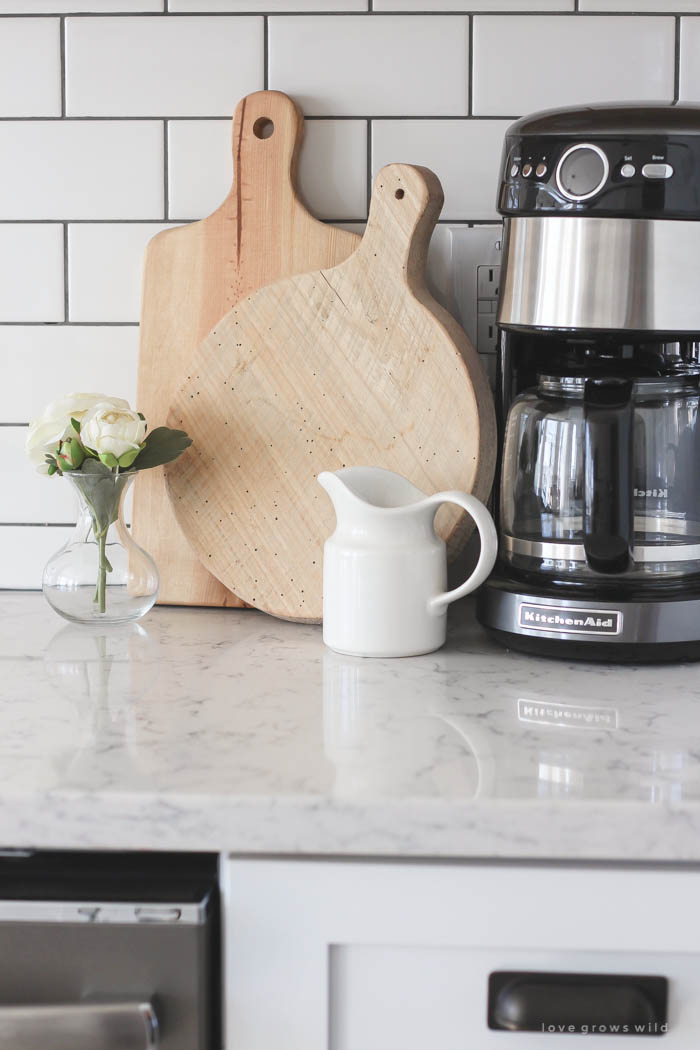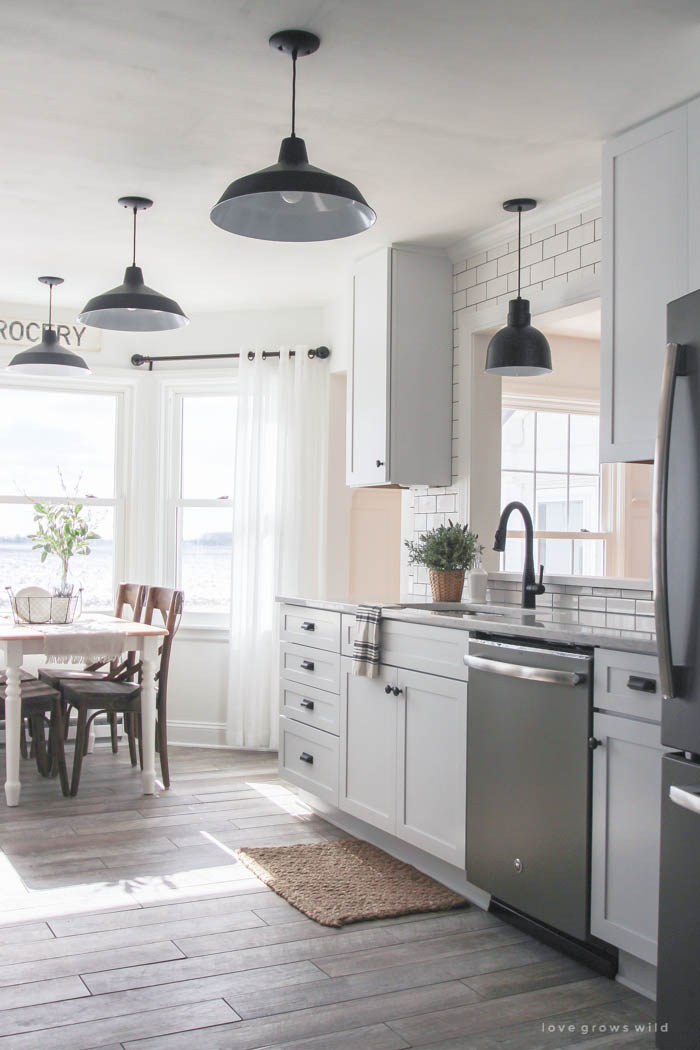 So what do YOU GUYS think of the new backsplash? Do you like subway tile or do you have another favorite backsplash option? I'd love to hear your thoughts! Leave me a comment below with any questions you have too! Next week I'm going to share details about the appliances we chose… stay tuned!
Sources:
Dove White cabinets – KraftMaid purchased at Lowe's
Cup cabinet pulls – Hickory Hardware
Cabinet knobs – Hickory Hardware
Quartz countertops – Silestone by Cosentino purchased at Lowe's
Natural timber porcelain tile flooring – Lowe's
Gray grout for tile floor – Lowe's
Wall color – Du Jour by Valspar
Slate electric range – GE Appliances
Slate dishwasher – GE Appliances
Slate bottom freezer refrigerator – GE Appliances
Slate over-the-range microwave – GE Appliances
Matte black pendant lights – Amazon
Pendant light above sink – Wayfair
X back wood dining chairs – World Market
Sheer white curtains – Walmart
Bronze curtain rods – Walmart
Small jute rug by sink – Home Goods
Matte black sink faucet – Delta
Stripe kitchen towel – World Market
Woven plant pot – IKEA
KitchenAid coffee maker – Amazon
White pitcher with cooking utensils – IKEA
Glass canisters – Target
Round wire basket – Walmart
Faux greenery in glass jug – Hobby Lobby
Antiques, secondhand finds, and handmade items:
white and wood dining table, drop cloth table runner, glass jug, grocery sign, wood cutting boards, antique scale

---
LET'S KEEP IN TOUCH!
Subscribe to Blog | Browse my Shop | Follow on Facebook | Follow on Twitter
Follow on Google+ | Follow on Pinterest | Follow on Instagram