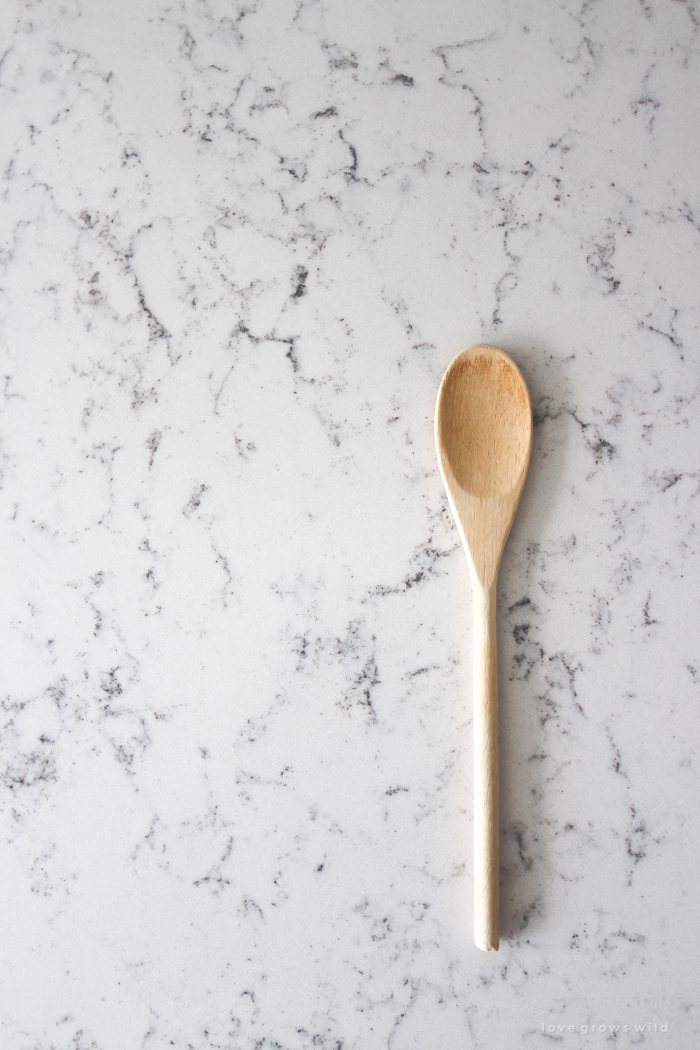 Our little farmhouse kitchen got a BIG makeover! This week I'm sharing the countertops we picked and why… you can catch up on the rest of the kitchen makeover series here!
---
Okay, now that we have demo, flooring, and cabinets out of the way, let's talk about our kitchen countertops!
Do you remember our old countertops and matching backsplash? It was time to retire these beauties: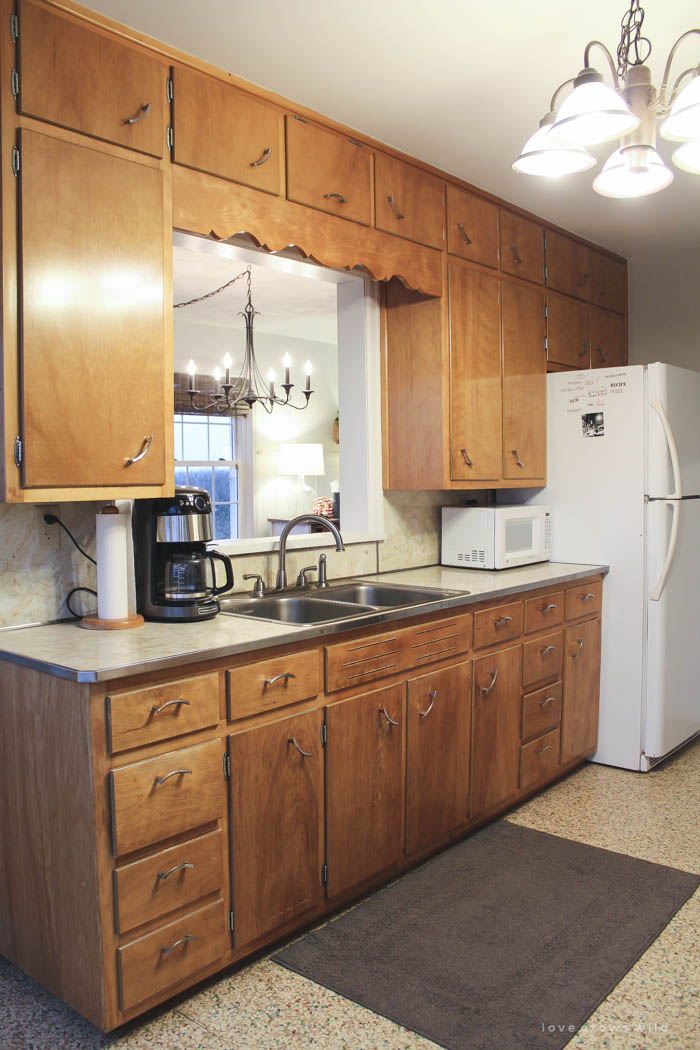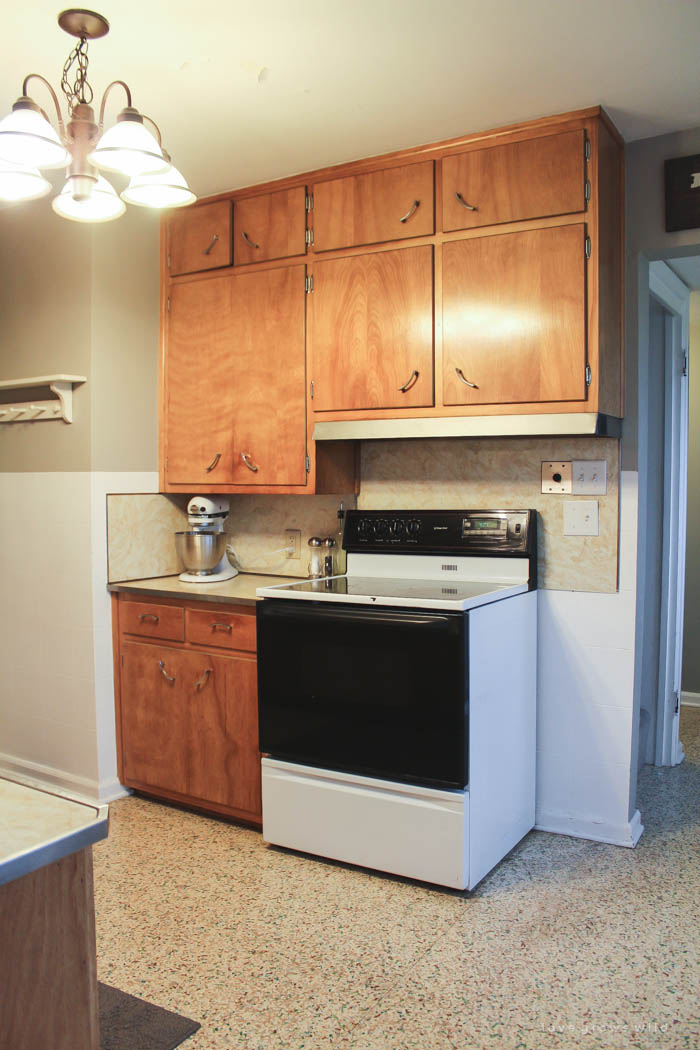 There are tons and tons of great options out there for countertops, and each one has its own pros and cons. When we first went into Lowe's to plan out the whole kitchen renovation, I had no idea what our budget would allow us to pick. Once I looked at the samples they had, I knew I definitely did not want laminate countertops. We've had them before, and although they are definitely the cheapest option, I really wanted a more high end look this time. The granite options were pretty, but I didn't love the "speckled" look that most of them have. Jeremy and I even considered doing concrete countertops ourselves, hoping it would save us some money and add a unique look to our kitchen. But in the end we knew our timeline was very short for getting the kitchen done because of my looming book deadline, and we didn't want to risk holding up the renovation with our adventures in DIY countertops.
I really love the look of marble countertops because it is such a classic, timeless material. From a design standpoint, I think marble is a really versatile choice too, as it fits in perfectly with everything from old, rustic farmhouses to chic, modern hotels. The only downside to marble is that it can be quite pricey and is a porous material, which means that it has to be properly sealed or it will stain easily and can be difficult to sanitize.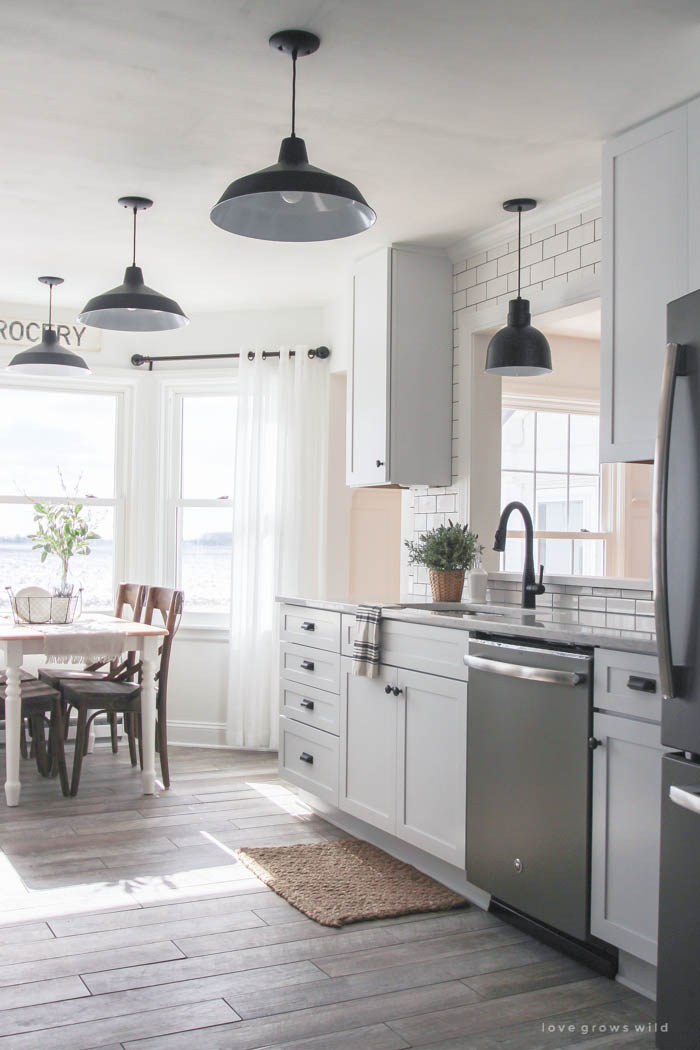 After sorting through the other countertop options, I found a quartz product that looks almost identical to marble and fell in LOVE with it. It is called Lyra Silestone, and we ordered it through Lowe's. Quartz is similar in price to granite, but is lower maintenance and more durable. Quartz is an engineered stone that is nonporous, so you don't have to worry about sealing the countertops. No stains, no bacteria, easy to clean, and very durable to cracks or chips. Jeremy and I figured that if we were going to pour this much money into renovating our kitchen, we wanted a product that would last with little to no maintenance, and this one happened to look just like the marble I love so much. Because our kitchen is on the smaller side, we were able to work the quartz into our budget, which I was ecstatic about.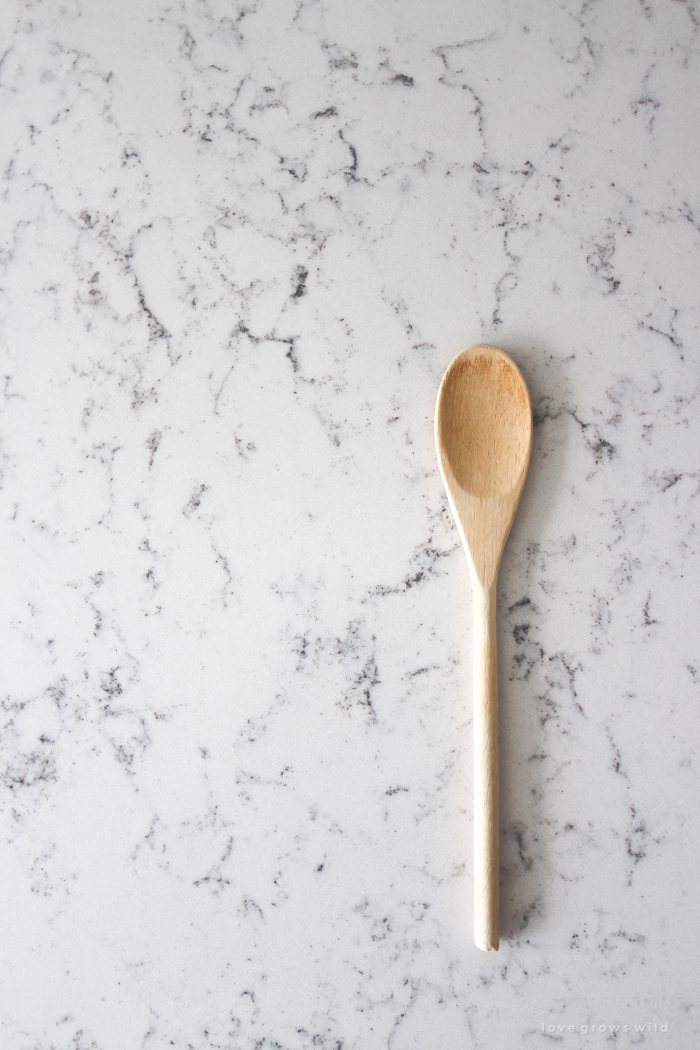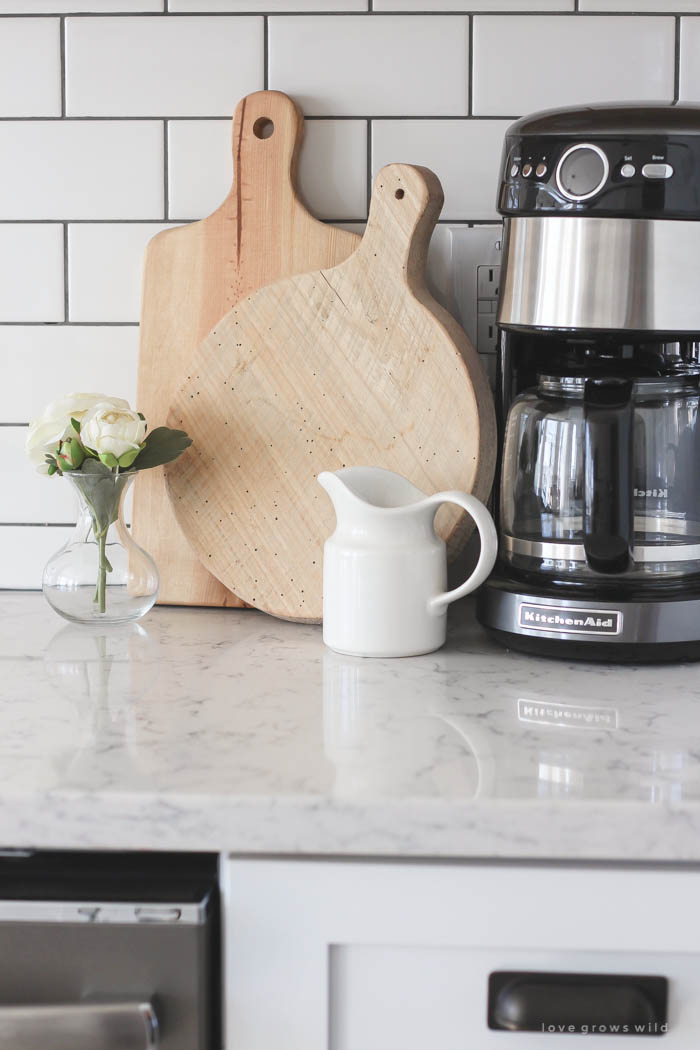 Once the contractor set our cabinets, the countertop guys were able to come in and take measurements. We were told from the beginning of the renovation that waiting for the counters to be made and delivered can sometimes take up to 3-5 weeks, so be aware of that timeframe if you're thinking about doing yours. Luckily, there were plenty of other projects for the contractor to work on while we waited for counters, and they actually arrived in just over a week.
They hauled in the big, heavy pieces of quartz and had them completely installed in probably less than 20 minutes. The also installed our under mount sink that day as well. It's a small detail in the grand scheme of the whole kitchen renovation, but I was SO excited to have an under mount sink finally. If something spills on the counter, I can just wipe it right into the sink, and there's no metal lip sticking up on the counter to get in the way. It looks a lot better aesthetically and is much more sanitary in my opinion. No one wants to see food and grime built up around the outside of your sink… I was totally guilty of that with our old one!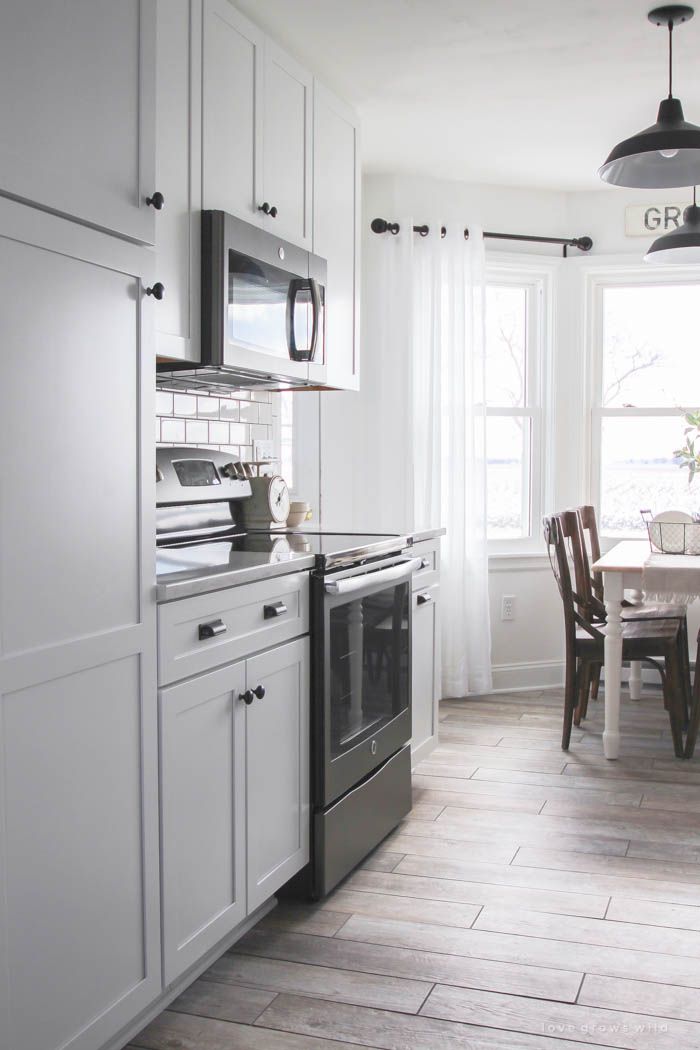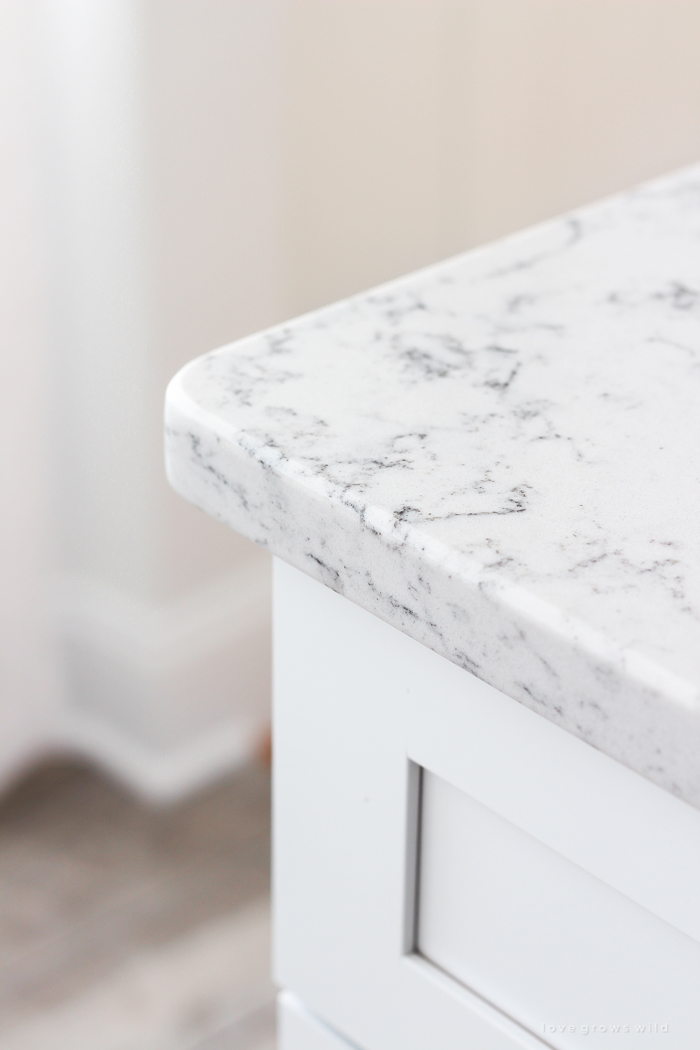 After living with these countertops for a few months now, I have ZERO complaints. They are super easy to clean, super durable, and look beautiful. They add just a touch of pattern to the all white cabinets without taking away from the simplicity of the space. I highly recommend this Lyra quartz if you're looking for new countertops!
Okay guys, I'd love to know… what kind of countertops are in YOUR kitchen right now, and if you could pick anything, what do you WISH you could have? Did I answer all your countertop questions? If you think of anything else, feel free to leave me a comment below! Next week I'm going to share details about our tile backsplash… stay tuned!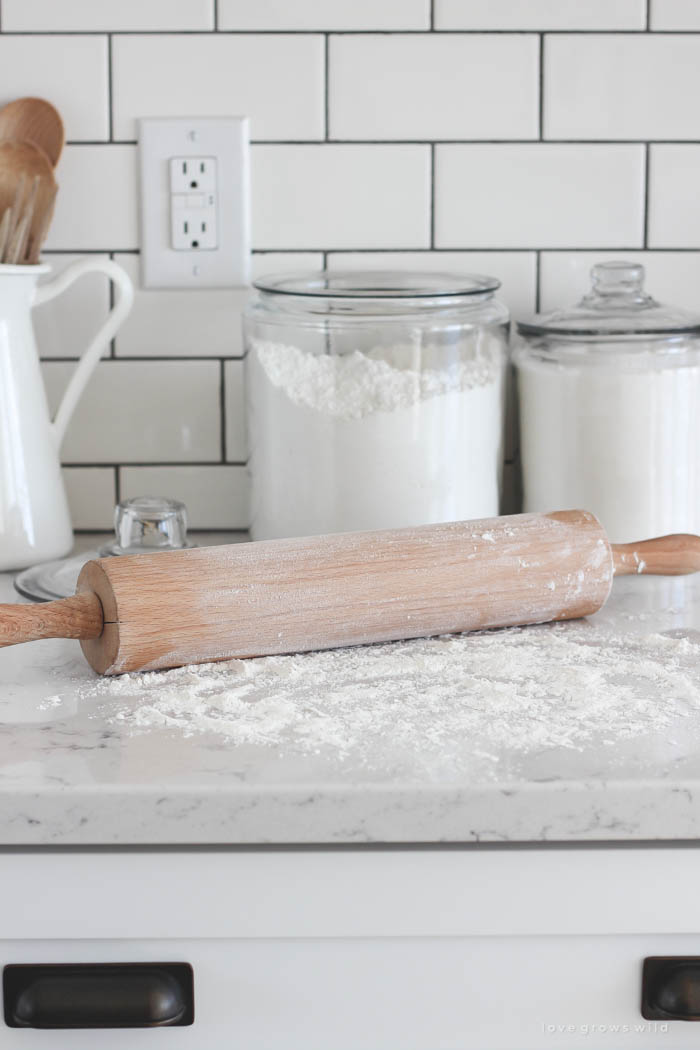 Sources:
Dove White cabinets – KraftMaid purchased at Lowe's
Cup cabinet pulls – Hickory Hardware
Cabinet knobs – Hickory Hardware
Quartz countertops – Silestone by Cosentino purchased at Lowe's
Natural timber porcelain tile flooring – Lowe's
Gray grout for tile floor – Lowe's
Wall color – Du Jour by Valspar
Slate electric range – GE Appliances
Slate dishwasher – GE Appliances
Slate bottom freezer refrigerator – GE Appliances
Slate over-the-range microwave – GE Appliances
Matte black pendant lights – Amazon
Pendant light above sink – Wayfair
X back wood dining chairs – World Market
Sheer white curtains – Walmart
Bronze curtain rods – Walmart
Small jute rug by sink – Home Goods
Matte black sink faucet – Delta
Stripe kitchen towel – World Market
Woven plant pot – IKEA
KitchenAid coffee maker – Amazon
White pitcher with cooking utensils – IKEA
Glass canisters – Target
Round wire basket – Walmart
Faux greenery in glass jug – Hobby Lobby
Antiques, secondhand finds, and handmade items:
white and wood dining table, drop cloth table runner, glass jug, grocery sign, wood cutting boards, antique scale

---
LET'S KEEP IN TOUCH!
Subscribe to Blog | Browse my Shop | Follow on Facebook | Follow on Twitter
Follow on Google+ | Follow on Pinterest | Follow on Instagram