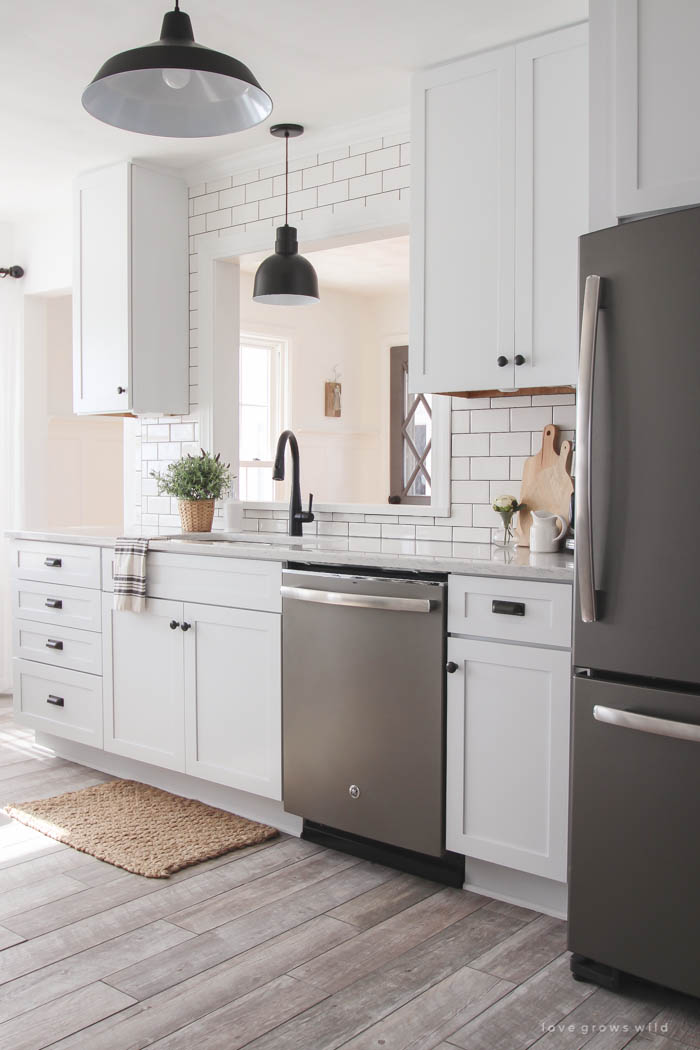 Our little farmhouse kitchen got a BIG makeover! This week I'm sharing the cabinets and hardware we chose and how we like them in our new kitchen… you can catch up on the rest of the kitchen makeover series here!
---
Hi friends! I'm answering more of your burning kitchen questions today, and now that we've lived with our new cabinets for about a month or so, I feel like I can finally give you a good review of what we chose, why we chose them, and how we like them now. Let's talk cabinets!
To refresh your memory, here are the cabinets we started with…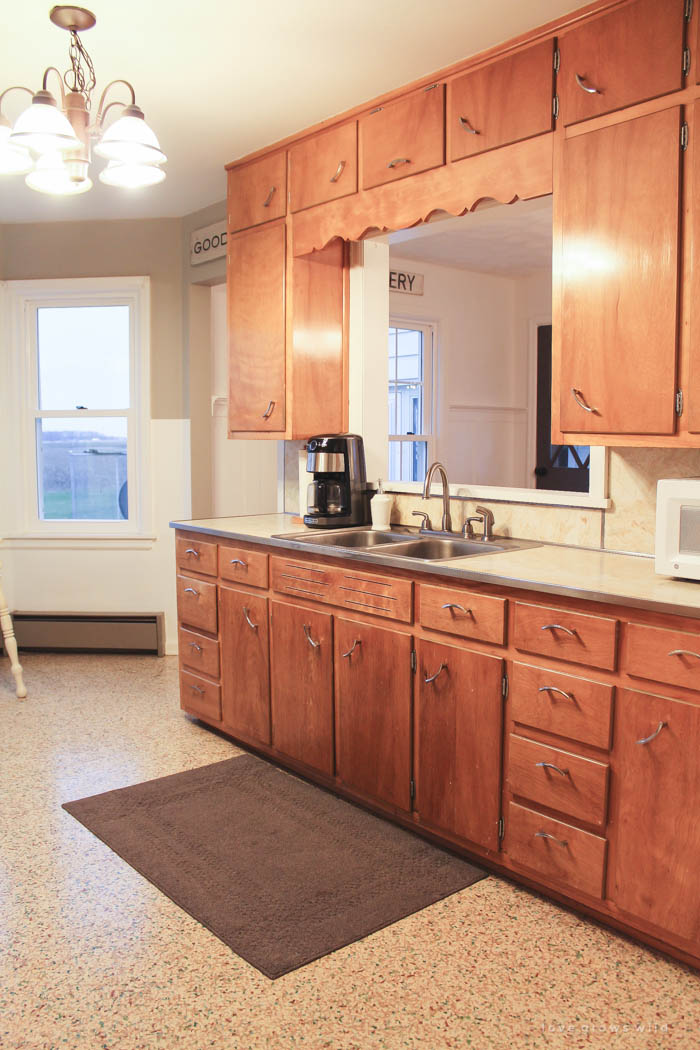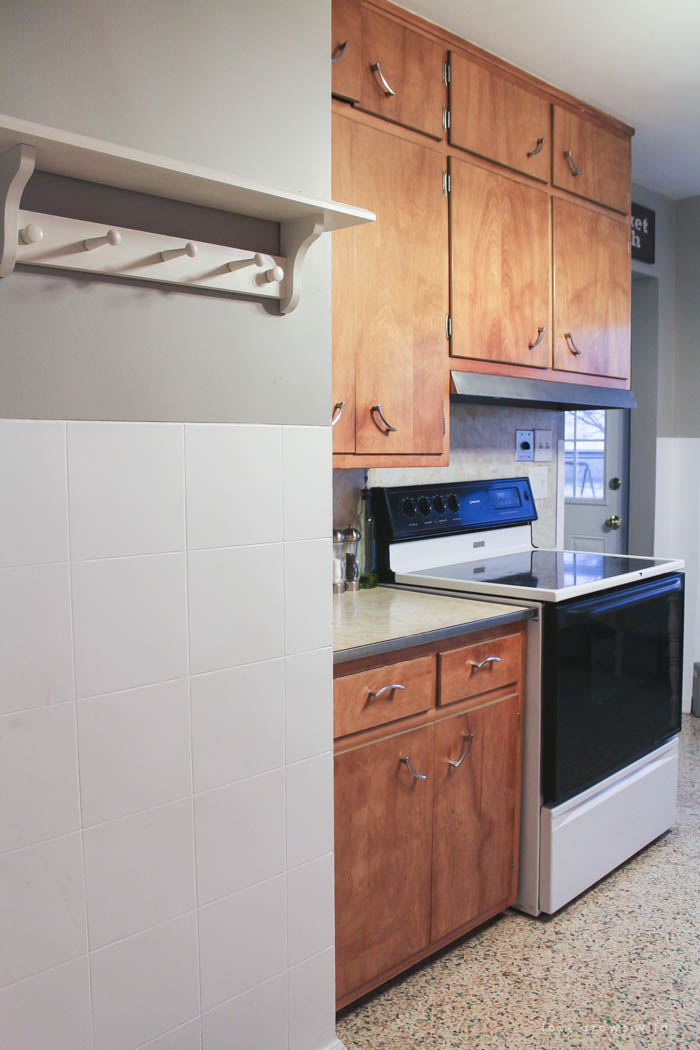 As I mentioned before, we used Lowe's to coordinate the renovation and purchase most of the products from, so when it came time to figure out the design and layout of the cabinets, they did all the hard work for us. Our contractor and a girl from our local Lowe's store came out to the house to take measurements of the kitchen and talk about layout options with me. Our kitchen is small and narrow, so keeping the existing galley kitchen layout was the best option for us. We didn't have to move any plumbing or appliances around, so that part was pretty simple.
We decided to use KraftMaid Cabinetry, which seemed to be the best quality cabinets that wouldn't cost all our life savings. We chose their Deveron maple cabinets in Dove White, which has a shaker-style door in a beautiful white finish. Lowe's came up with a design plan and a list of all the cabinet sizes we needed, ordered everything, and had the cabinets delivered to our house. Our poor kiddos lost their playroom for about a month because we had to find somewhere to stack all the cabinet boxes, and let me tell you… they were stacked wall-to-wall and floor-to-ceiling. Cabinets EVERYWHERE.
After our contractor finished up the kitchen demo and flooring, it was time to unbox all those cabinets and install them. This was one part of the renovation where I was thoroughly happy that we hired someone versus doing it all ourselves. Jeremy and I might not still be married if we had to hang all those cabinets in this 70 year old crooked farmhouse by ourselves! Joking, of course. ; )
The floor slanted one way and the ceiling slanted another, which made setting the cabinets level quite difficult. We ended up with gaps along the ceiling and floor, but there wasn't much we could do to avoid that. I knew that trim would be added later to hide those gaps, so I didn't worry about it too much. My trusty contractor would make it all work out in the end.
The day they finished getting all the cabinets installed, I think I may have shed a happy tear or two. I could finally start to see our kitchen taking shape and couldn't wait to get the counters installed next.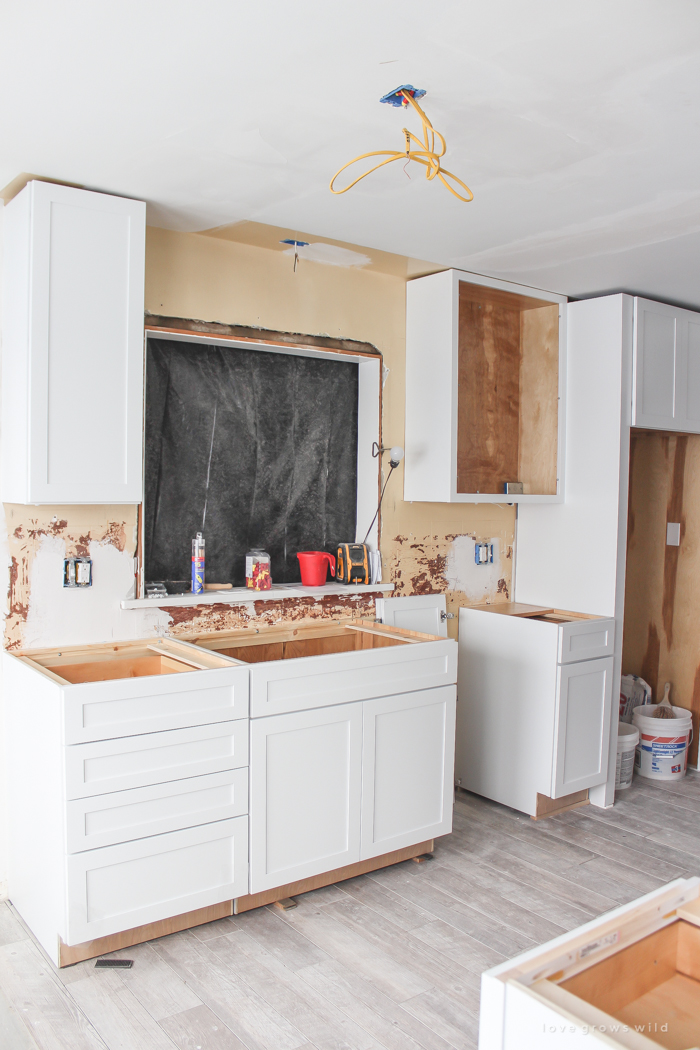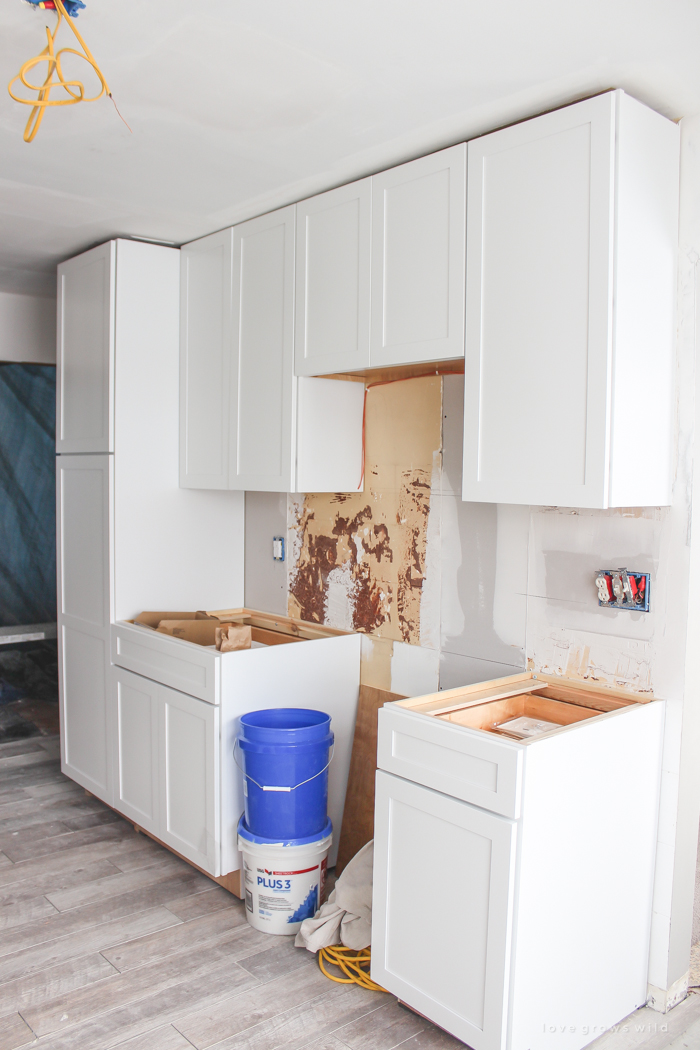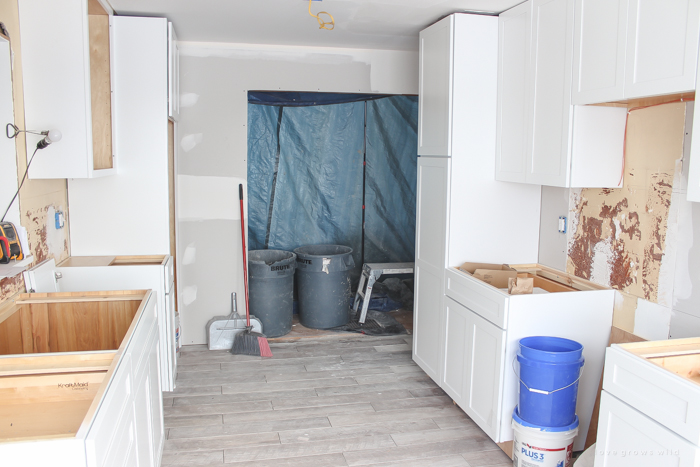 We added space for a dishwasher next to the sink, which meant we would lose some cabinet space. But because we knocked out the chimney that used to be in here, we now had room to add a floor-to-ceiling pantry cabinet. Problem solved!
I told our contractor that I wanted as much storage as possible, but other than that I only had one request for our cabinets. I wanted a slide-out cabinet for our garbage and recycling. Garbage cans aren't the prettiest things in the world, and we really don't have a good place to put one in this kitchen anyway. So they added a slide-out garbage cabinet on the right side of our stove, and I LOVE it.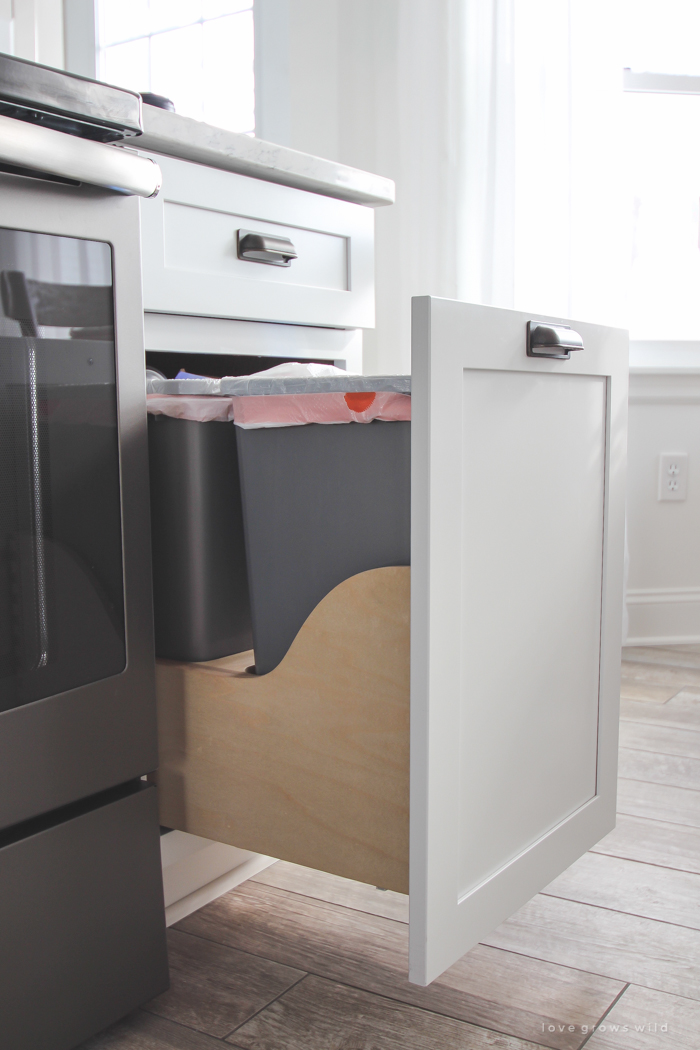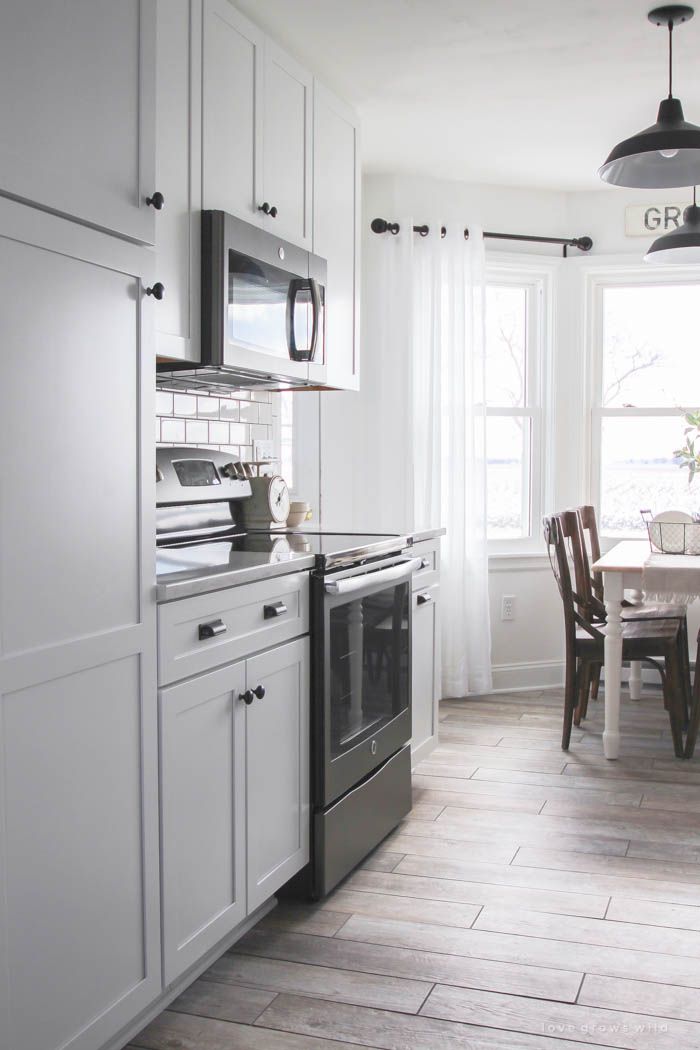 But then I realized that the cabinet on the other side of our stove has slide-out shelves too! I keep all my pots, pans, and baking dishes here and didn't realize how handy those slide-out shelves are until I cooked in here for the first time and didn't have to pull out ten different things to reach the pan in the very back of the cabinet! Seriously guys… if you ever look into getting new cabinets, I HIGHLY recommend slide-out shelves for your pots and pans and a slide-out cabinet for your garbage. Life-changing!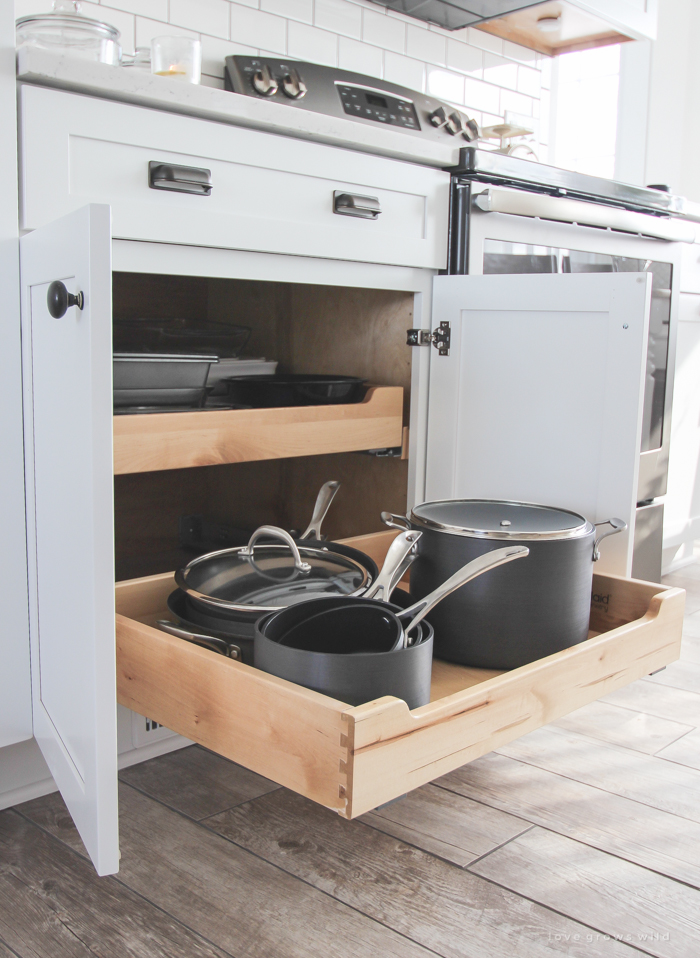 The bottom part of our pantry cabinet has slide-out shelves too, which is awesome since this cabinet is so deep. We're able to fit pretty much all our food in here, so the rest of our cabinets are used for bowls, baking sheets, plates, cups, etc.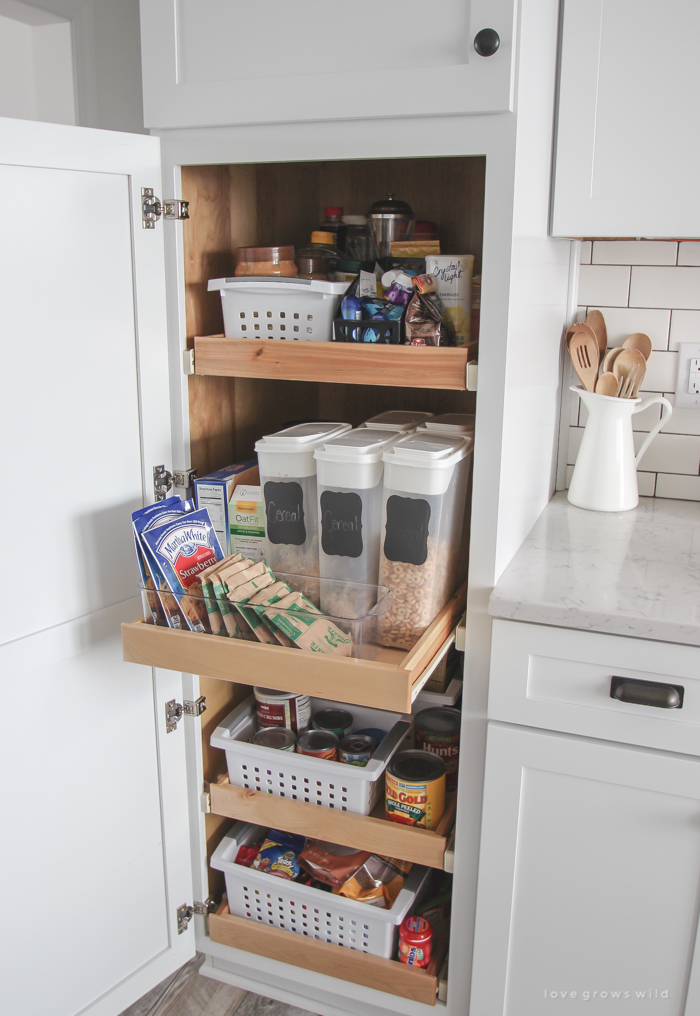 Remember this mess that used to be our pantry?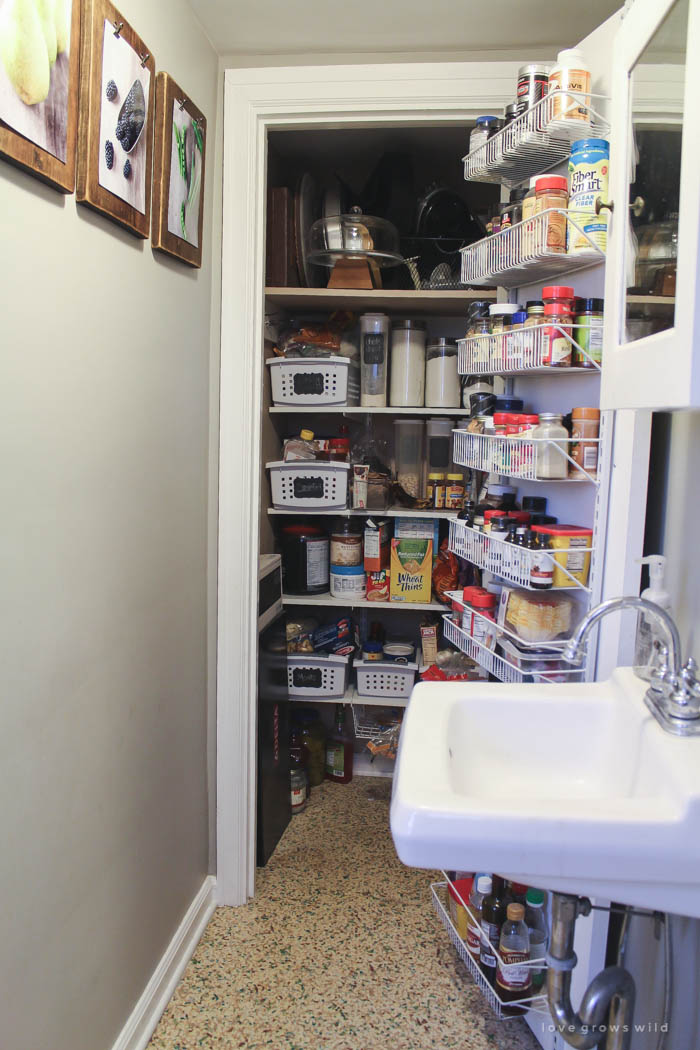 This closet/wash sink area that sits just around the corner from our kitchen used to hold all our food, which meant that every time I needed a dash of salt or a bowl of cereal, I had to leave the kitchen, walk around the corner, and rummage through the closet. We made this setup work over the last four years of living here, but I am definitely happy that all our food and spices are actually IN the kitchen now.
And the best part is that we gained an extra closet, which I now use to hold our cleaning supplies, light bulbs, extra paper towels, vacuum cleaner, cookbooks, etc. I love this cute, little sink area now!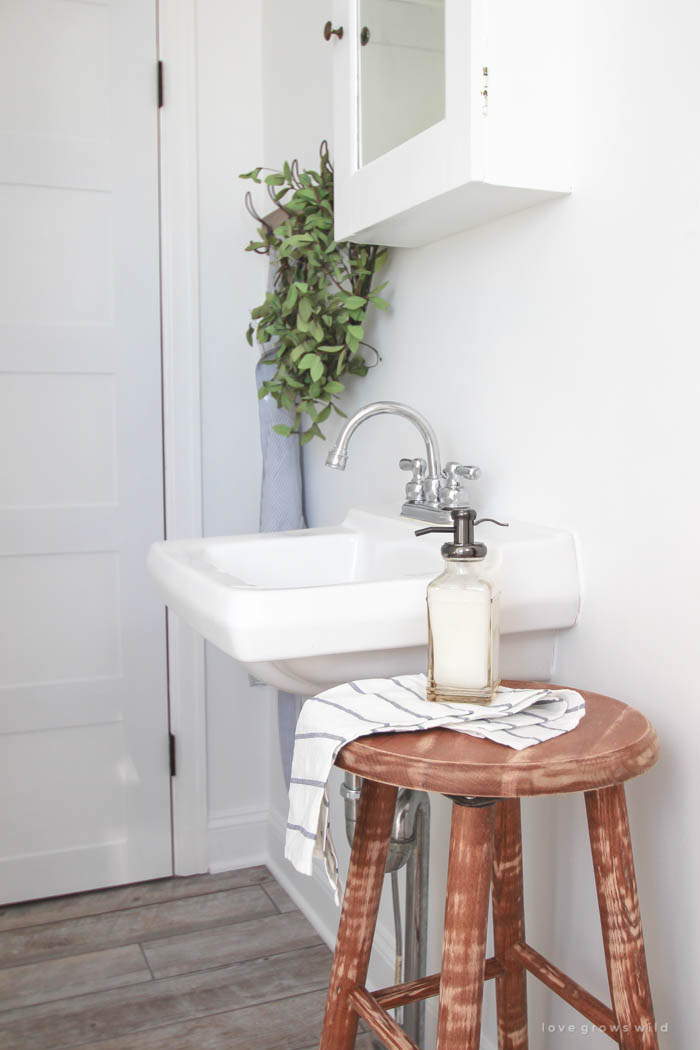 For the cabinet hardware, I used rectangular cup pulls in an antique finish for all the drawers. They are Hickory Hardware's 3″ Oxford Antique Windover Cup Pull, and I love their shape and the vintage feel they bring to the brand new cabinets.
Some of our drawer fronts are really narrow, so a round cup pull wouldn't look right or fit in the small space. These were the only rectangular ones I found, and they happened to have the gorgeous dark antique finish I was looking for. If you look at photos of these pulls online, they look much more gold and brassy, but you can see in my photos that they are actually closer to an oil-rubbed bronze finish.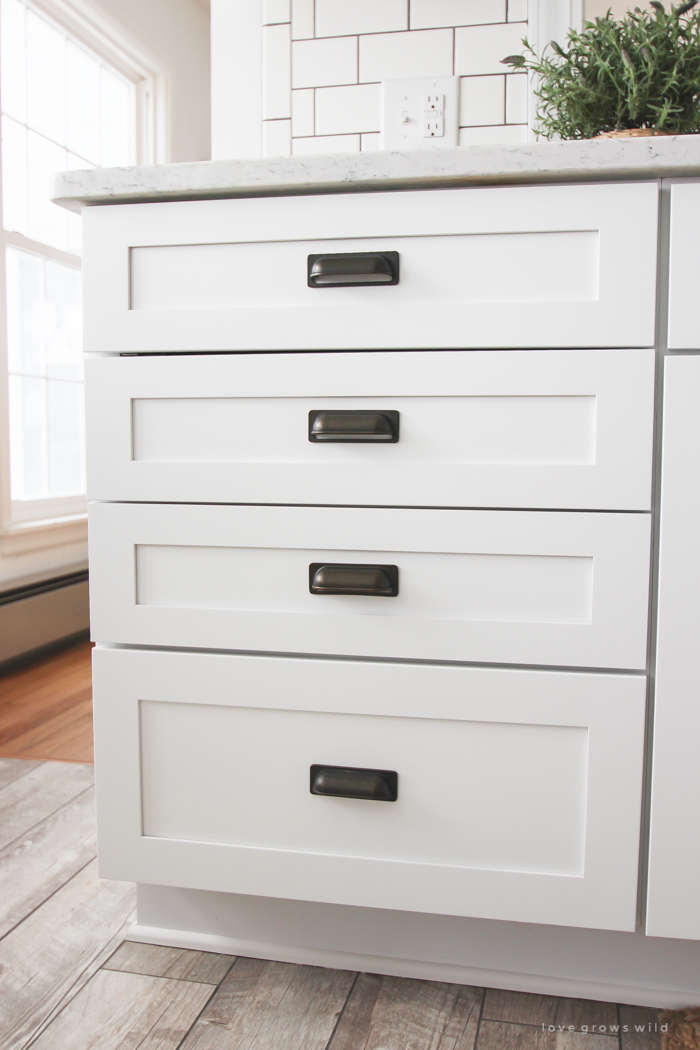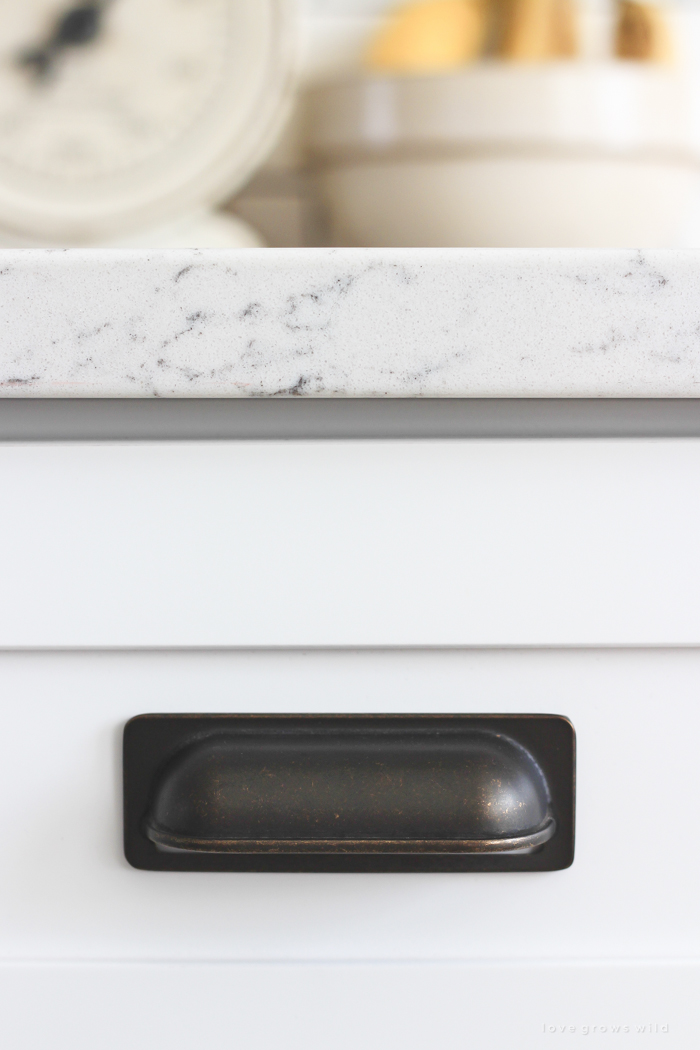 For all the cabinet doors we used a simple 1 1/4″ Manchester knob, also from Hickory Hardware. Picking out the cabinet hardware seemed like an overwhelming task at first because there are so many pretty options out there. But I am very, very pleased with these so far! I just love the dark knobs against the white shaker cabinets.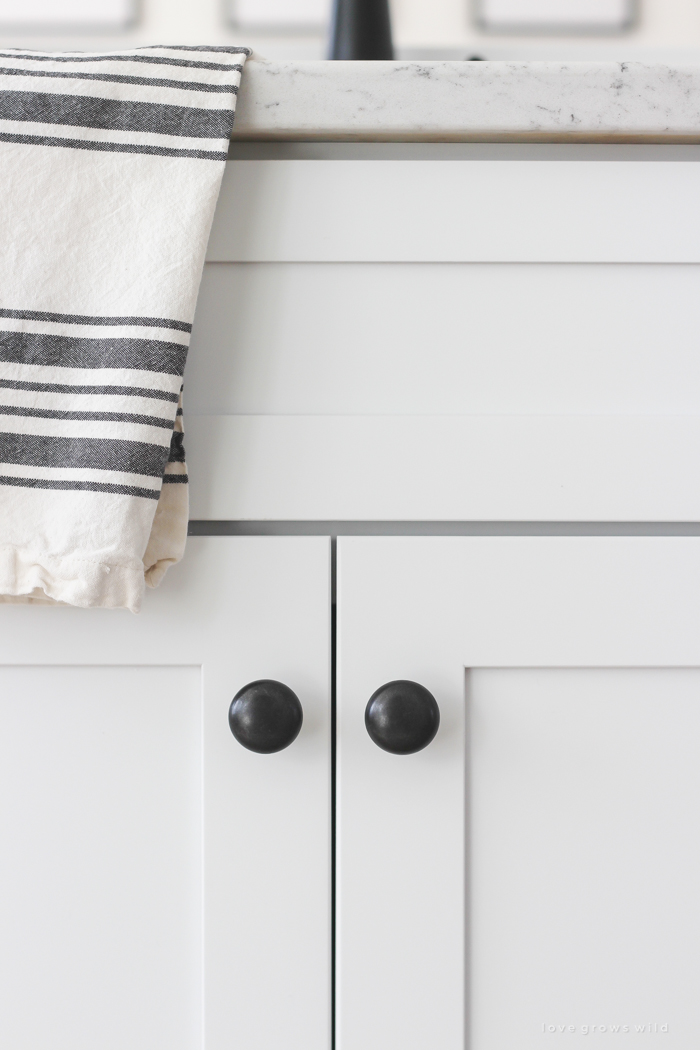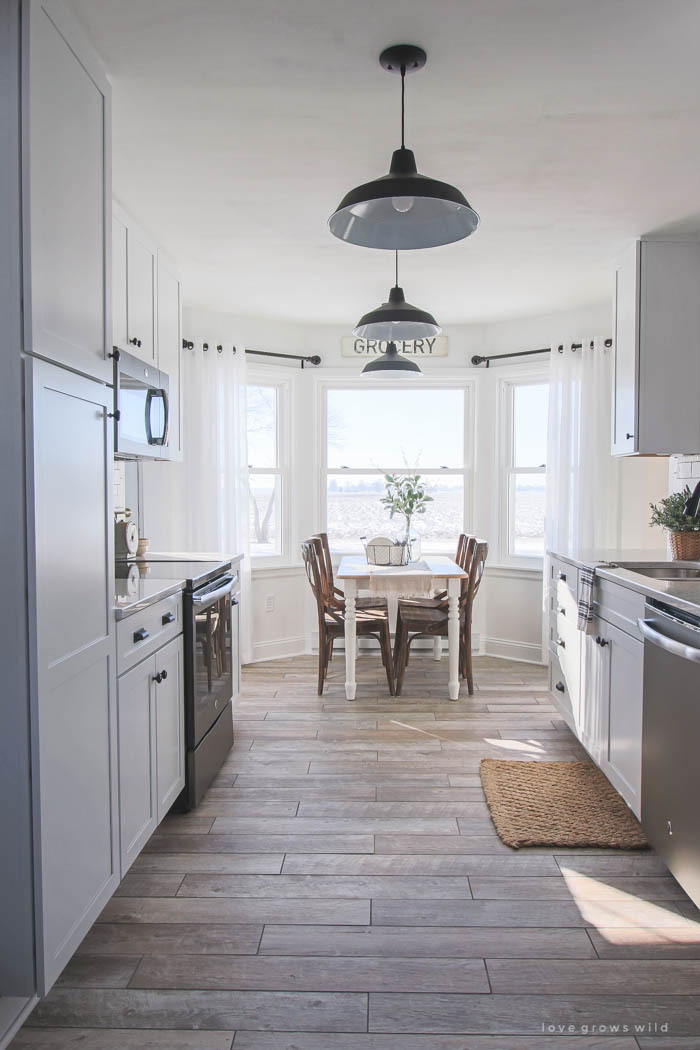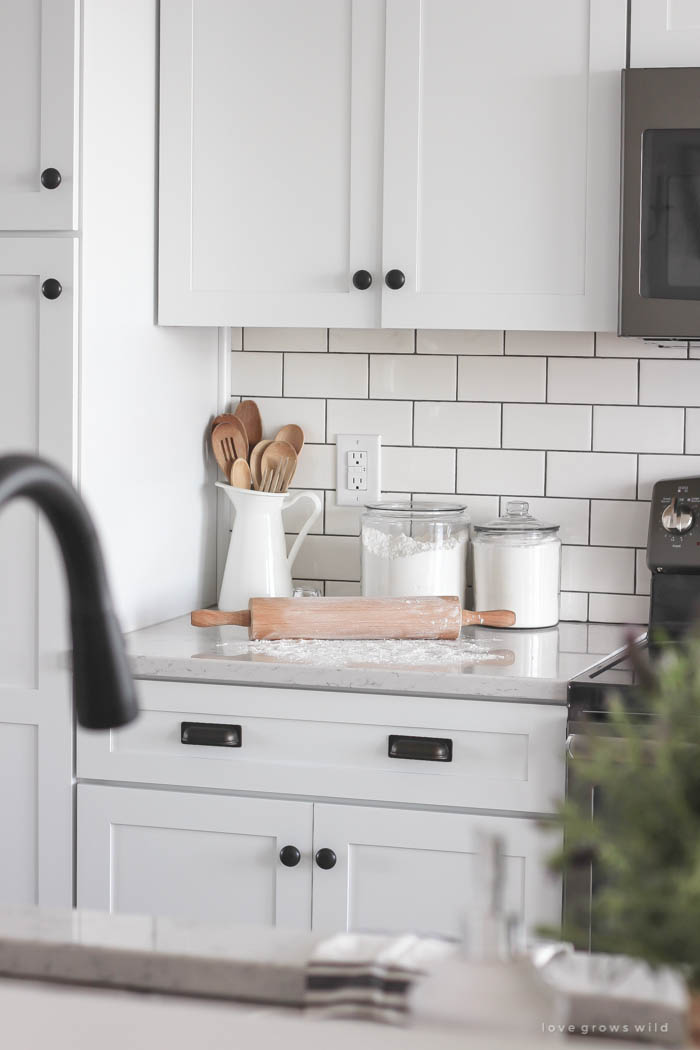 I also love the way they framed our refrigerator using the cabinets and some extra trim pieces. It has a "custom-built" look and doesn't let the huge refrigerator stick out like a sore thumb.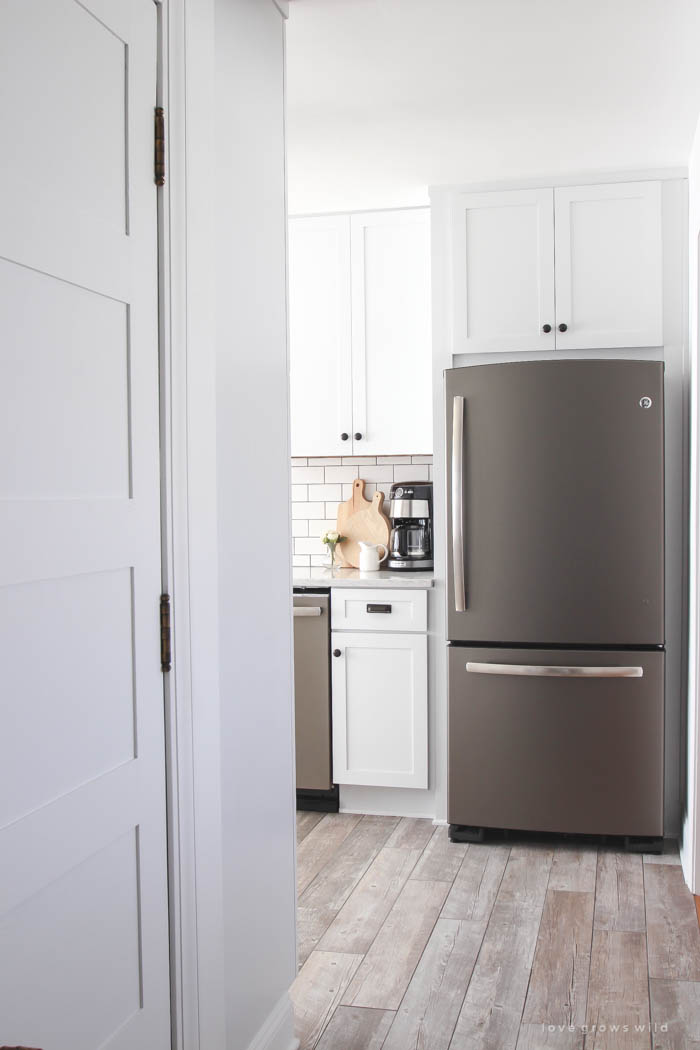 We've been using these cabinets for about a month or two now, and so far I'm really impressed with the quality and durability. They have been easy to clean and sturdy, but time will tell how well they will hold up long term. I'll keep you updated!
The ONLY complaint I have about how our cabinets turned out is that I don't understand why they don't paint the bottoms of the upper cabinets to match the rest of the finish. I try to hide it with my camera angles, but you can definitely see that the bottoms of the cabinets are natural wood (like the insides are), which really stands out in an all white kitchen. Is there a reason they don't match the bottoms to the rest of the cabinet? I don't know, but it bugs me. Part of the problem might be that a) I'm short and b) there is a lot of space between the countertops and the bottoms of the upper cabinets, so I see underneath a lot more. It's nothing that I can't live with, but if I knew about this issue going in, I might pick longer upper cabinets or see what could be done about painting the bottoms.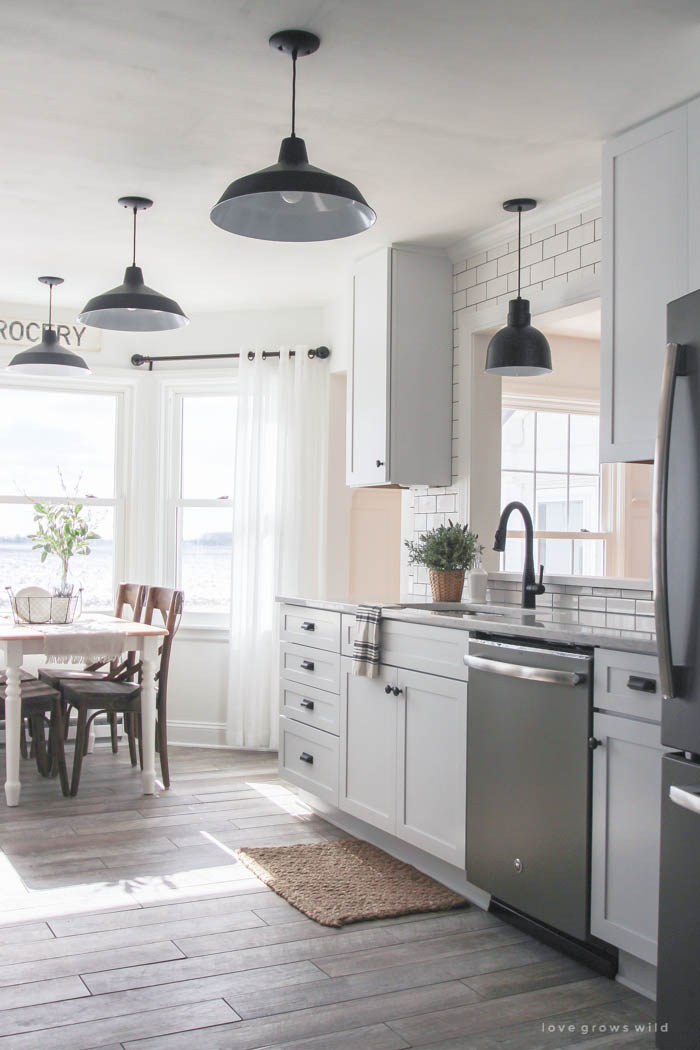 Okay guys, that's the story on our cabinets! Did I answer all your questions? If you think of anything else, feel free to leave me a comment below! Next week I'm going to share details about our kitchen countertops… stay tuned!
Sources:
Dove White cabinets – KraftMaid purchased at Lowe's
Cup cabinet pulls – Hickory Hardware
Cabinet knobs – Hickory Hardware
Quartz countertops – Silestone by Cosentino purchased at Lowe's
Natural timber porcelain tile flooring – Lowe's
Gray grout for tile floor – Lowe's
Wall color – Du Jour by Valspar
Slate electric range – GE Appliances
Slate dishwasher – GE Appliances
Slate bottom freezer refrigerator – GE Appliances
Slate over-the-range microwave – GE Appliances
Matte black pendant lights – Amazon
Pendant light above sink – Wayfair
X back wood dining chairs – World Market
Sheer white curtains – Walmart
Bronze curtain rods – Walmart
Small jute rug by sink – Home Goods
Matte black sink faucet – Delta
Stripe kitchen towel – World Market
Woven plant pot – IKEA
KitchenAid coffee maker – Amazon
White pitcher with cooking utensils – IKEA
Glass canisters – Target
Round wire basket – Walmart
Faux greenery in glass jug – Hobby Lobby
Hallway lantern light fixture – Lowe's
Soap dispenser by wash sink – Target
Blue striped towel by wash sink – IKEA
Blue stripe apron – tutorial
Antiques, secondhand finds, and handmade items:
white and wood dining table, drop cloth table runner, glass jug, grocery sign, wood cutting boards, antique scale, wood stool, blue glass bottles

---
LET'S KEEP IN TOUCH!
Subscribe to Blog | Browse my Shop | Follow on Facebook | Follow on Twitter
Follow on Google+ | Follow on Pinterest | Follow on Instagram