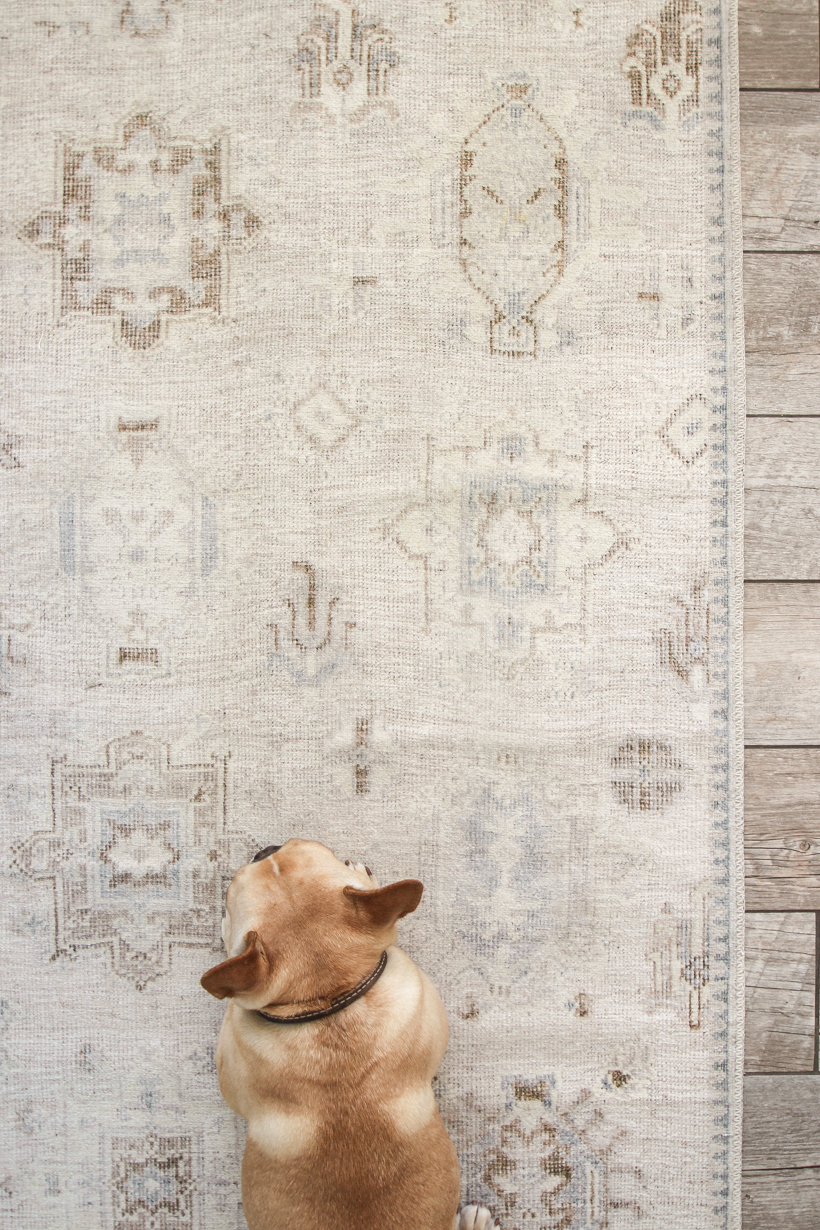 In partnership with Walmart | Life is pretty hectic here most days… two boys in sports, two dogs, and multiple businesses run out of this little house of mine. I know you mostly see the clean, styled photos of our home, but trust me when I say that real life happens within these walls and real life is MESSY. Especially while potting training puppies… thank goodness we have mostly hardwood floors.
The rug in my kitchen has seen better days, and I figured now would be the perfect time to test out a washable rug in a very high traffic area. My morning coffee, dinner prep, and midday snacks all happen here. And it is most definitely the dogs' favorite place to sit patiently waiting for me to drop a crumb or a piece of popcorn. I need a rug that is washable, scrubable, durable, and doesn't slip and slide all over the floor. This one I finally settled on checks all those boxes, AND it's absolutely beautiful. Today I'm sharing all about this new rug in my kitchen and more washable rug options!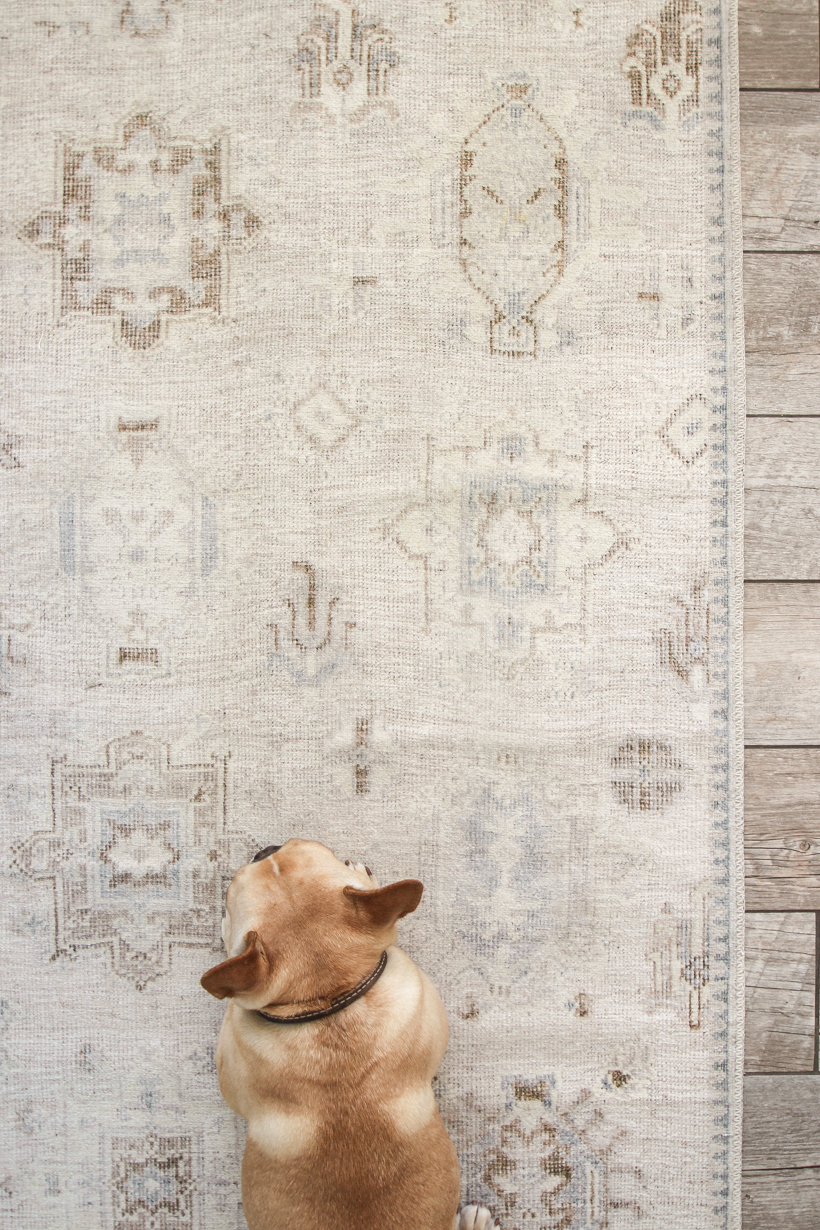 When I was shopping for the black dresser that I recently added to my living/dining room, I saw so many cute machine washable rugs on the Walmart Home website. I tend to lean towards simple, neutral, traditional rugs in our home, and there were several options that immediately caught my eye that happened to come in the kitchen runner size I wanted.
When I shop online, I tend to buy several different sizes/colors/styles so I can see them in person and return what I don't want to keep. Since these rugs are just runners and would be much easier to return than a full size area rug, I ended up buying four different ones to test out… I like options lol:
the nuLOOM Krystin machine washable distressed rug (this is what ended up being the keeper)
the Everwash Callaghan Esther bohemian medallion machine washable rug in both rust and gray
and the Everwash Callaghan Edith distressed vintage machine washable area rug in gray
All of them were beautiful, but the Everwash rugs were a little more color saturated than I wanted for the kitchen and slightly smaller in width and length than the nuLOOM Krystin rug. The Krystin washable rug has beautiful neutral colors and a subtle pattern that adds just enough interest in the kitchen. But my favorite part is how grippy the back of the rug is so it doesn't slide around at all on the tile floor. Normally I would have to add some kind of rug tape to keep it in place, but this beauty doesn't even need it. HIGHLY recommend this rug for a kitchen, bathroom, entryway, or hallway!
The rug is soft and cozy under your feet, but I wouldn't necessarily call it "plush", so you may want to take that into consideration if you're looking to soften up a living room or bedroom that has hardwood floors. I have a feeling I will be adding several more of these around the house soon.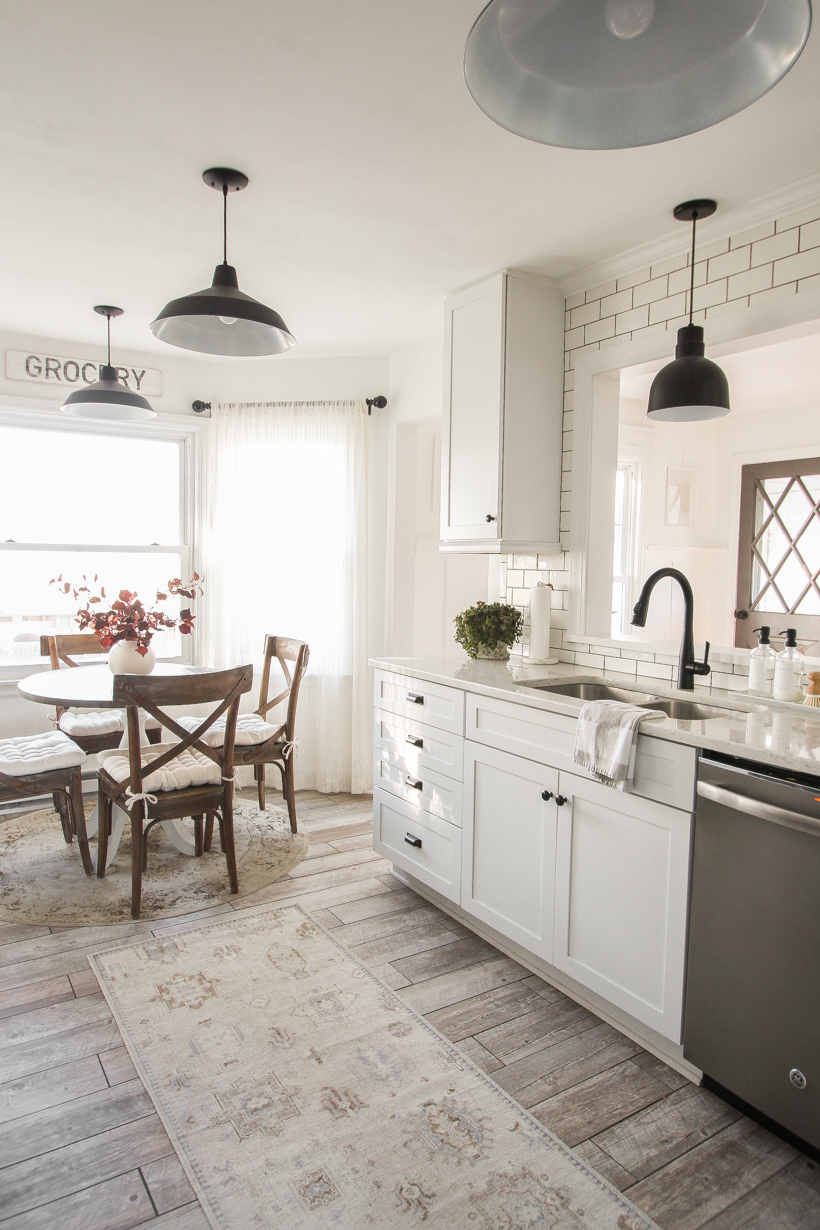 The round rug under the kitchen table isn't new or washable, but the colors and style of the rugs work well together I think. Kitchens are full of so many hard surfaces like stone and tile, so I like to add softness wherever I can with rugs, curtains, kitchen towels, etc.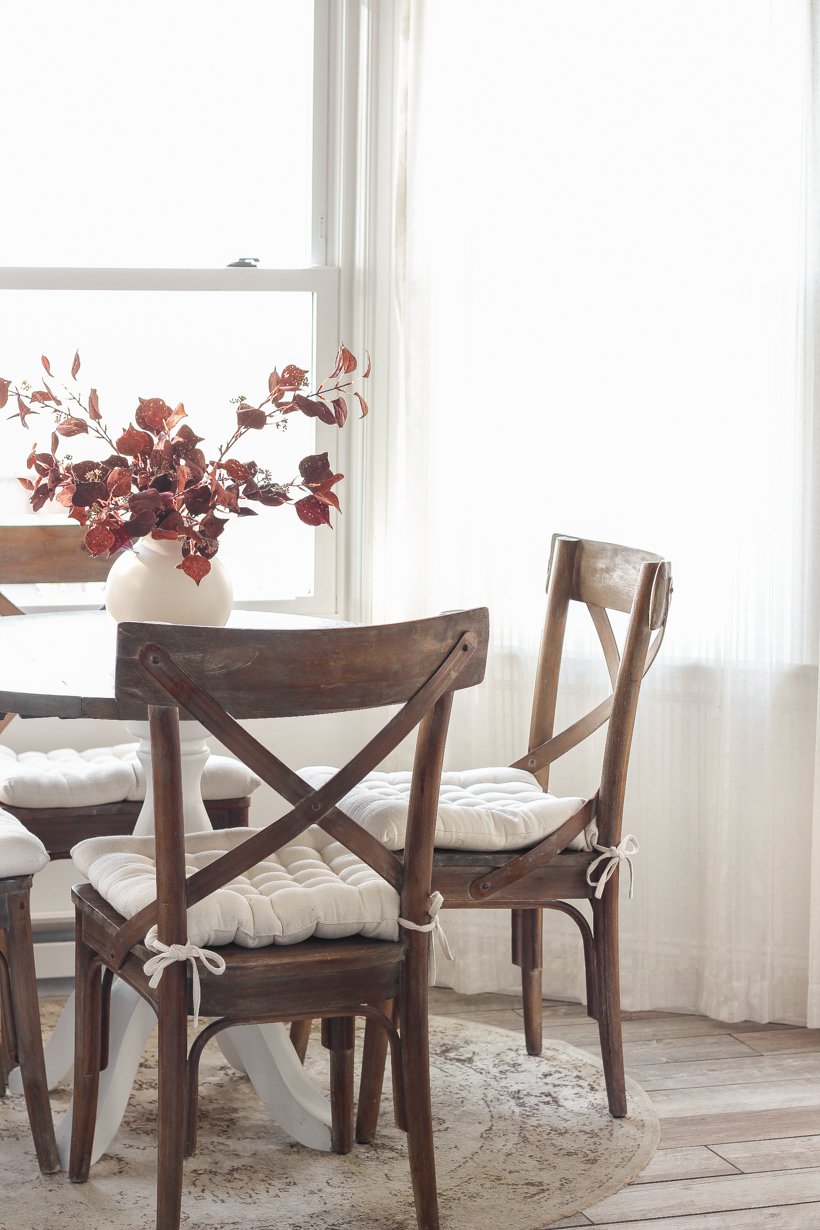 Can we pause for a second to talk about the prettiest kitchen appliance I've ever owned?
While shopping for the kitchen rug, I stumbled upon a new Walmart kitchenware line called Beautiful, and my jaw nearly dropped when I saw the black, white, gray and gold appliances. They are STUNNING. I immediately went to go order the toaster in white because I loved how it looks with the gold accents, but it was already sold out. Apparently I'm not the only one who fell in love with these! I went ahead and ordered the matte black toaster knowing it would add some good contrast in my all white kitchen, and if they had the coffee maker available in white, I would have ordered that too! The appliances have illuminated touchscreens, and in the last week I have seen no less than 5 designers and creators I follow on Instagram talk about buying some of these appliances too. I have a feeling they are going to continue to sell out!
I'm already thinking these would make some great Christmas gifts for people who like to cook or decorate.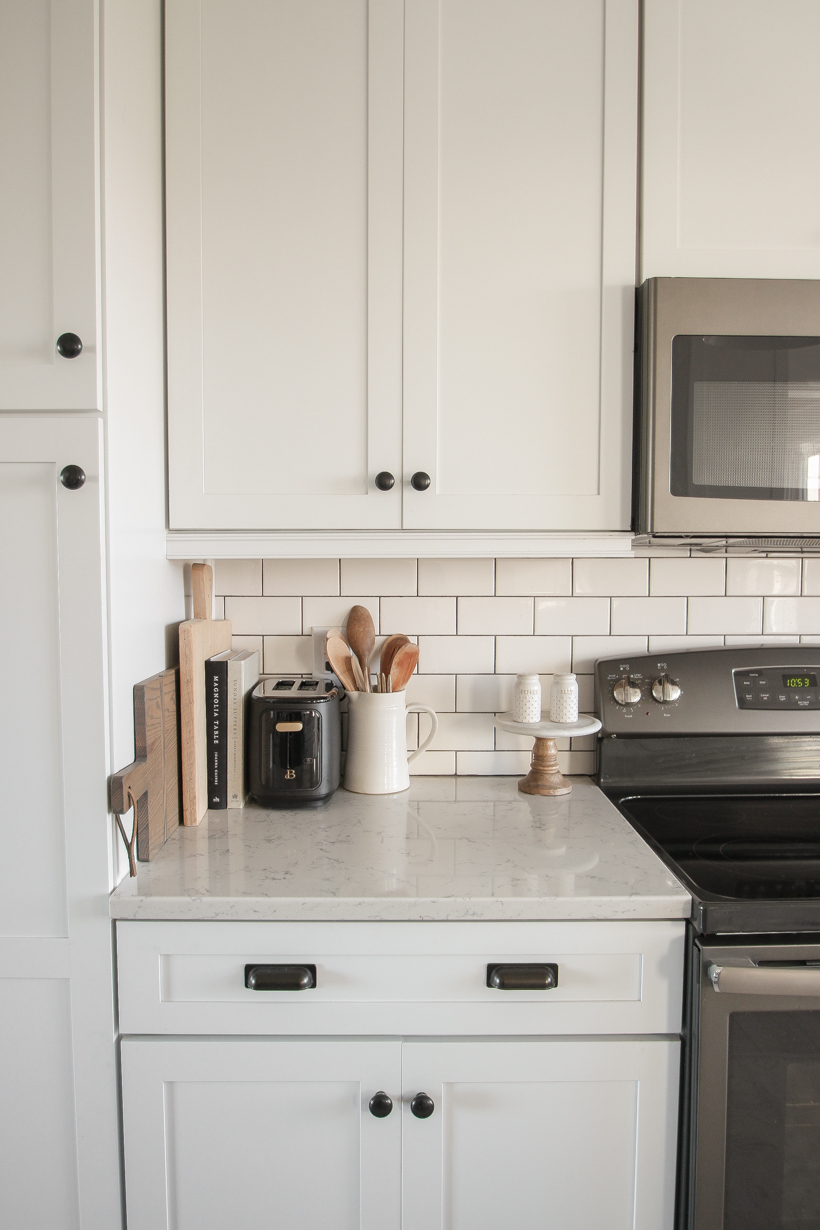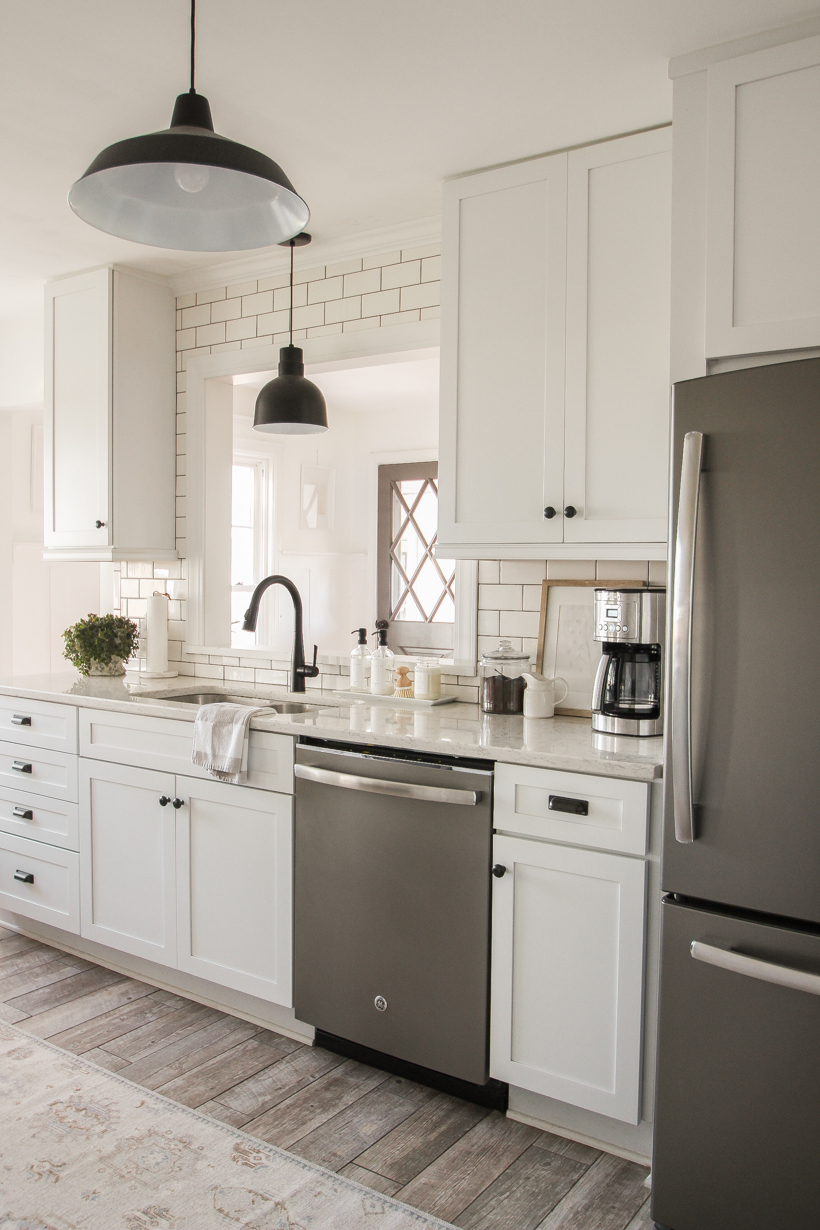 I added a little tray under my soaps and dish scrubber to make them look a little more tidy and organized. I got these cute labeled soap dispensers a few months ago and have a list of tons of beautiful soap dispenser options that you can customize to your style if you are interested in checking them out.
I'm currently burning several of my favorite fall candles from Antique Candle Co: Fall Harvest, Pumpkin Spice, and Warm Caramel Crumble. They just came out with wick trimmers as well!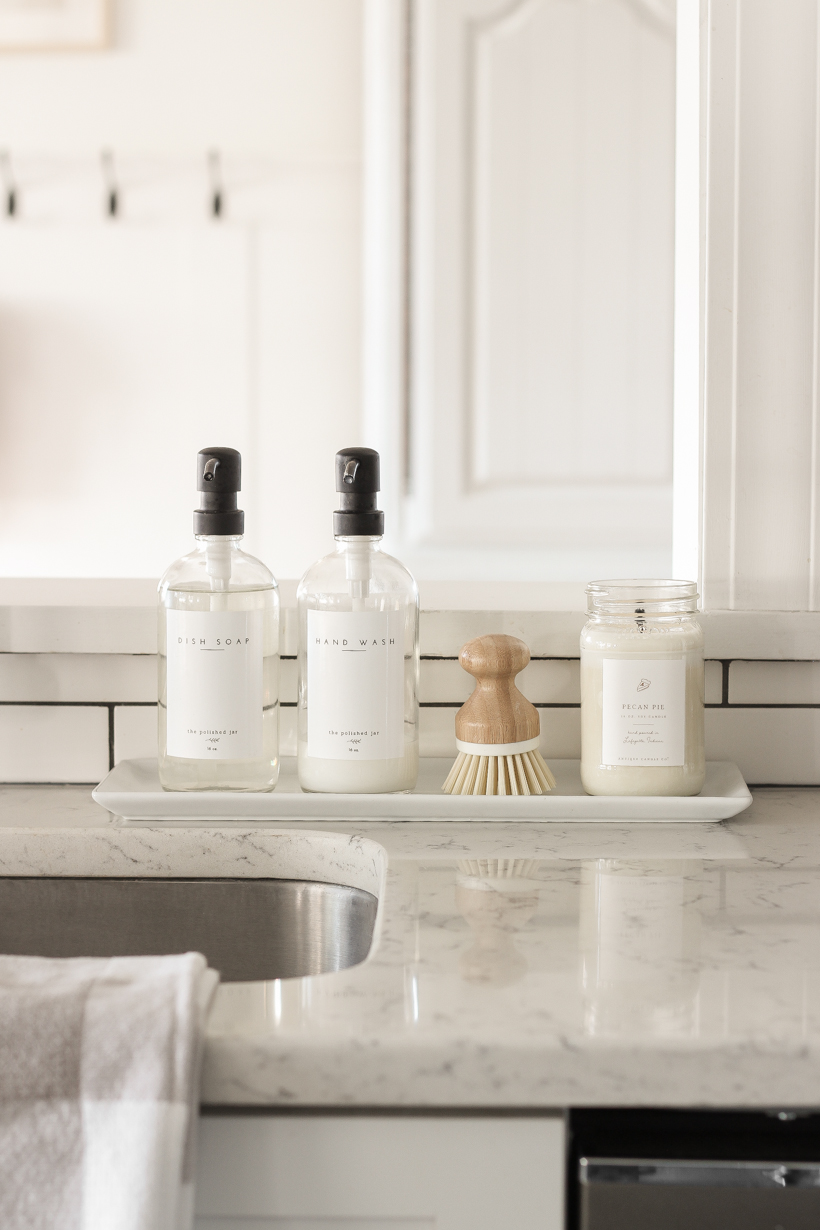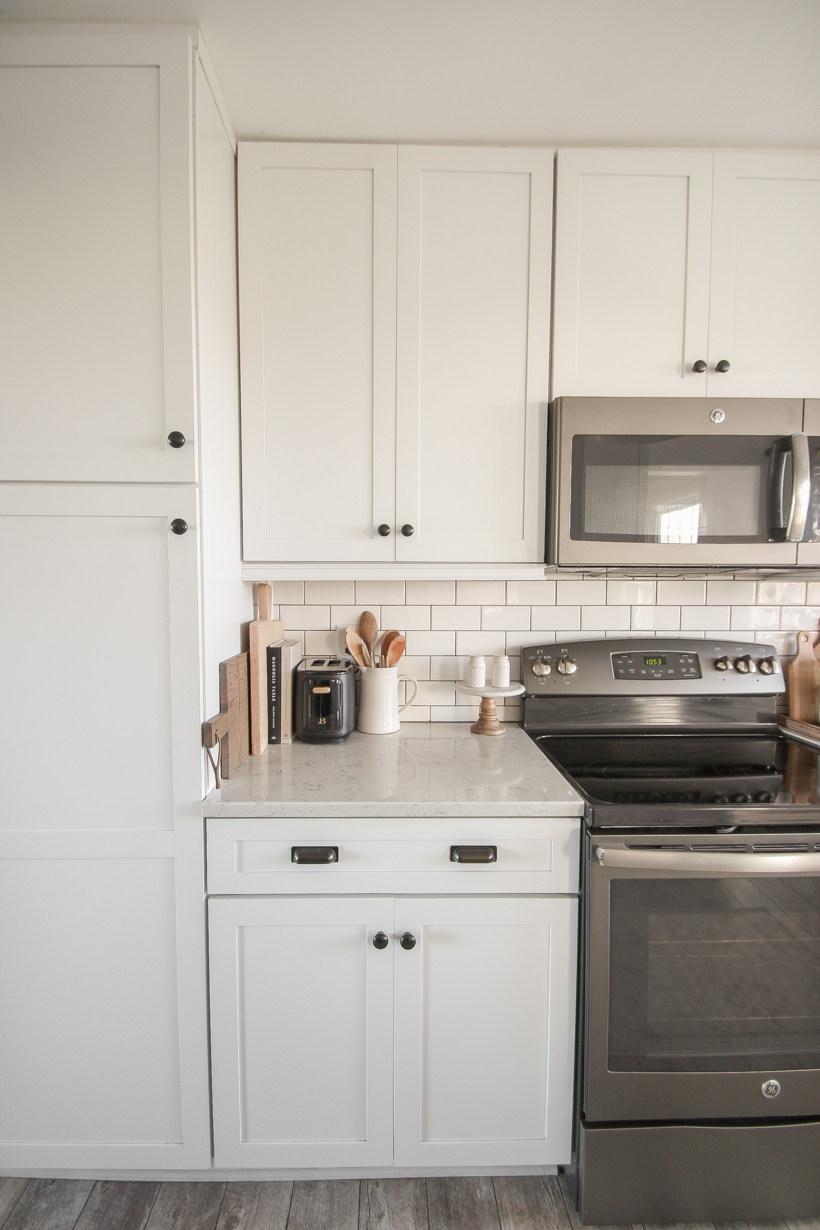 Isn't she pretty? Is it weird to call a toaster pretty?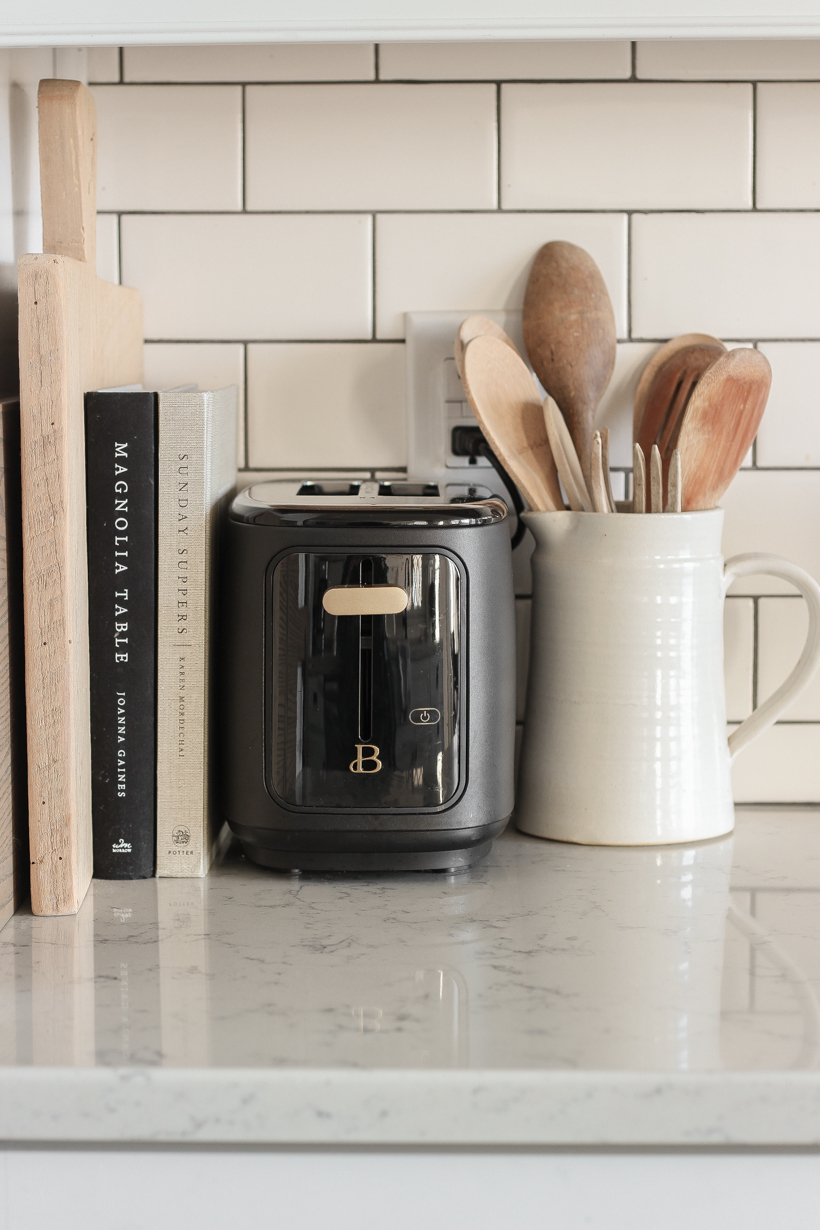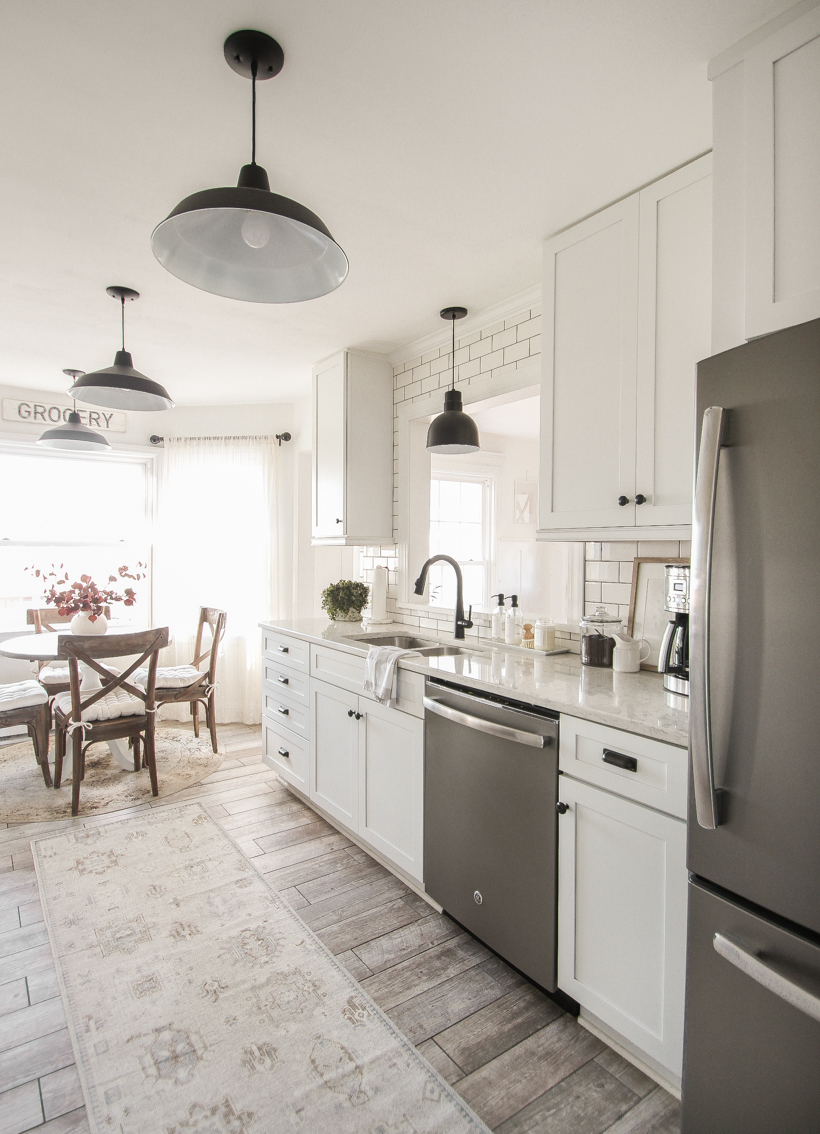 The branches of red leaves on the table are faux, but the potted plant on the counter is an angel vine plant that I've had for several years now and absolutely THRIVED outside on the deck this summer sitting in the shade. It had been looking pretty sparse for awhile, but I'm happy to see it full of life again. Hopefully I can keep it that way through the winter!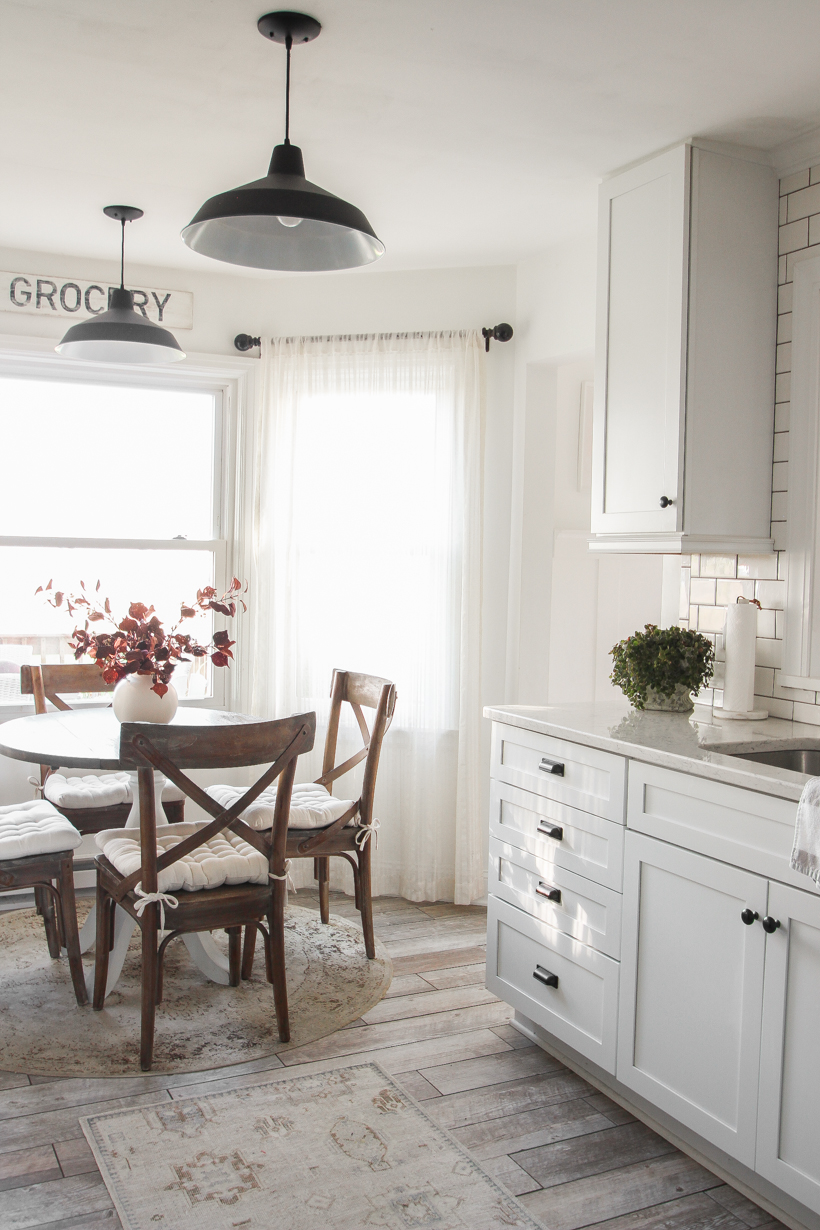 See that rattan pendant hanging in the entryway? That's a Walmart score too! You can read more about that here.
And the framed artwork sitting by the coffee pot is a DIY project I did with pressed flowers, and you can find that tutorial here.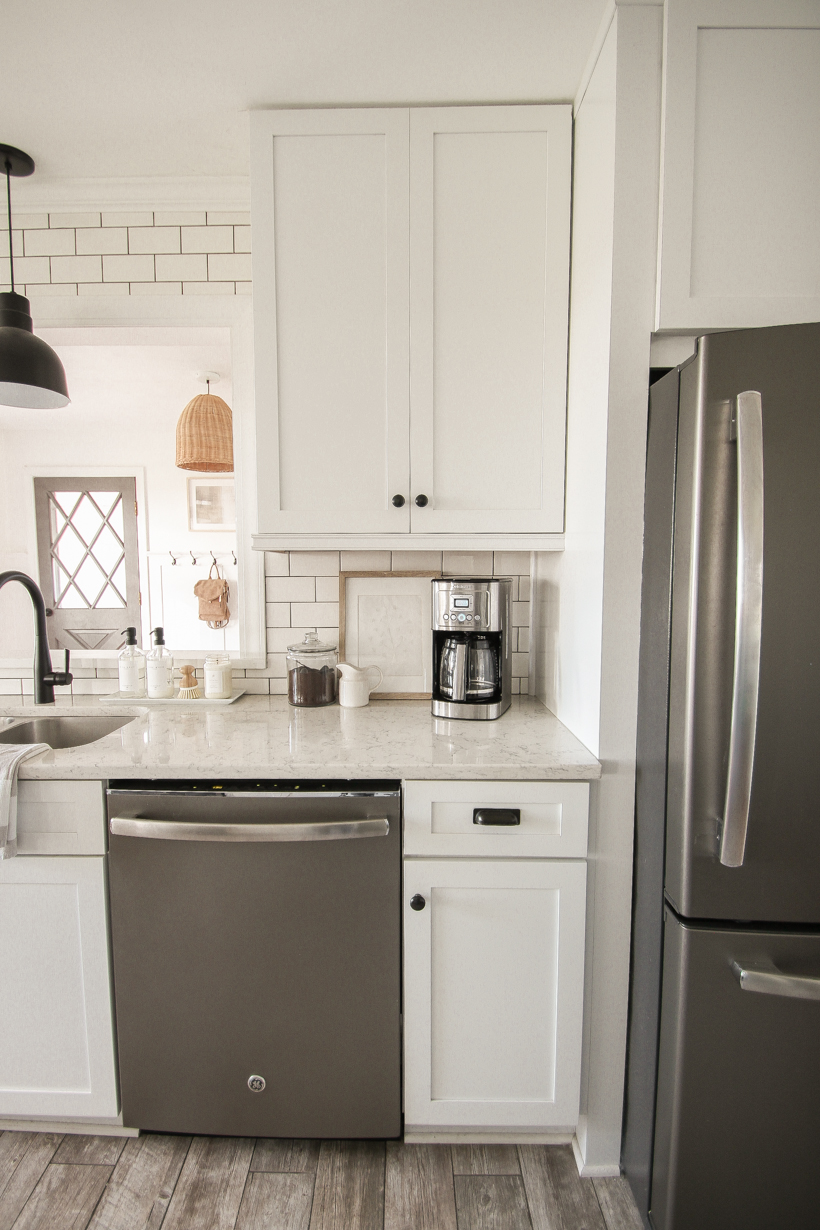 Take a look at the earthy colors in the photo below… the wood chairs + the red leaves + the brown traditional rug underneath… I'm swooning over these fall vibes.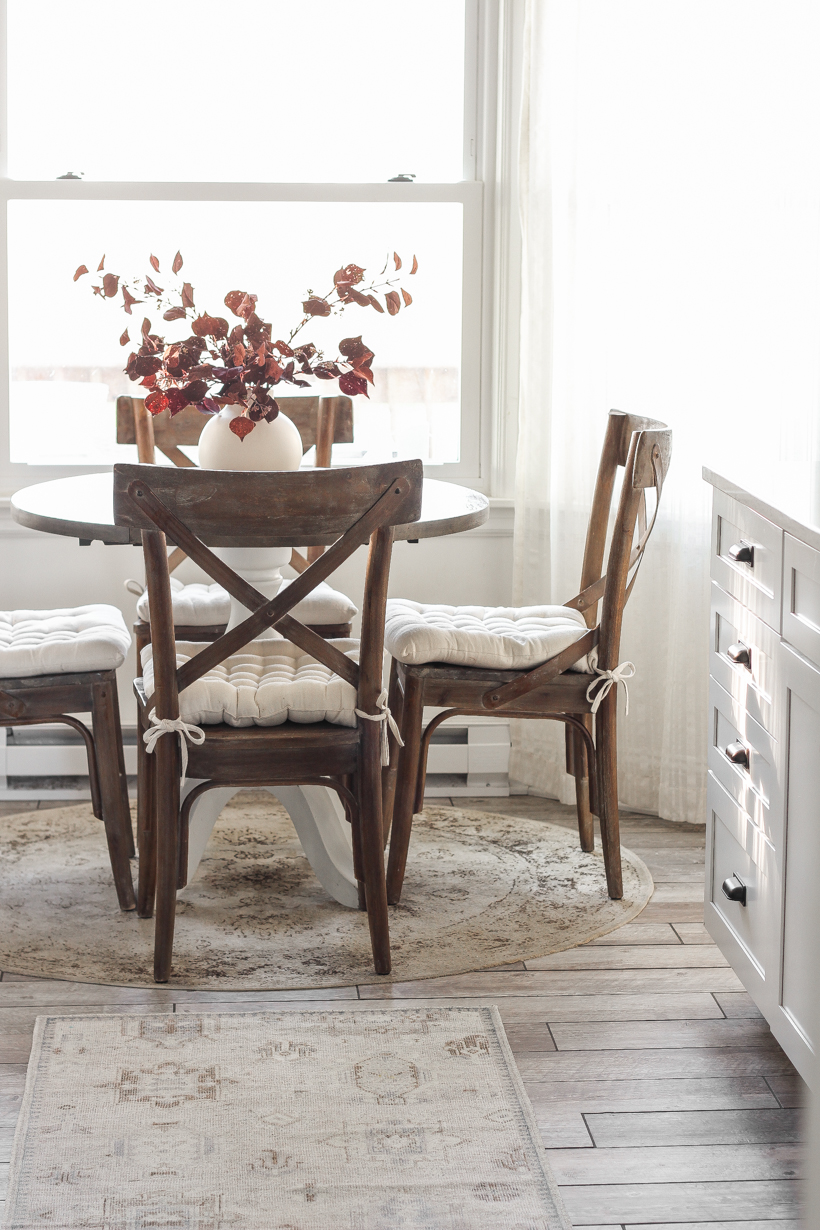 So far this rug has held up beautifully, and I'm excited to see how it washes after we've lived with it for awhile. I will definitely keep you updated if you are interested!
Below I put together a collection of the washable rugs from Walmart I love most, and I hope this helps make life a little easier, cleaner, and maintenance free. Let me know if you get any of them and what you think! I love hearing your feedback on all things home.
– WASHABLE RUGS FROM WALMART –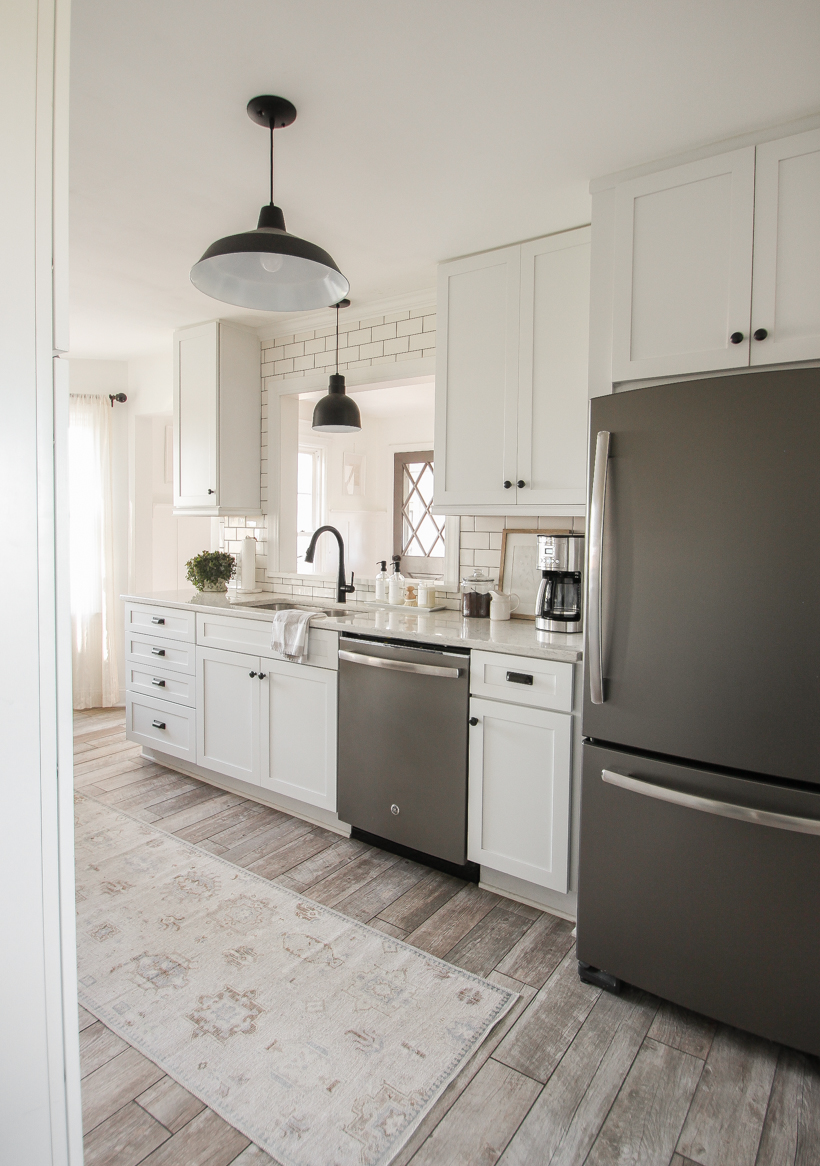 I partnered with Walmart on this post, but as always the thoughts and opinions shared are 100% my own. Thank you for supporting our blog and brand partners! As always, I sincerely appreciate you shopping through the links I share, which allows me to make a small commission from your purchase while your purchase price stays the same. When you use my affiliate links, I'm better able to create content for this blog as well as support my family, and I thank you from the bottom of my heart for supporting what I do!
---
– SOURCES –
wall color: Du Jour by Valspar
kitchen runner | dining chair | chair cushion
vase | red leaf stems | curtains
dish scrubber | marble cake stand | glass storage jar
black faucet | kitchen table | soap dispenser
magnolia table cookbook | sunday suppers cookbook
toaster | framed art | kitchen renovation details
– SHOP THE POST –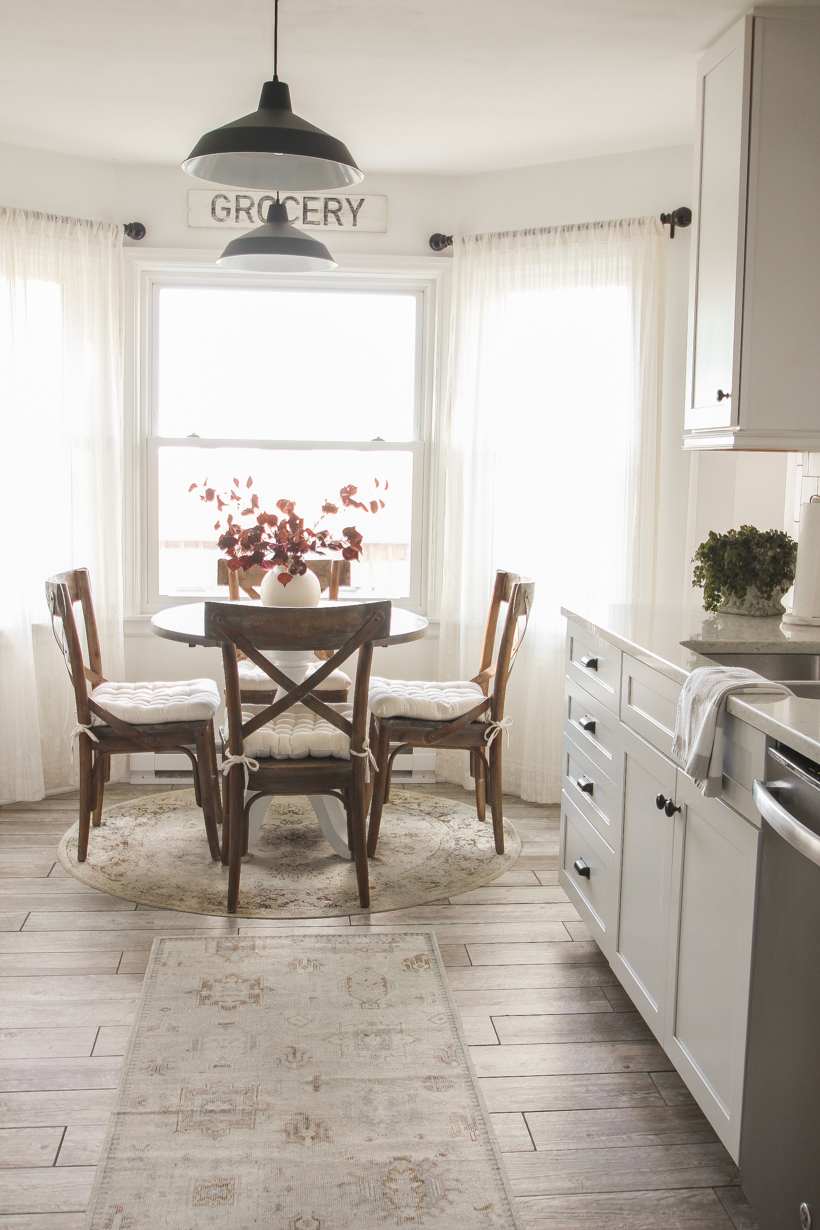 – KITCHENWARE –

---
Subscribe to Blog | Follow on Instagram
Follow on Pinterest | Follow on Facebook