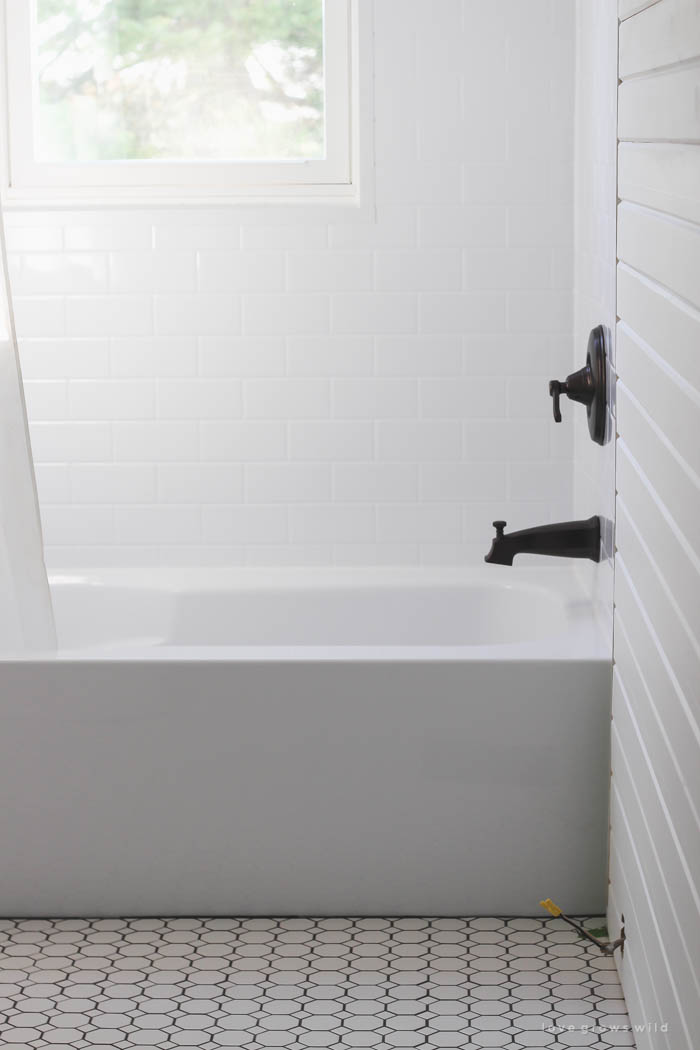 We're giving our bathroom a big makeover! This week we discuss our tile choice for flooring and the install… you can catch up on the rest of the bathroom series here!
---
The old, stained vinyl flooring is gone, and this beautiful, white patterned tile is in!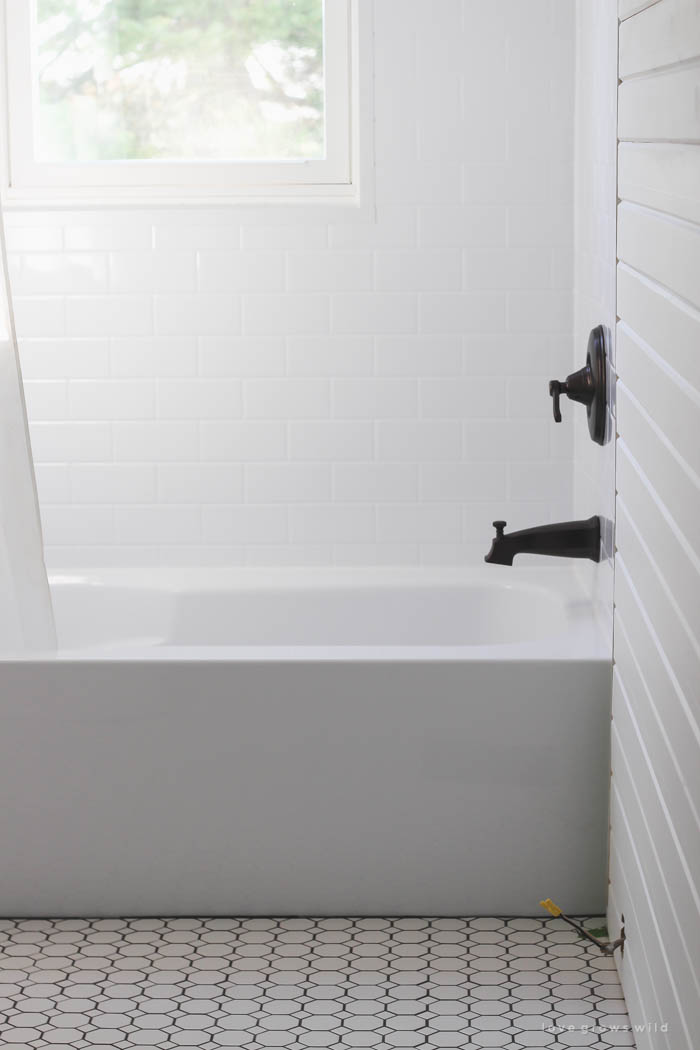 Remember what the bathroom looked like just a few weeks ago when we started?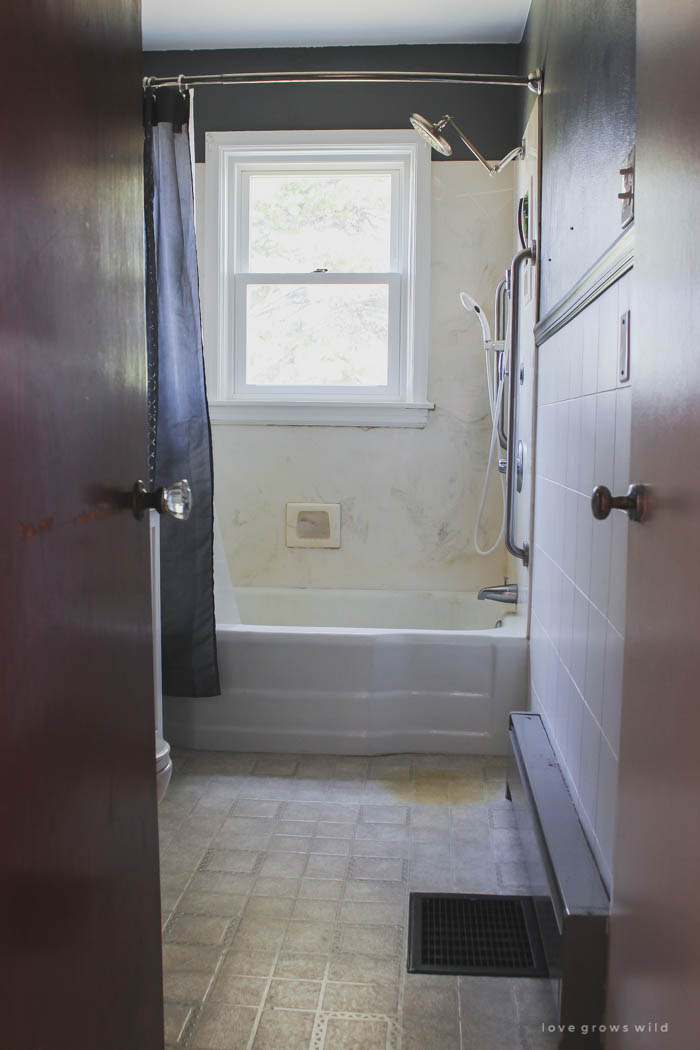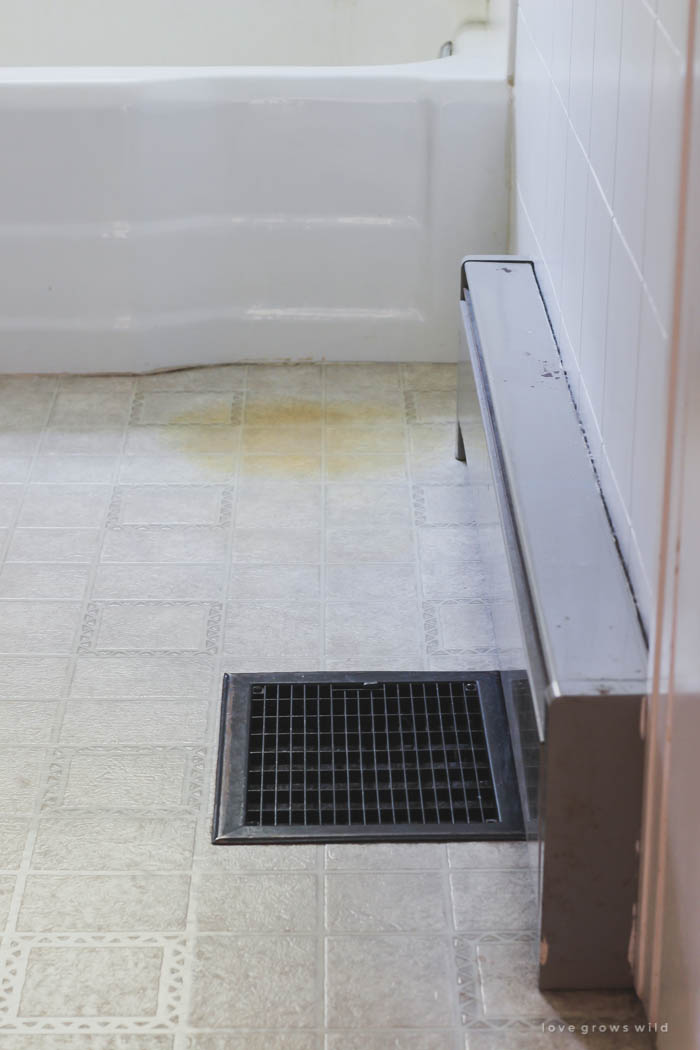 So far we've had a new window installed in the shower, a complete tub and shower makeover, and this week the new flooring went in. I know you spy those dreamy white planks on the wall too… more details on those coming next week! I had to get started on the planks right away after the tile was laid so we could get our toilet back in the bathroom. Five days without a functioning toilet in your house is a LONG time… wouldn't you agree?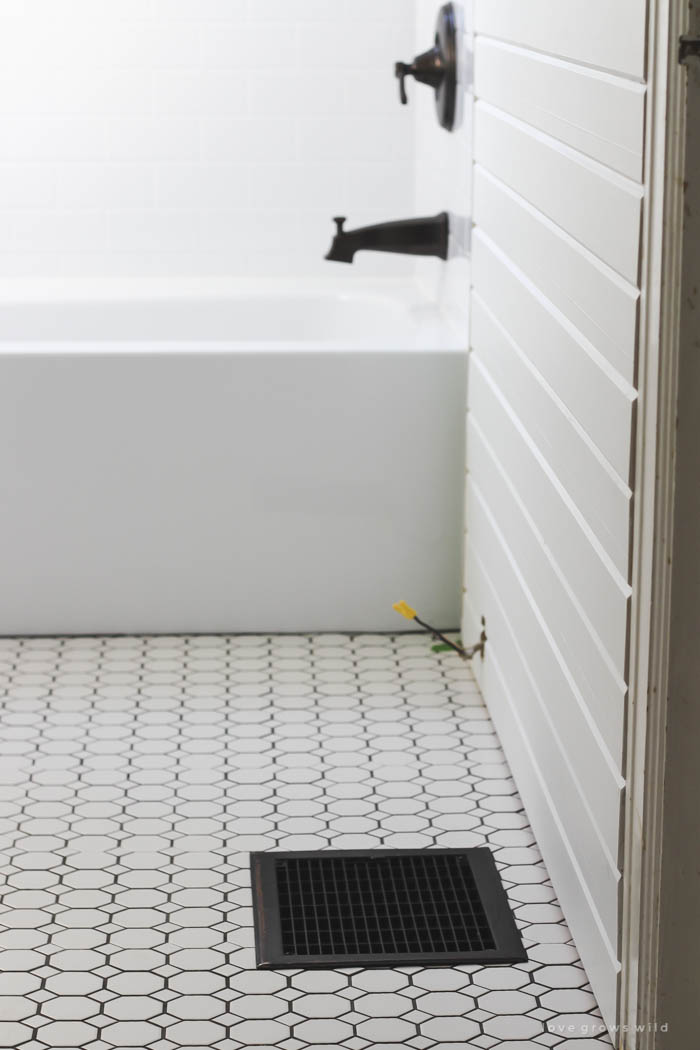 I looked at a lot of different options when picking out the floor tile. I wanted something that would feel light and bright and be easy to clean, but most of all, I wanted it to have a great vintage feel that would be a natural fit in our little farmhouse. I ended up choosing this Sausalito White Ceramic Mosaic Tile from Lowe's with charcoal gray grout.
So much of our bathroom will be bright white, which I LOVE in bathrooms, but I felt like adding a bit of pattern on the floor would really give it some character and bring it to life. White grout is a pain to keep clean anyway, and the darker grout lines would really show off the pattern on the tile. I was so nervous about picking the right tile because this isn't exactly a cheap purchase, but now that it's in our bathroom, I am SO happy with my choice!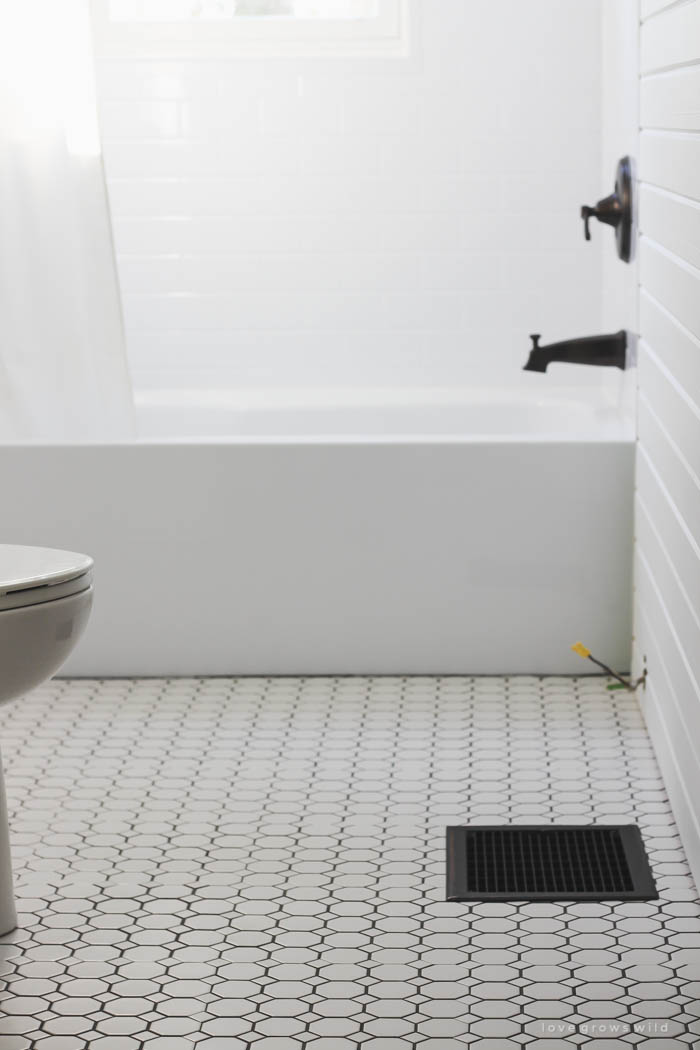 Jeremy and I knew going into this bathroom renovation that we wouldn't be able to DIY as much as we typically do for this project. Harvest is in full swing here on the farm, and Jeremy's available hours to help me are few and far between these days. With a book to write and deadlines to meet, we decided it was best to hire out the tile install. Since we used Lowe's to replace our window in the shower, we decided to use them for the tile as well. They were super helpful getting all the products we needed for the job ordered, and I will also say that I was highly impressed with their customer service.
The guys came and got the tile completely finished in one day. I was ecstatic about having a beautiful new floor in here, but you don't have to look very hard at these photos to see that the spacing is off with some of the tiles. WAY off in some areas. I debated whether or not to call Lowe's about the issue, but after a few days of sleeping on it, I decided that it was important to give them my honest feedback. I never want to be that person that complains just to complain, but I knew in my heart that it was the right thing to do. The head of their install department came out to look at the job, and she took note of all the concerns we had. Aside from the spacing issue, there were spots where little bubbles had formed in the grout, leaving holes after it dried. She was so understanding and more than happy to have someone come back out to fill in the gaps in the grout. She also asked if I wanted the tile ripped out and re-installed, but at that point I had already installed the planks on the walls, had other deadlines to meet, and didn't have the time to start back at square one.
Jeremy and I decided that we could living with the spacing issues since it wasn't a main living area. If this was in our kitchen or living room or something, it might be a different story. At the end of the day, although I was disappointed in the flaws, Lowe's was 100% willing to make it right and correct anything we wanted corrected. If I had used a private contractor, would they be as willing to completely re-do the job for us? I don't know… probably doubtful. For that reason, I still give Lowe's an A+ for quality and customer service. And no, none of this project was sponsored by Lowe's… I just wanted to give you guys my honest, real-life experience with them!
Oh, and before I forget… I've had lots of questions on Instagram about what grout sealer we used. Lowe's recommended that we add Grout Boost to our grout when it was applied. From what I understand, adding the Grout Boost takes the place of a sealer and helps the grout resist moisture and stains. Have you guys heard of this stuff before? We've obviously only had the tile for a short period of time, but so far I think it works great!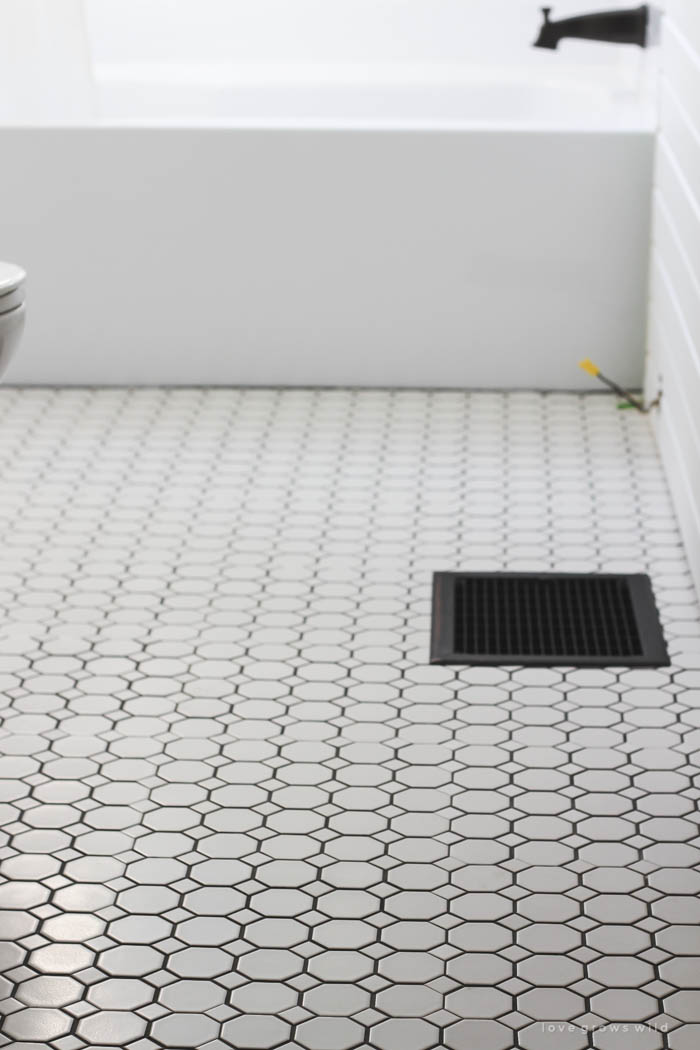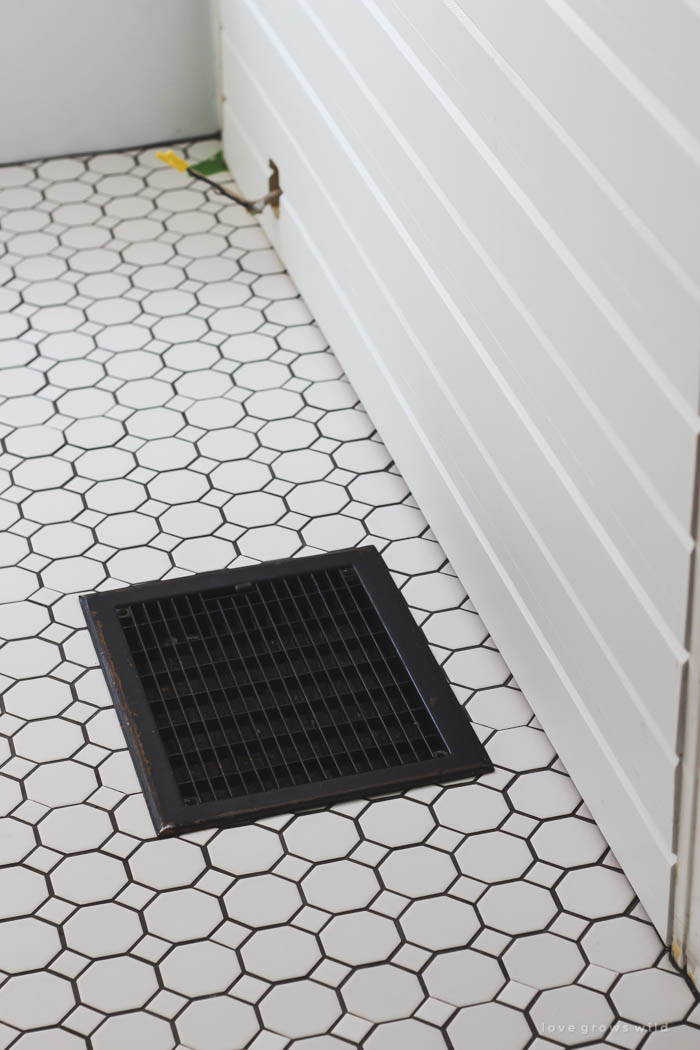 We still have a lot to do in here… the planks on the walls need finished, quarter round needs to be installed around the floor, a new heater needs to go in, and I cannot wait to get our new vanity set up! Stay tuned for next week's bathroom update!
Okay guys… your turn: Tell me what YOU think of our tile choice! What type of flooring is in your bathroom? Leave a comment for me below… I'd love to hear your feedback!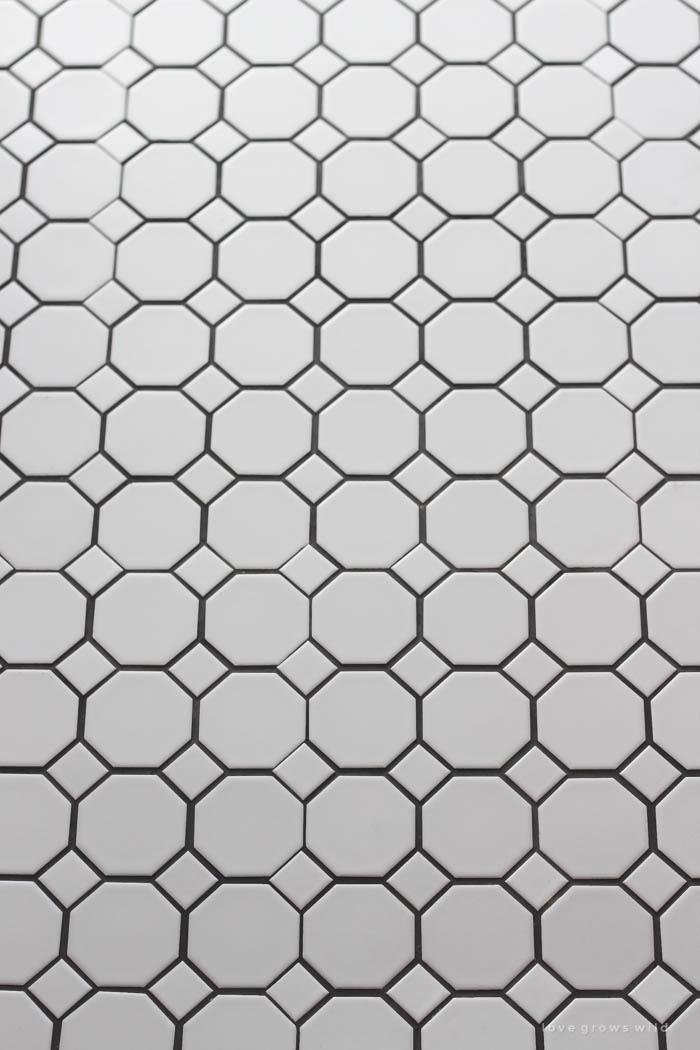 ---
LET'S KEEP IN TOUCH!
---
Subscribe to Blog | Browse my Shop | Follow on Facebook | Follow on Twitter
Follow on Google+ | Follow on Pinterest | Follow on Instagram