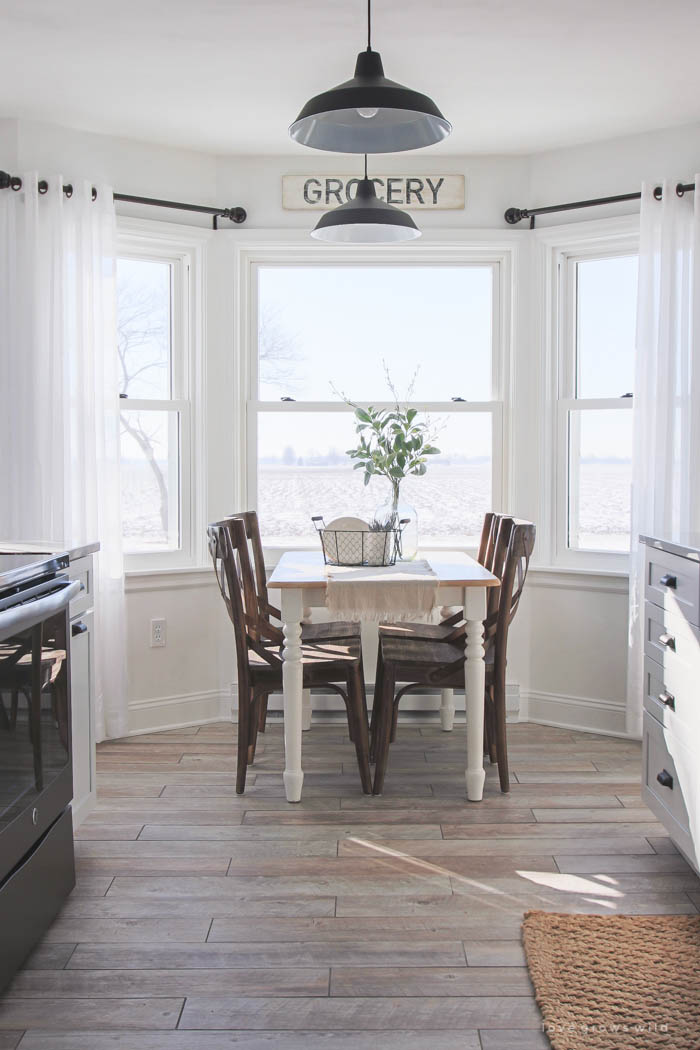 Our little farmhouse kitchen got a BIG makeover! This week I'm sharing the flooring we chose and how we like it in our new kitchen… you can catch up on the rest of the kitchen makeover series here!
---
I love hearing all your feedback on our kitchen makeover, and I think probably the #1 question I've received on the blog and social media is what we used for flooring and where it came from. All your questions will be answered today, my friends!
Do you remember what was in here before? Awfulness… pure multi-color speckled awfulness.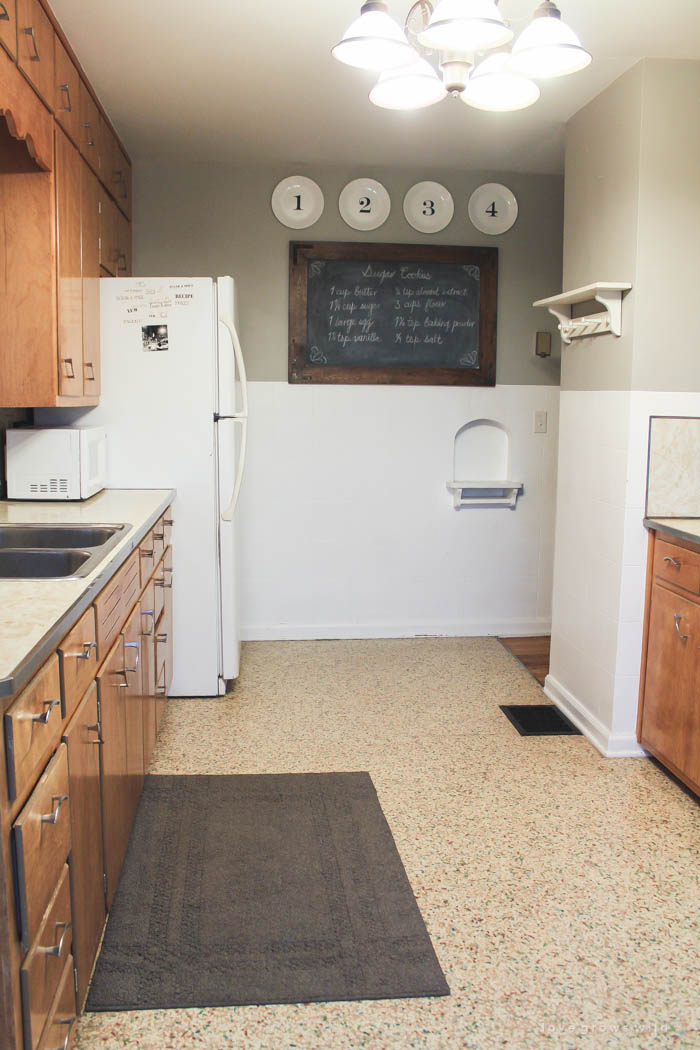 We decided to go with this porcelain tile from Lowe's that looks like old, rustic wood planks. The exact name from the Lowe's website is Style Selections Natural Timber Whitewash Glazed Porcelain Indoor/Outdoor Floor Tile, if you're curious. I knew exactly what I wanted for most of the kitchen, but the flooring was a big, fat question mark for awhile. The kitchen floor butts up to the wood flooring that is in the rest of the lower level in 3 different places (by the dining room, living room and playroom), so I wasn't sure if I should go with flooring that would match up with our existing wood floors or do something totally different to break up the space.
The wood flooring in our house is lovely, little thin planks, but has a super warm, almost orange stain on it that I REALLY don't love. After going back and forth for awhile I decided that if I'm spending all this money on a new kitchen floor, I should put in something I'm totally in love with, and maybe down the road someday we can refinish the wood floors with a different, less 70's orange, stain color. I had no idea how we would transition between the different flooring, but that was for my contractor to figure out later.
After all the demo work was done, they started laying the tile floor. This part of the renovation went really fast because they had to have the tile down to install the cabinets, and they had to have the cabinets in to measure for the countertops, which could typically take anywhere from 3-5 weeks for delivery.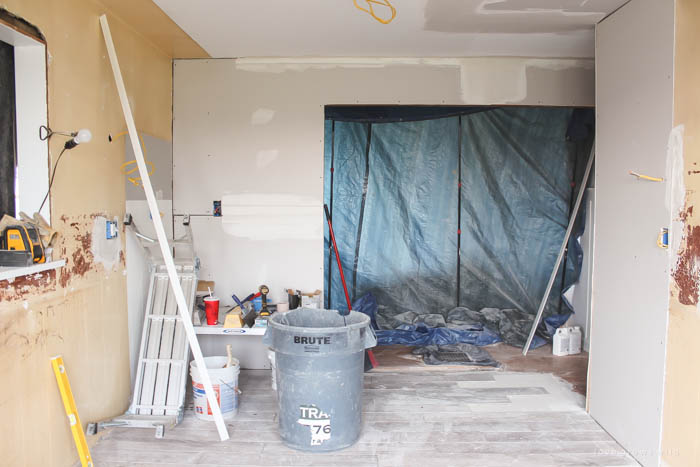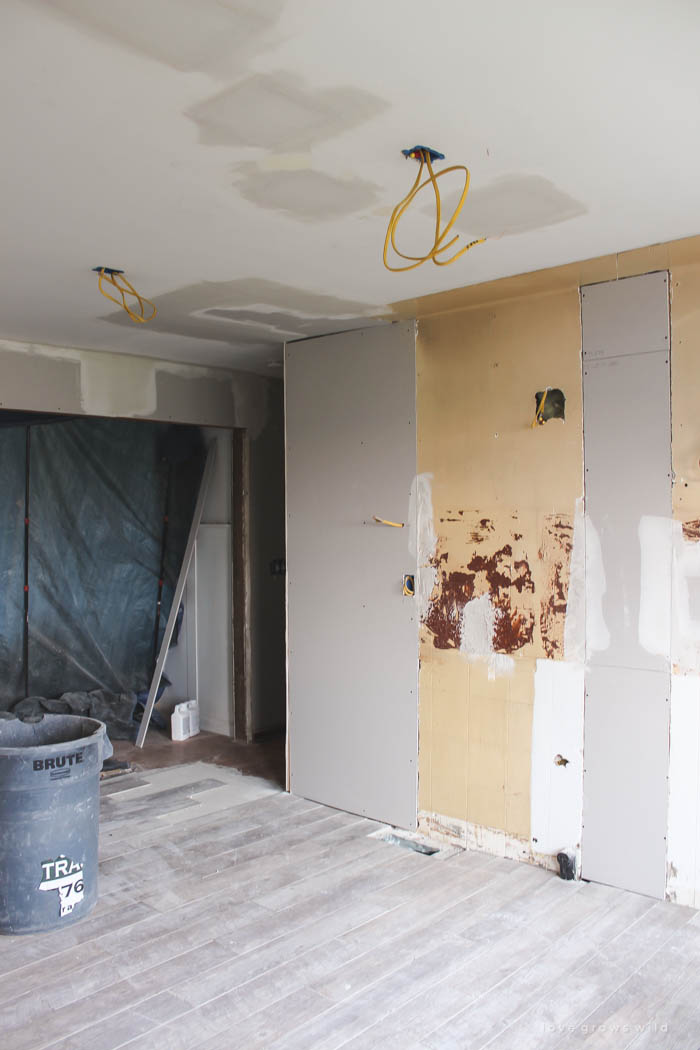 Okay, so in the photo above you can see where the old kitchen floor stopped and the wood flooring started. Actually, the kitchen flooring originally ended where the brick chimney was (which is now gone), leaving the seam between floors right in the middle of the hallway and the opening to the living room. That was not going to fly. Heath, my awesome, amazing contractor, talked over a few options with me, but in the end we decided to rip out the wood floor in the hallway and lay the tile all the way down the hall to the bathroom. We needed some extra pieces of the wood flooring anyway to feather in where we opened the wall up, so this just seemed like the best solution. Side note, the wood underneath the hall floor was kind of pretty…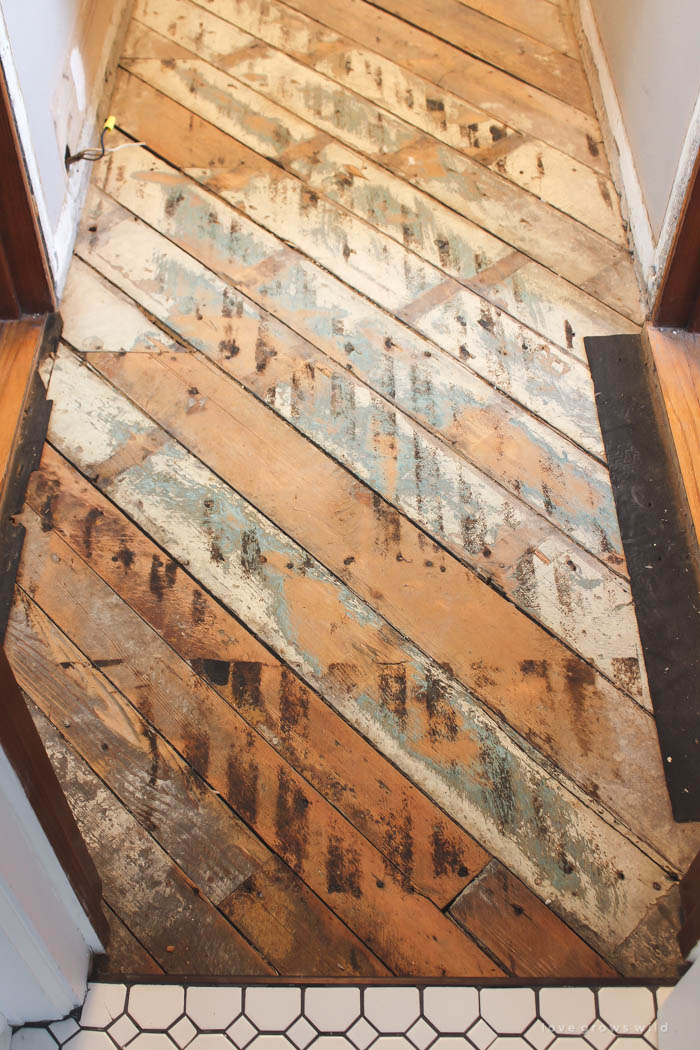 After the floors were finished and the last coat of white paint I'll ever have to do on this house was up, I was so pleased with how it all turned out. For the transition between the kitchen tile and the bathroom, Heath added a piece of bullnose trim tile from our backsplash. It matched the bathroom tile pretty closely and made a perfect transition between the two.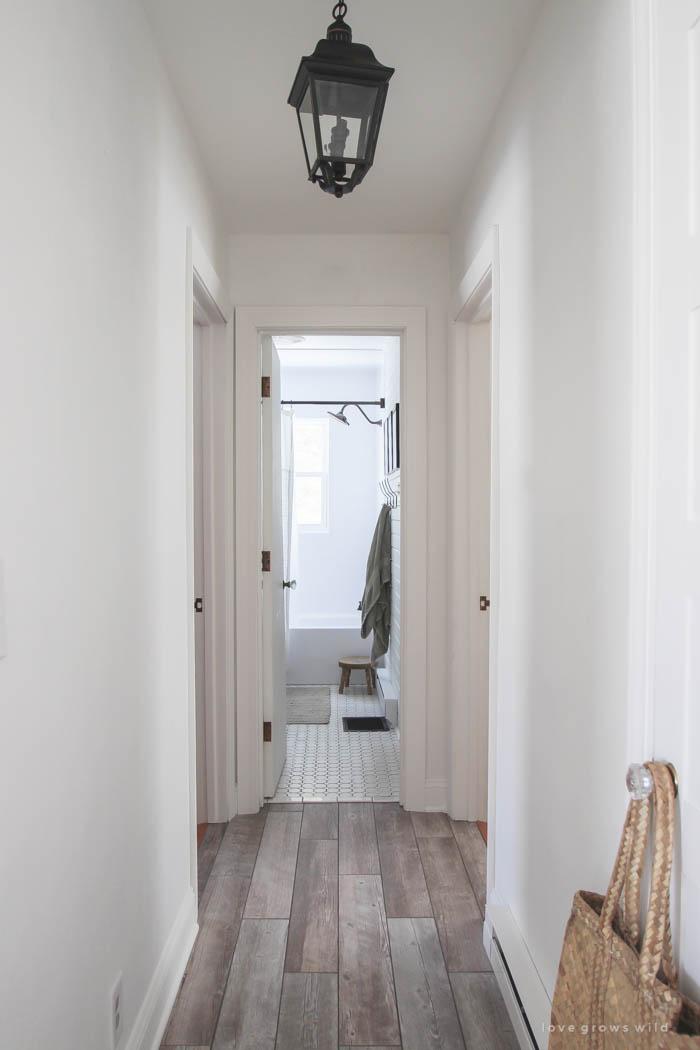 We went with a warm gray grout to blend with the rustic wood floors, and I love how much character each piece of tile has. Each one is a littler bit different, with various shades of gray and brown running throughout. Now I have to admit a dirty little secret to you guys… the ONLY thing I liked about the ugly speckled kitchen floor was that you literally couldn't even tell if I didn't sweep or vacuum for a week. Or a month… if I'm being totally honest. I was kind of worried that with the new floor you would see every crumb that fell on the floor, but I'm happy to report that you TOTALLY can't. (insert cheesy smile here)
I'm actually way more motivated to keep the kitchen clean now that it looks all new and sparkly, but if a few days go by that I don't have a chance to sweep, it doesn't look like a herd of animals ran through here. Seriously though, if you ever want your floors to look like old barn wood planks… this is the flooring to get!
I am a big fan of the long 6″ x 36″ tile because it adds to the wood plank look, but I will say that if your home is old, you are most likely going to run into spots that aren't level and long tiles are tough to lay on an uneven floor. Heath did everything he could to make them perfect, but there are a few corners that stick up slightly. It's not anything I'm overly upset about, but it is definitely something to note when you're picking out tile. I'm still 100% happy with our choice and wouldn't change a thing.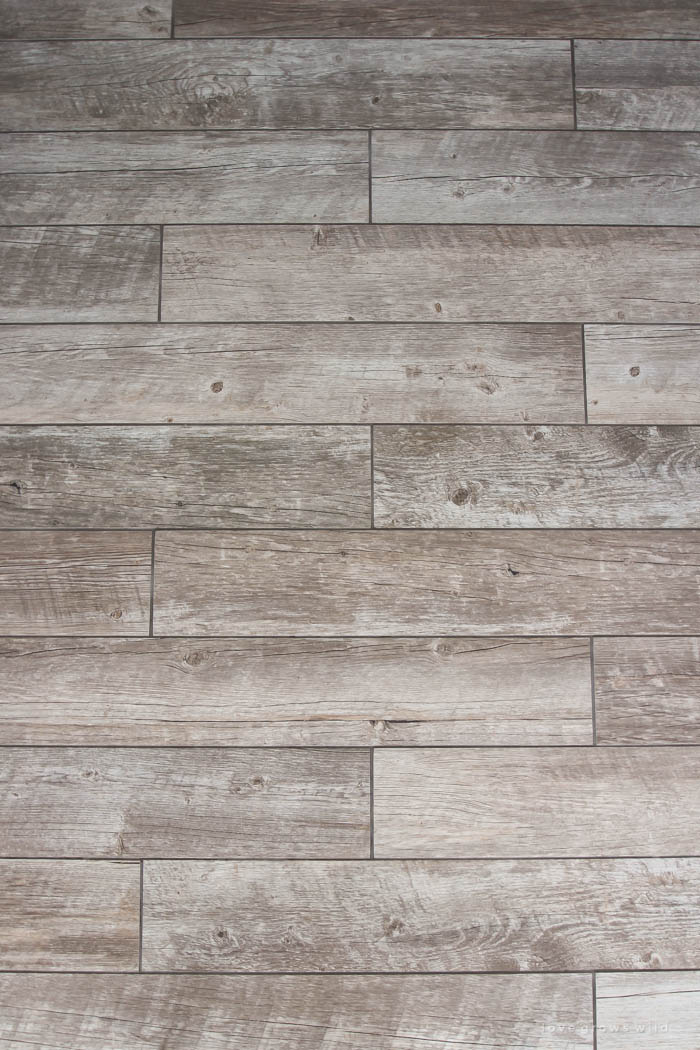 The tile runs all the way into this little wash sink area too, in case you were wondering.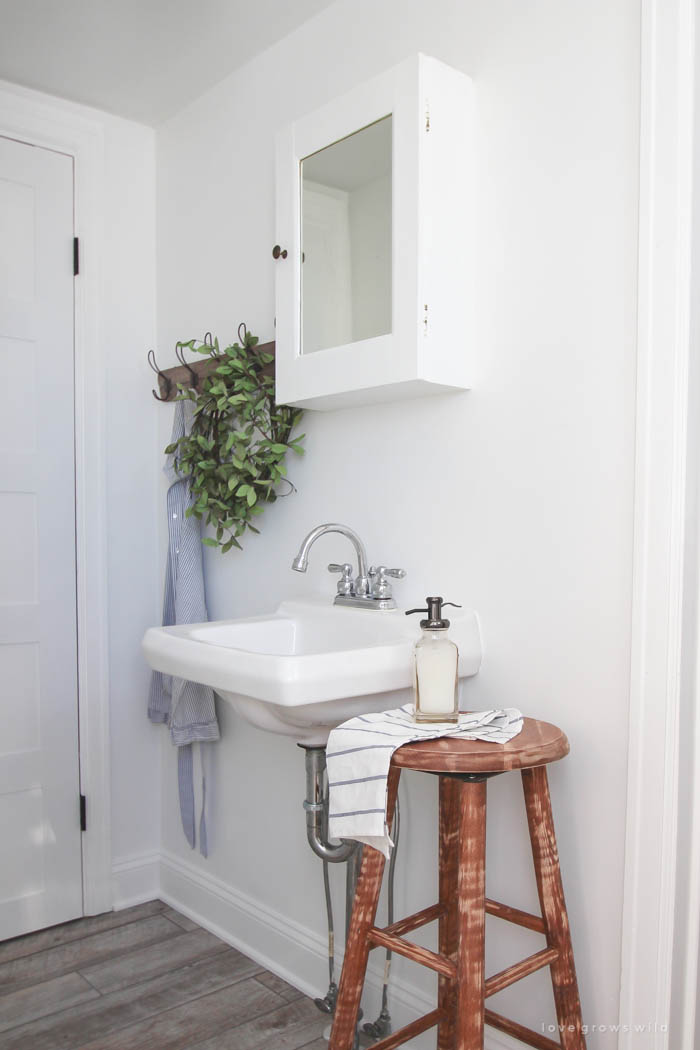 Okay, so for the transitions between the wood and new tile, Heath picked up some wood reducers that match our existing wood floors pretty closely. Even though it still bugs me how orange those darn floors are, Heath did a great job making the flooring flow throughout the house. Someone want to come volunteer to refinish all my wood floors for me? Any takers?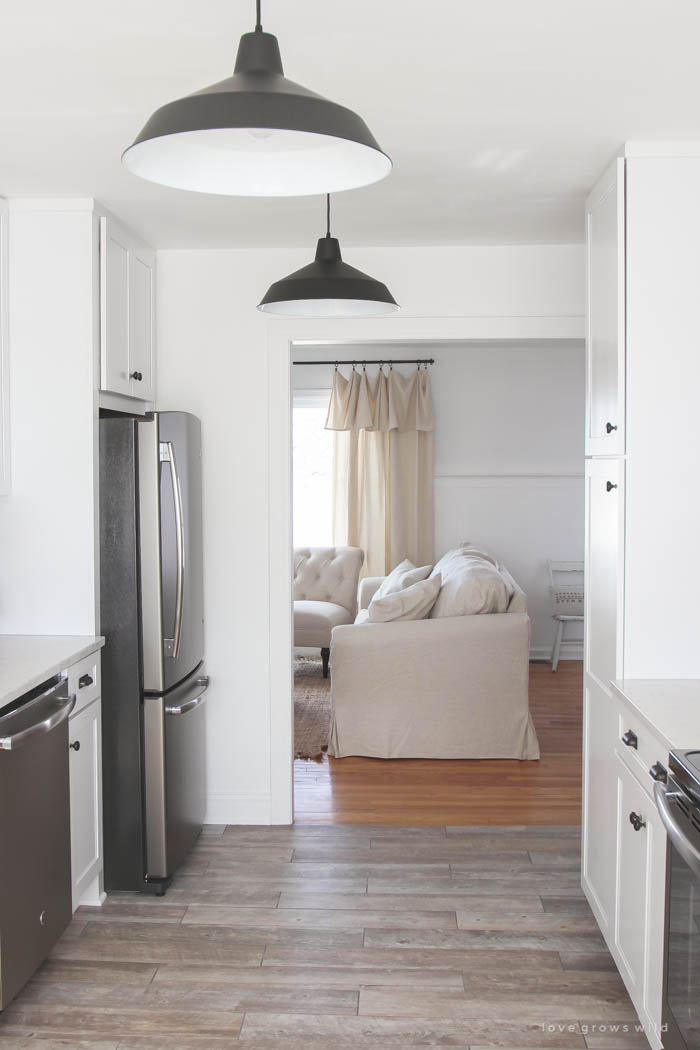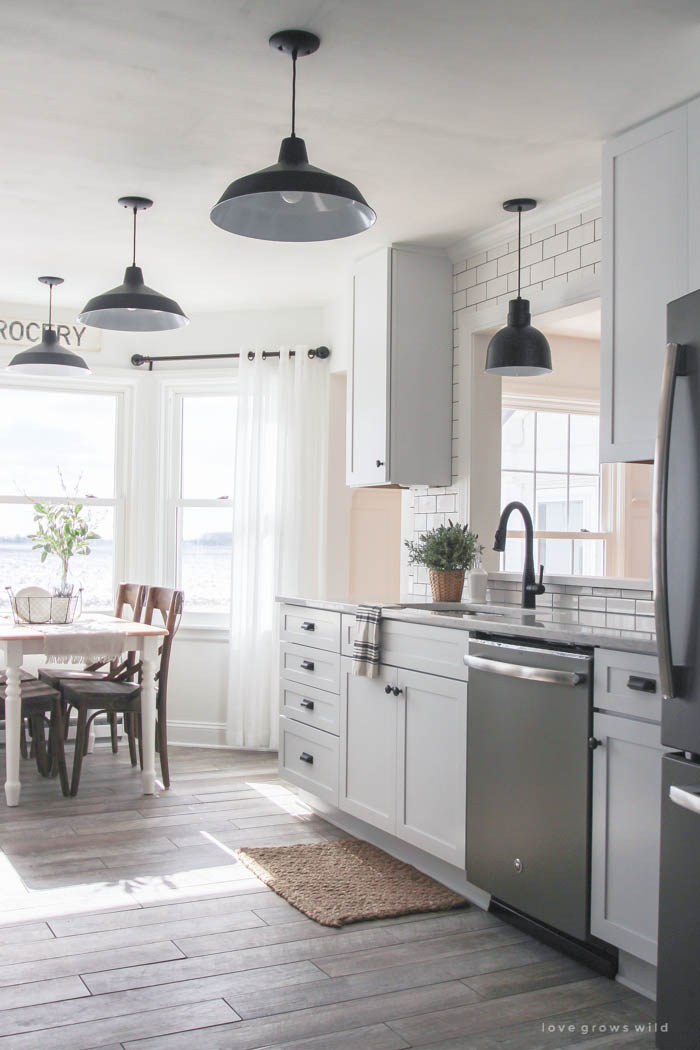 I hope that answered all your questions! Next week I'm sharing details of the cabinets we chose for the kitchen… stay tuned!
Sources:
Dove White cabinets – KraftMaid purchased at Lowe's
Cup cabinet pulls – Hickory Hardware
Cabinet knobs – Hickory Hardware
Quartz countertops – Silestone by Cosentino purchased at Lowe's
Natural timber porcelain tile flooring – Lowe's
Gray grout for tile floor – Lowe's
Wall color – Du Jour by Valspar
Slate electric range – GE Appliances
Slate dishwasher – GE Appliances
Slate bottom freezer refrigerator – GE Appliances
Slate over-the-range microwave – GE Appliances
Matte black pendant lights – Amazon
Pendant light above sink – Wayfair
X back wood dining chairs – World Market
Sheer white curtains – Walmart
Bronze curtain rods – Walmart
Small jute rug by sink – Home Goods
Matte black sink faucet – Delta
Stripe kitchen towel – World Market
Woven plant pot – IKEA
Round wire basket – Walmart
Faux greenery in glass jug – Hobby Lobby
Hallway lantern light fixture – Lowe's
Soap dispenser by wash sink – Target
Blue striped towel by wash sink – IKEA
Blue stripe apron – tutorial
Antiques, secondhand finds, and handmade items:
white and wood dining table, drop cloth table runner, glass jug, grocery sign, wood stool

---
LET'S KEEP IN TOUCH!
---
Subscribe to Blog | Browse my Shop | Follow on Facebook | Follow on Twitter
Follow on Google+ | Follow on Pinterest | Follow on Instagram