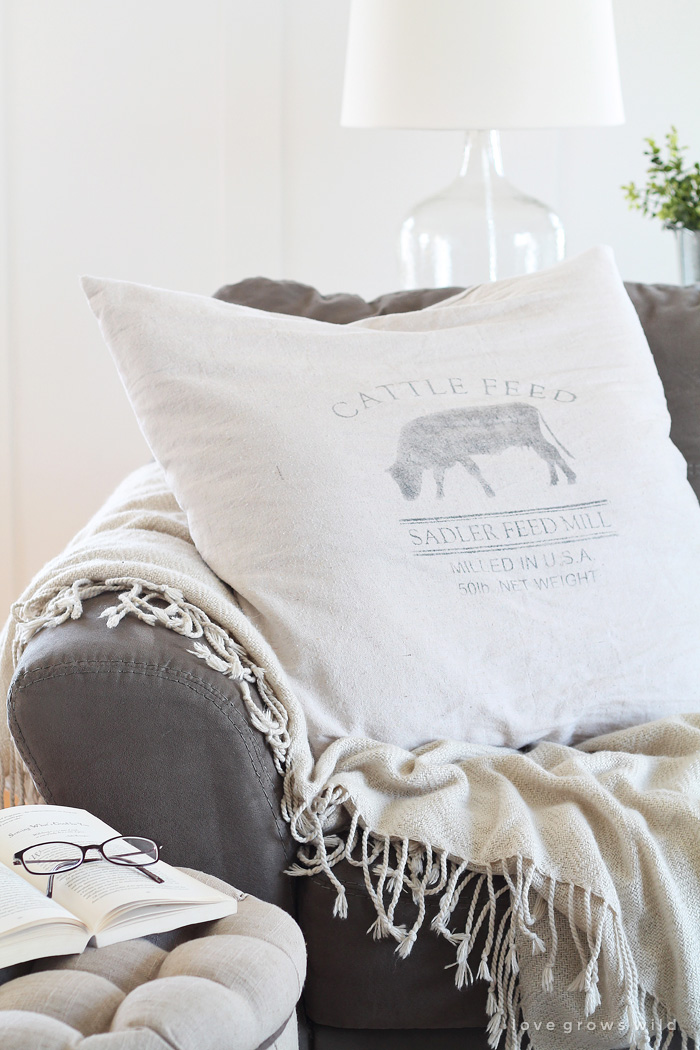 With all the changes we've made in our living room recently, I was dying to get some new pillows on our couches. I wanted something that would be casual and cozy, because let's face it… 99% of the time my kids have all the pillows thrown on the floor anyway, so nothing frilly or fancy was going to work in here. I looked into a couple different fabric options, but ended up going with the least expensive thing I could find… drop cloth!
Those canvas drop cloths you find at the hardware store for painting are PERFECT for creating neutral, casual pillows, and they are so darn cheap, you could afford to make hundreds of pillows if you wanted. They come in different sizes, but the one I bought was 9'x12′ and cost me barely $15. That's a lot of fabric to work with! I definitely recommend running the drop cloth through the washer and dryer once before you do anything with it. This will soften up the canvas and get rid of any wrinkles or stiffness.
I've spent A LOT of time pinning pillows ideas over the last few months and happened to stumble across a reproduction feed sack that totally stole my heart. Did you know that when I met Jeremy he actually owned and operated a livestock feed mill? We spent our days making feed for cows, pigs, goats, chickens, and any other farm animal you could think of. Jeremy was out in the mill doing all the heavy lifting, I was in the office doing the bookwork, and our boys (who were just babies at the time) were crawling around the store on bags of dog food and batting their eyelashes at all the customers. Wyatt was just a week old when I came back to work, and we had a playpen set up in the office where he could nap. It seemed crazy and stressful at the time… working side-by-side with your spouse everyday with a baby and toddler under your feet… but I look back on it all now and realize how sweet of a time that really was.
So when I saw that feed sack idea, I knew it would be absolutely perfect for our little farmhouse. I even used our old feed mill's name on the pillow! I made some super easy envelope pillow covers, created the feed sack design using my Silhouette Cameo
, and painted the design onto my pillow cover with some heavily watered-down paint. I didn't want the design to be too bold, so watering down the paint gave it that old, timeworn look I was going for. If you don't have a Silhouette, you can certainly recreate a version of this using stencils or stamps.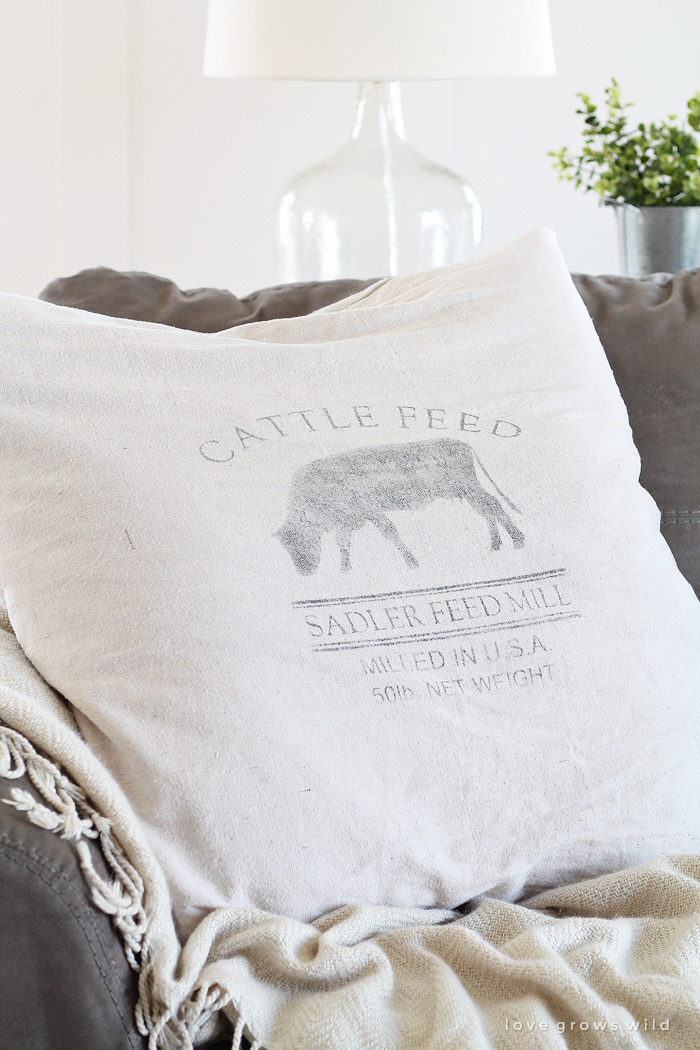 I make my own pillow covers vs. buying new probably 9 times out of 10, so I wanted to show you guys a quick tutorial on how to make them. Even if you don't have mad sewing skills, these are actually really easy!
Step One:
Measure the pillow form you'll be using. (Mine was 17″ x 17″)
Add 1″ for a seam allowance. (18″ x 18″)
Step Two:
Cut a piece of fabric to that measurement. (18″ x 18″) This will be the front of your pillow.
Step Three:
Cut another piece of fabric the same width as your front, but add 4″ to the height. (18″ x 22″)
Now cut it in half widthwise. (Each piece is now 18″ x 11″) These are the back pieces of your pillow.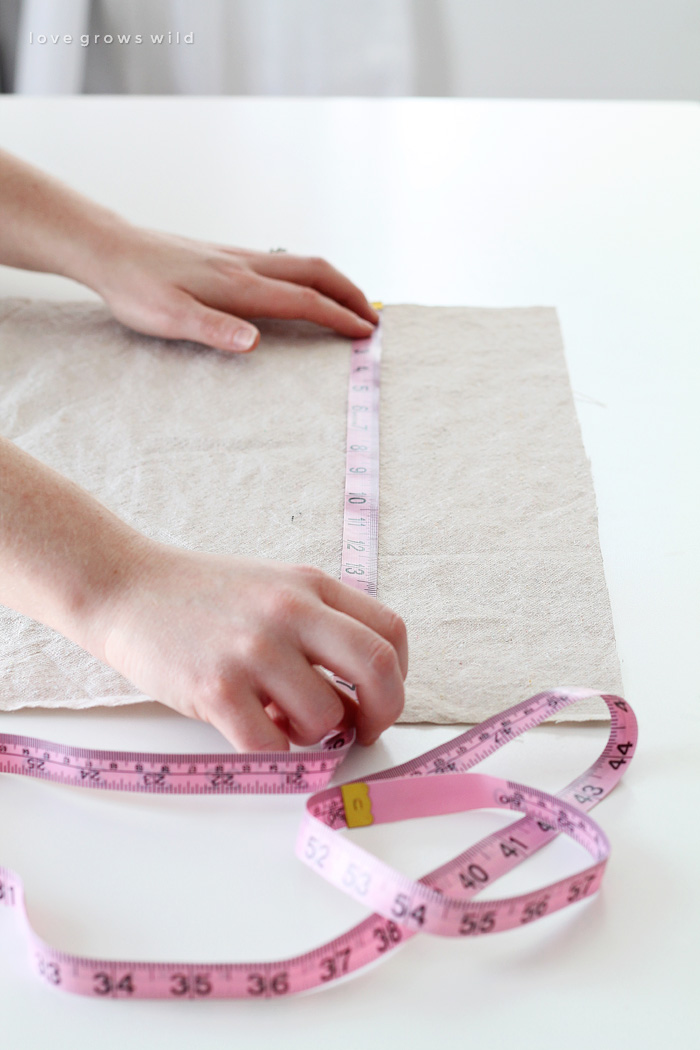 Step Four:
Make a fold on one long edge of each back piece towards the back of the fabric, press with an iron, then stitch the hem.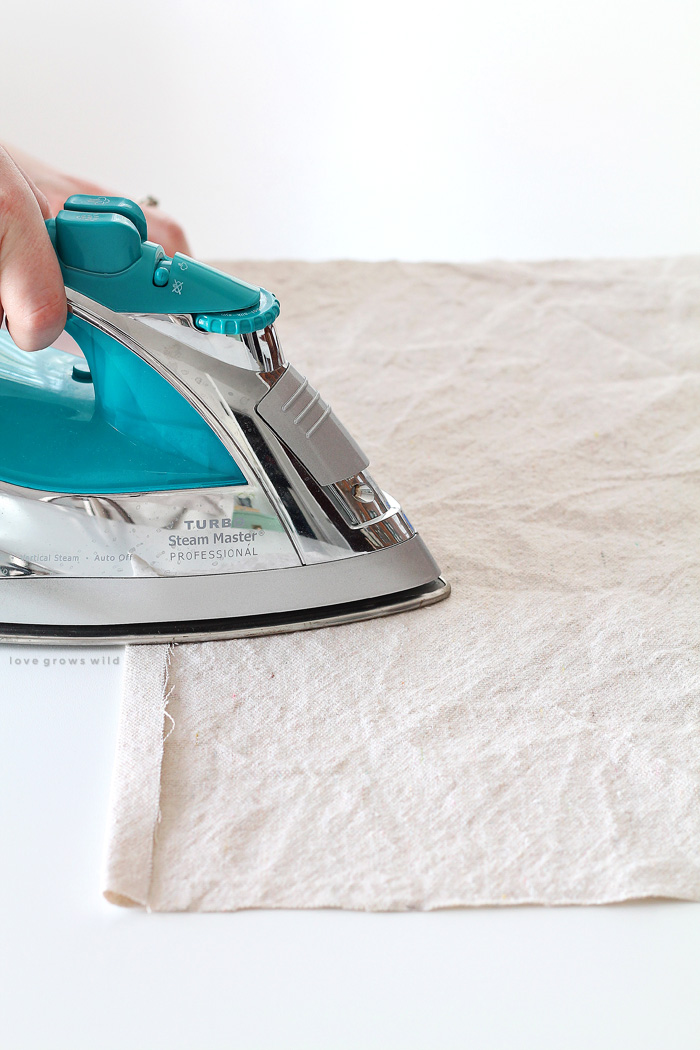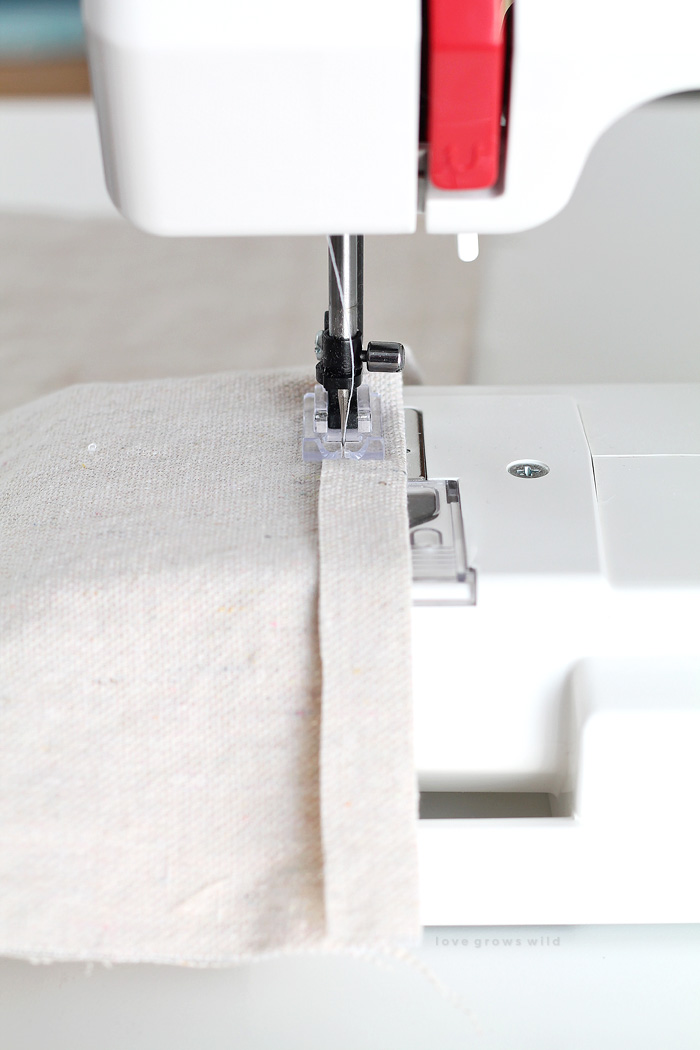 Step Five:
Lay your front piece of fabric face up. Then place both back pieces on top, facing down, with the hemmed edges overlapping in the center. Pin the fabric pieces together along the edges and sew all four sides of the pillow cover.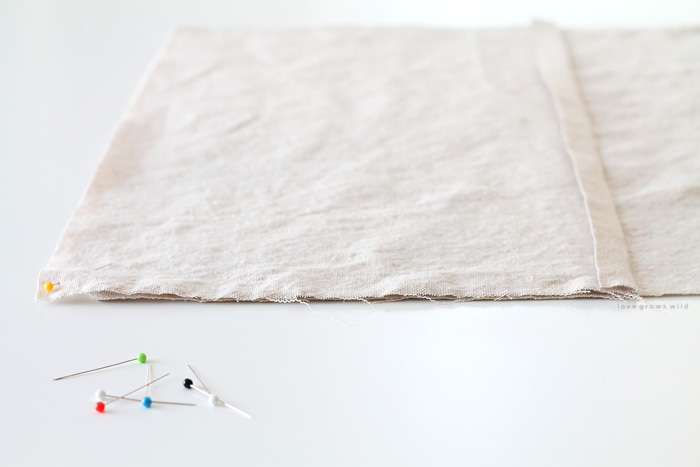 Step Six:
Open up the back pieces and turn the pillow cover right side out.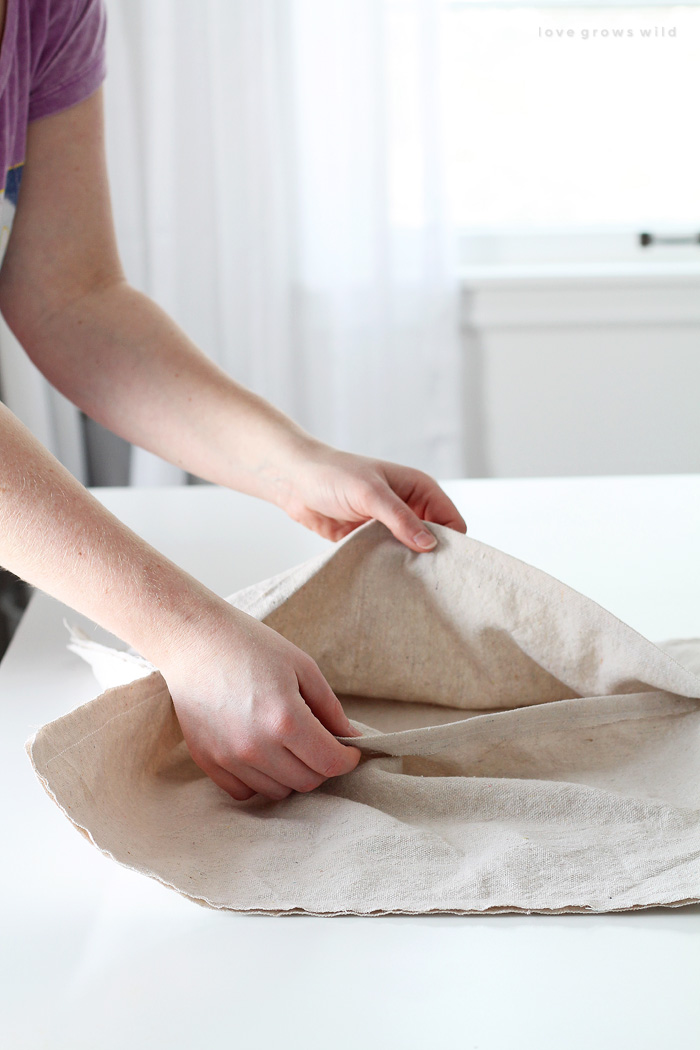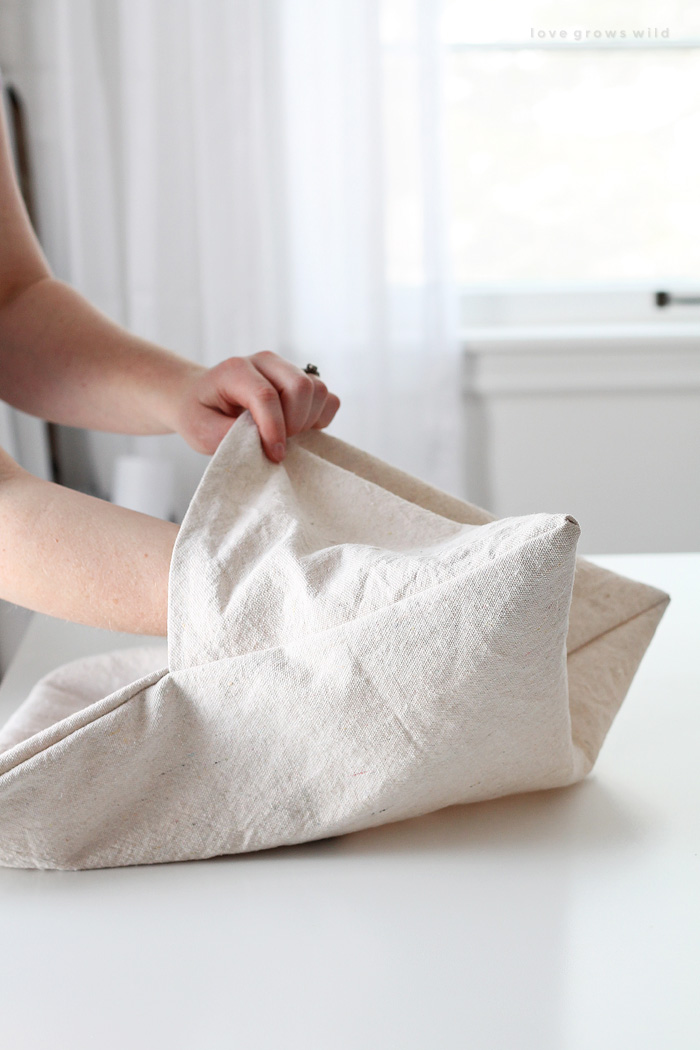 Step Seven:
Add a pillow form!
I am SUPER pleased with how these turned out. I was able to make a whole bunch of new pillow covers for our living room, using the pillow forms I already had, for just $15. #winning!
But the thing I love most about these pillows is the sweet nod to our family's beginning with this vintage feed sack design. Very farmhouse, very rustic, and very very US!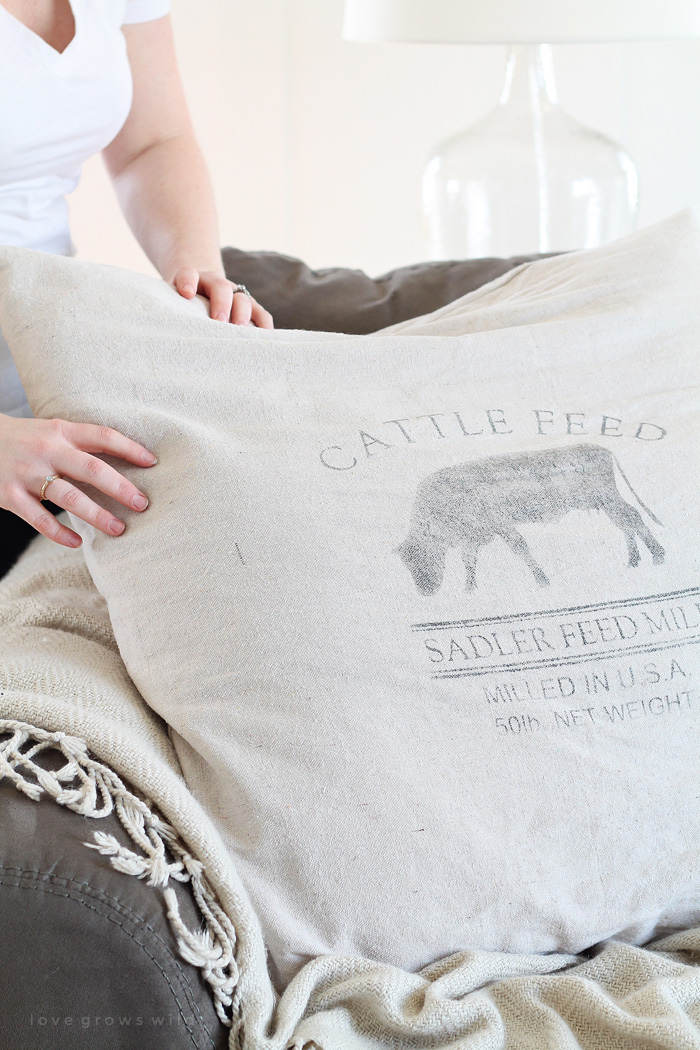 Tell me what you think! Leave a comment below and share your thoughts on our new feed sack pillows… I can't wait to hear your feedback!
---
Are you making this project? I'd LOVE to see it! Post a photo of your creation on Instagram and use the hashtag #MyLGWProject. It may just get featured!
---

---
Feeling inspired? Check out these ideas:
---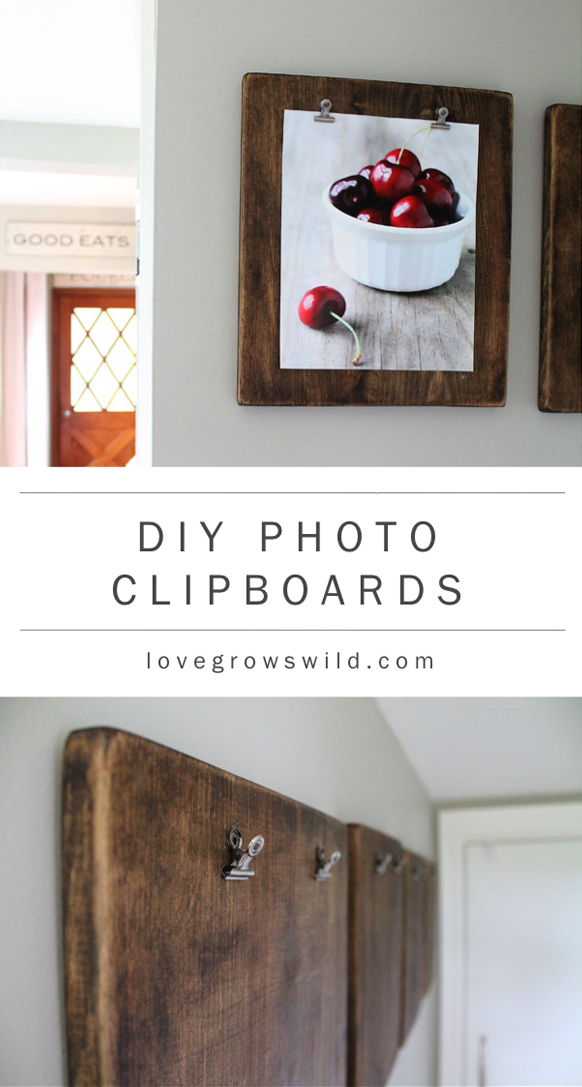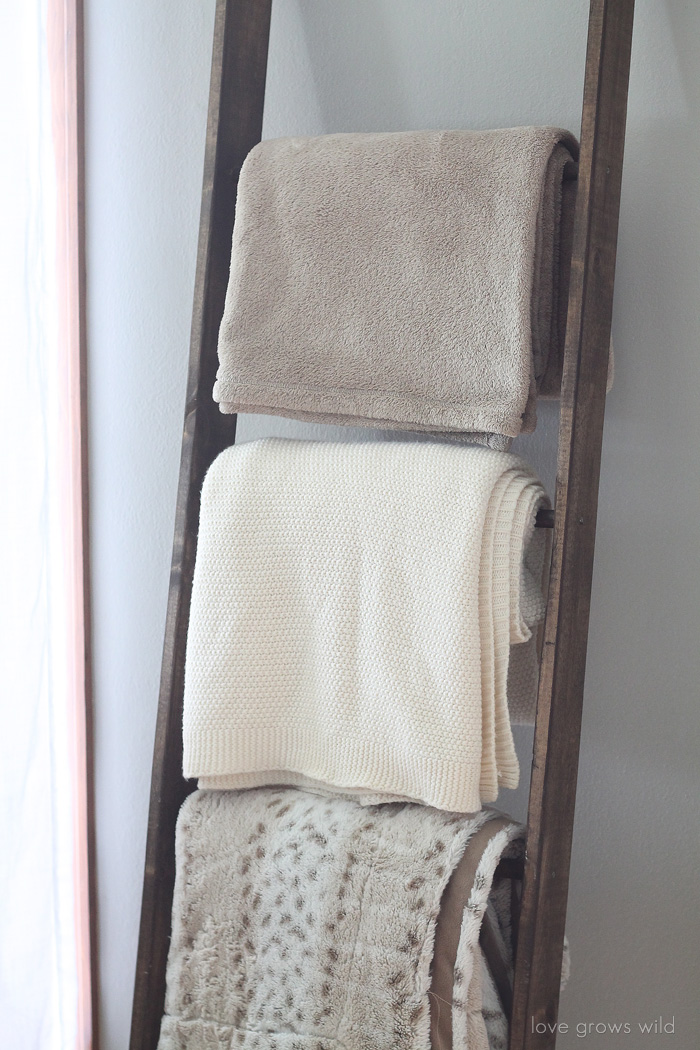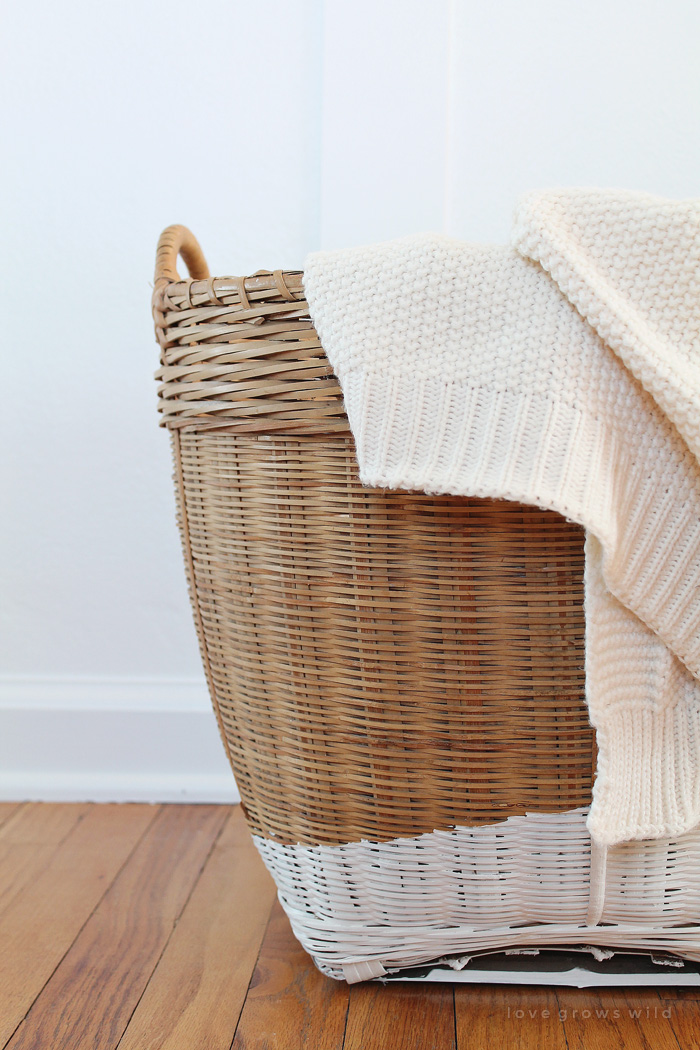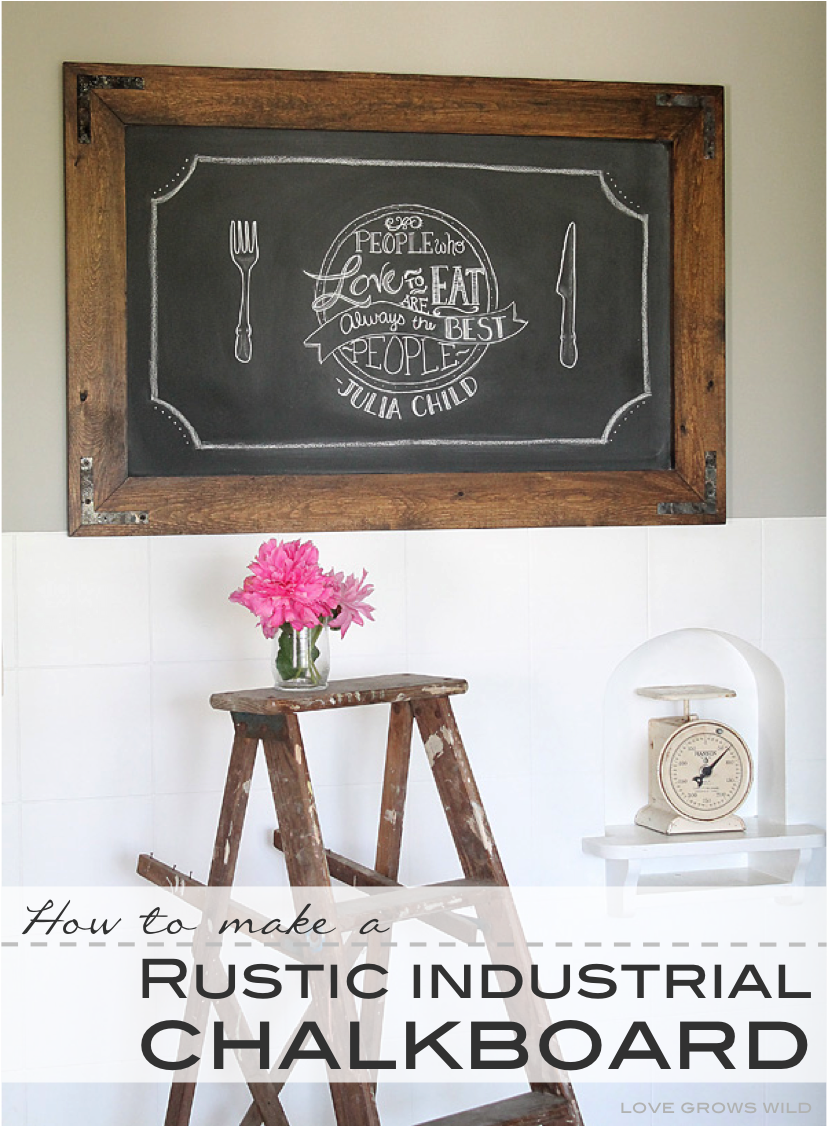 ---
LET'S KEEP IN TOUCH!
---
Subscribe to Blog | Browse my Shop | Follow on Facebook | Follow on Twitter
Follow on Google+ | Follow on Pinterest | Follow on Instagram