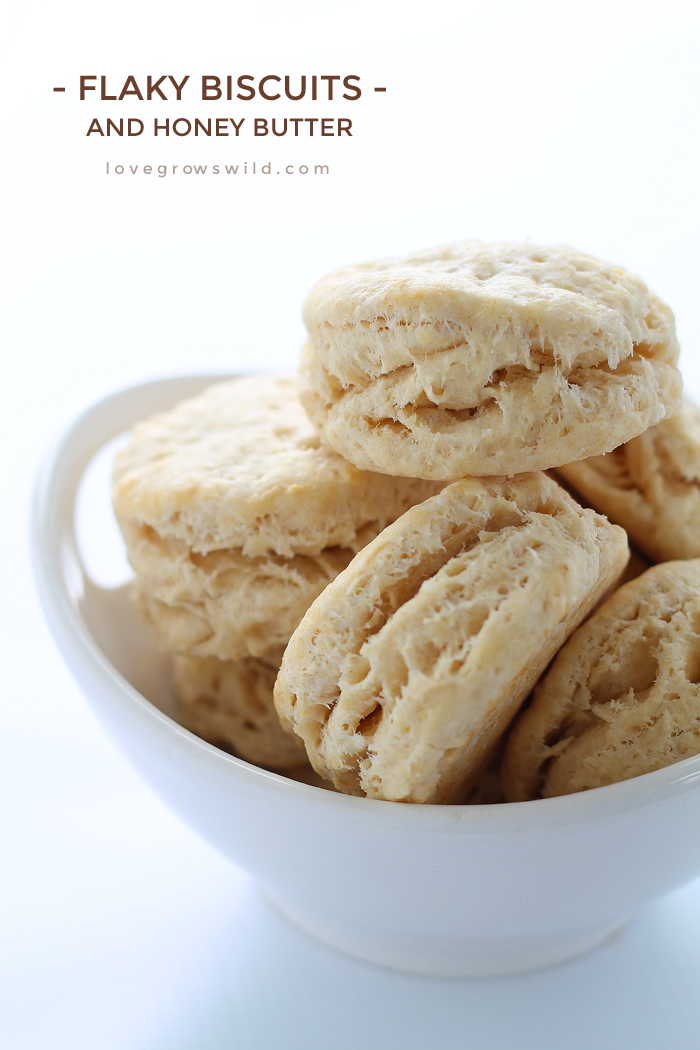 This post is brought to you by Silk // I'm a total carb lover. Are you too? Bread, muffins, biscuits… you name it, I crave it! These flaky homemade biscuits are the perfect addition to any meal and taste amazing topped with a lightly sweet honey butter. But what makes these biscuits so special? They're made much healthier with coconut oil and almond milk!
I have a confession to make… here it goes…
I am obsessed, no OBSESSED with coconut oil. Like the kind of obsessed that I tell everyone I meet the crazy, awesome powers of coconut oil in my hair, for my skin, in my food… please tell me you've tried some of these before! I switched to using coconut oil as my facial cleanser a few weeks ago, and already the difference is huge. I know that using oil on your face sounds totally weird, but my skin feels smoother and the lines around my eyes are less and less noticeable. Because seriously, I'm not even 30 yet… how on Earth did all these wrinkles get here? Oh yeah… two kids, a husband, and a blog. That's how that happened. 🙂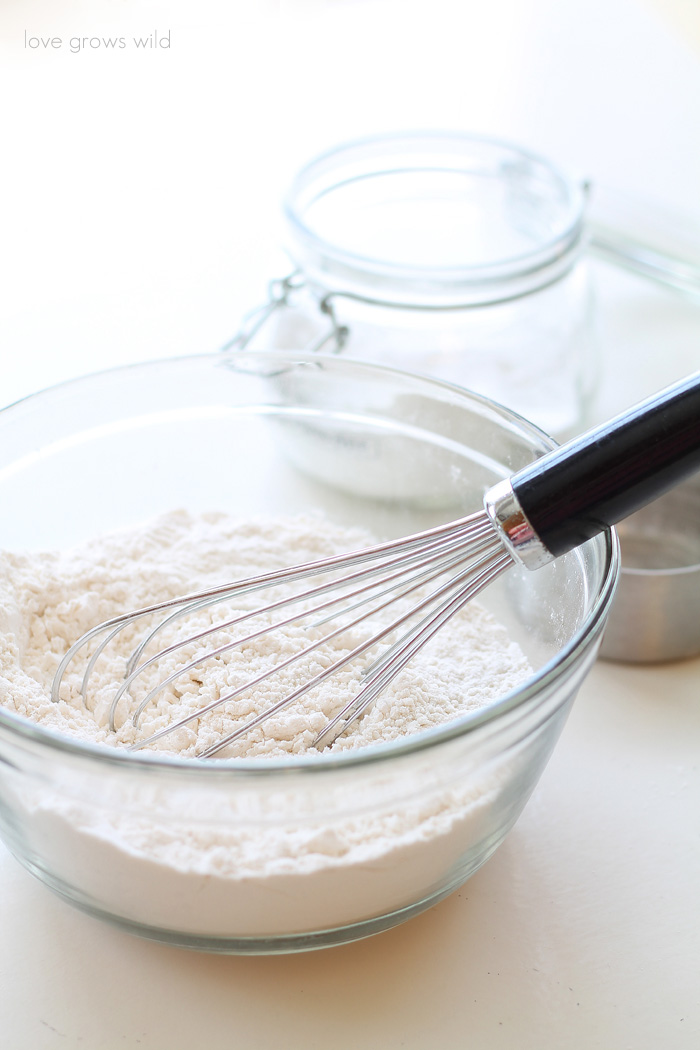 So besides its awesome use for beauty products, I've started using coconut oil in my cooking and baking too. These biscuits were one of my first experiments after seeing a recipe on Gimme Some Oven, and man, are they good. Perfectly tender and flaky, easy to make, and much healthier than biscuits loaded with butter and cream. Not that I don't love butter and cream, trust me, but the closer I get to 30, the more important it is to cut out some of those calories when I can.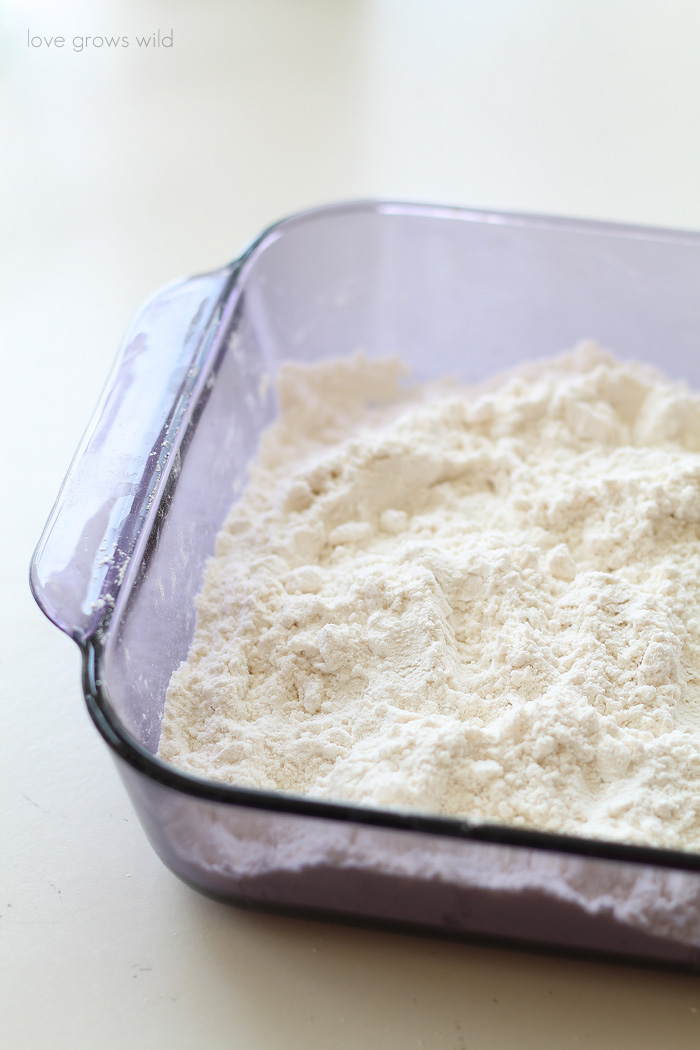 The other component that keeps these biscuits on the lighter side is using Silk Almond Milk. I love using almond milk in things like smoothies, cereal, and oatmeal because it has typically 50% more calcium than dairy milk and no cholesterol or saturated fat. At only 30 calories per serving, Silk's unsweetened Almond Milk is a great way to save some calories while getting good, plant-based nutrition. By substituting almond milk for dairy milk in this biscuit recipe, I was able to cut out some of those calories without sacrificing any flavor.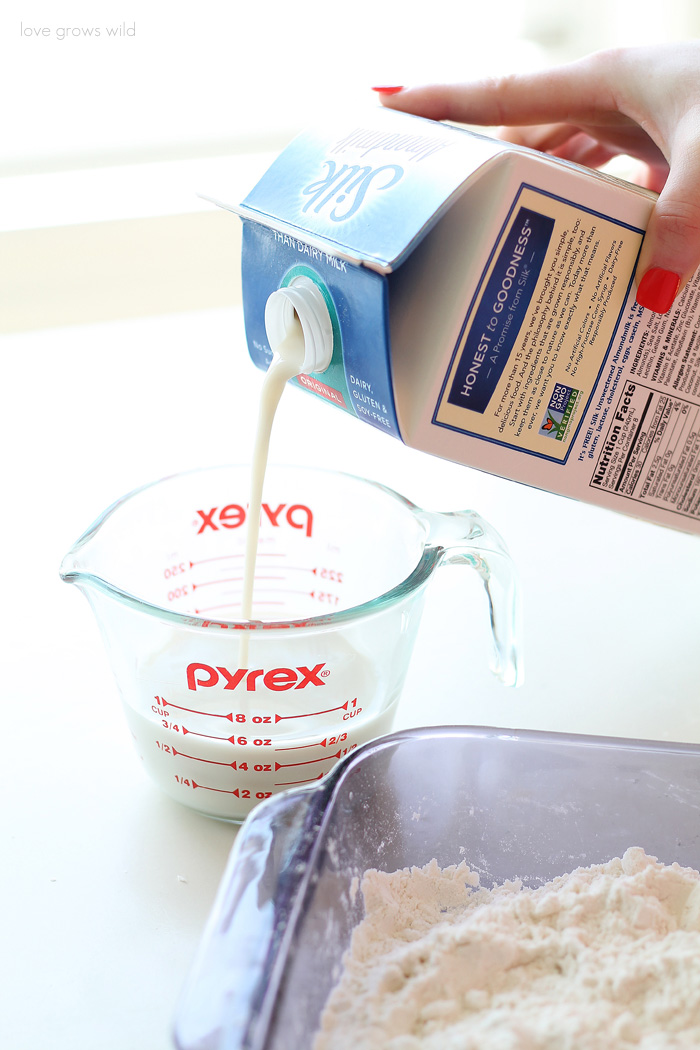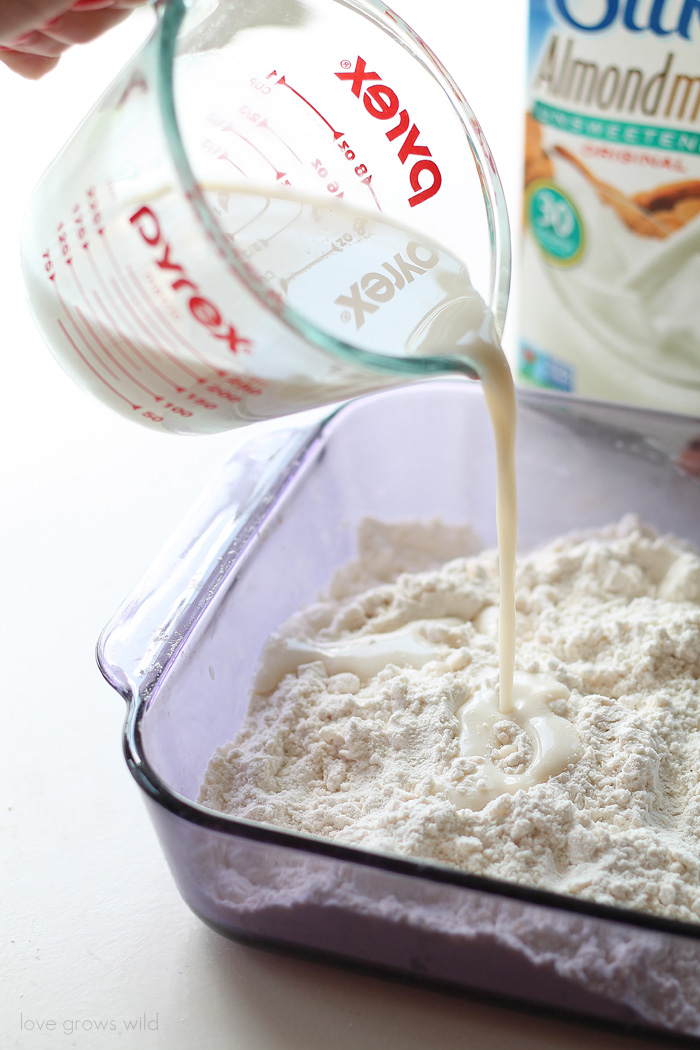 For this recipe, you'll need room temperature coconut oil (not melted) to cut into the flour until the mixture resembles fine crumbs. After adding the almond milk, a soft, sticky dough will form and you'll want to knead the dough with your hands a few times to get everything combined. When it comes to biscuit-making, I find that my hands are always the easiest tool to use! Just be sure not to over-work the dough.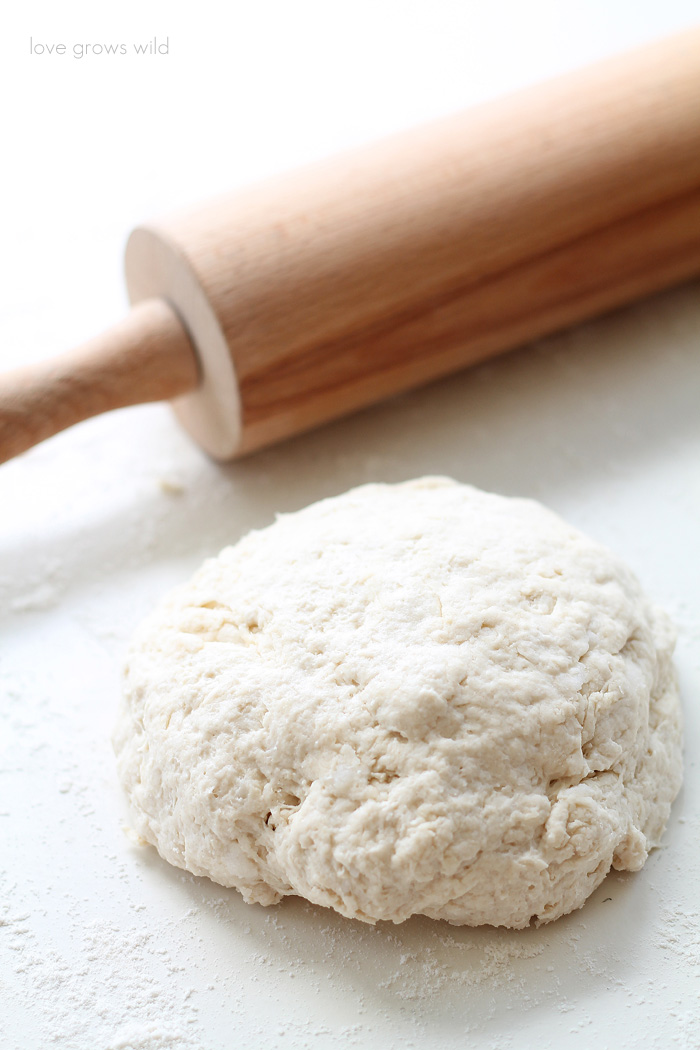 Then dump the dough onto a floured surface and roll out to about 1/2″ thickness. Cut circles using a biscuit cutter and transfer to a baking sheet. The open end of a cup will work too if you don't have a biscuit cutter!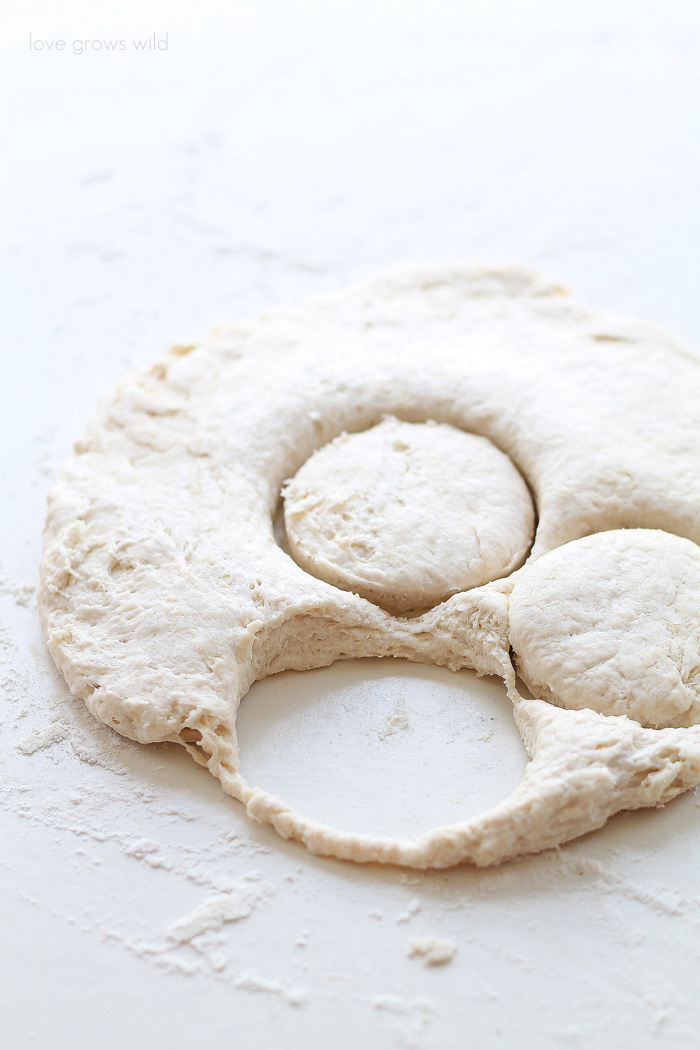 Stick the biscuits in the oven for about 10 minutes, and you'll have puffy, flaky, perfectly risen biscuits to enjoy!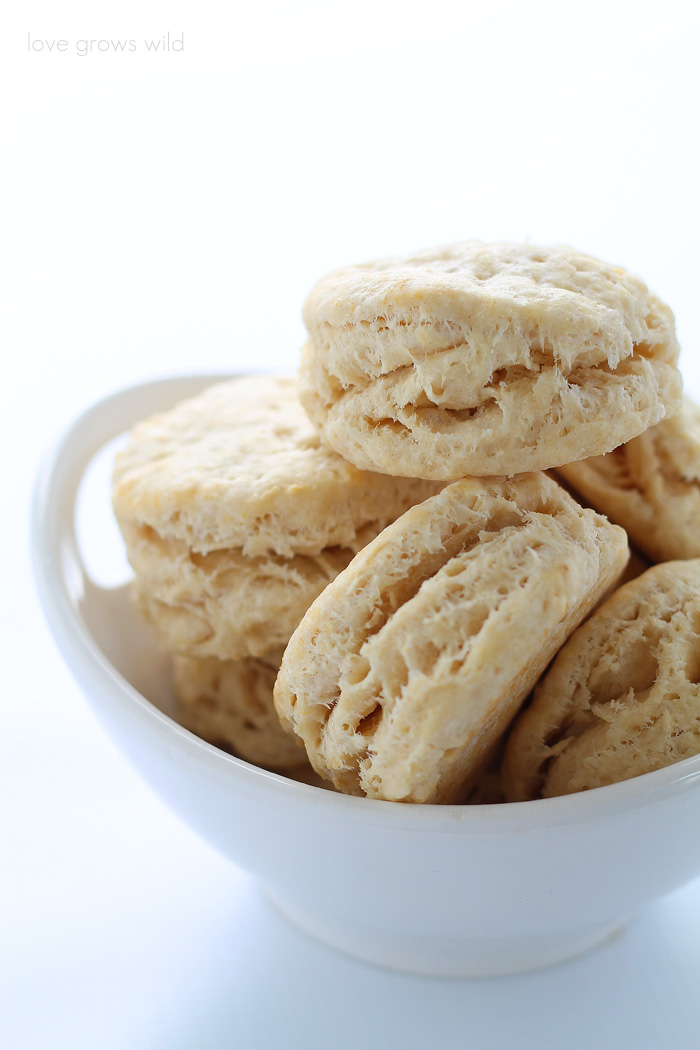 The inside of the biscuits are soft and tender, and the outsides have a perfect, lightly golden crust.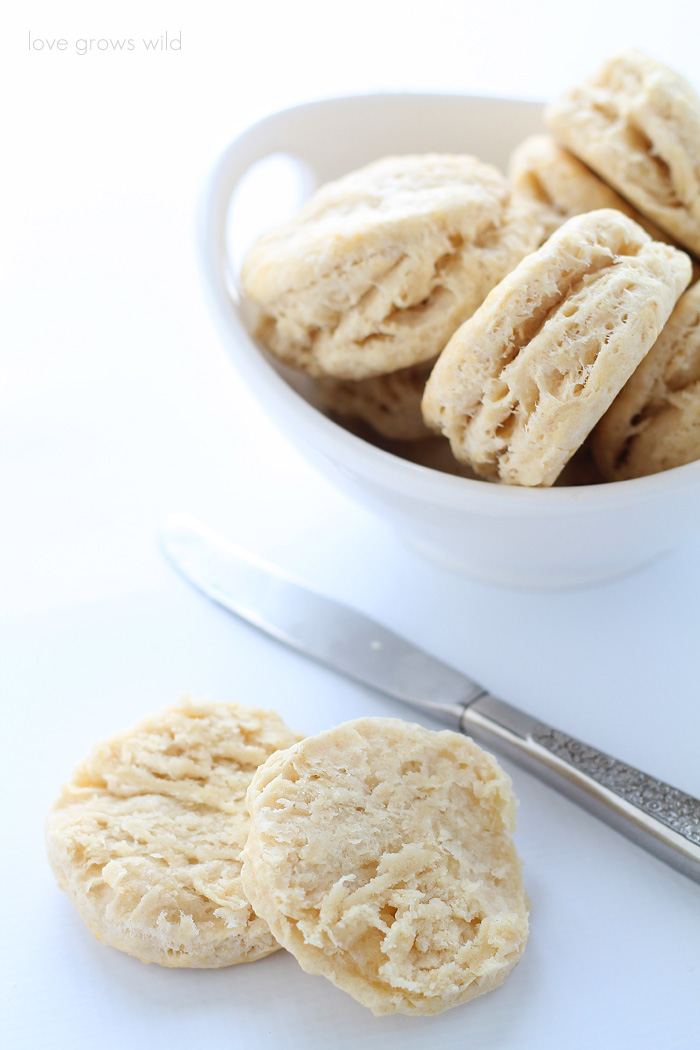 I use these biscuits in all kinds of ways… as a side item for dinner, with an egg, ham, and cheese for breakfast sandwiches, or just with a little bit of strawberry jelly. My homemade raspberry butter would be a great way to enjoy these little biscuits too!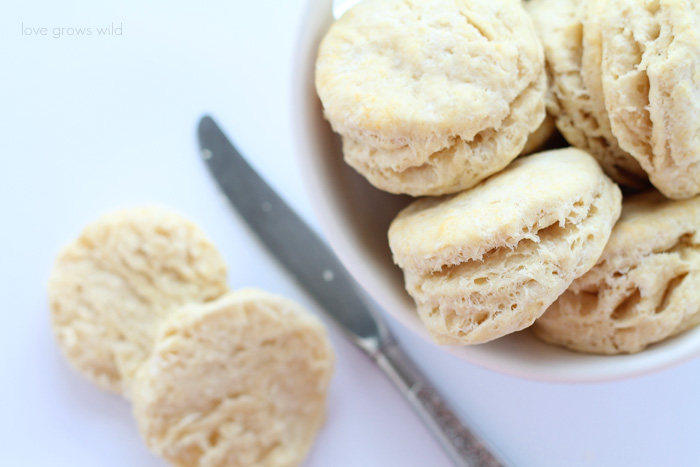 But if you ask me, there's nothing better than some good, old honey butter to spread all over your biscuits!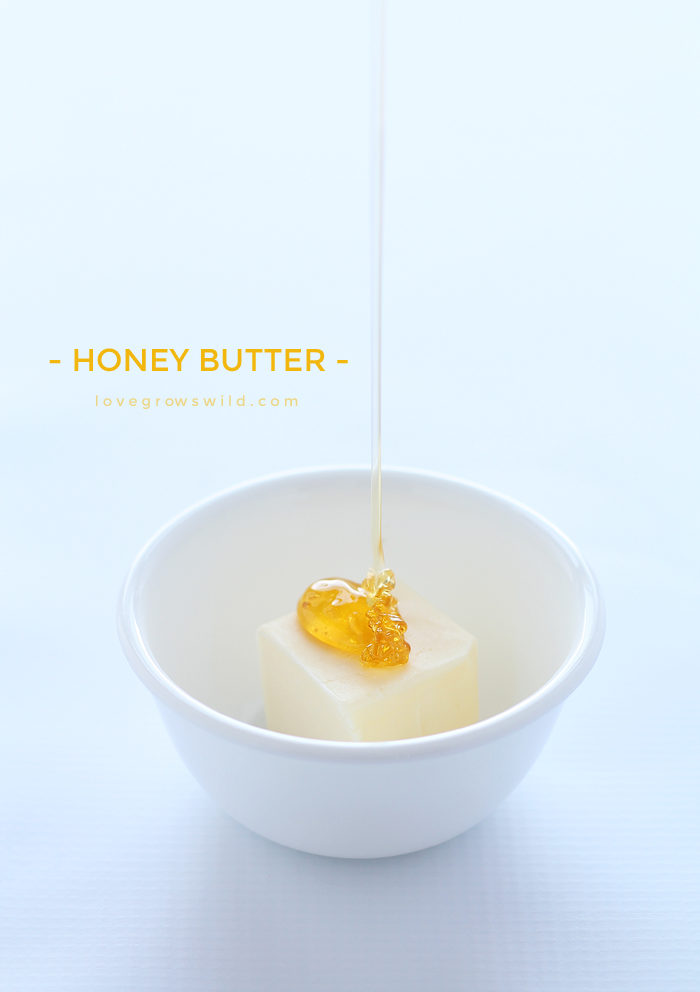 Honey butter is just as easy to make as it sounds… just microwave equal parts honey and unsalted butter until everything is melted and well combined. You can brush it on top of the biscuits as soon as they come out of the oven or serve it on the side to spread inside the biscuits cut in half. The honey butter adds a little bit of richness and the perfect, light amount of sweetness to make these biscuits absolutely amazing. You must try them!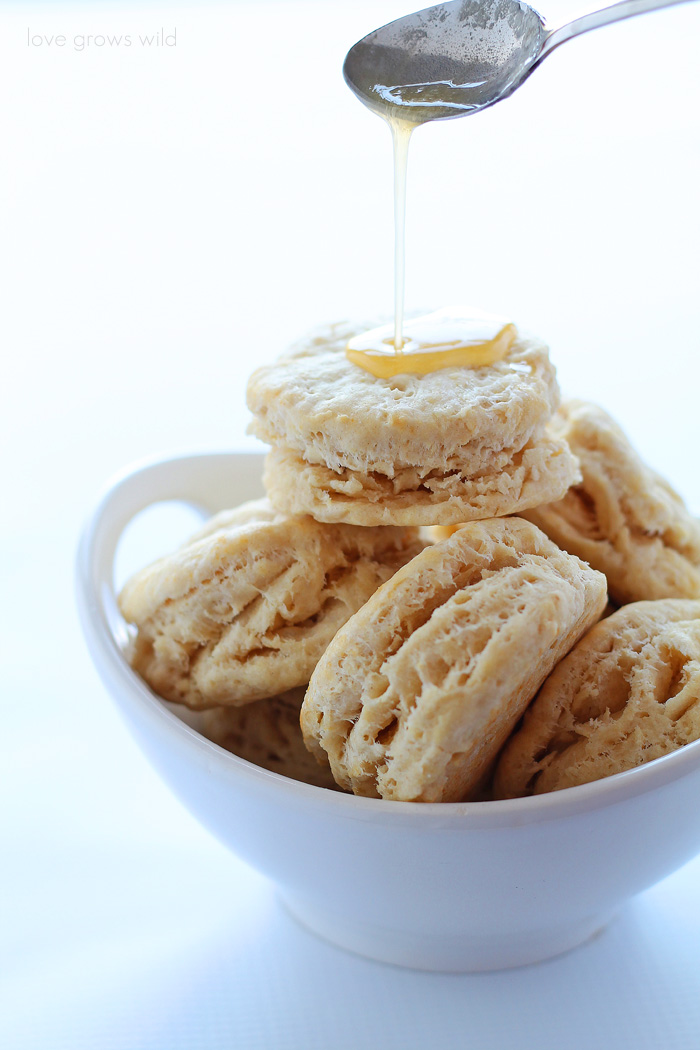 Like what you see? Subscribe to Love Grows Wild so you'll never miss a post!
Follow along on Pinterest, Google+, Instagram, and Facebook for more fun!
Flaky Biscuits with Honey Butter
Tender, flaky biscuits made with coconut oil and topped with sweet honey butter!
INGREDIENTS
For the biscuits:
2 cups all-purpose flour
1 tablespoon baking powder
1 teaspoon salt
¼ cup coconut oil (room temperature)
¾ cup almond milk

For the honey butter:
2 tablespoons unsalted butter
2 tablespoons honey
INSTRUCTIONS
For the biscuits: Preheat the oven to 425º F. Add the flour, baking powder, and salt to a large bowl and stir with a whisk until well combined.* Scoop 2 cups of the flour mixture into another large bowl and add the coconut oil. Using a pastry cutter or forks, cut the coconut oil into the flour mixture until it resembles fine crumbs. Pour in the almond milk and stir until a soft, sticky dough forms. If your dough seems too dry, you can add another tablespoon or two of milk as needed. Using your hands, knead the dough until just combined - be careful to not over-mix.
Dump the dough onto a cutting board that has been lightly dusted with flour. Roll the dough to about a ½" thickness and cut circles using a 2" biscuit cutter or a cup. Transfer the biscuits to a baking sheet.
Bake for 10 minutes until the biscuits have risen and the tops are just slightly golden. Remove from the oven and serve immediately with honey butter, if desired. Makes about 8-10 biscuits, depending on the size of your biscuit cutter.
For the honey butter: Add the butter and honey to a small bowl and microwave on high 15 seconds. Stir the mixture and microwave again for another 15 seconds. Stir until the butter is fully melted and the two ingredients are combined. Brush the honey butter on top of the biscuits fresh out of the oven or serve on the side to spread inside biscuits cut in half.
NOTES
* You could also replace the all-purpose flour, baking powder, and salt in this recipe with 2 cups of self-rising flour. I never keep any on hand, so I make my own self-rising flour using these ingredients. Keep this recipe handy for anytime you need self-rising flour!
– Recipe from Gimme Some Oven
Are you ready to try Silk? Sign up for a coupon! All new registrants will receive $0.75 off any Silk half gallon!
When you register, you can also look forward to:
– Additional coupons sent straight to your inbox, plus a special birthday offer
– New of Silk sweepstakes and promotions
– Monthly chances to win a year's supply of Silk!
You can also follow Silk on Facebook!
This is a sponsored conversation written by me on behalf of Silk. The opinions and text are all mine.
LET'S KEEP IN TOUCH!
Subscribe to Blog | Browse my Shop | Follow on Facebook | Follow on Twitter
Follow on Google+ | Follow on Pinterest | Follow on Instagram