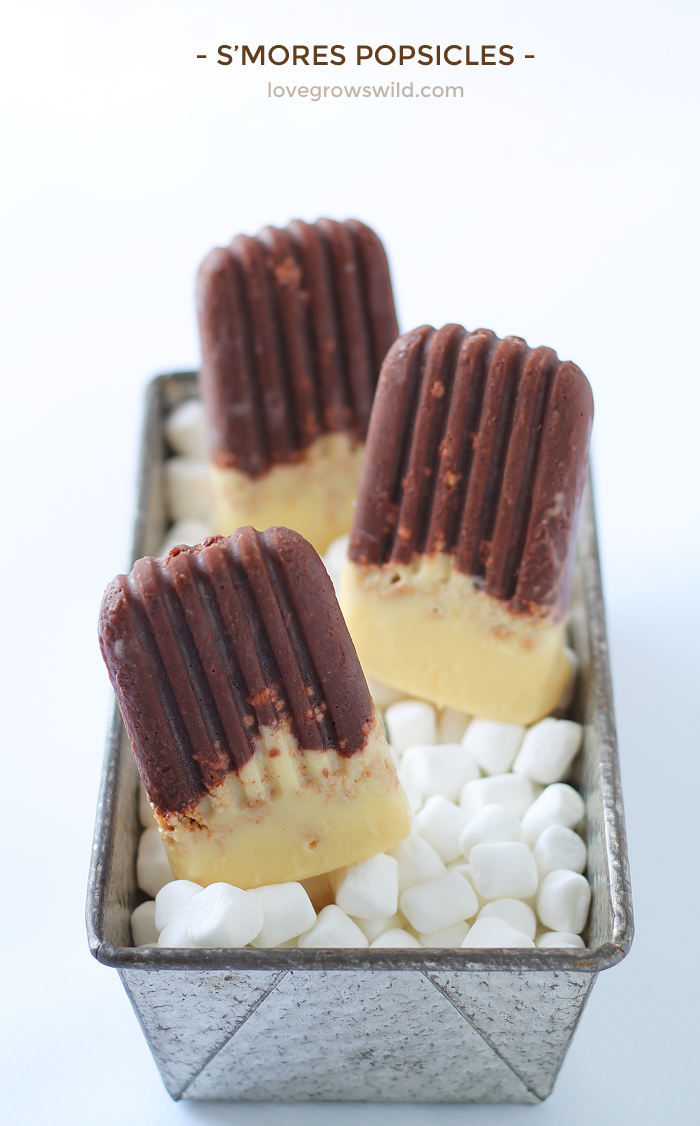 Summer heat deserves cool treats, am I right? I'm a big fan of keeping popsicles around the house to help beat the heat, and after years of wanting to make my own, I finally bought some popsicle molds this Summer! You have no idea how seriously I stalked the delivery guy waiting for them to get here! I've had a blast coming up with fun flavors to try… first it was orange dreamsicle, then root beer float, definitely cookies 'n cream, and most recently, s'mores!
What could be more fun than turning a sweet summertime snack like s'mores into a delicious frozen treat? These creamy popsicles have rocked our world so far this summer, and today I'm sharing the recipe with you. Get ready to make your own S'mores Popsicles!
So as we all know, there's three main components to make a s'more… the graham cracker, the chocolate, and the marshmallow. So how do you go about turning those ingredients into a cold and creamy popsicle? Well here's what I did…
For the chocolate layer, I combined chocolate pudding mix with Silk Almond Milk and mixed in some milk chocolate chunks for extra chocolatey goodness. Why almond milk, you ask? I use it because one serving has only 60 calories and almond milk is dairy, gluten, and soy-free. If I'm going to enjoy approximately 854 popsicles all summer long, I want to save calories where I can and make them healthy for my kiddos too!
For the marshmallow layer, I made instant vanilla pudding and added a big cup of marshmallow topping. You know, the jarred stuff by the ice cream toppings… it's SO addicting!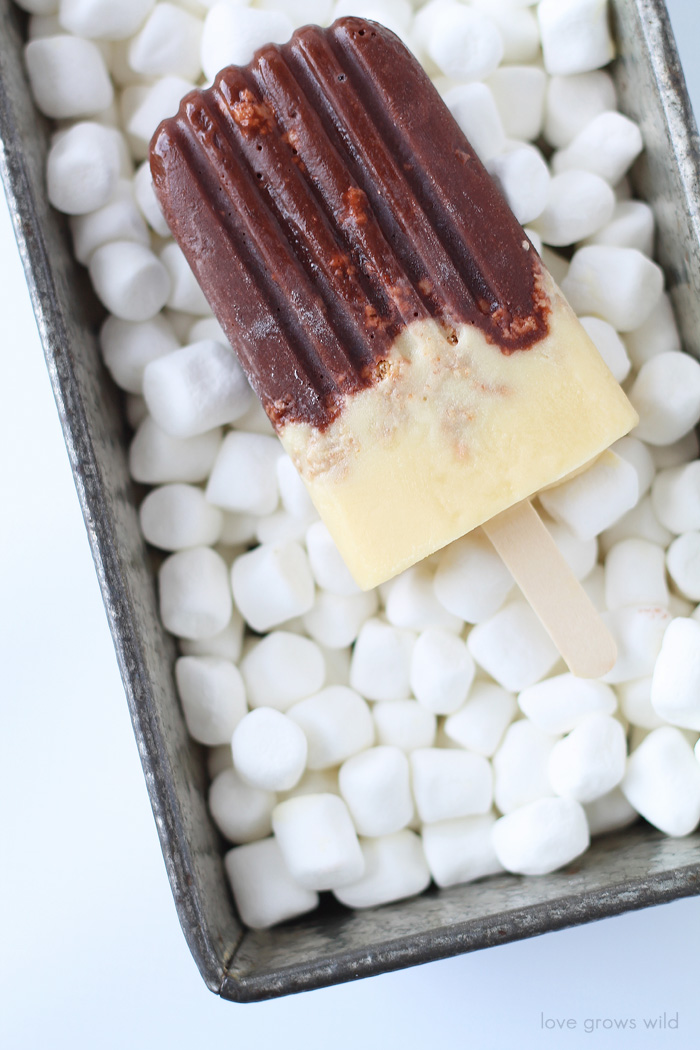 Then for the graham cracker portion of our s'mores popsicles, I crushed up some graham crackers and added just a bit of almond milk to make the cracker crumbs stick together, almost like wet sand. To assemble the popsicles, I first poured in the chocolate layer, then a big spoonful of graham cracker crumbs, and then the marshmallow layer went on top. Now comes the hard part…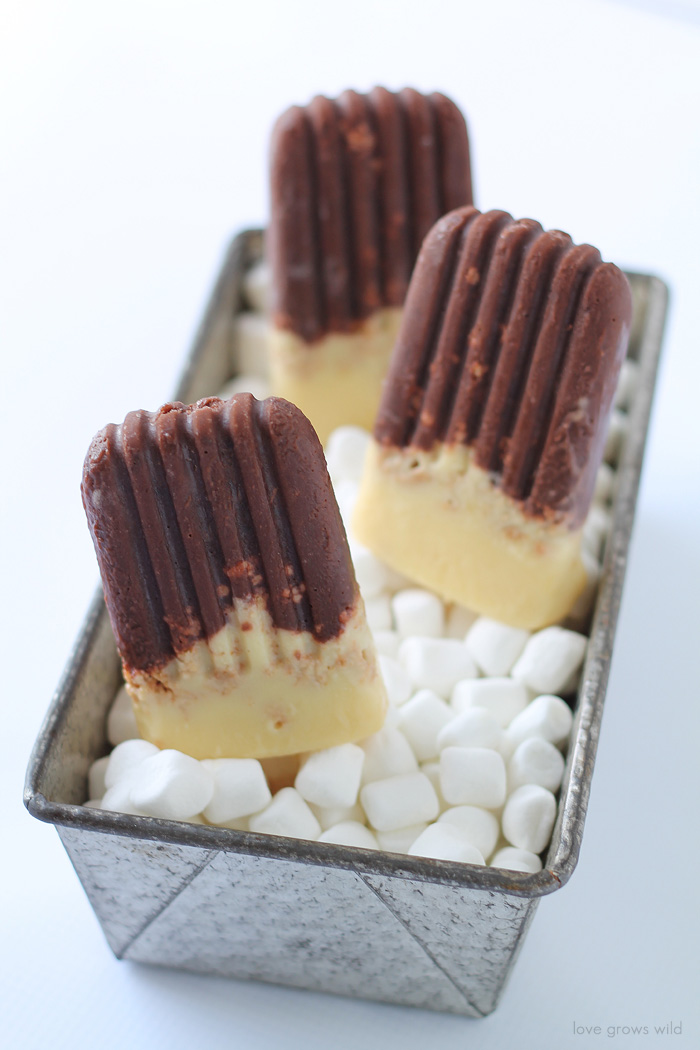 … waiting for them to freeze!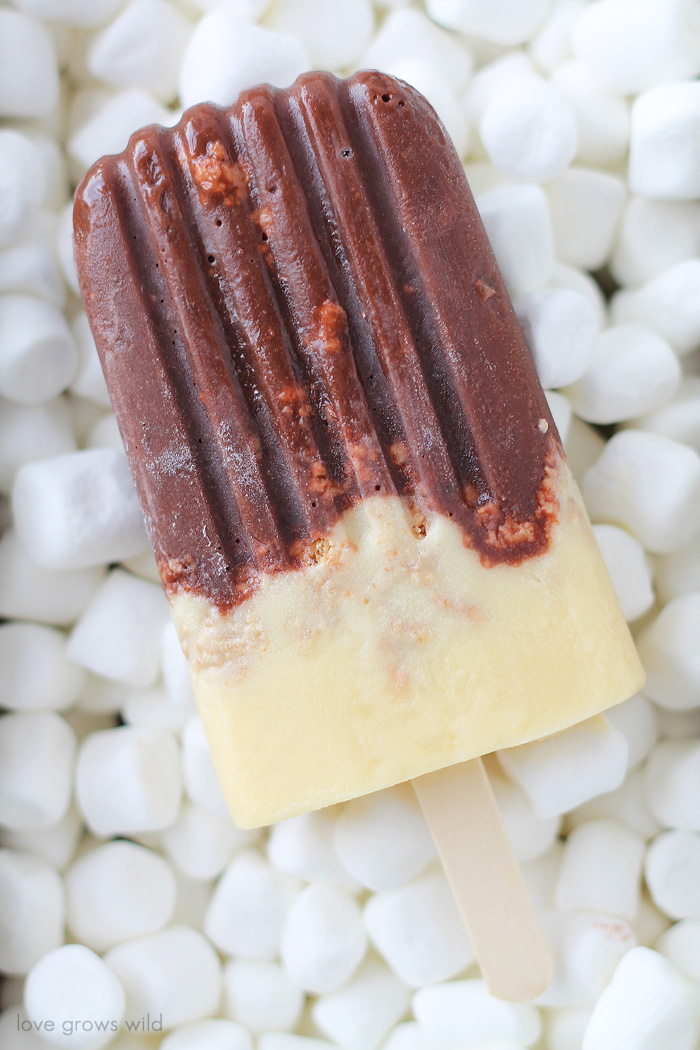 These layered popsicles are the perfect way to enjoy a delicious s'more even when it's too hot to build a bonfire. My kids LOVED these tasty treats, so be prepared to make a lot of them this summer if you have kiddos around!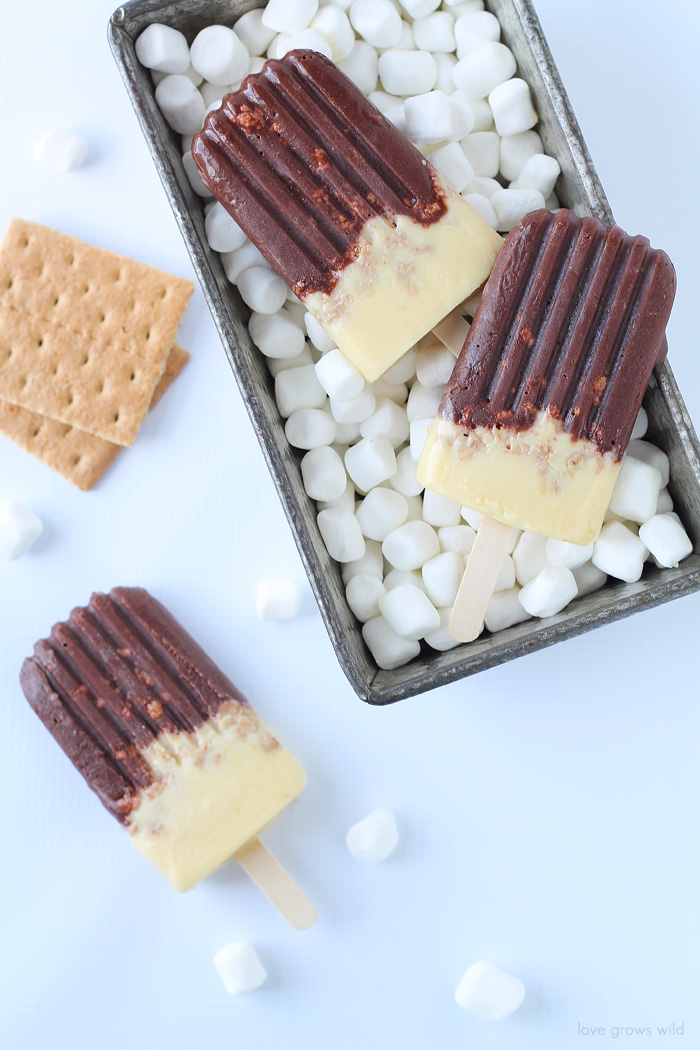 Don't you just want to take a big, frosty bite?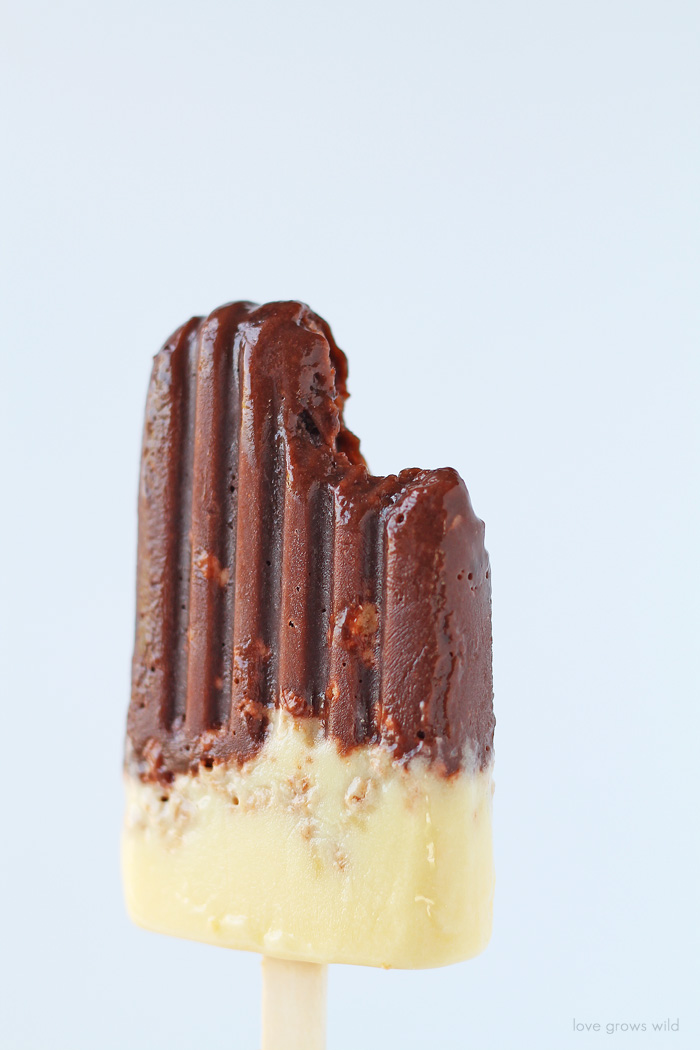 Like what you see? Subscribe to Love Grows Wild so you'll never miss a post! Follow along on Pinterest, Google+, Instagram, and Facebook for more fun!
S'mores Popsicles
This recipe turns a sweet summertime snack into a delicious frozen treat!
INGREDIENTS
1 small box chocolate instant pudding mix
1 small box vanilla instant pudding mix
4 cups Silk original almond milk + 2-3 tablespoons
1 cup marshmallow topping (found with jarred ice cream toppings)
2 milk chocolate bars, finely chopped
6 graham crackers
INSTRUCTIONS
For the chocolate layer: Combine the chocolate pudding mix and 2 cups of cold almond milk in a medium bowl and stir with a whisk for 2 minutes. Stir in milk chocolate pieces and set aside.
For the marshmallow layer: Combine the vanilla pudding mix and 2 cups of cold almond milk in another medium bowl and stir with a whisk for 2 minutes. Stir in marshmallow topping until well combined and set aside.
For the graham cracker layer: Add graham crackers to a gallon size zip-top bag and smash into fine crumbs with a rolling pin. Pour in 2-3 tablespoons of almond milk and shake the bag until ingredients are combined and resembles wet sand. Set aside.
To assemble: Add a layer of chocolate pudding in popsicle molds (almost halfway full) and insert a popsicle stick into the center. Freeze for 15-20 minutes. Spoon in graham cracker crumbs and top with the vanilla/marshmallow pudding. Freeze 3-4 hours before removing the popsicles from the molds.
NOTES
- This recipe fills 6 popsicles molds with plenty of pudding leftover for additional popsicles.
Are you ready to try Silk? Sign up for a coupon! All new registrants will receive $0.75 off any Silk half gallon!
When you register, you can also look forward to: – Additional coupons sent straight to your inbox, plus a special birthday offer – New of Silk sweepstakes and promotions – Monthly chances to win a year's supply of Silk!
You can also follow Silk on Facebook!
LET'S KEEP IN TOUCH!
Subscribe to Blog | Browse my Shop | Follow on Facebook | Follow on Twitter
Follow on Google+ | Follow on Pinterest | Follow on Instagram
---
This is a sponsored conversation written by me on behalf of Silk. The opinions and text are all mine.