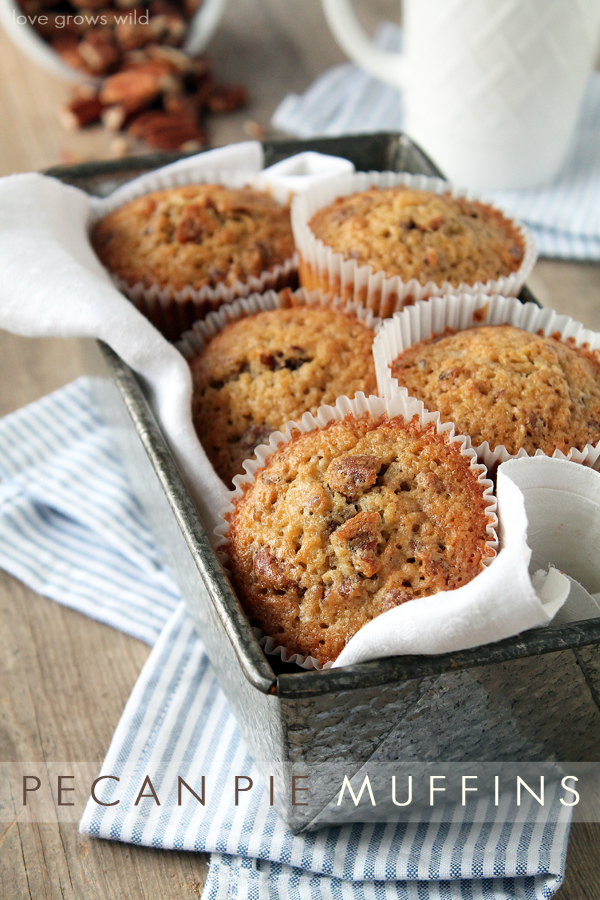 Are you a breakfast person? I definitely am. I may need a cup (or two) of coffee to wake me up first while I answer blog emails in the morning, but I need to get something in my belly before I'm ready to tackle the day. Particularly something that's super yummy. And mouth-watering. And makes me say, "ohhhh this is SO good!". And do you know what does that? These Pecan Pie Muffins! They are cakey and fluffy with plenty of crunchy chopped pecans and a wonderful sweetness that tastes just like a pecan pie only better!
So what do you think of when you hear the words Pecan Pie? My first thought is Thanksgiving, and I cannot WAIT to make these pecan pie muffins for Thanksgiving morning this year! You take the best part of the Thanksgiving meal (the dessert), and turn it into the most tasty, moist, delicious muffin you've ever eaten!
I do love pecan pie, but sometimes all that sugar surrounding the pecans is just too much for my taste buds. These muffins have all the flavor of the classic pie, but without biting into all that sugar. You just have to trust me on this one… they're awesome! And when they're fresh out of the oven and still warm… oh man, are they good!
I believe this muffin has your name written all over it… I saved it just for you!
Thanksgiving in a muffin. Pie for breakfast. Yep, I'm sold!
What I love most about this recipe is just how simple it is to make. A few easy steps, not that many dishes, and you have a fabulous breakfast to serve to your family or guests! You will absolutely love this spin on the classic pecan pie!
Pecan Pie Muffins
INGREDIENTS
½ cup butter, softened
¾ cup brown sugar
2 eggs, beaten
½ teaspoon vanilla
⅛ teaspoon salt
½ cup all-purpose flour
¾ cup chopped pecans
INSTRUCTIONS
Preheat oven to 350 degrees and line 8 muffin cups with paper liners.
In a medium bowl, add the softened butter and brown sugar and beat on medium speed until light and fluffy. Add beaten eggs, vanilla, and salt and mix until combined. Slowly mix in flour until combined. Stir in chopped pecans.
Spoon batter into 8 lined muffin cups about ⅔ full. Bake muffins at 350 degrees for about 25 minutes. Let cool 5 minutes in muffin pan and serve warm.