This week I've been working on a little mini makeover in the entryway. Later on in the week I'll have a bigger "reveal" to show you, but I didn't want to miss the opportunity to share one of my favorite decorating tips for instantly making a room feel bigger and brighter without any lighting or painting required…
… want to know how?
D E C O R A T I N G T I P :
Hang a mirror across from a window to bounce light around the room, making it feel both larger and brighter!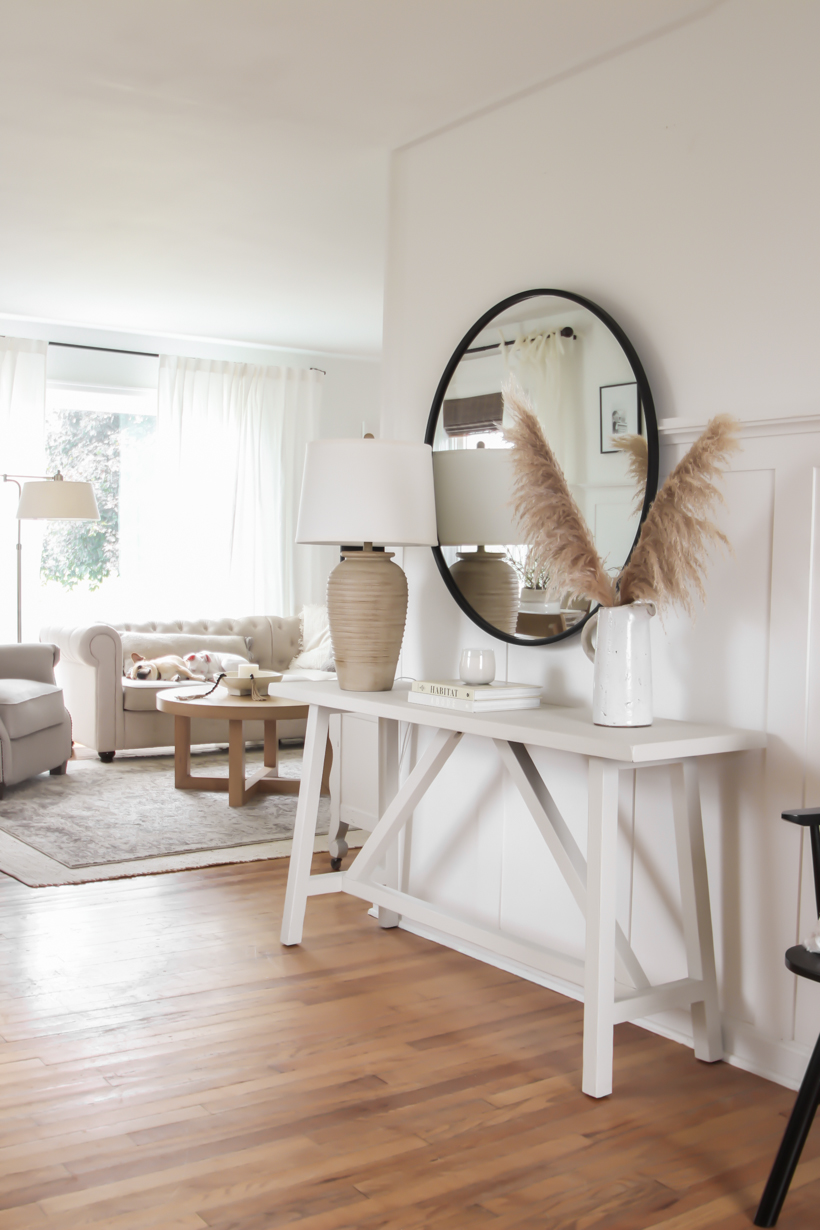 I moved a console table from my dining room into the entryway and decided to hang a simple round mirror on the wall above for two reasons:
a) I like having some kind of mirror in the entryway to make sure I don't have puppy hair all over me before I walk out the door
b) placing a mirror in this spot across from a window bounces a ton of light back into the room, making the whole space feel bright, clean, and spacious.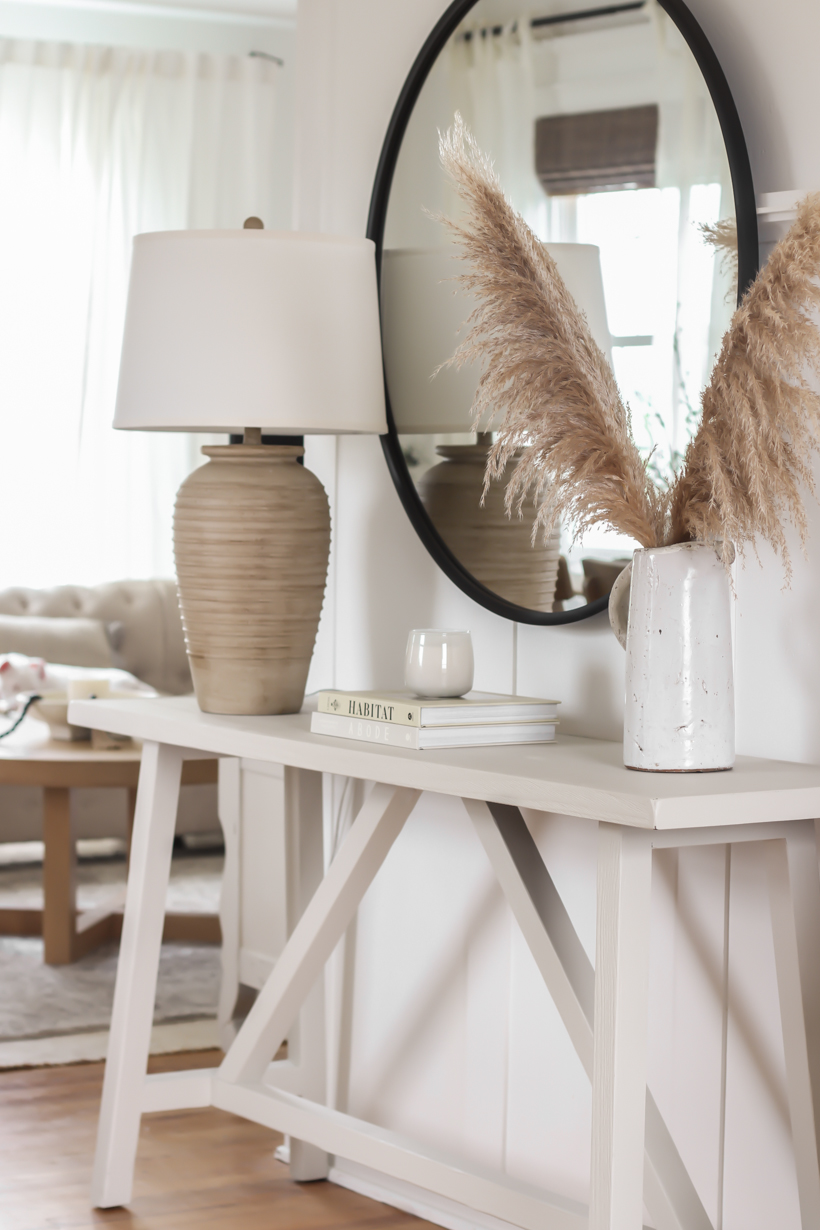 This tip works great in smaller rooms with little to no natural light, but you can use this trick almost anywhere in your house. It's such a simple concept, but never ceases to amaze me how adding a mirror can completely change the look and feel of a room.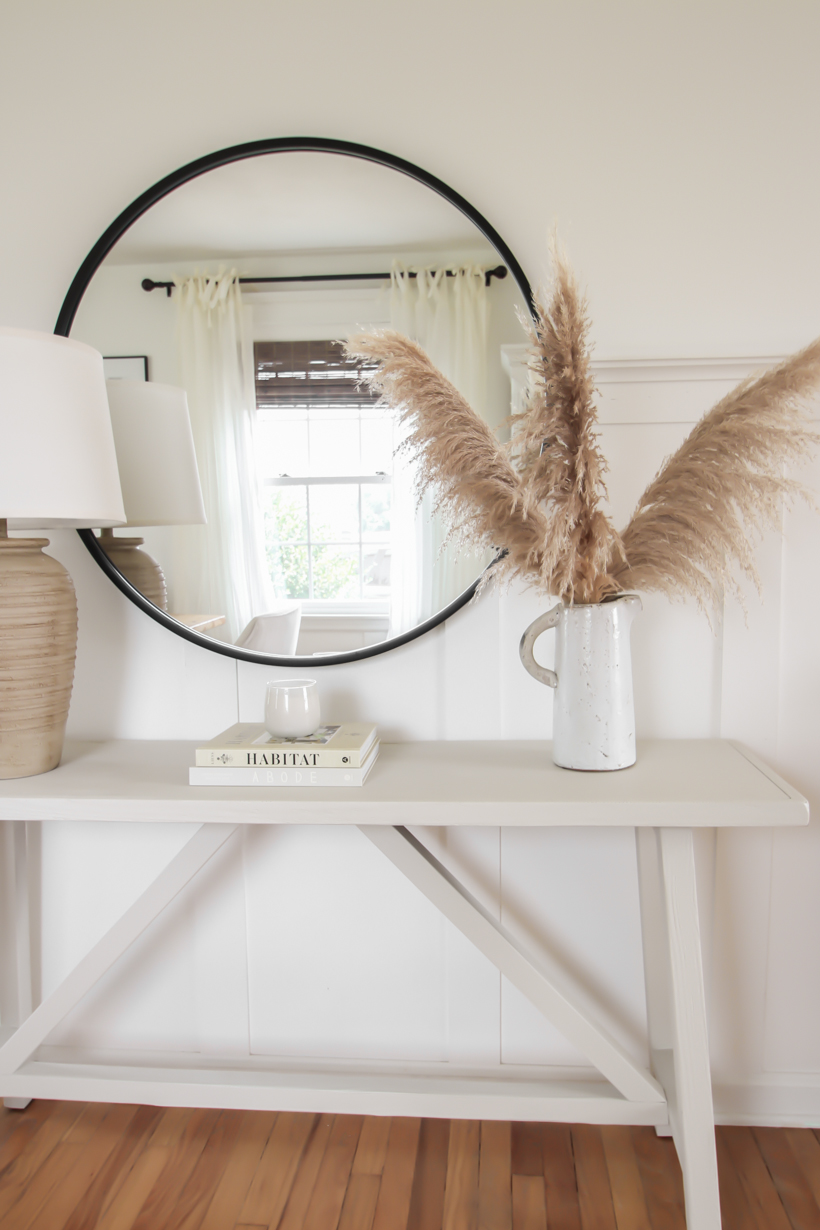 SOME OF MY CURRENT FAVORITE MIRRORS
click any photo below to browse or shop

---
SOURCES:
console table | lamp | mirror | pitcher
pampas grass | design books | base rug | top rug
coffee table | sofa | floor lamp
curtains | bamboo roman shade

---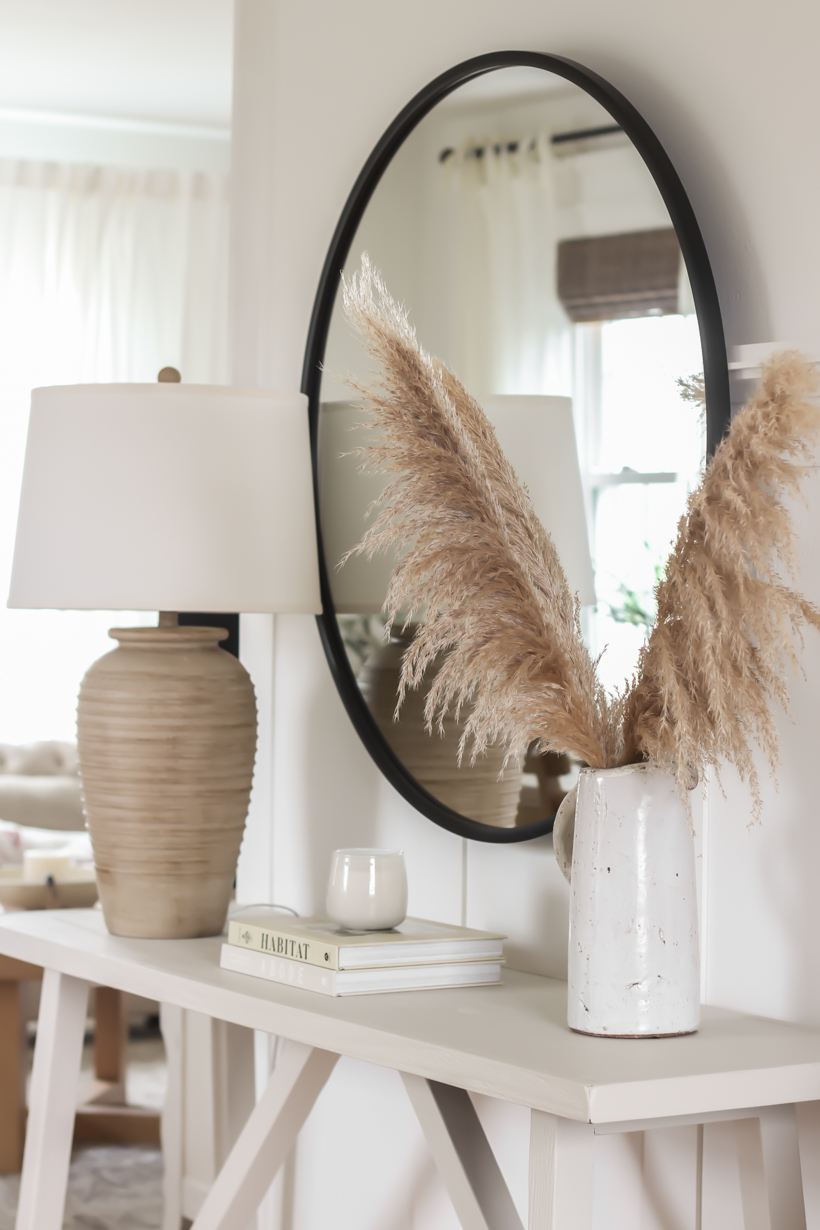 MORE SIMPLIFYING HOME BLOG POSTS:
The Best Way to Hang Curtains
Shelf Styling 101
The Easiest Way to Keep your Home Tidy
How to Make Design Mood Boards & Use Them to Decorate Your Home
The Simple Pillow Formula for Your Sofa
Beautiful Books for Styling your Home
and more!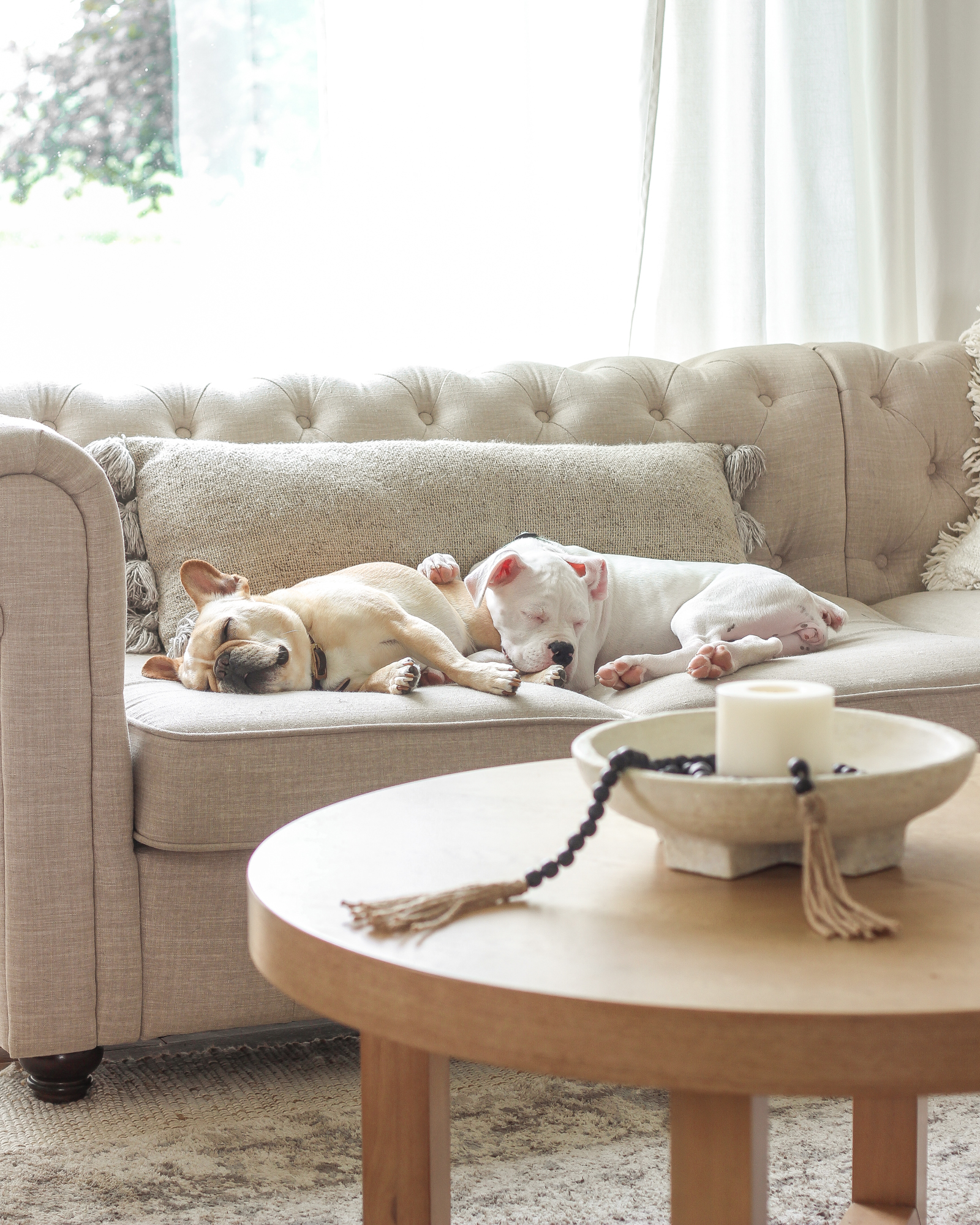 And if you happened to catch the two sleepy puppies snuggling in the background of these photos… here's the cutest photo of them all: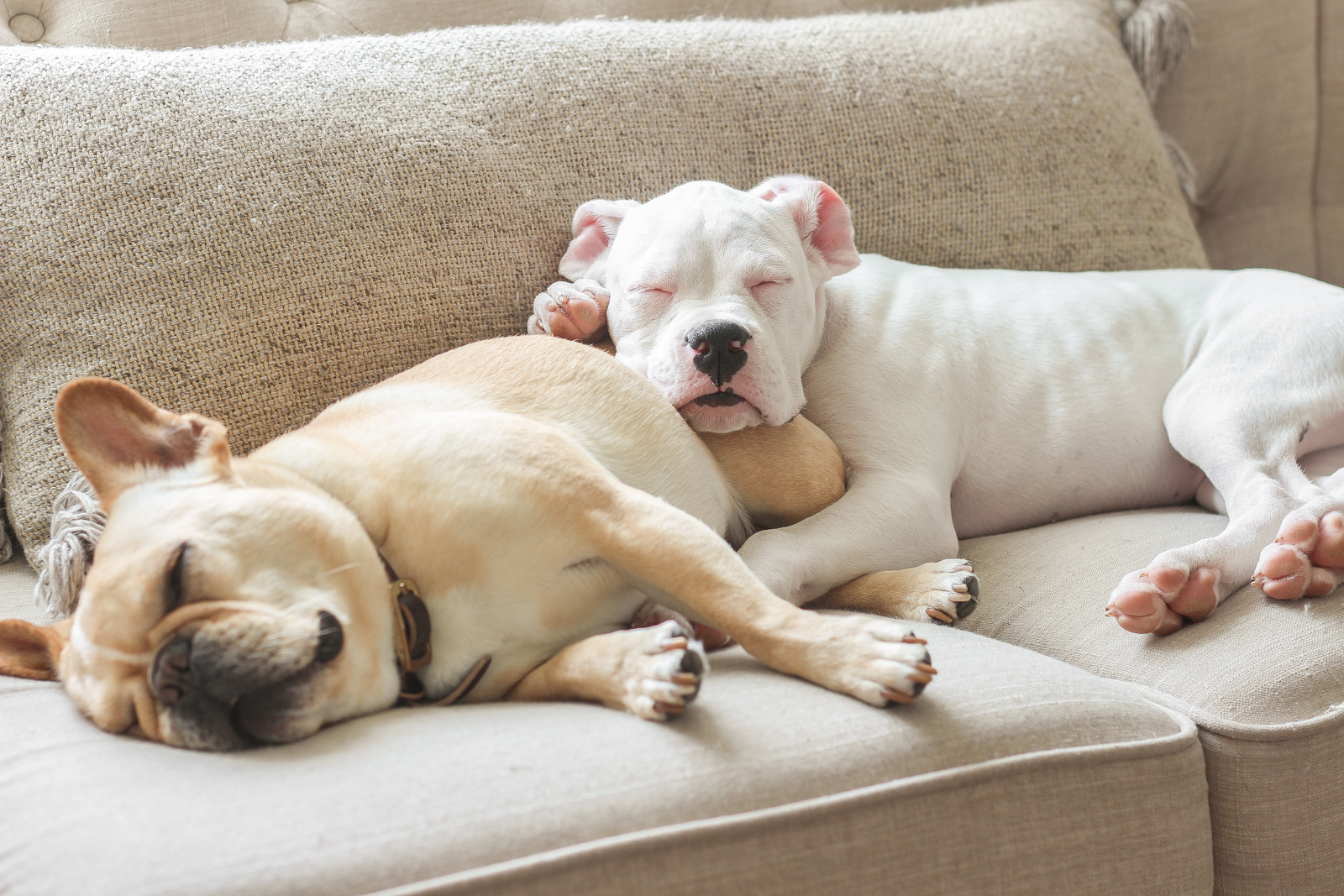 As always, I sincerely appreciate you shopping through the links I share, which allows me to make a small commission from your purchase while your purchase price stays the same. When you use my affiliate links, I'm better able to create content for this blog as well as support my family, and I thank you from the bottom of my heart for supporting what I do!
---
Subscribe to Blog | Follow on Instagram
Follow on Pinterest | Follow on Facebook