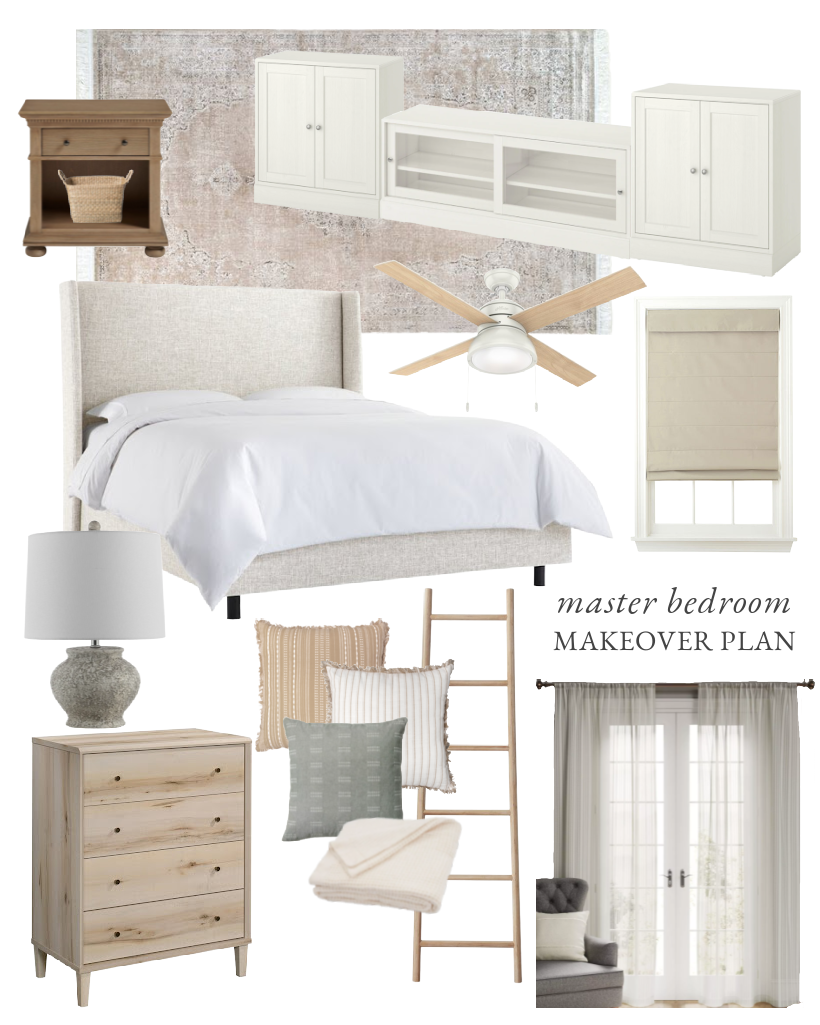 I think it's time. Six years after I first designed my bedroom, I'm ready for a change. Six years… my gosh where did the time go? If I'm being completely honest, I've been a little hesitant to fully commit to making any big changes in this room. It was the first space I really felt like I designed. It was perfect in my eyes. It's the one room in the house that I never felt the need to update or change because it just felt so perfectly beautiful and cozy right from the beginning. And once I shared it on the blog, it became the most viewed, most pinned, most loved, and most recognizable space that people instantly associated with "Love Grows Wild".
The shiplap, the faux beam on the ceiling, the iron bed, the gold and crystal light fixture… everyone loved this little space I created. And so did I.
A lot can happen in six years though, and through divorce, a whole lot of healing, rediscovering myself, and learning to not only stand on my own two feet, but to THRIVE on my own again, I'm not the same person I was back then.
I'm a full believer in the spaces you create around you being a reflection of who you are and where you are in life, and it was time I embraced that in the most personal space in my home: my bedroom. I hope you're as excited as I am to work on this next big project with me. Let's dive into plans for my master bedroom makeover…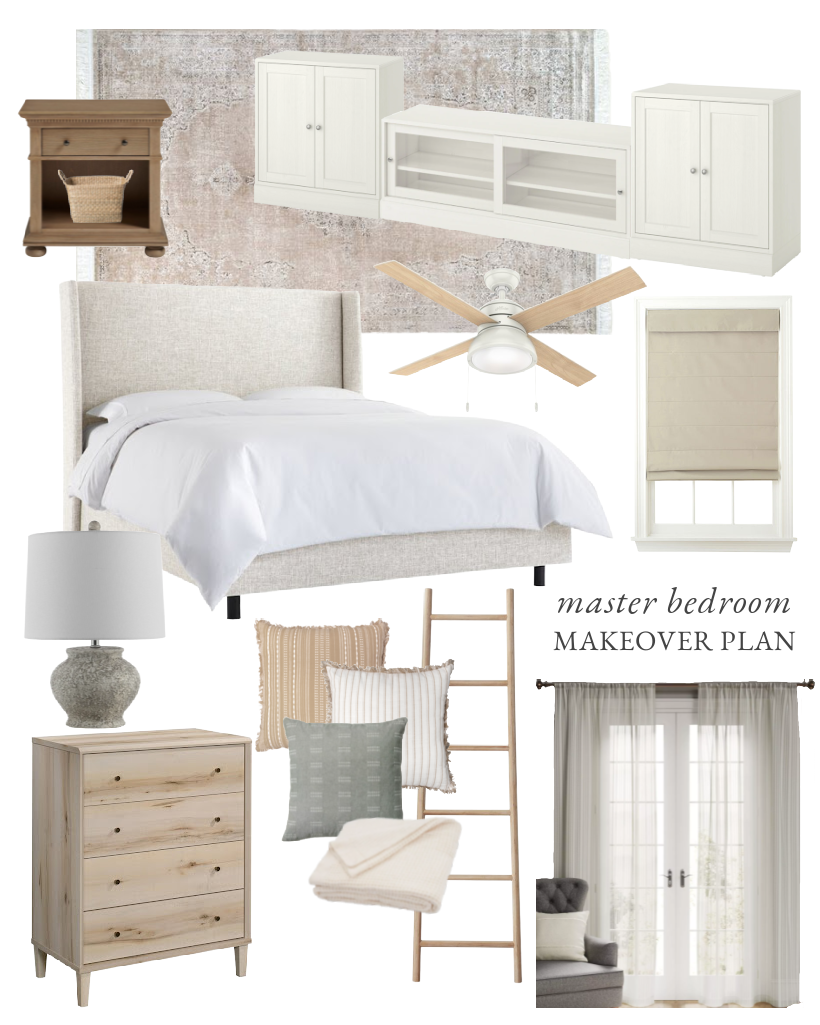 Before we get too far, let's take a look back on where this space began: an attic we turned into a bedroom. Awkward angles and little nooks, freshly painted gray walls, and zero furniture.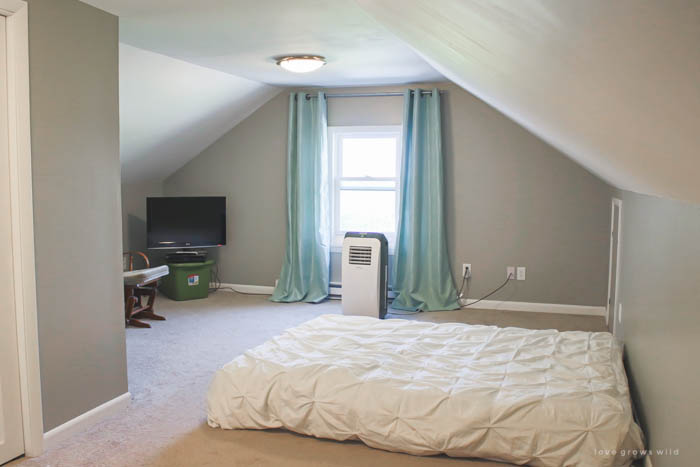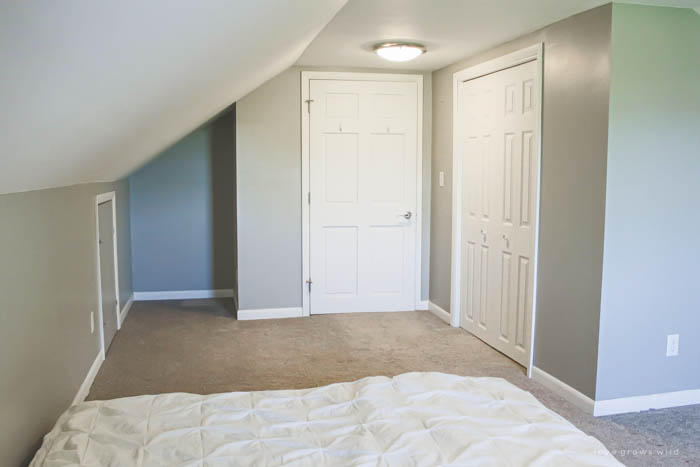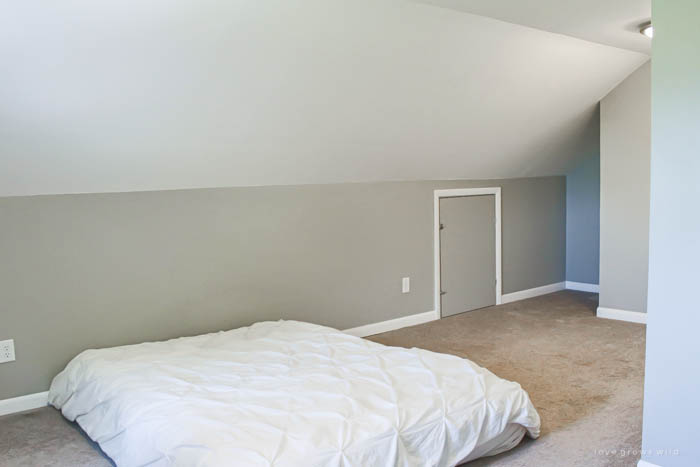 My first vision for the room was wide plank white shiplap and lots of it. We used inexpensive flooring underlayment ripped down into 8″ planks and covered every single surface except the ceiling. Budget was pretty tight back then, and using the flooring underlayment made a huge impact for not a lot of money. You can read more about installing the shiplap here.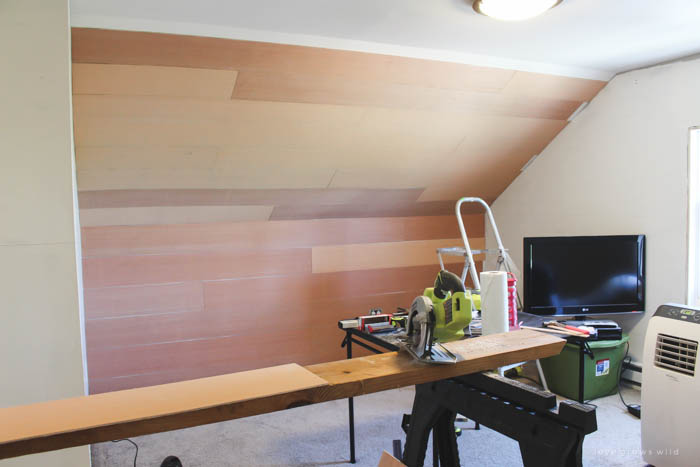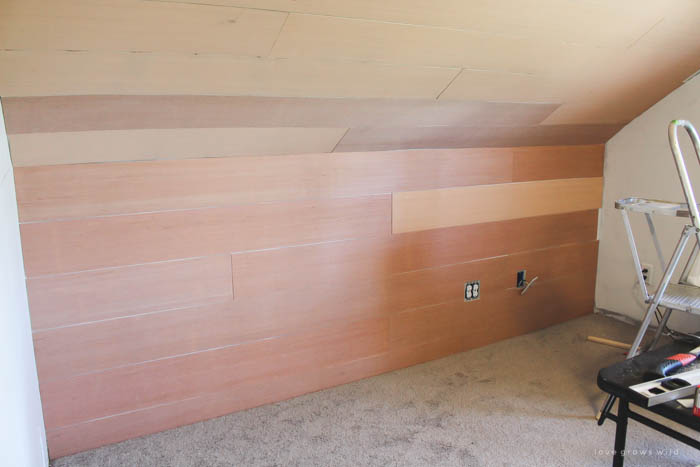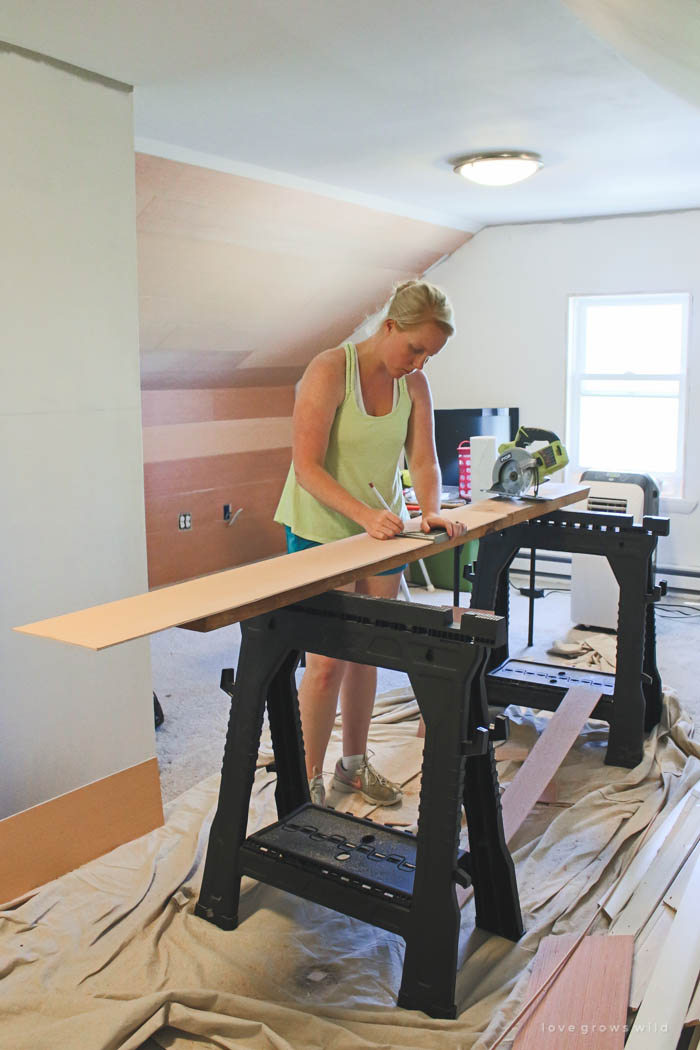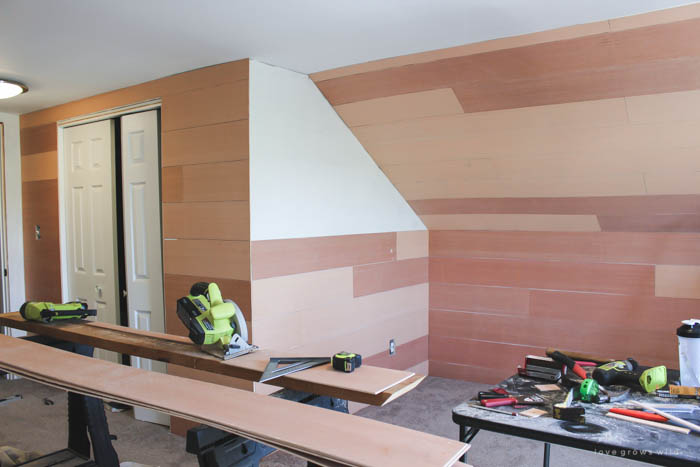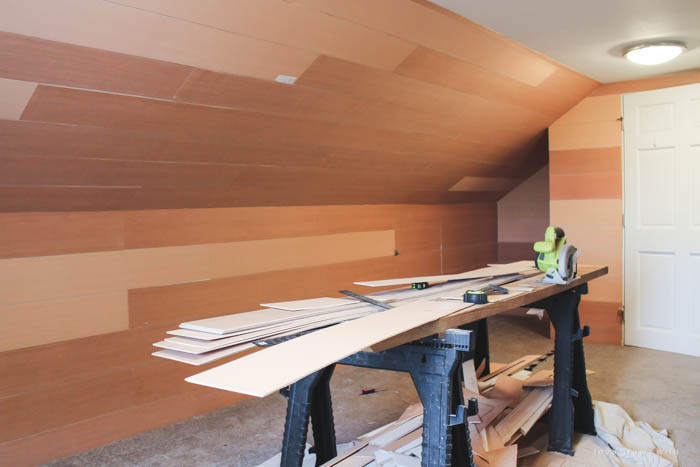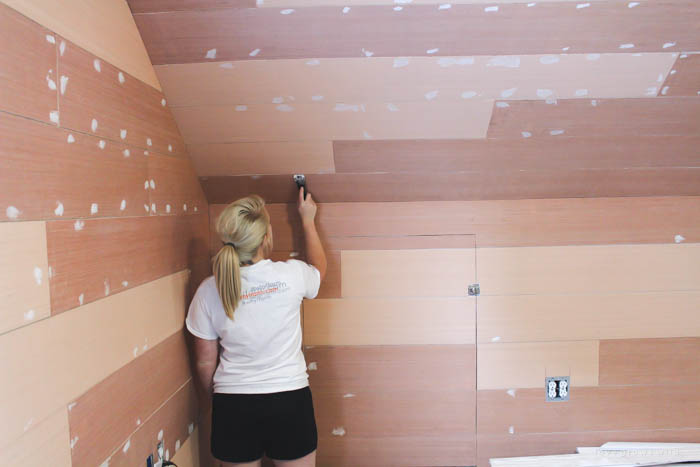 After filling a million nail holes and paint (I used Dove White by Valspar), it was time for furniture and finishing touches. I came up with the idea to have the bed in the little nook beside the closet and create a faux wood beam on the ceiling to hang a curtain from that would drape down on either side of the bed. It was one of those ideas that I could just picture in my head and knew how magical it would be before we even started. You can see the details of the faux wood beam here.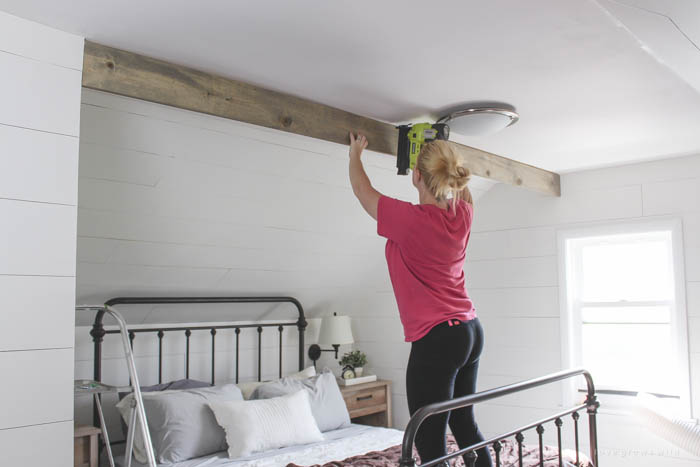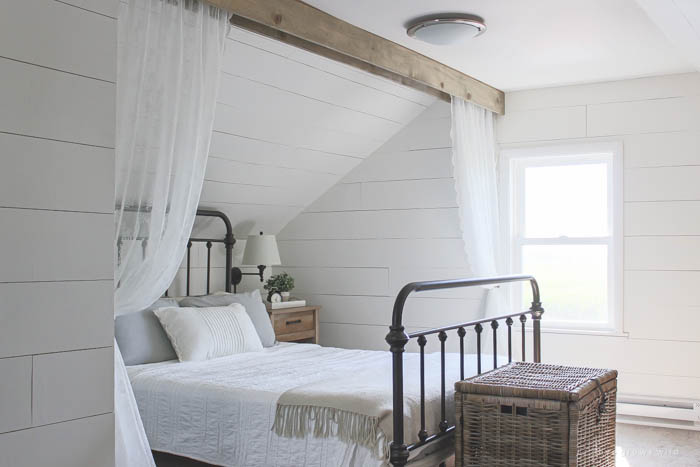 Here are some of the looks this room has had over the years…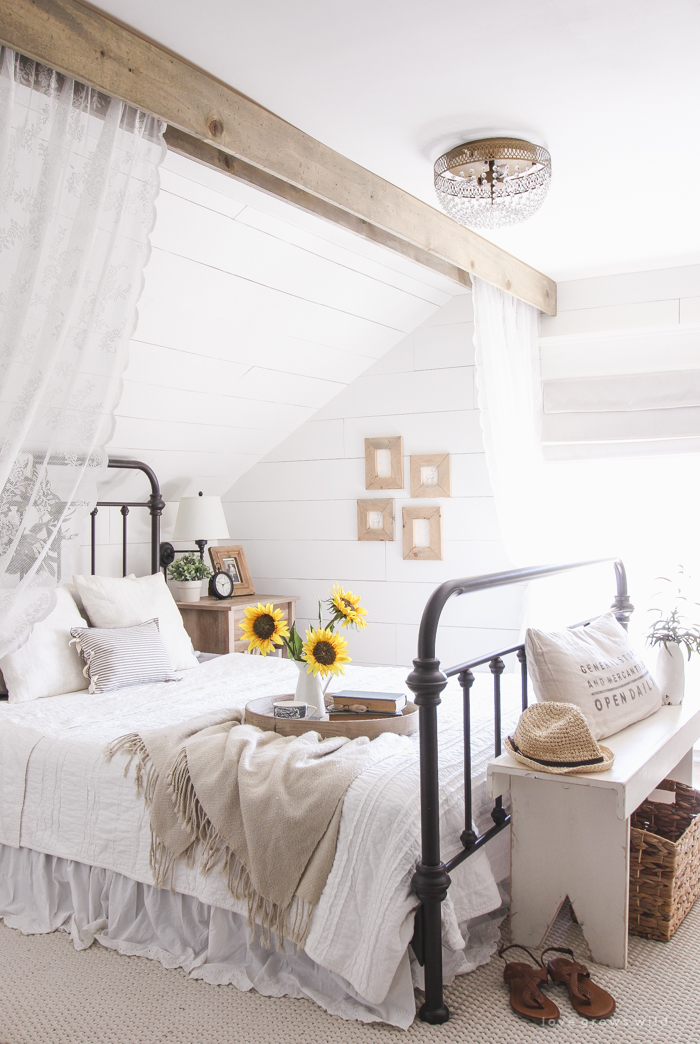 find more details on this photo here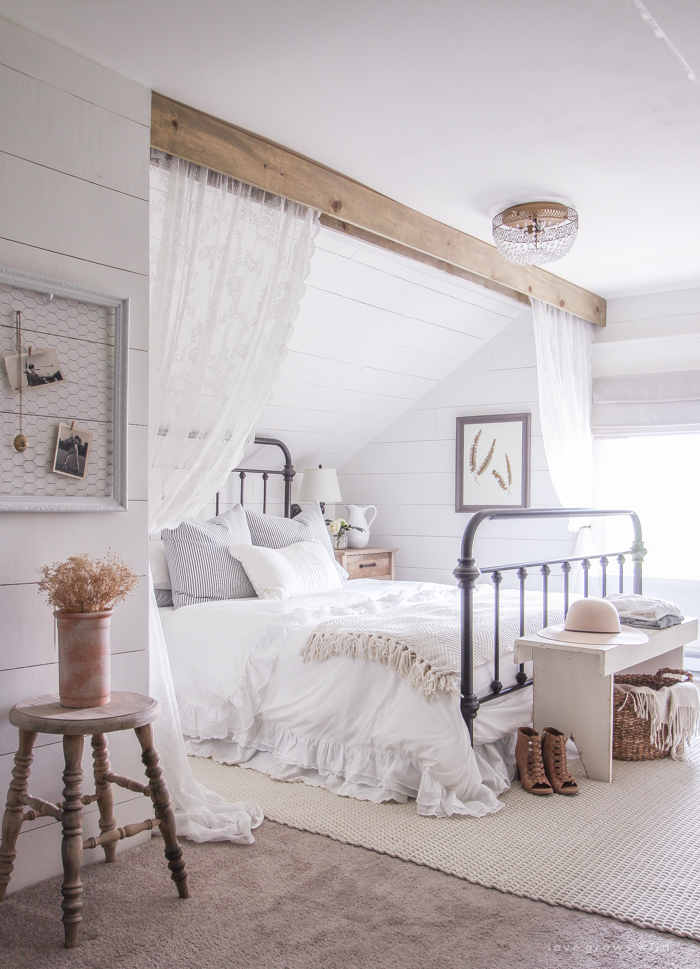 find more details on this photo here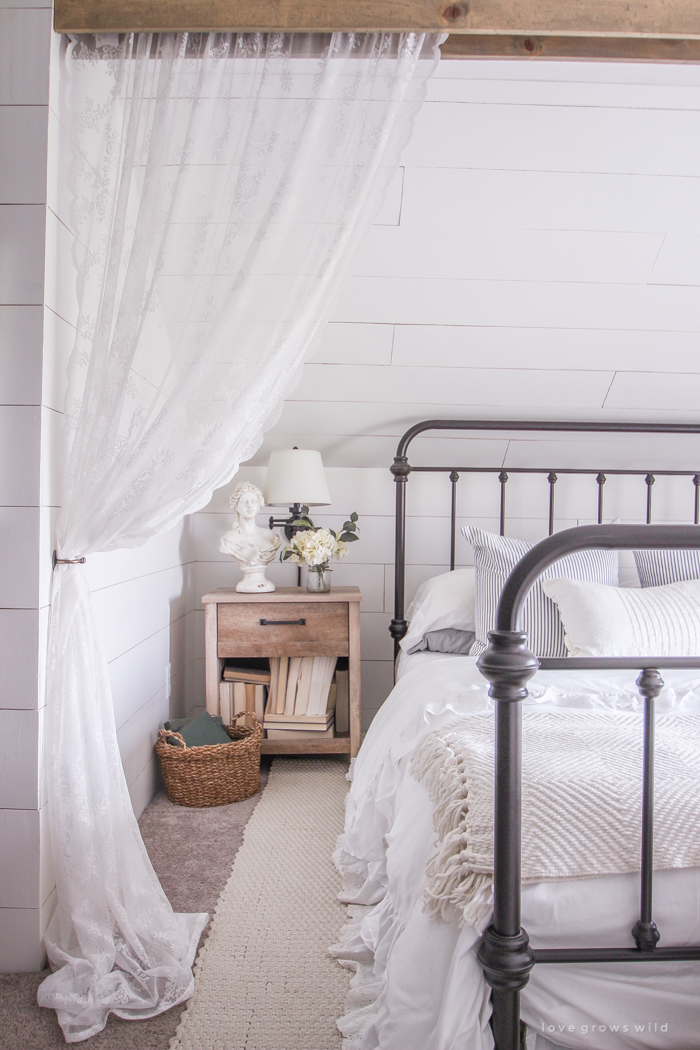 find more details on this photo here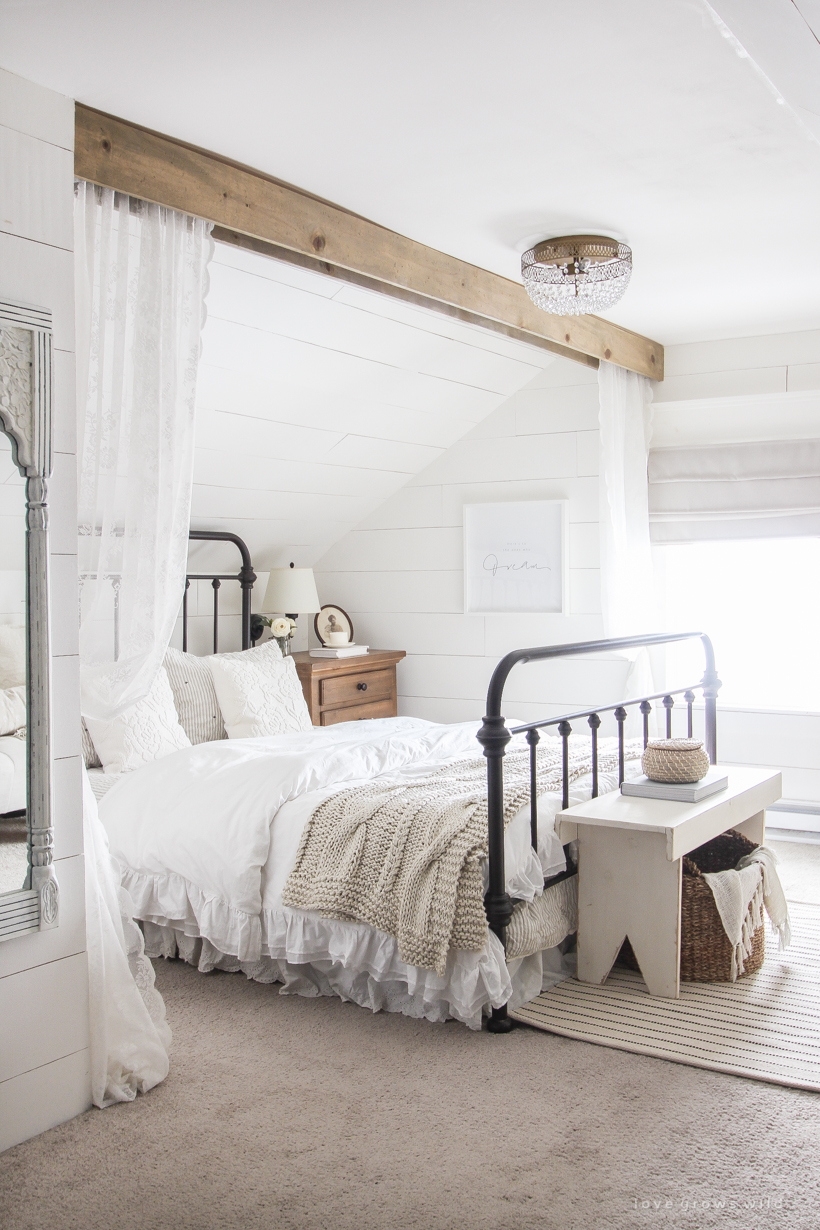 find more details on this photo here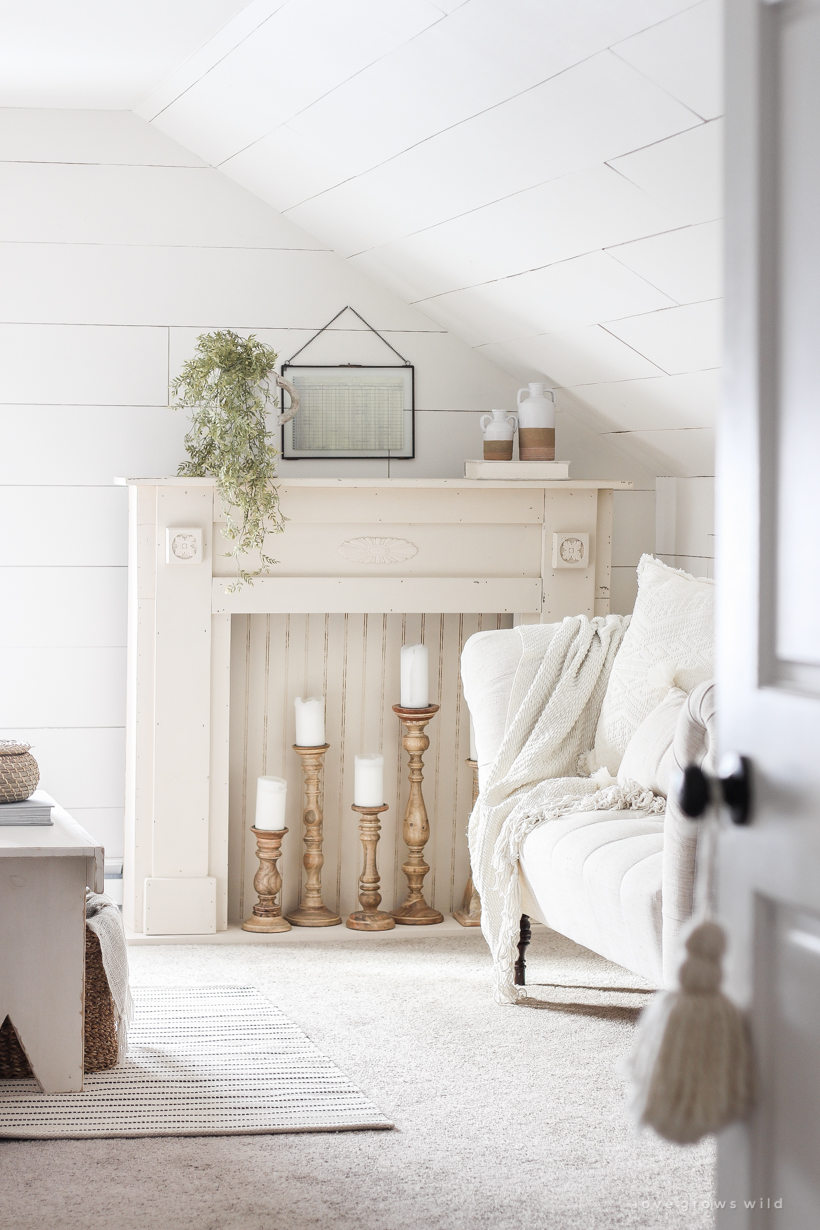 find more details on this photo here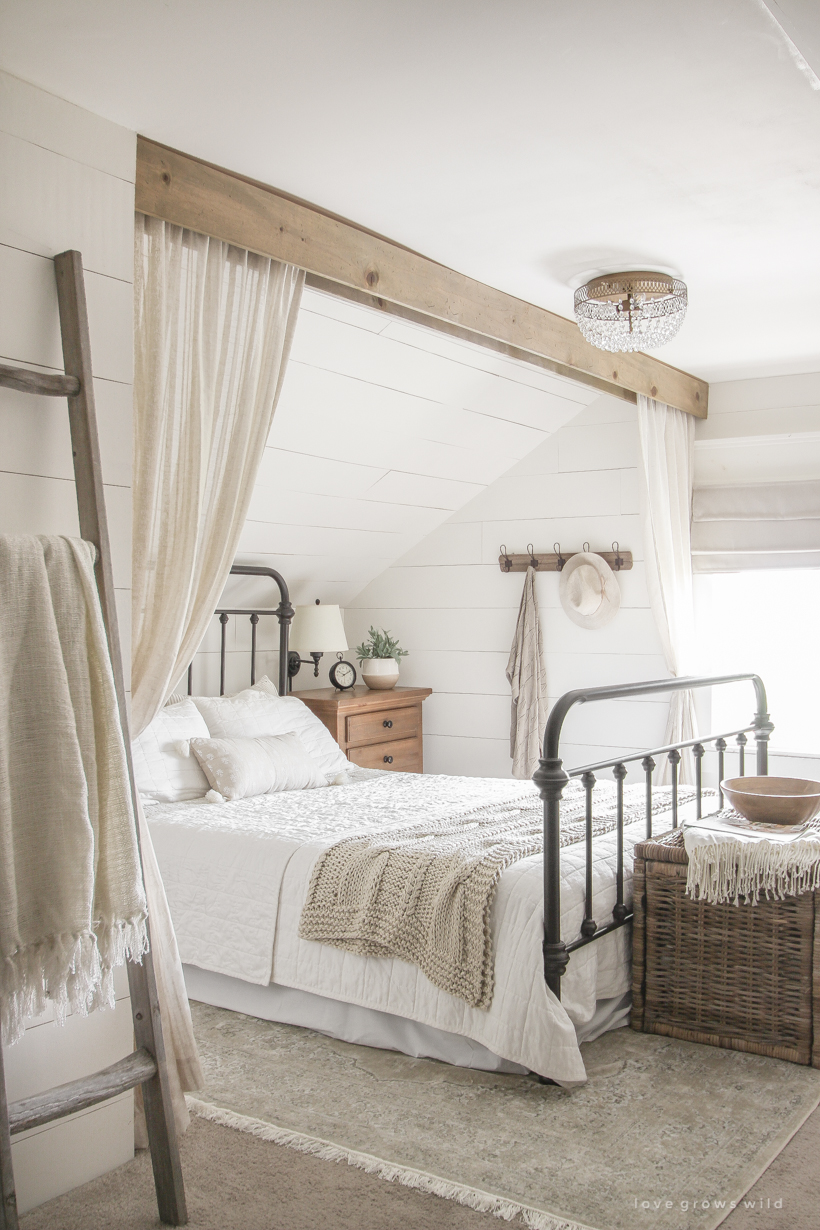 find more details on this photo here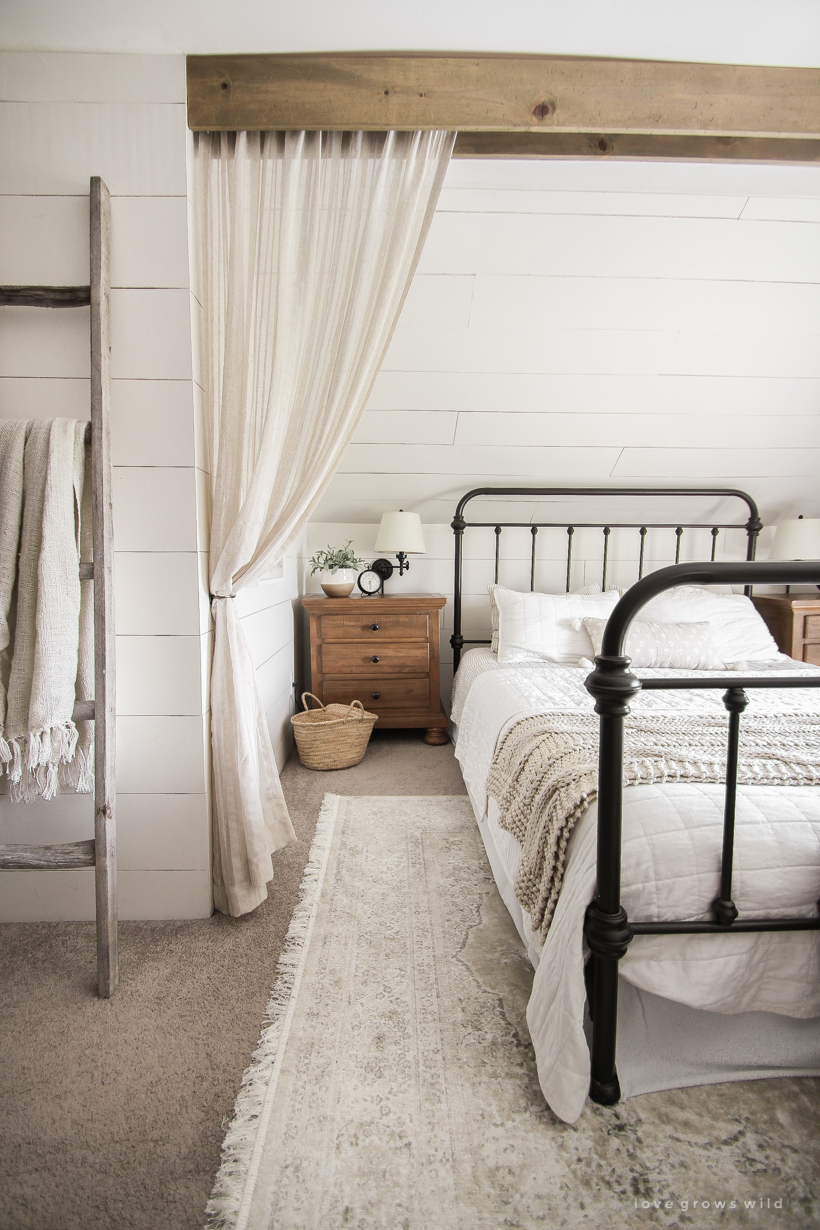 find more details on this photo here
Now that you've seen where this room has been, let's talk about the direction it's heading in…
Besides just being ready for a change, there are several specific things I wanted to update. First, my bed. I absolutely love the look of this iron bed frame and have zero complaints about it, but I do want something a little softer and more cozy. I was hoping to find a bed that would eliminate the need for a bed skirt because they are somewhat a pet peeve of mine, and after redoing Alec's room, I love the way his bed frame looks without one. Also, it's a little hard to snuggle up and watch movies with the boys with a big metal footboard in the way.
I also want to see how the bed would look on the opposite wall, placing either dressers or some kind of media console for a TV in the little nook instead.
Also, I can't believe I'm saying this, but I've officially hit the age where a ceiling fan in my bedroom is a MUST. I sleep so much better having a little bit of a cool breeze on me so I can be snuggled up nice and cozy underneath the covers. In order to make that happen, I will have to take down the faux wood beam and curtain to make enough space for a ceiling fan. I already know this will be the most controversial part of the makeover, but I'm ready for a little more of a simple, cleaner aesthetic, and also the drywall anchors holding the beam up are starting to pull out of the ceiling… so there's also that. 🙂
But don't worry… I have a little plan for those curtains I'll be taking down! Here are the sources from my bedroom makeover plan so far: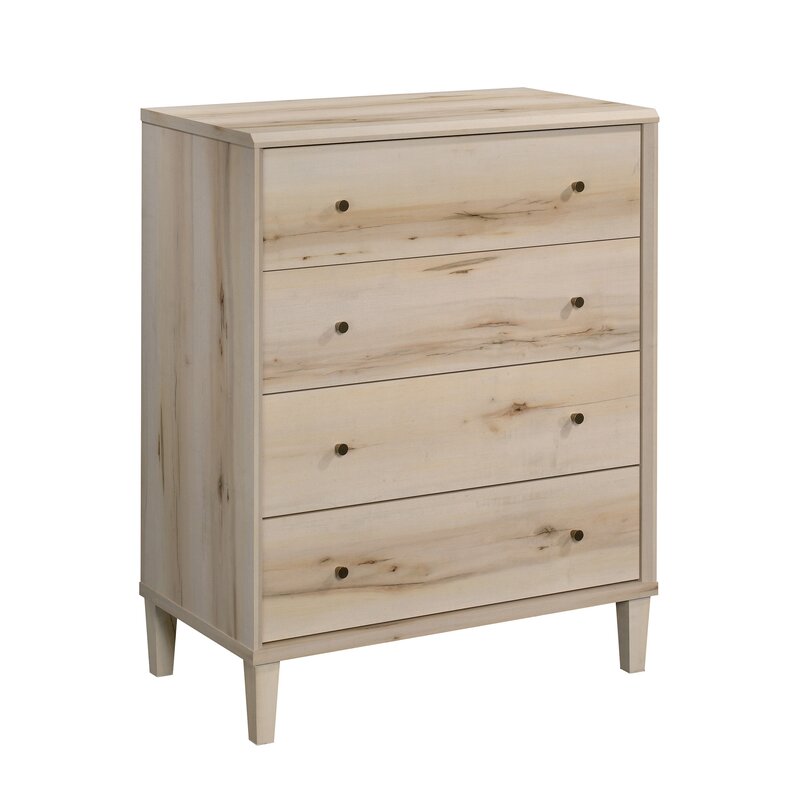 4 drawer dresser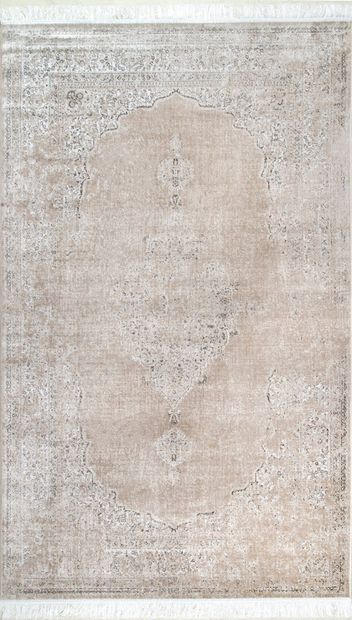 area rug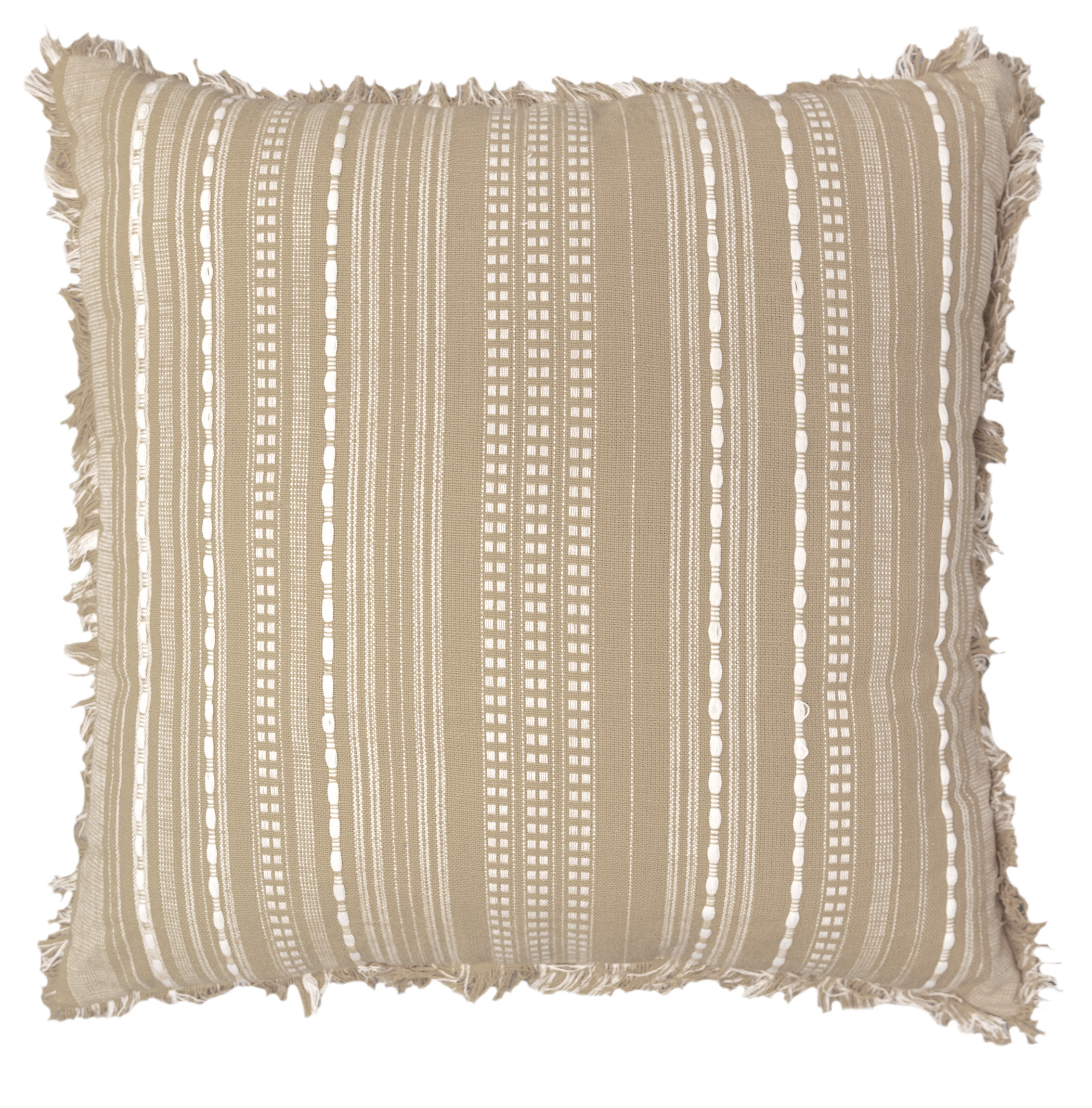 pillow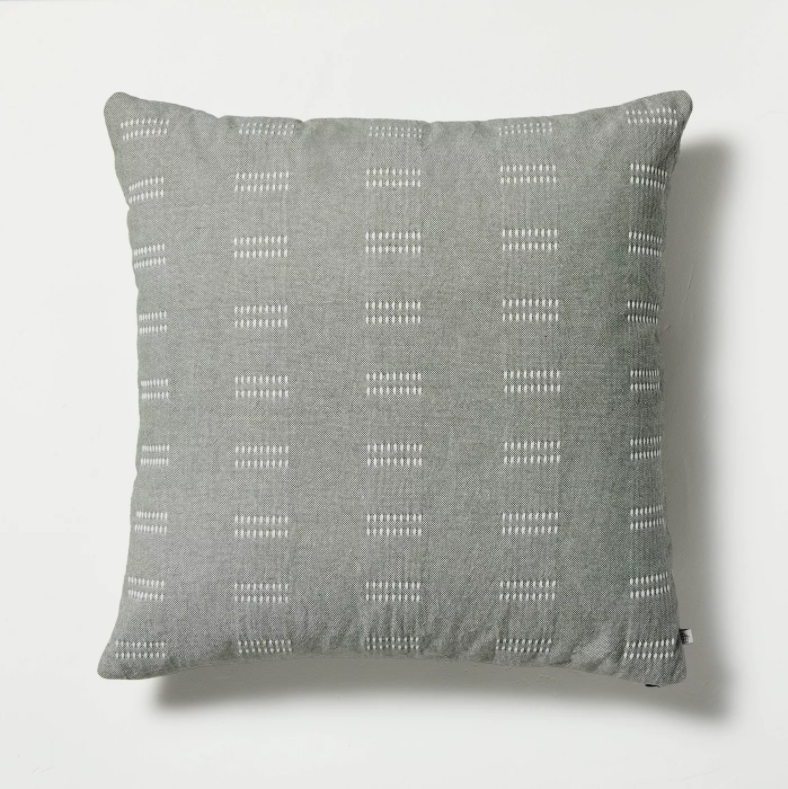 pillow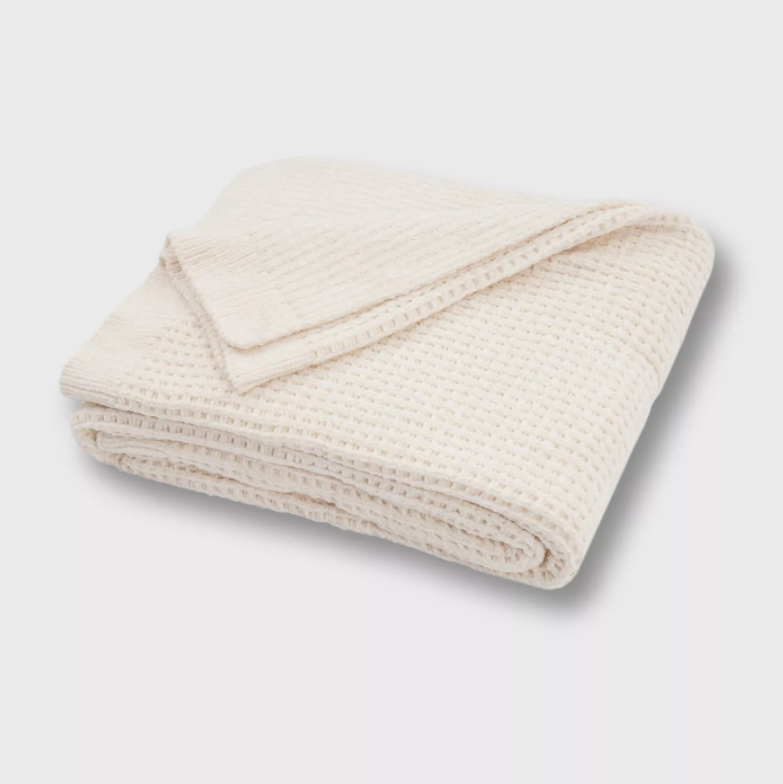 throw blanket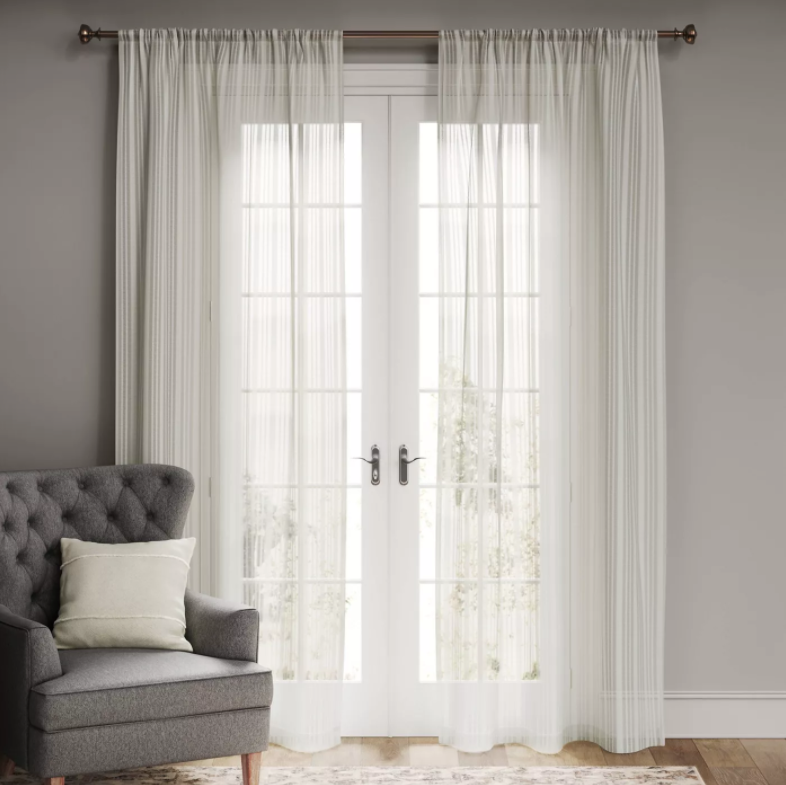 curtains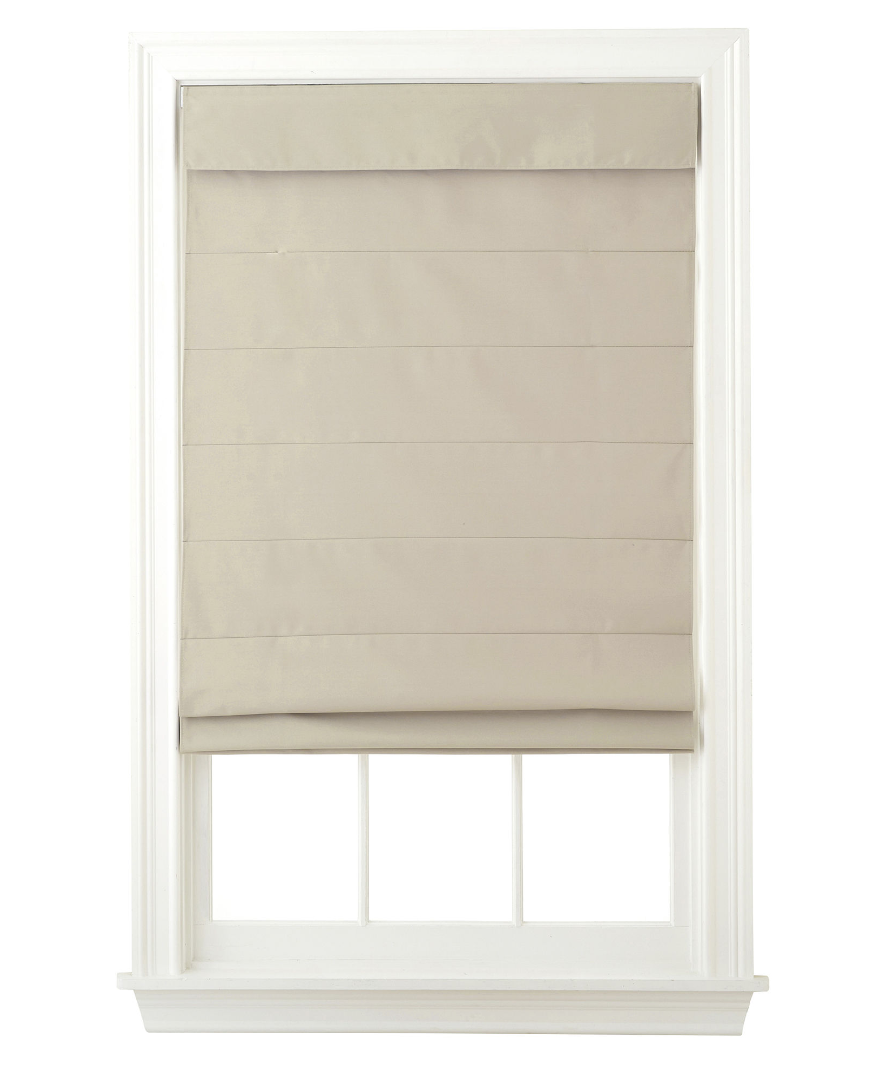 roman shade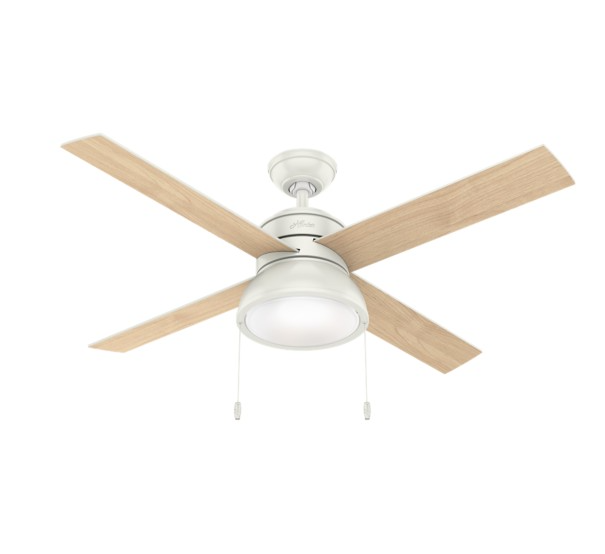 ceiling fan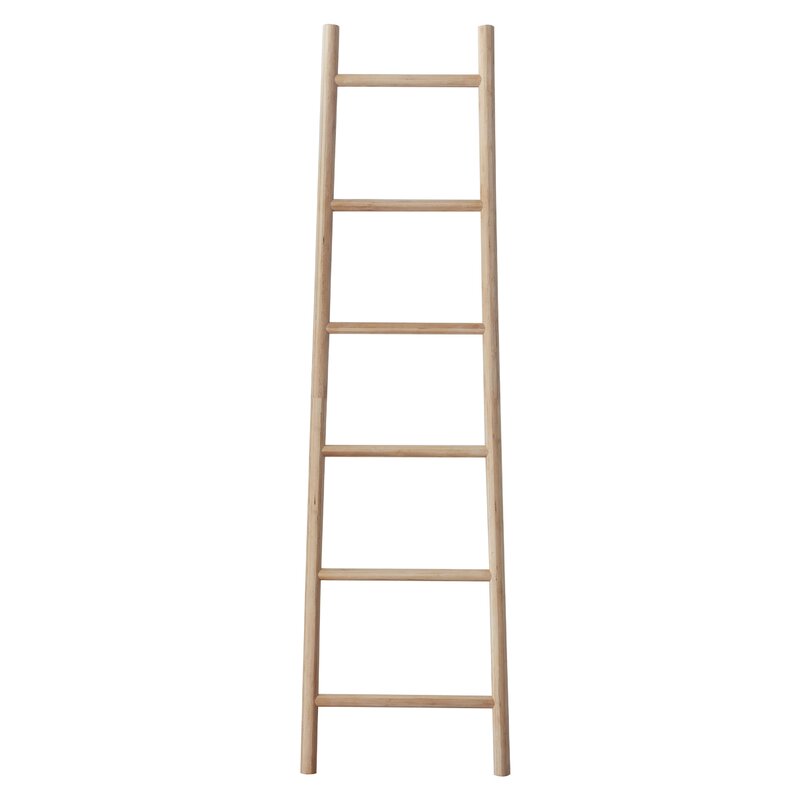 decorative ladder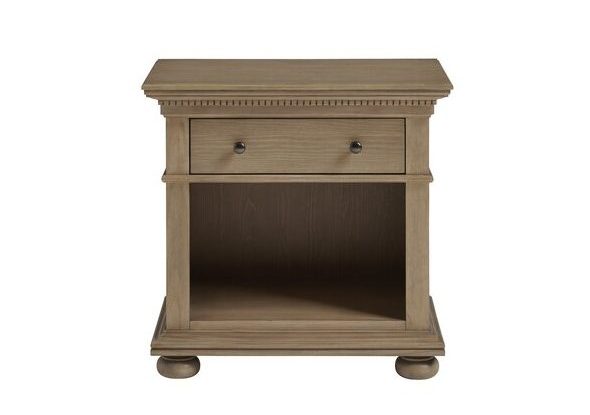 nightstands – not exactly what I currently have, but similar
I cannot wait to share with you more progress and updates from this makeover! Thank you for being here today, sweet friend. xoxo Liz
---
SHOP THE POST:

---
Subscribe to Blog | Follow on Instagram
Follow on Pinterest | Follow on Facebook