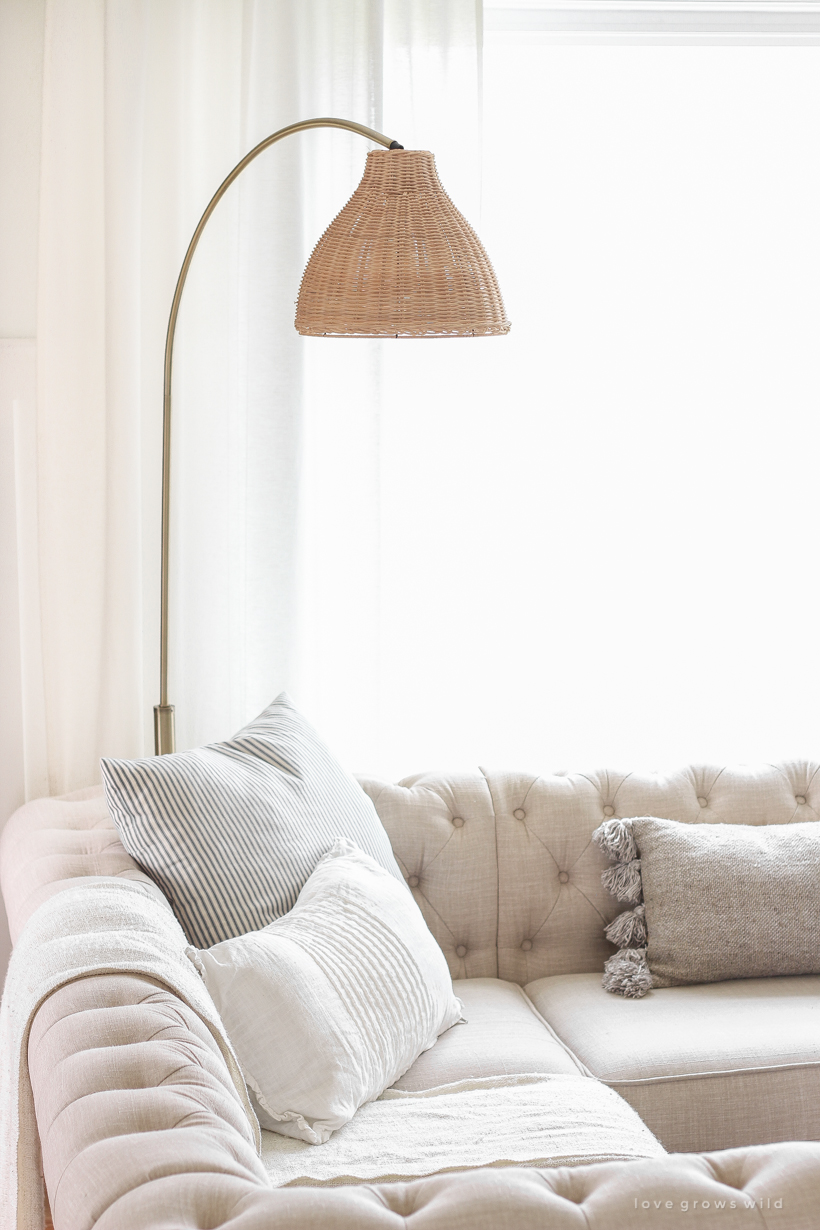 In partnership with Walmart // Let's talk floor lamps! I don't know that I've honestly ever found one I loved enough to use in our home. I've tried one or two in the past, but for some reason they stick out like a sore thumb and look so awkward in our living room. I suppose I never found the right one because this beautiful antique brass and rattan lamp I just bought is PERFECTION and makes this space even more cozy, and I bet you'll never guess where it came from!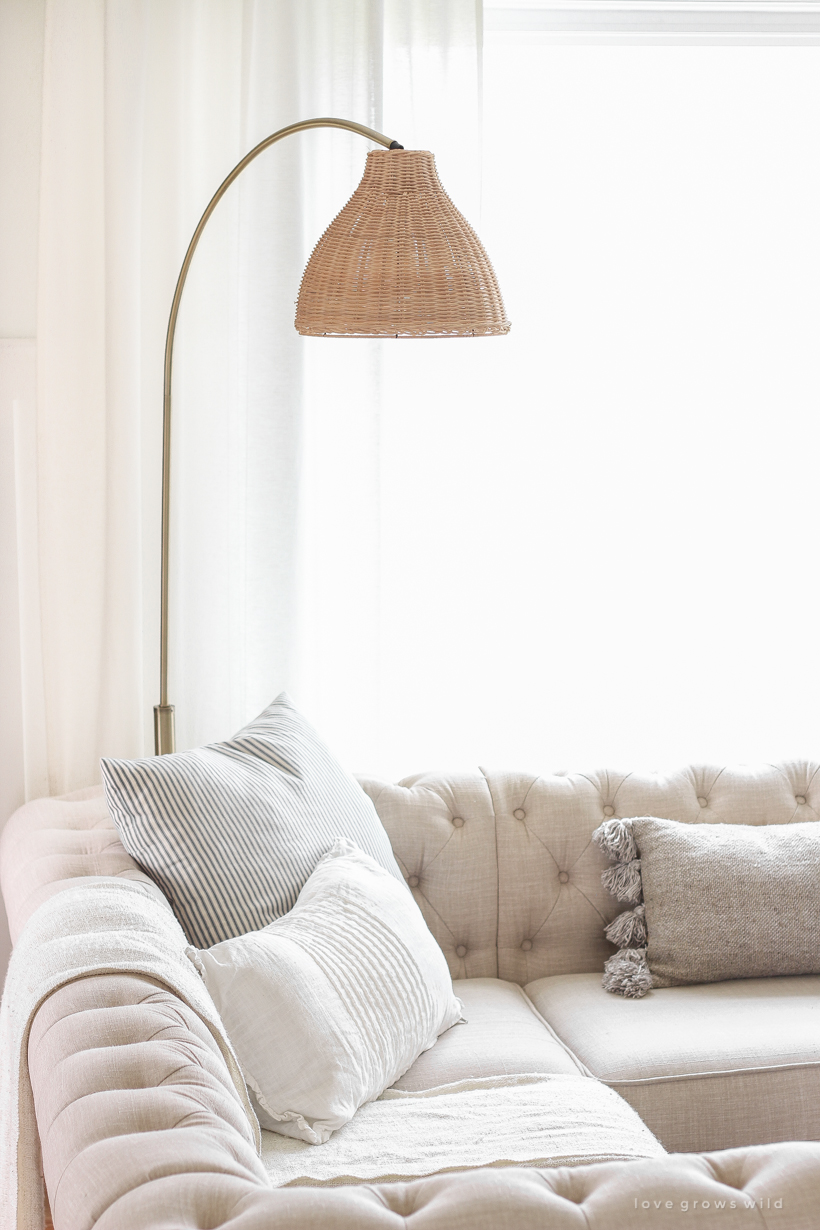 Note: Some of the links in this post are affiliate links, which allows me to make a small commission from your purchase, but your purchase price stays the same. When you use these links, I'm able to keep this blog going and make it better, so thank you from the bottom of my heart for your support!
I shared in my post last week that I want to be better about documenting all the little decorating and design steps in between the picture-perfect photos and big reveals. Thank you for all your love and feedback on that perspective! So even though the living room changes are still FAR from finished, I wanted to show you guys this incredibly gorgeous lamp from Drew Barrymore's new home decor collection with Walmart called Flower.
I don't think I've ever seen a floor lamp with a rattan shade like this, or at least not for this price. The rattan adds another layer of texture to the space, and the antique brass metal finish and curved pole are much softer than a lot of the modern floor lamps I've seen. We don't have a lot of room for end tables in our living room, which limits where I can place table lamps in here, and did I mention there is no overhead lighting in this room? Adding this beautiful floor lamp was the perfect solution! And if you're lucky enough to have a place for it, there is also a huge rattan pendant light in the collection that I am absolutely dying over and is even less expensive than my lamp. It would be SO good in a kitchen to bring a little bit of a natural element in with all the stone, metal, and tile! I also love this round jute rug, these woven macrame baskets, this framed tree art, and this antique brass oval mirror.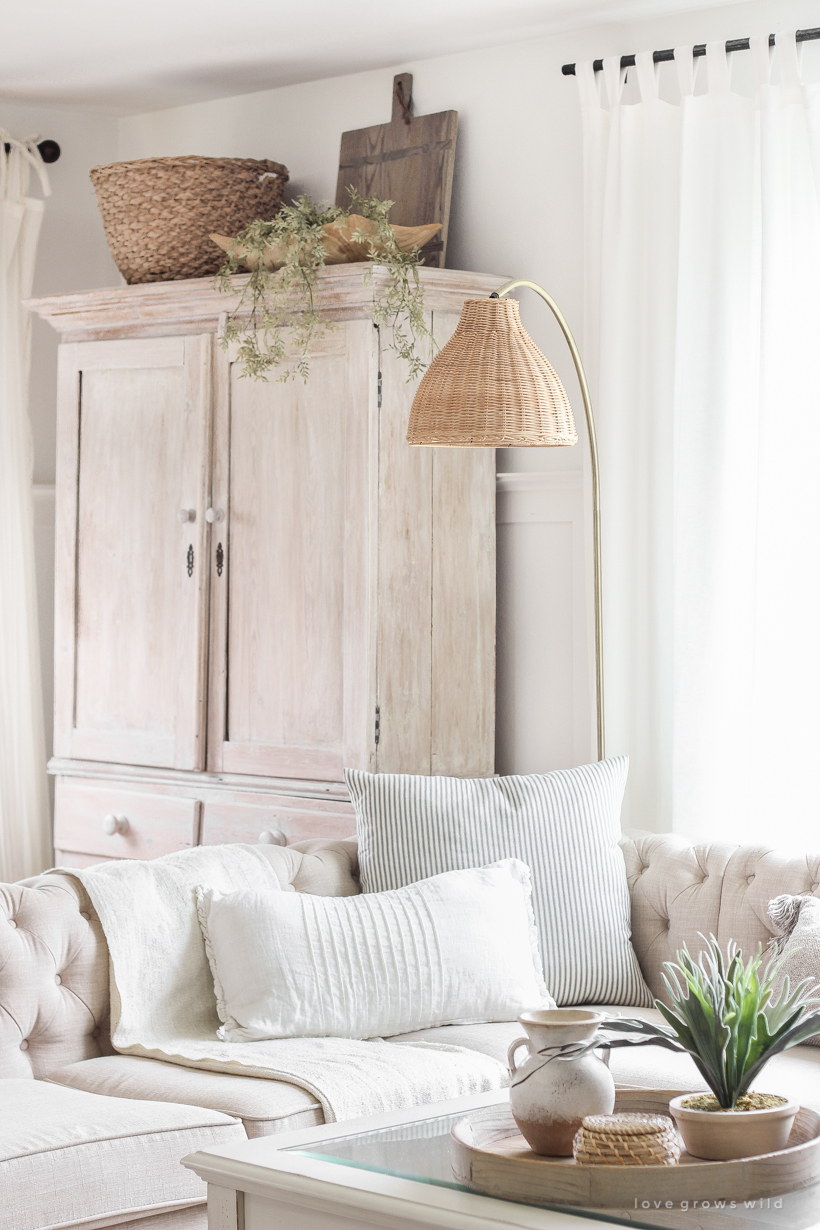 Drew's Flower Home line is very eclectic with a lot of bold, beautiful, rich colors, but there are also a lot of pieces that work well with my more neutral, cozy style as well. Tons of texture, botanical elements, a little bit of boho, and all the blush and green you can imagine. I've shared some of my favorite pieces from her new collection at the end of this post to give you a better idea of what the line looks like, but I can definitely tell you that the pieces are unique and quality, the prices are fantastic, and the branding and packaging are on point. Even the shipping box the lamp came in had green leaves running down the tape, and I'm a total sucker for good branding!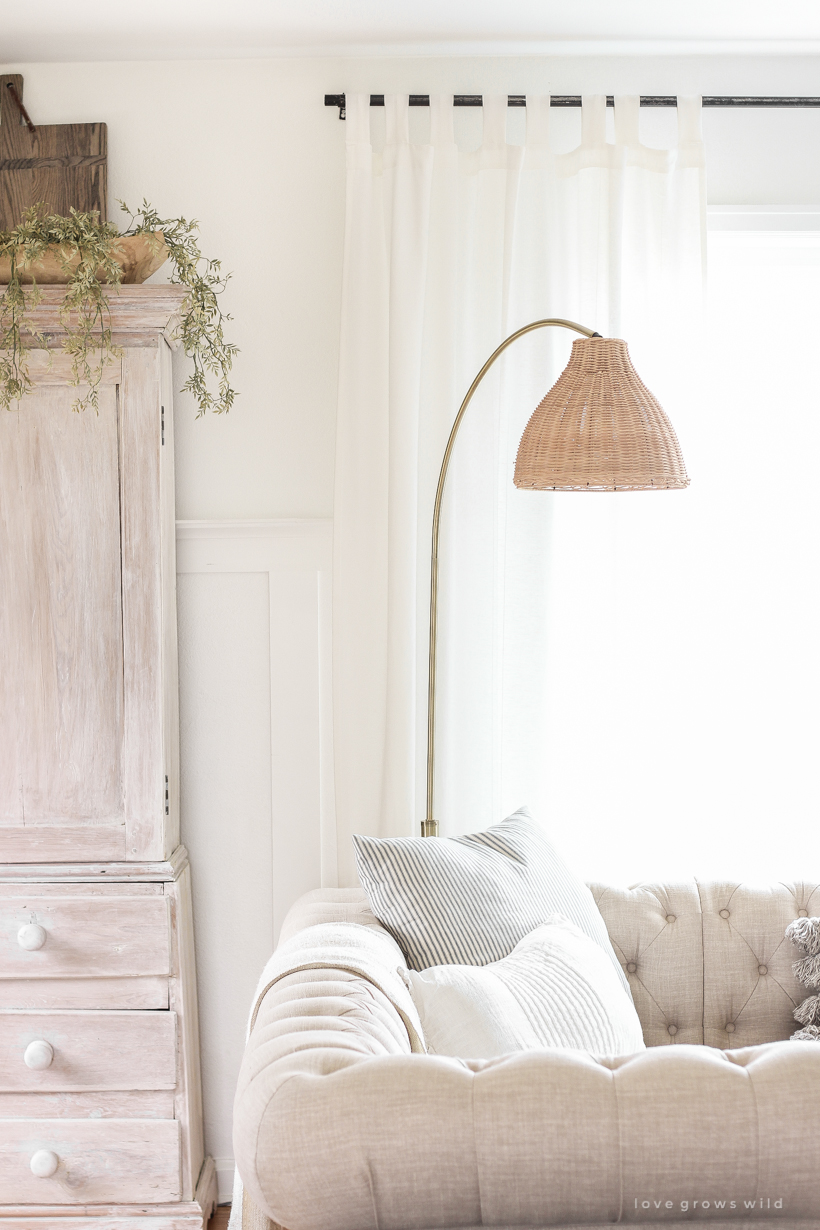 One thing I want to note is when I assembled the lamp, which was very simple by the way, the rattan shade originally hung down about a foot or so with the cord showing, but I didn't like the way the cord looked. It looked disjointed somehow from the shade to the pole. But the lamp is made so you can pull the cord down through the pole and shorten up the distance the shade hangs, which is how I have mine shown here. Since this lamp is hanging over the sofa, I didn't want the shade hanging low anyway where someone would knock into it. It's a very simple adjustment though!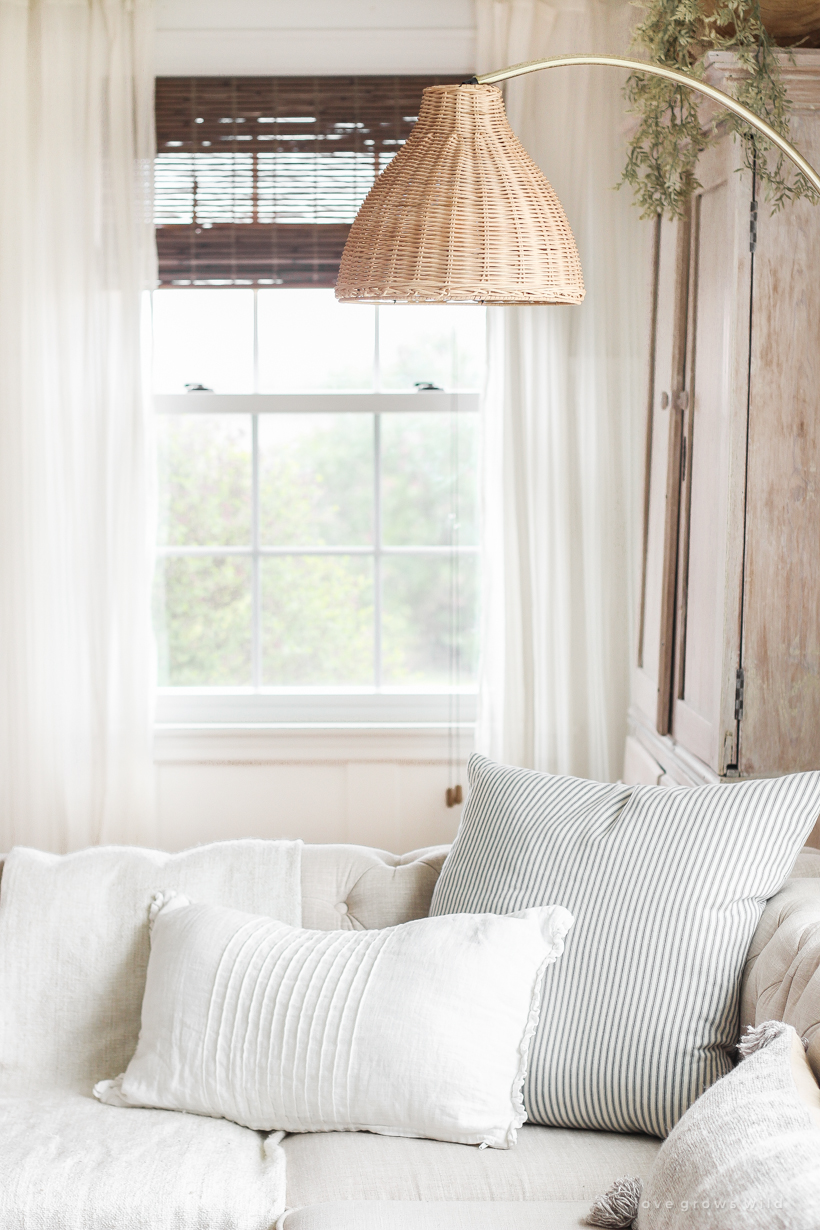 You can see more details of the living room here, and keep scrolling to see my favorite pieces from the Drew Barrymore collaboration with Walmart! P.S. You get free shipping on orders over $35!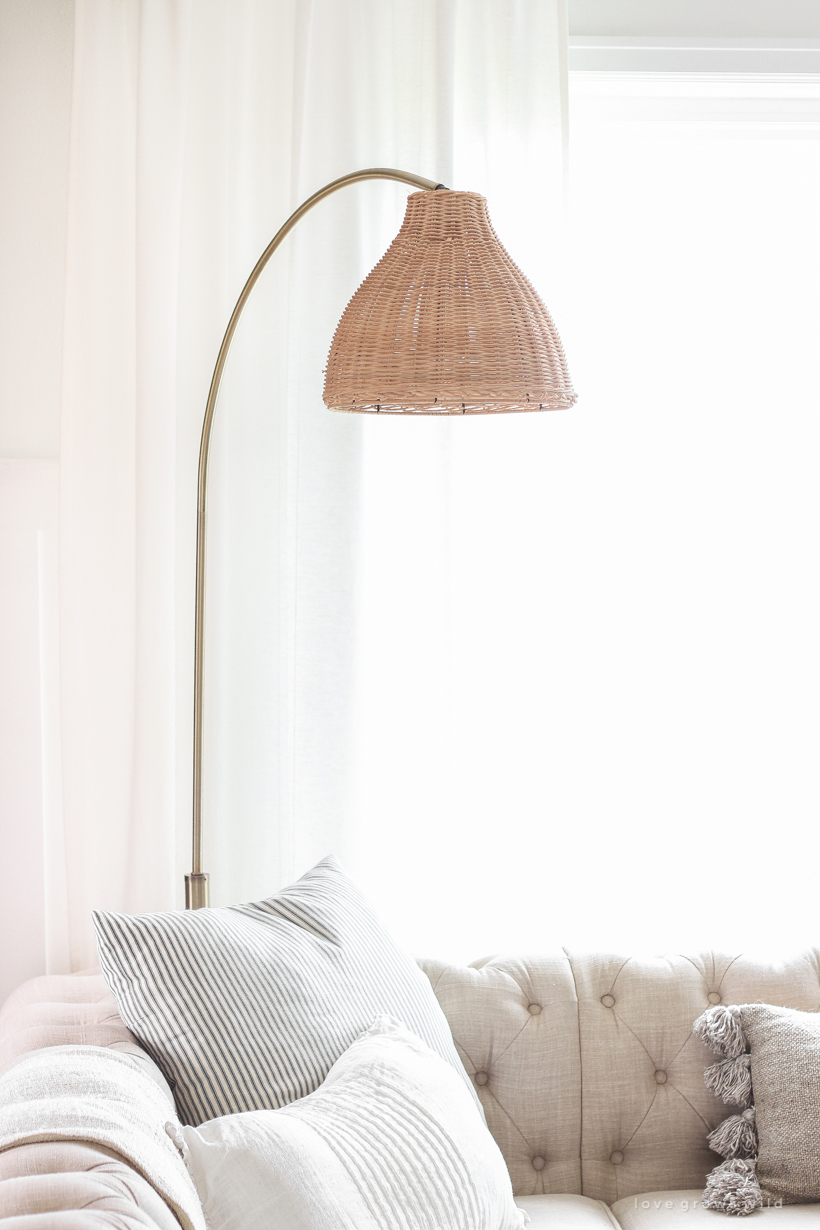 Let me know what you think! Have you ever seen a lamp like this before? Do you have a floor lamp in your home?
More from Flower Home:


I partnered with Walmart on this post, but as always the thoughts and opinions shared are 100% my own. Thank you for supporting our blog and brand partners!
---
Subscribe to Blog | Follow on Instagram
Follow on Pinterest | Follow on Facebook