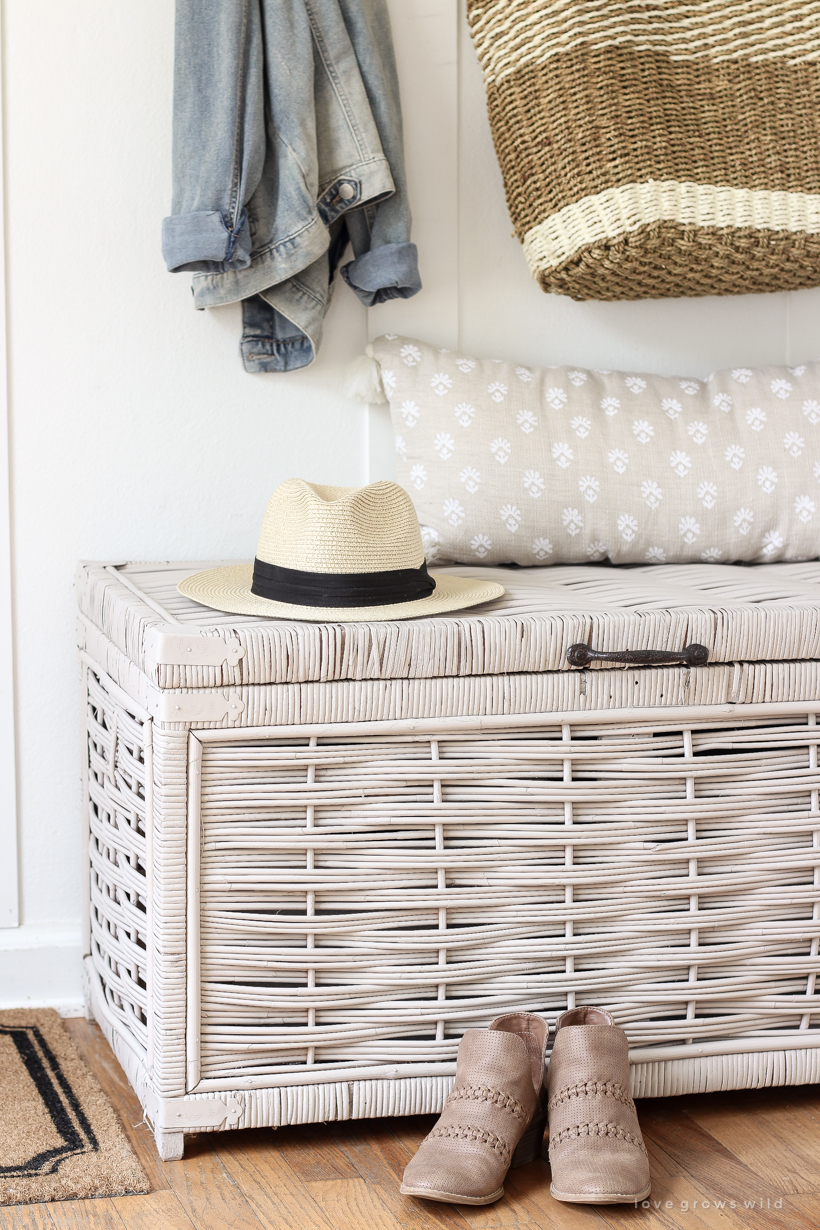 I was cleaning out my garage recently and came across a trunk I had purchased a long time ago, intending to refinish and sell it at my shop, Love Grows Wild Market. I needed to finally check this project off my to-do list, so I carried the trunk inside to start working on it, but as I walked through the entryway I looked down at the pile of shoes sitting on the floor… and my wheels started turning. This trunk could be the PERFECT piece to store our shoes out of sight in the entryway! The only problem was the bright orange color of the wicker, but I knew I could easily use paint to give the trunk a quick makeover.
Painting wicker can be tricky with all the little nooks and crannies, so while I was working on this project I thought I would take some pictures so I could show you the best way to give it a nice, even finish without any mess!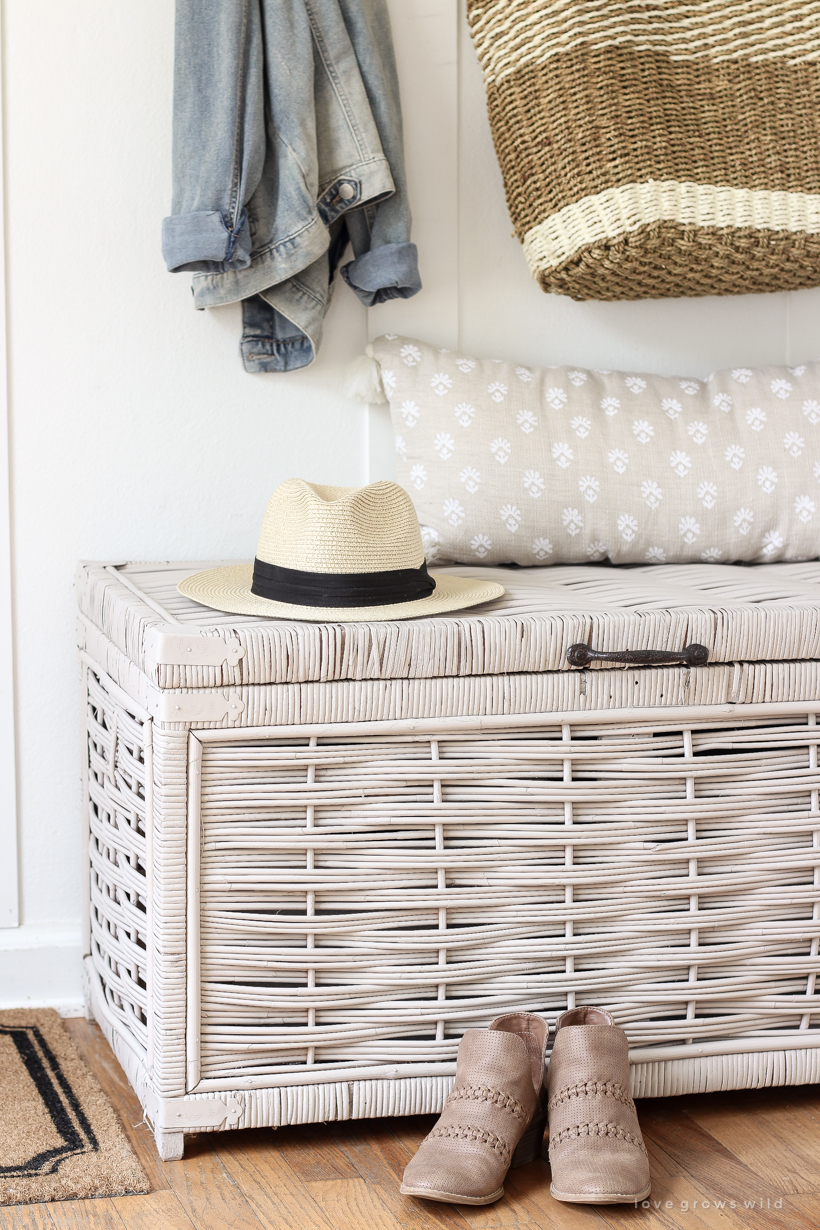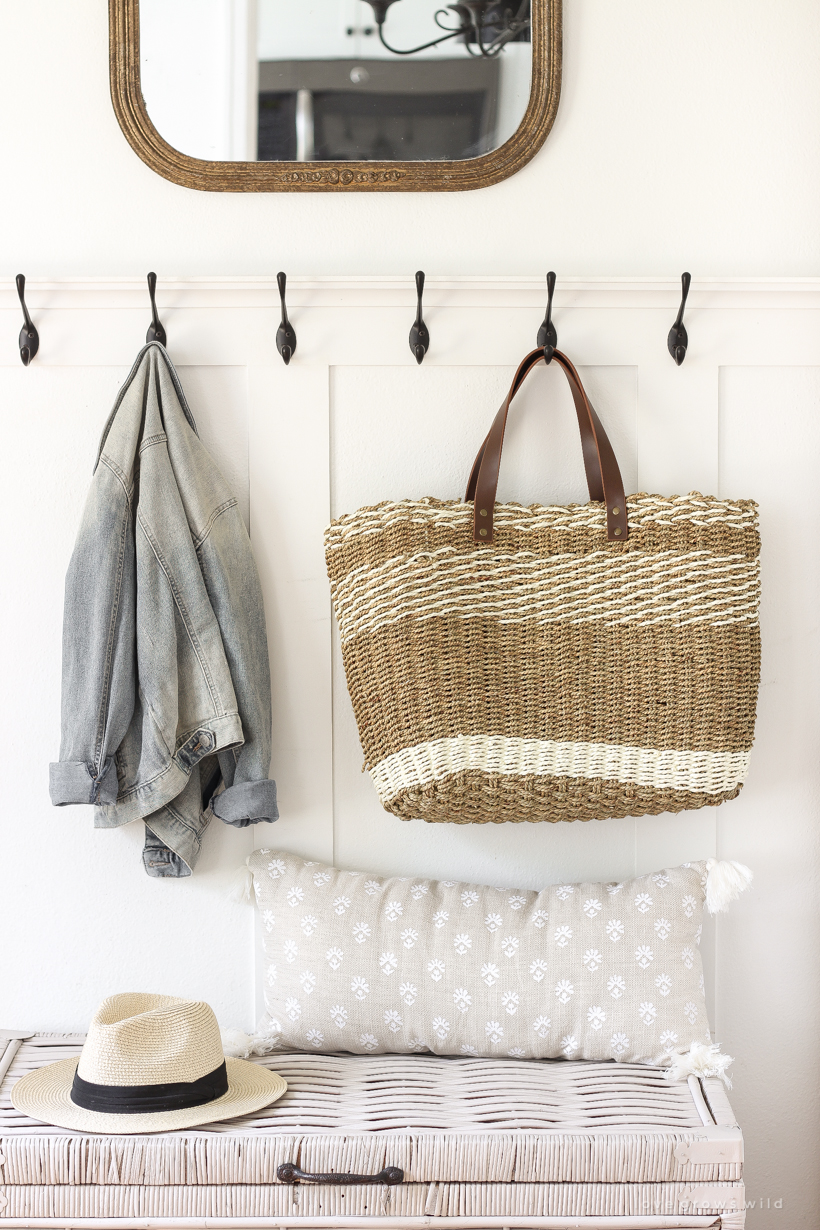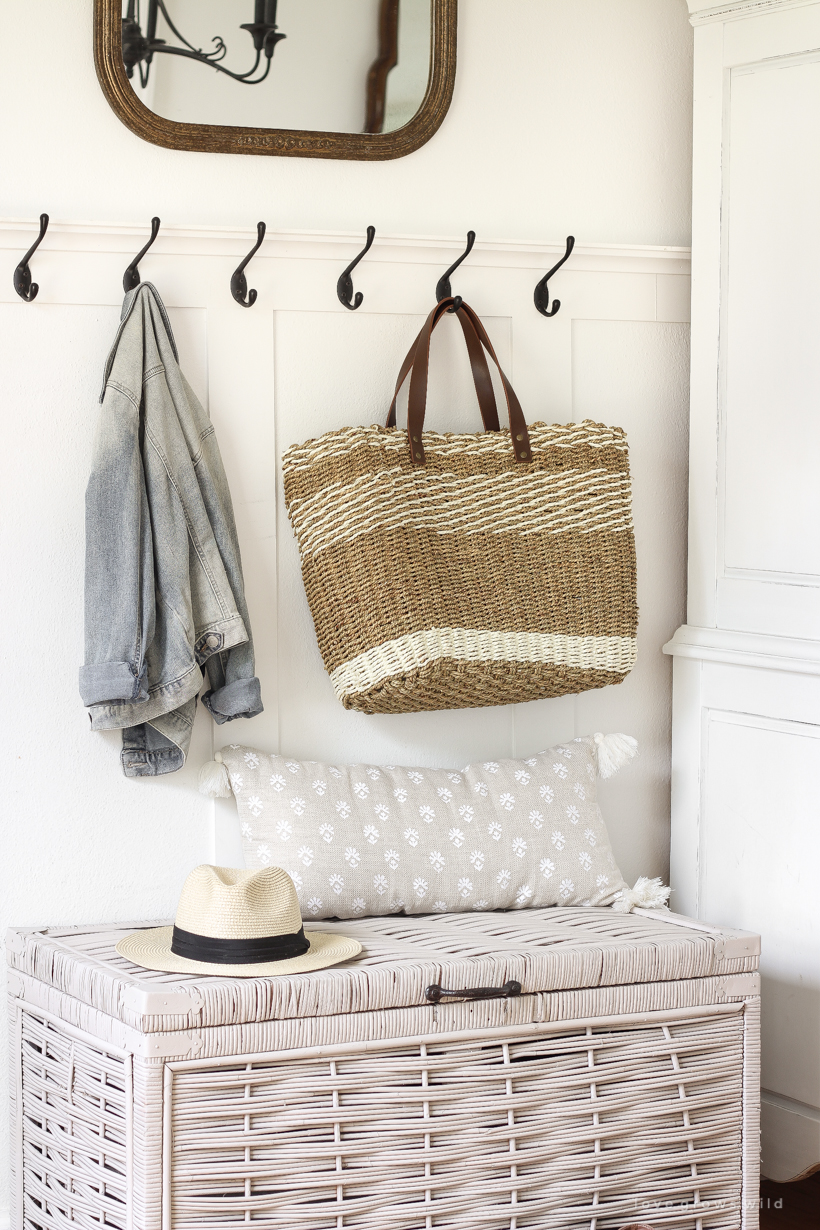 BEFORE: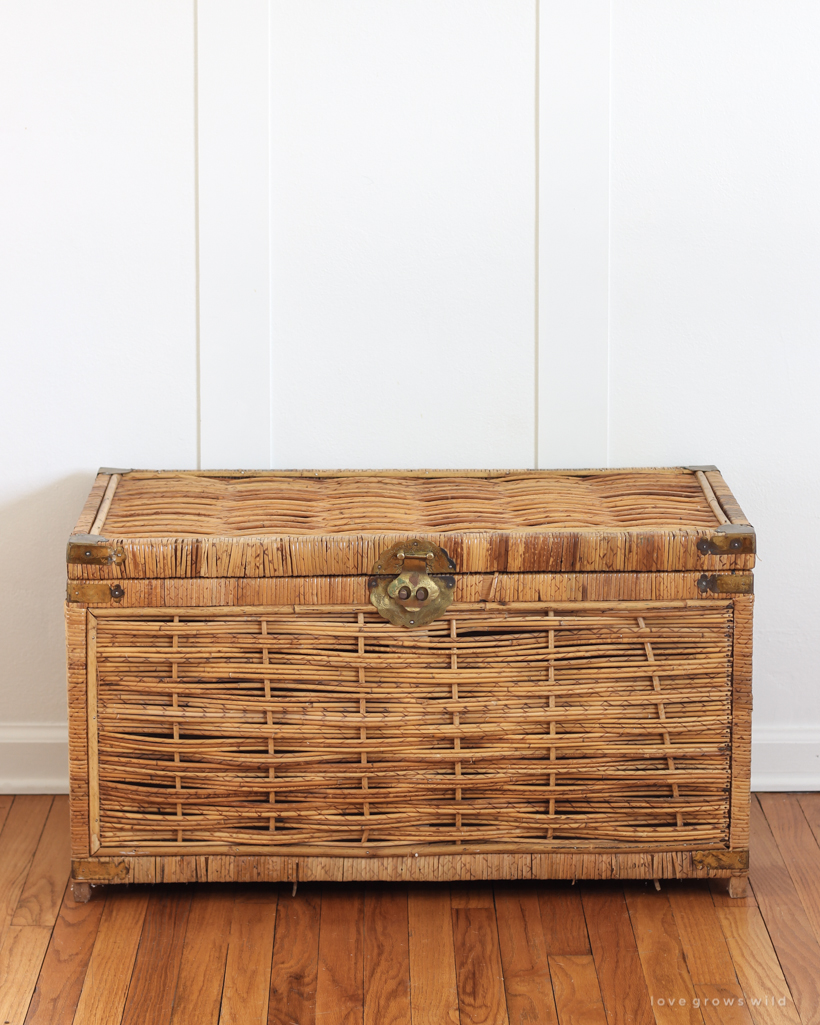 There are just a couple steps and tips I have for painting wicker quickly and easily… it really is a simple project to do!
Use spray paint instead of a paint brush – Spray paint makes it easier to get in all the crevices and won't drip and glob like using a paint brush will.
Prep your work area before starting – I used a large plastic drop cloth on my garage floor to protect from any overspray and set the trunk up on blocks of scrap wood to make it easier to spray the bottom.
Spray in multiple directions – If you only spray directly above or straight on the wicker, you will miss a lot of areas that are hiding behind other pieces of wicker. For the best, most even results, lightly spray:

from left to right
from right to left
from top down
from bottom up (if possible)
and straight on

Spray multiple very light coats – Because you are spraying in so many different directions, if you apply the paint heavily each time, you will end up with drippy globs of paint. Spray a very light coat in each direction, then let the paint dry for about 5 minutes before starting the next coat. Also, make sure you are spraying about a foot away from the surface to avoid too much paint collecting too quickly. Of course, check the directions on your can of paint for product-specific instructions, but the one I used could be recoated a few minutes apart, dries to the touch in 20 minutes, and cures completely in 24 hours.
Finish with a protective clear coat – Apply a clear coat over the paint either within 30 minutes – 1 hour of applying the last coat of paint or after 48 hours. Use the same technique I described before, spraying in multiple directions with multiple very light coats.
On this trunk I used: Rust-Oleum Painter's Touch 2x Ultra Cover in Smokey Beige Satin finish + Rust-Oleum Painter's Touch 2x Ultra Cover in Satin Clear
I set two large metal bins I picked up from Walmart years ago inside the trunk to help keep our shoes a little more organized, but I love how simple this new setup is and how easy it is for the boys to keep their shoes cleaned up and tidy.
This these wicker painting tips would work well on any kind of wicker whether it is a chair, table, dresser, or some kind of smaller piece of decor. I hope this post was helpful if you come across some kind of wicker you'd like to give a little makeover!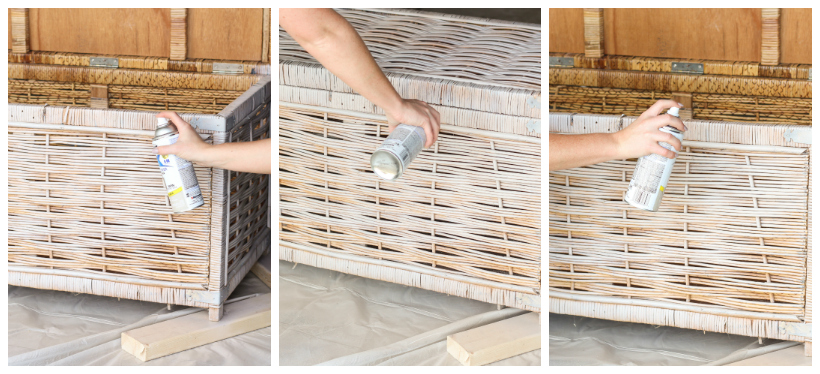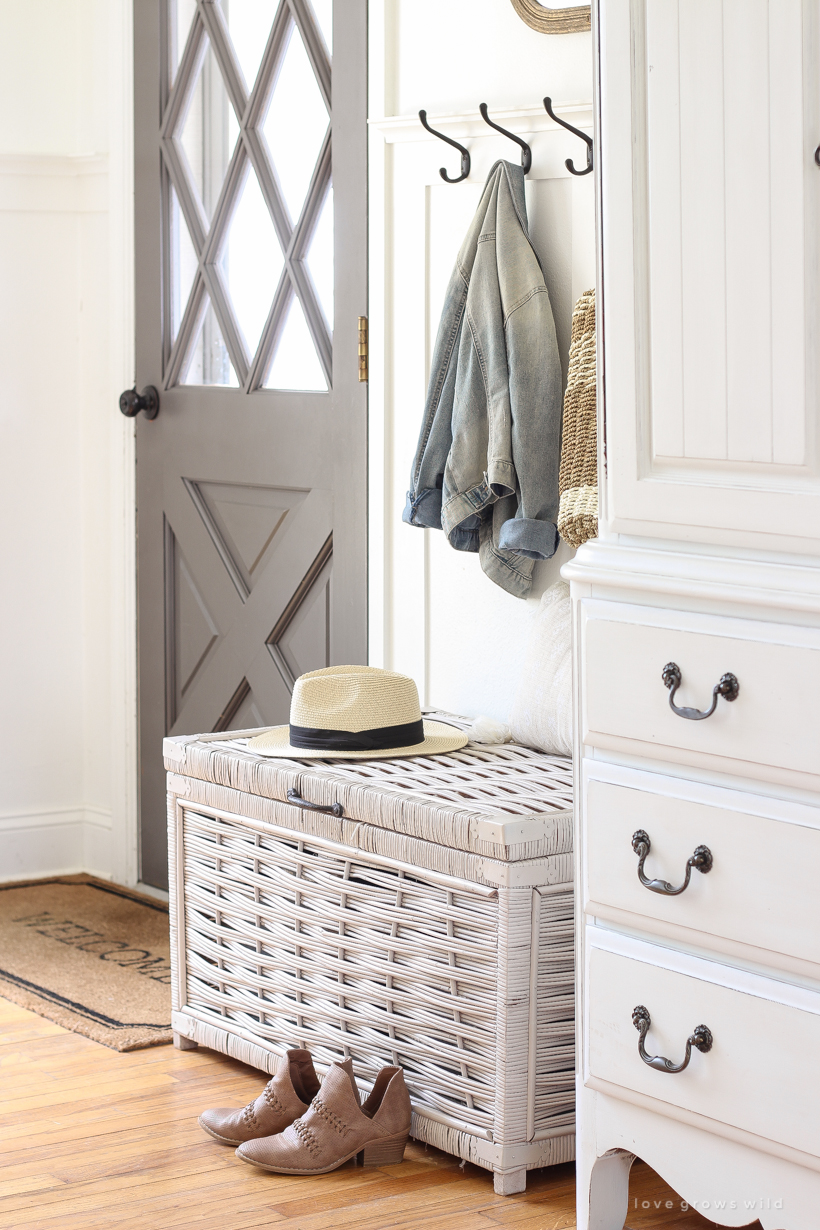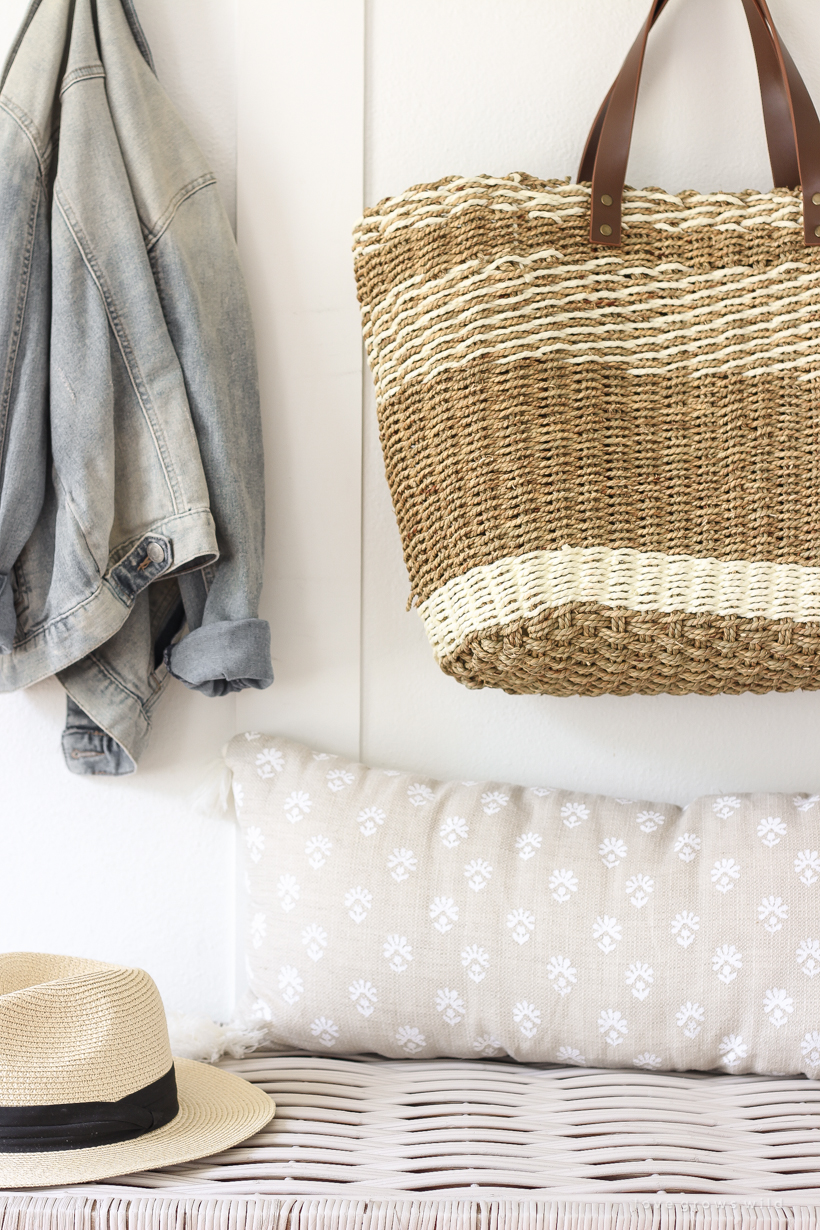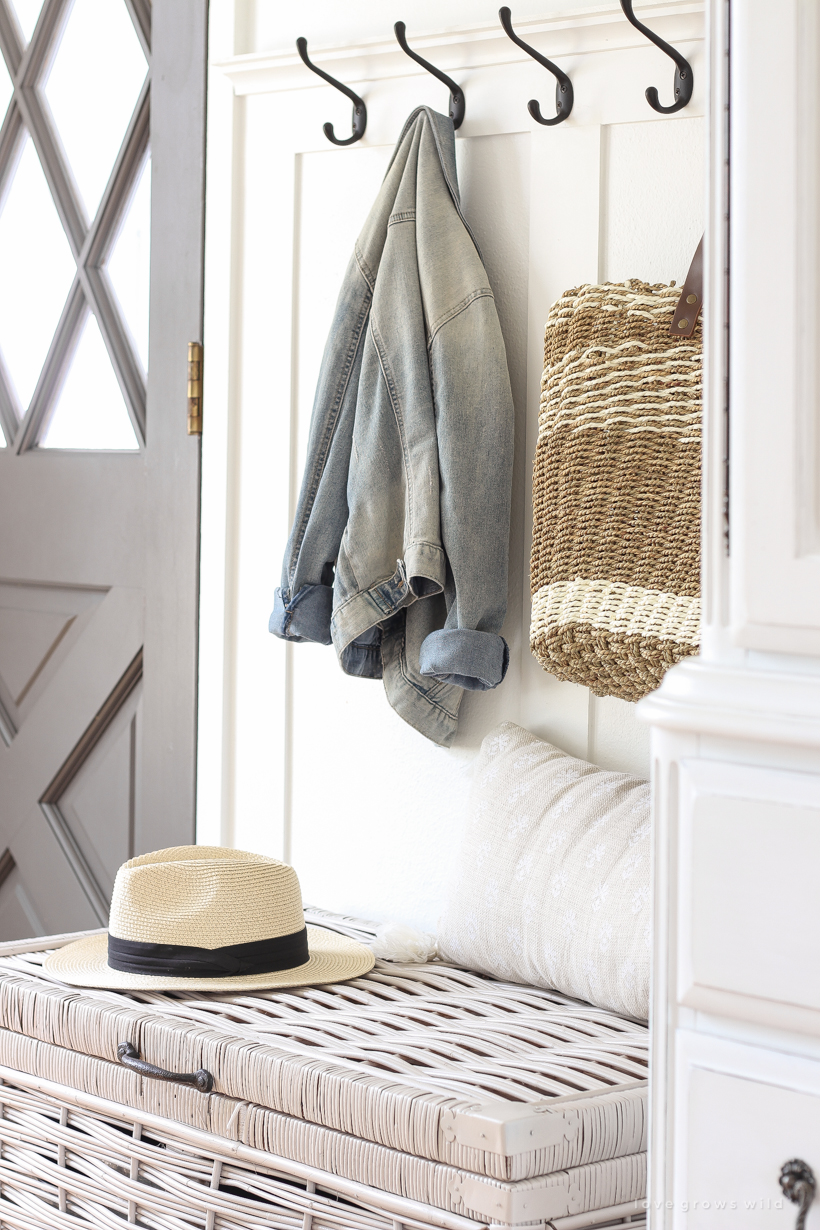 I've almost always hand a bench sitting under these coat hooks in the entryway, but I am loving this trunk here now… what do you think? Leave me a comment and let me know! xoxo Liz
---
Subscribe to Blog | Follow on Instagram
Follow on Pinterest | Follow on Facebook