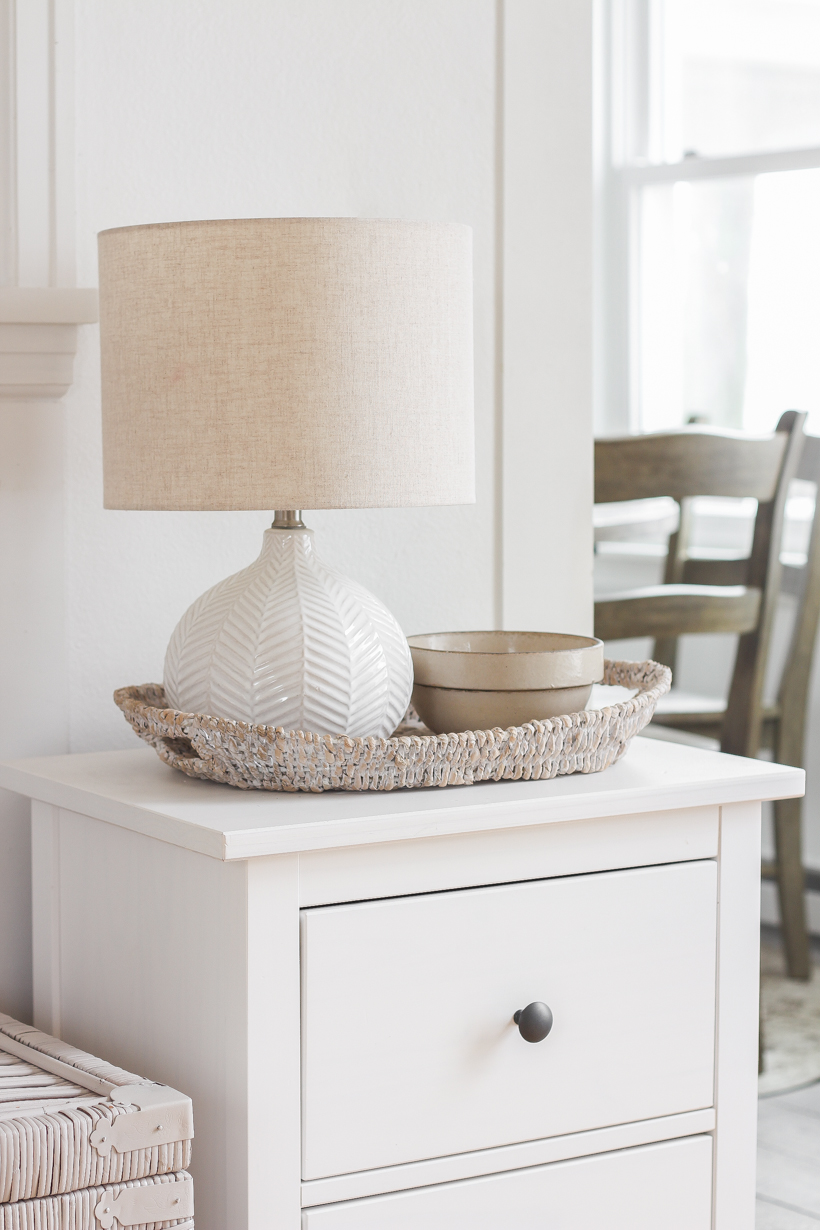 January always feels like the perfect time to bring balance back into our lives after the busyness and excess of the holidays. What we eat, what our home looks and functions like… all of it. I love to use this month as a time for bringing these things back to center, especially after we take down all the Christmas decor and can see a clean, blank slate in our home again.
Do you feel like you have piles of things sitting around in certain areas? Does your family have a hard time finding things when they need them? Do you get tired of feeling like you are constantly tidying up the house only for it to look messy again just a few hours later?
Today's post is the remedy for all of those!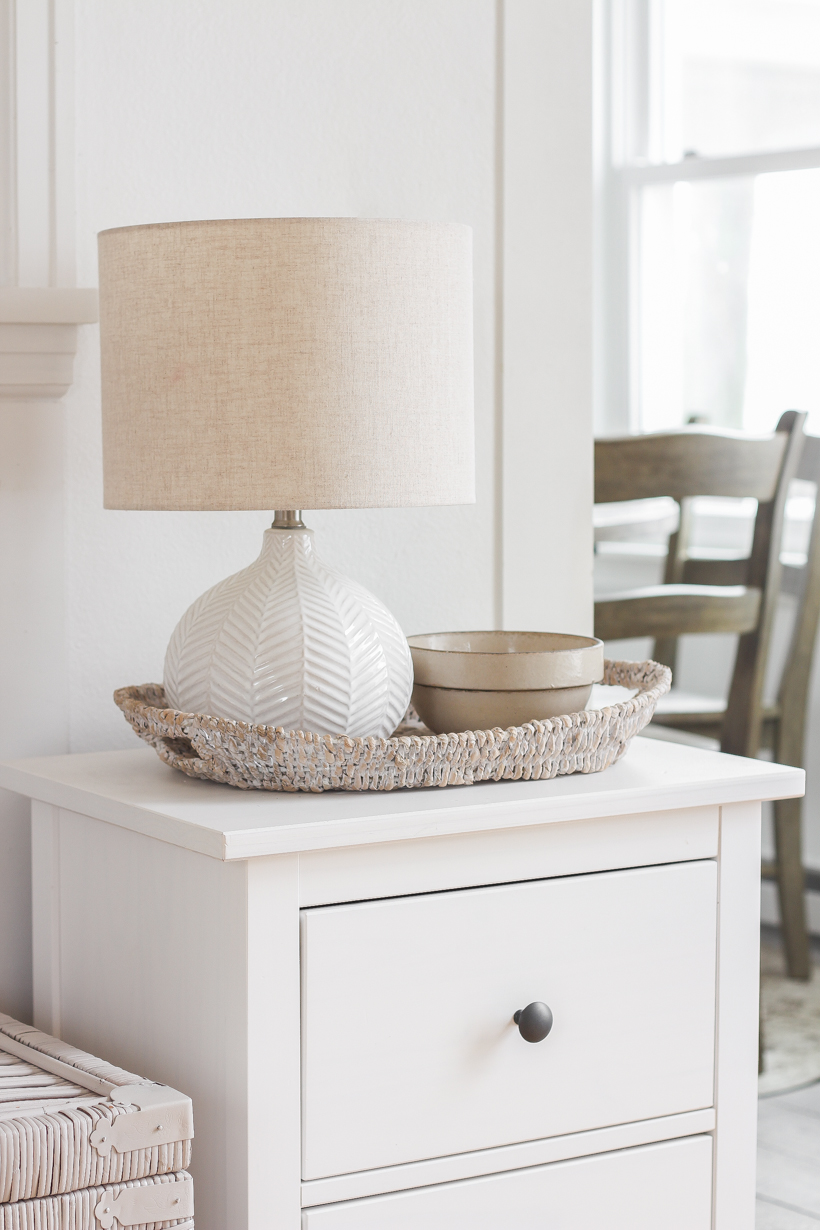 side table / tray / lamp
This year one of my goals is to start sharing more simple, quick and easy bits of advice for your home and decorating. I have always wanted to make sure the posts I'm sharing with you are full of helpful, quality content, but I think I end up sharing way less because I'm waiting for a project to be "big" or "special" enough to write a whole blog post on. But after chatting with a lot of you on Instagram, I've realized that it's actually way more helpful to share small, easy to do in one day kind of projects or simple little tips & tricks that I've learned over the years. So I made sure to add plenty of these kind of posts into my content schedule this year, and I'm excited to share this first one with you!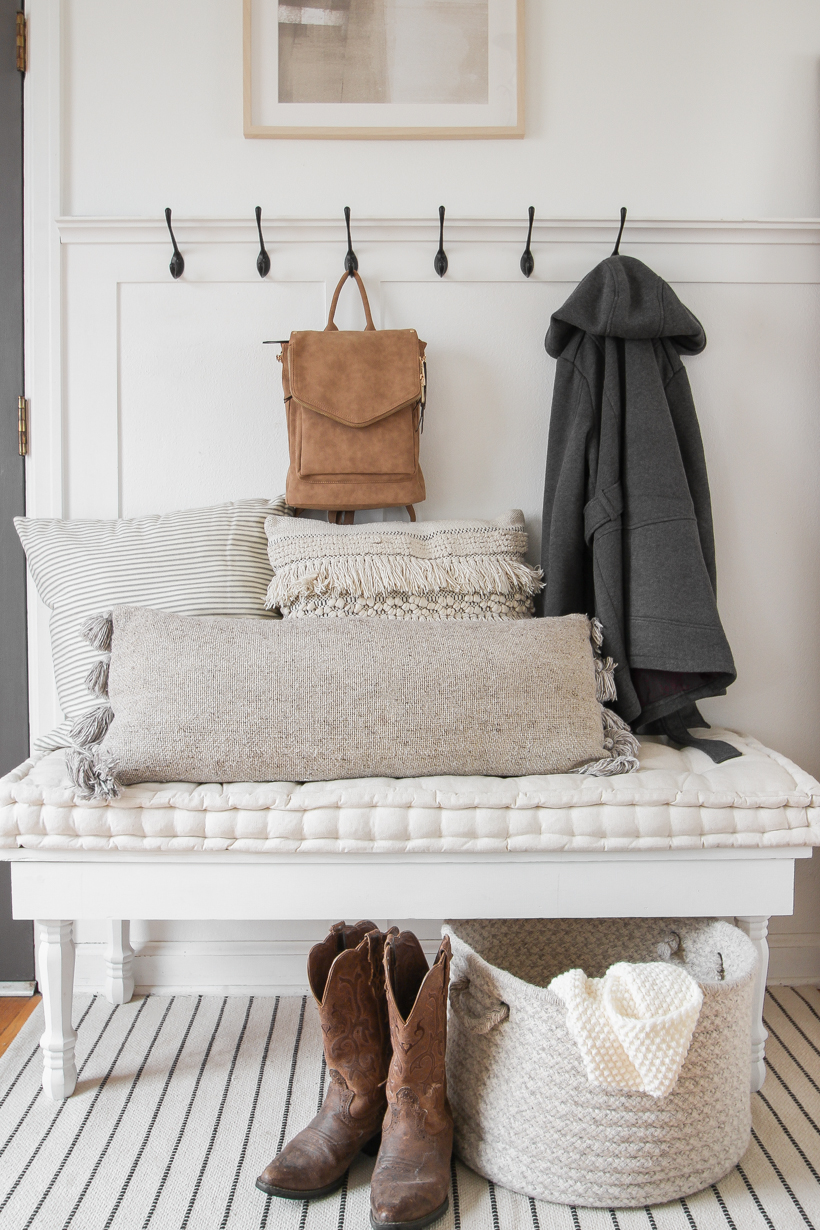 bench / cushion / rug / basket / lumbar pillow / fringe pillow / stripe pillow / coat / bag / artwork
Cleaning and organizing seemed like the perfect first topic to tackle in the new year, and I'm sure I'm not alone in feeling frustrated with the constant clutter everywhere. Want to know the easiest way to keep your home neat and tidy with minimal effort?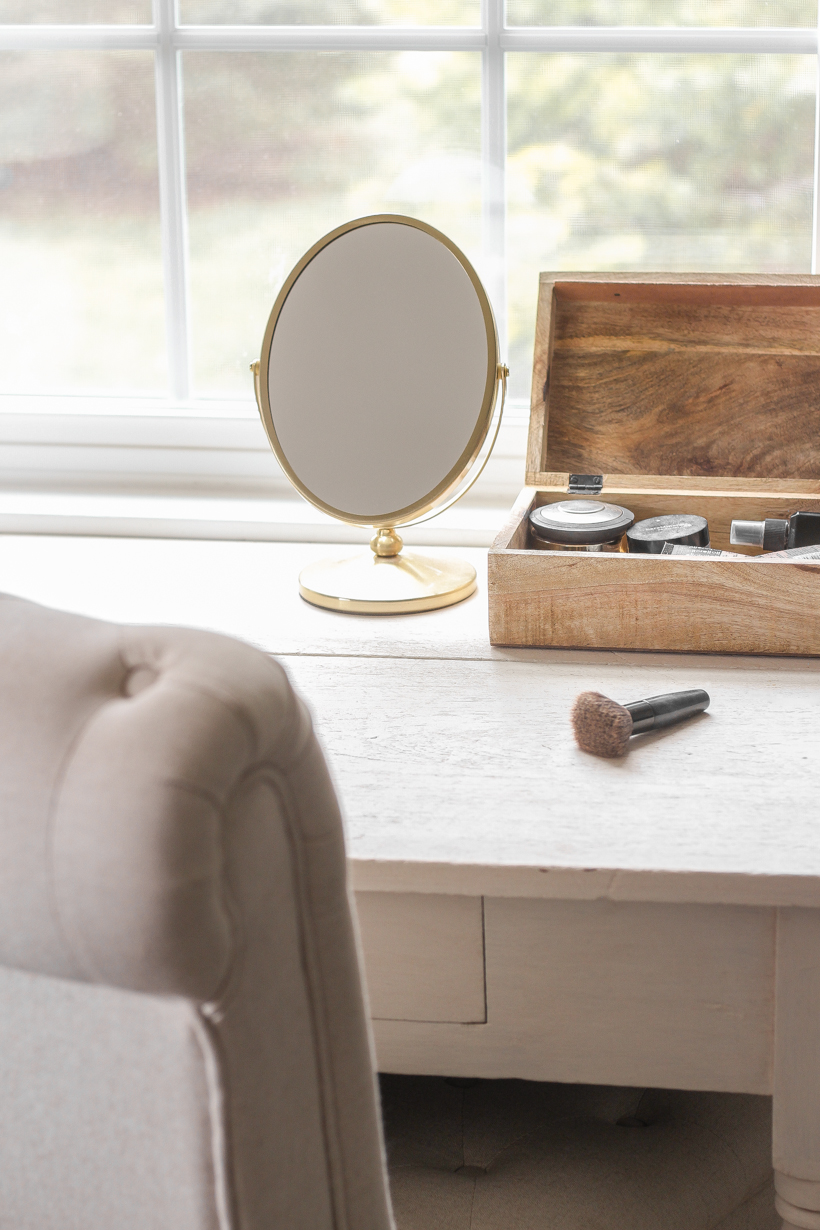 chair / decorative box / vanity mirror
THE EASIEST WAY TO KEEP YOUR HOME TIDY:
It's honestly not difficult, and you are probably already doing it in some capacity!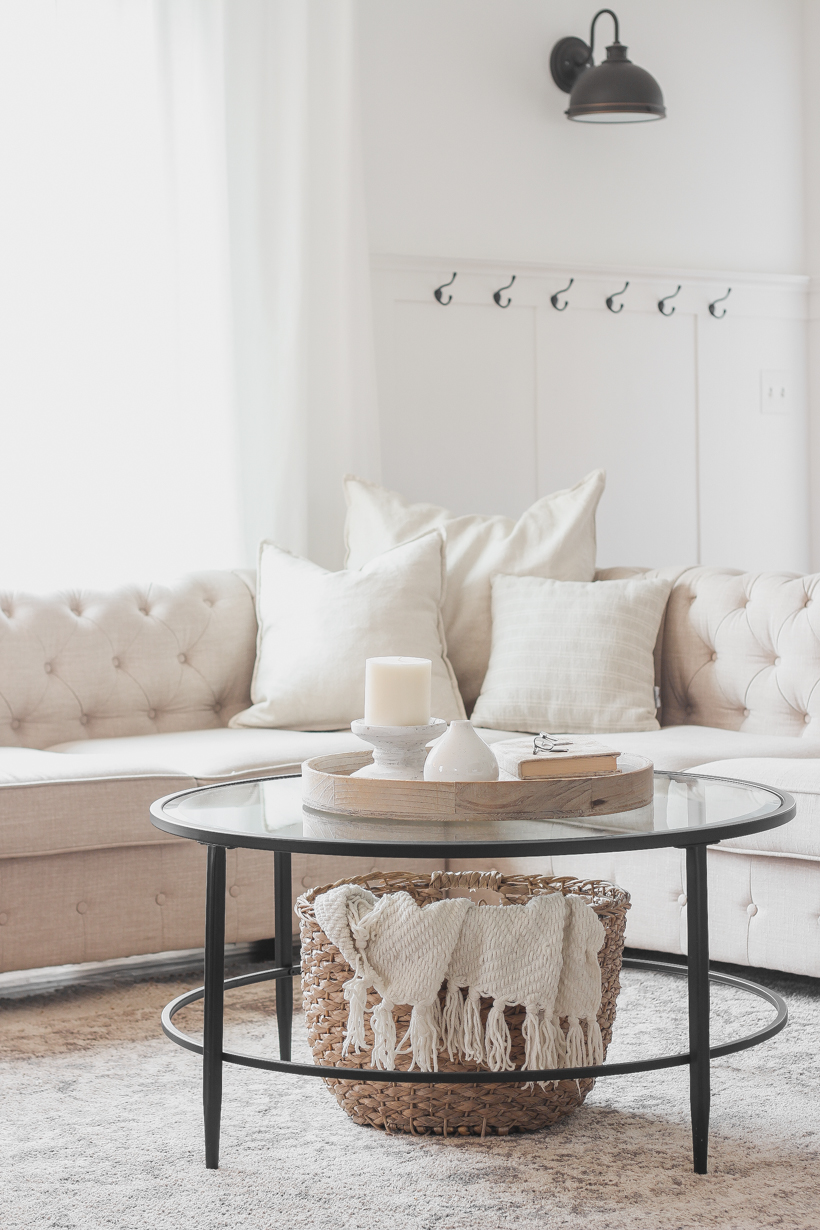 rug / coffee table / basket / blanket / tray / covered books / sofa / solid pillows / stripe pillow / wall sconce
Strategically place pretty storage containers in any problem area:
woven baskets (adds texture & warmth to a room)
pretty bowls (I love using old pottery for a touch of vintage)
decorative boxes (perfect when you want things easily accessible, but hidden)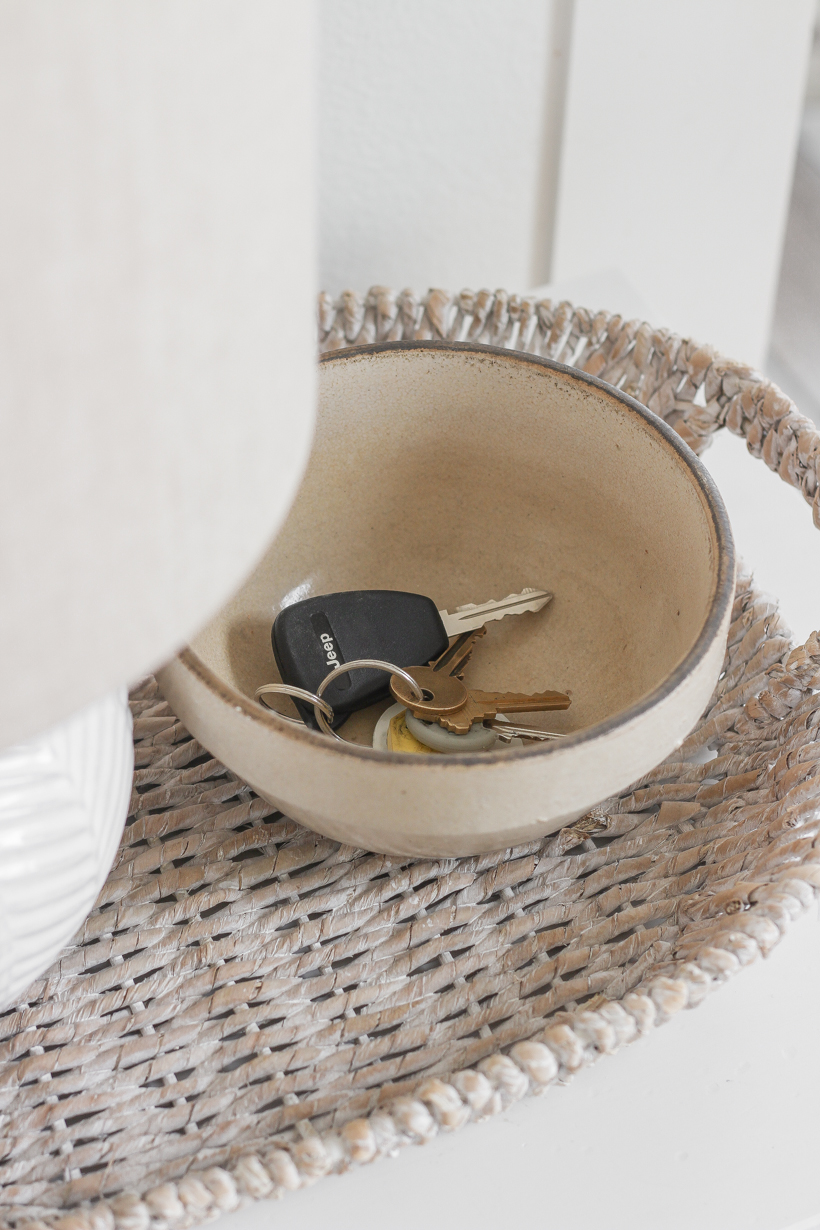 If you notice a certain area collecting clutter often, see if you can add some kind of decorative storage nearby to help corral and conceal those things. Even if all your family's belongings are still sitting out instead of getting put away, you will visually see less clutter when you look around your home. I also find it much easier when I do find a couple minutes to tidy up the house to just empty out each basket or container and put things away vs. having to go all over the entire house picking things up first.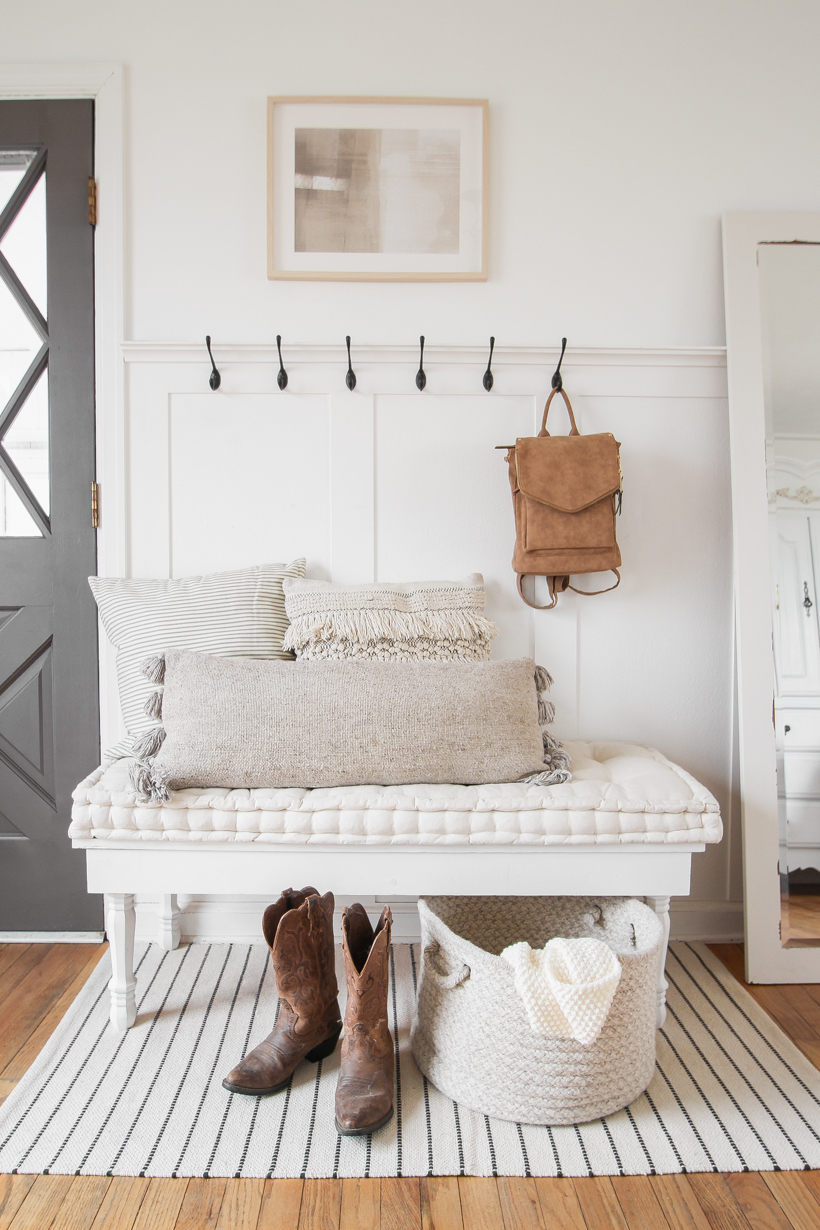 To help you out even more, you can even give each family member the task of putting away items from a certain clutter collector at the end of each day. The more your family gets used to using these storage baskets instead of leaving things out AND having to put things away each day, the more aware they will become of leaving out messes in the first place.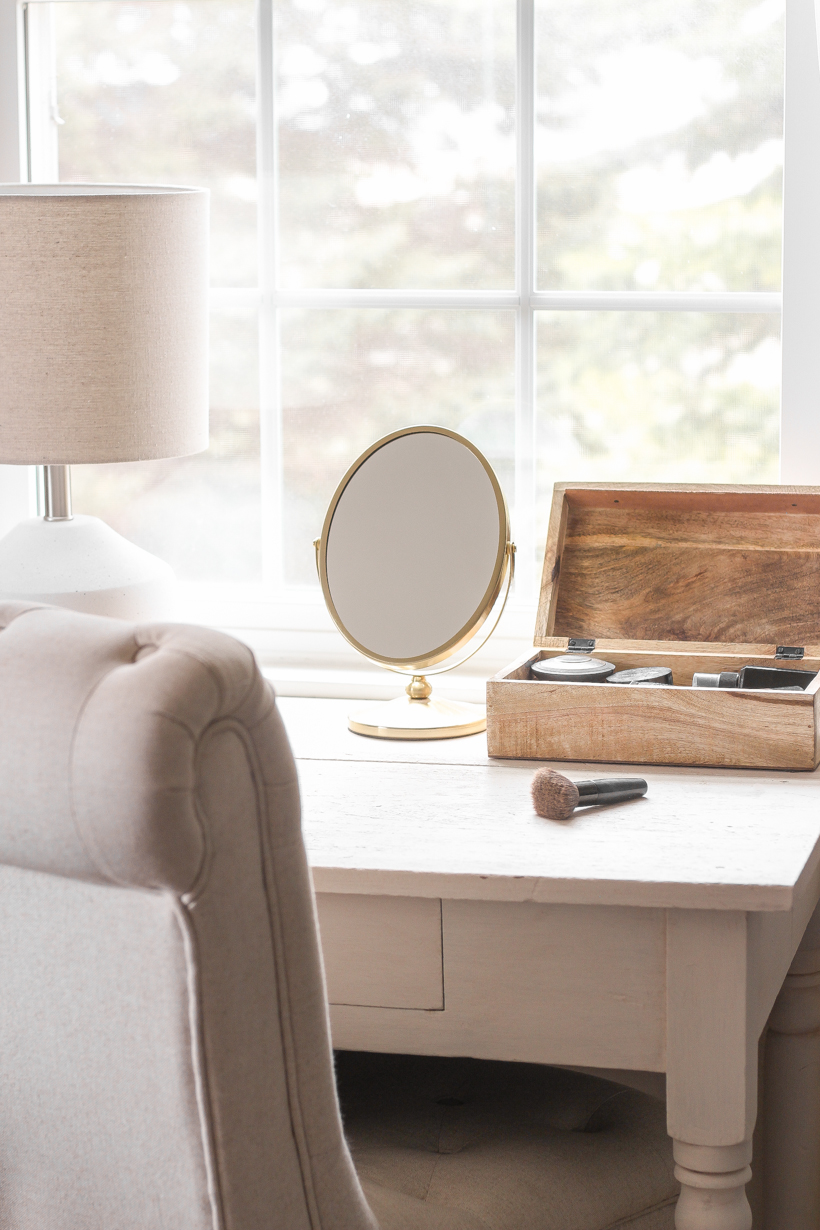 Here are a few ideas where you might want to implement this strategy:
in the entryway to hold keys, your wallet, sunglasses
in the mudroom to collect scarves, gloves, and hats in the winter
in the living room for extra throw blankets
in the kitchen to keep clutter off the counter
in the bathroom to hold your most used body/beauty products
in the office where mail, school papers, important notes can be collected
in bedrooms: small containers for jewelry & large baskets for a clothes hamper
anywhere all the charging cords seem to collect in the house
If you have the space, I especially love to have a big basket at the bottom of the stairs for all the things that need to get put away upstairs throughout the day. Before I go to bed, I'll grab the basket and take it up with me.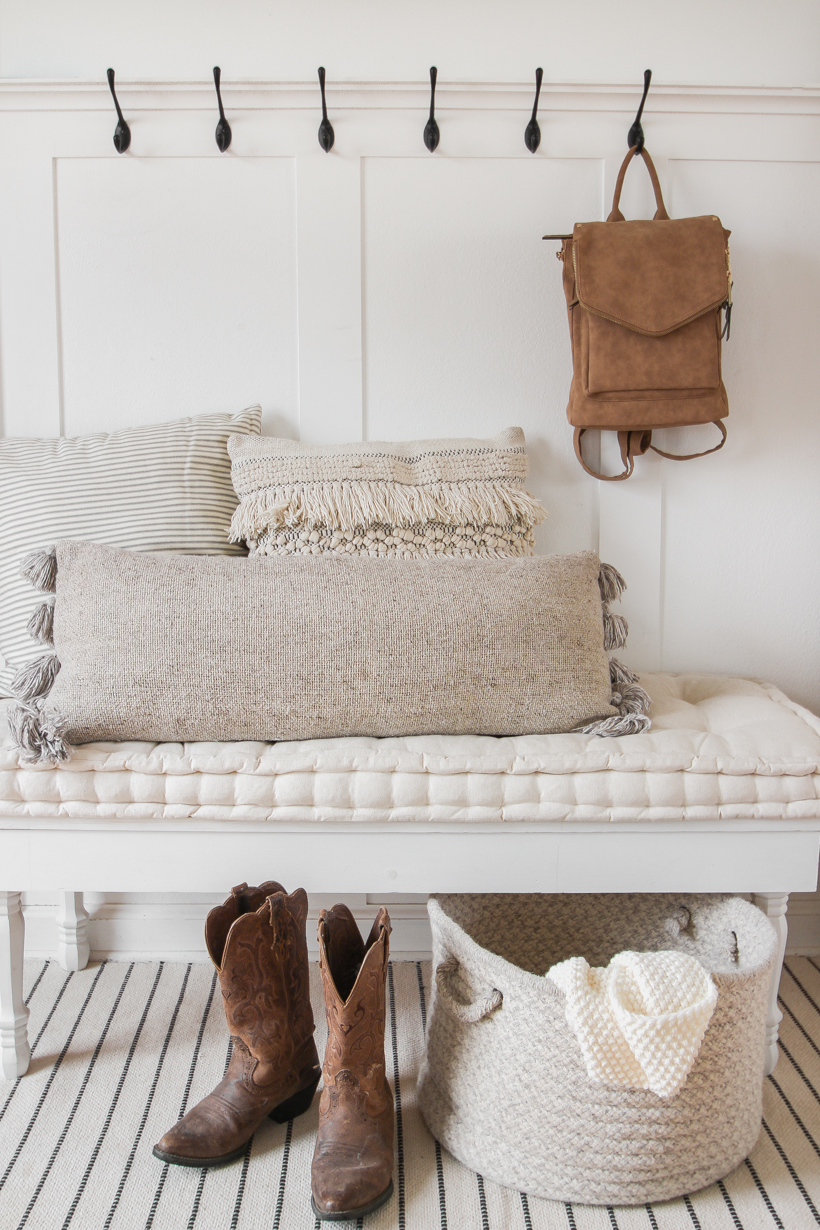 Remember: storage solutions don't have to mean ugly, cheap plastic bins! Think outside the box and use a bowl or tray from the kitchen section of your favorite store (or antique store), a pretty woven market bag, or a pot/planter with interesting texture. I actually use a ceramic planter to hold my makeup brushes!
I've linked a ton of options for you below from some of my favorite stores to grab storage and organization supplies from…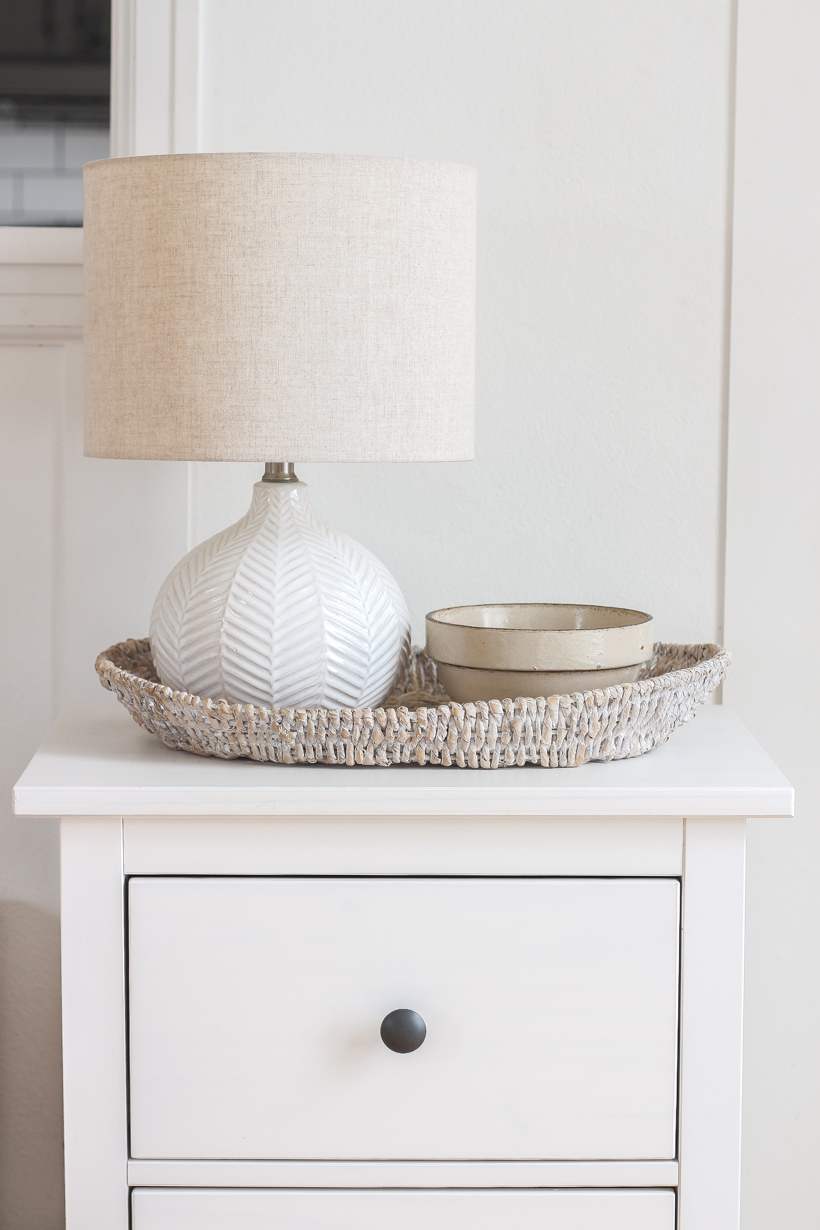 I hope these tips were helpful and will cut down on the time you spend tidying up your home each day! Thanks so much for being here, sweet friend, and I can't wait to share my next home tips post with you! Is this something you're excited to see more of here? Let me know in the comments! xoxo Liz
STORAGE FROM TARGET

STORAGE FROM THE CONTAINER STORE

STORAGE FROM WALMART

STORAGE FROM WORLD MARKET

As always, I sincerely appreciate you shopping through the links I share, which allows me to make a small commission from your purchase while your purchase price stays the same. When you use my affiliate links, I'm better able to create content for this blog as well as support my family, and I thank you from the bottom of my heart for supporting what I do!
---
Subscribe to Blog | Follow on Instagram
Follow on Pinterest | Follow on Facebook