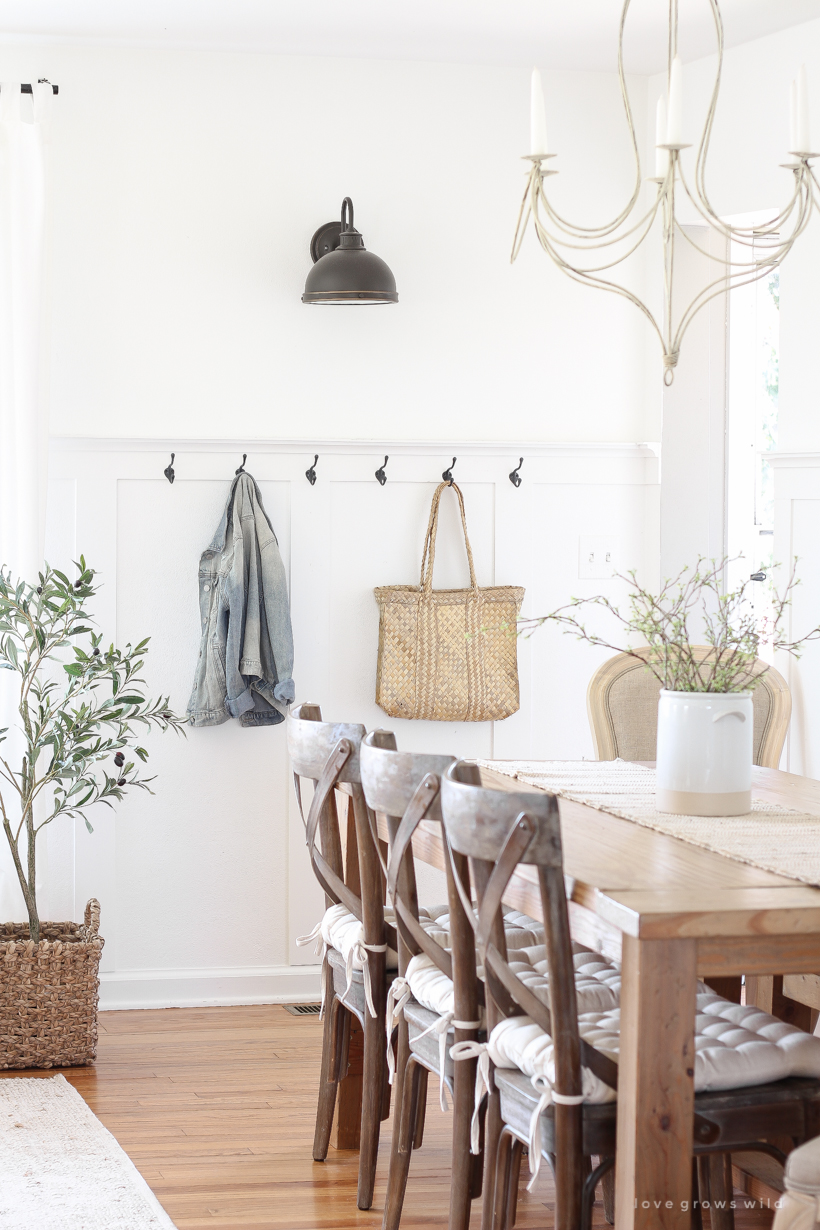 You may remember earlier in the year when I added this sconce (without wiring thanks to this tutorial) to a wall in our combined dining/living room. For reference, just to the right of the light is our front door. While I love the sconce itself, it just felt out of place on the wall with nothing else around. The tight space between our big farmhouse dining table and the sofa (both just a few feet away) left no room to add any kind of furniture below, so I needed to come up with something else that could fill in the space, while still leaving an open, airy feel in this cramped corner.
Even though we don't use the front door as our main entry to the house, guests still sometimes use it, and there really isn't much of an "entryway" here. You step in the door and walk right into a coat closet, turn, and you're standing in our living/dining room. Not extremely welcoming. While I don't have enough room for a bench or any furniture here, I do love the look of coat hooks on the wall, and this would create the feeling of a small entryway without crowing the floor and walkway at all. It ended up being the perfect solution for this small space!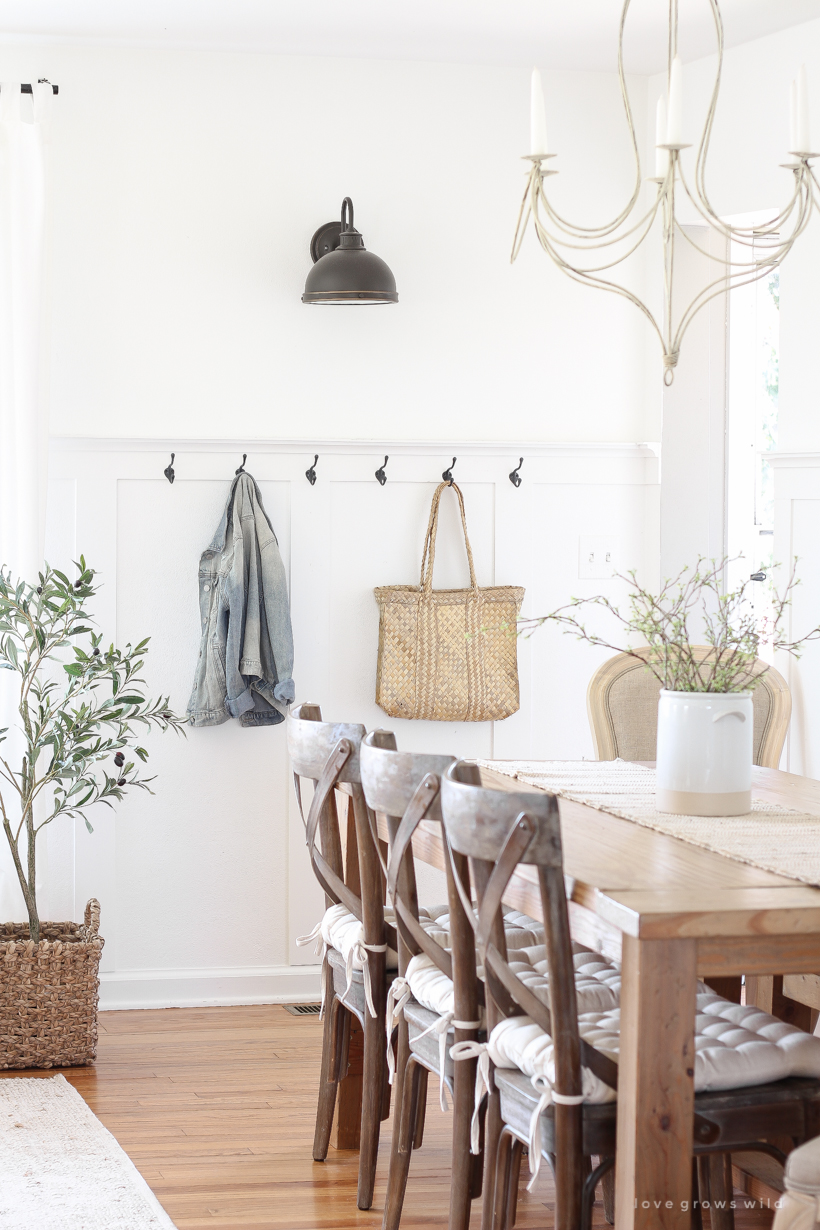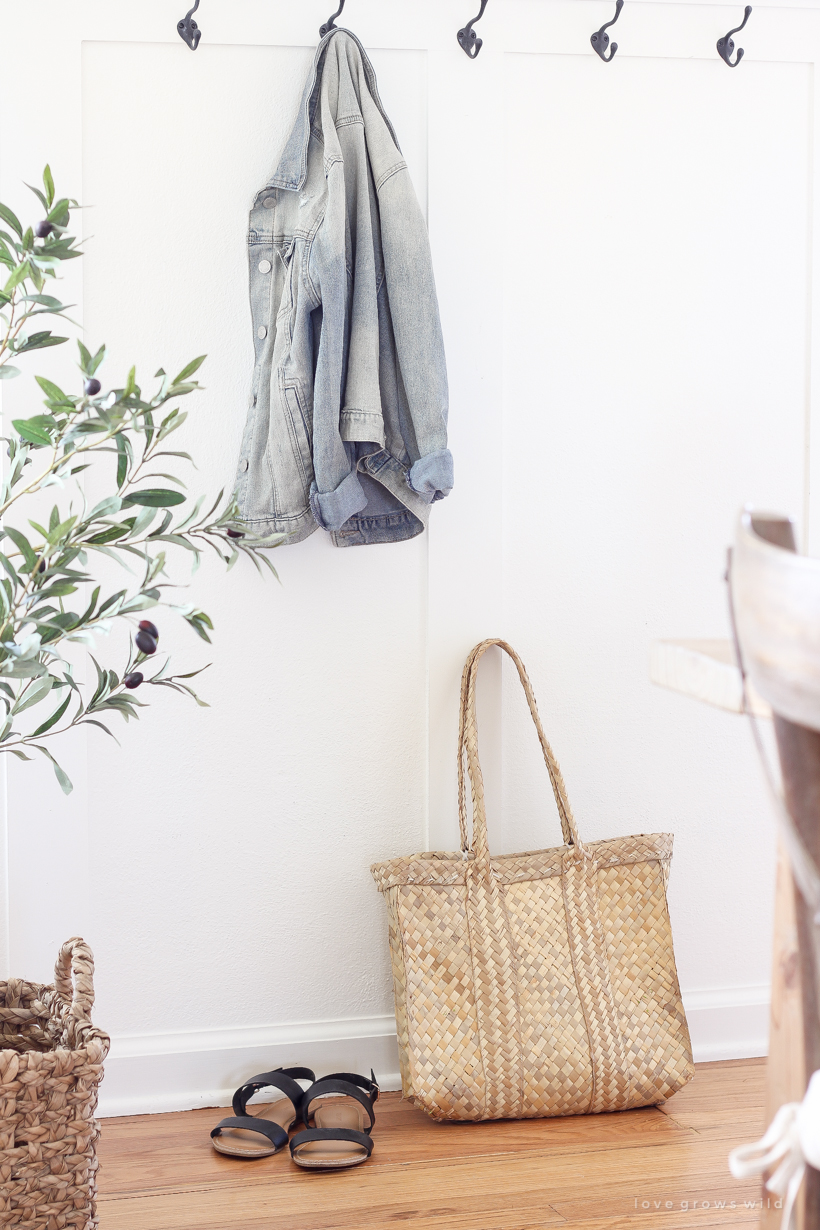 Here's what I love most about this quick and simple project:
First, the dark sconce on a very plain white wall feels much more intentional and coordinated now that I added the hooks below. It gave the contrasting color of the sconce something to blend with instead of sticking out like a sore thumb. In complete honesty, the color of the sconce is more of a dark oil-rubbed bronze, and the hooks are black, but they are similar enough that it works. I've considered taking the sconce down and spray painting it matte black, but for now I think I'm fine with the way it looks.
Second, I love that this space became something both pretty AND functional instead of purely decorative. I feel like the coat hooks just make sense by the front door, even though it's technically in our dining room and just next to the living room… you really get a feel for just how small our little farmhouse is when you see photos like these. Some of you may have big, beautiful homes, but I know many of you have the most charming smaller homes, and I wanted to give you some ideas and inspiration for creating an entryway in even the smallest of spaces. Just a few coat hooks and maybe a small, narrow bench or basket underneath if you have the room is all you need. I also love that my favorite denim jacket I wear almost daily hanging here just makes the space feel beautifully lived in and cozy… my kind of perfection.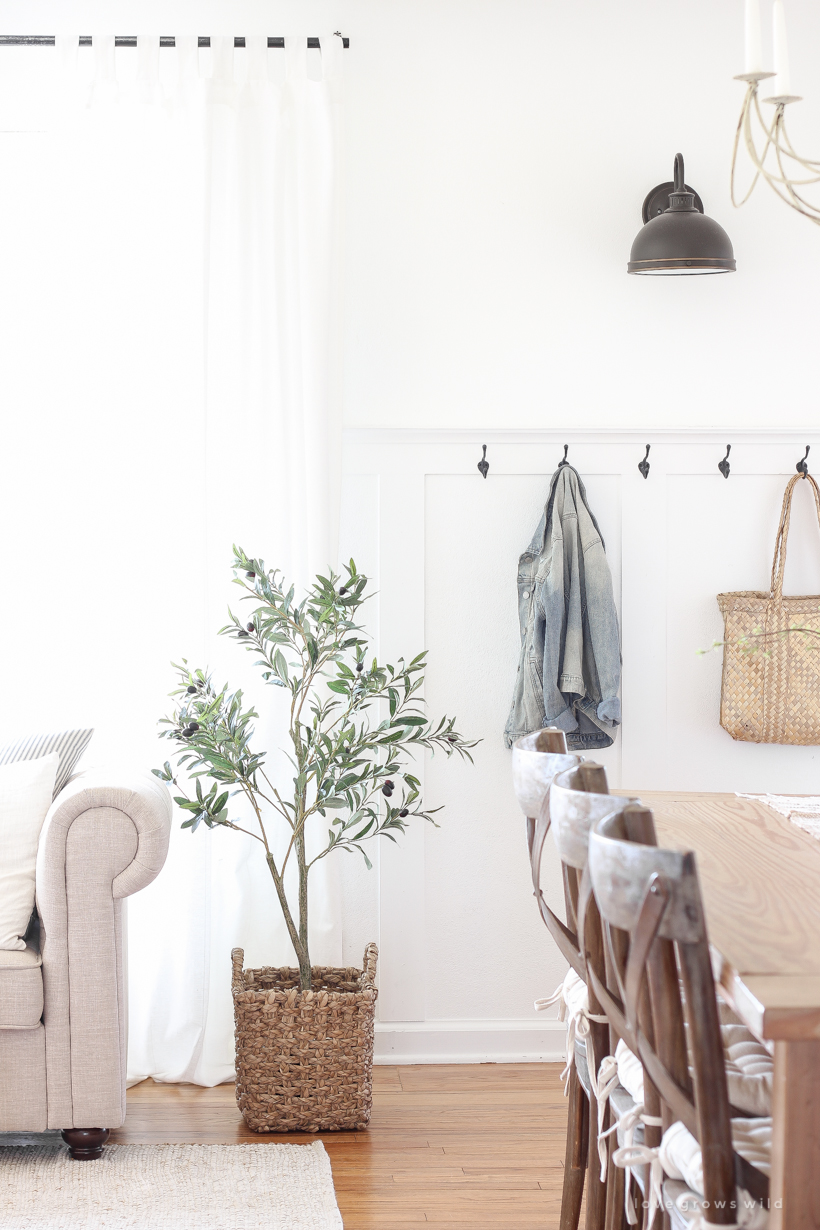 I purchased these specific hooks at Menard's and found a package of 2 that was much cheaper, about half the price, than all the other hooks sold individually. The main difference is that the package of hooks had a high gloss finish, and the more expensive hooks I wanted had the soft matte look I always lean towards. I decided to buy the less expensive glossy hooks anyway to save some money, knowing I could probably dull the high gloss finish at home.
To get rid of the gloss, I first lightly sanded the hooks, then used a can of clear matte spray paint topcoat to spray on several light coats. Because the paint was clear instead of black, it did slightly lighten up the color of the hooks to a dark charcoal gray, but you'd never be able to notice unless you got up close. I let them dry completely, then used my drill to install them over the board and batten trim we installed years ago.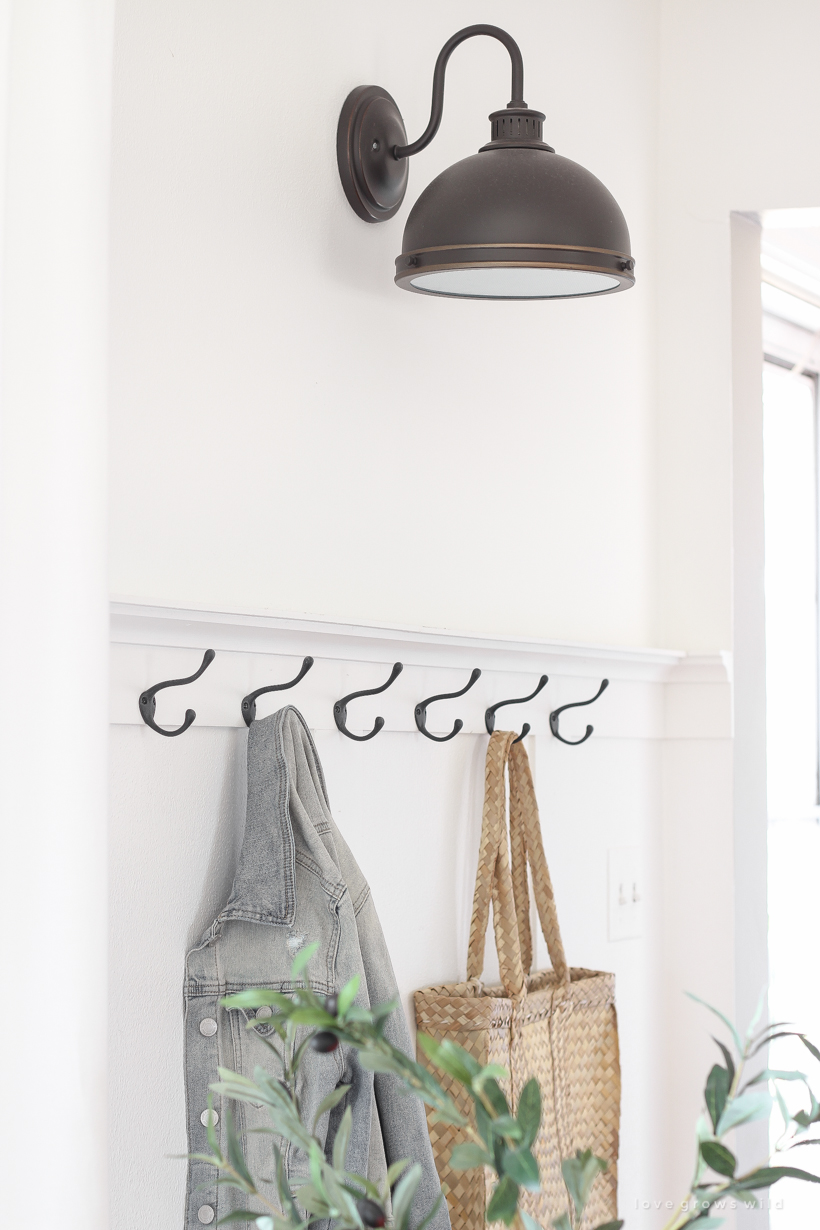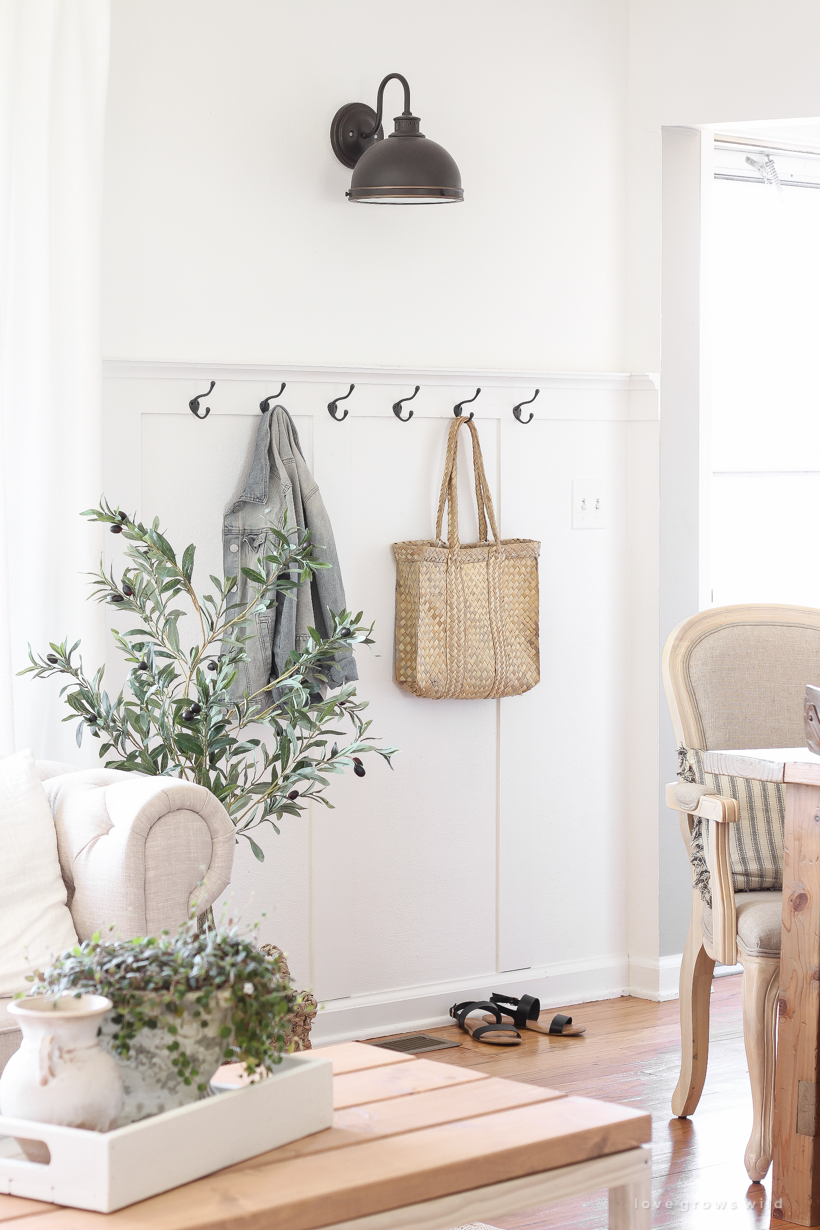 Somebody knows how to get right in the way when momma is taking pictures…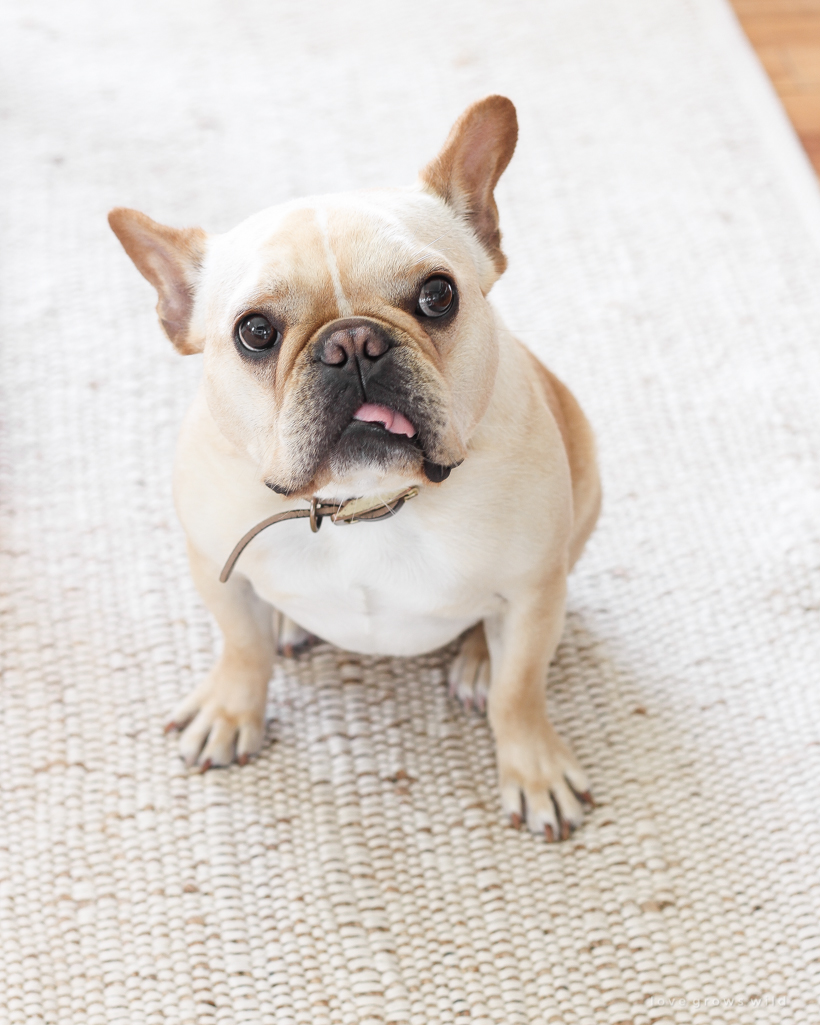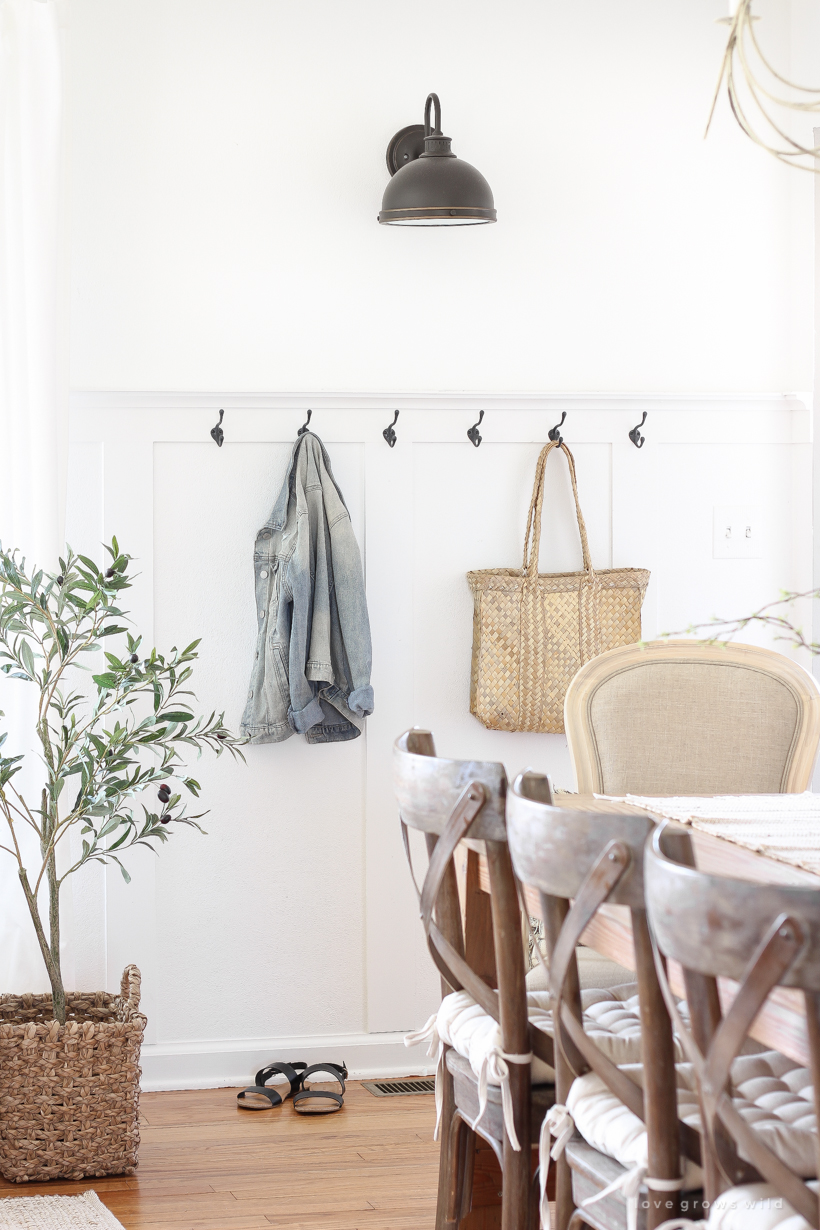 So what do you guys think of the "entryway" I created by our front door? I love the new look and the coziness it brings to the space without feeling cramped and cluttered. Sometimes the simplest 30 minute projects can make the biggest impact on the way your home looks and functions!
Sources:
hooks – Menard's
sconce – Wayfair discontinued (similar here)
dining table – tutorial here
dining chairs – World Market
chair cushions – World Market
rug – Rugs USA
faux olive tree – Etsy
basket – HomeGoods
shoes – Old Navy
denim jacket – Walmart
bag – Goodwill
table runner – Pier 1
vase – Target
candle chandelier – Rustic Garden
---
Subscribe to Blog | Follow on Instagram
Follow on Pinterest | Follow on Facebook