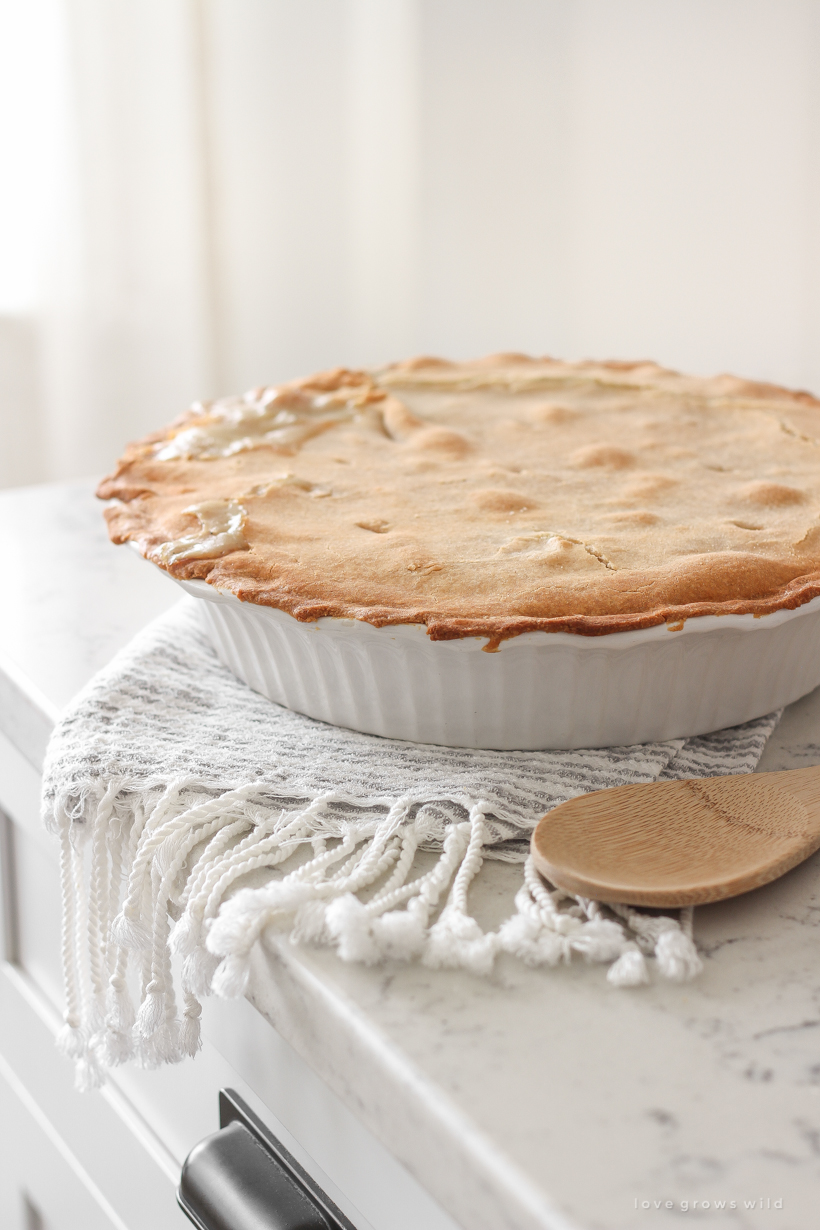 I'm not even sure how to start this post because it feels almost strange to keep creating content when there are so many things going on in our world right now. I've thought a lot about how I want to spend this time while staying at home and how I can best help you during such a stressful time, and right away I felt my heart telling me to start sharing more recipes. We're all in the same boat spending more time at home, which means cooking more meals and eating out less. I know many of you have started to already feel some financial burdens as well from this, so my goal is to share good homemade, family-friendly recipes that are easy and affordable and also some that are made with pantry staples, which will help lessen trips to the grocery store.
And if you're feeling especially ambitious with all this extra time on your hands, you can even make an extra meal for a friend or family member who is less able to leave the house or maybe a healthcare worker who is working overtime right now and would really appreciate having a home-cooked meal after a long shift. Drop it off at their front door with a note and maybe even a bottle of wine or some kind of dessert too. I promise it will be one of the best things you decide to do all day.
I wanted to start with a classic comfort food recipe and one of my boys' favorites: Chicken Pot Pie. Filled with nutritious veggies and a rich, savory sauce made from scratch, this warm, hearty meal is sure to become a family favorite in your home too. My trick for keeping this recipe quick + easy is using refrigerated pie crust instead of homemade, but you are certainly welcome to do either! Be sure to read my tips at the bottom of the recipe!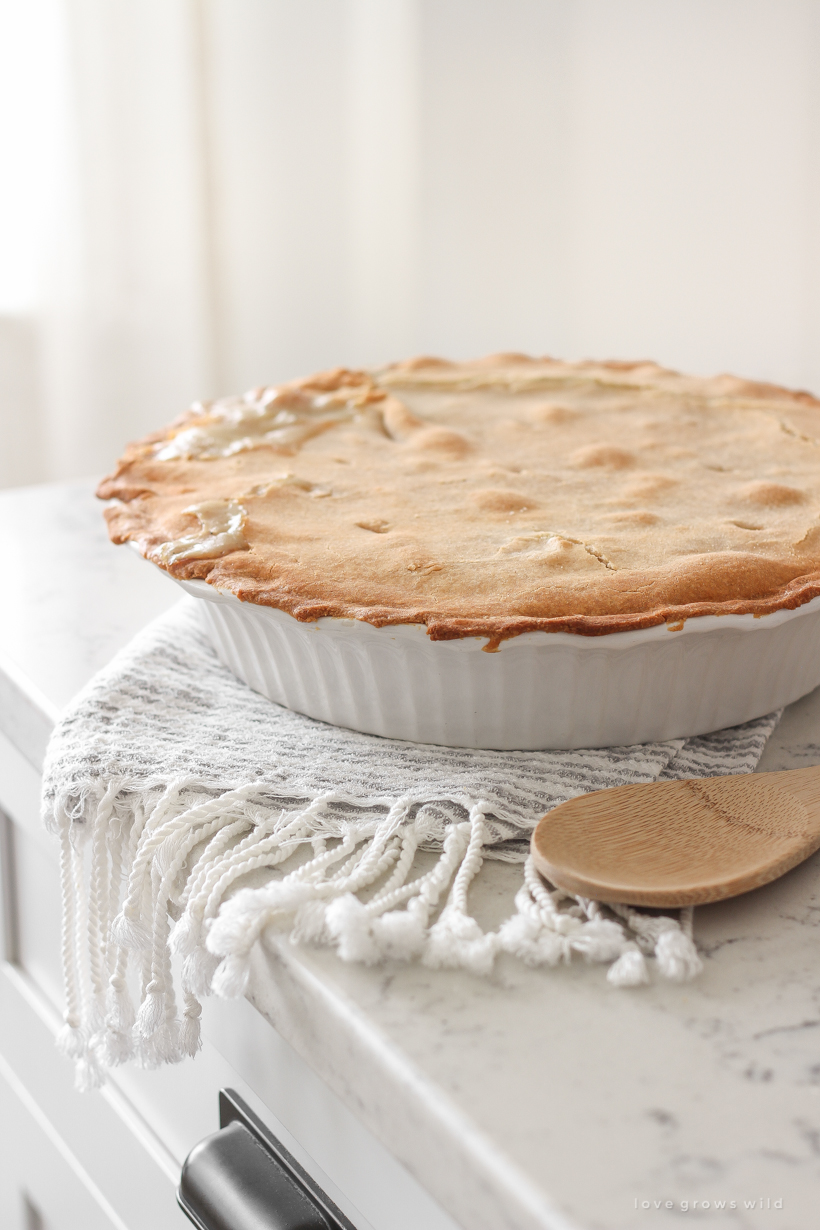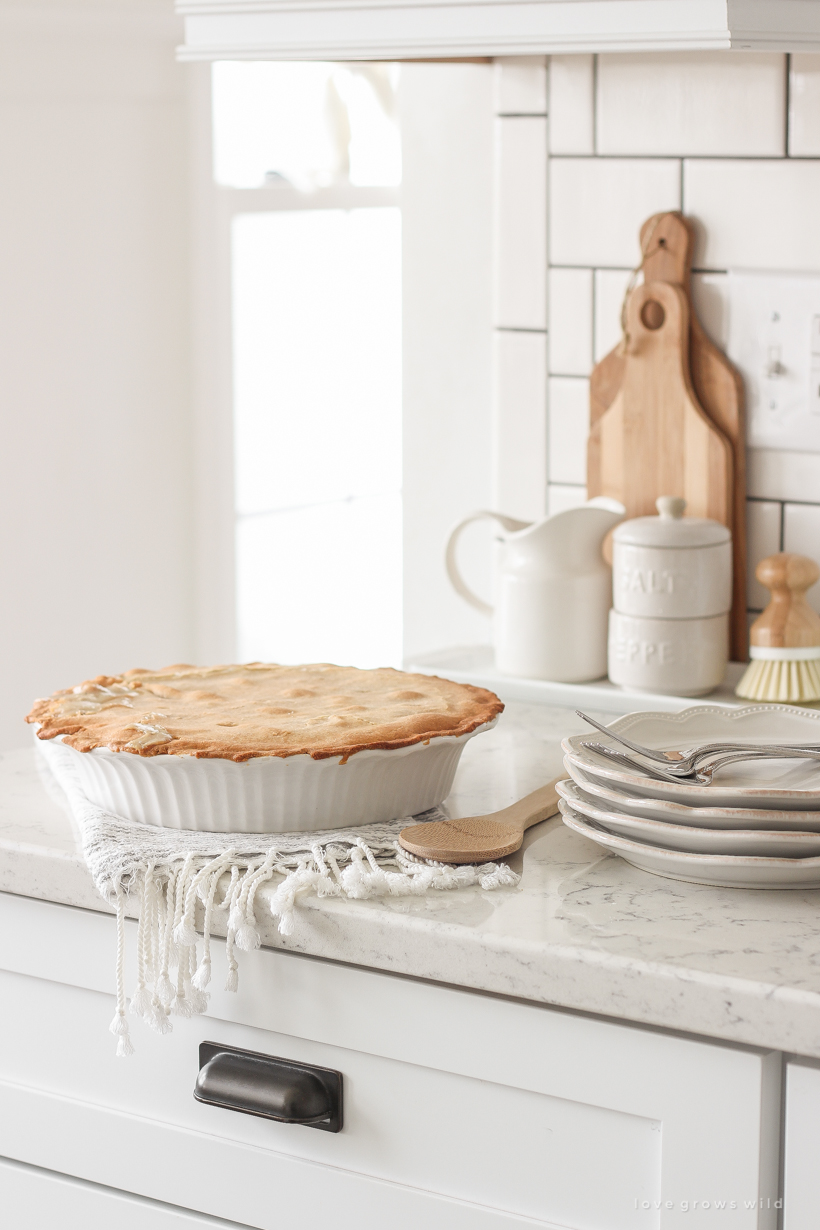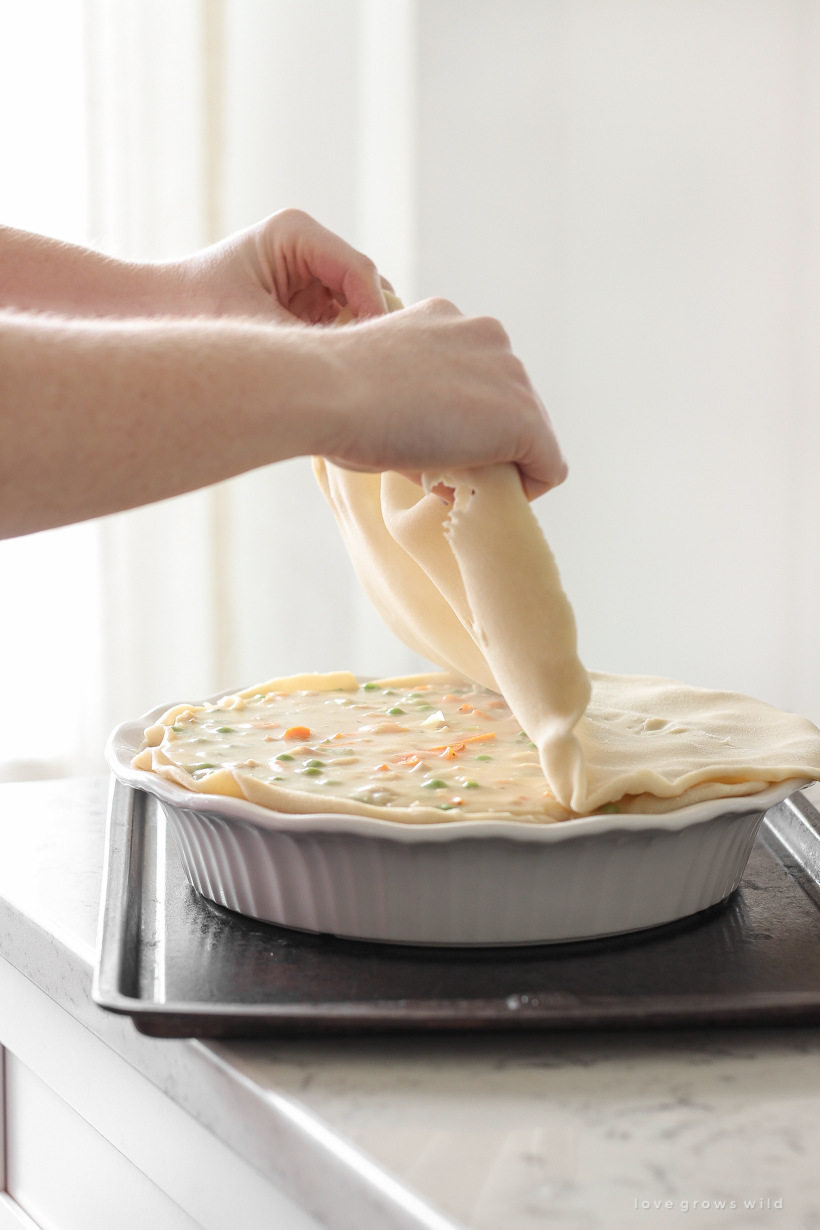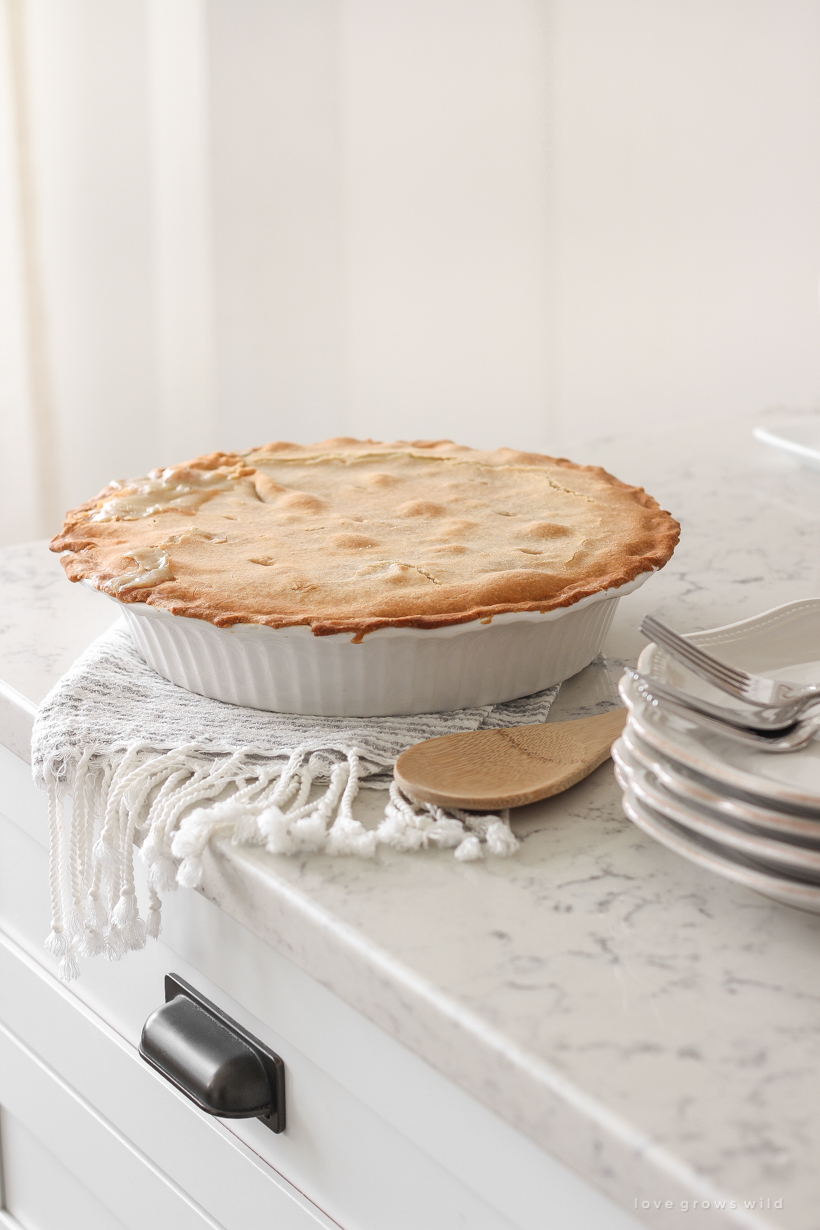 CHICKEN POT PIE
INGREDIENTS:
¼ cup unsalted butter
½ cup onion, finely diced
2 medium carrots, diced small (about 1 cup)
1 stalk celery, diced small (about ½ cup)
2 garlic cloves, minced
½ cup all-purpose flour
½ teaspoon salt
¼ teaspoon black pepper
¼ teaspoon dried thyme
4 cups low-sodium chicken broth
1 cup frozen peas
3 cups shredded cooked chicken (I use this recipe or a store-bought rotisserie chicken)
2 refrigerated pie crusts (or homemade)
INSTRUCTIONS:
Preheat oven to 375ºF. To make the filling: Melt butter in a large saucepan over medium-high heat. Add the onion, carrots, and celery and cook until softened, about 6-8 minutes. Add the garlic and cook until fragrant, about 30 seconds. Add the flour, salt, pepper, and thyme and stir to coat the vegetables well.
Add the broth, whisking constantly until sauce is smooth. Bring to a boil, reduce heat, and simmer until thickened, about 7-9 minutes. Stir in the peas and chicken and remove from heat.
Place one pie crust in the bottom of a 9-inch pie dish. Transfer the filling into the pie dish and top with the second pie crust, trimming any overhang with a sharp knife. Seal the edges of the pie with a fork or your fingers and cut small slits in the top of the crust to vent. Place the dish on a rimmed baking sheet and bake 45-50 minutes until crust is golden brown and filling is bubbling. Cool 10 minutes before serving. Serves 6
Note: Check the pie about 20 minutes into the cook time. If the top crust is browning too quickly, loosely cover the pie in foil for the remainder of the cooking time.
– TIP –
Get multiple uses out of the ingredients you buy: extra shredded cooked chicken can be used another night in this shells + cheese recipe or this chicken noodle soup recipe, and the carrots, celery, and onion are used in my chicken noodle soup recipe as well!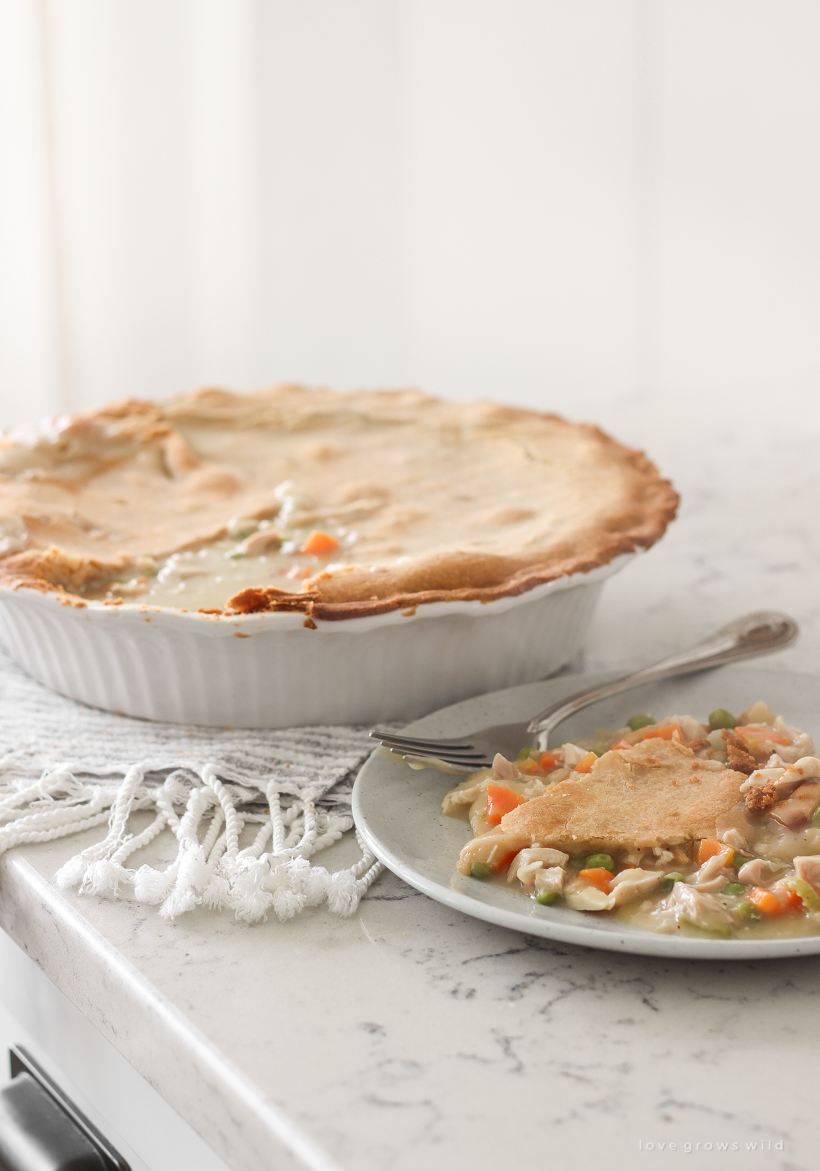 ____________
MORE DINNER IDEAS: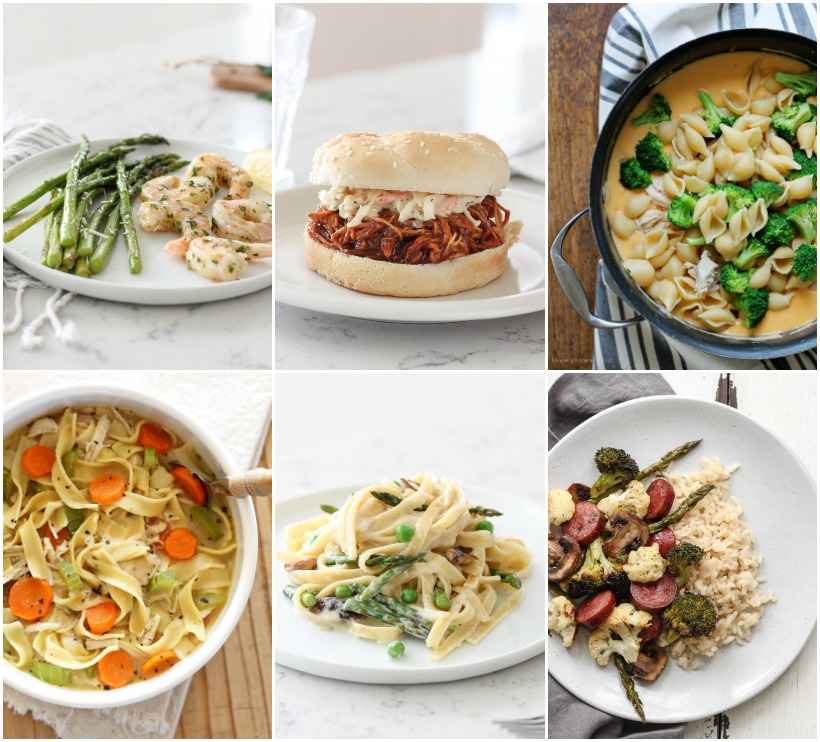 One Pan Roasted Shrimp + Asparagus | Slow Cooker Barbecue Chicken Sandwiches | Chicken + Broccoli Shells + Cheese
Quick + Easy Chicken Noodle Soup | Spring Vegetable Fettuccine Alfredo | Healthy One Pan Roasted Sausage + Vegetables
____________
Enjoy, sweet friend! If you try any of my recipes, I'd love to see what you make by tagging me in your photos + stories!
IG: @lizlovegrowswild + #lovegrowswild
---
Subscribe to Blog | Follow on Instagram
Follow on Pinterest | Follow on Facebook