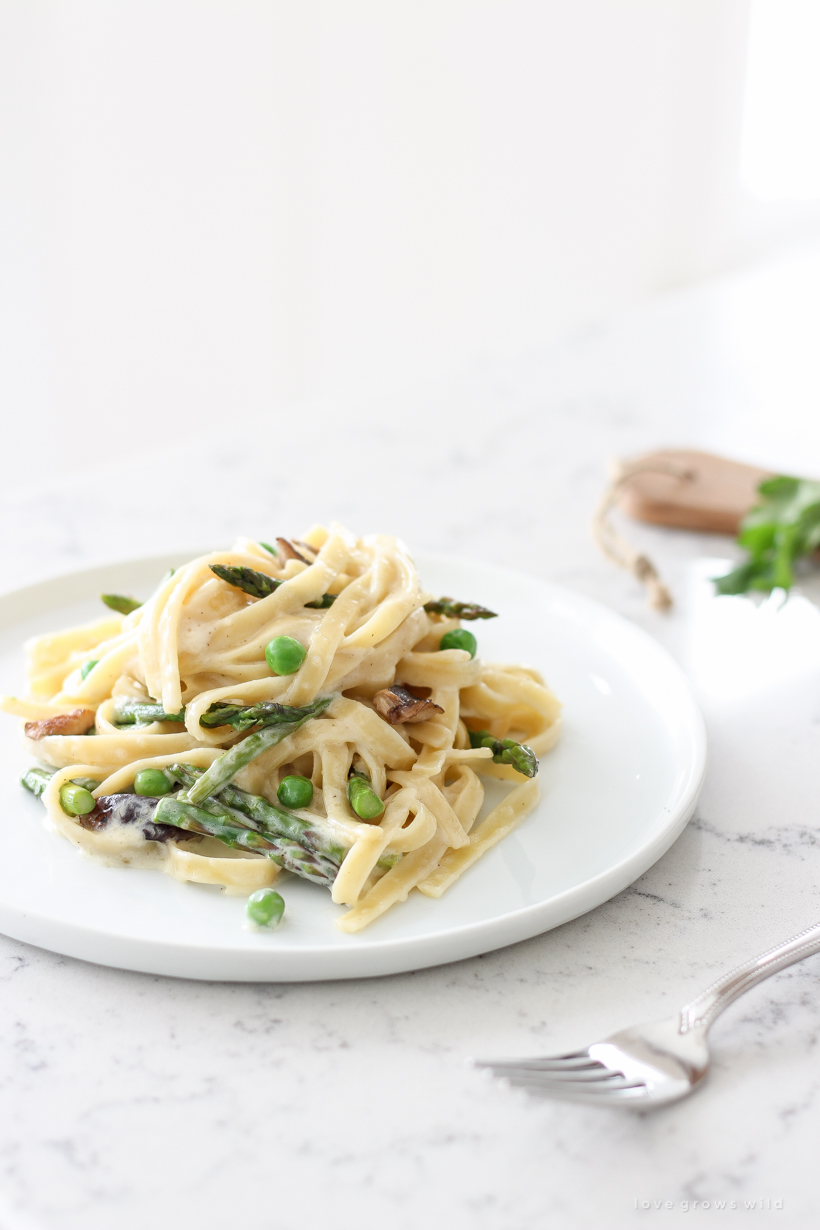 If you ask my boys what their favorite meal Mom makes is, there is a pretty good chance they will say Fettuccine Alfredo! I've had the best easy Alfredo sauce recipe for years, and it's such a quick and easy dish that feels so comforting and satisfying. But today I'm giving it a little pick-me-up with some fresh spring flavors and delicious vegetables!
This is just my go-to basic Fettuccine Alfredo with the addition of asparagus, peas, and mushrooms, but you can easily customize the dish with any vegetables your family likes. We often use broccoli and add a protein like shrimp or chicken (this shrimp recipe is DIVINE with my Alfredo), or if you want to be extra decadent, just go ahead and add in some crispy chopped bacon. ?
I also love that this is such a quick and simple dinner idea, and in the time it takes to bring the water to a boil and cook the pasta, you can have the vegetables cooked and the sauce made and ready to go! Just serve with a salad and some garlic bread for the perfect easy dinner. I hope you enjoy this Spring Vegetable Fettuccine Alfredo, sweet friends!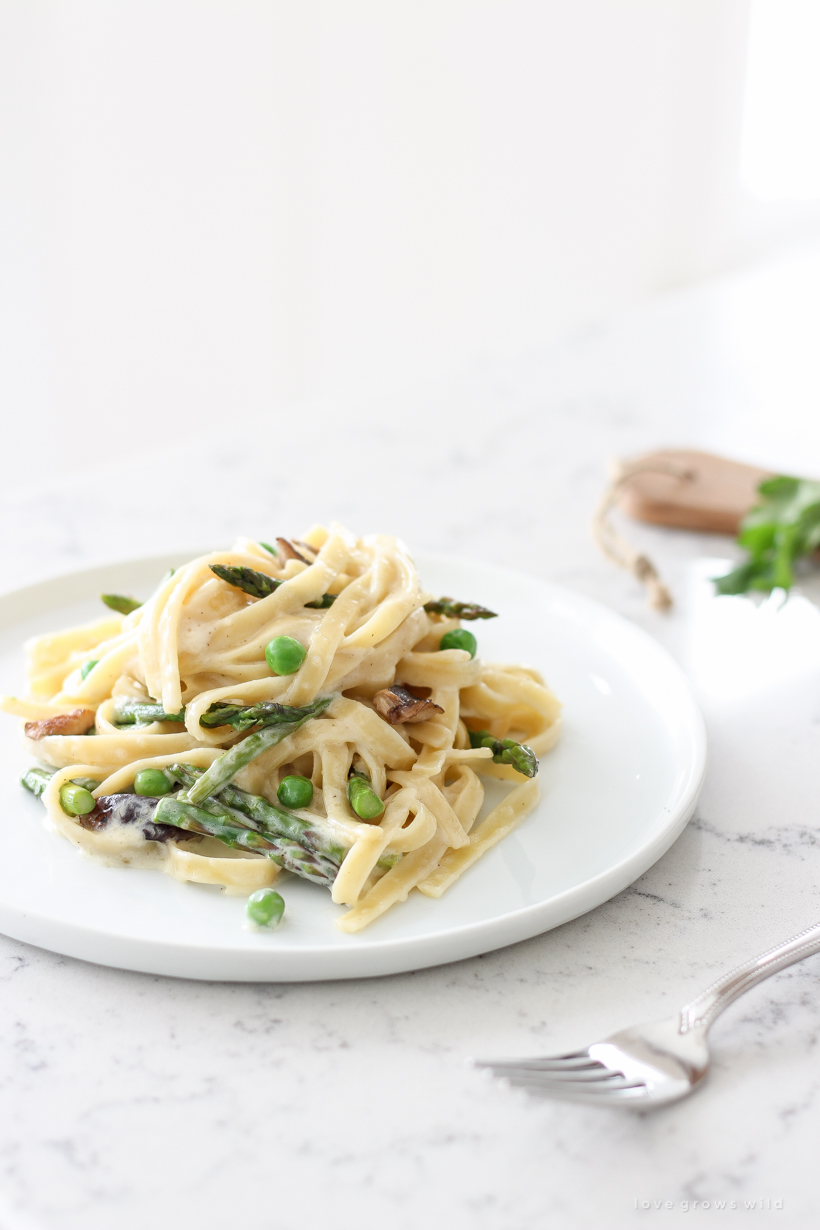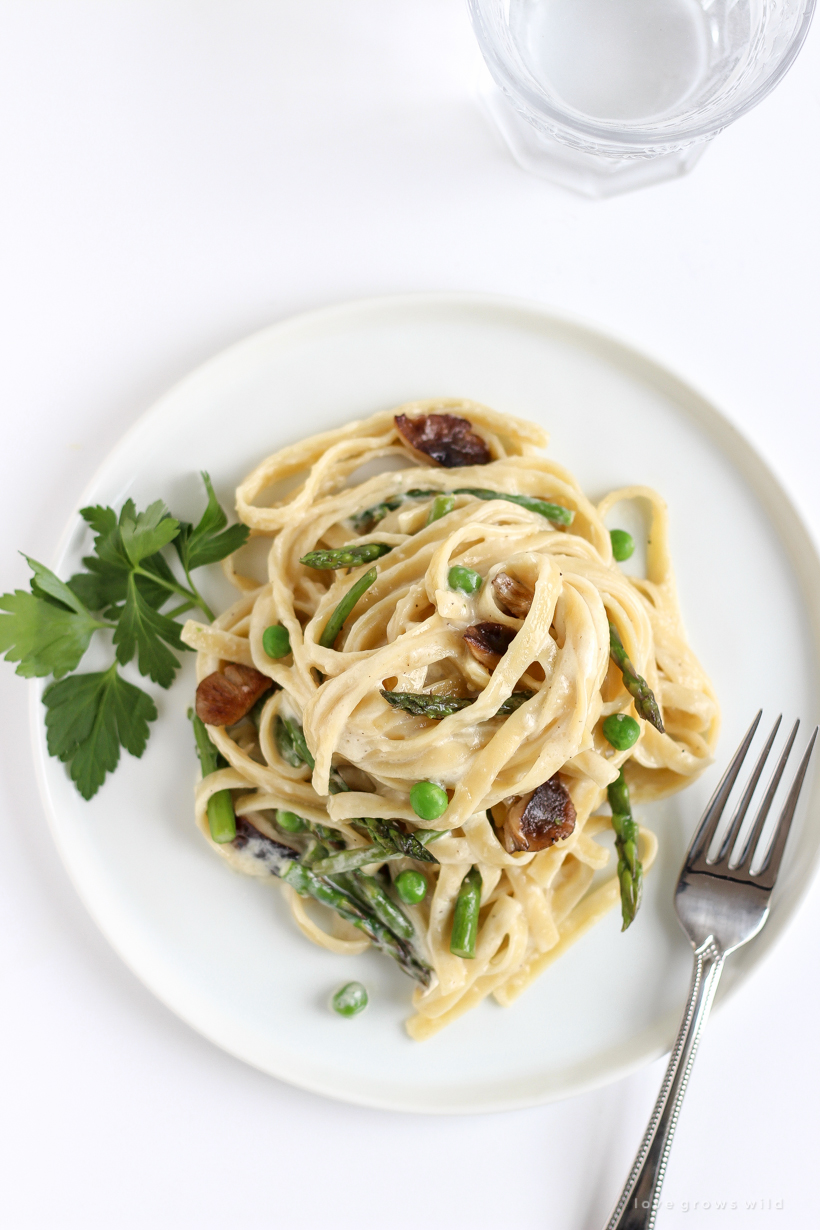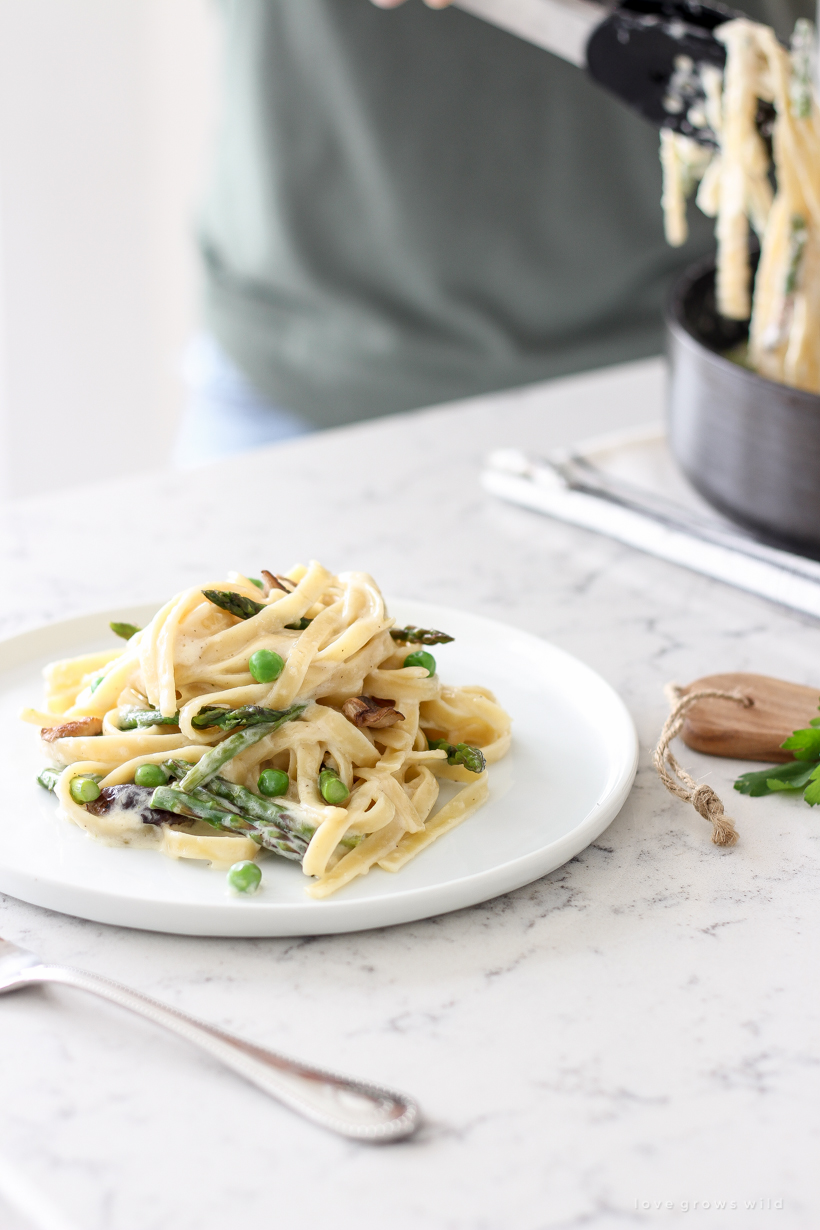 SPRING VEGETABLE FETTUCCINE ALFREDO
INGREDIENTS:
8 ounces fettuccine
1 pound asparagus
4 ounces mushrooms
2 tablespoons unsalted butter – for the vegetables
4 tablespoons unsalted butter – for the sauce
2 cups heavy whipping cream
1/2 cup frozen peas
1 cup grated Parmesan
1/2 teaspoon salt
1/4 teaspoon pepper
INSTRUCTIONS:
Bring a large pot of water to a boil over high heat. Salt the water generously, and add the fettuccine. Cook according to package directions to al dente, stirring occasionally to keep pasta from sticking together. Drain the fettuccine, and set aside.
Meanwhile, slice the mushrooms, and chop the asparagus into 2-inch lengths. Heat a large skillet over medium heat, and add 2 tablespoons of butter. Once melted, add the mushrooms and asparagus, and cook, stirring occasionally, until the vegetables are tender, about 6-8 minutes. Transfer the vegetables to the drained pasta.
Melt another 4 tablespoons of butter in the skillet still over medium heat, then whisk in the heavy whipping cream. Bring to a simmer and reduce the heat to medium-low. Stir in the peas and cook for 2 minutes, then remove the pan from the heat. Add the grated Parmesan, salt, and pepper and whisk until smooth. Add the cooked fettuccine and vegetables and stir until everything is well coated in the sauce. Serve immediately.
Optional: Add a sprinkle of chopped fresh parsley and a pinch of lemon zest before serving.
______________
Enjoy, sweet friends! If you try any of my recipes, I'd love to see your creations by tagging me in your photos! IG: @lizlovegrowswild + #lovegrowswild
---
Subscribe to Blog | Follow on Instagram
Follow on Pinterest | Follow on Facebook