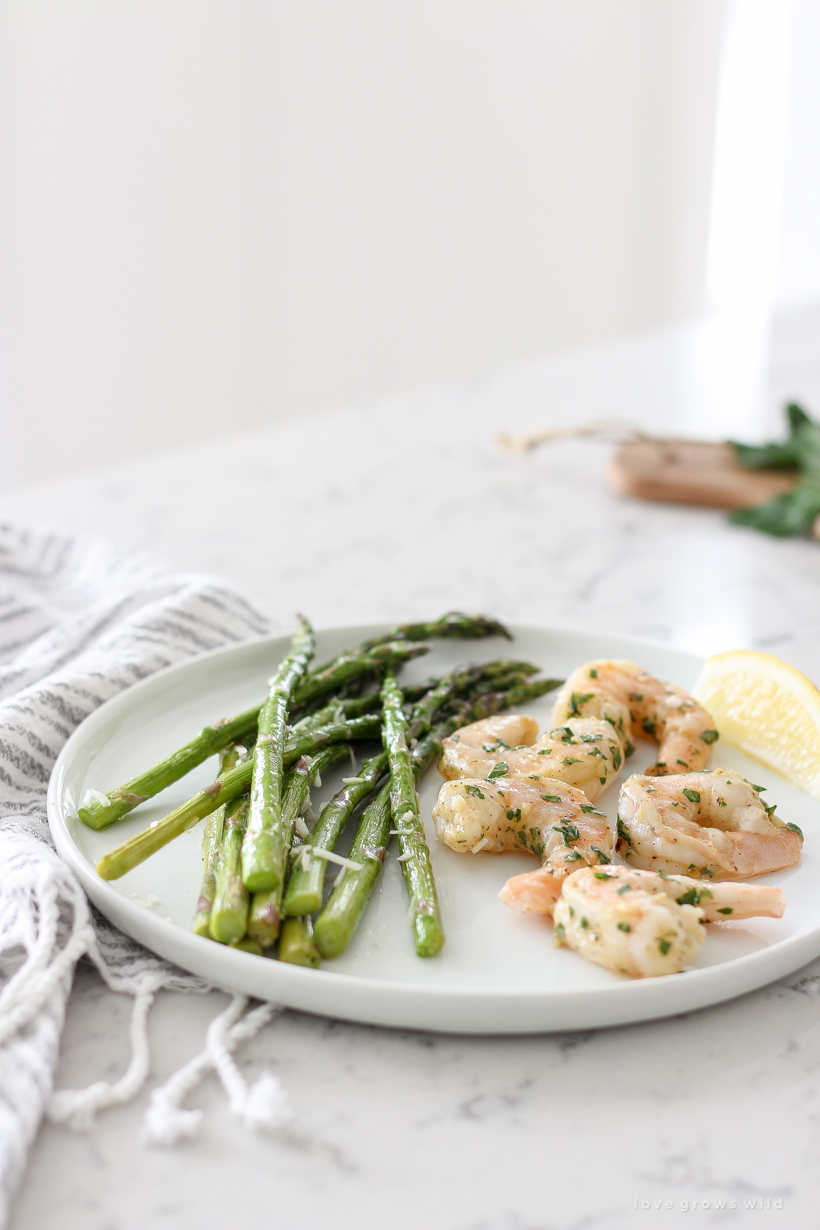 As the weather ever so slowly begins feeling more like spring, my mind is switching gears towards outdoor projects and gardening and fresh spring recipes I want to share with you. My favorite dinners I've been making lately are ones that are healthy, easy, and can be made quickly, and this One Pan Roasted Shrimp and Asparagus recipe checks all those boxes. In fact, it can be prepared in under 30 minutes! And because it's a one pan meal, you won't have a pile of dishes to wash afterwards either, which makes this recipe a big winner in my book.
What I love most about this recipe is the simplicity of the ingredients and the big flavor you get from a quick roast in the oven and the perfect amount of seasoning. Garlic plays a big role in adding delicious flavor to the shrimp, and a squeeze of lemon juice at the end makes everything taste fresh, bright, and so delicious. There is a small amount of paprika and red pepper flakes in the ingredient list, but the amount is so small that it just adds a boost of flavor without being spicy. If you prefer more heat, you can certainly add a little more of those two ingredients, but my family is sensitive to spicy foods, so this is the perfect amount for us.
Just 12-14 minutes in the oven, and you will have a healthy, flavorful meal ready to serve!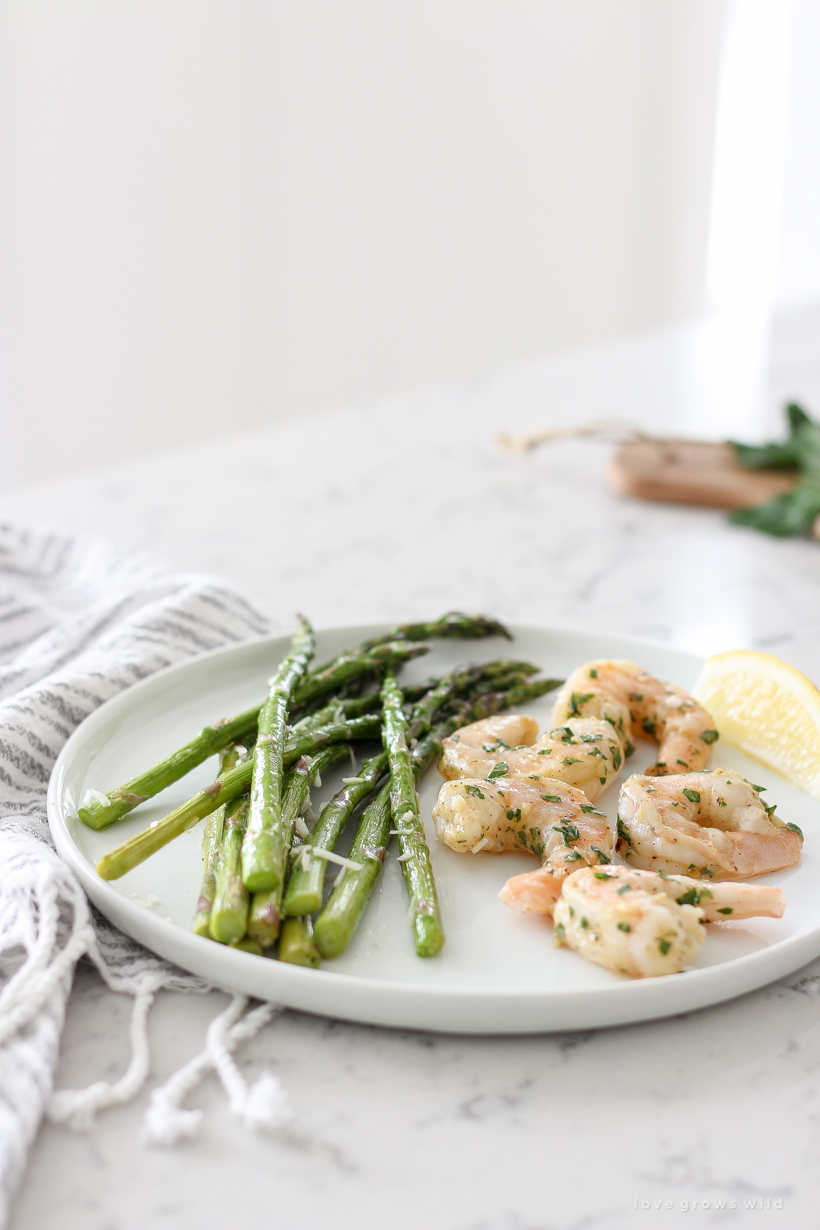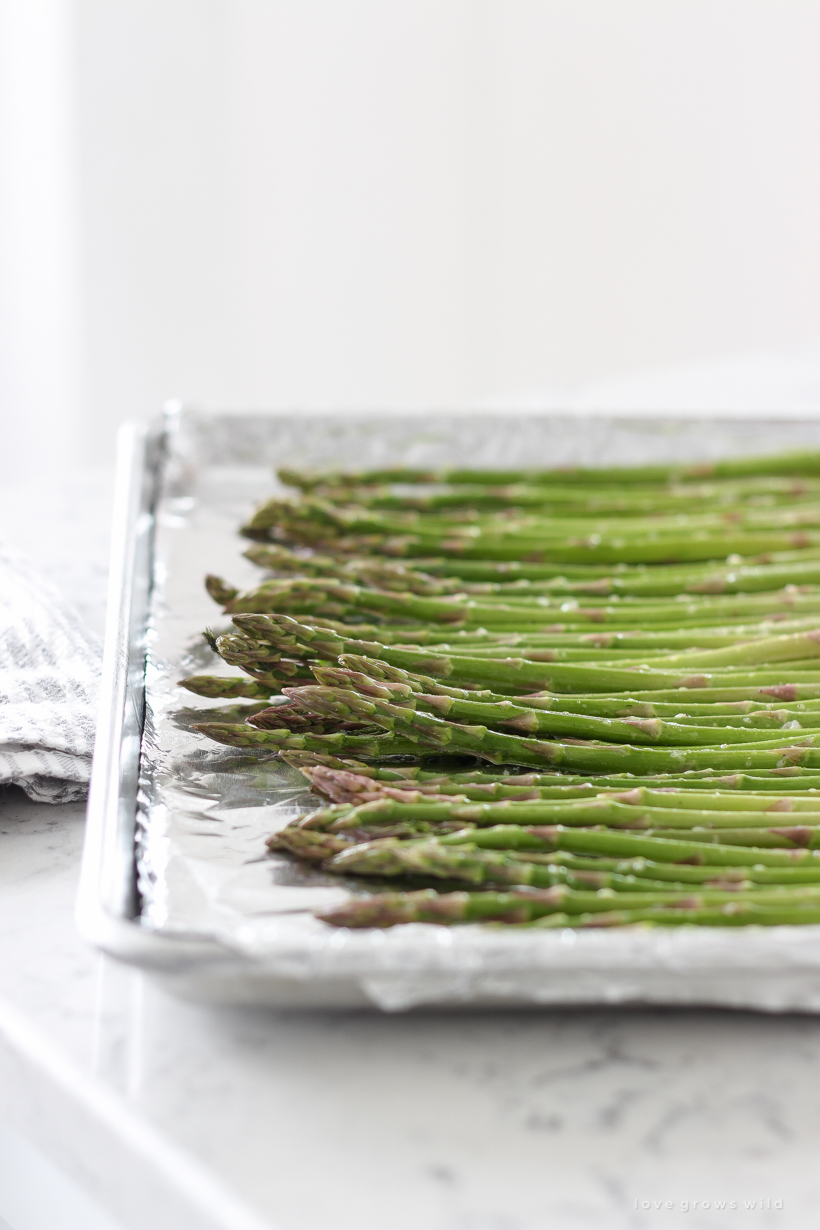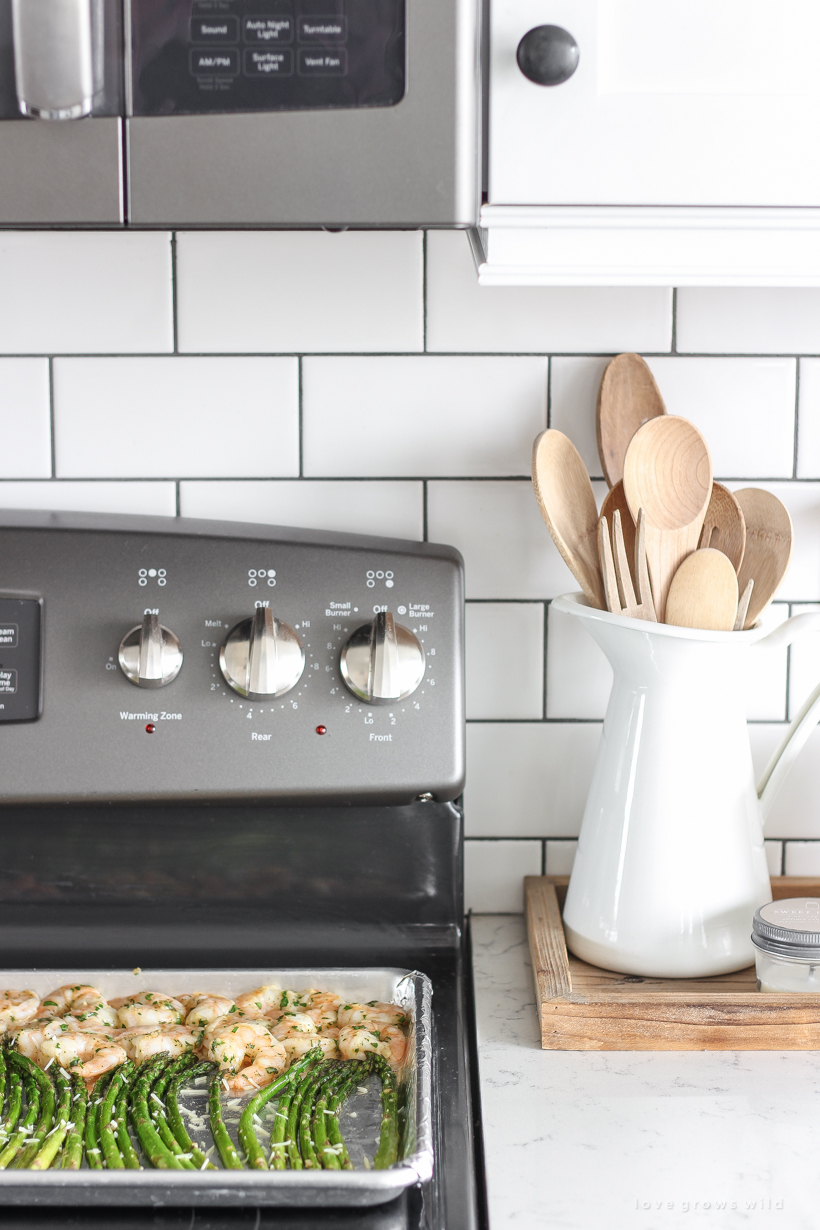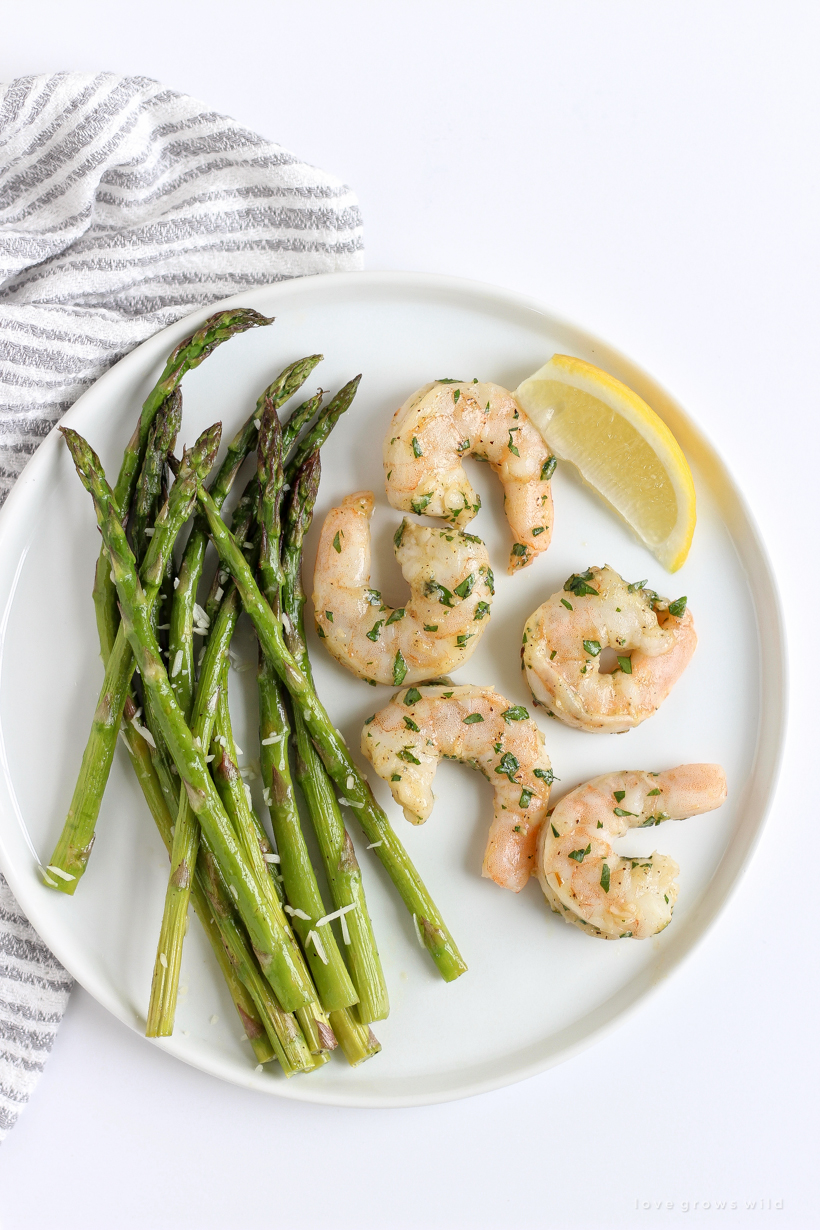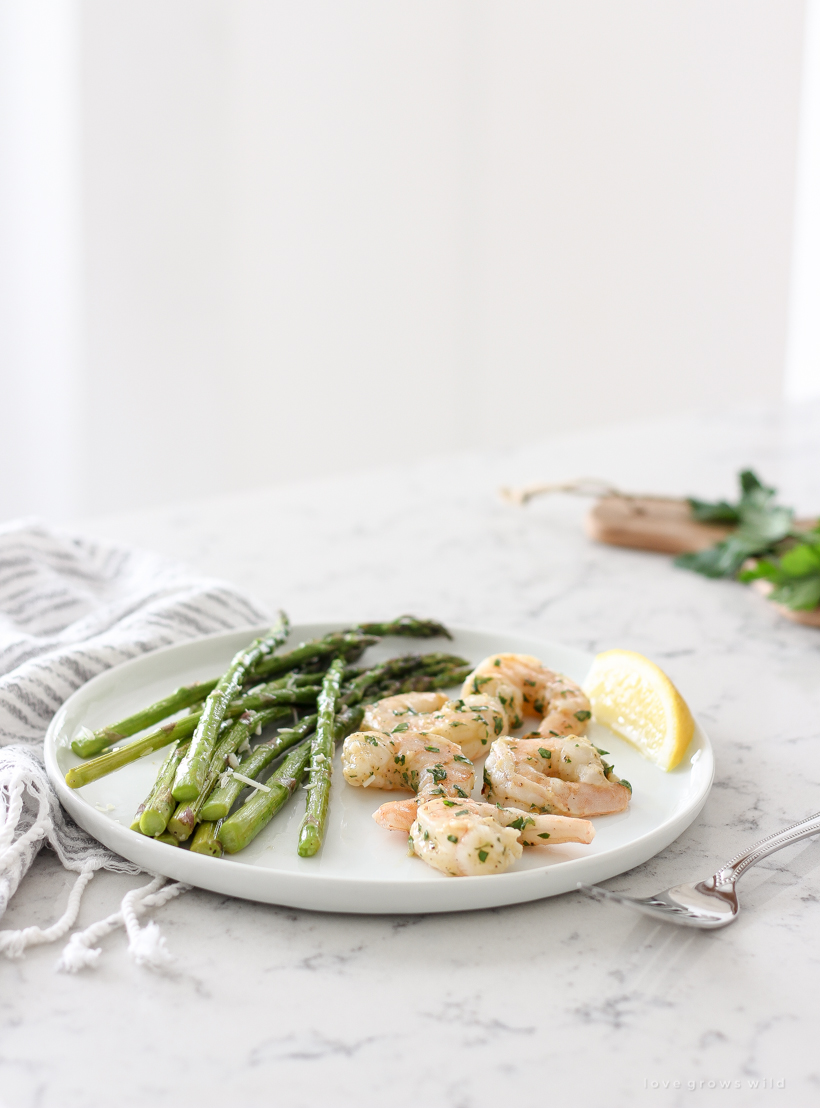 TIP: Buy frozen shrimp that is peeled and deveined with tails off, and keep it in the freezer for a quick meal when you're in a pinch. To thaw the shrimp, place the package in your refrigerator overnight, or place the shrimp in a colander in the sink and run cold water over them for about 15 minutes. Pat the shrimp dry with a paper towel before cooking.
One Pan Roasted Shrimp and Asparagus
SHRIMP INGREDIENTS:
1 pound raw shrimp – medium size, peeled and deveined
1 tablespoon olive oil
2 garlic cloves, finely minced
1/4 teaspoon salt
1/4 teaspoon paprika
1/8 teaspoon black pepper
1/8 teaspoon red pepper flakes
2 tablespoons parsley, freshly chopped
juice from half a lemon
ASPARAGUS INGREDIENTS:
1 pound thin asparagus, ends trimmed
1 tablespoon olive oil
1 garlic clove, finely minced
1/4 teaspoon salt
1/8 teaspoon pepper
2-3 tablespoons grated Parmesan
INSTRUCTIONS:
Preheat oven to 400ºF and line a baking sheet with foil.
Thaw the shrimp if frozen and place in a large bowl. Drizzle the shrimp with olive oil and add garlic, salt, paprika, black pepper, red pepper flakes, and parsley. Toss and allow the shrimp to marinate while preparing the asparagus.
Add trimmed asparagus to the foil-lined pan and drizzle with olive oil. Sprinkle with garlic, salt, and pepper and toss until evenly coated. Place the pan in the oven and roast for 6-8 minutes (depending on the thickness of the asparagus).
Remove from the oven and add shrimp to one side of the pan in a single layer. Roast for another 6 minutes just until the shrimp turns opaque and is cooked through.
Squeeze juice from half a lemon over the shrimp and asparagus and sprinkle grated Parmesan over the asparagus. Serve immediately.
______________
Enjoy, sweet friends! If you try any of my recipes, I'd love to see your creations by tagging me in your photos! IG: @lizlovegrowswild + #lovegrowswild
---
Subscribe to Blog | Follow on Instagram
Follow on Pinterest | Follow on Facebook