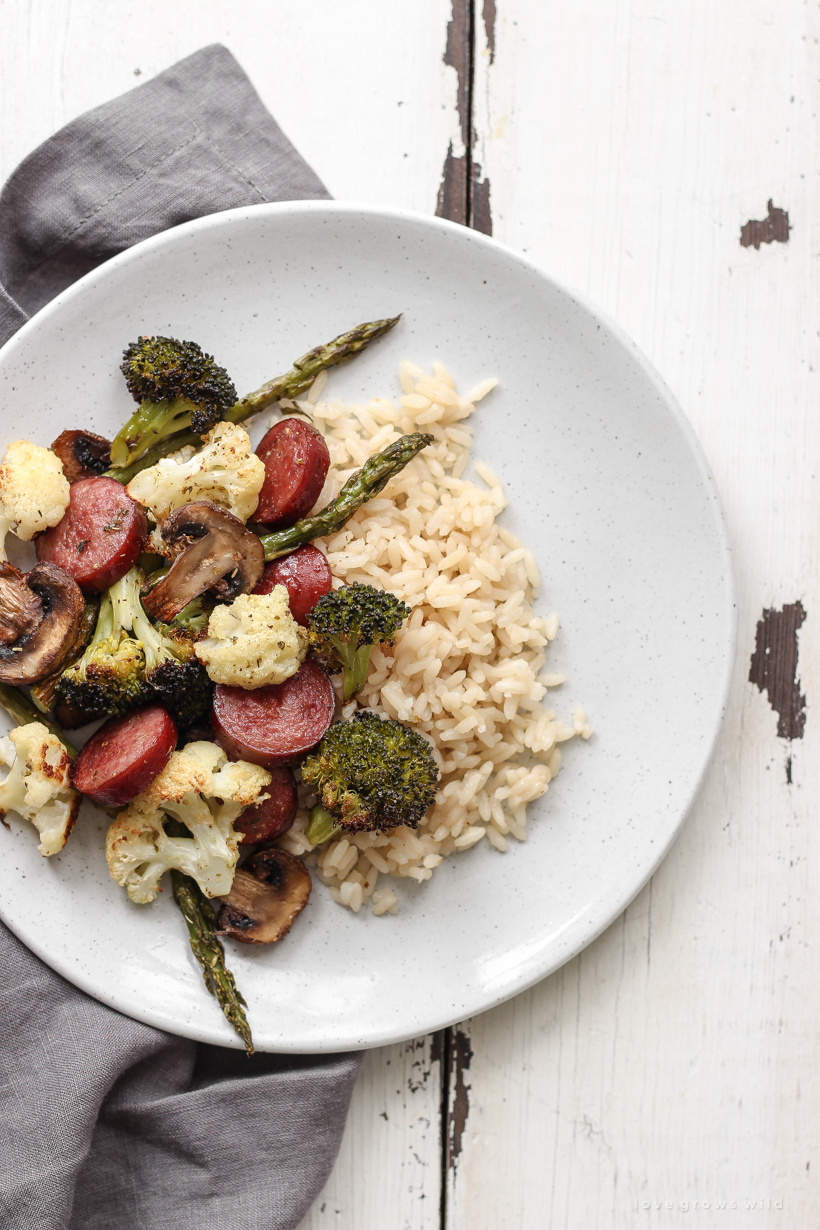 One of my goals this year is to share more of the things I'm truly passionate about, and cooking for my family and taking care of my body are two things that are very important to me. So whether it's the fitness tips I share over on my Instagram stories or our favorite recipes I post here on the blog, I hope you enjoy the occasional departure from home decor and decorating to learn some tips that may be helpful in your own health journey.
Like most people, I look for dinner recipes that fall into several categories: healthy/low calorie, quick and easy, gets our vegetables servings in, and as little prep/mess/clean-up as possible. This Healthy One Pan Roasted Sausage and Vegetables checks all of those boxes!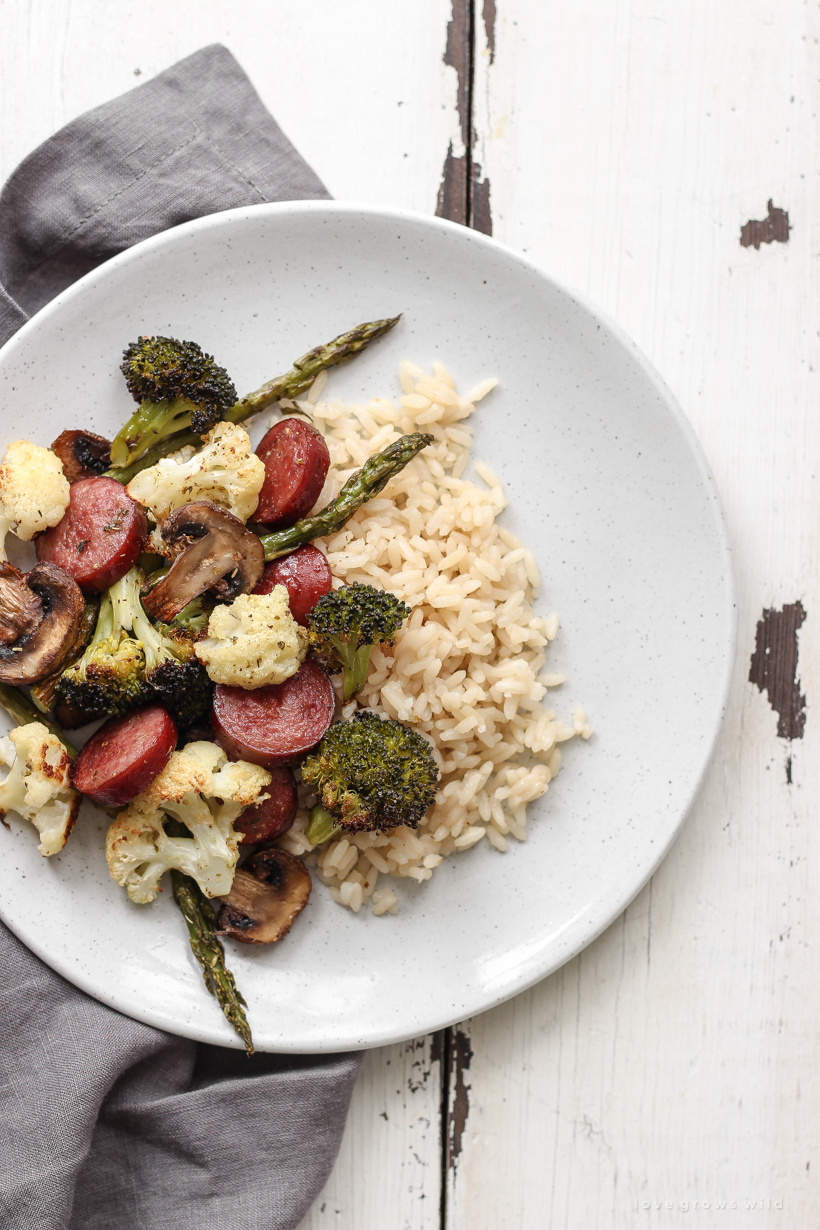 I've been making this meal for years and finally decided it was time to give it a spot on my blog that you can go back and reference because I talk about it often. I can usually get all of the veggies and sausage chopped and ready by the time the oven preheats, so it's great for nights when you don't have a ton of time or energy to make dinner. I would say this easily feeds 4-6 people because we always have leftovers, and even though it definitely tastes best fresh out of the oven, I use this as a meal prep recipe as well for nights I need a quick and healthy dinner after the gym.
If you're not a fan of mushrooms or asparagus, don't worry… this recipe is super easy to customize. You can swap out whatever vegetables you don't like or use whatever looks best at the market or needs to be used up from your refrigerator. The key to this recipe is spreading the ingredients out between 2 or 3 large sheet pans so that the veggies are in a single layer and have room to roast instead of just steam. I find that the flavor and texture is much better this way!
I try to follow a lower carb diet, so vegetables like broccoli, cauliflower, bell pepper, and asparagus work great with this recipe. I'll eat the sausage and veggies alone to keep my calorie and carb intake down, but if you would like to bulk up the recipe a bit for your family, adding a side of rice is a great option. And the best part is how easy clean-up is! Two sheet pans is all you have to wash. I hope you enjoy this recipe as much as we do and try incorporating it into your weekly meals!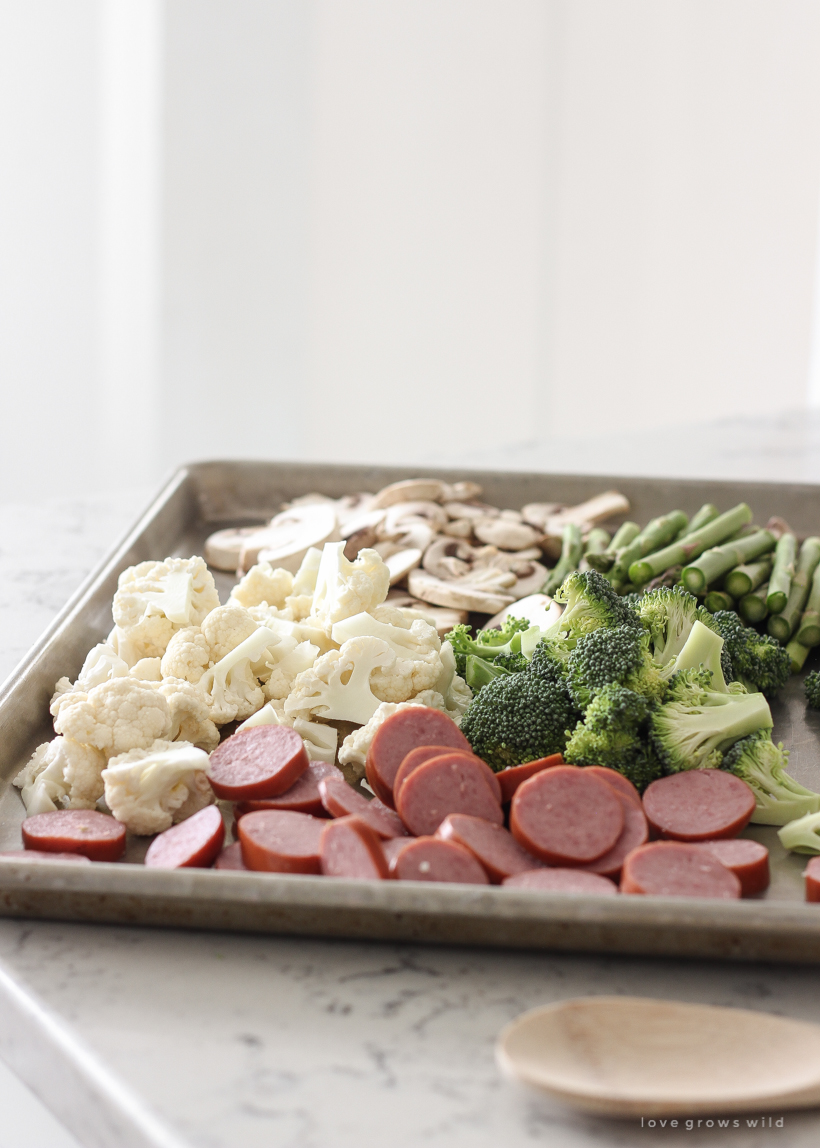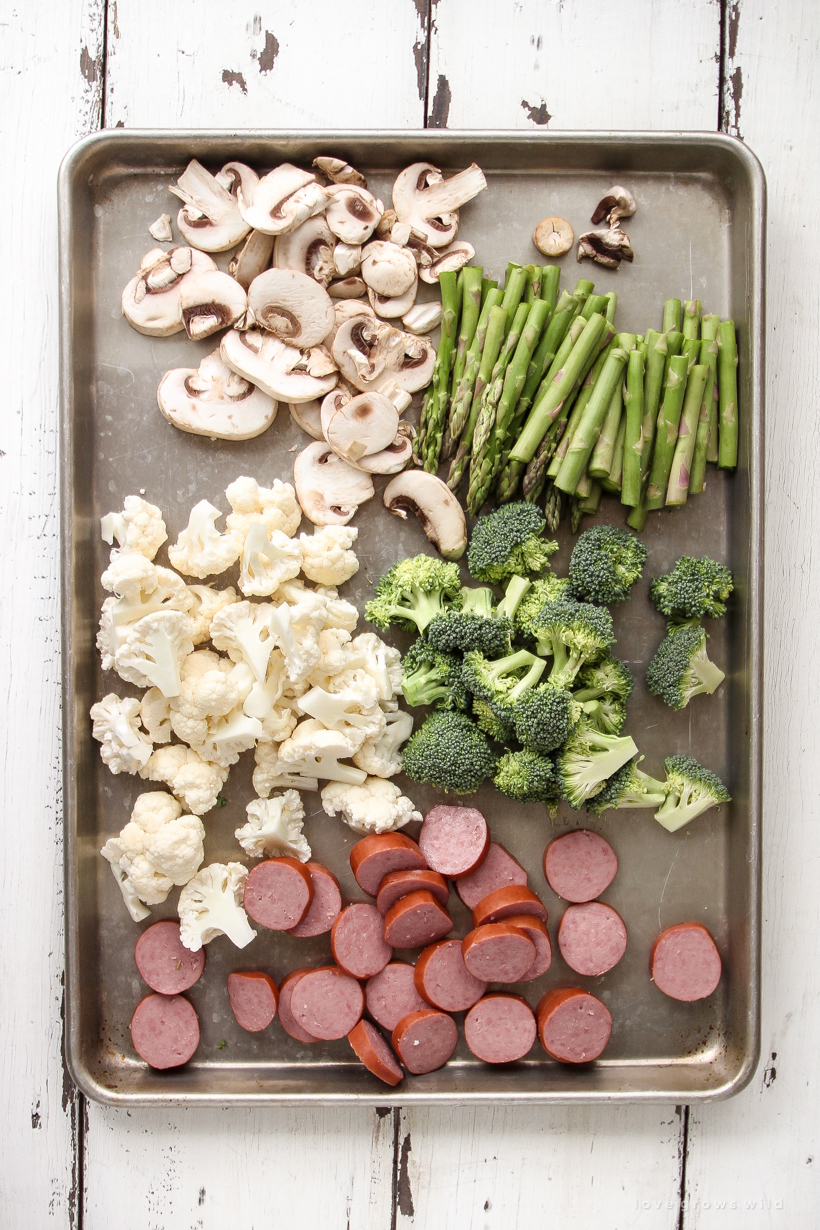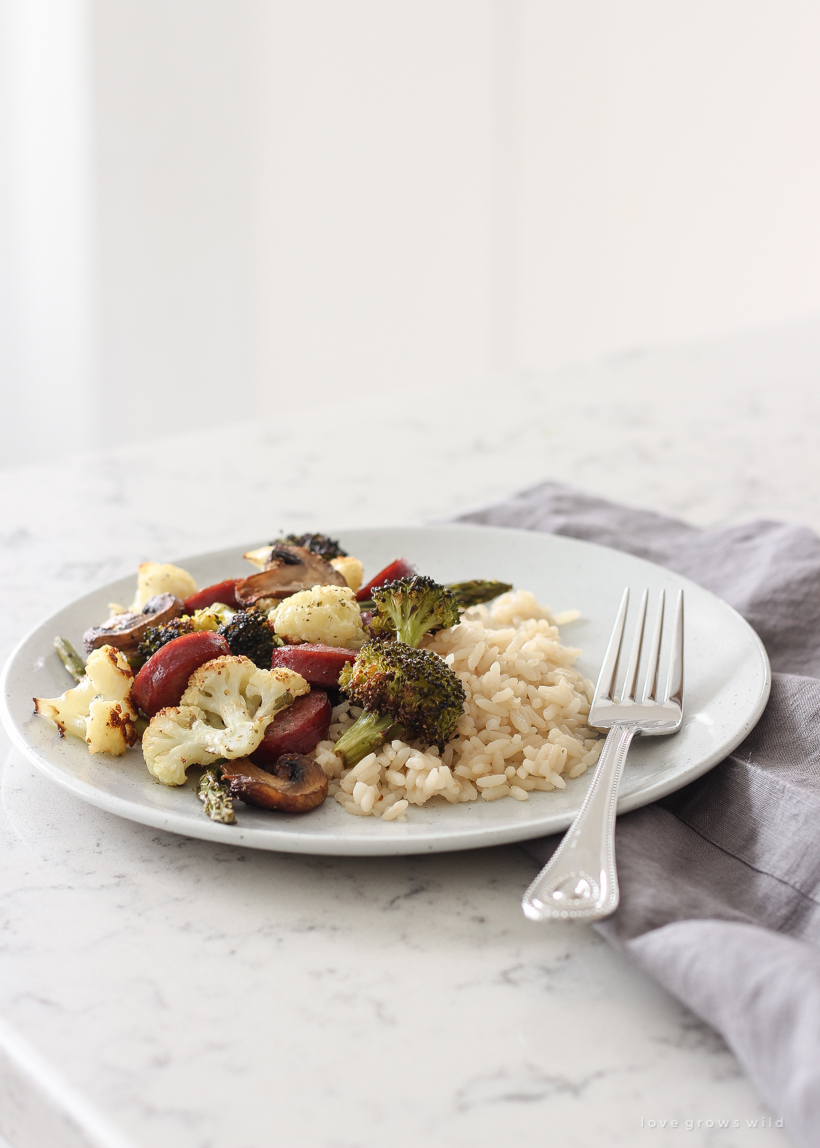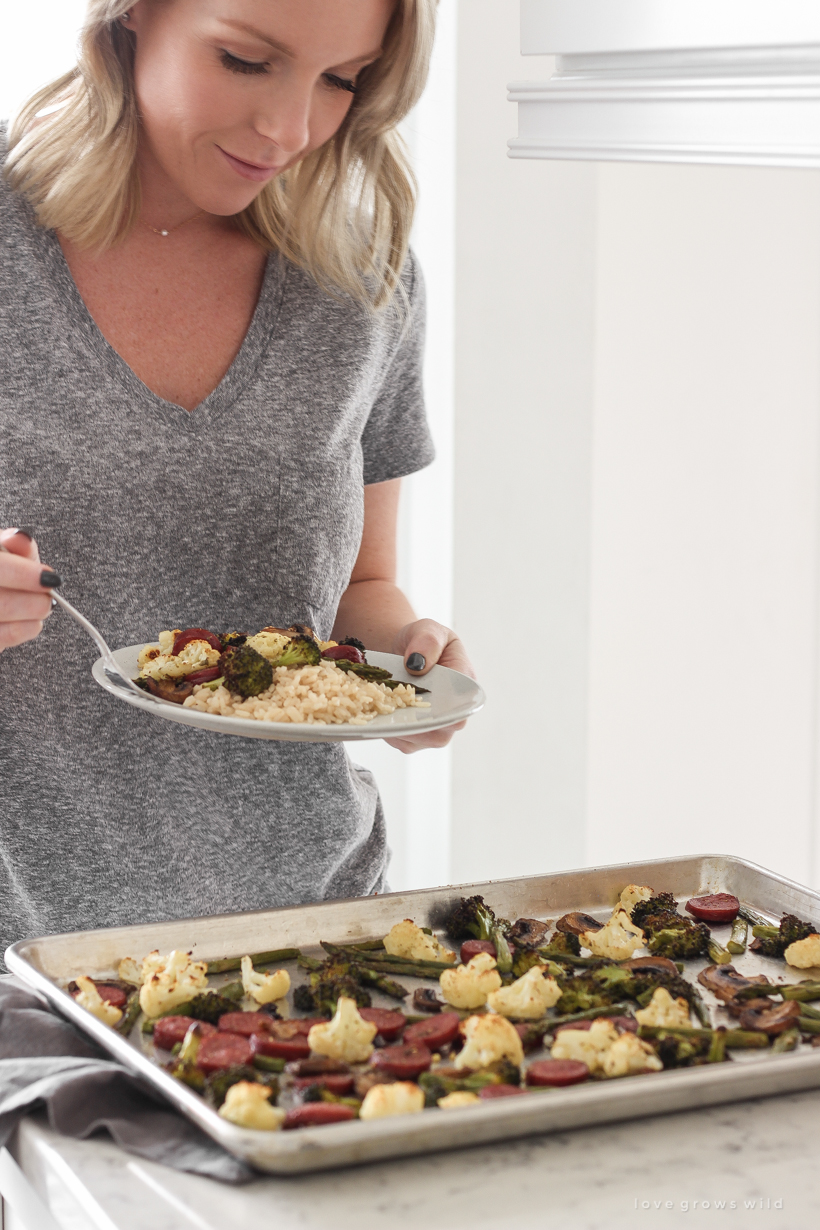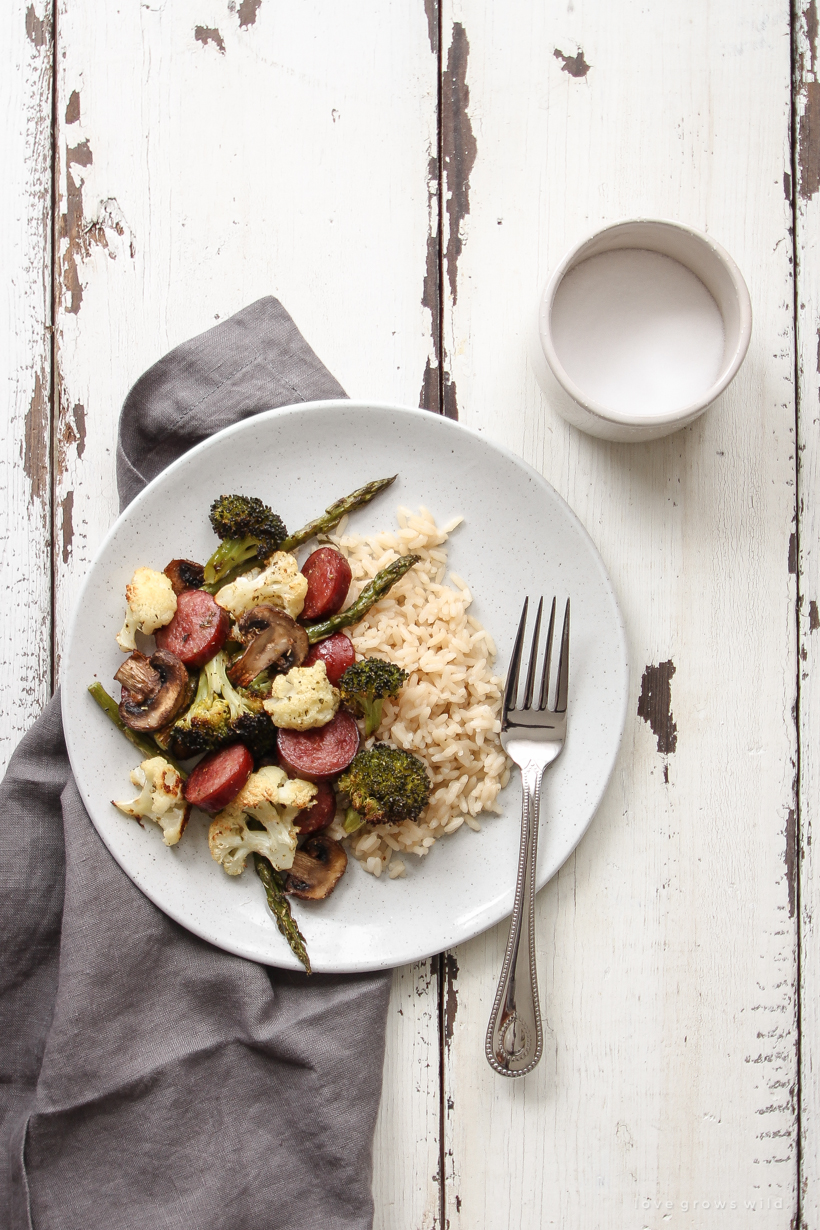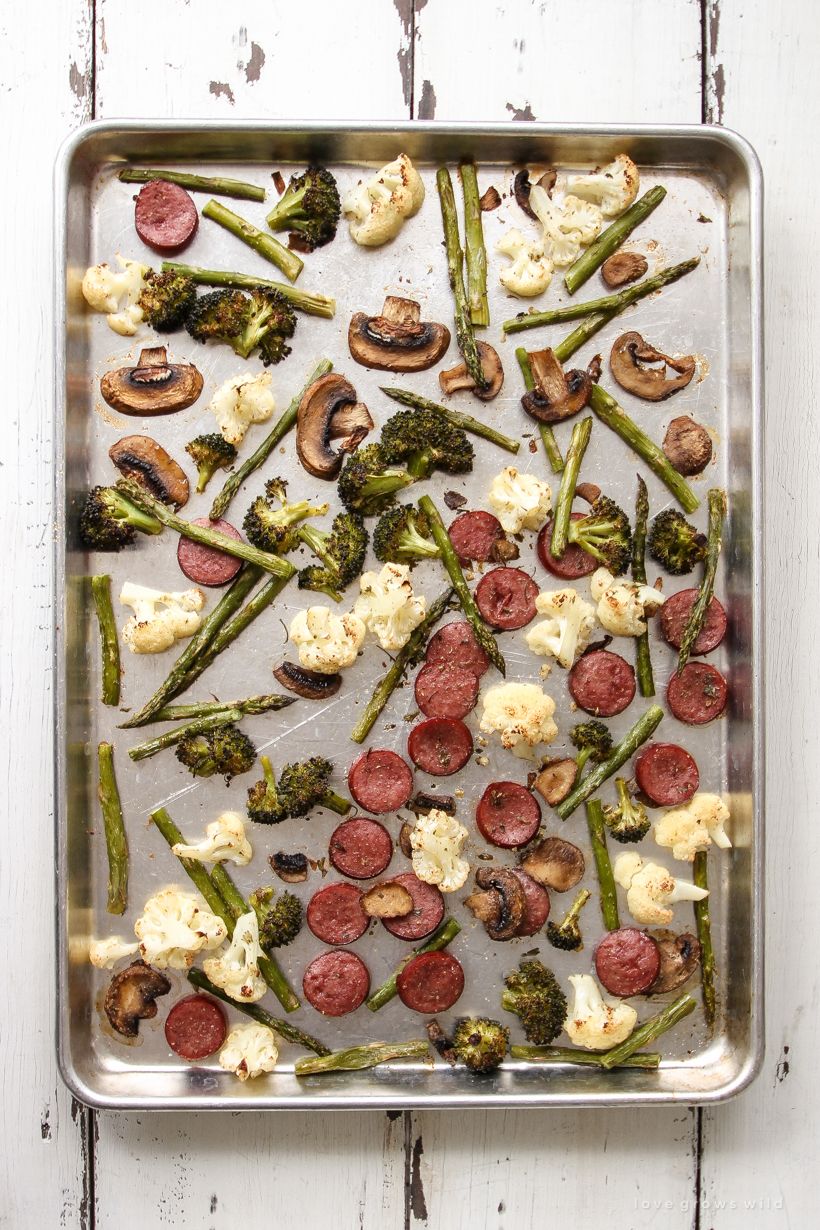 HEALTHY ONE PAN ROASTED SAUSAGE AND VEGETABLES
INGREDIENTS:
1 head broccoli, cut into small florets
1 head cauliflower, cut into small florets
8 oz package mushrooms, sliced
1 bunch of asparagus, ends trimmed and cut in half
12-16 oz package precooked sausage, cut into ½-inch slices – (I like Oscar Mayer natural uncured turkey sausage)
4-6 tablespoons olive oil
1 ½ teaspoon dried parsley
1 teaspoon dried oregano
½ teaspoon garlic powder
¼ teaspoon salt
¼ teaspoon pepper
optional: serve with freshly grated Parmesan cheese and rice if desired
INSTRUCTIONS:
Preheat the oven to 400ºF. Place all the chopped vegetables and sausage on 2-3 large sheet pans and drizzle with olive oil. Add seasonings and toss (hands work best) until all the ingredients are well coated and combined. Bake for 25-30 minutes, flipping/stirring halfway through to ensure even cooking. Sprinkle Parmesan cheese on top as soon as it comes out of the oven, and serve alone as the lowest calorie/carb option or add a side of rice if desired.
Note: You can swap out any of the vegetables for ones you and your family prefer. Here are a few other options we enjoy: zucchini, bell pepper, green beans, potatoes, squash, onion
____________
MORE DINNER IDEAS: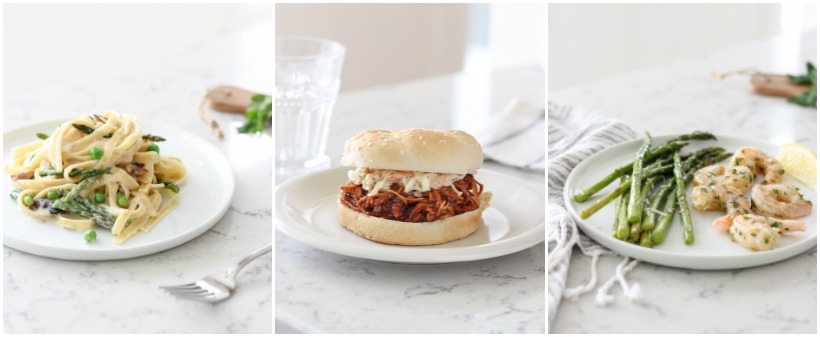 Spring Vegetable Fettuccine Alfredo | Slow Cooker Barbecue Chicken | One Pan Roasted Shrimp + Asparagus
____________
Enjoy, sweet friend! If you try any of my recipes, I'd love to see what you make by tagging me in your photos!
IG: @lizlovegrowswild + #lovegrowswild
---
Subscribe to Blog | Follow on Instagram
Follow on Pinterest | Follow on Facebook