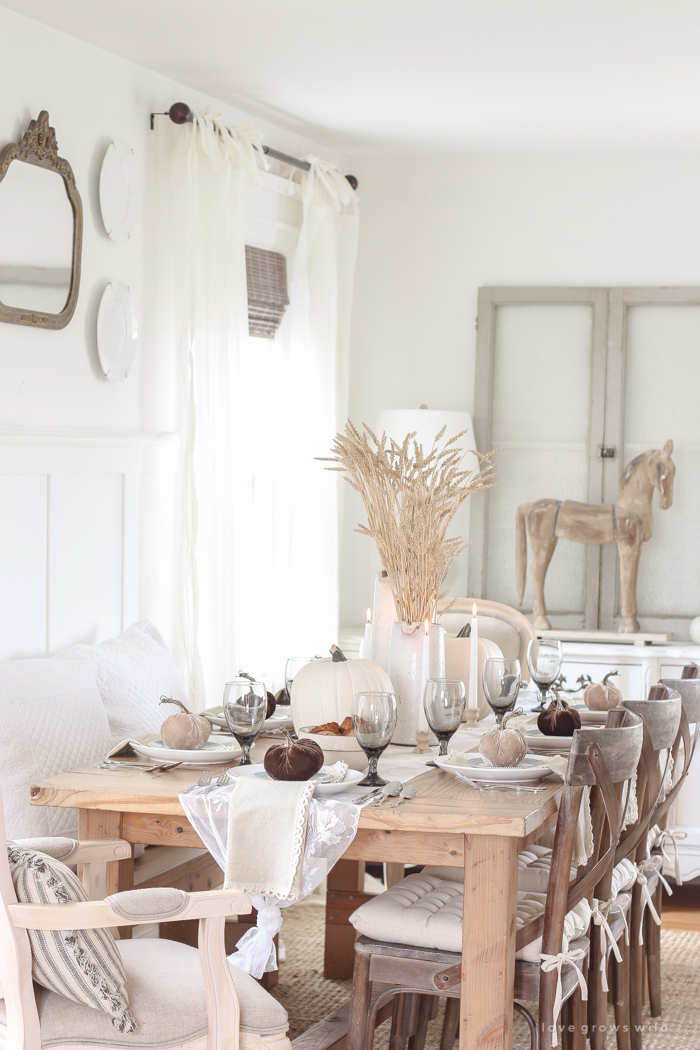 Last week I started my fall decorating in the kitchen, and this week I'm moving on to another fun space to decorate for each season, our dining room.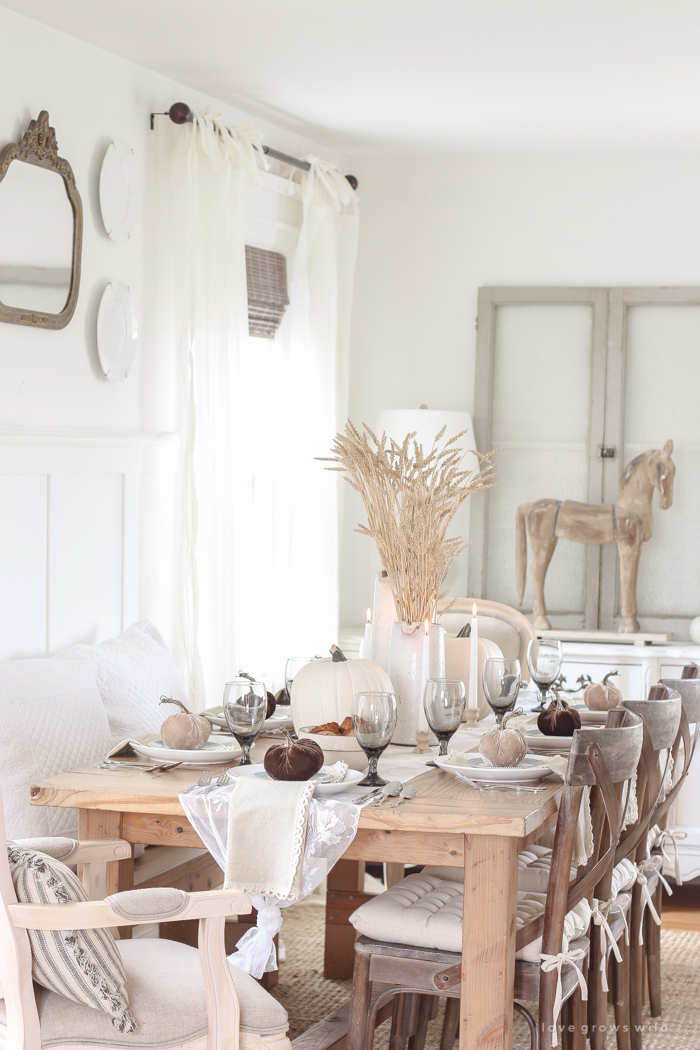 I'm calling this our "country harvest" tablescape because the whole look started with a big bucket of wheat that was harvested this summer from the field all around our house, which is so special to the boys and I. I've decorated with fake wheat stems for years, but to have the real thing that was graciously given to us by the farmer just feels like such an organic, personal way to bring fall into our farmhouse. We watched the wheat grow from our back window as it was planted after harvest last fall and lay dormant over the winter until spring woke it back up to let the plants finish growing. If you follow me on Instagram, you may remember seeing this photo of our little white barn in a winter wonderland of snow with a lush field of green in the background. It was such a pretty picture of the barn as winter began turning to spring and captured the stark white snow next to the green growing fields… sort of a unique snapshot of nature. I was so thankful that we were given a tiny part of the wheat harvest, and the boys love having a bit of the farm in our house this fall. I placed the wheat in two of my favorite pitchers in the center of the table and continued decorating from there.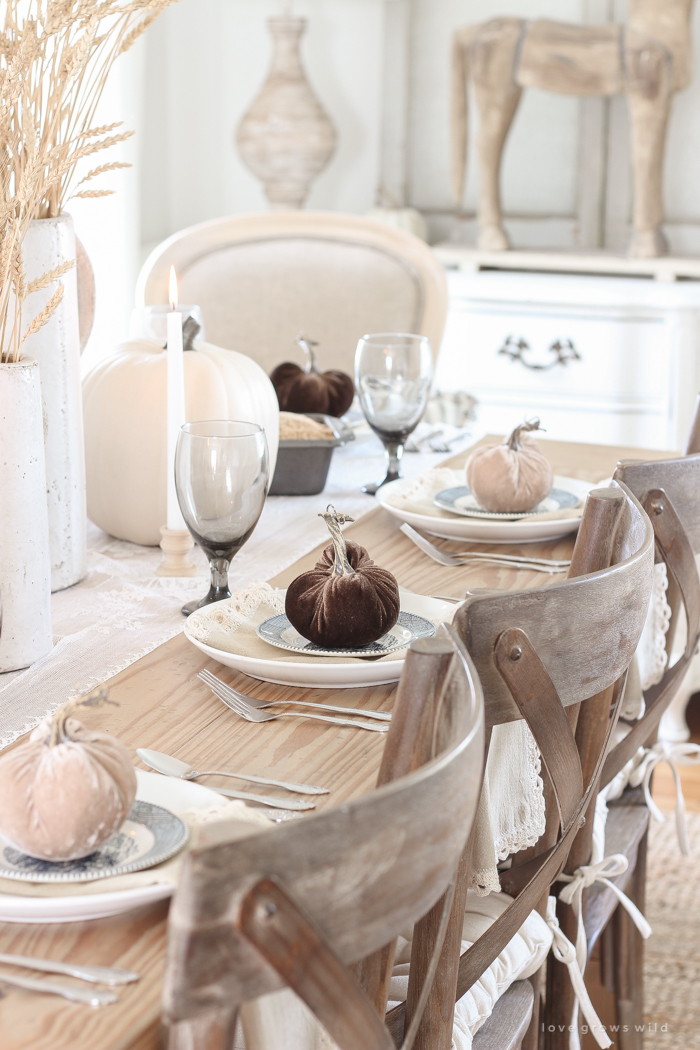 A mix of simple white plates, crochet edge napkins, some vintage elements, monogramed silverware, velvet pumpkins, a lace table runner and a little bit of candlelight felt like just the right combination to complete this country harvest table. I kept everything neutral, as I usually do, but love the little touch of blue in the plates and the richness of the dark brown velvet pumpkins against all the light in the room.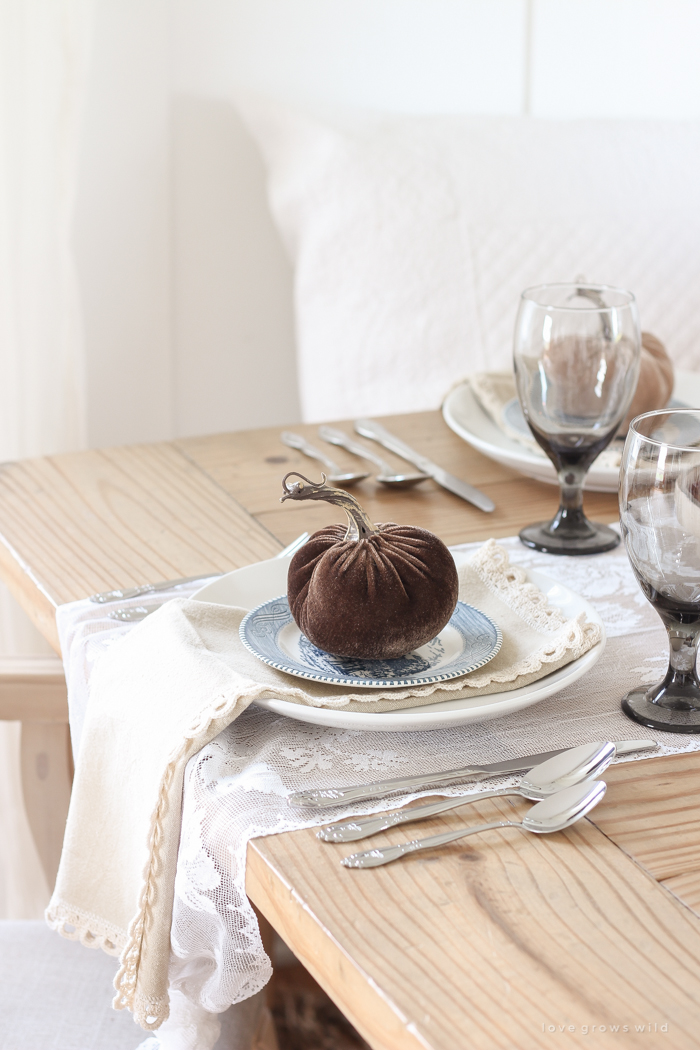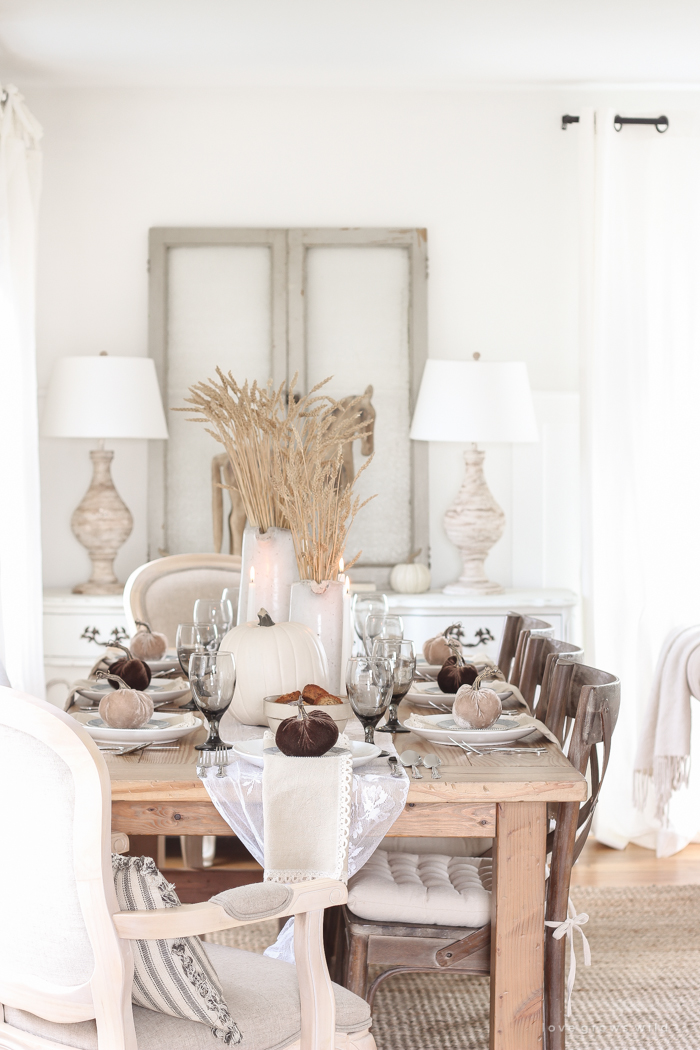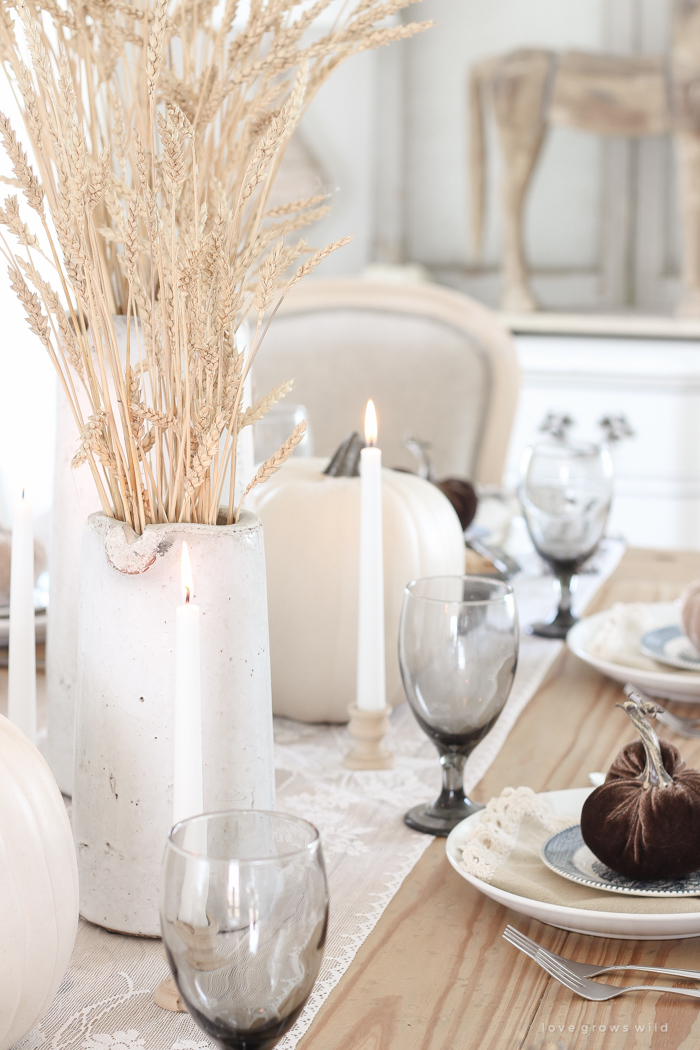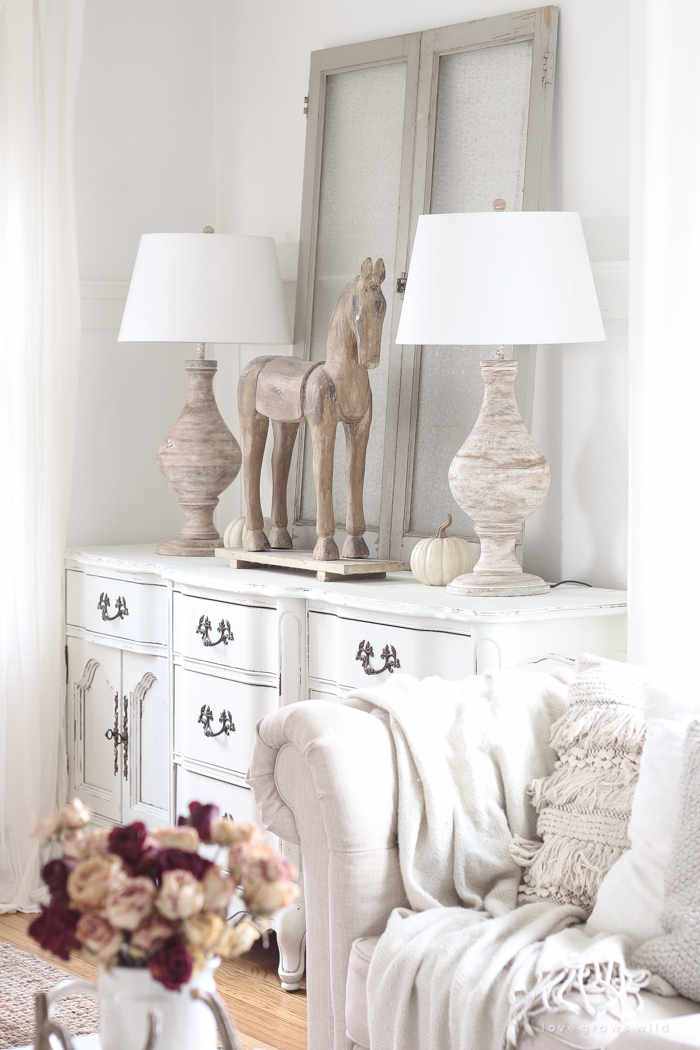 Beyond just the table setting, I did change a few bigger things in this room recently that you've probably noticed. First, I finally added curtains to the two windows on either side of the table. I've had bamboo roman shades hanging in the windows for a long time, but because one window has a baseboard heater underneath, I couldn't have any long, pretty curtains hanging there. Last year I ended up having to replace and upgrade the heating/cooling unit for the house, which eliminated the need for using the baseboard heaters and my curtain dilemma. That back wall always felt so long and bare and plain, so I was very excited to finally get some curtains hung in here. It softens the space so much and perfectly frames the antique mirror and plates I have hung on the wall in between the windows. They are a little more ivory than the wall color, which helps break up that long stretch of wall, and I love the little ties at the top. They have a very romantic/shabby chic feeling to them.
Second, you saw in last week's post that I bought a new table and chairs for the kitchen, and this is where I moved the old dining chairs to. I left one bench along the back wall since it is easier to slide in and out having a bench there, but replaced the bench on the other side with our dining chairs. I love this look so much more, and those X back chairs are so easy on the eyes. I added some tufted chair pads to make them more comfortable, and I feel like this whole space is finally coming together in the way I've always wanted it to. I've said it many times before… decorating your home is a journey and a process that should be enjoyed no matter what stage you are in.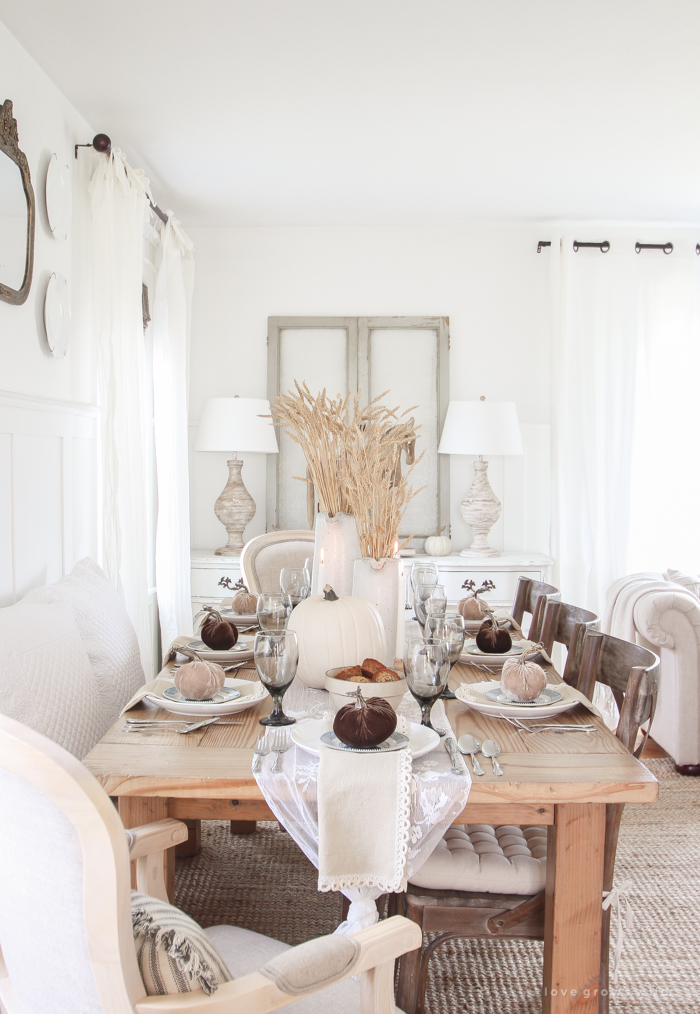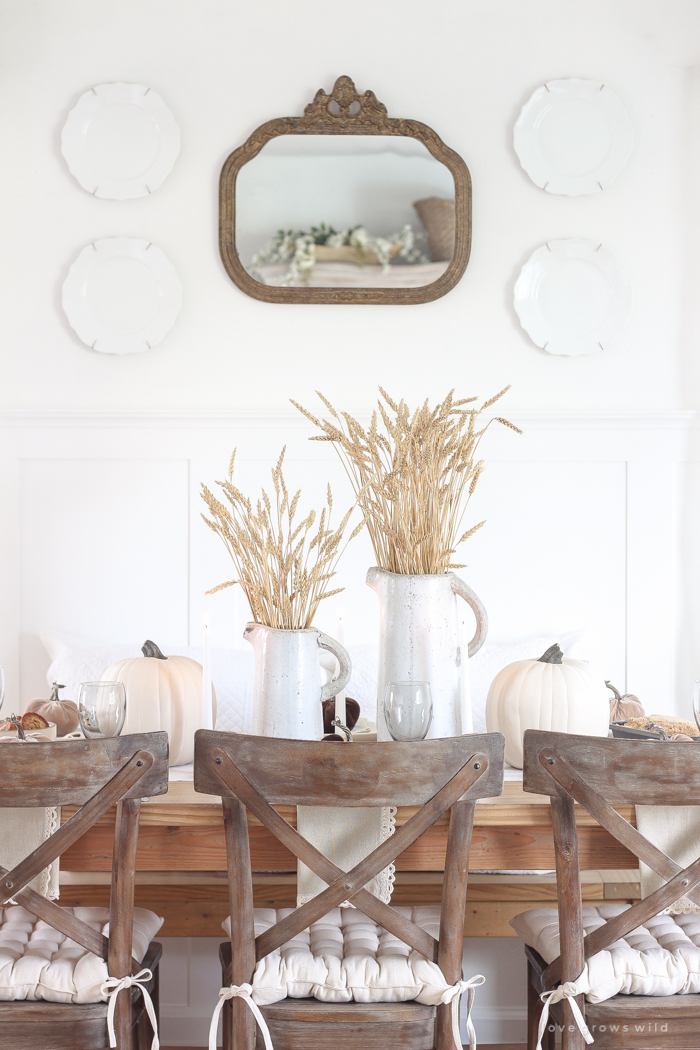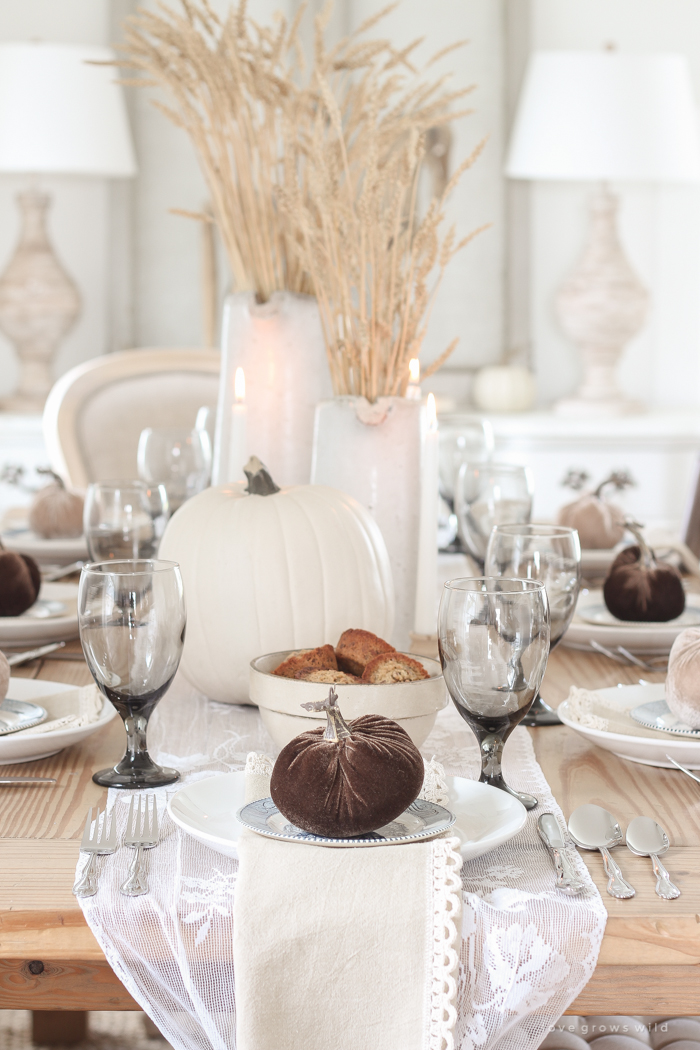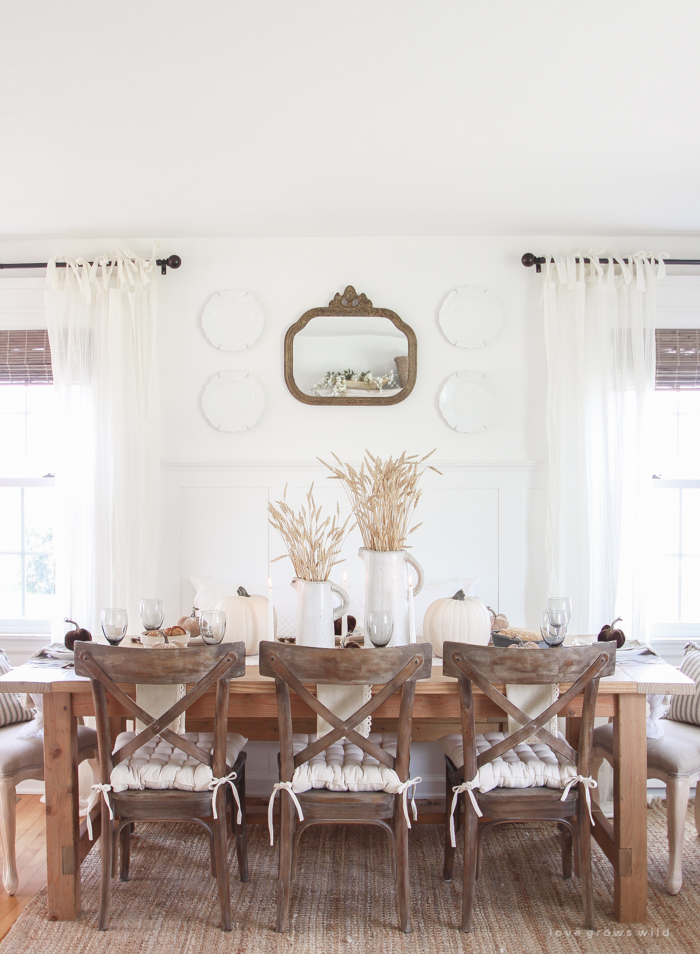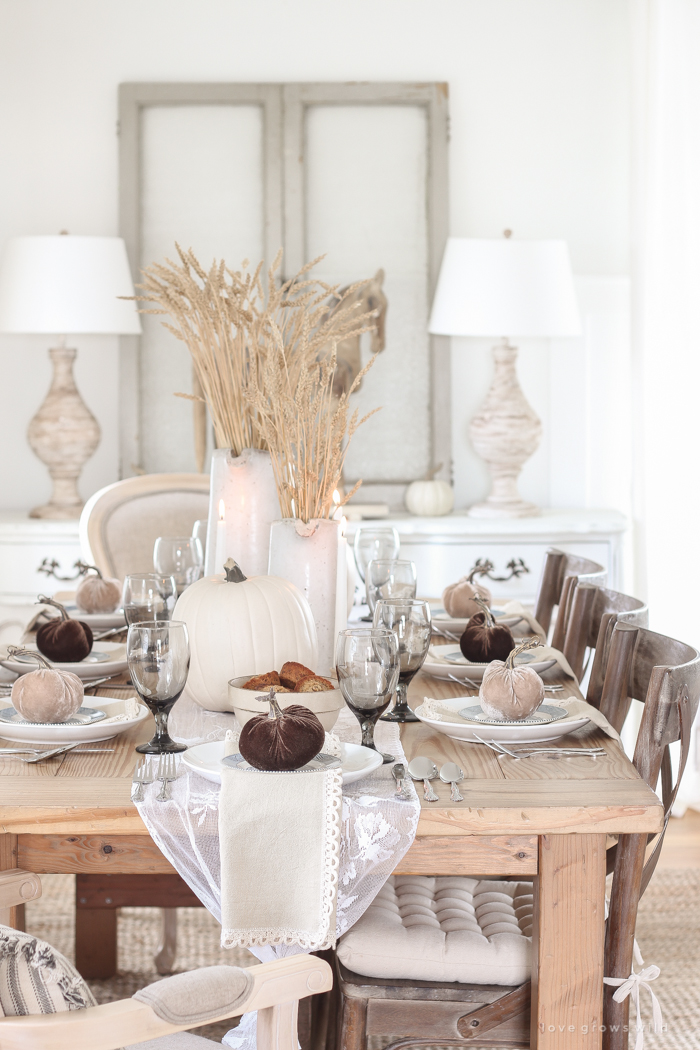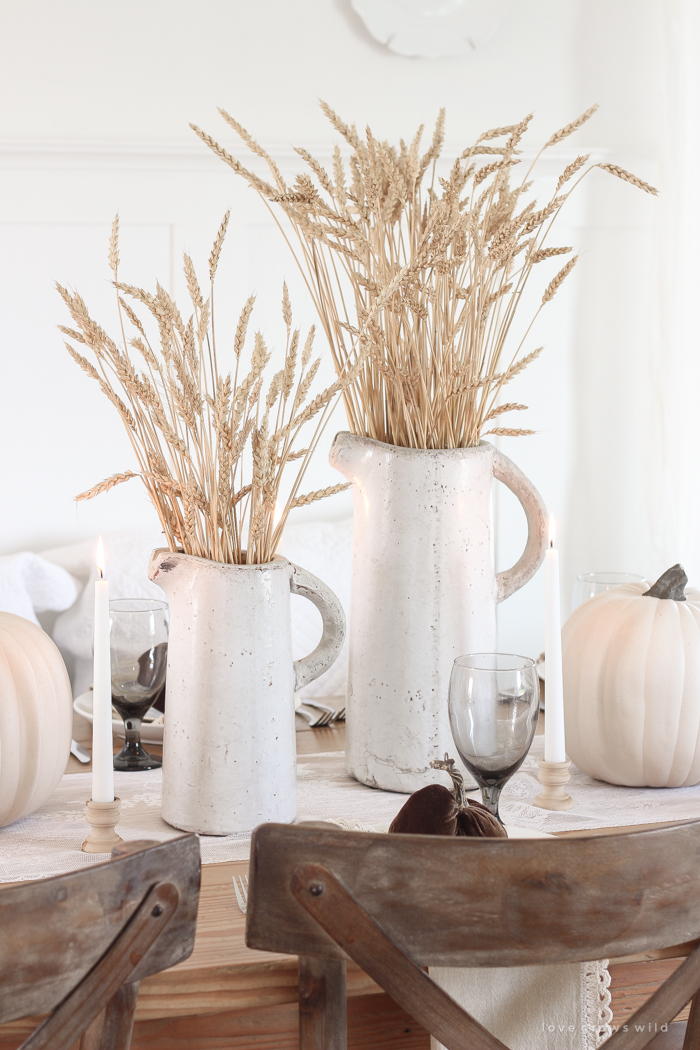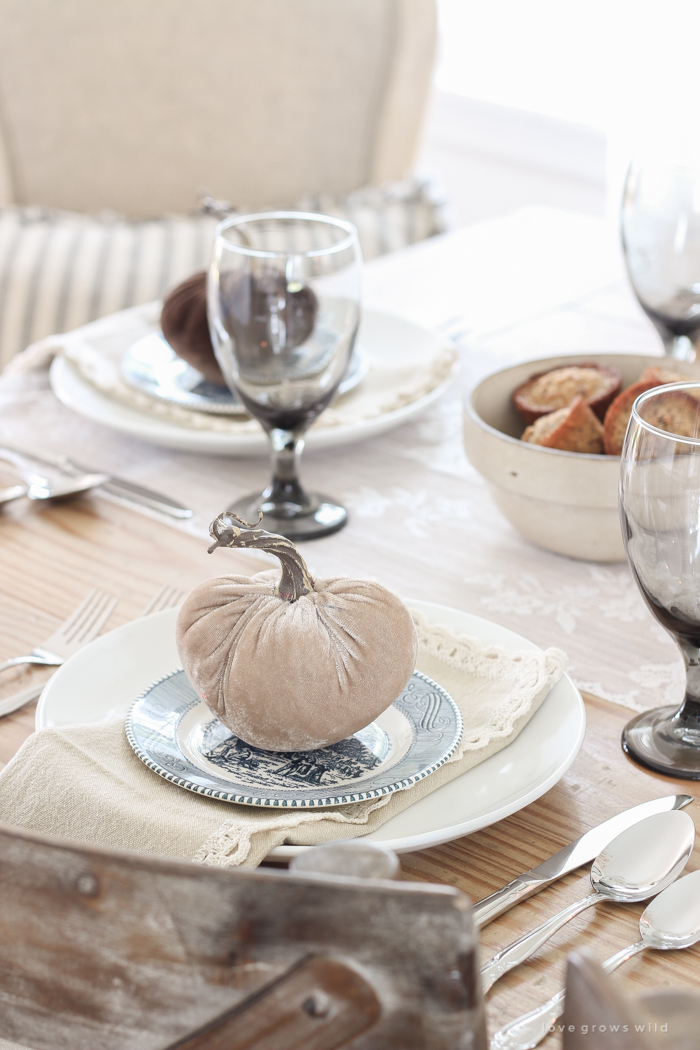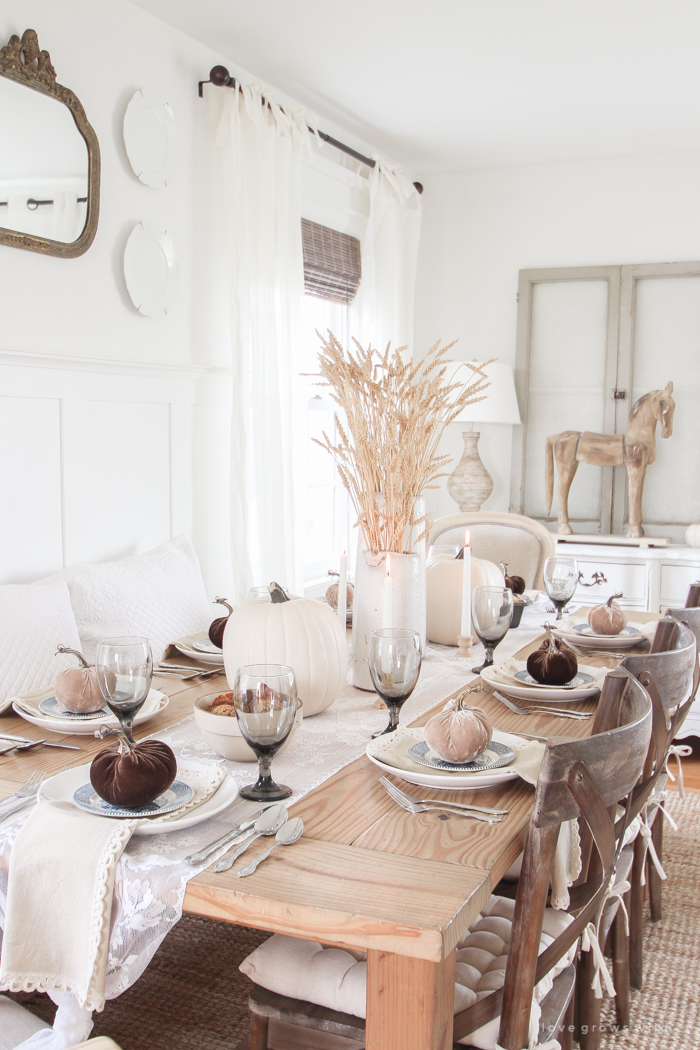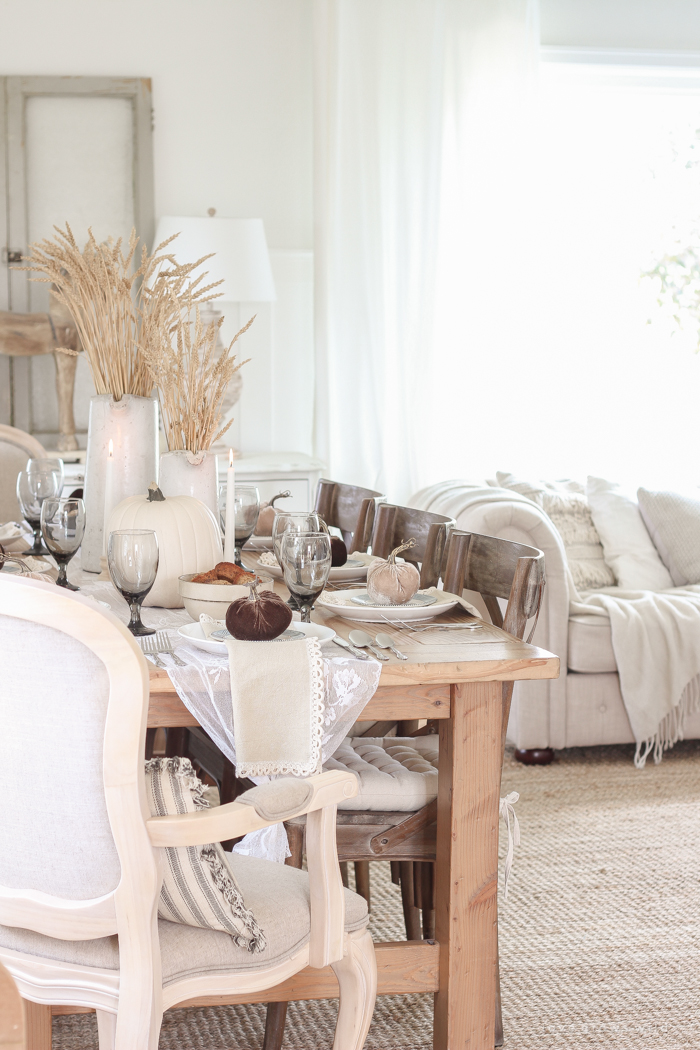 I hope you'll follow my friends and I as we celebrate the changing seasons in our homes again this year in our "Seasons of Home" holiday series!
---
MORE FROM THE SEASONS OF HOME SERIES:
---
Ella Claire | Craftberry Bush | Love Grows Wild | Shades of Blue Interiors
City Farmhouse | Dear Lillie | French Country Cotage | Miss Mustard Seed
Liz Marie Blog | Rooms for Rent | Julie Blanner | Kindred Vintage
My Sweet Savannah | and our beautiful featured guest, The Inspired Room
---
SOURCES
---
Note: Some of the links in this post are affiliate links, which allows me to make a small commission from your purchase, but your purchase price stays the same. Thank you for helping support our blog!
---
LET'S KEEP IN TOUCH!
---
Subscribe to Blog | Follow on Instagram
Follow on Pinterest | Follow on Facebook