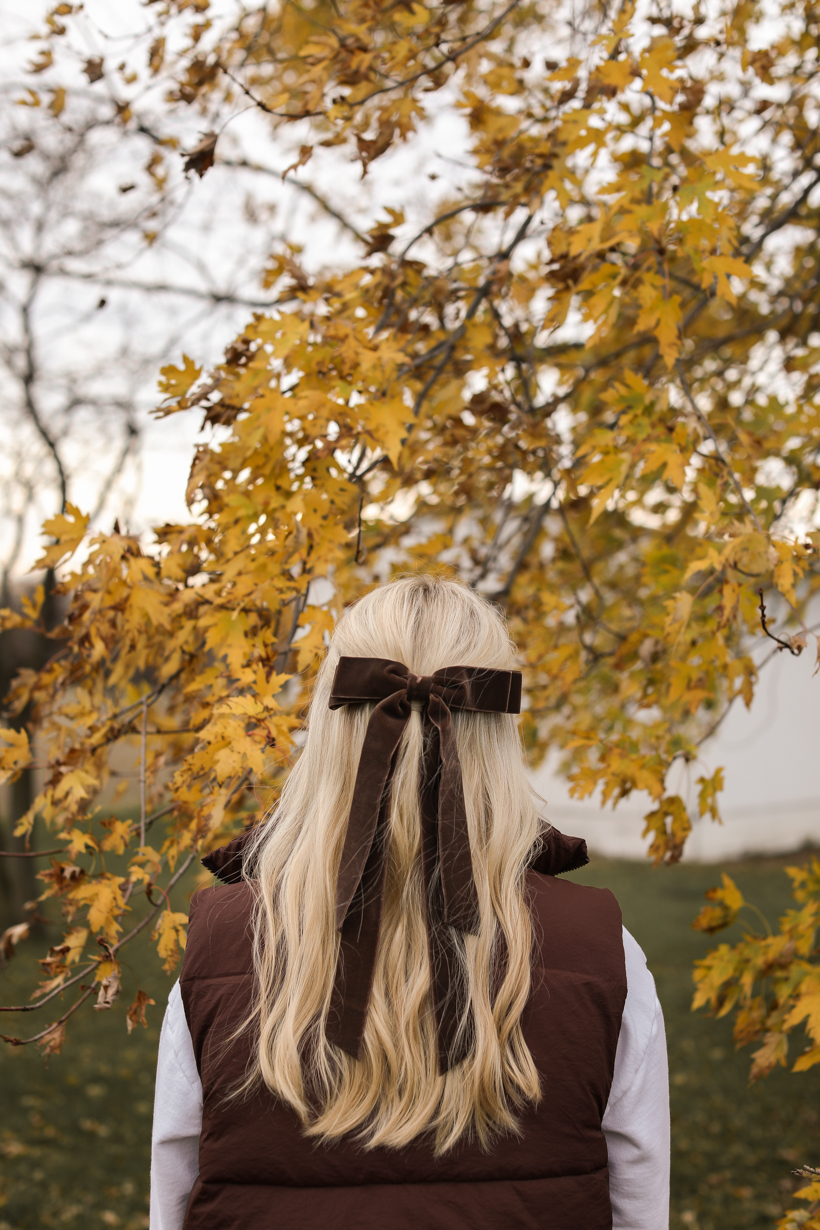 Last month you guys loved the October Edit post I shared full of my favorite fall things, just as I had hoped you would. So this month we're continuing the series with items to help you prep for Thanksgiving (both cooking and decorating), a few gift ideas (maybe even for yourself?), and fashion finds to step up your holiday style.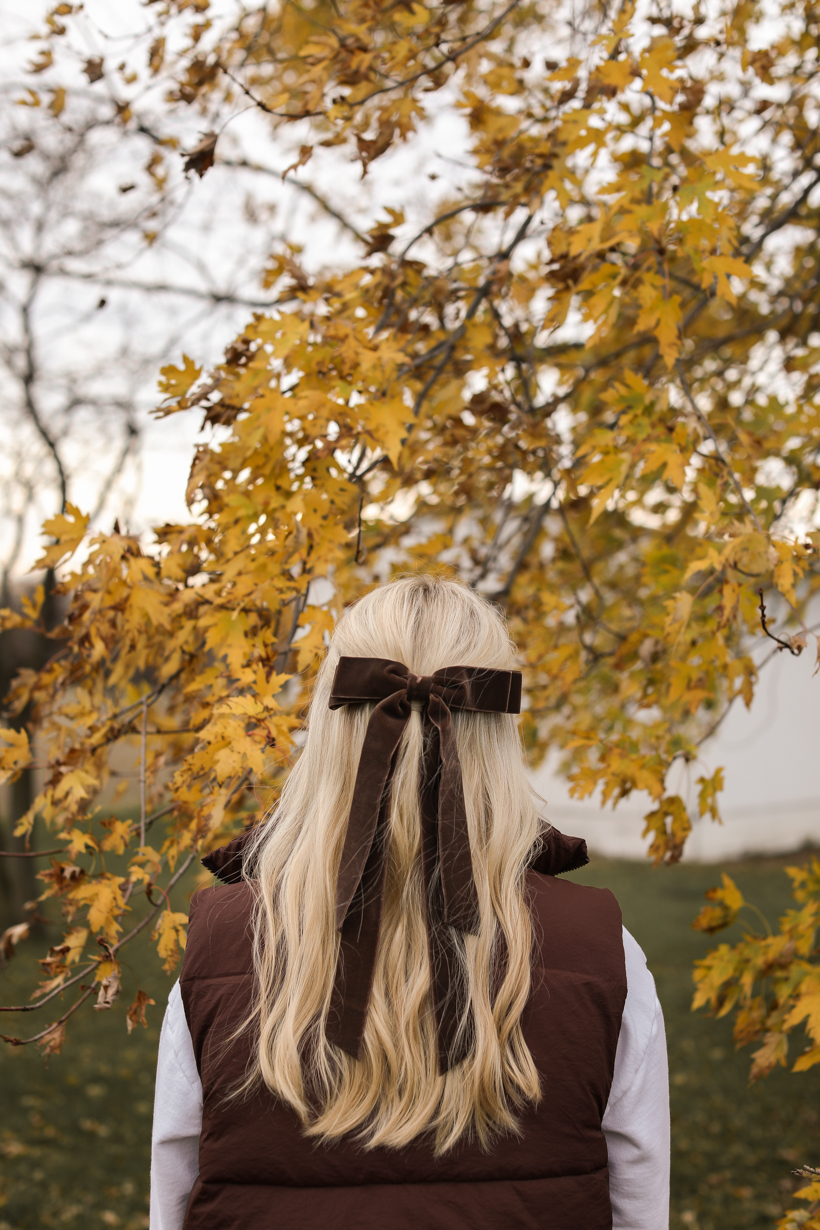 Can we talk about this darling chocolate brown velvet bow hair barrette? It's $8 and feels like the sweetest accessory for fall – also comes in black velvet!
It's not technically included in the November Edit, but special shoutout to my favorite cropped puffer vest in the same delicious chocolate brown color. I've been wearing it so much the last few weeks since it came in! I think I need the beige color next.
If you scroll to the bottom of the post, you'll see a close-up of the new pair of boots I added to my wardrobe this fall. I was wanting a real chunky pair of black combat/chelsea boots that could easily be dressed up or down, and this pair from Target was less than a quarter of the price of the Sam Edelman ones I had been looking at. They're so comfy and give a little height, but are still effortless to walk around in all day.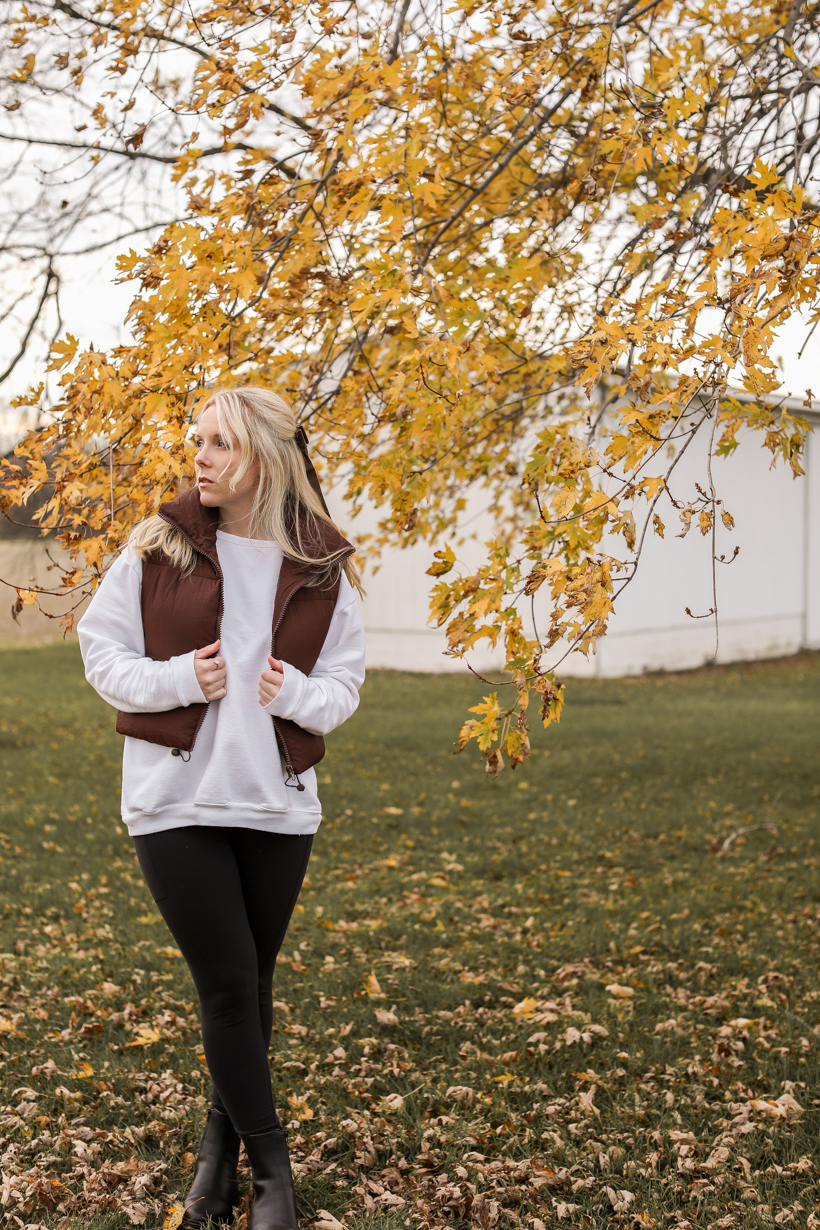 sweatshirt | vest | boots | bow | leggings
---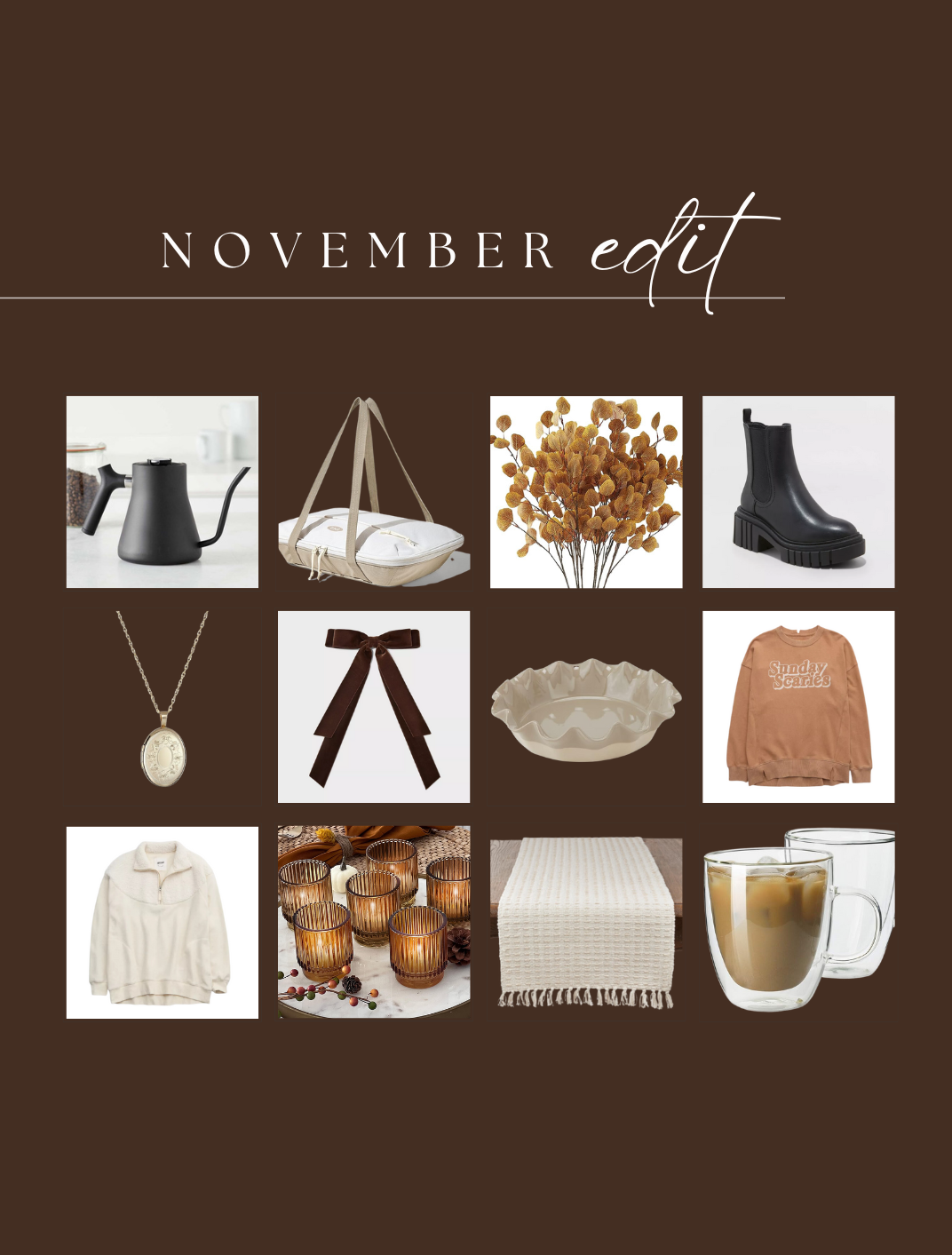 SHOP THE EDIT:

1. Fellow Stagg Gooseneck Pour-Over Kettle– I have been drinking a lot more tea lately, especially as the weather cools off. The electric tea kettles are nice, but I don't want another thing I have to have sitting out on my counter and another cord to deal with. This brand is one of the top rated I've seen, and I love that it has a thermometer on top so you know exactly how hot your water is. The gooseneck precision spout ensures no spillage while pouring!
2. Insulated Casserole Carrier – It's almost time for holiday meals, spending hours in the kitchen, and creating all those delicious dishes. When you have to transport food, having one of these casserole carriers is so helpful to keep everything warm and make it easy/safe to carry. The pretty neutral colors on this one is a total bonus.
3. 6 Piece Autumn Eucalyptus Stems – These stems would be stunning displayed on your Thanksgiving table and come in several other fall-inspired colors as well. Currently 27% off making each stem just $2.67! You can't beat that price.
4. Black Chelsea Boots – I try to replace one of my old, worn-out pair of boots each fall, and this year I've had my eye on a super chunky black combat/chelsea boot. I looked at dozens of options well over $100 – some over $200, but this Target pair is exactly what I want for less than half the price.
5. Oval Hand Engraved Locket Necklace – There is nothing more timeless and beautiful than a simple locket necklace, and I love pairing them with cozy sweaters in the wintertime. This one is able to hold a photo inside and would make the BEST gift for a friend, sister, or any female in your life!
6. Velvet Ribbon Bow Hair Barrette– This just feels like the holidays to me – velvet + a pretty hair bow in a chic chocolate brown color? I can't wait to play around and style this different ways.
7. Stoneware Pie Dish with Ruffled Edges– Let's be honest – pie is the best part of Thanksgiving. Whether you need a new or extra pie plate yourself or want a great gift idea for a foodie or homebody, this one is just so pretty.
8. "Sunday Scaries" Crew Sweatshirt– You know that feeling on the weekend when you realize it's almost Monday and you have to go back to work? That's the "Sunday Scaries", and this cozy sweatshirt might have to be my new weekend uniform.
9. Quarter Zip Sweatshirt – This sherpa fleece quarter zip feels like the definition of cozy, but it's also stylish enough that it could easily be dressed up or down. It comes in multiple colors, but I love this creamy white! P.S. get the matching sweatpants too.
10. Amber Glass Tea Light Candle Holders – Loving all the ribbed amber glass I've seen lately, and I think these tea light candle holders scattered across a Thanksgiving table would be such a warm and cozy touch. Currently on sale 20% off!
11. Cotton Table Runner– I'm not a big tablecloth person – it feels a little too formal and fussy for our family. Too much fabric to potentially get dirty. But a simple runner in the center of the table is the perfect touch to add a bit of texture and softness.
12. Double Wall Glass Coffee Mug – I'm all about a warm cup of coffee or tea to get me through the work day, and I've had my eye on these double wall glass mugs for awhile now. The double wall is supposed to keep drinks hotter and also produce less condensation on cold drinks. They're also just pretty to look at!
---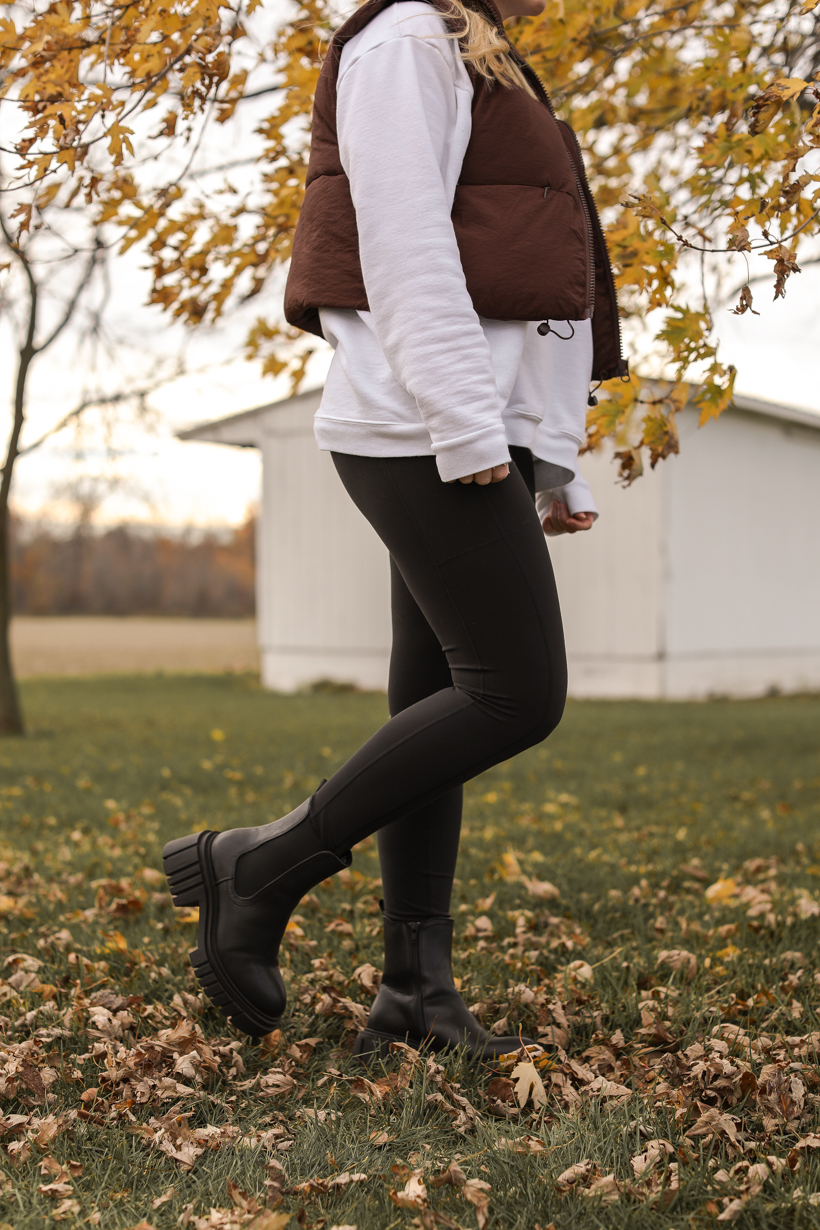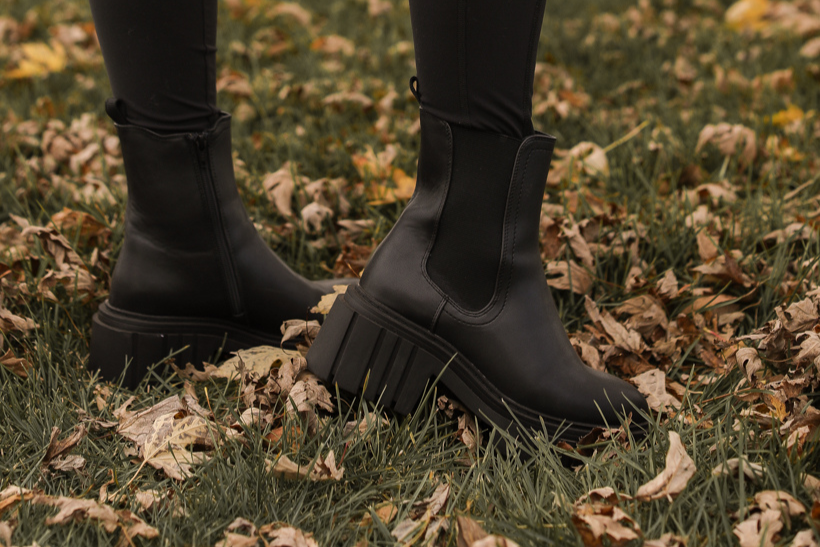 As always, I sincerely appreciate you shopping through the links I share, which allows me to make a small commission from your purchase while your purchase price remains the same. When you use my affiliate links, I'm better able to create content for this blog as well as support my family, and I thank you from the bottom of my heart for supporting what I do!
---
Our Store: Grow + Gather
Shop my Posts | Shop my Amazon Store
Join our Community | Follow on Instagram
Follow on Pinterest | Follow on Facebook