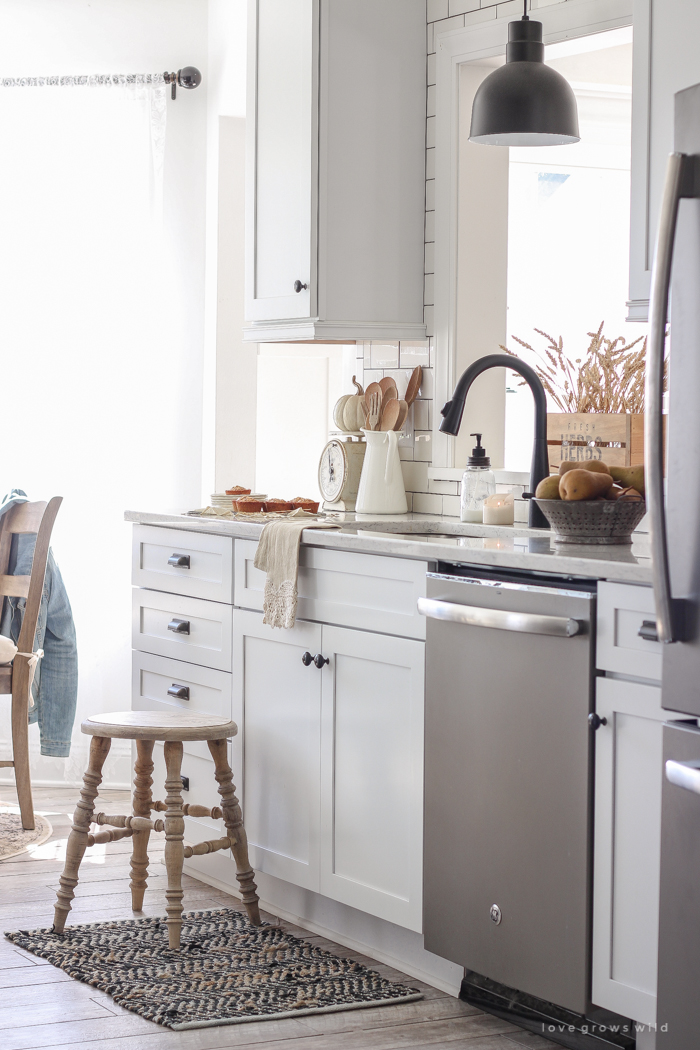 September is such a beautiful time of year here in Indiana. The sun still shines warm and bright during the day, but the evenings start to get cooler each night and beg for us to open up the windows and let in the crisp autumn air. It instantly puts me in the mood to start cozying up the farmhouse for fall, and this week that's exactly what I did. With a fresh breeze blowing in through the windows and the scent of a spiced pumpkin candle drifting all throughout the house, I got to work on bringing this new season into our home. Yes friends, it's that time of year. I hope you're getting as excited as I am!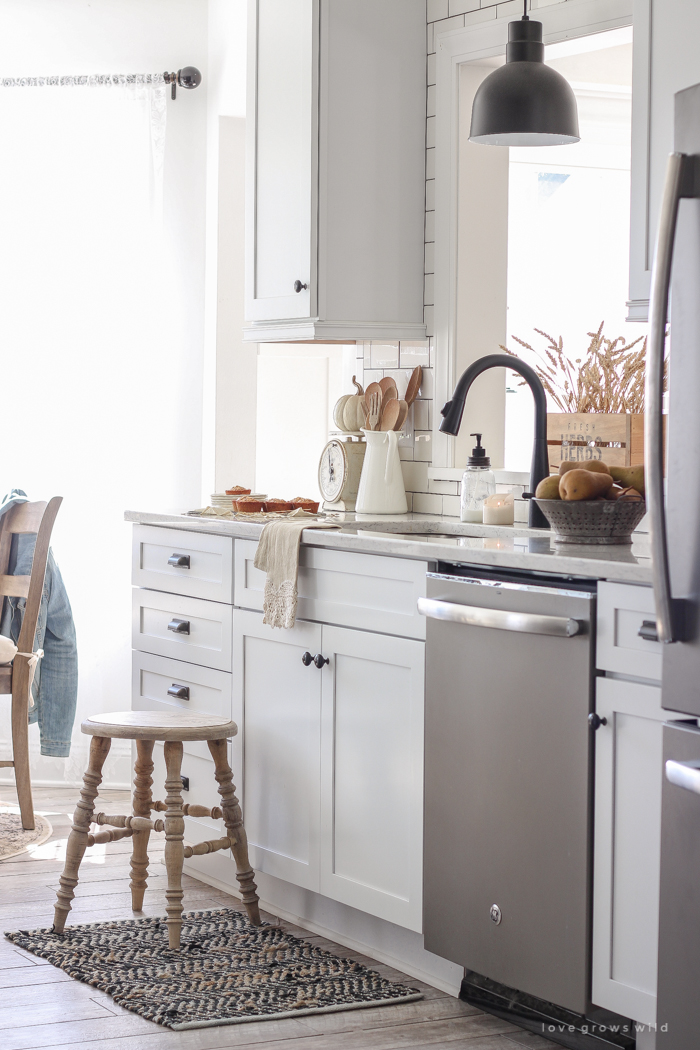 Over the years, my idea of holiday and seasonal decorating has gotten simpler and simpler.
a display of wheat stems in little mason jars…
fresh pears sitting in an old colander next to the sink…
a simple bouquet of fall flowers on the kitchen table…
freshly-baked pecan pie muffins cooling on the counter…
the warm glow of a candle in the background…
All of these little elements come together to whisper fall as soon as you walk into our kitchen, but it didn't take me hardly any time or money to create this look.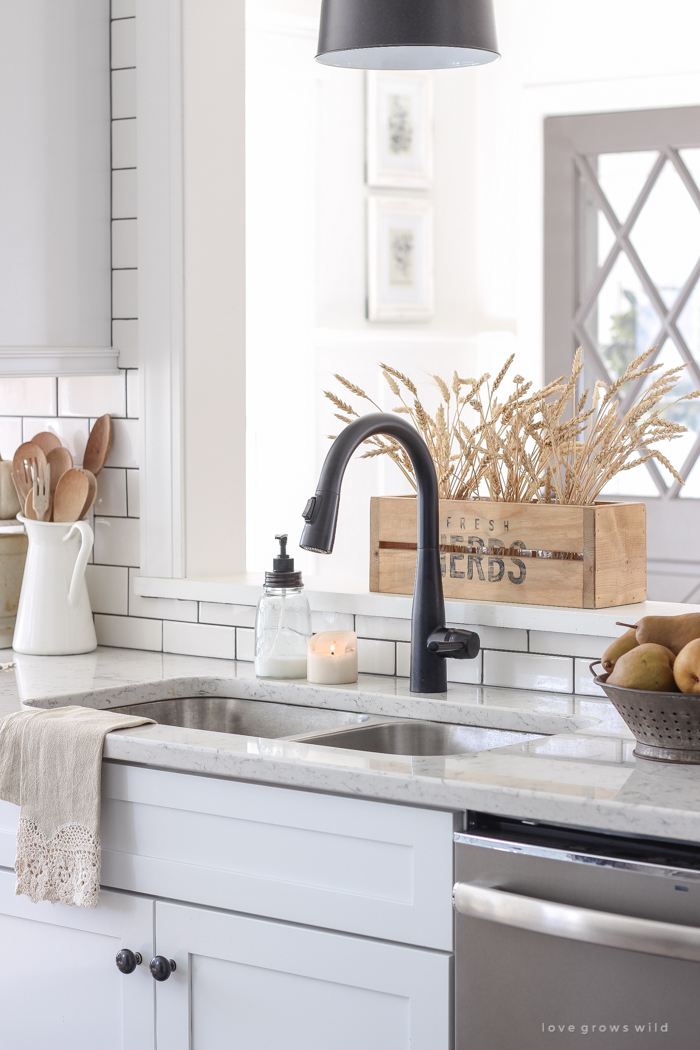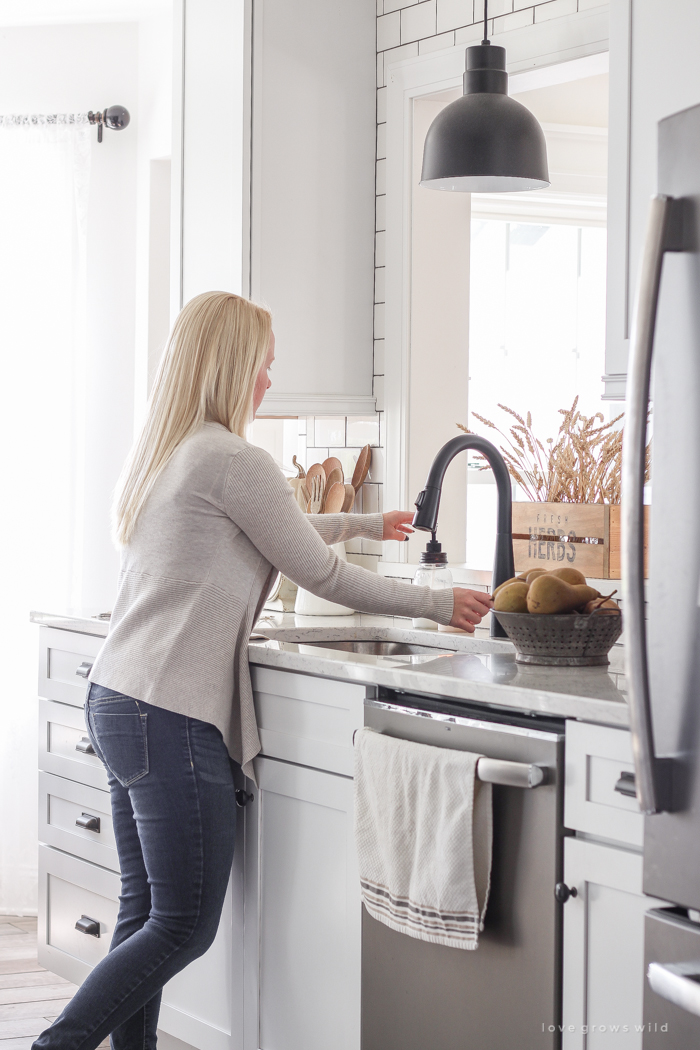 Our kitchen was designed with a lot of clean, classic black and white, which makes it so easy to transition the space with each season. This year, all I did was add very subtle wood and tan tones throughout the room for a little warmth against all the black and white. You know I'm all about neutral colors when it comes to decorating, and I love how I was able to give our kitchen a simple fall feel without using any of the traditional colors you think of for fall. Seasonal decorating can be as simple or complex as you want it to be, and that's what I hope I show you with this look in our kitchen.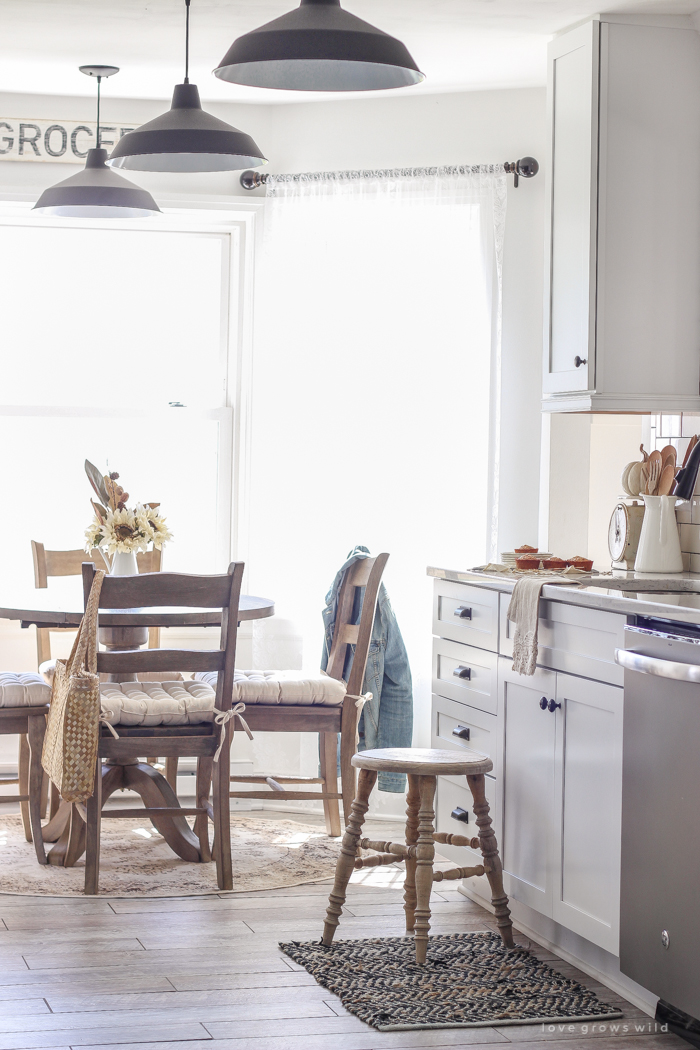 One of the only big changes I've made in our kitchen this year was getting rid of the rectangular table I had sitting by the windows and replacing it with this round pedestal beauty along with four matching chairs. Kitchens often have a lot of hard, straight lines in them with the countertops and flooring and cabinets, and I always felt like a round table would soften all those hard lines and fit better in the space. It's a little bit smaller than our last table, but so far it's been just perfect for the three of us. And we always have our big farmhouse table in the dining room for when we have company over… just wait till you see how I decorated that space for fall next week!
I picked up some chair pads with beautiful tufting and sweet little ties and a gorgeous round traditional rug that has tan and ivory tones to warm up the gray tile floor and complete the look. What do you think of our new kitchen table?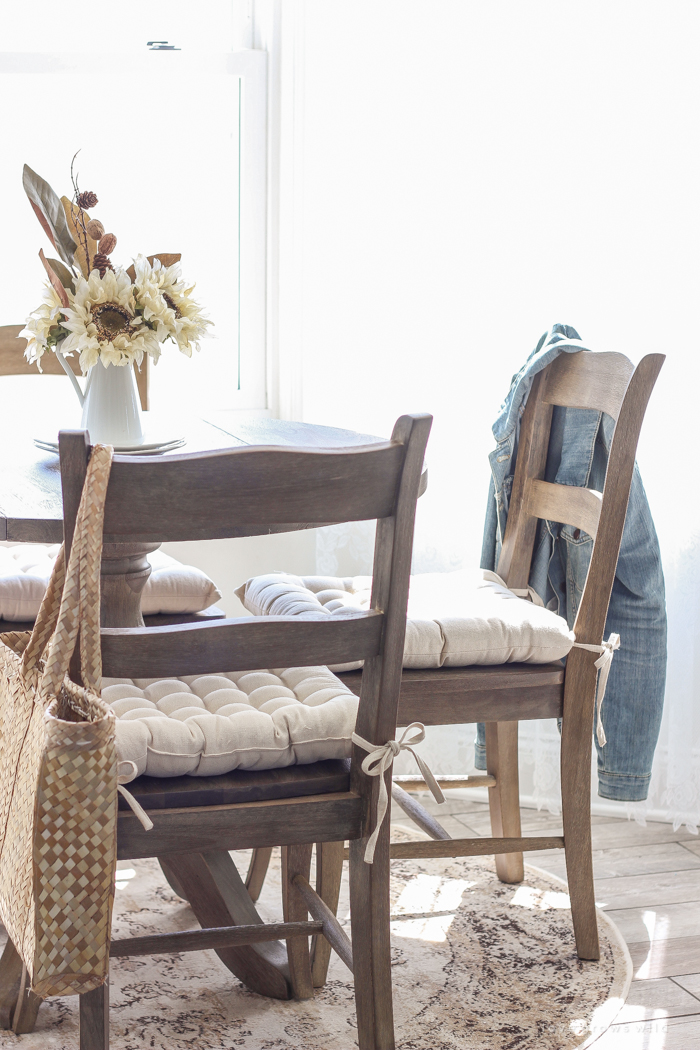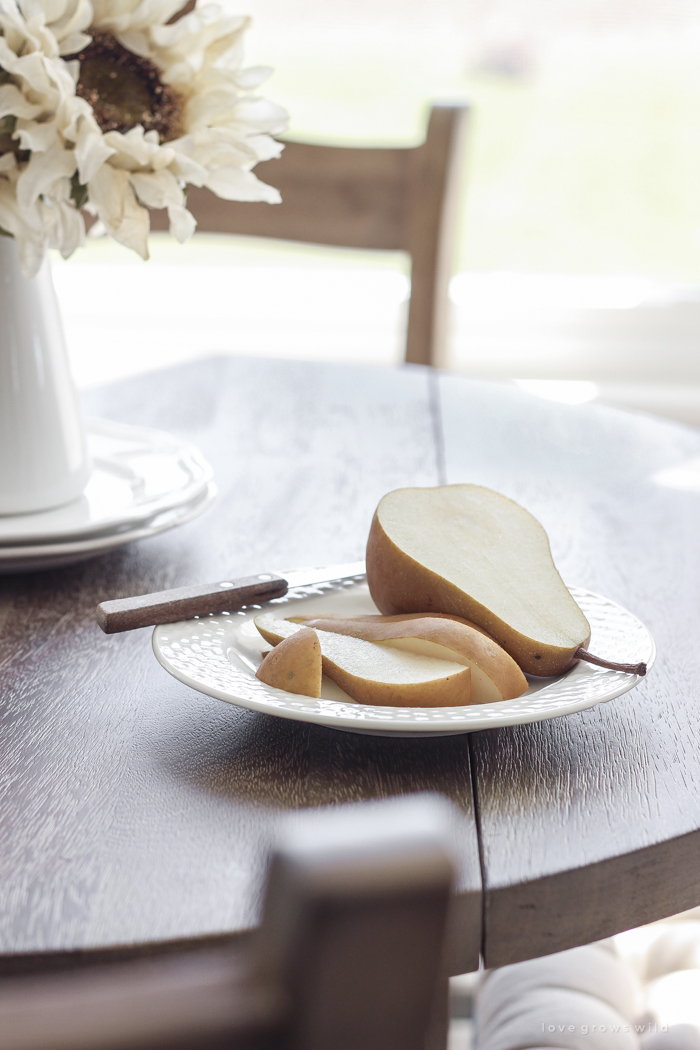 Well, I guess that wasn't the ONLY major change in our kitchen recently…
There is now a very cute, very sweet, very snuggly little French bulldog following my every footstep, and I couldn't be more in love with this little addition to our family and our home!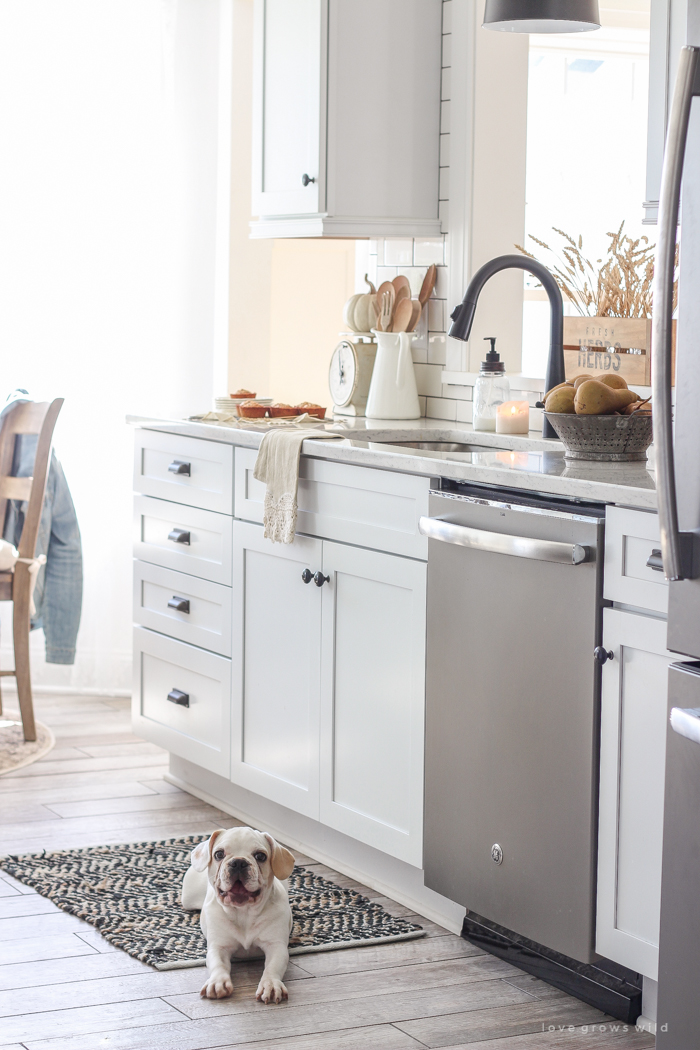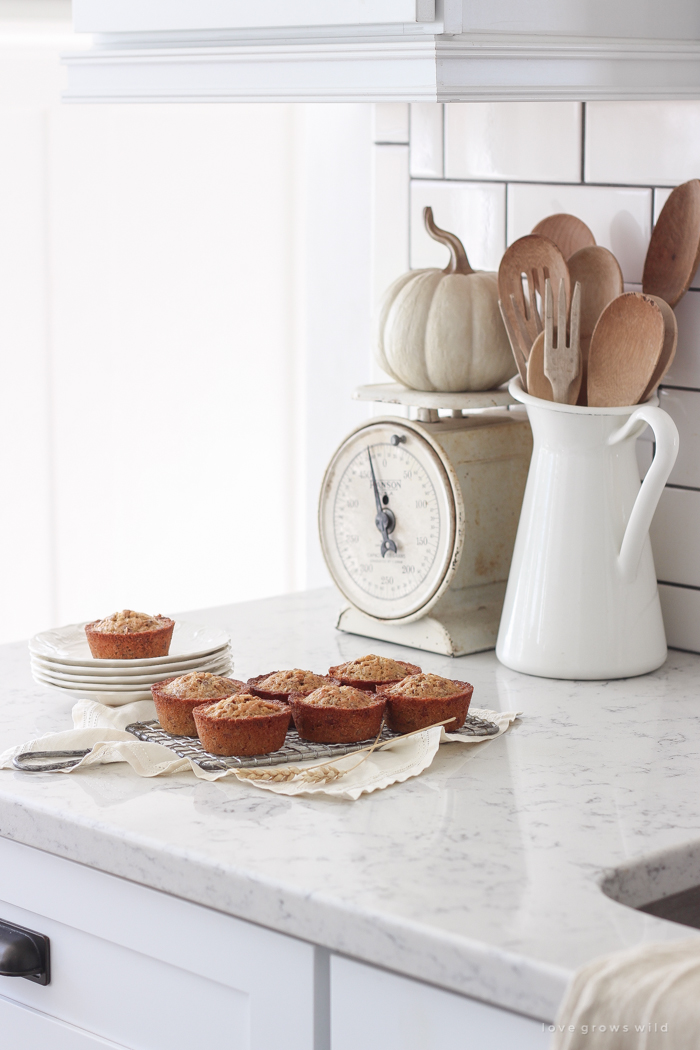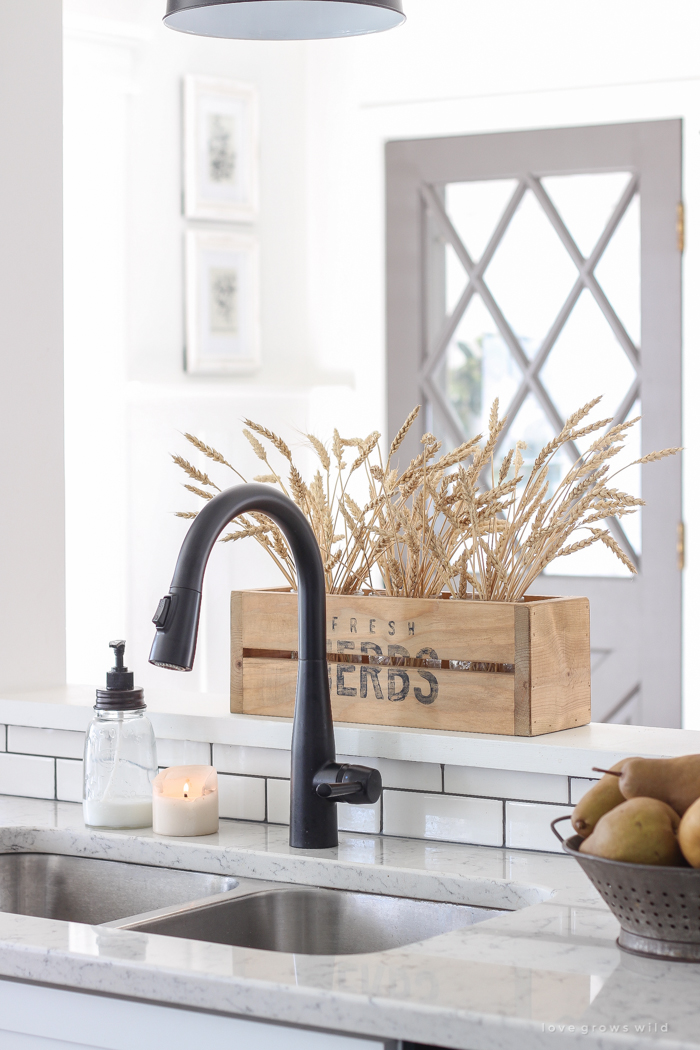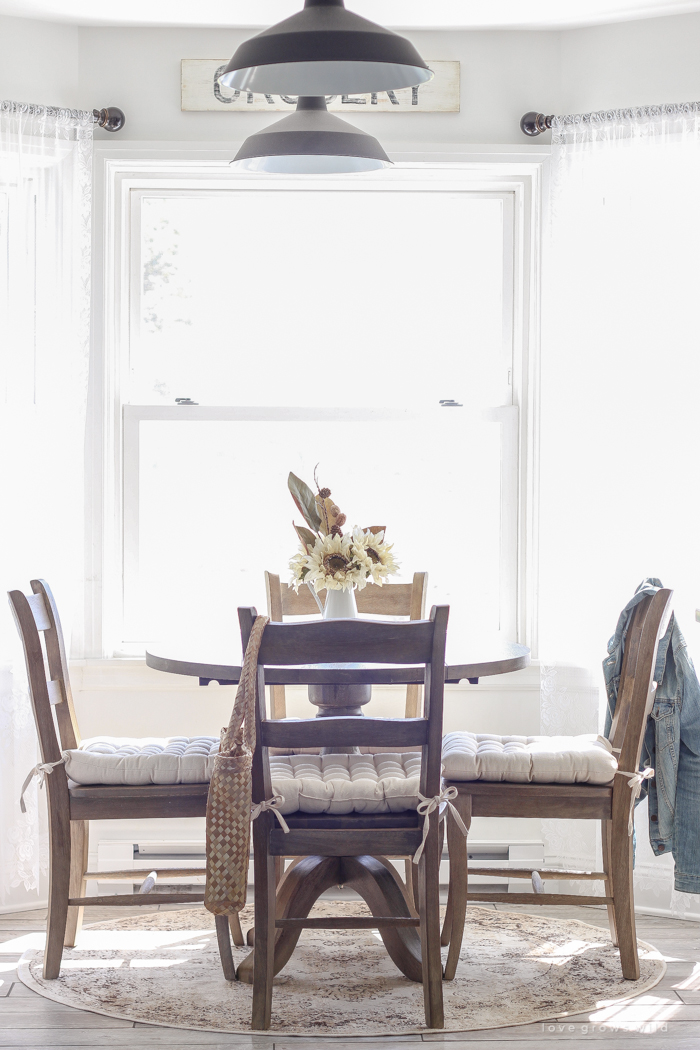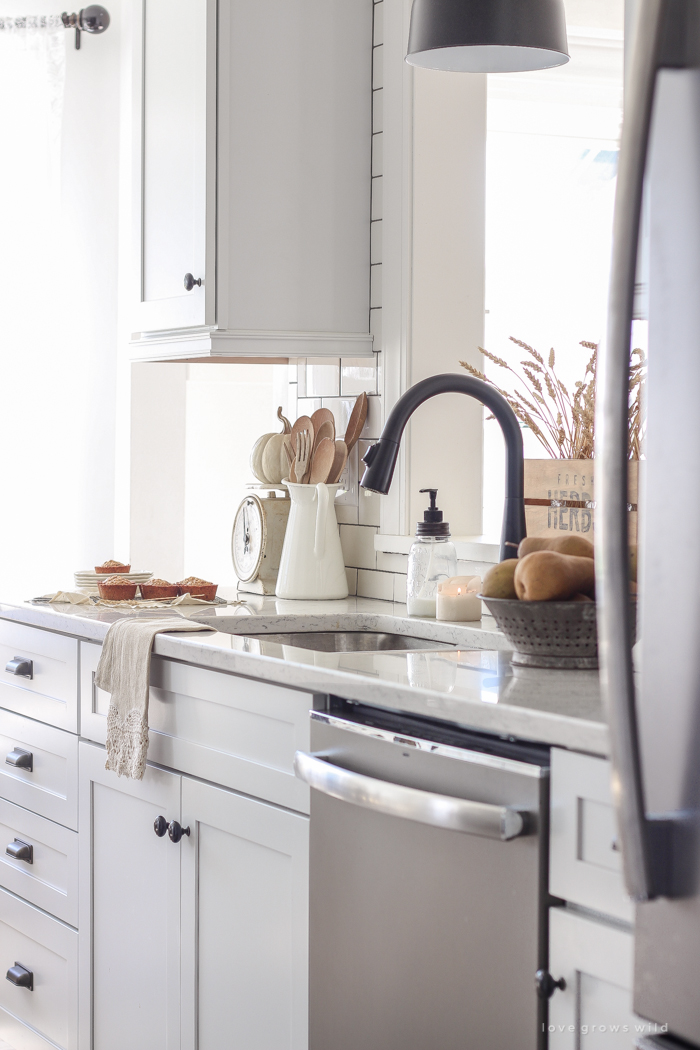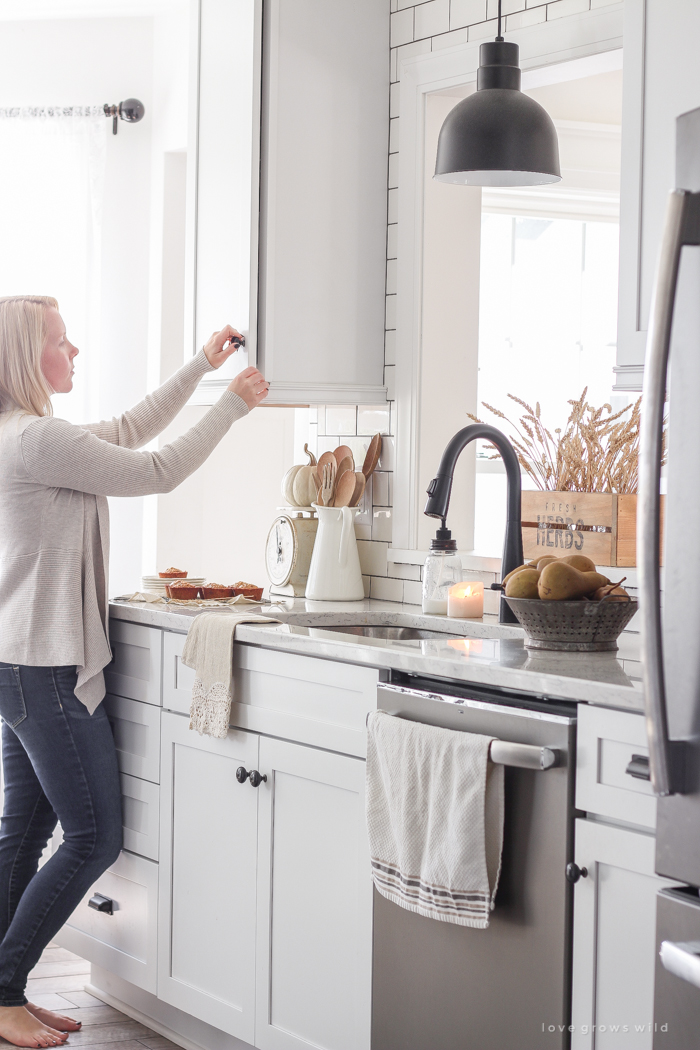 I mentioned these Pecan Pie Muffins I baked earlier, so I thought I'd share the recipe with you today while you're here. They are the perfect fall treat and taste just like a sugary-sweet, buttery pecan pie in a muffin!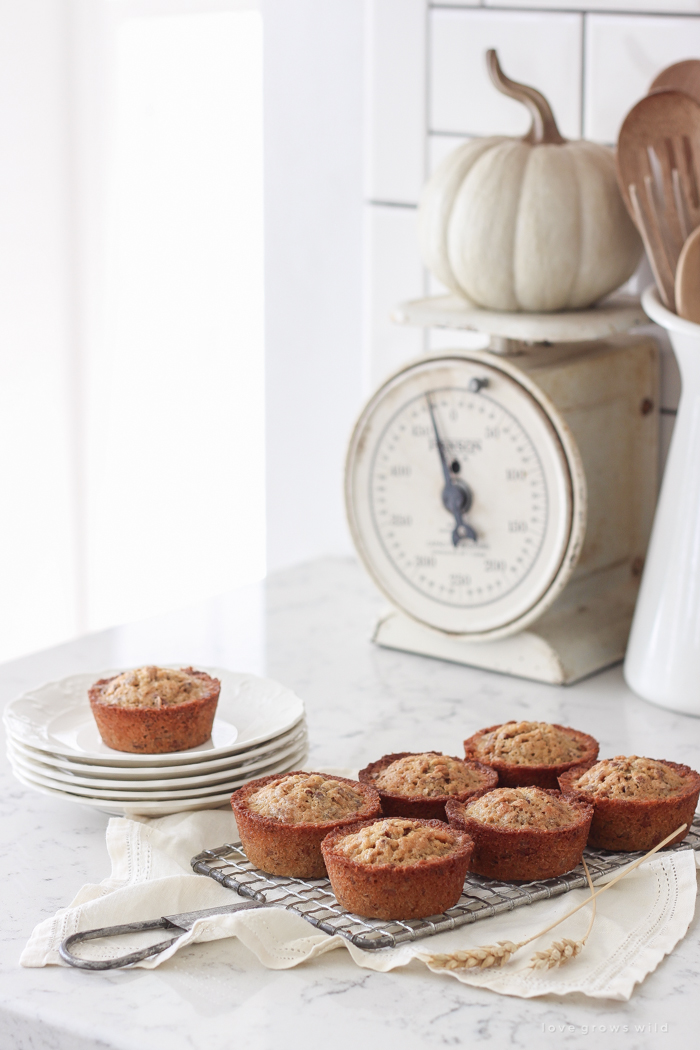 Pecan Pie Muffins
INGREDIENTS
½ cup butter, softened
¾ cup brown sugar
2 eggs, beaten
½ teaspoon vanilla
⅛ teaspoon salt
½ cup all-purpose flour
1 cup chopped pecans
INSTRUCTIONS
Preheat oven to 350 degrees and line 8 muffin cups with paper liners.
In a medium bowl, add the softened butter and brown sugar and beat on medium speed until light and fluffy, about 2-3 minutes. Add beaten eggs, vanilla, and salt and mix until combined. Slowly add in flour and mix until combined. Stir in chopped pecans by hand.
Spoon the batter into 8 lined muffin cups about ⅔ full. Bake muffins at 350 degrees for about 23-25 minutes. Let muffins cool for 10 minutes before removing from the pan.
– recipe originally appeared on Love Grows Wild here
I hope you'll follow my friends and I as we celebrate the changing seasons in our homes again this year in our "Seasons of Home" holiday series!
---
More from the Seasons of Home Series:
---
Ella Claire | Shades of Blue Interiors | Dear Lillie | Love Grows Wild
Craftberry Bush | Nesting with Grace | Rooms for Rent | Julie Blanner
Jeanne Oliver | Kindred Vintage | French Country Cottage | My Sweet Savannah
and our featured guest this week, Michael from Inspired by Charm
---
SOURCES
---
Note: Some of the links in this post are affiliate links, which allows me to make a small commission from your purchase, but your purchase price stays the same. Thank you for helping support our blog!
---
LET'S KEEP IN TOUCH!
---
Subscribe to Blog | Follow on Instagram
Follow on Pinterest | Follow on Facebook